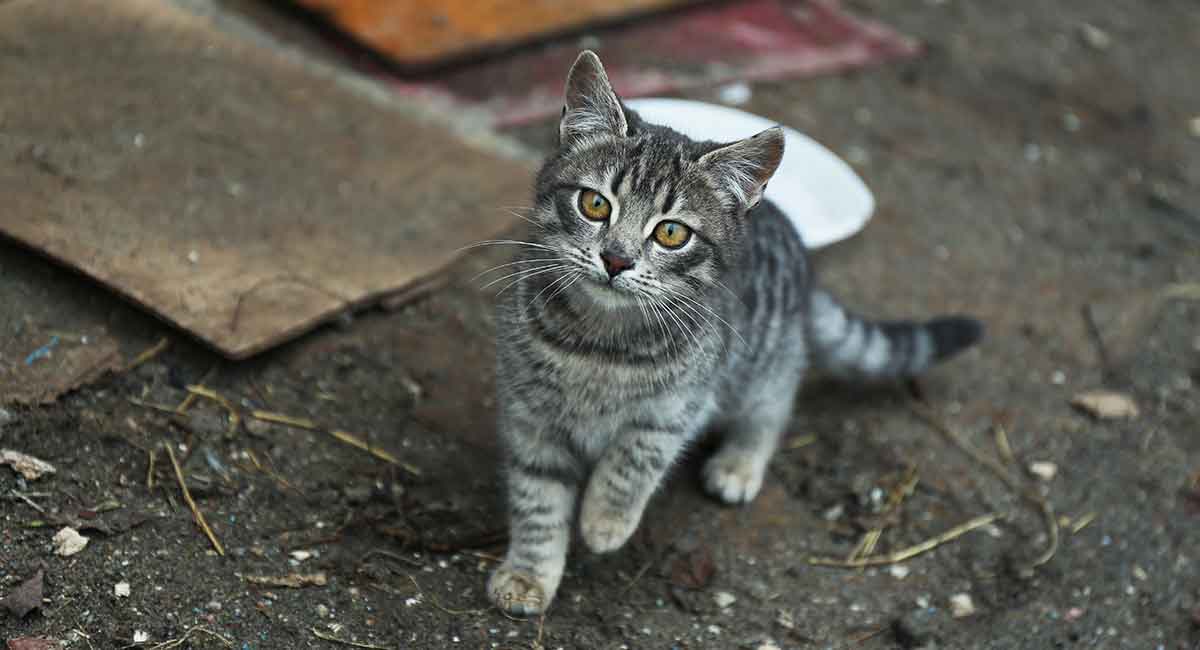 Although feral cats, strays, and pets all fall under the umbrella of domestic cats, there are important differences between them.
A feral cat usually refers to a cat who was born and lives outdoors and has never had any human contact.
They may live in a colony with other feral cats, and they're likely to run away from humans.
Feral cats can't be tamed, but they may come to trust and rely upon someone who feeds them regularly.
Perhaps you're aware of feral cats in your neighborhood. Is there anything anything you can or should do to help them?
In this article we'll take a closer look at the life of a feral cat.
What Is A Feral Cat?
A feral cat is an unowned domestic cat who was born either to other ferals or from stray cats. They survive outdoors and usually stay hidden from people.
These cats are predominantly nocturnal and often live with other feral cats in groups known as colonies.
If you get to close to a feral cat, they may hiss, growl, claw at you, or even try to bite. This is because they've never been touched or handled by humans.
This behavior is often viewed as aggressive. However, it's more likely that feral cats are simply afraid when they're approached by humans, who they view as large predators.
What Feral Means
The term feral actually refers to behavioral characteristics. Therefore a cat can be feral and not feral at different times throughout their life.
The term feral can also mean different things in different countries.
In Australia, feral cats are a widespread problem and have been linked to the decline or extinction of native animal species.
History Of Feral Cats
It's believed that cats and humans have a shared history that dates back 10,000 to 12,000 years ago when agriculture was booming in the Middle East's Fertile Crescent.
As people began to farm the land, rodents were attracted to the stored grain.
This in turn caught the attention of wildcats who preyed on the rodents and stayed near people where they could scavenge food.
It's not so different from today's feral cats who live in cities where there's a plentiful supply of sustenance.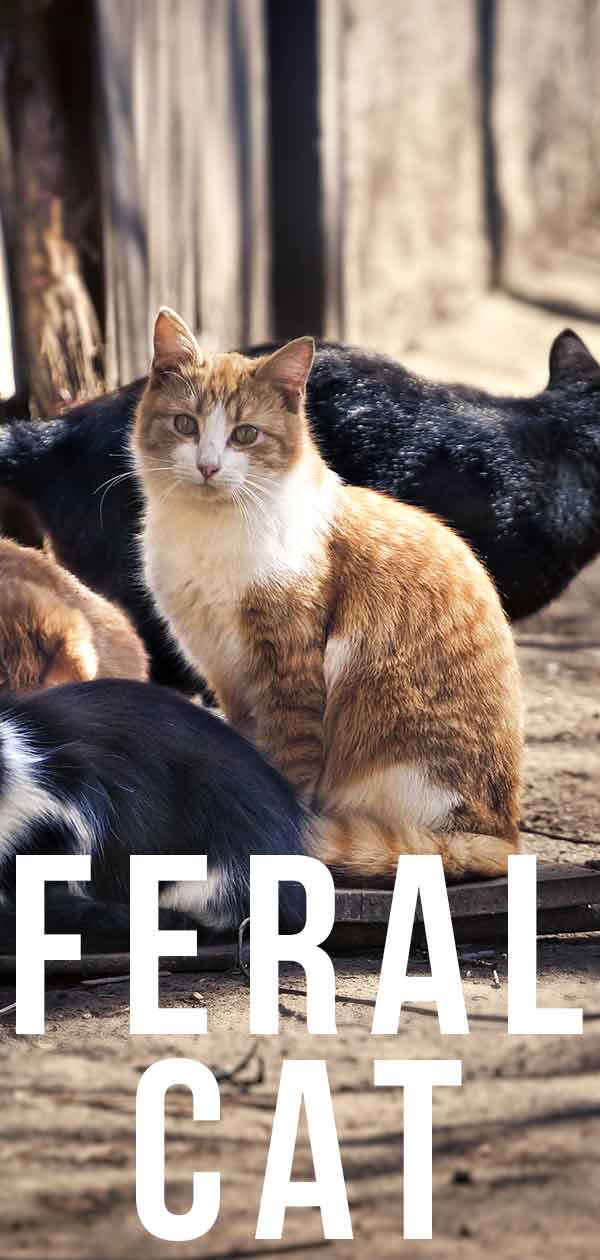 Feral Vs Stray Cats
Although both feral and stray cats can live outdoors, there is a major difference between them.
At some point a stray cat lived with people, but they've either been lost or abandoned and ended up living outside. Stray cats are socialized to people; feral cats are not.
For this reason, strays are usually able to readjust to living with people and become pets once again.
However, the longer they've been a stray, the harder it can be for them to re-acclimate. Over time a stray cat can become feral.
It can be hard to tell the difference between a feral and a stray cat just by their appearance or behavior.
Any cat that feels trapped and frightened may not be approachable.
They need some time to show whether or not they have some level of socialization.
Feral Cat Behavior
Feral cats will never approach a human. In fact, they will more than likely run away from you.
If cornered, they'll crouch low to the ground and wrap their tail around their body for protection.
Whereas a tame cat will walk with straight legs, often with their tail erect. They may even approach you and rub against your legs.
Pet cats make eye contact, while feral cats are unlikely to do so. They're also not very vocal.
A tame cat will purr or meow, but a feral cat usually only makes noise around other cats.
If it's nighttime and they're with other cats, there's a good chance that you've found a feral cat.
Can A Feral Cat Be Tamed?
The ability to tame a feral cat will vary from cat to cat and some will not be able to be domesticated at all.
It will depend on their individual personalities and experiences with people. It also depends on what you mean by "tame."
Some feral cats can become tame to the person who adopted them, but will still be extremely wary of other people.
In many cases these cats will never become affectionate no matter how much care and love they receive. They may prefer to be left on their own and should be given their own space.
Age Matters
Kittens who are 6 to 12 weeks of age are the best candidates for being adopted into homes as pets.
A well-socialized, young feral cat will eventually be able to behave no differently than any other cat.
The older the feral cat is, the harder it will be to socialize them.
How To Tame A Feral Cat
According to the Humane Society of the United States, "Cats who have spent their entire lives outdoors can sometimes adapt to indoor life, but it is usually a very slow, stressful process."
Cats who were once strays and have become feral are more capable of being tamed than those who have always been feral.
Of course when you see an outdoor cat it can be virtually impossible to tell the difference, especially if they're frightened.
Taming a feral cat is a slow process that requires a lot of patience.
Taming A Feral Cat
Never try to grab a feral cat or make sudden movements towards them. Waiting for the cat to make the first move shows them you can be trusted.
Over a period of days, watch their body language. Raised fur, an arched back, or flattened ears are signs of fear or anger. Cats exhibiting this behavior should never be approached.
Food is why cats allowed us to domesticate them in the first place. So it's not surprising that offering something to eat is the best way to make a good impression on a feral cat.
Establish a regular feeding routine at the same time and spot every day. Refrain from making eye contact because feral cats can view this as a threat.
Crouching down at their level when you're feeding them indicates that you're not a danger.
While he's eating, ignore the cat by sitting or standing quietly nearby. Eventually you should be able to speak to him in a soft, calm manner so that he gets used to your voice. As you earn his trust, you should gradually be able to move closer each day.
Feral Cat Shelter Ideas
If you're not in a position to tame a feral cat that lives near you, there are other ways you can help them.
Feral cats can have a pretty rough existence. This is especially true for feral and stray cats that live in cold climates.
For those who live in rural areas, outbuildings such as a barn or sturdy shed can offer reliable protection for homeless cats.
Do-it-yourself shelters are another option.
These structures should be well-insulated to trap the cat's body heat, have minimal space to keep warm, and be waterproof so the cat stays dry.
Neighborhood Cats is an organization based in New York that has more information on shelters for cats.
Feeding Feral Cats
Most feral cats don't survive entirely on their own in the wild. They depend on caretakers to provide them with at least some of the food they eat.
The provided food and where it is placed can influence how well and how long these cats live.
If you choose to feed feral cats, it's recommended to give them the best food that you can comfortably afford.
Providing some type of covered structure is better than putting food or even dishes directly on the ground. This will protect them from the elements and make it easier to keep the area clean.
Since all cats, whether feral or domestic are the same species, they have the same nutritional needs.
What Should I Feed A Feral Cat?
Cats are obligate carnivores which means that they require a diet consisting mainly of meat. Plant proteins don't have the essential amino acids that a cat needs.
Animal-based protein is the most important nutrient for any feline.
However, unlike pampered pets, feral cats have to contend with the rigors of living outdoors.
These cats often need extra fat for more calories.
Feral Cat Rescue
Unfortunately, many animal shelters won't accept feral cats because they don't have the resources. Since these cats are not socialized to people, they're considered unadoptable and are put down.
Trap Neuter Return (TNR) programs are widely considered to be the most effective way to deal with the feral cat population.
Some shelters will humanely trap, spay/neuter, ear tip, and vaccinate them against rabies and other feline diseases. These cats are then released back to their colonies. This program also has volunteer caretakers to keep an eye on these animals and provide food and water at designated feeding stations.
Shelters try to assess each cat's degree of socialization to determine the best environment for them.
Is Adoption as Pets Best?
Feral kittens and stray cats are usually temporarily housed with foster caregivers and eventually adopted out as pets. However, there is dissension on what the best option is for feral cats. Some agencies feel that truly feral cats may be better off living with their colony.
However, PETA states that feral cats are highly at risk for being attacked by people and other animals, as well as being prone to injuries and infectious diseases, and should be trapped using humane traps.
Their position is that euthanasia may be more compassionate than dying a painful death.
Feral Cat Health
If you decide to bring a stray or feral cat into your home, you should take them to the vet before doing so, particularly if you have other pets.
Feline leukemia can be transmitted from one cat to another through saliva, blood, and to some extent, urine and feces.
Free‐roaming cats are at risk for numerous diseases which can also be deadly for humans.
If a cat appears sick or is acting strangely do not approach them. Instead contact your local animal control.
How To Tell If A Cat Is Feral
It can be difficult to tell if a cat is feral or merely a lost and scared pet.
As stray cats attempt to adjust to an outdoor environment, they can become fearful of people.
However, most will remember that people were the ones who fed them and these cats will typically be friendlier. Stray cats can readapt to living with people and be adopted.
Feral cats present more of a problem.
You can leave out food and water for them. Over time and with plenty of patience, you may be able to bring them into your life and home.
Have you ever encountered a feral cat? What did you do? Let us know in the comments.
References And Resources