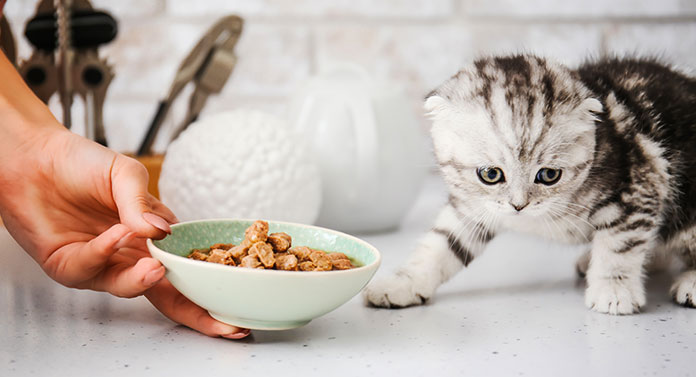 What do Scottish Fold cats eat? Like all cats, the Scottish Fold breed is carnivorous. So, they get all of their nutrient and energy needs from meat.
Scottish Fold cats should have a meat-based diet or a high protein commercial food. Although cats like the Scottish Fold can tolerate small amounts of plant matter, it should not make up the majority of their diet.
In this guide, we take a closer look at what Scottish Fold cats should eat, top commercial picks, and Scottish Fold eating habits.
Products included in this article were carefully and independently selected by the Happy Puppy Site team. If you decide to make a purchase from one of the links marked by an asterisk, we may earn a small commission on that sale. This is at no extra cost to you.
Natural Scottish Fold Diet
Scottish Fold cats and kittens are obligate carnivores. They get all of the nutrients they need from meat and animal matter.
This is why so many commercial foods are centered around meat, and have very high protein levels.
Cats are natural hunters. If they're allowed outside, it's likely that they will supplement the food you give them with other snacks.
In fact, studies have shown that rural cats have a much more diverse diet than urban ones, thanks to the amount of hunting they do. So, it's unlikely you'll be able to control your Fold's diet completely unless you keep them indoors.
As well as a very high level of protein, cats can benefit from nutrients like taurine, arginine, niacin, and Vitamin A in their diets.
Cats will get little added benefit from carbohydrates and excess plant matter in their diets.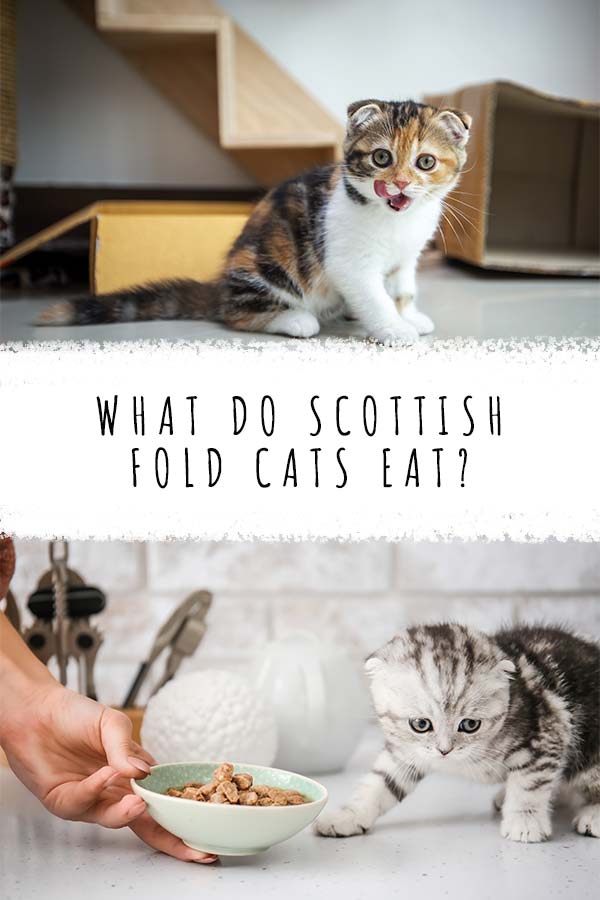 Scottish Fold Eating Habits
The Scottish Fold breed are very similar to other breeds of domestic cats in terms of their eating habits.
They will usually happily chow down on the food you leave them, eating until they're full. But, if given the opportunity, they will likely try to hunt other animals outside, particularly if you aren't feeding them enough.
It's important to feed your cat the right amount, and the right food for their lifestyle. Overweight cats could be at higher risk of health issues like urinary tract disease, diabetes mellitus, respiratory disease, skin problems, and more.
Even within the Scottish Fold breed, individual cats may have different preferences for the schedule they eat.
Some may prefer two main meals each day, so they can eat in the morning and evening with you. Others may prefer to graze on their food throughout the day.
You can observe your cat's behavior around food to see which one suits them best. Just make sure to keep a close eye on their weight.
Changes in the Scottish Fold Diet
A Scottish Fold kitten will have a very different diet to an older cat of the same breed. Kitten food is specifically designed to support your Scottish Fold through a period of intense growth.
Whereas adult food is more designed to maintain their current weight and general health.
Your cat's food will transition twice, from kitten to adult food, then from adult to senior food, which usually contains supplements to help their health in old age.
The amount of food your Scottish Fold cat needs will vary depending on their size and activity levels. This breed is usually moderately active, but if they spend a lot of time playing and exercising, you may need to up their amount of food.
Your vet is the best person to advise you about your specific cat. Book in an appointment if you're worried about your Scottish Fold's nutrition!
Best Scottish Fold Cat Food
Choosing the best food for your Scottish Fold will depend on lots of your individual circumstances. Some people prefer wet food for their cats – many cats find it more palatable.
One study suggested that cats fed only on dry food were more likely to become overweight, but other studies have found that a dry diet was better for feline dental health.
So, it's down to you to choose the right one for your cat. Many people choose to give their Scottish Fold cat a mix of dry and wet food.
Here are some top choices for you to consider.
Iams Proactive Health Dry Cat Food
The Iams Proactive Health dry cat food* is designed for indoor cats, with the goal to maintain a health weight and prevent hairballs.
The main ingredient in this food is chicken. But, it contains added extras, such as omega-6 and omega-3 to support healthy, shiny coats.
The Iams brand is well established, so you will find it in most pet stores. They also make food for a variety of different life stages, so your cat won't have to constantly change food brand as they age.
Purina ONE Tender Selects
If you're keen to find a high quality dry cat food, Purina ONE Tender Selects* is another good option.
This is a great option that gives your cat some texture to their meals. Alongside the kibble pieces, you'll find meaty chunks that your Scotish Fold will adore.
This recipe comes in two protein flavors – chicken or salmon. So, you can adapt your purchase to your cat's taste.
Sheba Perfect Portions Pate
If wet food is a more popular option for your cat, you might want to consider the Sheba Perfect Portions Pate*.
This food comes in portion sized pots, making serving easy. There's also a huge variety of flavors and proteins to choose from, including multipacks, so you can vary your options.
Real meat is the main ingredient of every flavor.
Best Scottish Fold Kitten Food
Finding the right food is a huge part of learning how to take care of Scottish Fold kittens.
Scottish Fold kittens have lots of growing to do. A specific kitten food can help to support them through this period.
Here are some of our favorite options.
Hill's Science Dry Kitten Food
The Hill's Science dry kitten food* is designed for Scottish Fold kittens that are kept indoors.
These kibble pieces are small to make it easier for your kitten to eat.
The recipe contains real meat, with chicken as the main ingredient. It also contains supplements like fish oil to support health brain and eye development in young kittens.
Blue Buffalo Wilderness Kitten Food
Another good dry food option is the Blue Buffalo Wilderness kitten food*.
The main ingredient in this recipe is chicken. But, there are other ingredients to support your kitten's health and development, including taurine and fatty acids.
Purina Fancy Feast Pate
If your kitten prefers wet food, they may enjoy the Purina Fancy Feast Pate.
This pate selection includes four different flavors that your Scottish Fold kitten is bound to love.
Real meat or fish is always the main ingredient.
Homemade or Raw Diets for Scottish Fold Cats
Many people are keen to feed their Scottish Fold cats and kittens using a homemade or raw diet.
This will involve preparing your cat's meals entirely from scratch. It's important to ensure your cat is getting the right balance of nutrients.
Most of these diets include plenty of boneless meat, and supplements like fish oil.
Work with your vet to create a diet with everything your cat needs.
And if your cat's behavior or health deteriorates, speak to your vet. Your Scottish Fold may be experiencing a nutritional deficiency of some kind.
What Do Scottish Fold Cats Eat?
The best Scottish Fold cat diet will vary depending on your cat's age and any particular health problems they have. Some may prefer a diet centered around fish, but others might love the taste of chicken!
Does your Scottish Fold love any of the foods we listed above? We'd love to hear how you feed your cat!
Affiliate link disclosure: Links in this article marked with an * are affiliate links, and we may receive a small commission if you purchase these products. However, we selected them for inclusion independently, and all of the views expressed in this article are our own.
References and Resources