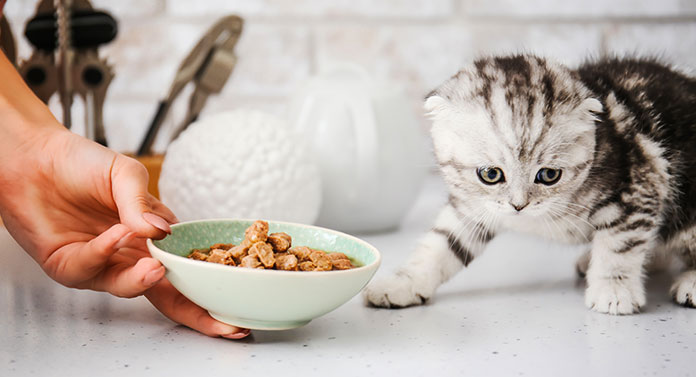 What do Scottish Fold cats eat? As a carnivorous species, cats can get all the nutrients and energy they need from meat alone. however, most of us owners would rather not get involved with hunks of chicken or beef every meal time. And we'd be quite pleased if even our outdoor cats left the local wildlife alone. The solution fortunately is quite simple, and that's to go with a branded canned or dried cat food that has a high proportion of fat and protein, but a low level of carbohydrates.
Contents
Because Scottish Folds have an unusual look with tipped over ears, it's easy to assume that they need something a bit special in their diets. Sadly the cute characteristics of this breed do come with health issues, but they aren't ones that have been shown to be supported by a speciality food.
Natural Scottish Fold Diet
As well as a very high level of protein, cats can benefit from nutrients like taurine, arginine, niacin, and Vitamin A in their diets. They will get little added benefit from carbohydrates and excess plant matter in their diets.
These cats are natural hunters, so if they're allowed outside, it's likely that they will supplement the food you give them with other snacks. In fact, studies have shown that rural cats have a much more diverse diet than urban ones, thanks to the amount of hunting they do. So, it's unlikely you'll be able to control your Fold's diet completely unless you keep them indoors.
Picky Eaters or Prolific Hunters?
This isn't a typically picky breed, they will usually be quite happy with most store brought brands of commercial food. However, this comes with potential weight problems, as they aren't great at self limiting. I always therefore recommend portioning out their food two or three times a day, rather than giving them unlimited access to dried food on top of their regular wet meals.
It's important to feed your cat the right amount, and the right food for their lifestyle. Overweight cats could be at higher risk of health issues like urinary tract disease, diabetes mellitus, respiratory disease, skin problems, and more.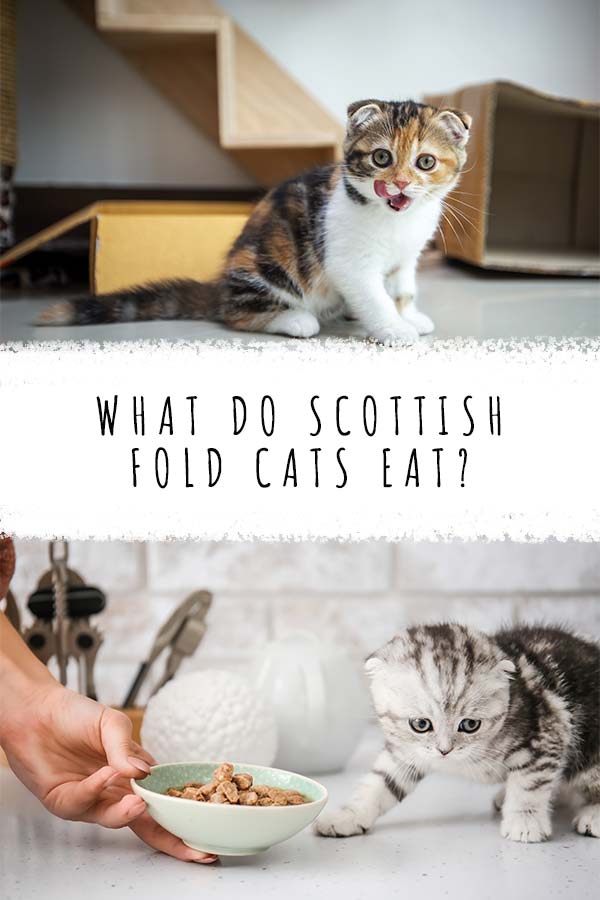 Best Scottish Fold Kitten Food
A Scottish Fold kitten will have a very different diet to an older cat of the same breed. Kitten food is specifically designed to support your Scottish Fold through a period of intense growth. Here are some of my favorite options:
Hill's Science Dry
The Hill's Science dry kitten food*(paid link) is designed for Scottish Fold kittens that are kept indoors. These kibble pieces are small to make it easier for your kitten to eat. The recipe contains real meat, with chicken as the main ingredient. It also contains supplements like fish oil to support health brain and eye development in young kittens.
Blue Buffalo Wilderness
Another good dry food option is the Blue Buffalo Wilderness kitten food*(paid link). The main ingredient in this recipe is chicken. But, there are other ingredients to support your kitten's health and development, including taurine and fatty acids.
Purina Fancy Feast Pate
If your kitten prefers wet food, they may enjoy the Purina Fancy Feast Pate(paid link). This pate selection includes four different flavors that your Scottish Fold kitten is bound to love. Real meat or fish is always the main ingredient.
Best Scottish Fold Cat Food
Your cat's food will transition twice, from kitten to adult food, then from adult to senior food, which usually contains supplements to help their health in old age. Adult food is more designed to maintain their current weight and general health.
Iams Proactive Health Dry Cat Food
The Iams Proactive Health dry cat food*(paid link) is designed for indoor cats, with the goal to maintain a health weight and prevent hairballs. The main ingredient in this food is chicken. But, it contains added extras, such as omega-6 and omega-3 to support healthy, shiny coats.
The Iams brand is well established, so you will find it in most pet stores. They also make food for a variety of different life stages, so your cat won't have to constantly change food brand as they age.
Purina ONE Tender Selects
If you're keen to find a high quality dry cat food, Purina ONE Tender Selects*(paid link) is another good option. This is a great option that gives your cat some texture to their meals. Alongside the kibble pieces, you'll find meaty chunks that your Scotish Fold will adore.
This recipe comes in two protein flavors – chicken or salmon. So, you can adapt your purchase to your cat's taste.
Sheba Perfect Portions Pate
If wet food is a more popular option for your cat, you might want to consider the Sheba Perfect Portions Pate*(paid link). This food comes in portion sized pots, making serving easy. There's also a huge variety of flavors and proteins to choose from, including multipacks, so you can vary your options.
Real meat is the main ingredient of every flavor.
Homemade or Raw Diets for Scottish Fold Cats
Many people are keen to feed their Scottish Fold cats and kittens using a homemade or raw diet. This will involve preparing your cat's meals entirely from scratch. It's important to ensure your cat is getting the right balance of nutrients.
Most of these diets include plenty of boneless meat, and supplements like fish oil. Work with your vet to create a diet with everything your cat needs.
What Do Scottish Fold Cats Eat?
The best Scottish Fold cat diet will vary depending on your cat's age and any particular health problems they have. Some may prefer a diet centered around fish, but others might love the taste of chicken!
Does your Scottish Fold love any of the foods we listed above? We'd love to hear how you feed your cat!
Affiliate link disclosure: Links in this article marked with an * are affiliate links, and we may receive a small commission if you purchase these products. However, we selected them for inclusion independently, and all of the views expressed in this article are our own.