Siamese cats are social, vocal and love interaction, communication and companionship. These cats are popular for their friendly temperaments and striking features. Large ears, a slender figure and a cool patterned coat can all provide inspiration for naming your kitten. Today I'll help you to make the most out of your unusual kitty's cool characteristics to help find them the perfect Siamese cat names.
Contents
Everyone wants a name for their pet that will suit it perfectly, but it can be a hard decision. There's a lot of choice when picking a name, but you'll want something that you're happy with for the rest of your cat's life. Hopefully one of these names will be the perfect choice for your own Siamese cat!
Famous Siamese Cats
One easy way to find a good name is to take one from Siamese cats in popular culture. These could be pets of famous people, or even cats in films, books and TV shows. These ideas can be great fun, especially if you have young children in your family and you're choosing a name from a film they know.
Si (Lady and the Tramp)
Am (Lady and the Tramp
Tao (The Incredible Journey)
Kit (Charmed)
Pyewacket (Bell, Book and Candle)
Shun Gon (The Aristocrats)
Ideas For The Girls
Although many people want something unique, or something that perfectly reflects their cat's personality, others may just want something they like the sound of. Taking inspiration from human names for your pets is a great way to find the perfect girl cat name. Here is a list of female names that you might want to choose for your Siamese cat.
Ava
Isla
Sophie
Mia
Evie
Grace
Phoebe
Millie
Florence
Lulu
Willow
Ellie
Aria
Maisie
Eliza
Maya
Gracie
Jasmine
Darcey
Lottie
Niamh
Mya
Lyla
Inspiration For The Boys
You might want to use human names for your male cat too! Here are some examples that you might like the sound of these:
Harry
William
Freddie
Theo
Ethan
Mason
Lucas
Harrison
Isaac
Alexander
Toby
Elijah
Luca
Nathan
Rory
Elliot
Kai
Roman
Owen
Leon
Liam
Ellis
Names With Meaning
Rather than using a human name, you might prefer a name that tells others a little bit about your cat. Siamese cats are social, talkative, intelligent and playful. These characteristics are a great source of inspiration for a name for your pet.
The names suggested in this category are split into male and female, and their meanings will be in brackets. Choosing a name with an interesting, significant meaning is the perfect way to guarantee your cat's name is just as full of life as your pet itself!
Alvin (wise friend)
Ames (companion)
Billy (strong mind)
Cato (clever)
Felix (happy)
Gaius (joyful)
Hani (happy)
Houston (intelligent)
Hugo (spirited)
Aimee (beloved friend)
Jocelyn (playful)
Adele (graceful)
Agatha (good hearted)
Diza (joyous)
Faith (trusting)
Luana (happiness)
Sada (good luck)
Tove (beautiful)
Vita (full of life)
Cute Siamese Cat Names
Many names that people give to their pets are unisex and are derived from other things that can complement the lovable personalities and beautiful appearances that animals like Siamese cats have. You could use things from nature that bring ideas of beauty to show off your new cat, or names that show off the energetic, social personalities of Siamese cats. Here are some examples you could use.
Summer
Dancer
Peaches
Mischief
Petal
Fig
Tango
Sparkie
Peanut
Pixie
Skip
Beanie
Merlin
Thai Names For Cats
Siamese cats originated in Thailand, so perhaps you'd prefer to give your new pet a Thai name. This can mean your cat's name is a little more unique, and a sign of your pet's heritage. This section will suggest a few different Thai names you could use, and their meanings.
Thai Girls Names
Apsara (angelic)
Chariya (good manners)
Dara (evening star)
Hansa (supreme happiness)
Isra (freedom)
Sinn (treasure)
Sopa (very pretty)
Tida (daughter)
Thai Boys Names
Anada (prosperous)
Chaiya (victory)
Chatri (brave knight)
Kiet (honor)
Kittibun (famous fortune)
Niran (eternal)
Sunti (peace)
Virote (power)
Names for Siamese Cats with Blue Eyes
Many people like to use their pet's appearance as inspiration for a fitting name. One of the most striking features that Siamese cats can have is their bright, vibrant blue eyes. Here are some names that you might want to use to describe the beautiful blue eyes of your Siamese cat.
Azure
Ice
Sky
Neptune
Indigo
Cornflower
Iris
Lapis
Sapphire
Gem
Another source of name inspiration you could use for your blue-eyed siamese cat is famous celebrities with blue eyes!
Men With Crystal Eyes
Leonardo DiCaprio
Jared Leto
Brad Pitt
Paul Hollywood
Frank Sinatra
Chris Hemsworth
Benedict Cumberbatch
Bradley Cooper
Daniel Craig
Tom Hiddleston
Blue Eyed Girls
Cameron Diaz
Nadia Bjorlin
Mary Berry
Geri Halliwell
Zooey Deschanel
Taylor Momsen
Blake Lively
Reese Witherspoon
Avril Lavigne
Megan Fox
Seal Point Siamese Cat Names
Siamese cats that you see on TV are normally seal points. It is when the cat has a light, creamy colored body and darker extremities. You could choose a name for your cat that describes or accentuates these physical features based on either the color of your cat's fur or on it's markings. Here are some you might like:
Socks
Coco
Smudge
Coffee
Baileys
Oreo
Crumbs
Pepsi
Hershey
Mocha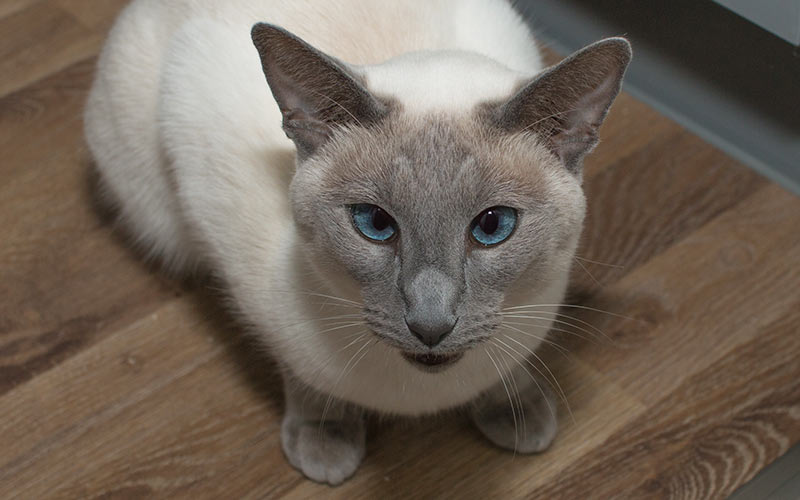 Bringing Creativity To The Process
Lots of people want names for their cats that are completely unique, just like the personality of their new little pet. Finding a unique name can be difficult, but there are ways to find less common names. Here are some names that have been less popular recently that you might want to bring back!
Buddy
Vester
Bryson
Castiel
Magnus
Anson
Rowen
Pierre
Grey
Dario
Clyde
Graeme
Ova
Tansie
Ayana
Giovanna
Nahla
Devyn
Meadow
Estelle
Jayde
Astrid
Penny
Tess
Names To Chew On
Why not give your cool kitty a name that tastes as good as it sounds? These inspired ideas would fit your slinky kitty perfectly:
Cola
Brunch
Tang
Chicco
Toffee
Toast
Basil
Crunch
Pancake
Pepsi
Bap
Crepe
Spice
Fudge
Cheese
Soda
Keeping Up The Volume
This breed is no stranger to making a racket. From chatting to you constantly to announcing themselves to the world, diving into the world of sounds is a great way to name your vocal pet:
Chatty
Vroom
Jitter
Chorus
Solo
Aria
Alto
Echo
Best Siamese Cat Names
Everyone's going to have a different idea about what the best name is for their Siamese cat. Here are some that you might love!
Mason
Jackson
Aiden
Luke
Ryan
Hunter
Isaiah
Ian
Levi
Wyatt
Kimmy
Lexie
Abi
Chloe
Ella
Grace
Audrey
Camille
Arianna
Sadie
Still Can't Choose A Name?
We have plenty more brilliant options in our other lists that would make lovely Siamese kitten names too. Check them out using the links below:
Do you have a Siamese cat at home?
Tell us what you've called your Siamese cat, or if you can think of any other names that would be perfect for a Siamese cat to help out our other readers!