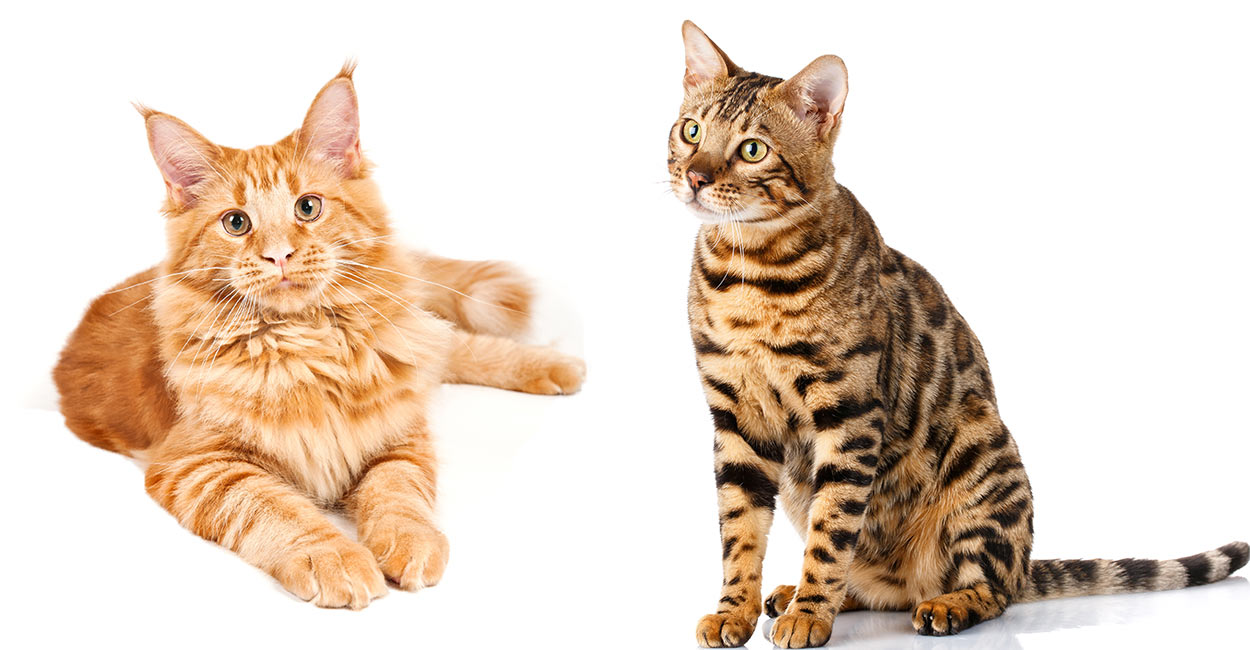 What happens when a gentle giant Maine Coon is mixed with a live wire Bengal? You get something pretty awesome. The popularity of mixed breed cats seems ever set to continue as cat lovers the world over seek out new and unique cross breeds. Provided the breeding is ethical and carried out smartly and with the cat and kittens' welfare firmly in mind, cross breeding can be a very nice concept.
Contents
Cat breeds may differ in personality and appearance wildly but genetically, domestic felines are very similar, and most breeds can be mated together safely. What's more, responsible cross breeding may result in a healthier cat. Today I'll share everything you need to know about Bengal Maine Coon mix cats, before you bring home your new kitten.
Introducing the Bengal Maine Coon Mix
Maine Coon and Bengal cats are similarly-sized breeds which makes them safe mating choice for the welfare-conscious breeder.
It's worth saying up front that while everything we know about Bengal cat Maine Coon mix cats comes from scientific research and accurate, reliable sources, you can never fully predict how a cross breed cat will turn out.
You'll definitely see traits of both breeds – physically and mentally – but there is absolutely no guarantee to what degree. Your Maine Coon and Bengal mix could be a 50/50 split. Or he or she could look 80% Bengal, but demonstrate mostly Coonish behavior (or vice versa). There really is no saying, so you need to get familiar with both.
Mixes vs Pedigree Cats
There are potential issues with picking a mixed breed rather than a pedigree. If you want to show your pet at cat shows, you won't be able to; shows only allow demonstrably pedigree animals with the paperwork to prove it.
If you have very specific requirements in terms of temperament or appearance, a pedigree cat may be more suitable. It's far easier to predict appearance and traits in them than moggies.
The flip side is, of course, that there are benefits of selecting a mixed breed over a pure breed. Health is the major one – pedigree cats are bred for their desirable traits, from a select and limited gene pool, which can also amplify the frequency of hereditary illnesses.
Mixing breeds widens the gene pool and may protect against genetic disorders which have become established in the pedigree breeding lines. Mixed breed cats may also be cheaper than pedigree cats.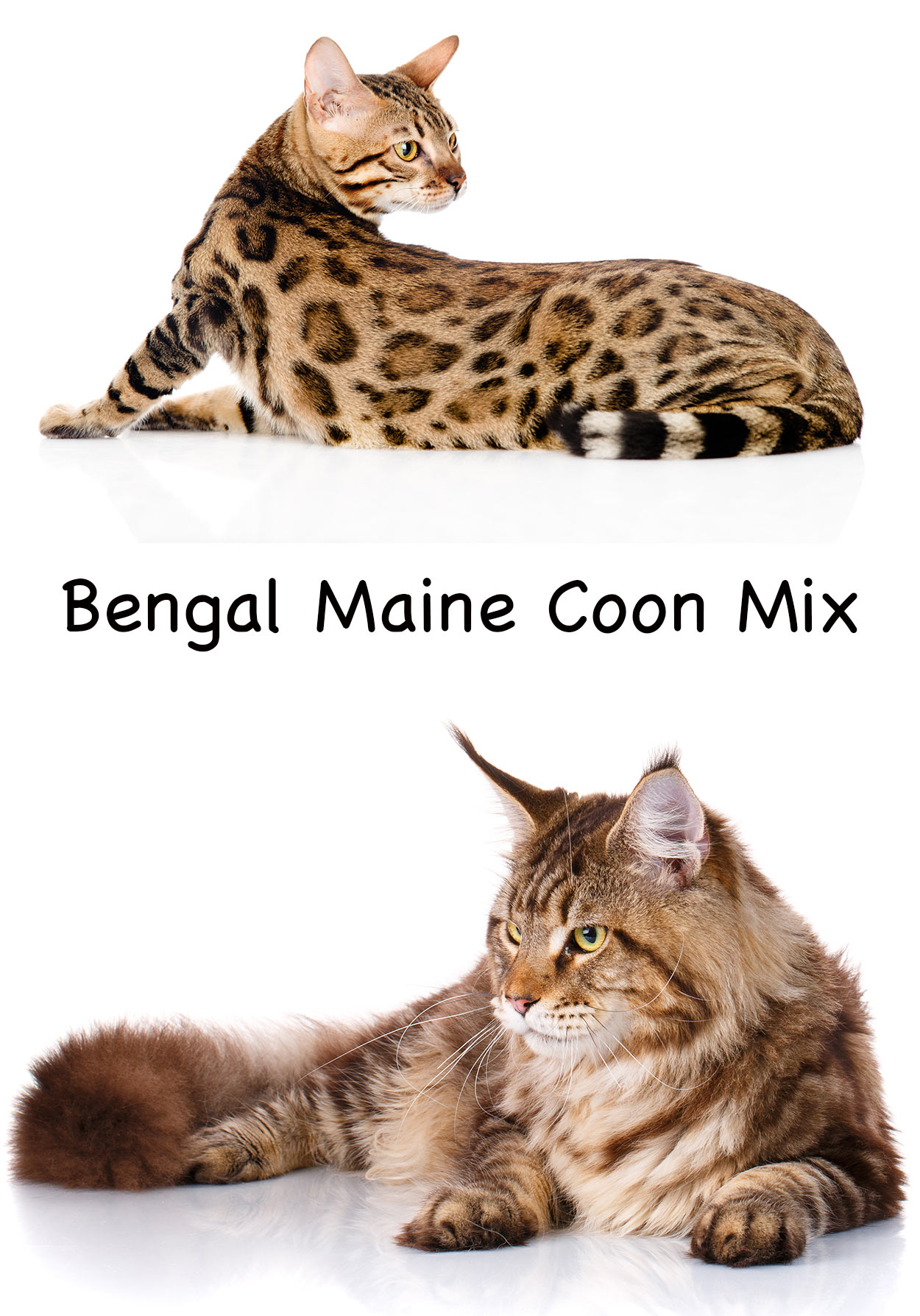 Where Do They Come From?
Despite their rather exotic name that oozes mystery and history, the Bengal is actually a rather modern invention. The first Bengal was born in America in the early 20th Century, a cross between a standard domestic shorthair and an Asian Leopard Cat (ALC). Bengals were not formally recognised by The International Cat Association (TICA) until 1983. After they were? Their popularity soared.
Maine Coon. Coon Cat. American Forest Cat. Maine Cat. Snowshoe Cat. American Coon Cat… These beautiful cats go by many names. Folklore stories of their origins are equally as numerous. While there are many tall tales about the history of Maine Coons (including that they got their name from being related to racoons), animal experts believe the truth to be wholly less exciting.
The most likely account for the existence of Maine Coons is that they are the product of domestic shorthairs breeding with longer-haired wild cats of the woods such as Norwegian Forest Cats. It's believed they first hit American shores with British seafarers centuries ago and settled in the state of Maine.
They would have been kept onboard the ships to kill the mice and rats that tried to nibble away at the men's food stores.
How The Bengal Cat Maine Coon Mix Came About
Bengals and Maine Coons have been crossed by cat lovers for some years now. But more for love of the results or by accident than anything else. So there's no official 'reason' for this cross breeding, really. And, as such, there's never really been any documentation of when the cross first came to be.
What Do They Look Like?
As we touched upon earlier, there are absolutely no guarantees as to how much of each breed a mix will have. So all we can say with any certainty here is that your Bengal/Maine Coon cross will be a little bit Bengal and a little bit Maine Coon!
If your cross ends up exhibiting more Bengal than Maine Coon, they'll likely have long, slim, muscular bodies and broad, long faces. Their ears will be small and point forwards.
If your cat bears more likeness to its Maine Coon parent, then they'll likely be slightly bulky, with large, fluffy ears and a big tail, not unlike that of a raccoon's (hence the earlier rumor).
With both breeds being particularly large cats, it's certain that your cat will be bigger than your average housecat. Fully-sized adults Bengals can weigh up to 15lbs, with mature male Coons tipping the scales at a whopping 20lbs.
Characters and Characteristics
Should your cross demonstrate more Bengal qualities, they may be quite loud and independent, loving nothing more than running around, chasing things and being active and playful.
Maine Coons are slightly friendlier and more liable to settle down on your lap, so if your mix exhibits more of the Maine Coon side, you can expect an affectionate and loving cat. They'll still love to play, but then look for a little love afterwards.
Coats and Grooming
Bengal Maine Coon mixes have rather 'wild' looking coats. Bengals can often look like big cats that have been shrunk in the wash, such is their striking leopard-like appearance. Maine Coons can be solidly colored, bi-coloured or, quite often tabby.
Both breeds come in such a wide range of different colors that there really is absolutely no saying what color or pattern a cross would have. It's a bit of a lottery, in fact!
How much you will need to worry about grooming your cat will depend on how long their coat is.
If they're more Bengal than Coon, you needn't worry. Shorter haired cats can handle most of their own grooming. Although a bit of help once a week can help you bond, reduce shedding in the rest of the house, and spot skin conditions and other health problems quickly.
If your cat has inherited the Maine Coon's longer fur, then you should help them out with their coat. Two sessions of brushing with a metal brush per week will help no end.
Exercise, Training and Entertaining
Exercise-wise, obviously it's difficult to establish a regime you can stick to; cats will be cats, after all. If you plan to let your cat outside, you can rest assured that they will exercise plenty of their own accord. If you plan on keeping your Bengal/Maine Coon as an indoor cat, then you will have some work in keeping them physically – and mentally – occupied.
These big moggies will need lots of toys and a solid thirty minutes or more playing and running around inside. Be prepared to clear some space too… When a cat this size starts sprinting about hunting toys, they're going to need plenty of room!
When it comes to training, it's possible to train your cat to perform many of the same tricks that dog owners teach their pet pooches. All you need is a little patience, a clicker and some treats.
Bear in mind though, the sessions will be on your cat's terms. They decide when they're bored and want to stroll off for a snooze (obviously!).
Health issues of Maine Coon and Bengal cats
It's important to be aware of the health issues that both main breeds suffer with. Because there's a chance that your mix may suffer with one or more of these ailments.
They may inherit any one of the following from their parents. Bengals health issues:
Feline Hypertrophic Cardiomyopathy – A form of heart disease found in some cats.
Progressive Retinal Atrophy – An inherited eye disorder that can lead to blindness.
Patellar Luxation – Malformed knee joints that can cause pain and dislocation.
Hip Dysplasia – Malformed hip joints which can also cause pain and make walking difficult.
Erythrocyte Pyruvate Kinase Deficiency – A form of anaemia.
Maine Coon health issues
Feline Hypertrophic Cardiomyopathy – Around 34% of Maine Coons are thought to carry the mutant gene that causes HCM.
Hip Dysplasia – Bigger cats can suffer badly with joint issues.
Polycystic Kidney Disease – These cysts aren't hugely common, but do sometimes occur.
Spinal Muscular Atrophy – This issue can lead to muscle weakness.
Are Mixed Breeds Healthier?
You'll notice that HCM and hip dysplasia appear on both lists, meaning even Maine Coon Bengal mix cats have an increased chance of suffering with them. HCM is a caused by a single faulty gene, which can be screened for before a cat is used for breeding.
Ask your breeder whether their Bengal Maine Coon mix kittens' parents were screened, and ask to see the certificate of the results. They should also have hips scores from a vet for both parents, and be happy to discuss these with you.
If you are adopting an older Bengal Maine Coon mix cat, the animal shelter should have also arranged for them to receive a full veterinary check up.
Life Expectancy
Typically, crossbreed cats live longer than pedigree cats. Maine Coons can expect to live to around 10-14 years, with the average lifespan being 12.5 years. Bengals, however, live a little longer. 12 – 16 years is their usual life expectancy, with 14 being the average. So the cross? Anywhere from 10-16 years. With an average of around 13 years.
Kittens and Breeders
They may be crosses, but don't expect to be able to pick up a Coon Cat Bengal mix cheap. They don't sell for the same amount as pure pedigrees, but you may be surprised. Obviously, prices are flexible and vary depending on the seller and location, but you and still expect to pay several hundred dollars.
That's because Maine Coon x Bengal kittens may not be all that easy to find. The pairing is quite an unusual one and you may need to search around a bit before you find a breeder.
Of course the logical place to carry out a widespread search these days is online. Just make sure your carry out some due diligence on the seller. Never buy any kitten without seeing the home that it was born into and meeting the kitten's mom and litter mates.
You need to ensure the home environment is safe, clean and calm. The kitten's mother should be healthy, and clearly a loved member of the family.
Are Bengal Maine Coon Mixes Good Pets?
Both Maine Coon and Bengal cats are loving and great company. That said, Bengals are extremely playful and – if you plan on letting your cat out – they do roam and go exploring for hours on end.
Perhaps the biggest consideration with how suitable your home will be for a Maine Coon x Bengal is whether or not you have the room. These cats are big… so you have to have the space to accommodate them. A tiny apartment is probably not as suitable for them as a large house.
Maine Coon and Bengal cats are both titans of the cat world – both in size and personality.
Hybrid cats are often healthier than pedigree animals, but they could also suffer any of the conditions seen in their parent breeds. For Bengal Maine Coon mix kittens, this means asking especially about hypertrophic cardiomyopathy and hip dysplasia in their parents.
Finally, make sure you source your brand new kitty from a breeder you can trust. Oh, and don't forget to spoil your new best pal!