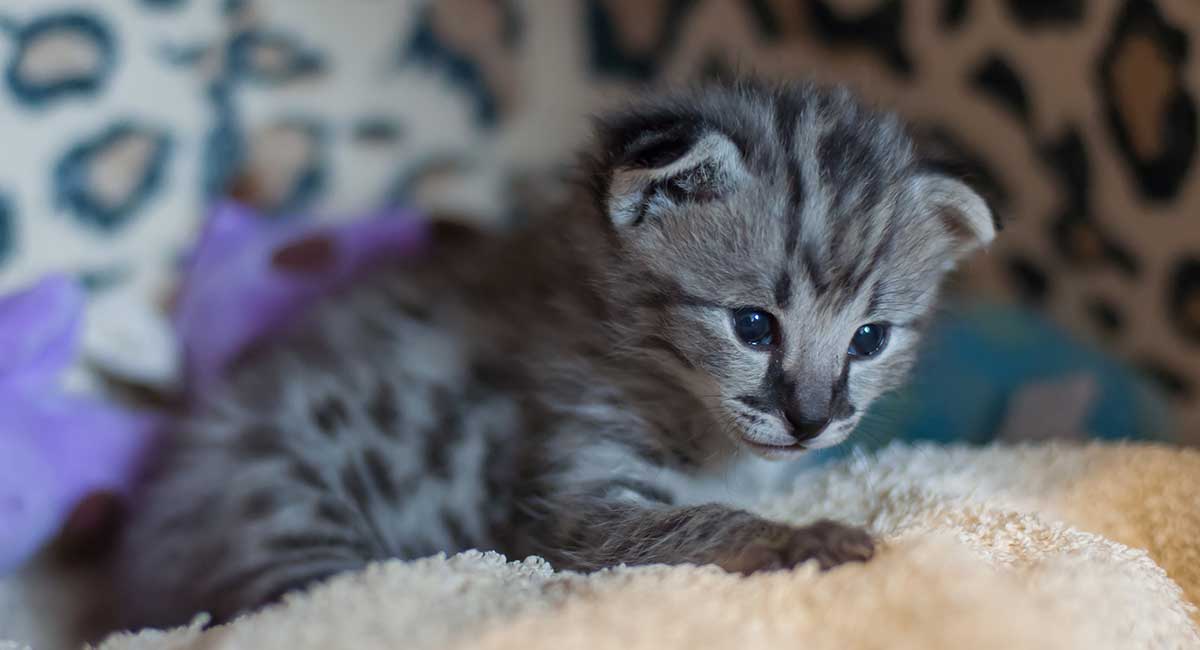 While the domestic cat has been called "a lion in the living room" for a long time now, the growing popularity of hybrid cats, specifically wild cat hybrids, proves that we love our cats on the wild side!
If the idea of a large, athletic, and exotically patterned cat sounds appealing to you, then you are probably already a fan of hybrids like the Bengal and Savannah.
There are also other wild cat hybrids for potential owners to choose from.
We'll take an in-depth look at what the experts are saying about hybrid cats, and the pros and cons of owning one (or more) of these wild looking beauties.
We'll also introduce you to a few of the most fascinating hybrid cat breeds around, including some rare cats guaranteed to intrigue any cat fancier.
But first, a little feline genetics lesson to get you up to speed on the wild cat hybrid craze.
What is a hybrid cat?
We all understand the term hybrid as meaning a cross between two different things.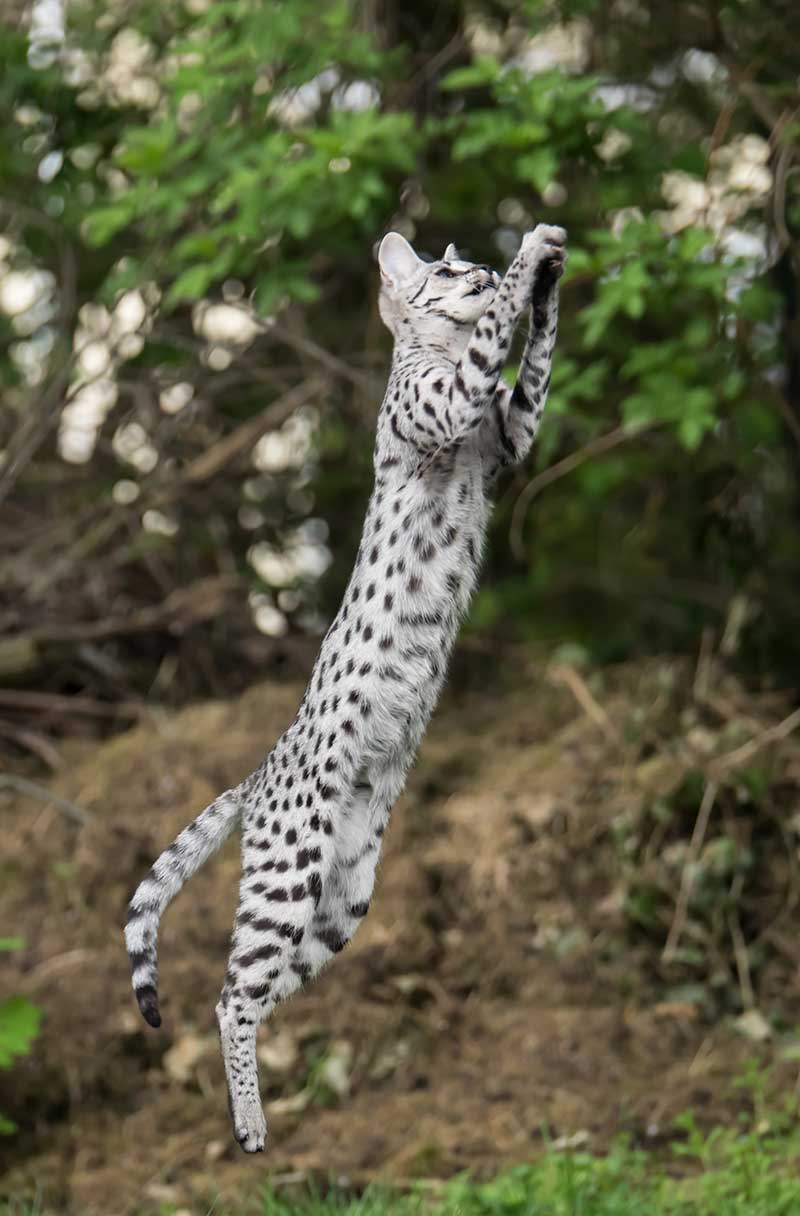 When we talk about cats it can mean a cross between two breeds of pet cat (an intra-species hybrid – both cats are the same species), or between a pet cat and a wild cat (an inter-species hybrid – the cats are different species.)
Well known intraspecies cat hybrid include the Himalayan (a cross between the Persian and Siamese), the Ocicat (Siamese, Abyssinian, American Shorthair) and Burmilla (Burmese and Chinchilla Persian).
But in this article we're focussing on interspecies hybrids, between domestic cats and wild cats.
Interspecies hybrid cats
Interspecies hybrids aren't as outlandish or uncommon as you might think.
They include the mule (horse and donkey cross) and beefalo (bison and cow cross).
Plant hybrids include the loganberry (blackberry and raspberry cross) and tangelo (tangerine and pomelo cross).
The wild cat hybrid trend is a fairly recent development in the history of cat breeds.
They are often the result of crossing domestic cats with wild cats to create companion animals that have and exotic wild cat appearance combined with the domestic cat's personality.
And if you're interested in bringing home a serval hybrid or caracal hybrid, you'll quickly discover these hybrid cat breeds come with their own specific terminology as well.
Hybrid cat genetics: The basics
You may have heard the terms F1, F2, F3, etc. when researching hybrid cats.
F stands for filial, and F numbers are way of describing generations of a family. So an F1 hybrid cat is the first-generation offspring of a wild cat and a domestic cat.
An F1 Savannah cat, for example,has one serval parent and one domestic cat parent.
F2 Savannahs have a Serval grandparent, F3s have a Serval great-grandparent, and so on.
The lower the F number, the greater proportion of wild cat DNA a hybrid has, so these cats are often the most sought-after.
However many wild cat hybrid breeders will keep cats with higher percentages of wild cat genes for their breeding stock.
The exception: Hybrid male sterility
The exception to this rule is often male cats.
First- and second-generation hybrid male cats are often sterile.
From an evolutionary point of view this serves an important purpose – it stops species interbreeding all over the place.
One study of Savannahs and Bengals found that males are generally sterile until at least the F3 or F4 generation (and sometimes longer), while females are fertile from the beginning.
This means that female hybrids lose breeding value through the generations, while males gain it.
Hopefully that's not too confusing!
It's OK, you don't need a degree in biology to own a hybrid cat…the characteristics of the individual kitten you choose are always a more important factor than the actual percentage of wild cat genes it might have.
Hybrid cats – why breed them?
Creating hybrid cats is a genetic lottery in so many respects, so what motivates breeders to do it?
First, no doubt is the thrill of creating something new, unique, and never seen before.
But creating hybrid cats can also bring genetic advantages.
Let's revisit intraspecies cat hybrids again very briefly…
Hybrid cats and genetic diversity
We have domesticated cats for hundreds of years, and created many individual breeds along the way.
In some cases, the longer a breed has been around the more extreme we have made their appearance through selective breeding.
Think of the pushed in face of the Persian vs. the elongated one of the Siamese.
Besides exaggerated appearances, some purebred lines suffer from a lack of genetic diversity, which often results in inherited health problems becoming fixed throughout the breed.
Experts report that there are over 200 known hereditary diseases in cats.
Certain breeds are at greater risk for inherited health problems (such as eye and kidney disease) than others, which is why knowing the genetic makeup of a cat is important.
Outcrossing, including the creation of hybrids, can help with genetic diversity.
Wild cat hybrids
Many people assume that the first wild cat hybrids were created purely for their looks.
But did you know that the first domestic-wild hybrids were created in the 1970s by scientists studying the deadly feline leukemia virus (FeLV)?
Domestic cats were bred with Asian Leopard Cats to see if the hybrid would be immune to FeLV.
They weren't, but after the study was concluded, these exotic looking hybrids were kept as pets, and the Bengal breed was born.
Other wild cat hybrids soon followed.
Whenever a hybrid cat is created, wild cat DNA is introduced to the domestic cat population and gradually diffuses through many generations.
In this way, creating interspecies and intraspecies cat hybrids can counteract the dangerous loss of genetic diversity in purebred cats.
Hybrid cats – what to expect from owning one
While many people admire the looks of these hybrids, there are some temperament and health issues related to their wild cat ancestry to be aware of as a potential owner.
Feline health and behavior experts say that while F4 (and later) hybrids can be sold as domestic pets, they still exhibit some troublesome wild cat tendencies.
The two biggest behavior problems? Litter box and aggression issues.
Hybrid cats (even when neutered) are more likely to scent mark areas of your home with urine than domestic cats.
Aggression towards you or other animals in the home can also be a problem.
Remember that besides lions, all wild cats are solitary by nature and hybrids may not be as sociable as domestic cats.
Health problems of wild cat hybrids include irritable bowl disease, intestinal parasite infection, hypertrophic cardiomyopathy (heart disease), and feline infectious peritonitis (FIP), a serious and often fatal disease.
It's also possible that some vaccines may not be as effective in hybrids.
Hybrid cat breeds
Here is an overview of some of the most popular and interesting wild cat hybrid breeds.
Be sure to do your research and choose a reputable breeder.
Avoid retail pet shops and online ads to ensure that your kitten's genetic line is as healthy as possible.
Sometimes hybrids are surrendered to shelters and rescue groups, so be sure to investigate adoption as well, especially if you are interested in an adult cat.
Many surrenders are behavior-related, also something to keep in mind.
Now that we've looked at hybrid cats in general, let's check out the breeds!
Savannah cats
The Savannah cat hybrid is one of the most popular hybrid cat breeds, along with the Bengal.
The Savannah is a cross between a domestic cat and an African Serval.
The Serval is known for its lithe physique, spotted coat, and large ears.
According to The International Cat Association (TICA), the first Savannahs were bred in the mid-1980s. The Savannah is known for its close resemblance to the Serval, a tall lean body, large ears, and exotic markings.
The Savannah's temperament is bold and outgoing, requiring a good amount of daily exercise, play, and interaction with its owners or other pets.
Loving towards their owners, Savannahs may not sit on your lap for hours, but they will follow you around and seek out head rubs.
They are highly trainable, and many will walk on a leash.
Bengal cats
The Bengal cat hybrid is probably the most popular and well-known of all the wild cat hybrids.
The Bengal is a cross between domestic cats and Asian Leopard Cats. The Asian Leopard Cat is a small wild cat with distinctive markings.
Bengals have inherited the plush, exotically patterned coat of the Leopard Cat.
Their markings can be either spotted or marbled. The spots can be rosettes, which have two fur colors instead of one.
A full-grown Bengal can weigh between 6 and 15 pounds, athletic but not overly large.
The Bengal is an active, curious cat known for its love of jumping up to high places.
They love to play and follow their owners as they go about their daily tasks.
Like the Savannah, you shouldn't expect a lap cat, but you will have a "shadow."
Chausie cats
Not as well known as the Bengal or Savannah, the Chausie cat is a lovely and elegant wild cat hybrid.
The Chausie is a cross between the domestic cat and the Jungle Cat (Felis chaus).
The Jungle Cat was known to the Ancient Egyptians and has been crossed with the domestic cat at various times over the centuries.
Today's Chausie was developed as an official hybrid breed in the 1990s and achieved TICA registration in 1995.
Instead of bold spots or stripes, the Chausie has inherited the coat characteristics of its Jungle Cat ancestors.
The fur can be brown ticked tabby, solid black, or grizzled tabby. The multi-colored grizzling is unique to the Chausie.
Like other hybrids, the Chausie is energetic and athletic, but it is known for being more affectionate and attached to its owners than some other breeds.
Chausies love human companionship and don't do well left alone for most of the day.
Caracat cats
The exotic Caracat is a domestic cat and Caracal hybrid.
The domestic cat breed commonly used in the Caracat is the lovely Abyssinian.
The Caracal is a medium sized wild cat also known as the desert lynx. It has distinctive long black tufts on its large ears.
Fans of the Caracat love the breed's handsome appearance, with its large size, big tufted ears, and ticked coat.
This is a new, rare, and expensive breed, most common among well-heeled cat fanciers in Russia.
A Caracat can cost over $20,000!
Toyger cats
The Toyger can be thought of as a next generation hybrid, one step removed from its wild cat ancestors.
They are a cross between a tabby domestic shorthair and a Bengal – the goal of the breed's founder was to replicate tiger markings in a domestic cat, hence the name Toyger!
Toygers have bold vertical stripes and tiger-like coloring, unique among domestic cat breeds.
The Toyger is a medium to large sized cat, with males weighing as much as 15 pounds.
Their bodies are long, muscular, and big boned, in keeping with that tiger look.
Since they are wilder in looks than genetics, Toygers are known to be friendly and outgoing. They like the company of people and other pets.
Their temperament is calmer than many other hybrids, something useful to keep in mind for novice owners.
Cheetoh cats
What could be a cuter name than Toyger? How about Cheetoh? The Cheetoh is another next generation hybrid, a cross between the Bengal and Ocicat.
What makes the Cheetoh unique?
Fans of the breed point to its distinctive spotted coat and big size. Adult males can be over 20 pounds in size, and females can be as large as 15 pounds.
It is a wild looking large cat with a calm, gentle temperament.
Unlike some true wild cat hybrids, Cheetohs are not aggressive or aloof, a good choice for fans of the exotic wild cat look who are also seeking a gentle and loving family pet.
Serengeti cats
Our final hybrid is another Bengal cross breed.
The Serengeti is a Bengal crossed with an Oriental Shorthair. Like the Toyger and Cheetoh, it is one more step removed from those wild ancestors.
Serengetis were created to look like the beautiful African Serval, but it is not a Serval hybrid like the Savannah.
The Serengeti is a good choice for fans of the Savannah's exotic looks who may be a little wary of the Savannah's wild nature.
Serengetis are elegant cats with large ears and wide eyes. Their coats are spotted, with brown and black or silver and black coloring.
They are medium sized, with the largest males weighing around 15 pounds.
Serengeti personality is described as friendly and confident, always eager to follow you around and see what you're up to!
They are active like the Bengal and talkative, thanks to their Oriental Shorthair ancestry.
Is a hybrid the right cat for me?
Wild cat hybrids are gorgeous to look at, but are they the right pet for you?
The answer depends on your willingness to experience some wild cat behavior along with those exotic looks.
While the average cat owner won't have an early generation wild cat hybrid in the house, even later generation hybrids can have some behavior issues.
And even though hybrid cat breeds like the Savannah and the Bengal are popular, they are not for everyone.
Take a close look at your lifestyle and cat personality preferences before deciding on one of these demanding breeds.
Also check your local laws regarding owning wild animal hybrids – different countries, states and even cities often place their own restrictions on owning hybrid cats without a license or within a specified number of generations from their wild ancestors.
For wild cat looks with a domestic cat's personality, consider breeds like the Toyger, Cheetoh, or Serengeti… exotic looking cats with mild temperaments.
Do you share your life with a hybrid cat?
Let us know about your experiences with your "lion in the living room" in the comments below!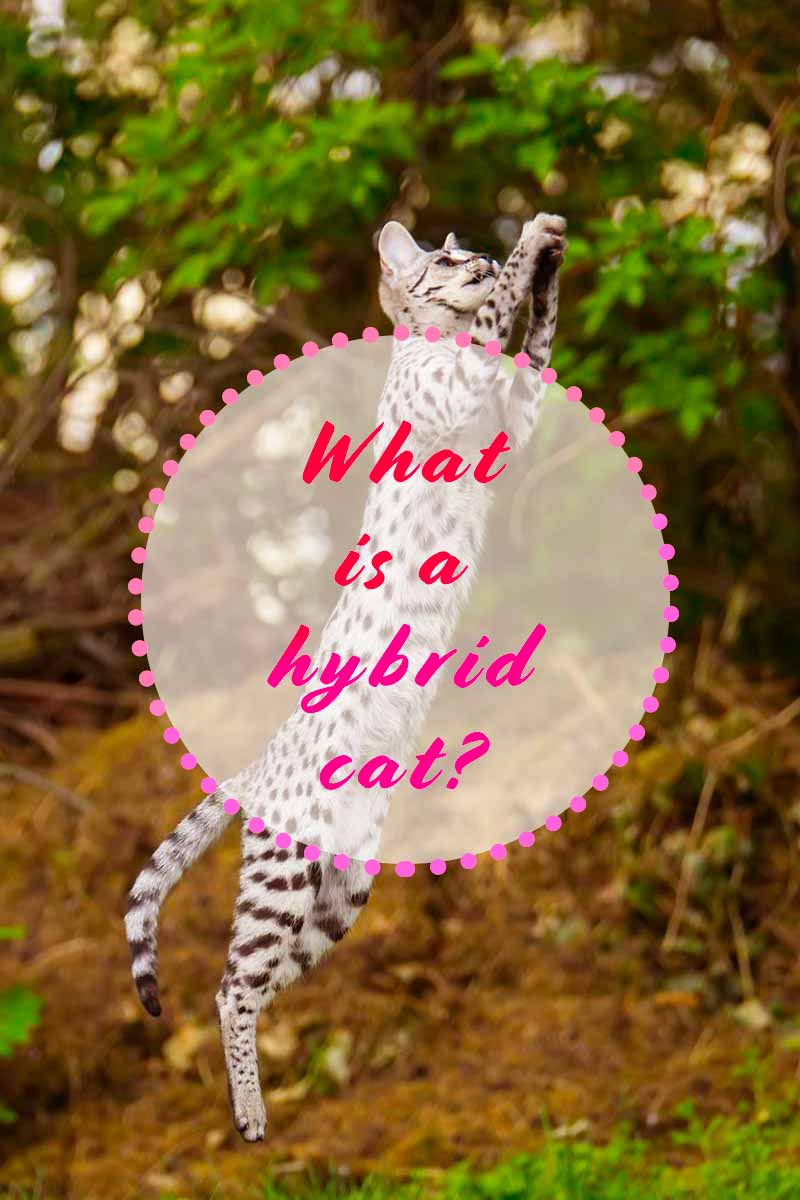 References and further reading
Davis, B.W., Seabury, C.M., Brashear, W.A., et al. Mechanisms Underlying Mammalian Hybrid Sterility in Two Feline Interspecies Models. Molecular Biology and Evolution, 2015.
Kurushima, J.D., Lipinski, M.J., Gandolfi, B., et al. Variation of Cats under Domestication: Genetic Assignment of Domestic Cats to Breeds and Worldwide Random Bred Populations. Animal Genetics, 2013.
Menotti-Raymond, M., David, V.A., Pflueger, S.M., et al. Patterns of Molecular Genetic Variation Among Cat Breeds. Genomics, 2007.
Benson, K. Exotic Hybrid Cats and Their Hidden Dangers. Pet Poison Helpline, 2017.