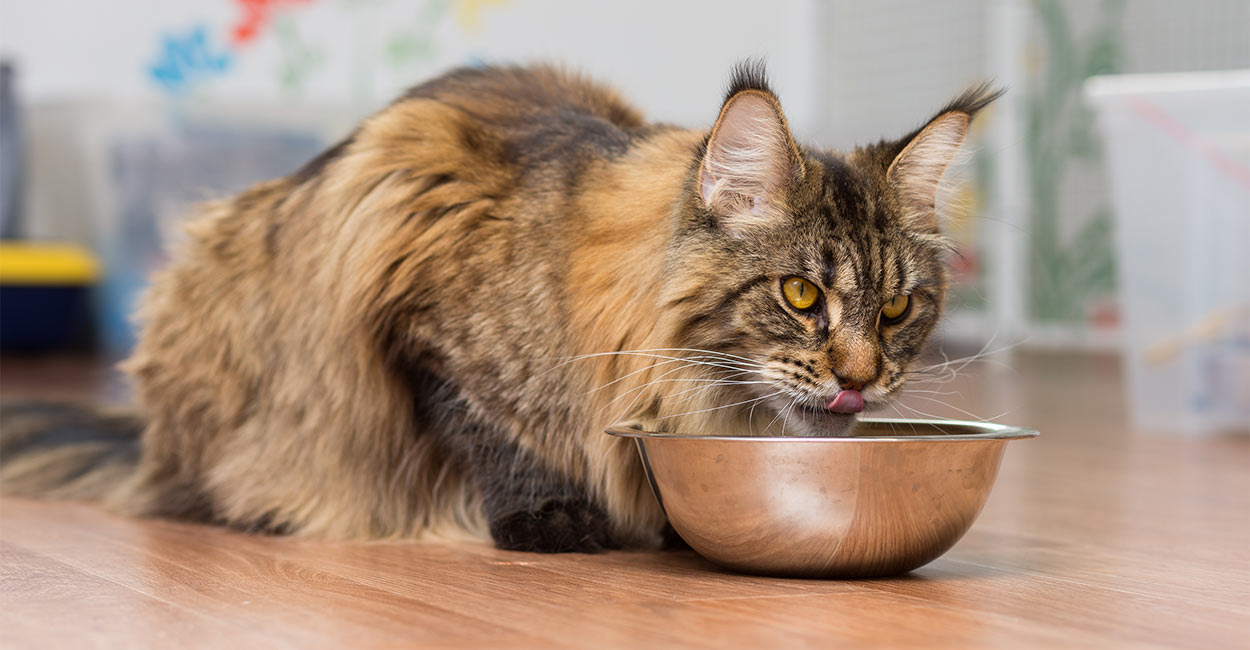 Welcome To Our Complete Guide To The Best Cat Food For Maine Coon Cats.
Looking At Their Specific Nutritional Needs And How We Can Help To Meet Them.
With Reviews Of The Best Brands And Top Choices For Your Kitty.
The first time most people see a Maine Coon cat, they can't believe their eyes.
A fully-grown Maine Coon cat is just so big and so fluffy – really an enormous cat breed!
For this reason, new Maine Coon cat parents often assume that their Maine Coon cat needs a special diet.
Or at least more plentiful helpings of cat food than other smaller cat breeds require.
But how much food does a Maine Coon cat need?
What is the best food for Maine Coon cats?
Is there a portion size guideline that you can follow?
Compared side by side, is Maine Coon wet food or Maine Coon dry food better for your big furry baby?
We are going to answer each of these questions in this article.
We will also review some of the best cat food for Maine Coon cats so you know exactly how to take care of your big, beautiful feline!
All of these products were carefully and independently selected by The Happy Cat Site team. If you decide to make a purchase from one of the links marked by an asterisk, we may earn a small commission on that sale. This is at no extra cost to you.
Maine Coon cat food
Because Maine Coon cats are naturally a very large cat breed, you may think your Maine Coon kitten or cat needs to eat more than other cats – a lot more.
This is an honest mistake.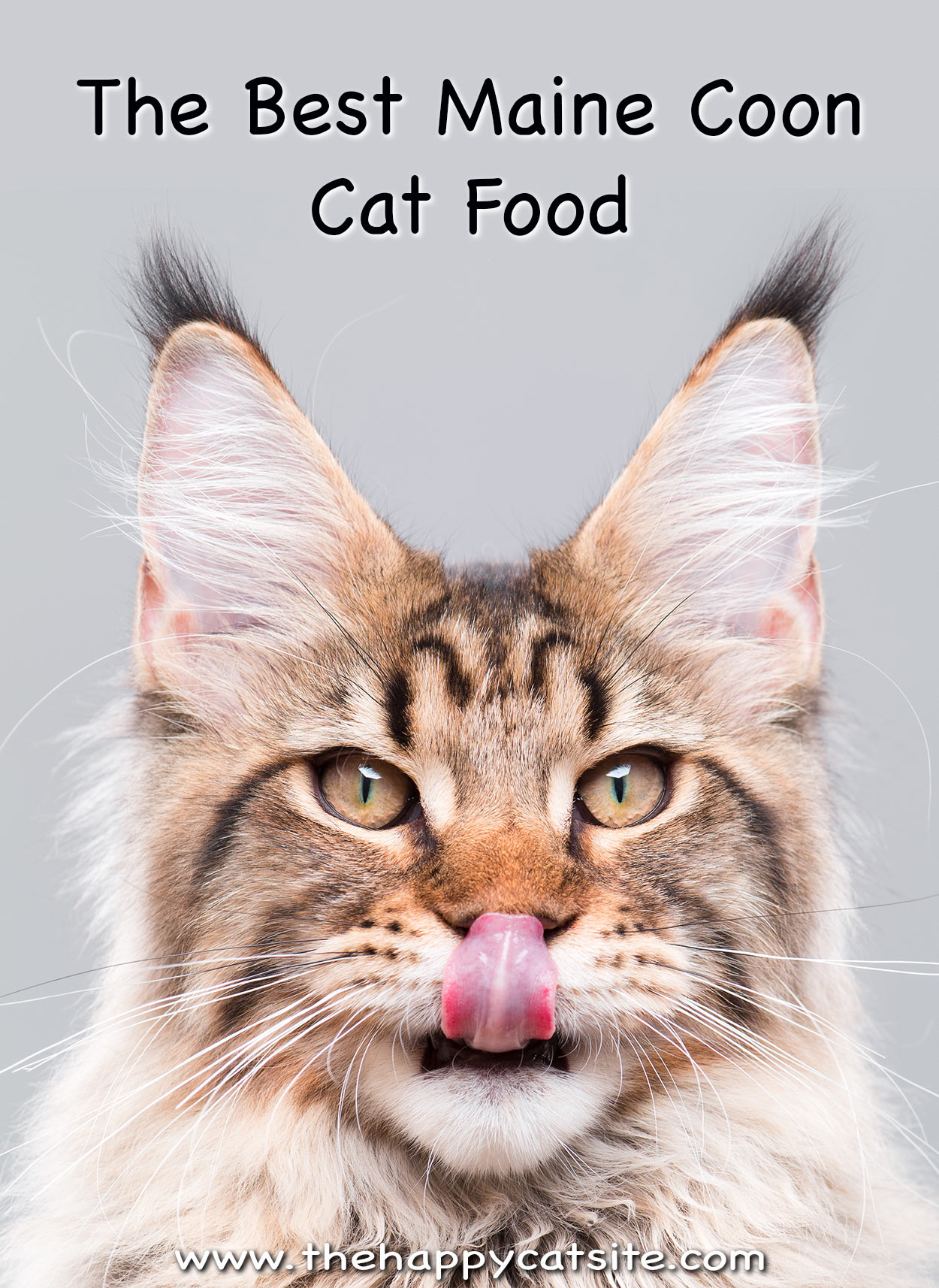 After all, the Maine Coon is recognized by many as being the biggest domestic cat breed in the world, sometimes weighing in at 24 pounds or more.
But cats this big are the exception rather than the norm, and may even be overweight.
For the most part, an adult Maine Coon cat will weigh 9 to 12 pounds (for females) and 13 to 18 pounds (for males).
This cat breed can look quite a bit heavier than their actual body weight because of their thick fur, which gets even thicker when their winter coat grows in annually.
Not surprisingly, Maine Coon cats can also get heavier when overfed.
Because this cat breed can take three to five years to reach full adult weight, height and length, feline obesity can sneak up on you and your cat without any prior warning.
And where feline obesity exists, feline diabetes can soon follow.
Here, it is worth mentioning that the current veterinary treatment for feline diabetes today often follows feeding your cat a high protein diet, while steering clear of excessive levels of carbohydrates that will just be sent straight to your cat's liver to get converted into (and stored as) body fat.
So this is something important to look for in your Maine Coon cat food.
Findign the best cat food for Maine Coon cats
It is important to feed your Maine Coon a protein-rich diet anyway, since all domestic (and wild) cats are obligate carnivores.
Total meat eater.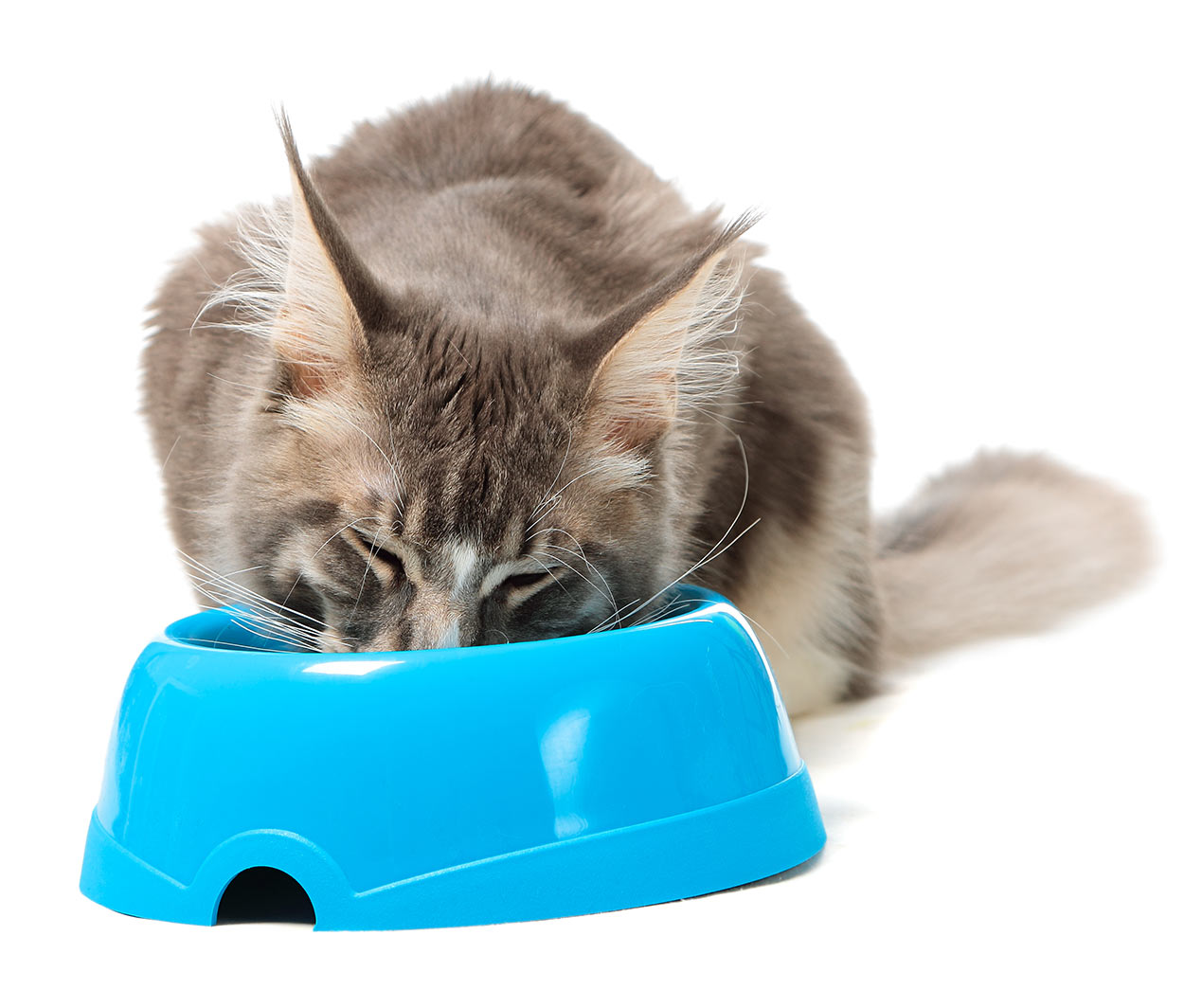 As such, cats have evolved in every way to require a highly specialized protein-rich diet of the type their small wildcat ancestor, Felis silvestris libyca, would have consumed on daily hunting treks in South Africa.
Hip dysplasia is also a growing concern among purebred Maine Coon cats, mainly because these cats can grow so heavy, tall and long.
Keeping your Maine Coon cat within the recommended weight range for her age and size (something your veterinarian can monitor and help with) can help avoid a painful and debilitating future for your fur baby.
Feline dental disease is another known health issue for Maine Coon cats, even more so than for many other cat breeds.
Proper diet can play a part in reducing the risk and severity of several health problems.
These include gingivitis, periodontal disease, dental lesions and tooth fractures, among other oral health concerns.
Finally, while there have not yet been any confirmed cases of mercury poisoning from feeding pet cats a tuna-rich diet, it can be worth steering clear of serving too much tuna (now often called "ocean whitefish" on cat and kitten food packaging) in your Maine Coon cat's daily diet.
Feeding your Maine Coon cat
So how much of the best cat food for Maine Coon cats should you be feeding to her?
Does it matter if your Maine Coon is an indoor cat or an outdoor cat?
Does your cat need any specific vitamins or minerals to thrive?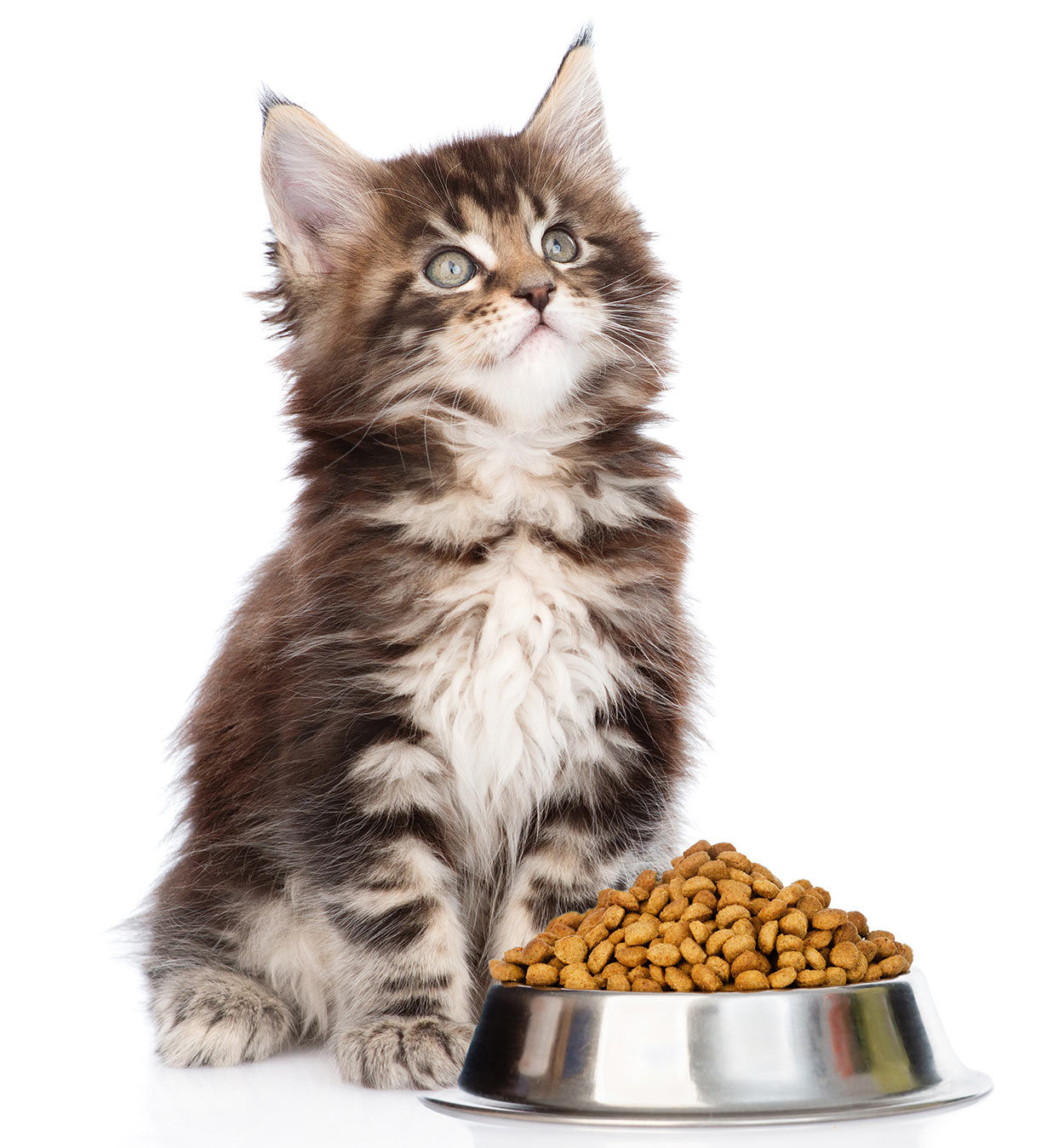 Should portion sizes be different depending on your Maine Coon cat's age or activity level?
These are all such excellent questions that show how much you love and care about your fur baby's good health!
And yes, you should absolutely be adjusting your Maine Coon cat's daily food portions based on several factors.
These include her age, stage of life, activity level (indoor versus outdoor), special health needs and your veterinarian's guidance.
Generally speaking, Maine Coon cat breeders say that they have observed their Maine Coon cats do well with a free-feed diet as kittens and young adult cats.
But they can start to gain too much weight if allowed to free-feed during middle age.
If this occurs, breeders recommend switching to the best cat food for Maine Coon kitties that has a lower calorie count per serving.
Nutrition and the best cat food for Maine Coon kitties
The new dietary guidelines for cats indicate growing kittens should be fed a food with a minimum protein content of 30 to 45 percent and for adult cats on a maintenance diet, the minimum protein content should be 26 to 40 percent.
These levels also need to be adjusted for different life stages, activity levels and pregnancy.
Cats can't make their own vitamin A, vitamin D, taurine, and arachidonic acid, and so they often need dietary supplementation here.
Cats also need supplemental arginine, niacin and vitamin B6 (pyridoxine) as well as a sufficient quantity of healthy fats.
Cats will eat up to 20 small meals daily in a free-feed situation, with an average calorie content per meal of around 23 to 35 calories, depending on size, lifestyle and life stage.
Veterinarians state that this meal size is very reflective of how the pet cat's wildcat ancestor, Felis silvestris libyca, would have taken in energy in the wild through hunting small wild prey.
In other words, 30 calories per serving of cat food is about how much useful energy a wildcat would derive from catching and eating one small mouse h
On average, one piece of dry cat kibble includes about 3 calories of energy.
In a straight mouse-to-kibble conversion, this would mean your adult cat should consume no more than 10 to 15 pieces of dry cat kibble per meal.
As always, it is best to check with your veterinarian rather than trying to self-modify your Maine Coon kitten or cat's diet, especially if you are trying to help your cat lose weight.
Your cat's daily dietary needs are as individual as your cat, and may vary depending on other health issues, activity levels and age.
Best dry food for Maine Coon cats
Dry food, or kibble, is an important part of a Maine Coon cat's diet.
Kibble is a suitable food to leave out for free-feed meals, since it will stay safely fresh for far longer than canned or Maine coon wet food.
Regular access to Maine coon dry food like these choices can also help keep your cat's teeth and gums cleaner and reduce the risk of dental disease.
So, you're in the dry food isle. What is the best cat food for Maine Coon cats when it comes to kibble?
ROYAL CANIN Maine Coon dry cat food.
This Royal Canin Maine Coon food* features a larger "king size" kibble that encourages your square-jawed feline to chew more.
It is packed with antioxidants, vitamins and minerals to nourish your cat on the inside and the outside.
The package includes a handy serving size that is based on your Maine Coon cat's weight.
You can purchase a 2.5, 6 or 14-pound bag.
Hill's Science Diet Indoor Dry Cat Food. 
You can choose from four blends*: kitten, adult, adult 7-11 and adult 11+.
This gives you the option of choosing a food that is calorically tailored to your cat's activity level and life stage.
This vet-recommended food comes in a 3.5, 7 or 15.5-pound bag for one or multiple cats.
Cat owners say their cats like it and it is a high-quality food.
Purina ONE Indoor Adult Premium Cat Food.
This vet-recommended food* offers 42 grams of protein per 1,000 calories, plus plenty of antioxidants, vitamins and minerals for your cat's overall health.
You can order it in a 3.5, 7, 16, or 22-pound for one or many cats.
Best of all, the kibble is designed to help clean your cat's teeth and gums.
Best wet cat food for Maine Coon cats
Wet cat food adds a valuable nutritional component to your Maine Coon cat's daily diet, and it can also be a source of pure culinary delight, since wet food more closely mimics the moisture balance found in live prey.
These Maine Coon wet food recipes get four paws up from cats and Main coon cat food reviews also show they get high marks from cat owners.
Let's take a look at the best cat food for Maine Coon owners that prefer canned or pouched options.
Purina Pro Plan Wet Adult Weight Management
This protein and fat-balanced recipe* is designed to help support your cat to stay at a healthy weight while supporting the feline immune system.
It comes in a 24-pack of individual 3-ounce cans.
IAMS Purrfect Delights Adult Wet Cat Food
This pate-style wet cat food* comes in four recipes: turkey, chicken, salmon and tuna/turkey.
There is no added soy, corn, gluten or artificial flavors.
Owners say this food is easy on the digestion and makes it easier to clean up the litter box.
"I and love and you" All-Natural Canned Cat Food
This wet cat food* is all natural and offers a choice of turkey, chicken, salmon, beef and rabbit recipes.
The recipes feature sweet potato in place of grains and there are no thickeners added.
Owners say even picky cats love this food.
Maine Coon kitten food
Finding the best food for Maine coon kittens should include both dry and wet Maine Coon cat food that is specifically designed to meet the nutrient and energy needs of kittens.
Kittens expend more energy than adult cats because they are growing and developing so fast. They also need more of certain nutrients than adult cats do. When in doubt, always ask your veterinarian for guidance!
Let's take a look at some of the best cat food for Maine Coon kittens.
ROYAL CANIN Kitten dry cat food
This Royal Canin dry kitten food* is designed to support your kitten's still-developing digestive, immune and dental systems.
The kibble bits are smaller than for an adult cat so your kitten can chew it easily.
Kitten owners say their vets recommended this food and their kittens love it.
Royal Canin Feline Health Nutrition Kitten Instinctive
What about Royal Canin Feline Instinctive*? It is always a good practice to feed both dry kibble and wet cat food to your growing kitten.
This Royal Canin wet canned food goes very well with the same-brand dry kibble listed here.
Hill's Science Diet Kitten Minced Cat Food
This wet kitten food* is packed full of lean protein and minced so your kitten can eat it easily.
You can choose from three recipes: chicken and liver, salmon or turkey.
Hill's Science Diet is vet-recommended for kittens and cats.
Hill's Science Diet Indoor Dry Cat Food for Kittens
This kitten-specific dry food* includes prebiotics and fiber along with a full complement of vitamins and minerals to build immune system and digestive health.
This food is vet-recommended (based on a manufacturer annual survey).
Owners say the kibble is small and easy for their kittens to chew.
Maine Coon food allergies dry
Nothing feels worse than watching your hungry Maine Coon cat wolf down her dinner, only to later experience discomfort instead of nourishment.
These dry cat food recipes feature a limited ingredient menu.
This can help to isolate specific food allergies and ease digestive sensitivities.
Let's take a look at some options for the best cat food for Maine Coon kitties with allergies.
Purina Beyond Natural Dry Cat Food
This limited ingredient Maine coon dry food* is free from known allergens like soy, wheat and corn, artificial ingredients, preservatives and poultry by-products.
It come in a 3, 6 or 13-pound bag.
Cat owners say it works very well to ease issues such as sensitive stomach and skin itching.
Natural Balance Limited Ingredient Dry Cat Food
You can choose from three recipes*: green pea and chicken, green pea and duck or green pea and salmon.
The limited ingredient recipes are also grain-free to help ease issues such as sensitive stomach and food allergies.
It comes in a 2, 5 or 10-pound bag.
Instinct Limited Ingredient Diet Grain Free Recipe Dry Cat Food
This limited ingredient cat food* comes in two recipes: rabbit or turkey.
It uses green tea extract, a natural anti-oxidant, as the kibble coating.
This food also partners with Best Friends Animal Society to deliver meals to its rescued cats.
You can choose from several sizes depending on the recipe.
Maine Coon food allergies wet
When your Maine Coon cat is struggling with allergies or sensitive digestion issues, it can be challenging to find a good wet cat food that can support him through the difficulties.
These wet cat food recipes are designed to be palatable, nutritionally balanced, free from artificial ingredients and easy to digest.
Royal Canin Feline Health Nutrition Digest Sensitive
This popular and highly rated Royal Canin Maine Coon wet food* comes in a 6, 12, or 24-pack case.
The limited ingredient recipe is based on a nutrient-balanced formula to reduce food allergies and allergic reactions in cats.
Owners say even cats who don't generally like wet food like this food!
Hill's Science Diet Sensitive Stomach & Skin
This potential Maine Coon cat food* is free from artificial ingredients and preservatives and designed to be easy to digest.
You can choose from chicken and vegetable or tuna and vegetable.
Owners say it has successfully resolved their cats' stomach issues.
Halo Holistic Wet Cat Food for Sensitive Stomachs
This sensitive stomach wet cat food* features whole meat, all natural and grain free, non-GMO recipes with extra hydration to help with sensitive digestive systems.
What is the best cat food for Maine Coon cats?
Now that you have read through this carefully curated list of the best cat food for Maine Coon cats, it is time to get to work deciding which cat food to try first!
If you have a Maine Coon kitten, it can be helpful to feed her a few different recipes of wet and dry cat food so she gets used to switching food textures and tastes.
This will make your job so much easier if she ever needs a special limited time diet later in life!
Does your Maine Coon kitten or adult cat have a favorite food? Please let us know and maybe we will feature it in an upcoming article!
Affiliate link disclosure: Links in this article marked with an * are affiliate links, and we may receive a small commission if you purchase these products. However, we selected them for inclusion independently, and all of the views expressed in this article are our own.
Resources
Himsel Daly, K., et al, "Maine Coon Cats: Everything about Purchase, Care, Nutrition, Health, and Behavior," Barron's Educational Series, 2006.
Heinze, C., "With concerns about mercury poisoning, is it safe to give canned tuna to cats as a treat?," Tufts University/Tufts Now, 2014.
Wortinger, A., BIS, LVT, VTS, "Cats: obligate carnivore (Proceedings)," Vet DVM360, 2010.
Sanderson, S.L., BS, DVM, PhD, DACVIM, DACVN, et al, "Nutritional Requirements and Related Diseases of Small Animals," AAFCO Nutrient Requirements for Cats/Merck Veterinary Manual, 2018.