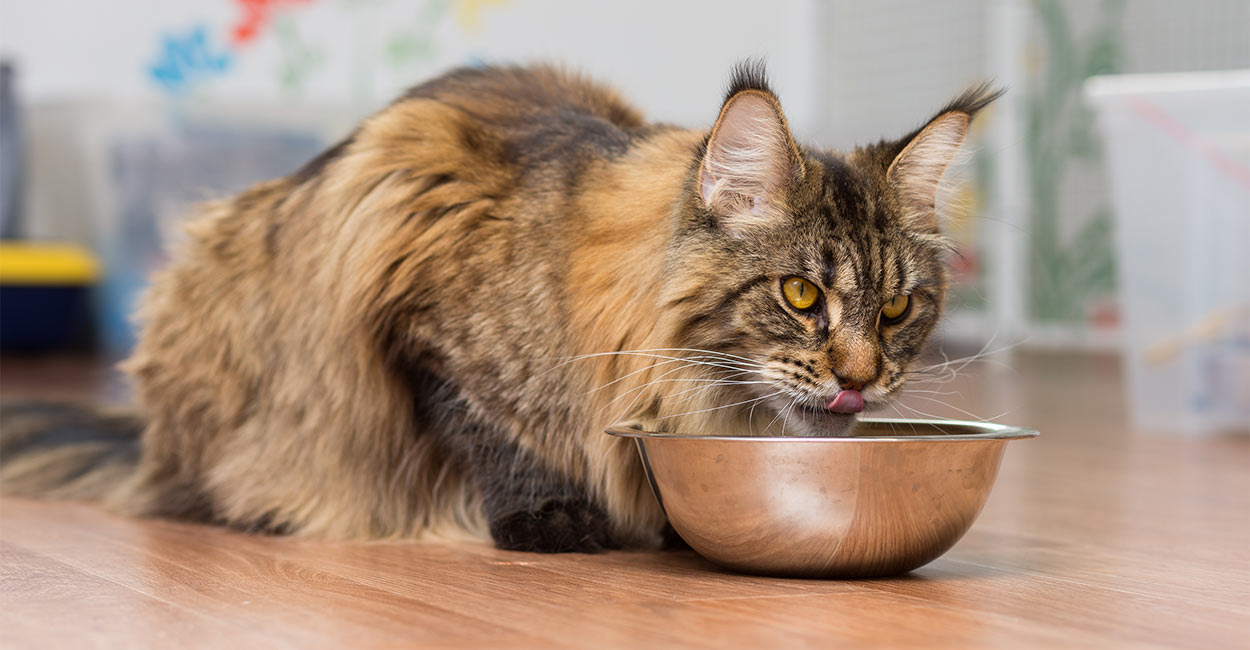 The best cat food for Maine Coon cats leaves their coats shiny, ears tufty and paws ready to knead your knee in happy affection. Although large kittens, they thrive on good quality standard cat food brands just as well as those that claim to cater to their unique features. Today I'll share some awesome high protein, low carb options for their different life stages.
Contents
Do Maine Coons Need Special Cat Food?
For the most part, an adult Maine Coon cat will weigh 9 to 12 pounds (for females) and 13 to 18 pounds (for males). This cat breed can look quite a bit heavier than their actual body weight because of their thick fur, which gets even thicker when their winter coat grows in annually. But their large size doesn't mean they will need more food, or a special brand.
What Should Be On The Ingredients List?
The new dietary guidelines for cats indicate growing kittens should be fed a food with a minimum protein content of 30 to 45 percent and for adult cats on a maintenance diet, the minimum protein content should be 26 to 40 percent. These levels also need to be adjusted for different life stages, activity levels and pregnancy.
Cats can't make their own vitamin A, vitamin D, taurine, and arachidonic acid, and so they often need dietary supplementation here. They also need supplemental arginine, niacin and vitamin B6 (pyridoxine) as well as a sufficient quantity of healthy fats.
Natural Servings
Cats will eat up to 20 small meals daily in a free-feed situation, with an average calorie content per meal of around 23 to 35 calories, depending on size, lifestyle and life stage. Veterinarians state that this meal size is very reflective of how the pet cat's wildcat ancestor, Felis silvestris libyca, would have taken in energy in the wild through hunting small wild prey. In other words, 30 calories per serving of cat food is about how much useful energy a wildcat would derive from catching and eating one small mouse h
On average, one piece of dry cat kibble includes about 3 calories of energy. In a straight mouse-to-kibble conversion, this would mean your adult cat should consume no more than 10 to 15 pieces of dry cat kibble per meal.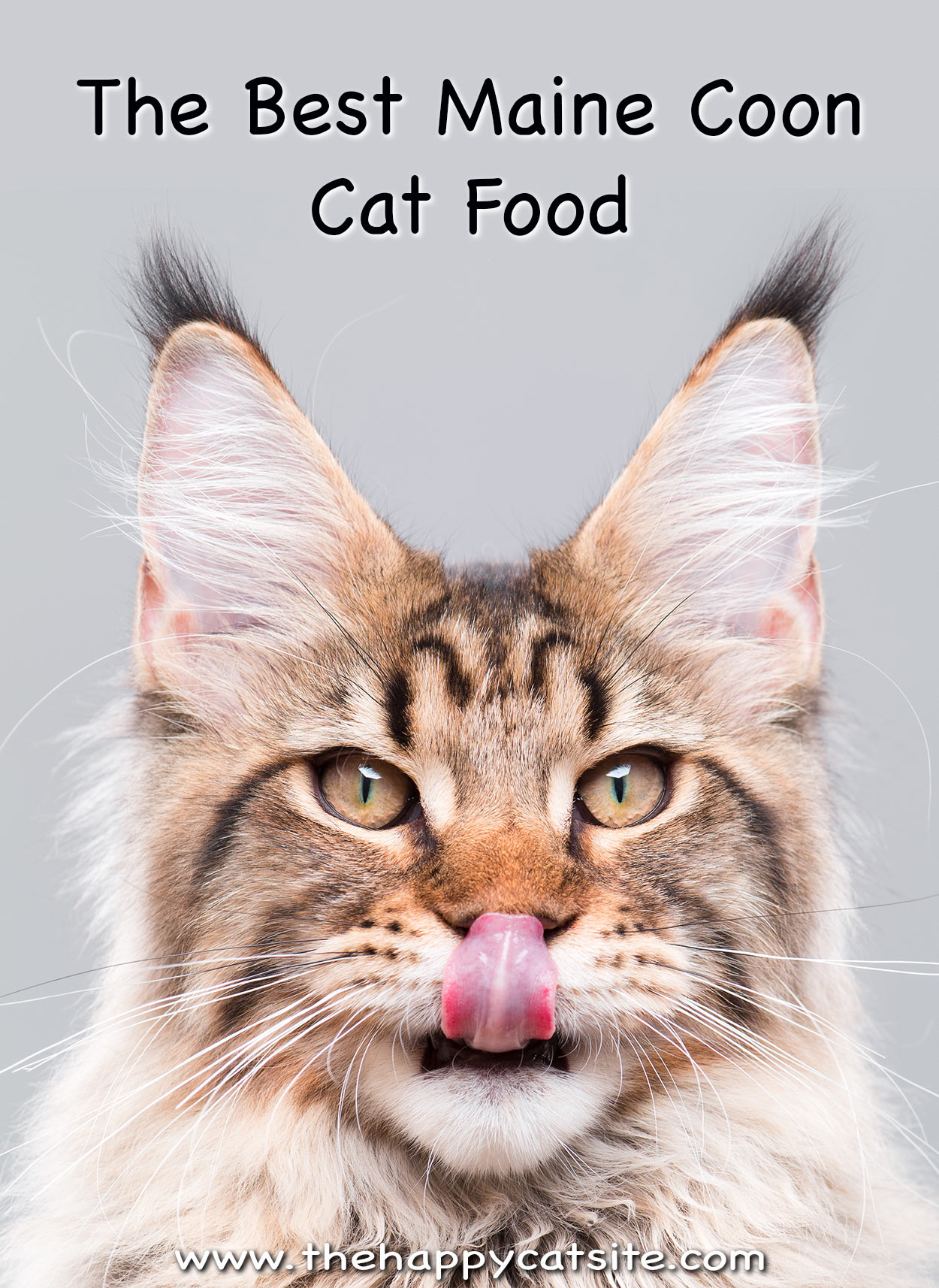 Maine Coon Kibble
Dry food, or kibble, is an important part of a Maine Coon cat's diet. Kibble is a suitable food to leave out for free-feed meals, since it will stay safely fresh for far longer than canned or Maine coon wet food. Regular access to Maine coon dry food like these choices can also help keep your cat's teeth and gums cleaner and reduce the risk of dental disease.
ROYAL CANIN Maine Coon dry cat food.
This Royal Canin Maine Coon food* features a larger king size kibble that encourages your square-jawed feline to chew more. It is packed with antioxidants, vitamins and minerals to nourish your cat on the inside and the outside.
Hill's Science Diet Indoor Dry Cat Food.
You can choose from four blends*: kitten, adult, adult 7-11 and adult 11+. This gives you the option of choosing a food that is calorically tailored to your cat's activity level and life stage.
Purina ONE Indoor Adult Premium Cat Food.
This vet-recommended food* offers 42 grams of protein per 1,000 calories, plus plenty of antioxidants, vitamins and minerals for your cat's overall health. Best of all, the kibble is designed to help clean your cat's teeth and gums.
Best wet cat food for Maine Coon cats
Wet cat food adds a valuable nutritional component to your Maine Coon cat's daily diet, and it can also be a source of pure culinary delight, since wet food more closely mimics the moisture balance found in live prey. These Maine Coon wet food recipes get four paws up from cats and Main coon cat food reviews also show they get high marks from cat owners.
Purina Pro Plan Wet Adult Weight Management
This protein and fat-balanced recipe* is designed to help support your cat to stay at a healthy weight while supporting the feline immune system.
"I and love and you" All-Natural Canned Cat Food
This wet cat food* is all natural and offers a choice of turkey, chicken, salmon, beef and rabbit recipes. The recipes feature sweet potato in place of grains and there are no thickeners added.
Maine Coon kitten food
Finding the best food for Maine coon kittens should include both dry and wet Maine Coon cat food that is specifically designed to meet the nutrient and energy needs of kittens. Kittens expend more energy than adult cats because they are growing and developing so fast. They also need more of certain nutrients than adult cats do. When in doubt, always ask your veterinarian for guidance!
ROYAL CANIN Kitten dry cat food
This Royal Canin dry kitten food* is designed to support your kitten's still-developing digestive, immune and dental systems. The kibble bits are smaller than for an adult cat so your kitten can chew it easily.
Royal Canin Feline Health Nutrition Kitten Instinctive
What about Royal Canin Feline Instinctive*? It is always a good practice to feed both dry kibble and wet cat food to your growing kitten. This Royal Canin wet canned food goes very well with the same-brand dry kibble listed here.
Hill's Science Diet Kitten Minced Cat Food
This wet kitten food* is packed full of lean protein and minced so your kitten can eat it easily. You can choose from three recipes: chicken and liver, salmon or turkey.
Hill's Science Diet Indoor Dry Cat Food for Kittens
This kitten-specific dry food* includes prebiotics and fiber along with a full complement of vitamins and minerals to build immune system and digestive health.
Dealing With Food Allergies
Nothing feels worse than watching your hungry Maine Coon cat wolf down her dinner, only to later experience discomfort instead of nourishment. These dry cat food recipes feature a limited ingredient menu. This can help to isolate specific food allergies and ease digestive sensitivities.
Purina Beyond Natural Dry Cat Food
This limited ingredient Maine coon dry food* is free from known allergens like soy, wheat and corn, artificial ingredients, preservatives and poultry by-products.
Natural Balance Limited Ingredient Dry Cat Food
You can choose from three recipes*: green pea and chicken, green pea and duck or green pea and salmon. The limited ingredient recipes are also grain-free to help ease issues such as sensitive stomach and food allergies.
Instinct Limited Ingredient Diet Grain Free Recipe Dry Cat Food
This limited ingredient cat food* comes in two recipes: rabbit or turkey. It uses green tea extract, a natural anti-oxidant, as the kibble coating. This food also partners with Best Friends Animal Society to deliver meals to its rescued cats.
Wet Food For Allergies
When your Maine Coon cat is struggling with allergies or sensitive digestion issues, it can be challenging to find a good wet cat food that can support him through the difficulties. These wet cat food recipes are designed to be palatable, nutritionally balanced, free from artificial ingredients and easy to digest.
Royal Canin Feline Health Nutrition Digest Sensitive
This popular and highly rated Royal Canin Maine Coon wet food* comes in a 6, 12, or 24-pack case. The limited ingredient recipe is based on a nutrient-balanced formula to reduce food allergies and allergic reactions in cats.
Hill's Science Diet Sensitive Stomach & Skin
This potential Maine Coon cat food* is free from artificial ingredients and preservatives and designed to be easy to digest. You can choose from chicken and vegetable or tuna and vegetable.
Halo Holistic Wet Cat Food for Sensitive Stomachs
This sensitive stomach wet cat food* features whole meat, all natural and grain free, non-GMO recipes with extra hydration to help with sensitive digestive systems.
Affiliate link disclosure: Links in this article marked with an * are affiliate links, and we may receive a small commission if you purchase these products. However, we selected them for inclusion independently, and all of the views expressed in this article are our own.