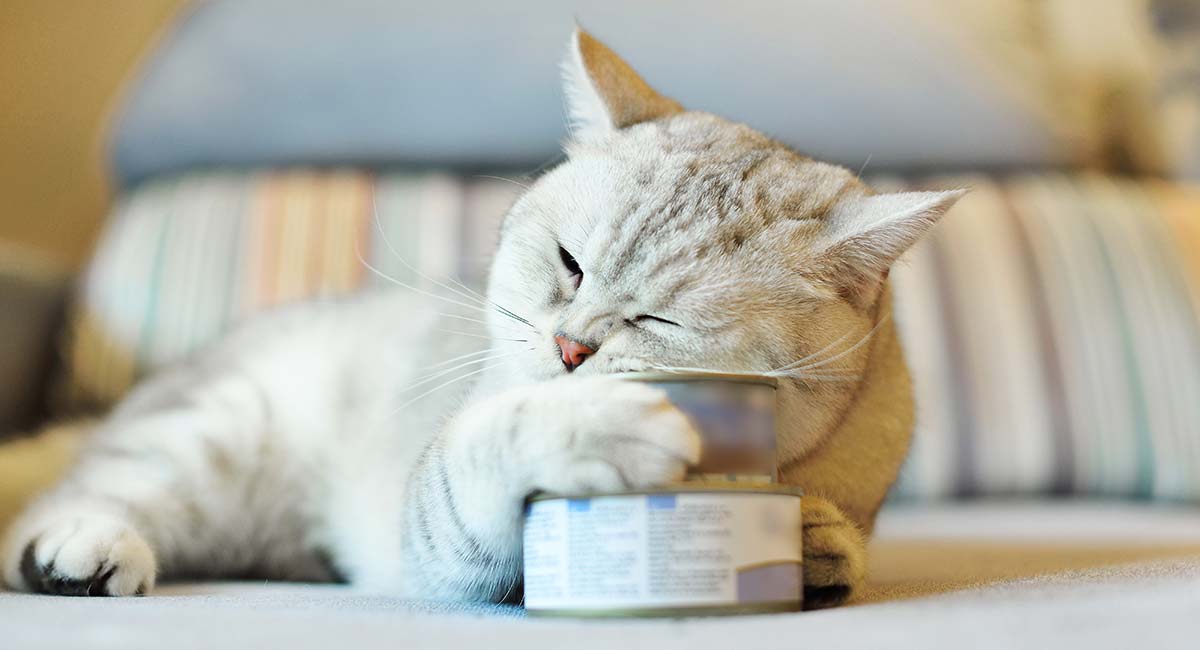 Choosing the best cat food for older cats is important. Older cats need a properly balanced diet, rich in proteins and low in carbohydrates. Following your vet's advice, the proper food can help reduce common symptoms among seniors like vomiting, sensitive stomach or bad teeth.
All of these products were carefully and independently selected by The Happy Cat Site team. If you decide to make a purchase from one of the links marked by an asterisk, we may earn a small commission on that sale. This is at no extra cost to you.
Best Food for Older Cats Quick Links
There was a time not so many decades ago when all cats got "cat food."
This is because the pet food market simply didn't cater for the different nutritional needs of different cats.
The value of specialized pre-prepared cat meals like senior cat food hadn't been recognized or developed yet.
Today, cat lovers are lucky!
You have many options for choosing the best cat food for senior cats.
As of September 2019, cats are the second most numerous pet among Americans. They are also very popular in the rest of the world! Because of this, the market is now filled with specialty food for your furry friends.
Whether your cat has a sensitive stomach, kidney, dental, weight or joint issues, there's a special food for them!
In this article, we will take a look at research-backed cat food for older cats. Our picks are approved by both vets and kitties!
But first, it's important we go over why you need to give age-appropriate food to your feline.
Benefits of Older Cat Food
Cats have very specific dietary requirements. In fact, they are "obligate carnivores". This means they evolved to process meat almost exclusively and have a difficult time processing plants. Because of this, around 40% of a cat's diet should be protein.
Even though some vegan options for cats are on the market, they don't offer proper nutrition.
Vegan cat food is supplemented with chemically synthesized nutrients usually found in meat, but these foods still fail to adequately fulfill their nutritional needs.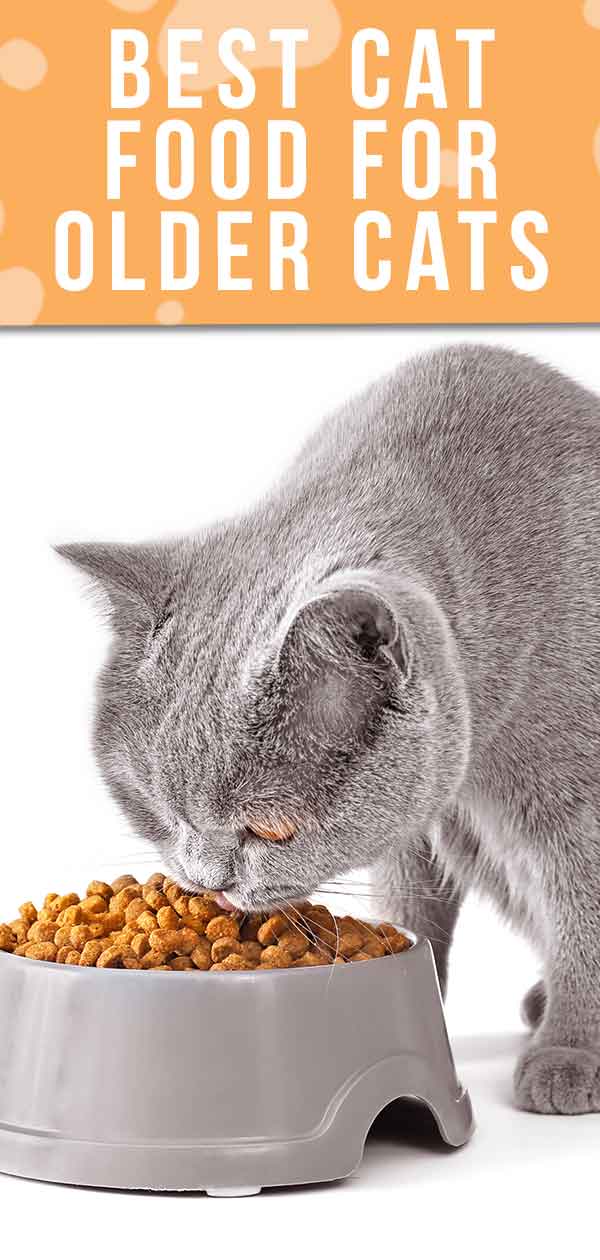 Older cats have even more specific food requirements. In fact, research from France shows us that what you feed your senior cat can measurably impact how long they live.
Specifically, senior cat food that contains antioxidants and essential fatty acids can help your senior cat live up to 12 months longer than feeding general adult cat food alone.
Current advice from the American Association of Feline Practitioners is that the best senior cat food will directly address age-related feline issues.
Such issues can include digestion issues, problems with fat absorption, skin elasticity, hearing acuity, coat health and nail strength.
Sense of smell, eyesight, lung capacity and heart function can also decrease as your cat ages.
Other issues can include weight loss or gain, dental health problems, thyroid, bladder and kidney issues, decreased self-grooming ability and more.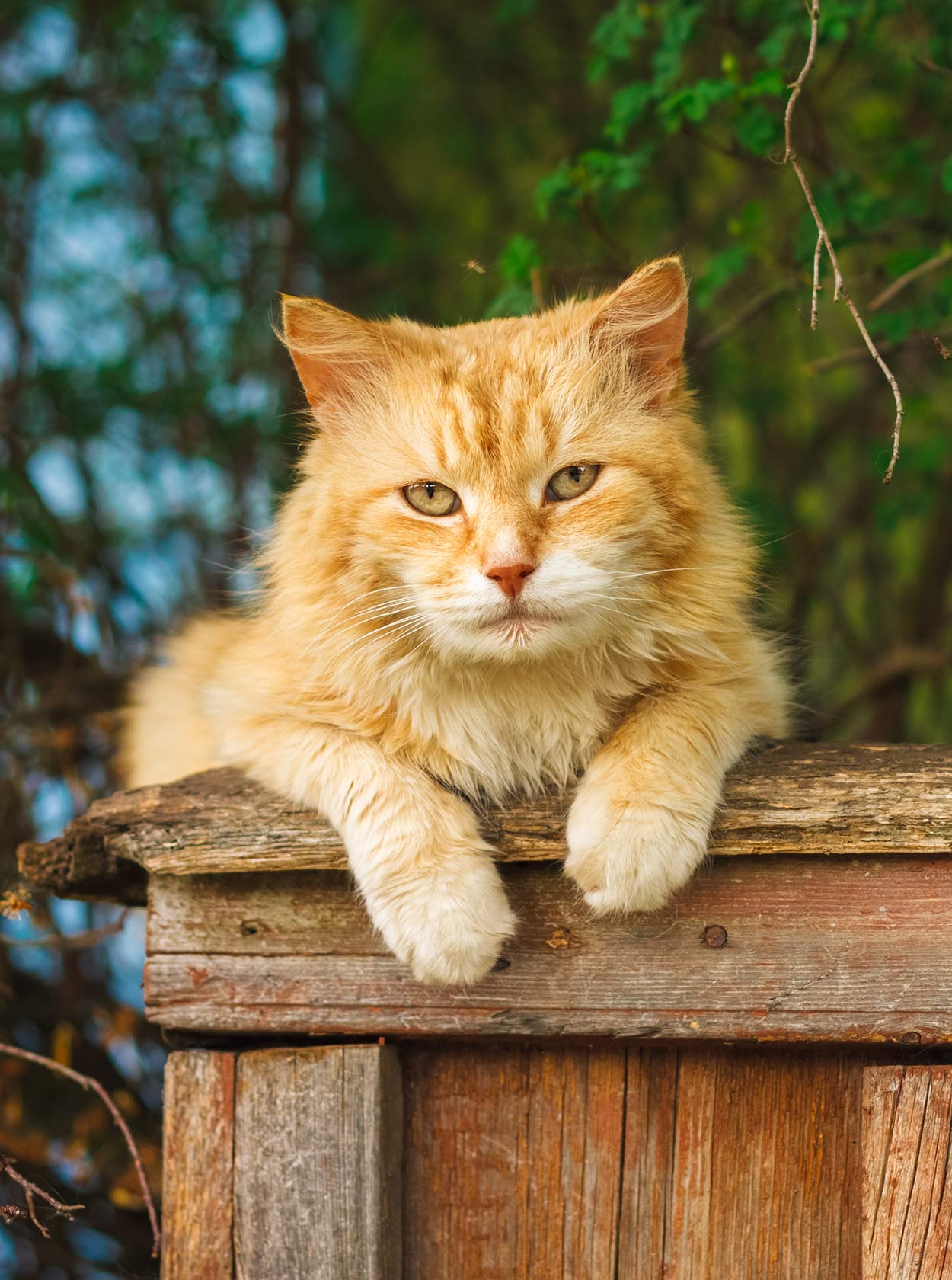 Choosing the right senior cat food can help ease your cat through the aging process and enhance their quality of life and longevity!
Best Cat Food for Older Cats
Senior cats have different dietary needs than younger felines.
To feed your old kitty, you need to provide all the basics of a good adult cat diet.
Properly balanced cat food will have arginine and taurine, two essential nutrients that cats need to process their food and have healthy physiology.
Other essentials in cat food are Niacin (vitamin B3), vitamin A, vitamin D and various fatty acids like Omega 3.
If your cat is old but healthy, keep them on a balanced diet high in protein and very low in carbs.
You should adjust their nutrition if some problems appear.
As they become less active, the main thing is watching their portions. A lean kitty is a healthy kitty: obesity can cause many problems for your old pal.
The cat food you're providing should have at least 40% of protein and be carefully measured. Only 10 extra calories per day will add up to a pound of body fat in a year. That's a lot for a cat!
If your cat develops health conditions, talk to your vet about the best diet to follow. Diabetes in cats is usually managed with a high-protein, low-carbohydrate diet.
On the other hand, kidney disease can be controlled with a phosphorus-restricted diet. Consult with your doctor if this is the case.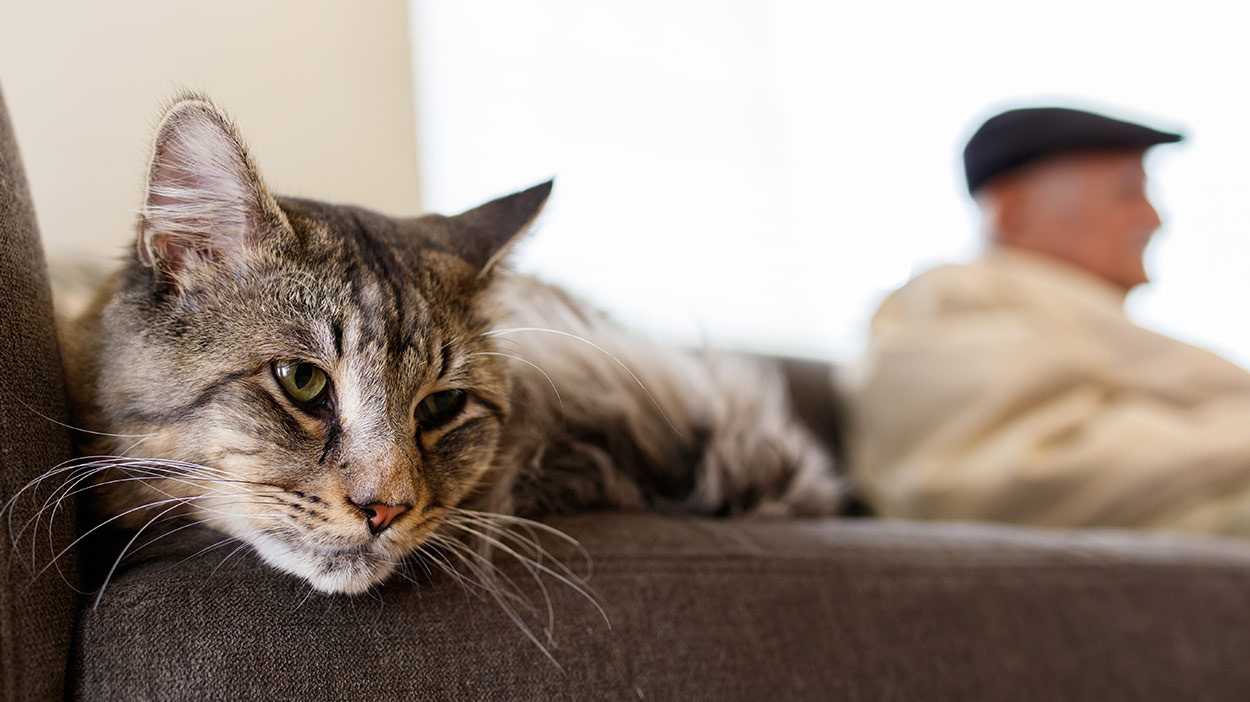 The main key to feeding your aging buddy is keeping an eye on their health and talking to your vet. Switch their diet according to their issues and make sure they're properly hydrated at all times.
This should make it easier for them to age comfortably while being as healthy as possible. Here's our round-up of the best cat food for senior cats!
Best Dry Cat Food for Senior Cats
If your kitty enjoys dry food since they were young, it's only logical they continue to do so as they get older. Of course, only if they don't have any dental issues.
You should provide your cat with age-specific foods. This will take into account their new activity levels and nutritional needs.
Our roundup of dry kibble is great for senior cats. Veterinarians and researchers created these meals to offer your old pal the nutrition he needs. Here are our top picks of the best senior cat foods filled with crunchy kibble:
Hill's Science Diet Senior Dry Cat Food
Hill's Science Diet is among the best cat food for senior cats because it actually offers a staged senior dry cat food plan.*
There is one food for senior cats aged 7+ years and one for senior cats aged 11+ years.
Plus, there are two recipes for each age category: senior cats aged 7+ years can choose from Indoor or Active Longevity.
And senior cats aged 11+ years can choose from Indoor Age Defying and Age Defying.
So you can choose the recipe which best matches your cat's age and lifestyle.
IAMS Proactive Health Senior Adult Dry Cat Food
IAMS senior cat food* offers three different options for caring for a senior cat's nutritional needs. Their Mature Adult, Mature Adult-Hairball Care and Healthy Senior foods might be the right choice for your old pal.
The Mature cat formula is ideal for cats aged 8 to 10 years, while the Senior cat formula is for cats aged 11+ years.
These recipes include prebiotics, probiotics and beet pulp for a healthy digestion. It also contains antioxidants, vitamins and minerals for immune system health.
The added L-carnitine helps maintain a healthy metabolism for weight management.
Hill's Ideal Balance Natural Cat Food, Senior Cat
This dry cat food for older cats* is designed by veterinarians and feline health researchers.
It features real chicken as the number one ingredient, and it's free from corn, soy, wheat, artificial ingredients and preservatives.
It's also enriched with essential fatty acids and flax seed, adding fiber to your kitty's diet. It even contains whole fruits and vegetables for vitamins, minerals and antioxidants.
Cat owners say this is particularly good for senior cats, thanks to its smaller kibble and an easy-to-digest recipe.
Some owners say it is easier for their older cats to digest than the same brand sensitive stomach recipe!
The Best Wet Cat Food For Older Cats
As they age, many cats develop dental issues that make it difficult to chew hard kibble.
Because of this, wet food can sometimes become more of a staple rather than a treat during your cat's golden years.
If this is where you and your senior cat are headed, then you still have plenty of choices.
Choose a senior wet cat food that features pure, whole food ingredients with appropriate vitamin and mineral supplementation.
Like these brands for example!
Royal Canin Feline Health Nutrition Aging 12+ Canned Cat Food
This highly palatable, easy to chew senior cat food* wet recipe features plenty of essential fatty acids. This is one of the best cat food for senior cats because it has glucosamine/chondroitin for joint support and reduced phosphorus content for kidney support.
Cat owners say even their picky senior cats really like this food and it is easy for them to eat.
Some cat owners report that they began feeding this food after their veterinarian recommended it for their senior cat.
Hill's Science Diet Senior Wet Cat Food
Just like with their senior dry cat food line, Hill's Science Diet has a great variety of wet food recipes*. These were specially designed for senior cats aged 7+ years and senior cats aged 11+ years.
There are no artificial ingredients or preservatives in any of these recipes.
Furthermore, all are enriched with essential vitamins, minerals and healthy dietary fiber. Every ingredient is tailored to the age and life stage of your indoor or indoor/outdoor cat.
Nutro Max Senior Chicken and Lamb Formula Canned Cat Food
Nutro Max offers one of the best senior wet cat food with a highly palatable texture and real chicken*. It includes no by-products, so you know you're only giving your pal the best of the best.
This is a complete food that fulfils all of your kitty's dietary requirements.
Cat owners say it is good for cats with thyroid issues as well as senior cats who are picky eaters.
Best Cat Food for Older Cats With Sensitive Stomachs
If your kitty is having digestive issues and your vet has cleared them of any serious condition, you might try with food specially designed to ease sensitive stomachs.
Usually, this means sticking to grain-free cat food. Gluten-free, GMO-free recipes can also be easier for your senior cat's sensitive tummy to tolerate.
Each of these sensitive stomach senior cat food brands come highly recommended by cats and their owners!
Halo Holistic Wet Cat Food for Senior Cats
This soft senior chicken and chickpea cat food* is grain-free, GMO-free and highly palatable for cats with sensitive stomach issues.
With lower fat and calories but a higher protein content and higher dietary fiber, this is one of the best wet cat food for older cats. It helps to optimize nutrition without packing on the pounds.
Merrick Purrfect Bistro Grain-Free Dry Cat Food
This grain free food for older cats* is a good choice if your senior cat has a sensitive stomach or food allergies.
Real chicken is the first ingredient on this gluten-free cat food.
The recipe also features extra fiber to control hairballs, vitamins, minerals, antioxidants and probiotics.
Because it can be troublesome for older cats, owners suggest adding a bit of water or broth to soften the kibble.
Solid Gold Senior Cat Dry Food
This grain-free, gluten-free senior cat food* recipe is another good choice if your cat has food allergies or a sensitive stomach.
Real turkey is the first ingredient and the recipe includes plenty of antioxidants sourced from natural superfoods, essential fatty acids and vitamins and minerals.
Cat owners say their senior cats have maintained a healthy weight and even picky eaters or cats who tend to vomit have been able to eat this food with great results.
Best Cat Food for Cats With Bad Teeth
Choosing cat food for older cats with teeth problems frequently boils down to finding a soft food that won't cause your cat any pain at mealtimes.
These neat wet cat food recipes vary from soft but still chewy to fully lickable, depending on the nature of your cat's dental issues.
Purina Pro Plan Prime Plus Adult 7+ Wet Cat Food
This soft cat food for older cats* has a wet texture with some good chewable bits and palatable "mouth feel" for cats transitioning from hard dry kibble.
It is very highly rated and popular with cat owners and their felines. Kitties seem to like the taste and it's an easy choice for their teeth.
This food contains vitamins, minerals, antioxidants, prebiotics, probiotics and dietary fiber to support the digestion and immune system health needs of cats aged 7 and older.
Nutro Natural Choice Senior Soft Loaf Chicken Recipe
Great for bad teeth, your cat can actually lap this food up with his tongue* instead of having to bite down and chew.
It features real chicken and no grain, which can also make keeping your senior cat's remaining teeth clean easier.
There are no artificial ingredients or preservatives in this food. It is also very low carb and high in protein to help your senior cat maintain his weight.
Delectables Stew Lickable Treat for Senior Cats 10 Years+
Cat owners say this food is very palatable and easy to eat* – the package says "lickable treat," but the instructions state this is actually a cat food, not a treat food.
You can feed one packet per meal instead of dry kibble or wet cat food.
There are three recipes to choose from: chowder, bisque and stew. Cat owners say this is also a good choice for as one of the best cat food for senior cats; because it is so tasty even very finicky cats will enjoy it!
Best Cat Food for Older Cats That Vomit
Sometimes, vomiting in cats is due to common causes that shouldn't alarm you. Hairballs and having eaten plants might be the cause. It can also be due to eating kibble too fast.
However, if your kitty keeps feeling bad after a couple of hours, it's time to act.
If your cat is vomiting all their food and seems weak, you need to go to your vet as soon as possible. Vomiting is a common sign of pancreatitis, a dangerous health condition that can be fatal if left untreated.
It can also be a symptom of other serious conditions like cancer, liver disease and renal failure.
After a thorough exam, your vet will probably give you the reason and a proper treatment plan.
Nevertheless, if a medical professional cleared your cat's vomit, it might be due to food intolerances, allergies or hairballs.
Either way, the food you provide might help prevent vomiting. Here are our top choices:
The Honest Kitchen Human Grade Dehydrated Grain Free Cat Food
Made with all-natural ingredients, this dehydrated meal* contains cage-free turkey. This means all the nutrients are intact so your furry pal enjoys a less processed food that's still delicious and balanced.
Cat owners feeding their kitties with Honest Kitchen's food reported seeing their kitties put on healthy, shiny fur and gain energy! Some people have seen major improvements in their cat's vomiting due to sensitive stomachs.
It comes in powder format and you only need to add warm water to rehydrate before feeding it to your kitten.
Hill's Science Diet Dry Cat Food, Adult, Sensitive Stomach & Skin
This dry food is tailored to kitties with sensitive stomachs* and prone to vomiting.
It's enriched with prebiotic fiber that helps digestion and ensures your cat remains healthy into their golden years.
This one is ideal for older cats that are prone to vomiting. Many owners have reported their cats have fewer stomach issues and enjoy their meals better.
Purina Beyond Wild Grain Free, Natural, High Protein Adult Cat Food
This wet food, inspired in the natural diet your kitty would have in the wilderness*, has lots of turkey, liver and quail to ensure they get all the protein they need.
Owners with senior cats say their kitties enjoy this food and it's even helped some skinny cats gain a bit of weight!
Choosing the Best Cat Food for Older Cats
We hope this was a handy guide to choosing the best cat food for your older cat. With the right food choice, you will be providing the best support possible to ease your furry pal into their golden years.
Did you find your senior cat's next food in our list?
Once you do choose a food for your cat, please drop us a comment to let us know which brand you chose and why – we always love to learn from our readers and their precious felines!
Make sure you also take a look at how much to feed a cat if you need any extra help!
Affiliate link disclosure: Links in this article marked with an * are affiliate links, and we may receive a small commission if you purchase these products. However, we selected them for inclusion independently, and all of the views expressed in this article are our own.
References and Further Reading
Freeman, L., DVM, PhD, DACVN, et al, "When Should I Switch My Pet To A Senior Diet?," Cummings Veterinary Medical Center at Tufts University, 2017.
Julius, K., DVM, et al, "Understanding The Changing Health Needs Of Mature, Senior And Geriatric Cats," Legacy Veterinary Hospital, 2014.
Cupp, C., DVM, MS, et al, "Effects of Nutritional Interventions on Longevity in Senior Cats," The International Journal of Applied Research in Veterinary Medicine, 2006.
Brooks, D., et al, "History of Pet Food," Pet Food Institute, 2018.
Pittari, J., DVM, DACVP, et al, "American Association of Feline Practitioners: Senior Care Guidelines," Journal of Feline Medicine and Surgery, 2009.
Gray, C. M.; Sellon, R. K.; Freeman, L. M. (2004). "Nutritional Adequacy of Two Vegan Diets for Cats". Journal of the American Veterinary Medical Association. 225 (11): 1670–1675. doi:10.2460/javma.2004.225.1670. PMID 15626215