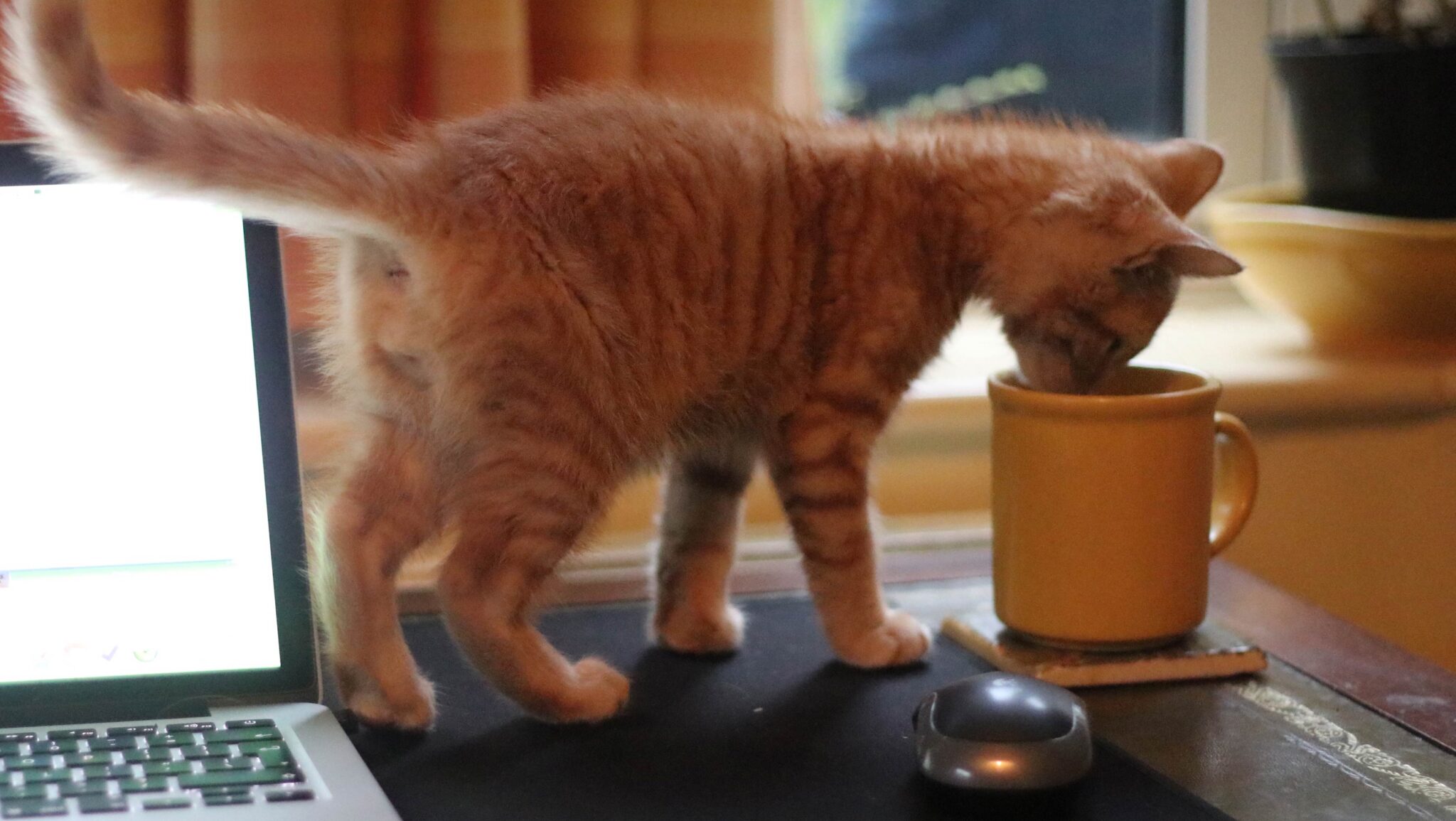 Saturday November 12th:Billy is 11 weeks and 4 days old
Billy gets such pleasure out of the simple things in life. A bottle top, a piece of plastic packaging, an empty cardboard box.
Chasing his shadow up and down the stairs, and ambushing the dogs.
These things provide him with hours of entertainment.
Unfortunately, today, Billy has been rather restricted in the games and entertainment department
Banished to the office
This morning the plumber has come to install a new boiler in our kitchen, and Billy has been banished to my office.
Apparently he isn't helping…
He isn't helping much in here either to be honest, for while his company is always adorable, he is full of mischief and affection this morning, and I've been having trouble keeping him away from my keyboard.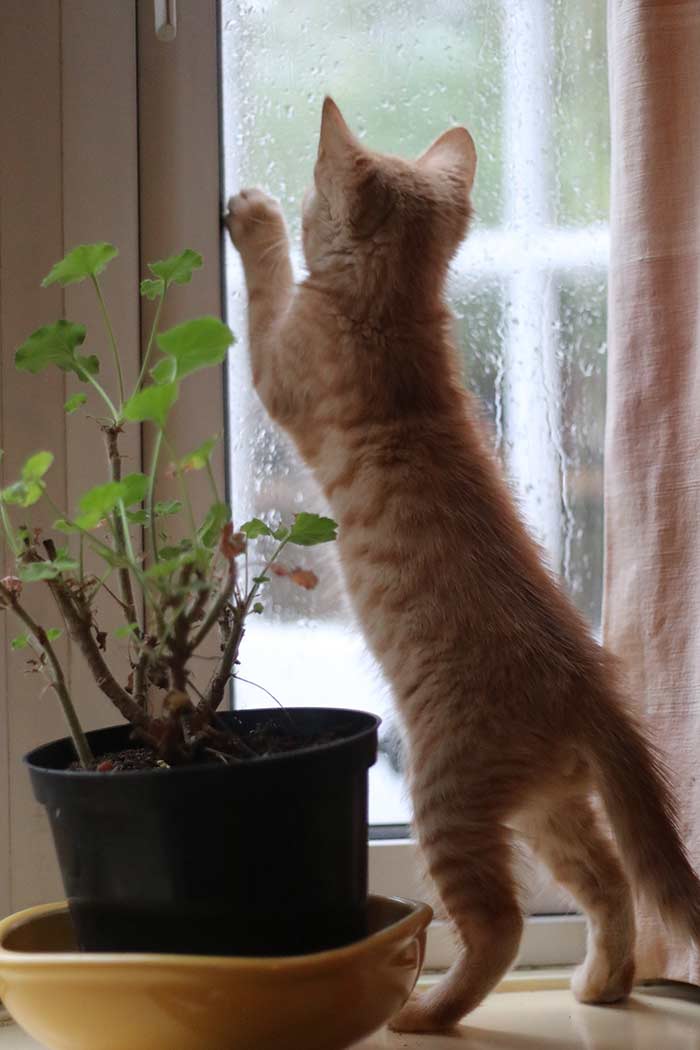 Fortunately, it is pouring with rain and for the moment Billy is amusing himself by chasing raindrops down the window panes
And by interfering with my poor neglected house plants
Getting to know cats again
I am still basking in the knowledge that I can keep Billy.
That I'm not allergic to him.
And it is great to be able to look forward to our future together
It's fun getting to know 'cats' again after several years without one
I love the way that dignity is so important to cats, how they pretend it is entirely deliberate when they fall.
And Billy falls a lot. His confidence encouraging him to overestimate the height or breadth of spaces that he is capable of leaping across.
Kittens and puppies
The differences, and the similarities, between cats and dogs are quite fascinating.
Puppies, and older dogs have an instinctive ability to understand what humans mean when they point at things.
Spending time with Billy has reminded me of the lack of this instinct in cats.
Understanding gestures
If I point at something, or sweep my arm towards something, Billy looks at the end of my finger.
If I click and treat him, and he doesn't see where the treat fell, I can't point at it. I have to give him another, or tap on the floor to indicate where it has fallen
Using paws
Kittens on the other hand are so dextrous.  I find it fascinating to watch Billy use his little paws like hands, especially when he is playing.
Puppies do use their paws in play, but not like this. Billy uses his front feet to keep toys airborne, batting them back and forth between them.
Persistence in kittens
Billy is way more persistent than a puppy would be at this age. And much more driven by pure curiosity.
Which makes his hard to teach in some ways. The kitchen table being a clear example.
I must have lifted him down a thousand times, only for him to get back up again. There is never any reward for him when he gets up there, we are scrupulous about clearing plates and crumbs away for exactly that reason.
Yet just being on the table, seems in and of itself to be hugely rewarding to Billy.
Being up high
I think part of that is a cat's desire to be high up and to regard the world from aloft. He probably feels safer up there too.
I'm thinking about putting something in the kitchen, raised up, that he is allowed to climb and sit on.
There are some amazing pieces of cat furniture for sale these days, I've been browsing through them on Pinterest, and collecting images on one of our Pinterest boards.
Our kitchen is quite small and I'm not sure we have the space. I'll definitely give it some thought.

November 14th –  Billy is eleven weeks and six days old
That is astonishing in some ways.  It feels like yesterday that we collected him and brought him home.
And yet in other ways it seems as though he has been here forever.
I'll give you some ideas as to what to expect from a twelve week old kitten as we go, but first, I thought you might like to see how Billy is adjusting to a house full of dogs.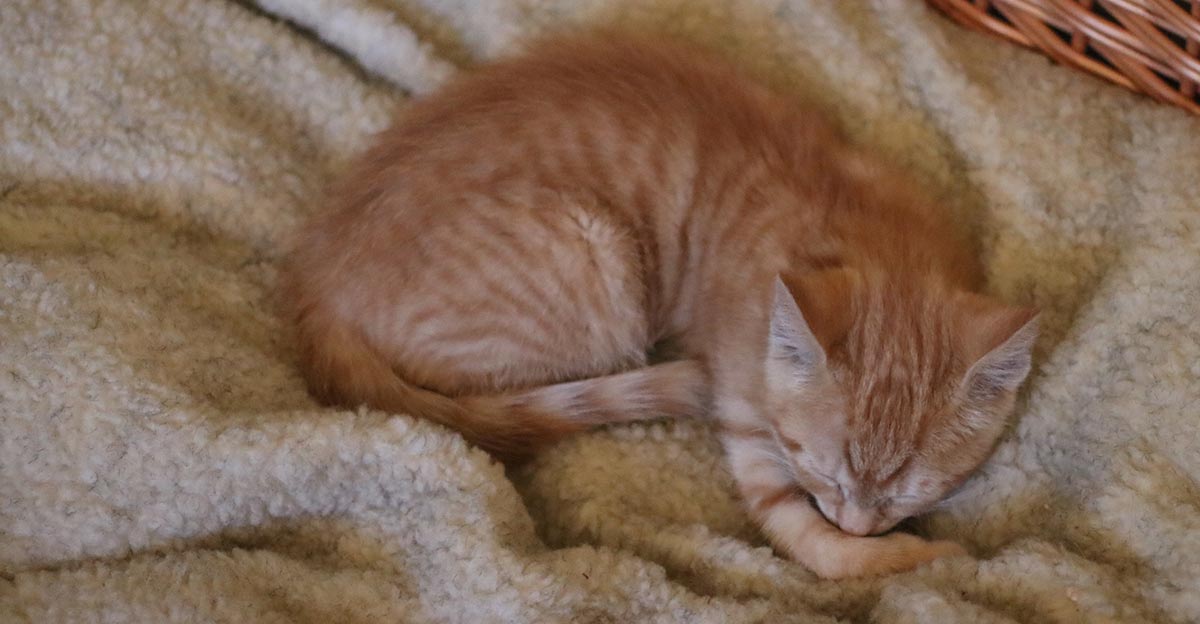 And how the dogs are adjusting to Billy!
As you can see, Billy has taken a fancy to the big dog basket in the kitchen.  He likes burrow into the bed and knead it with his paws.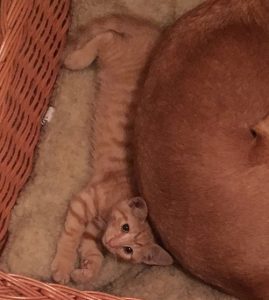 Which is not surprising, because it has a very soft fleecy cushion
Perfect for kitten naps.
While I don't think solitude bothers him, Billy looks a bit lost in there all on his own.
Fortunately, Tess is more than happy to share.
But less fortunately, she is unwilling to compromise on basket proportions.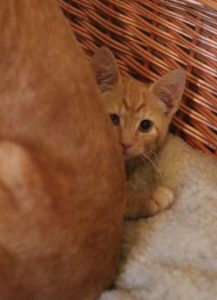 Tess is a girl who likes to get comfortable.
And as far as she is concerned
If Billy wants to join her that's absolutely fine
But he needs to fit in to the available space.
Which at times, is not much
She doesn't argue or remonstrate with Billy.  She just quietly sits on him.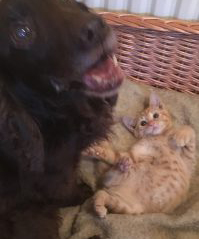 Meg on the other hand
Has not yet figured out
That just sitting on Billy is the best approach.
And would appreciate some help in moving him over
Especially when he has his scary spikes on!
They have both figured out however, that first come is first served.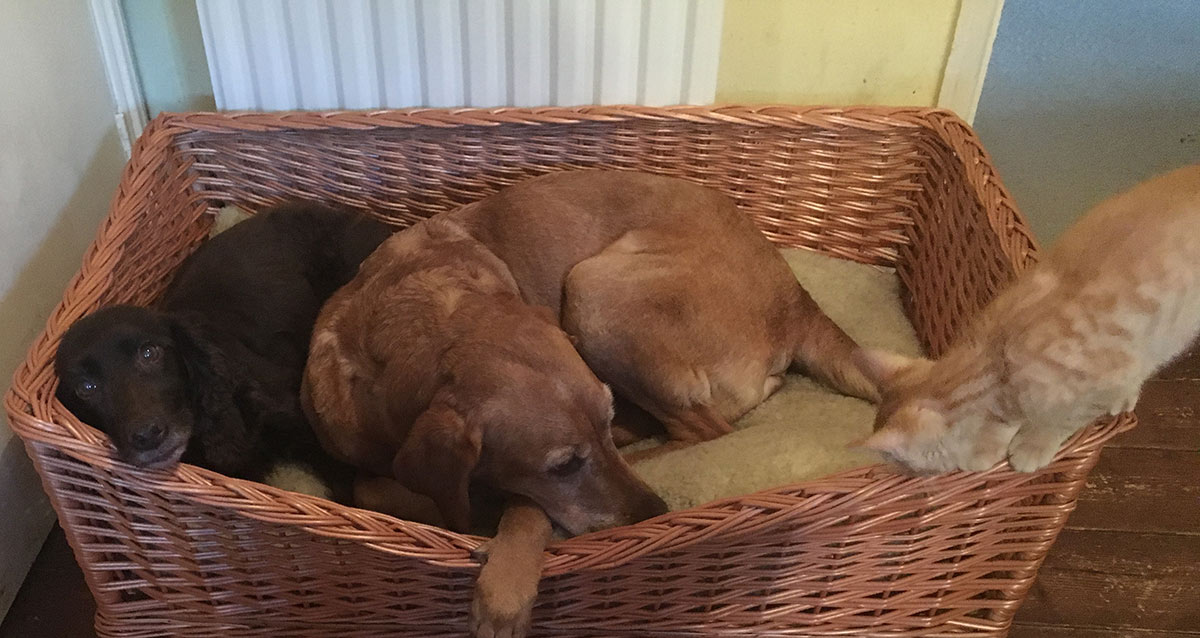 Switching a kitten from four meals a day to three
This is what Billy has had to eat each day this week.
7:30 am Half a sachet of James Wellbeloved Kitten food – just under 1 1/2 ounces, about 40g
11 am 3/4 can of Thrive Kitten Food – a little under 2 ounces, about 55g
2:30 pm Half a sachet of James Wellbeloved Kitten food
6pm 3/4 can of Thrive Kitten food
So he's been getting a total of 6 and 3/4 ounces, about 190g, of wet food altogether in a day.
He also has some Royal Canin dry pelleted kitten food as training treats.
Tomorrow he can go down to three meals a day.
I'll give you some more detail on that in a day or two.
Obviously I'll need to give him bigger meals but I don't think that is going to be a problem.
He really loves everything I give him to eat and has shown no signs of being fussy in any way.
I've switched the Lily's kitchen for James Wellbeloved for now.  Not because Billy doesn't like it, but because it is wetter and Billy is still showing no signs of drinking any water.
My other half thinks Billy is a bit skinny but I think he is just right,  and I'd rather err on the side of slightly slim as all the evidence points to this being healthier.
As a kitten of Billy's type should weigh around 1lb for every month of age, Billy is spot on at 3lbs now.
Billy's other beds
As well as commandeering the dog's basket Billy also still loves his kitten caves and hasn't grown out of them yet.
At night though, he still sleeps in his travel crate.  It's cosy and warm and he goes in there happily.
We close the door at 10 pm and open it just before 6am.  At which point he comes upstairs and if my door is open, he gets into bed with me while Himself makes a cup of tea.
It is so lovely to not have to worry any more about a cat allergy and to have Billy curled up in a purring, kneading, ball in between us.
He has most definitely stolen our hearts.
Tuesday 29th November. Billy is fourteen weeks old today!
As usual, I'll be listing some of the weights and measures that apply to Billy's growth.
Or any other aspects of Billy's development that I think other people with growing kittens might be interested in
Fourteen week old kitten behavior
In some ways Billy is quite 'dog-like' – for example, he carries his toys around like a puppy and takes them into the big dog bed to get to know them better
Or brings them to where I am working and lies down next to me to play.
In other ways he is very different.
He's incredibly agile and inexhaustibly curious.
We keep accidentally shutting him in cupboards in unused rooms because as soon as he see the slightest gap in a door with a dark space behind it, he simply has to explore it.
My little shadow
I've been cleaning like mad since my dust mite allergy diagnosis, trying to reduce the dust to the point where I can sleep without dosing myself up with antihistamines.
It's a big task I can tell you, as to my shame, the house has not been really thoroughly cleaned for a very long time. I've been giving the edges of the carpet some extra attention with my hand held cordless Dyson with the crevice tool attached.
Billy follows me around the edges of the rooms as I go. He seems to find everything I do quite fascinating – which I assure you it is not. But he is obviously easily impressed.
The only thing that distracts Billy from my side is the sound of the fridge door opening. Billy would LOVE to get in the fridge, but he can't yet jump that high.
What do 14 week old kittens weigh?
It was also vaccination booster day today so Billy was weighed on the vet's proper scales
The vet thought he had grown a lot and observed that unless he stops growing early, he could be going to be a very big cat.
Billy weighs just over 3 and 1/2 lbs (1.62 kg)
I thought he was pretty much 'on track' for a fourteen week old kitten, but there you go.
The vaccination seemed to make him feel a bit poorly for a couple of hours.  And he slept a long time in his kitten cave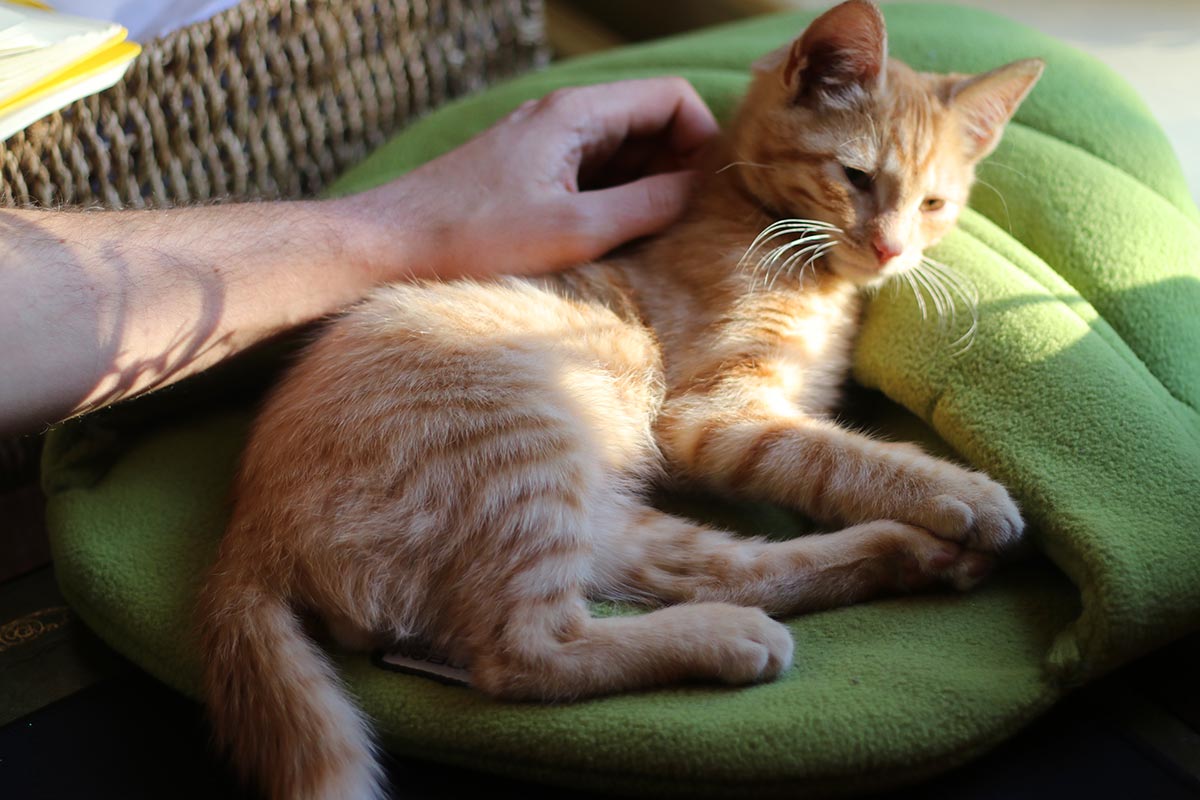 But later that evening he was back to his usual self.
This vet, unlike the one I saw last time, was in no hurry to see Billy neutered. And we agreed to get the deed done in late January, early February.
What do 14 week old kittens do
Billy is becoming very close friends with Tess. He now rubs the sides of his face on hers each day. Just as he does with us. To tell the world she is 'his property'.
Meg is a source of amusement for him, because she moves around so quickly, but he doesn't do this with her, and it's clear that Tess is his favorite
Tess, Billy and Meg, now all happily share a basket together and it's wonderful to see them so relaxed and friendly
The older dogs don't play with him, he's too spikey! Rachael probably would, but she is still too rough and keeps trying to grab him. So they can't yet be left unsupervised together
Billy also thoroughly enjoys helping my grandchildren with their games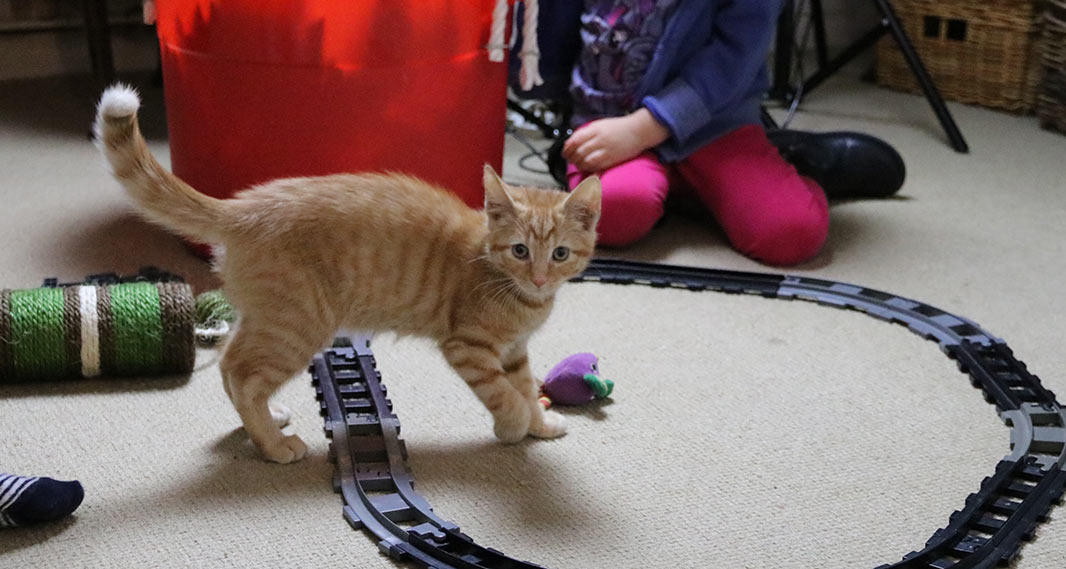 He felt that the mouse was a necessary addition to this particular railway track
Kitten hunting instincts
Earlier today, my son and I were both working at our laptops when there was a series of crashes from the living room.
Billy was leaping from table to window sill and back again – knocking everything in his path flying.
Apparently a large fly had come into the house, presumably to get away from the cold and was buzzing around trying to find somewhere to hibernate.
Billy was on a mission to catch it, and charged around the house like a crazy thing while we pursued him fielding ornaments and photoframes
What do 14 week old kittens eat
Billy has
1 tin thrive for breakfast 75g
1 pouch of James Wellbeloved or Royal Canin Kitten Instinctive for lunch 85g
3/4 of 1 tray of Lily's kitchen 75g for supper.
Plus some Royal Canin Kitten Kibble mid morning.  I don't measure it, but probably less than a couple of teaspoons
I'll be trying out different brands, though I always introduce new food over a period of several days, beginning with just a teaspoon on the first day.
I introduced the Royal Canin pouches by mixing a tiny bit with Lily's kitchen in the evenings to begin with.
I'm using kitten kibble as a mid morning snack/treat. I scatter it on the office floor and shut Billy in there with it, while I feed the dogs and spend some time with them.
So now there are five different 'complete' kitten foods that I know Billy enjoys and that don't upset his tummy.
Lily's kitchen wet kitten food
Thrive wet kitten food
James Wellbeloved wet Kitten food
Royal Canin wet kitten food
Royal Canin kitten kibble.
I know a lot of people with very picky cats, and it can be quite a problem.
I'm hoping to avoid this by making sure that Billy is used to a wide range of different foods.
Kitten recall training progress
I also use training treats to reinforce my whistle or calling Billy by name. He responds immediately to either now.
I am also very strict with other family members to make sure they don't use Billy's name as a recall cue without reinforcing him for his great response.
He comes flying, wherever he is (or meows if he has got himself shut in a cupboard!), and whatever he is doing, and I don't want this spoilt.
Preventing our kitten from escaping!
We have an 'airlock' system whereby regular visitors know that they mustn't knock on the front door until they are safely in the porch with the porch door closed
This is a very good thing because Billy is becoming increasingly fascinated with 'what is on the other side'
He tries very hard to slip out into the porch between our legs whenever the front door is opened!
And we try very hard to prevent him
Things a kitten can do with a box
One of Billy's favorite things is still playing with packaging material.
This is the box my air purifier came in (another attempt to reduce the puffy face problem)
This box kept Billy amused for most of an entire day.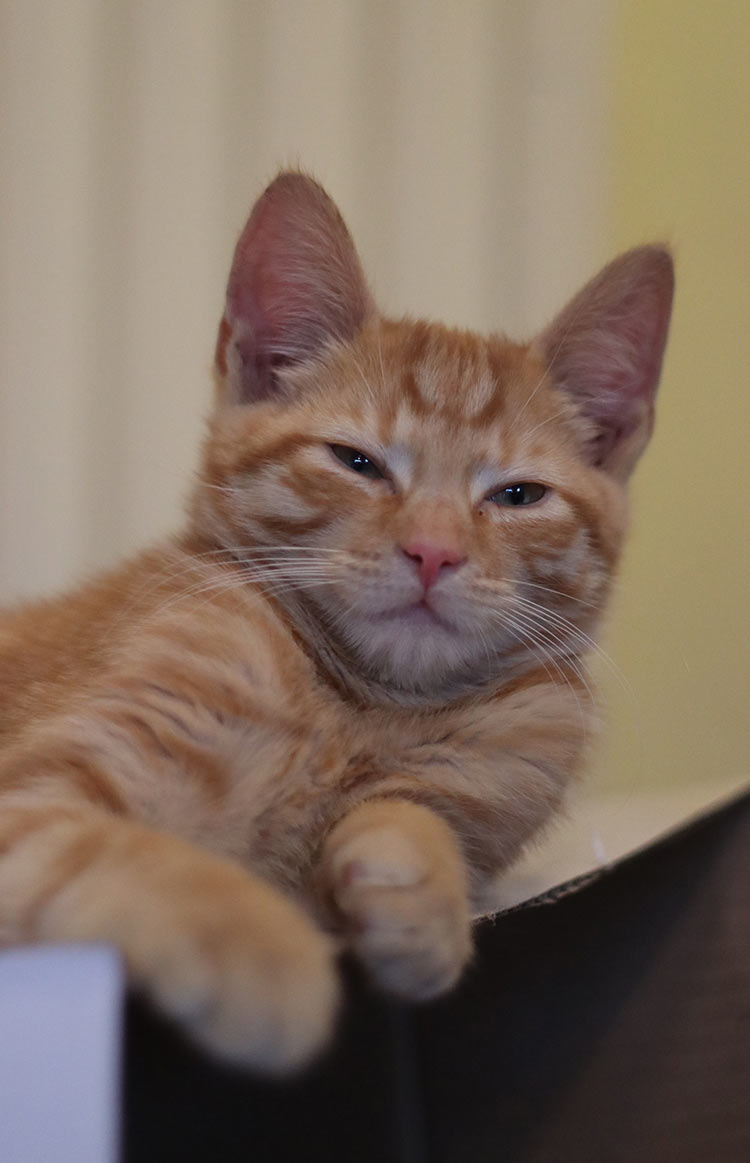 He even took a nap on the top!
Billy at sixteen weeks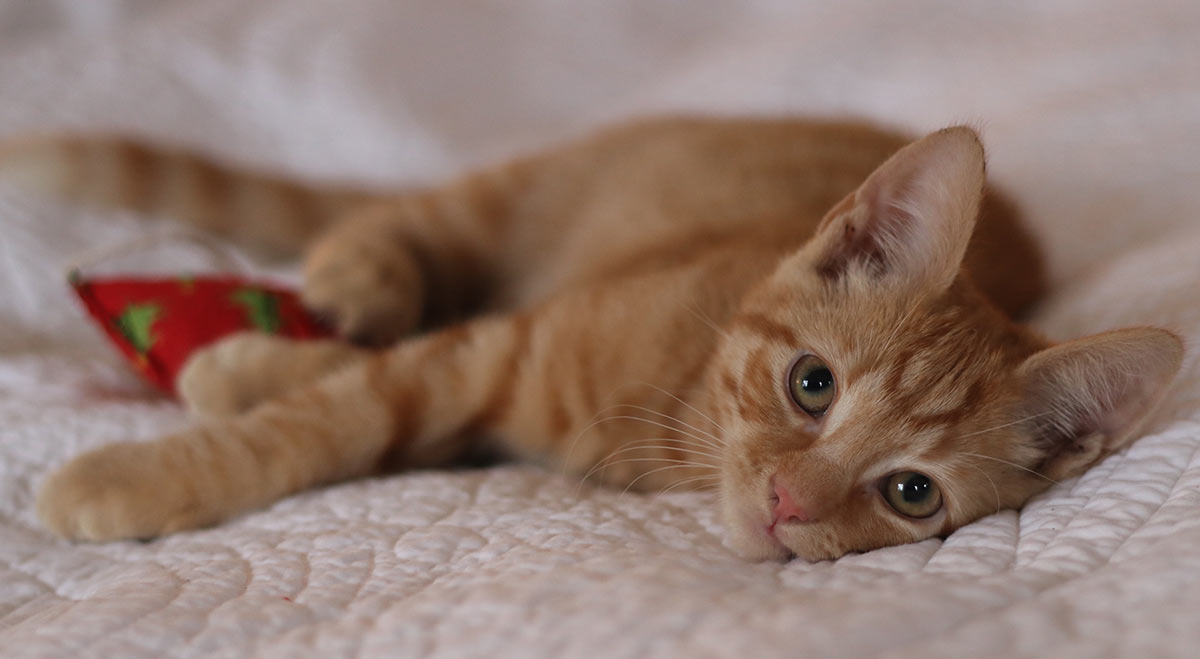 Billy will be sixteen weeks old on 13th December. You can find out what sixteen week old kittens weigh and how much they need to eat below.
A while back, I bought a couple of Christmassy mice for Billy.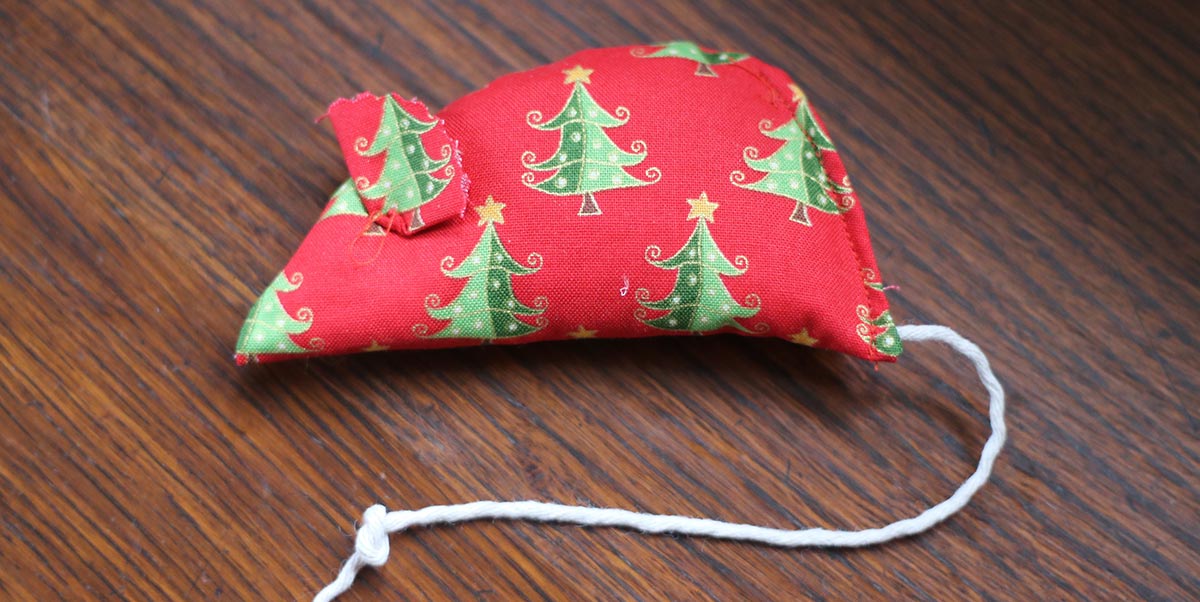 My original intention was to hang them on the Christmas tree
Yes I know, it was a silly idea. And likely to result in Billy deciding to start Christmas a bit early!

So today I gave him one to play with while I cleaned upstairs.
Billy thought it was brilliant, and spent a happy half hour getting to know it better on my bed!
Since he arrived here Billy has slept each night in his travel crate, which is on the floor in my office.
De-crating our kitten
He goes willingly into the crate each night – I place a few tiny pieces of kibble in there for him. He then purrs and kneads his vet bed as he settles down for the night.
Up until yesterday, we then closed the door and didn't open it until we got up next morning at around 6am.
For a while now we'd been thinking about leaving the door open all night, so Billy could have free access to the whole of my office.
Kitten on the loose!
De-crating Billy is something we knew we would have to do at some point in any case, as Billy will be eventually be too big to be shut in there for the whole night.
The question was, should we do it now, or wait a little longer. And we finally decided that now is a good time.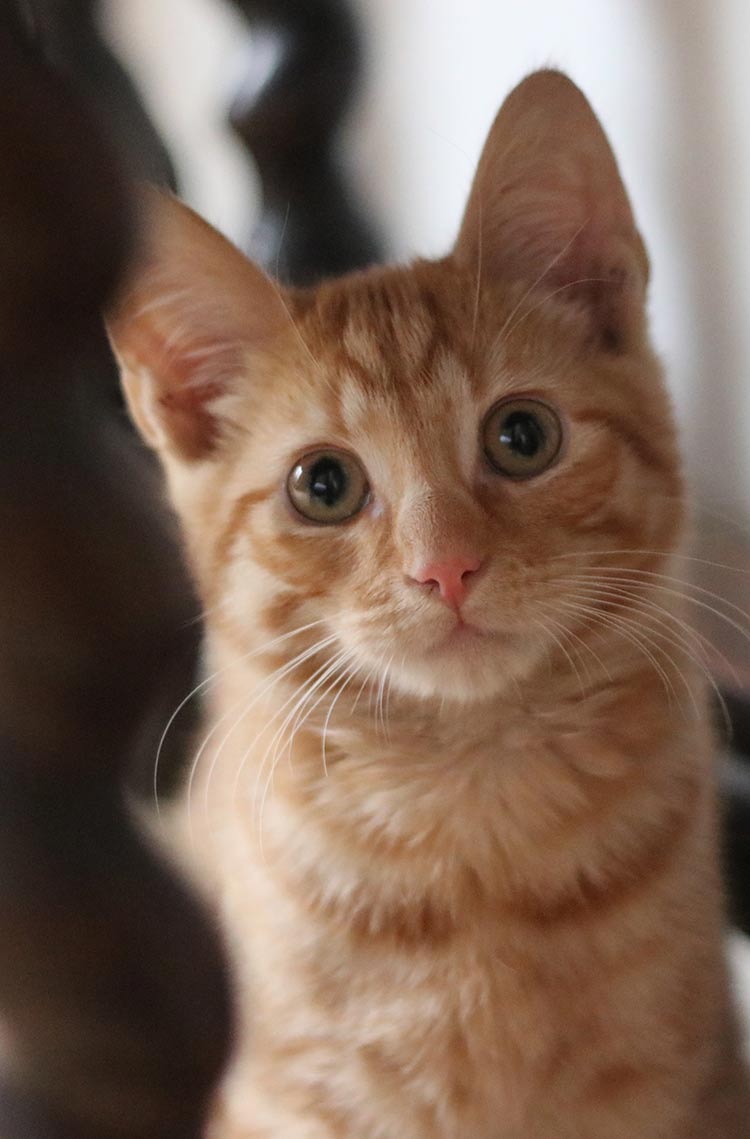 Being free at night means that Billy will be able to choose where he sleeps, which will probably be the kitten cave on top of my desk. It also means he can get at his litter tray if he needs it during the night.
Kitten chewing cables?
My main concern was that there are two treadmills in the office with cables that we cannot completely prevent him from accessing.
I was worried that Billy might decide to gnaw through the cables and electrocute himself, or even cause some expensive damage.
Rowdy kitten?
Alternatively he might bounce around playing all night and keep us awake
However, Billy has shown no interest in the cables for some time, and we have left him shut in the office for a couple of hours on several occasions when we have been out, or had plumbers working in the house.
Happily, Billy seemed perfectly happy with the new arrangement last night, and made no attempt to rewire my treadmill desk or hold a midnight party.
Hopefully this trend will continue!
In addition to playing in boxes, Billy is crazy about chewing those cardboard tubes that come inside rolls of wrapping paper
So if he gets rowdy at night, I'll leave him with one of those, and his toy mice, and hope that they will occupy him if he want to gnaw on something.
What do sixteen week old kittens weigh
Billy weighed in at 4 and a half pounds on my scales today.  Again, they are only accurate to around the nearest half pound.
But I am continually surprised by how much he weighs because he isn't remotely plump.
In fact he looks a bit on the skinny side to me. And you don't have to press hard along his back to feel the knobbles on his spine
What do sixteen week old kittens eat?
Billy is already having the maximum recommended by the kitten food manufacturers. He is obviously going to be a fairly big cat though.  Many sixteen week old kittens won't need this much.
When I added the extra half ounce or so (25g) of lily's kitchen to Billy's breakfast, he had a slightly upset stomach
I starved him for half a day to settle his tum, and have gone back down to his previous rations of
1 tin thrive for breakfast – just over 2 and 1/2 ounces  (75g)
1 pouch of James Wellbeloved or Royal Canin Kitten Instinctive for lunch  – 3 ounces (85g)
3/4 of 1 tray of Lily's kitchen – just over 2 and 1/2 ounches 75g for supper.
What I might do is find an alternative to Lily's kitchen for his evening meal as it seems quite rich and it smells rather strong.
Hopefully Billy's growth rate will start to slow down soon and he won't need to eat his own body weight every five minutes for much longer!
How tall is a sixteen week old kitten?
I thought it would be interesting to try and measure Billy's height.
This was tricky.
Each time I put the end of the tape measure on the floor he bent down to look at it.
So I couldn't get a truly accurate measurement, but as a rough guide, Billy's height at the shoulder is between 8 and 9 inches.
Crochet Kitten
I had a lovely surprise this week. Lucy has made me a crochet version of Billy!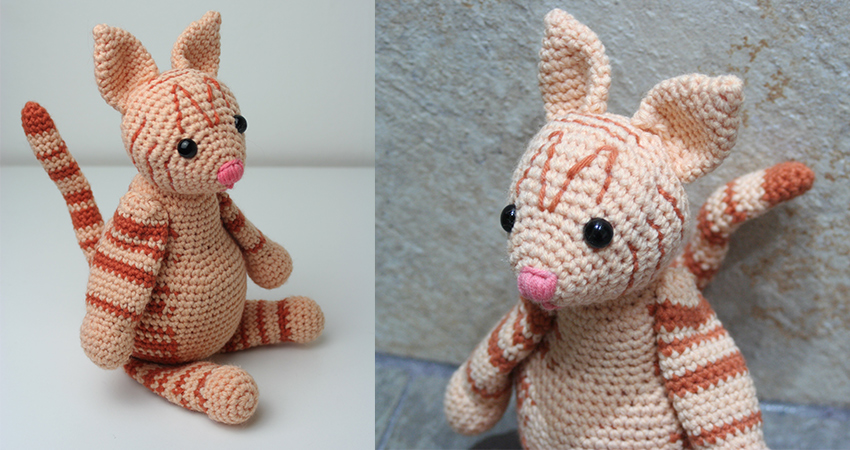 Isn't he cute?
If you want to have a go at making a crochet kitten yourself – you can find the pattern over on her  crochet website, together with a whole range of other gorgeous crochet toys
They are washable with child-safe eyes too.
If you decide to get busy with a crochet hook, do let us know how you get on!
27th January 2017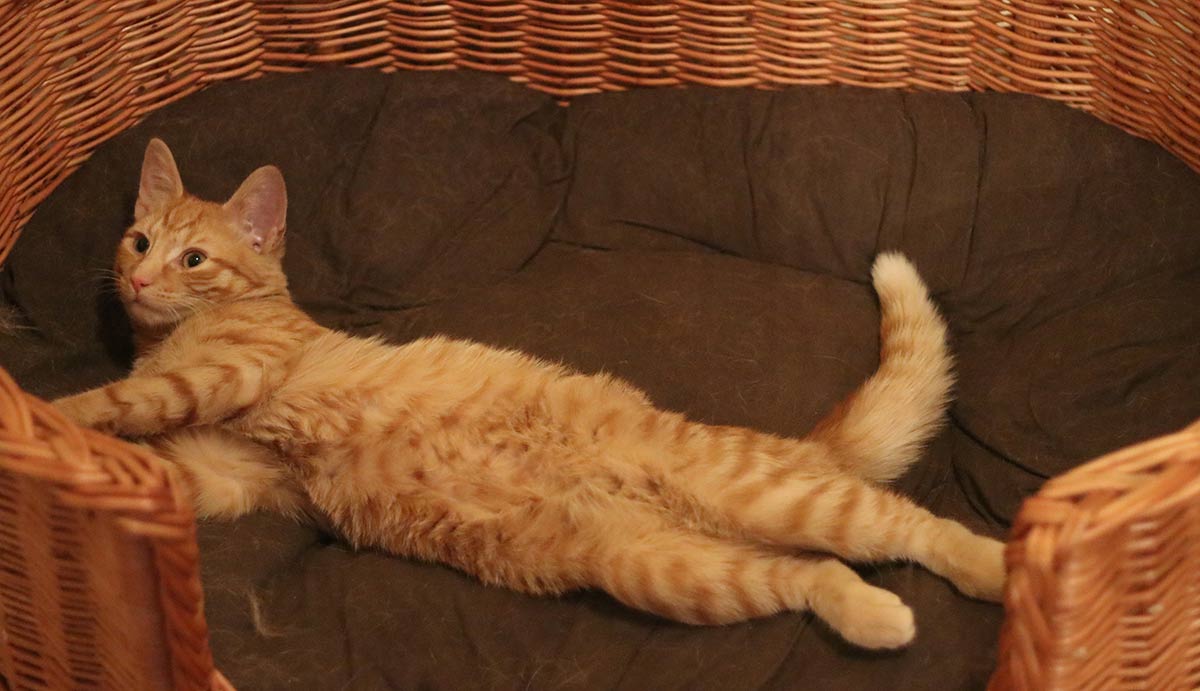 It's been an action packed month since I last wrote about Billy.
We've had Christmas, and a few family adventures in between
My stripey ginger friend was five months old on January 18th and is just as loving and as lovable as ever.
The dogs love him too, but like most dogs, they also love something else…
Stopping the dogs eating cat poop
We've had new problems stopping the dogs getting at the cat litter boxes. There are two litter boxes, one in my office, downstairs, and one in our upstairs bathroom
The dogs are not allowed upstairs, but Meg, my elderly spaniel is not averse to breaking the rules if there is a snack to be had.
Billy was starting to struggle a little with squeezing through the bars of the baby gate which kept the dogs out of my office and away from his litter box.
In fact a couple of times we heard him cry as he went through. I tried to encourage him to jump over the top, but he wasn't having any of that.
He doesn't lack the ability to jump – he has no problem leaping onto the kitchen unit – but rather the narrow top of the gate, and the fact that walking through the bars is just something he's always done.
So, it was off to Amazon to purchase a gate with a cat door in the bottom.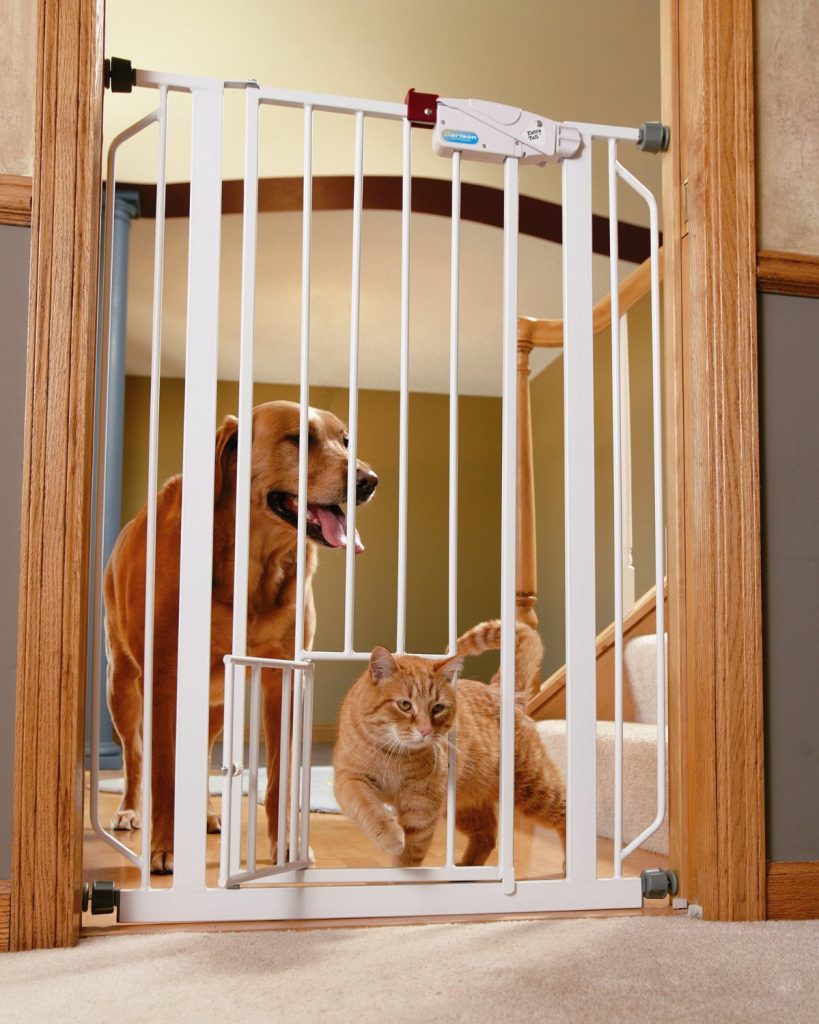 This seemed such a good idea, that I also ordered one for the bathroom, as at the moment, whenever Meg is unsupervised in the house we have to make sure that the bathroom door is tightly shut.
I put the two gates up, very pleased with myself, and set about teaching Billy to use the cat door. He found it a bit confusing and kept trying to squeeze through the rungs again so we decided to pin the door up for a few days, to let him get used to walking through.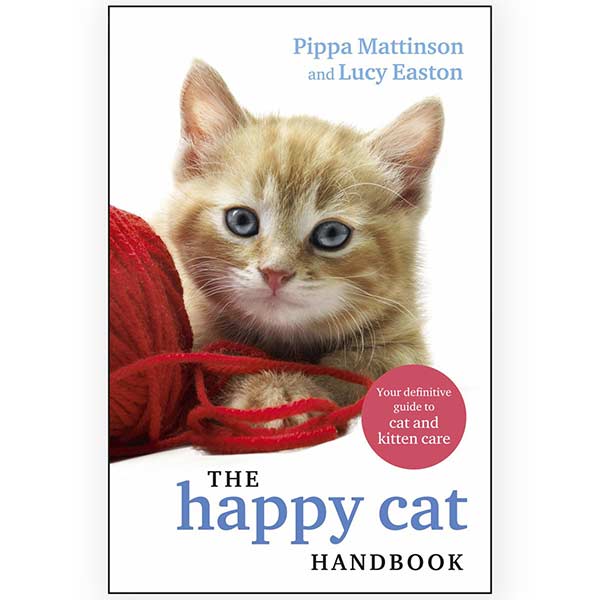 Meg watched Billy walk through the tiny door with interest and then, without so much as a backwards glance, proceeded to glide gracefully through after him.  I stood there open mouthed in surprise.
The space had seemed so much smaller than my dog!
My better half watched with amusement, and some satisfaction, because he absolutely hates having baby gates in the house.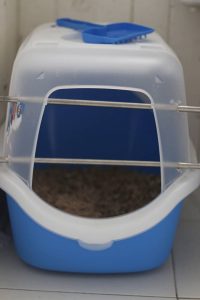 After being suitably admonished and instructed to 'fix it yourself then' he returned with a hacksaw and some metal rods.
And here's the result.
Not pretty, but hopefully it will be more effective than my solution.
Billy's injured leg
This morning we came downstairs to a limping kitten.
Not just a little limp either.
Billy could barely put any weight at all on one of his back legs and every now and then would let out a little cry of pain.
He'd obviously has a fall during the night and hurt himself.
As soon as the vet's office opened, Billy was whisked down to the surgery where he did a remarkable display of perfect walking without any limp at all.
Fortunately, the vet was still able to see that there was a problem.  And was able to confirm that nothing was broken or dislocated.
So Billy was sent home with some Metacam to take down the inflammation. He promptly took himself off to sleep off his adventure curled up inside this week's favorite toy.

What do five month old kittens weigh?
At five months old, Billy weighed 6lbs – that's about 2.7kg.
He is very long and slender – not at all chunky.  In the photo at the top of this page, he is stretched out in one of our dog baskets – it measures 33 inches wide (85 cm) which gives you an idea of how big he is.
As most cats roughly double their weight between 5 and 10 months, we can expect Billy to reach around 12lbs as an adult. Just a touch bigger than the average Moggy.
What do five month old kittens eat?
Billy eats pretty the same as he did last month. He's on three meals a day, each meal is a full sachet of wet cat food – that's 3 ounces (85 grams).  So just over half a pound per day.
He also has less than a small handful of kitten kibble each day in the form of training treats.
So if I call him from one room to another for example, or want to shut him in my office while we have the front door open for some reason, I use the kibble as a reward for coming to me.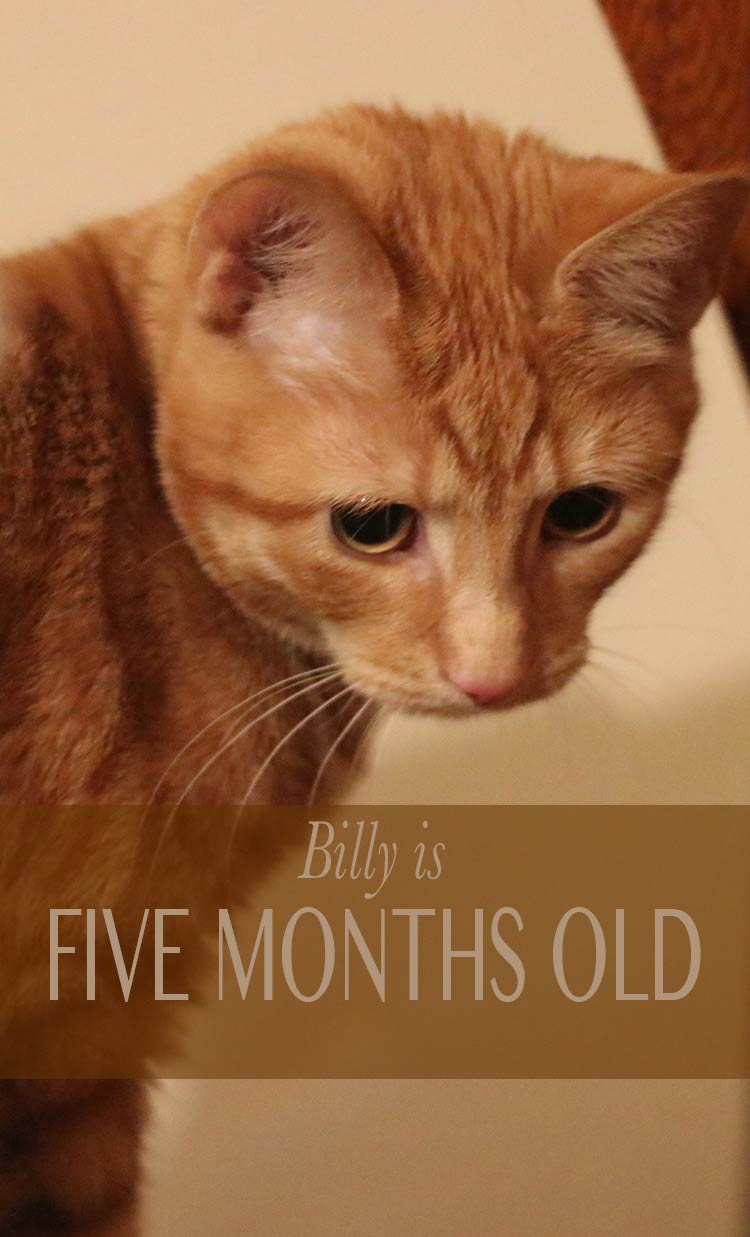 Billy's recall indoors is very reliable and has never failed – apart from when he managed to get himself shut in the airing cupboard, when calling his name resulted in some loud 'meows'
Billy's Operation
The next big landmark in Billy's life will be a small operation.
You know the one I mean (covering Billy's ears) the one where we separate Billy from his boy bits.
I've made the appointment
The deed will be done of 8th February, ten days before Billy hits six months old. Poor Billy
I'll let you know how he gets on next time!
Free Updates For Cat Lovers!
Our cat care articles, tips and fun facts, delivered to your inbox
Your Amazing Cat!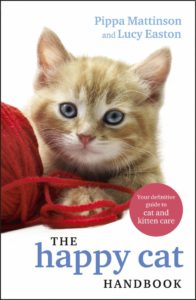 We are so excited to share our new book with you!
If you have enjoyed your visit to The Happy Cat Site we think you'll love The Happy Cat Handbook.
Written by the founders of this website including the author of the hugely successful Happy Puppy Handbook, it's packed with cat care information and fascinating cat facts.
Grab your copy today!
Free Updates For Cat Lovers!
Our cat care articles, tips and fun facts, delivered to your inbox