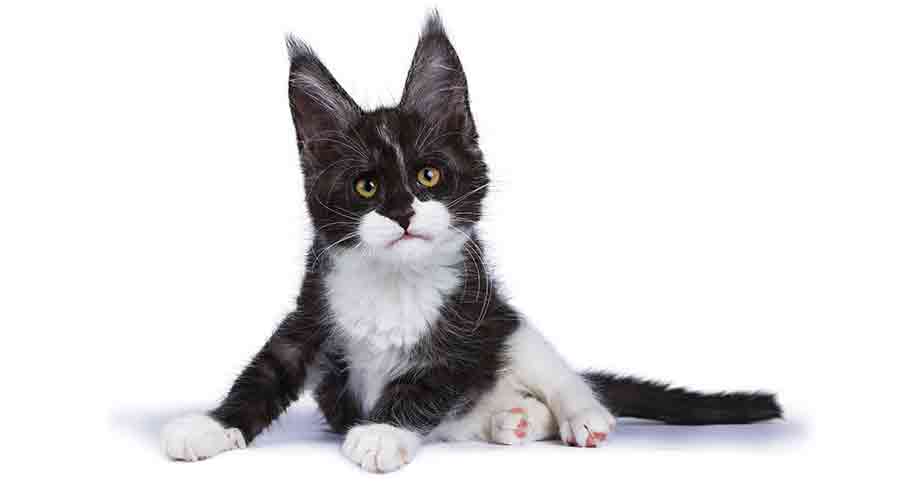 This complete guide to the black and white Maine Coon cat has everything you need to know about their coat, care, and popularity.
Maine Coon cats with black and white fur are relatively uncommon, but they are an acceptable coat pattern according to the terms of their breed standard. You might be surprised to discover though, that the classic tuxedo black and white Maine Coon cat isn't the only way for them to have a monochrome coat!
What is a Black And White Maine Coon?
Maine Coon cats themselves need little introduction. These felines are famous for their size, their dramatic coats, and their easy going nature. Male Maine Coons can weigh up to 18lbs – twice as much as most domestic cats! Their heavy, shaggy coat is an important adaptation for surviving outdoors in cold climates. Maine Coons are also one of the few cat breeds with a widely-documented working history. They are accomplished hunters, and before owning pet cats became commonplace, semi-feral Maine Coons used to lodge in barns and on ships, and keep rats at bay.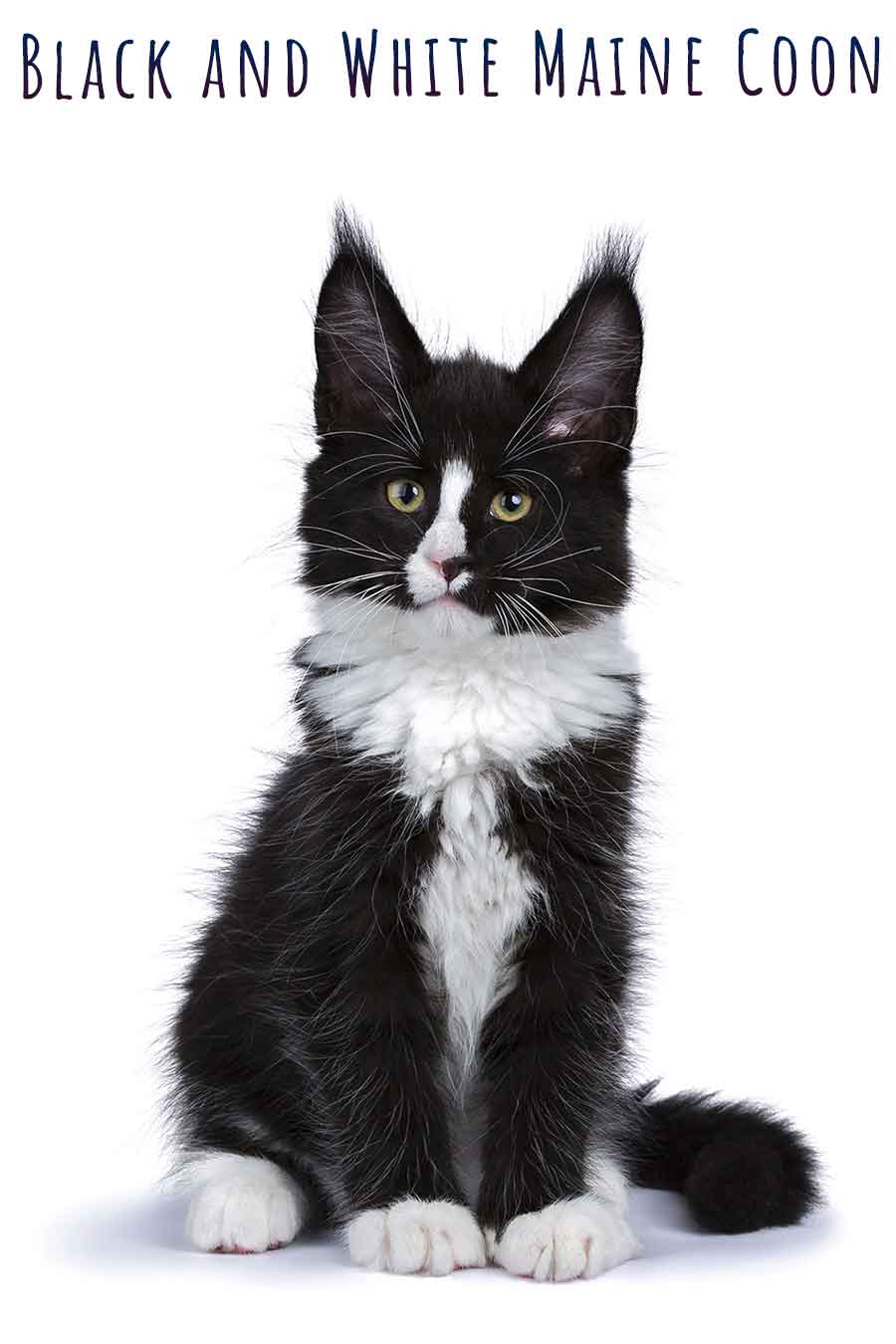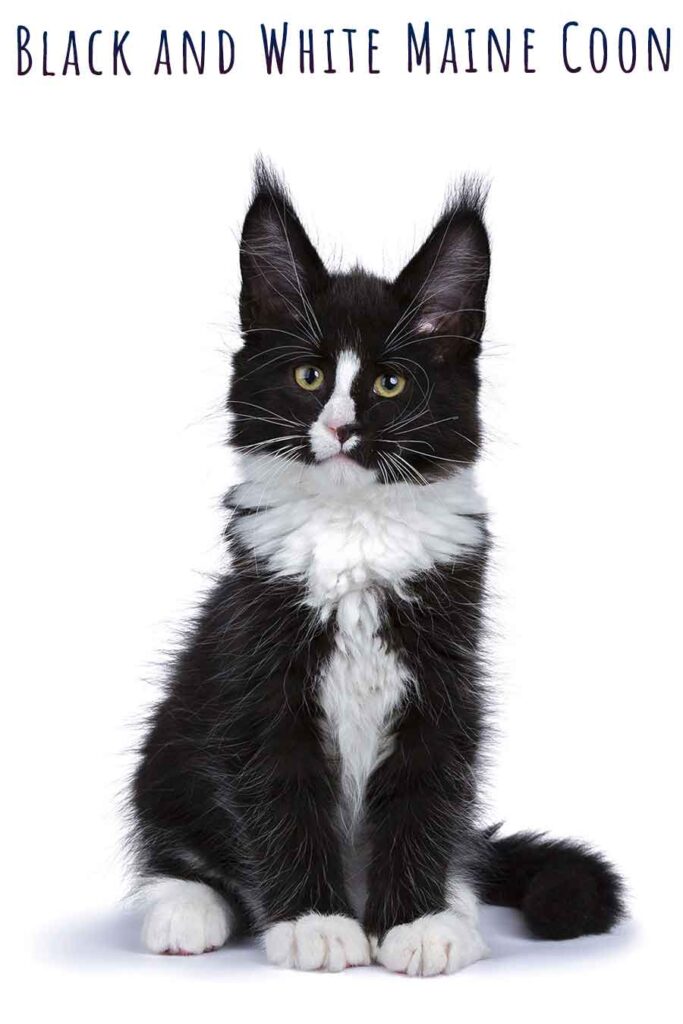 Today, Maine Coon clubs take pride in the fact that modern Maine Coons are still true to the template of their rugged, practical ancestors. They wear their lack of over-refinement as a badge of honor. One way this manifests is in Maine Coon colors. Whilst several dozen coat colors and patterns are permissible by the Maine Coon breed standard, the brown and black tabby pattern that came first is still the most common.
Are There Back And White Maine Coon Cats?
Yes! In fact, there are two ways that Maine Coons can have black and white in their fur:
Bicolor patterns
Silver or smoke patterns
Bicolor black and white Maine Coons
Bicolor cats are a mix of white and another solid color, like. The kittens in the photos accompanying this article are both bicolor Maine Coons. The amount of white in a bicolor coat can vary from just a locket on the chest, to more white than black. A popular white and black Maine Coon cat pattern is the tuxedo coat. Tuxedo markings are white patches on the chin, chest,and paws, which mimic the appearance of a smart dinner suit. A slightly less common bicolor white and black Maine Coon pattern is van markings. Cats with blak and white van markings are almost entirely white, with a black tail and two spots at the base of their ears.
Silver and smoke Maine Coons
Sliver and smoke Maine Coons also have black and white in their coat. But instead of being arranged in patches, each single strand of hair is black at the tip, and white at the base. This pattern has different names depending on how wide the black band on the tip of each hair is.
Chinchilla silver Maine Coons have the most amount of white on each hair. Just the very tip is black, and the overall effect is described as 'sparkly'.
Shaded silver cats have a wider band of black at the tip of each hair. The overall effect should be much darker than a silver chinchilla Maine Coon.
Black smoke Maine Coon cats have the narrowest band of white at the base of each hair, and a deep black tip. Sitting or lying still, they look solid black. It's only when they move that the white underneath reveals itself!
These patterns also make them look like a black cat with white undercoat. But, the white isn't actually on separate hairs.
Black And White Maine Coon Genetics
Originally, all domestic cats were black and brown tabbies. This is the 'wild type' or default pattern of their wild ancestors. Kittens with genetic mutations that caused different colors and patterns would have been more visible to larger predators, and usually killed before they reached maturity. But since domestication began, kittens with new and unusual colors and patterns have become desirable, and breeders go out of their way to capture theit coats again in future generations.
Bicolor cats have an as yet unidentified gene which means they don't express the tabby pattern. They also carry White Spotting genes which give them their white patches. It's thought that there are at least two types of white spotting gene:
One which causes low grade white spotting, as seen in a tuxedo black and white Maine Coon cat.
And one which causes high grade white spotting, as seen in a van-pattern white and black Maine Coon cat.
But breeders and geneticists have speculated that there might be even more genes in the series!
Silver and smoke patterns are caused by a gene called the Inhibitor gene, which causes progressive dilution of pigmentation along each hair shaft. The Inhibitor gene is a dominant gene, which means kittens only need to inherit it from one parent to have a silver or shaded coat.
Black And White Maine Coon Temperament
Maine Coon cat owners rave about their cats' personalities. Despite their imposing size and noble looks, they're playful and silly, and sometimes even clownish. They are often described as friendly and sociable, but not clingy. They like to be wherever the action is, but they don't necessarily want to view it from anyone's lap.
Interestingly, in one survey of cat owners, bicolor cats were more likely to be described as high in friendliness and low in aloofness. But in another, black-and-white cats were more frequently described as being aggressive toward humans during everyday interactions, handling, and veterinary visits. At the time of writing, there's no genetic evidence to support either of these results, and it's important to remember that they were based on people's subjective opinions. Other factors will also have a significant impact on an individual cat's personality, including:
their breed
their sex
the temperament of their parents
and how well they are socialized during kittenhood.
Black And White Maine Coon Health
Owing to their size, Maine Coon cats are more prone to orthopedic diseases than the pet cat population on average. These include hip and elbow dysplasia, where the bone forms incorrectly at the joint, allowing painful arthritis to develop. Potential breeding cats can be screen for joint diseases for mating takes place, and cats with signs of hip or elbow dysplasia should be excluded from breeding programmes.
Black And White Maine Coon Grooming
Black and white Maine Coons have the same amount of fur as Maine Coons in any other color. Which is to say, a lot! Healthy young cats will be able to fulfil almost all of their own grooming needs. But, it's still a good idea to get them used to being brushed from a young age. Brushing them once a week with a slicker brush will help lift out dirt, and prevent tangles taking hold. It will also help you spot mats quickly, and also problems like ticks or injuries.
Some Maine Coons, including elderly cats, overweight cats, and cats with painful joints, may struggle to reach and groom all areas of their body. So they might need help with brushing more frequently than once a week.
Finding Black And White Maine Coon Kittens For Sale
Once your heart is set on a black and white Maine Coon kitten, the next stop is to find a breeder! The Cat Fancier's Association maintains a directory of Maine Coon breeders in the United States, but you might find further breeders near you who have opted out of being included. Since black and white bicolor markings are inherited in a somewhat predictable way, the breeders you approach are likely to have a good idea of whether their litters are likely to include black and white Main Coon kittens for sale. However, since black and white patterns are less common than tabby patterned Maine Coons, you might have to join a waiting list for a suitable kitten to come along.
While you're waiting, why not read these articles to get prepared?
What About A Black And White Maine Coon Mix?
Did you know that only about 10% of pet cats are purebred? There are far more domestic shorthair and domestic longhair cats, including black and white ones. Crossbreeding Maine Coon cats with black and white domestic longhair cats is one way of harnessing lots of Maine Coon qualities in black and white kittens, and potentially reducing the risk of hip dysplasia in them too.
Can Maine Coon Cats Be Black And White – Summary
Summarise the article here. If the breed has a serious health issue such as brachycephaly (flat face) or intervertebral disc disease (extreme back length) then do not recommend this breed.
What about you? Have you already brought home a black and white Maine Coon kitten, or is it something you're considering for the future? Let us know in the comments box down below!
References and Resources
Delgado et al. Human Perceptions of Coat Color as an Indicator of Domestic Cat Personality. Anthrozoos. 2012.
Kaelin & Barsh. Genetics of Pigmentation in Dogs and Cats. Annual Review of Animal Biosciences. 2013.
Maine Coon Cat Breed Standard. Cat Fanciers' Association. 2016.
O'Neill. Prevalence of disorders recorded in cats attending primary-care veterinary practices in England. The Veterinary Journal. 2014.
Orthopedic Foundation for Animals.
Stelow et al. The Relationship Between Coat Color and Aggressive Behaviors in the Domestic Cat. Journal of Applied Animal Welfare Science. 2016.