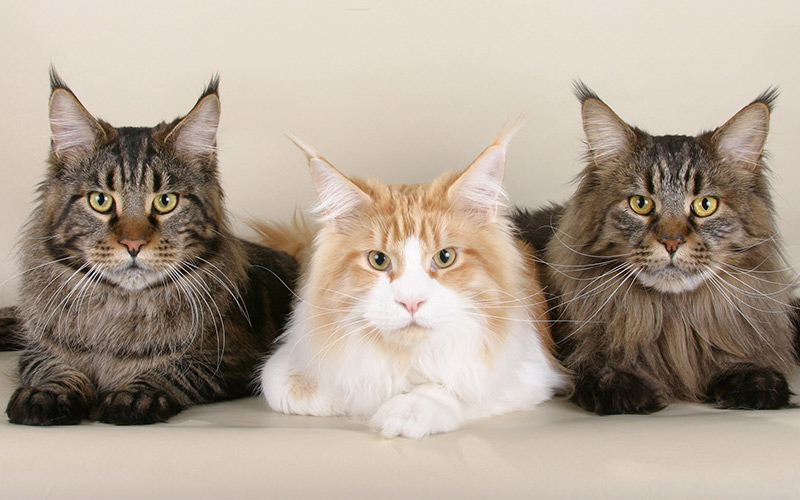 Maine Coon cats are very popular at the moment, and with good reason.
Not only are they incredibly beautiful and big, but they are packed with loving personality.
And they come in an amazing range of stunning coat colors.
In this article we are going to give you a complete guide to the amazing Maine Coon cat.
What Is A Maine Coon Cat?
This is a native American long haired breed of cat.
They are hardy, sturdy cats, well suited to harsh climates and with a kind and gentle disposition and loyal nature.
They are distinctive in terms of their shaggy coat, tufted ears and fluffy ringed tail.
Maine Coon History
Maine Coon cats were found as far back as the 1800's in Maine, New England.
They were employed as ship's cats, catching mice and generally providing company to those aboard.
The earliest published reference was to a black and white Maine Coon cat in 1861.
We don't know for certain who brought Maine Coon cats to North America originally, and although there are plenty of theories none of them seem to have a basis in recorded texts so we can't be sure.
It is thought possible that they were bred from the long haired cats owned by Marie Antoinette, smuggled to the United States by an aide who was hoping to save her.
What we do know though is that the breed has been historically used for rodent control, and have made ships cats.
We can also be confident that the name Maine Coon was probably derived from the breed's tail markings, which resemble a raccoon's ringed tail.
These lovely cats were very popular in the late 1800's and early 1900's, with Maine Coons proving popular entrants at cat shows and exhibits.
However, they became less prevalent as the years progressed and fashions and tastes moved for a while to other breeds like the Persian and Siamese cats.
In recent years however the Maine Coons popularity has once more risen up.
The Maine Coon Breeders and Fanciers Association (MCBFA) was formed in 1968, and today the breed is once again a big player at cat shows as well as family pets.
However, their numbers had dwindled dramatically in the intervening years, meaning that those bred today have come from a small group.
MCBFA now have a membership including over 200 breeders, but this relatively small gene pool may have contributed to the unfortunately higher than average occurrences of health problems in this beautiful breed.
Maine Coon Coat
Maine Coons have a very distinctive coat.
It is usually long, shaggy and very smooth along the body. It lies longest at the front and on the tail, which is soft and fluffy, with rings of darker coloration around it.
The ears are also quite striking, wide at the base, with long tufts of hair sticking up from a sharp point.
Eyes can vary in color, including green, blue, gold or copper.
Tending to be more rounded than other cat breeds, and very large.
Their faces are delicately designed with high cheekbones, whilst their chests are broad and their bodies are long.
Designed by nature to withstand harsh weather conditions, they also have well padded furred paws.
Maine Coon Colors
Coat colors can vary considerably. Although by far the most common image is of a tabby Maine Coon, they can be most cat colors as well, as this has never been restricted in their breeding programs.
The first recorded Maine Coon cat was a black and white Maine Coon, and these can still be found today.
One of the wonderful things about Maine Coon colors is that there are so many of them.
Solid Maine Coon Colors
Solid Maine Coon colors are those which have just one single color throughout their coats. These include:
Bi-Colored Maine Coons
Bi-Colored Maine Coons are those whose coats are comprised of two different colors. These can include the following variations:
Black and white
Blue and white
Cream and white
Red and white
Maine Coon Tabby
The Maine Coon Tabby has the marking pattern of a traditional tabby cat coat. With speckles and patches of different colors throughout the fur.
Although the most common tabby Maine Coon has the brown shades we are most familiar with in tabby cats, this tabby pattern can be made up in a variety of other colors too.
Maine Coon tabby colors include:
Brown Classic and Mackerel
Blue Classic and Mackerel
Blue Silver Classic and Mackerel
Red Classic and Mackerel
Silver Classic and Mackerel
Silver Patched Classic and Mackerel
Blue Silver Patched Classic and Mackerel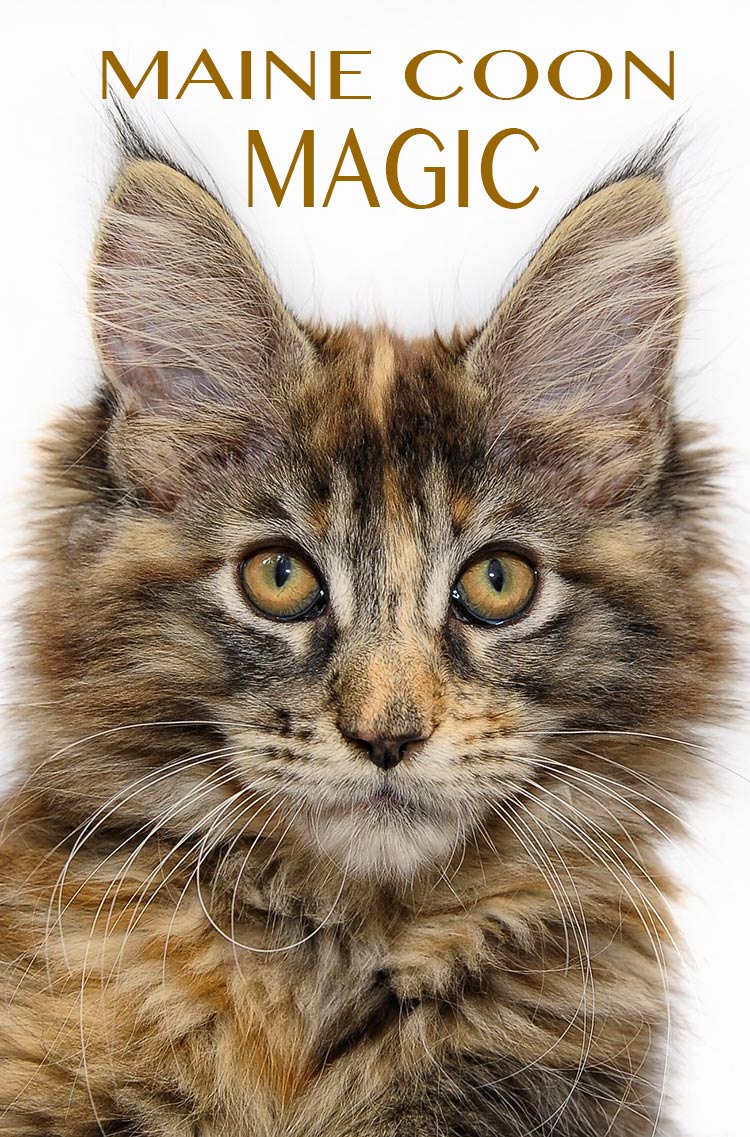 Maine Coon tabby cats can also have white chests, feet and legs. The color varieties of these Tabby and White cats can vary between:
Brown Classic and Mackerel
Blue Classic and Mackerel
The Blue Silver Classic and Mac
Cameo Classic and Mackerel
Cream Cameo Classic and Mackerel
Red Classic and Mackerel
Silver Classic and Mackerel
Brown Patched Classic and Mackerel
Blue Patched Classic and Mackerel
Silver Patched Classic and Mackerel
Blue Silver Patched Classic and Mackerel
The extra terms like classic and silver allow the breeders to denote a difference in the shades of brown or blue that the cat's coat has.
Tabbies can also be ticked with white, or another color. This ticking is shown where flecks of the other color are spread throughout the coat rather than in blocks in certain areas.
Ticked Maine Coon tabbies include:
Black Silver Ticked Tabby
Black Silver Ticked Torbie
Brown Ticked Tabby
The Brown Ticked Tabby With White
Brown Ticked Torbie
Red Ticked Tabby
Red Ticked Tabby With White
Shaded Maine Coons
Another variety of color you can find are the shaded Maine Coons.
These beautiful cats are often described as being 'smoke', as the pattern on their coats and the hues of the colors are muted and blended.
One of the most popular being the Blue Smoke Maine Coon.
Shaded Maine Coon cats include:
Black Smoke
Blue Smoke
Cream Smoke
Red Smoke
Shaded Silver
The Shaded Blue Silver
Torbie Smoke
Blue Cream Smoke
Shell Cameo
Shell Silver
The shaded variety can also have white bibs, legs and feet like the tabby Maine coon cats. These can include:
Black Smoke
Blue Smoke
Cream Smoke
Red Smoke
Shaded Silver
The Shaded Silver Torbie
Shaded Blue Silver
The Shaded Cream Cameo
Torbie Smoke
Blue Cream Smoke
Want to see some more gorgeous Maine Coons – then check out this amazing picture gallery. 
Maine Coon Size
One of the most striking things about these gorgeous cats is their size.
They are one of the largest breeds of cat, and an adult Maine Coon cat weight will usually be anywhere up to 18 pounds for a male, and around 14 pounds for a female.
Average full grown weight can be anything from 10 to 20 pounds.
They usually reach maturity from three years of age, a little slower than other smaller cat breeds.
How Big Do Maine Coons Get?
While the largest Maine Coon cat can be anywhere up to 20lbs, this is not ideal as with extra weight comes the potential for more health problems.
Especially those related to their hip joints, which extra weight can exacerbate.
A huge Maine Coon may look adorable, but it's important to assess whether his size is due to his natural body structure or excess fat being stored.
Maine Coon Grooming
Maine coon grooming is something you will need to consider when adopting a cat or kitten.
Combing her fur twice a week with a stainless steel comb will help to keep it tangle free.
It will also get rid of some of the loose hairs, dirt and make sure it stays looking nice and shiny.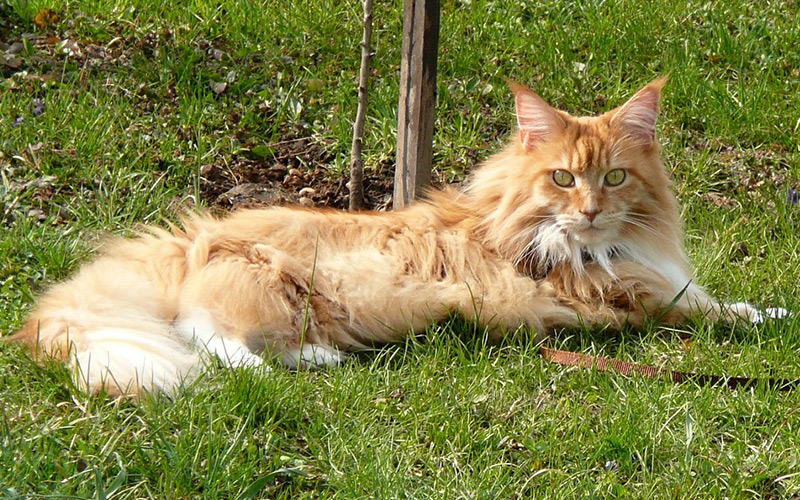 It will also reduce the amount of fur which is shed around your home. Maine coon shedding rates are fairly high, so even with frequent grooming you will need to invest in a good pet hair vacuum cleaner.
The breed are fairly easy to handle, which makes brushing possible without too much fuss for most owners.
Just remember to comb very gently, not tugging at the tangles sharply but with repeated gentle strokes.
If you are bringing home a Maine Coon kitten then get him used to being combed from the first week he is with your family, by making soft gentle strokes occasionally.
His coat won't need grooming straight away, but the sooner he is used to the action the more likely he will be to tolerate it as an adult cat.
If he will accept little cat treats from you whilst you do it, that will help to make the experience more enjoyable for him and more likely to be accepted on future occasions.
Due to being long haired, the Maine Coons can on occasions get nasty bits of dirt or faeces stuck in their fur.
Make sure that you clean out their litter tray every time that they have used it to reduce the chances of something getting stuck.
It is does, then gently rub it away using a damp cloth or wet wipe.
Make use of your Maine Coon cat grooming sessions to check her ears, giving them a gentle wipe with damp cotton wool if they are looking at all grubby.
Also check her eyes, softly removing any muck in the same manner.
Have several cotton wool balls to hand, as you must dispose of each one after a single wipe to reduce the risk of contamination.
Maine Coon Cats Personality
The Maine Coon cat personality is a big reason for his current rise in popularity.
He provides company without being too pushy, and although he can be vocal at times he isn't excessively noisy.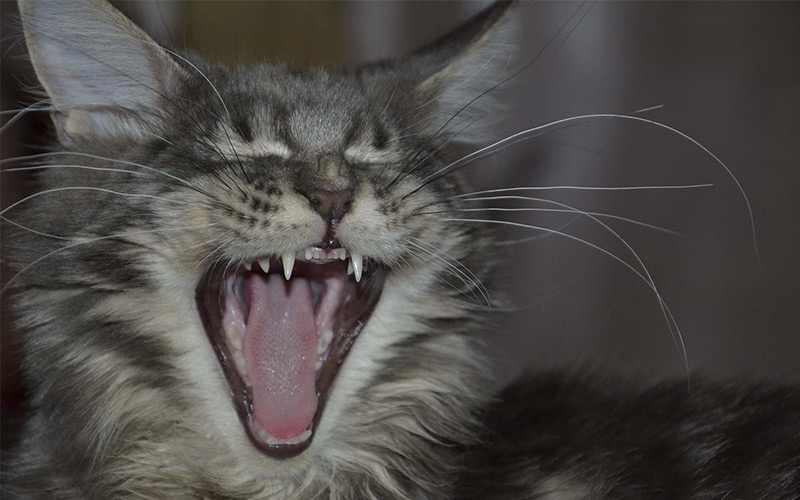 His behavior is frequently equated to more of a family dog than cat, a nod towards their apparent need for companionship and affection.
Maine Coon cats personality traits generally mean that they enjoy human company, and like to play together.
But they are also happy to spend time alone, sleeping or explore the surroundings.
They are normally fine to be left for the length of an average working day of around 8 hours.
Just make sure that they have food, water, ample room to stretch their legs, somewhere safe and dry to sleep and a clean litter tray.
Maine Coons are commonly known to be affectionate cats, who will seek out the company of the humans they live with.
Happily being petted and sometimes sitting on laps, although they are usually happier just being in close proximity to you.
They are also largely tolerant of children's attention, making them a great playmate for sensible older kids under supervision.
Maine Coon traits include a level of devotion to their families which people find very endearing, with them often being very friendly to those they live with and rather aloof with strangers.
Can Maine Coons Go Outdoors?
It is entirely up to you whether or not to let your kitten outdoors once he is settled in your home.
Here in the UK, where most pet cats are allowed access to the outdoors,  a lot of pedigree cats are kept as purely indoor pets. There are a few reasons for this.
One very sad reason, is that pedigree cats are often stolen. Even more than your average pet cat.
There is a nasty trend for people to steal their neighbors cats, by persistently feeding them until they come to recognise a different house as their own.
This is a cruel and manipulative way to take someone's pet, and usually is done when your cat is very friendly.
When a cat is strikingly beautiful, friendly and unusual too, the temptation for unethical people to lure them away from you will be even greater.
The other risk is the more outright and obvious form of theft, where someone will see a valuable cat and steal them with the intension of selling them.
It is of course not a foregone conclusion that your cat will be stolen if he's let outside, but if you live in a busy built up area it's something to consider.
Along with the usual risks presented by a steady flow of traffic near your home.
This said, is well suited to all weather conditions, and are playful creatures who excel at having fun tormenting the wildlife.
So if you live in a relatively safe area and have a neutered cat, then you can of course choose to let them explore their surroundings.
Maine Coon Health Problems
Health problems are something you will need to be aware of as an owner of the Maine Coon breed.
As we have briefly touched on earlier, there aren't an enormous number of pure bred Maine Coon cats around.
In the early 1900's this dwindled very low indeed.
Low populations cause low genetic diversity.
This means that some genetic health problems are fairly widespread within the breed.
Hip dysplasia in Maine Coons
Cats are lively, agile and adept at hiding pain. This means that joint problems often go un-noticed.
But unfortunately they are prevalent in some breeds. Even if they aren't immediately apparent to us.
One such joint problem that can impact Maine Coons is hip dysplasia.
This is a condition which occurs when the hip joint is malformed.
The socket part of the joint, where the ball is meant to snuggly and comfortably sit, is incomplete is wrongly shaped.
This malformed joint means that the cat's leg can't swing easily back and forwards when he walks, runs or jumps.
Hip dysplasia can cause arthritis, pain and lameness.
In severe cases it may even require euthanasia.
From 1974 to 1995 the Orthopedic Foundation for Animals (OFA) had 288 requests for evaluation of cofemoral joint confirmation in cats. All but four of these were Maine Coons.
Of the 284 Maine Coons evaluated, over 21% had hip dysplasia.
Certain things like keeping your cat slim and reducing their jumping as a kitten could help their joint growth, and with a Maine Coon being at risk of hip dysplasia this would be a sensible course of action.
At present there does not seem to be a system in place for hip scoring cats, as there is in many breeds of dog.
So your best bet is to talk to the breeders about the kittens' parents and grandparents, and whether there is a history of lameness in the family.
Feline Hypertrophic Cardiomyopathy
Feline hypertrophic cardiomyopathy is the most common form of heart disease found in domestic cats.
It has especially high cases in some pedigree breeds, the Maine Coon being one of them.
A study of one group of affected Maine Coons showed a strong familial link and a dominant genetic trait.
Symptoms generally appeared in adolescence and increased in severity in early adulthood.
The average age that cardiomyopathy is diagnosed in Maine Coons is two and a half years old. They are one of three breeds that can suffer from sudden death as a result of this condition.
In recent years, this heart condition has been linked to a gene, so try and research breeders who have had their cats tested for this life threatening disease.
Spinal Muscular Atrophy
Spinal Muscular Atrophy is a genetic disease found in Maine Coon cats.
It causes a loss of movement in their back legs, and although neither painful or fatal, it can inhibit their gait and prevent them from activities they enjoy like jumping and running.
Although many cats can live comfortably indoors with this condition, it is not something you want your kitten to develop as it will inhibit their range of movement and therefore limit their activities.
Fortunately, there is a DNA test available for Spinal Muscular Atrophy.
Make sure your kittens parents are both clear, and your kitten should not have to develop this condition.
If just one is a carrier, your kitten won't develop symptoms but may be a carrier themselves, which would be something to consider if you were hoping to breed from him or her in the future.
Finding A Healthy Maine Coon
As a Maine Coon kitten buyer, speak with any potential breeder about the incidences of these issues in their cats lines, and find out what health screening they have been involved with.
Find a breeder who has not had any incidences of these in their past few generations, and who health screens her breeding cats.
This will reduces your chances of having a kitten who is affected.
Pet insurance will be essential to help you cover the costs of veterinary care for your Maine Coon, should they come up against any inherited diseases or other illnesses.
Maine Coon Lifespan
The only study that we currently have which looked specifically at Maine Coon lifespan shows an average of 11 years. With cats ranging up to 19 at the highest end of the spectrum.
However, the same was quite small so we should take this with a pinch of salt.
Buying a kitten from health tested parents is the best way to ensure that your kitten starts off on the right track for a long and happy life.
Another way of helping your Maine Coon to stay as fit and healthy as possible is by providing the right diet for him, in the right quantities and at the right times.
Maine Coon Feeding
Maine Coon feeding routines should be the same of for any other pet cat, with four meals a day until they are 12 weeks old, three meals a day until they are 6 months old, and two meals a day after that. Evenly spaced, and in appropriate quantities.
You don't have to buy breed specific food.  Your pet can be fed on any traditional cat food. Although they should be fed in slightly greater quantities than many pet cats due to the increased size.
There are however brands who offer specific Maine Coon food and Maine Coon cat food available, which claims to be better catered to the breed.
And there may be benefits to a more specialized food in terms of growth rates and joint health
The focus on joint health is important due to the large number of cases of hip dysplasia in this breed.
The most important thing as with any breed is to buy a food which is low in carbohydrates and high in protein.
You can find out more about the best Maine Coon Cat Food here. 
Maine Coon Kittens
If you are hoping to bring a Maine Coon into your home, then you will need to look for a breeder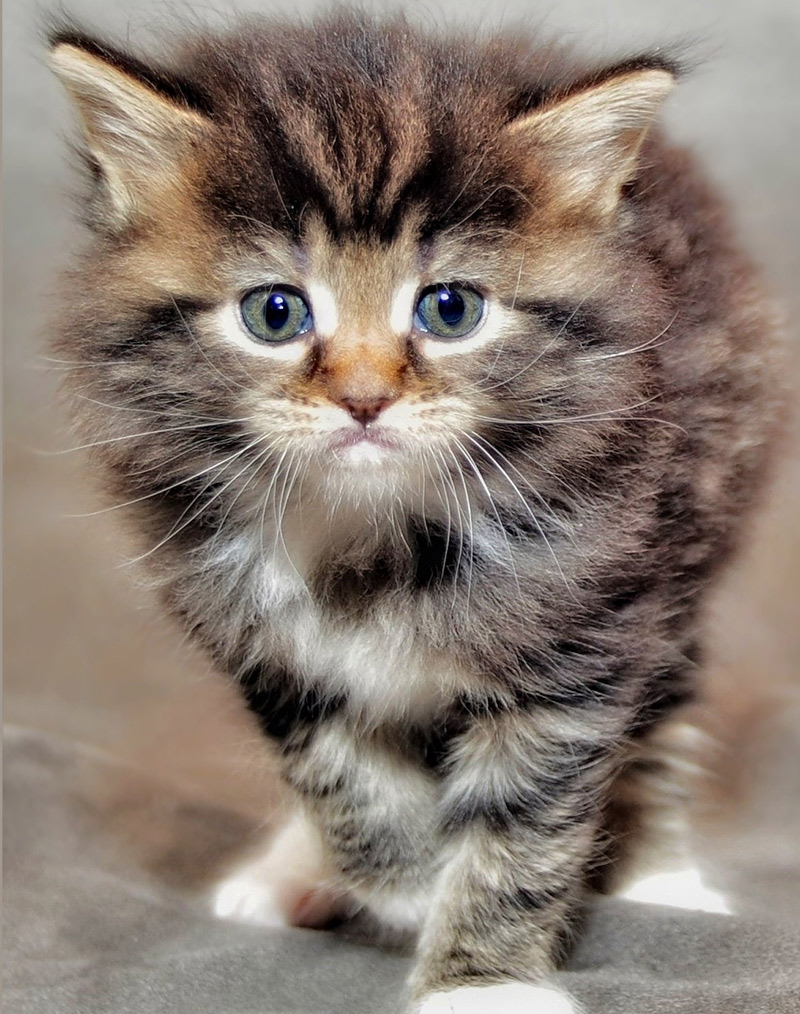 Before you bring a kitten home, make sure that your lifestyle is suited to a cat.
Especially a large breed, with a high maintenance coat.
Are you confident that you have time each week to brush him, and enough money to pay for his initial price, feeding, insurance and everything which goes along with a pet cat?
Check the parents have been health tested, and that the breeder take good care of the mother and has a purpose for her beyond making kittens.
She should be a treasured pet, or an adored and well treated show cat.
If you do, then you will first need to decide whether you want a pedigree or cross breed.
Mixed vs Pedigree Maine Coon Kittens
Cross bred Maine Coons are more common, a little cheaper and potentially less likely to be at risk of some of the inherited genetic diseases.
They may have the look and temperament of a Maine Coon, but this will be very much the luck of the draw and you won't know when your kitten is small how he or she will turn out once they grow up.
If you are just a fan of the breed and would quite like some of the attributes then a cross breed is an option, but if you want to have a pure bred Maine Coon then you will need to go to a reputable breeder.
Whether your kitten is a pedigree, cross bred or unknown origin, make sure the person who bred him is a good ethical breeder.
Maine Coon Breeders
If you decide to bring a Maine Coon kitten home you will need to do some research to find a good breeder.
The best Maine Coon cat breeders will probably have a long waiting list, so you won't be able to pick up a kitten immediately.
A Maine Coon kitten from a good breeder will probably be more expensive as well, as the breeder will have had considerable outlay on paying for health tests for their queen and a stud fee for the right partner for her.
And check out this guide to Maine Coon kittens for all the help and advice you will need on raising your new kitty. 
Maine Coon Price
Price is a sticky subject, because these beautiful, charismatic cats do not come cheap.
How Much Are Maine Coon Cats?
A Maine Coon kitten will cost you anything between £300 to £600 in the UK, or $400 to $1000 in the US.
Maine Coon prices vary considerably depending upon where the breeder is located, what health tests their cats have undergone and what purpose they are breeding for.
Even if you pick up a cross bred Maine Coon, make sure that the parent who is full Maine Coon has been fully health tested. Cross breeds are less likely to suffer from inherited diseases if they are from a breed with a larger gene pool, however they may have different issues of their own.
For example if you buy a Maine Coon mix whose parents were a Maine Coon and a Persian, you will need to consider the possible implications of having one brachycephalic parent as well as those potential health problems from the Maine Coon side of the family tree.
Maine Coon Rescue
Another way to get a Maine Coon into your home is to look for a rescued cat.
And it certainly is possible to get your hands on a rescue Maine Coon, if you are lucky. A friend of mine currently shares his life with one such beautiful kitty.
Maine Coon rescue societies specialize in the breed, the general cat rescue organisations can have cross breeds and occasionally pure bred Maine Coons as well.
If you are specifically looking for a pure Maine Coon you may have a long wait on your hands, but mixed breed cats will come along with more regularity.
Chat to your chosen rescue about why you are looking for a Maine Coon and be open to their other suggestions for cats who fulfil the criteria you are looking for.
Is My Cat A Maine Coon?
If you are buying your kitten from a breeder, then your Maine Coon will have a pedigree certificate confirming their lineage.
These cats can be quite similar in many ways to several other breeds, as they are a naturally occurring cat breed which has not altered hugely from the original form.
If you have rescued a cat who appears to be a Maine Coon, then this is of course possible, although not hugely likely as pure bred cats are expensive to buy and less likely to be given to the local shelter.
It is however entirely possible that you have an adorable Maine Coon Mix.
Maine Coon Mix
If you think you have a Maine Coon mix, you could well be right.
Mixes can be confirmed if the mother of the kittens is known and has a pedigree certificate stating she is Maine Coon.
Then regardless of who the kitten's father was, your little cat is at least half Maine Coon himself.
A mix or cross may have almost all, or practically none, of the characteristics of a Maine Coon.
This is very much luck of the draw, with some kittens looking a lot like one parent or the other, or not at all.
Is A Maine Coon Right For Me?
Before bringing any cat into your home, you need to make sure that you can provide the right environment for him.
Giving him good quality food, regular grooming and lots of love and attention.
Your cat can be left whilst you go to work, but only if you have plenty of space for him to exercise, toys for him to play with, fresh water for him to drink and comfortable areas to sleep.
If you are confident that you can offer a Maine Coon everything he will need, then in return he will provide you with a loving and loyal companion, and a pleasure to live with in your home.
Bringing home a new Maine Coon cat soon? Then you'll want to check out our awesome Maine Coon Cat Names Lists!
References
Keller et al. 2005. Hip dysplasia, a feline population study. Veterinary Radiology and Ultrasound.
S Allan Graeme 2000. Radiographic features of feline joint diseases. Veterinary Clinics – small animal practice.
Kittleson et al. 1999. Familial Hypertrophic Cardiomyopathy in Maine Coon Cats. An Animal Model of Human Disease. Circulation.
Meurs et al. 2005. A cardiac myosin binding protein C mutation in the Maine Coon cat with familial hypertrophic cardiomyopathy. Human Molecular Genetics.
MacDonald et al. 2006. The Effect of Ramipril on Left Ventricular Mass, Myocardial Fibrosis, Diastolic Function, and Plasma Neurohormones in Maine Coon Cats with Familial Hypertrophic Cardiomyopathy without Heart Failure. Journal of veterinary internal medicine.
MacDonald et al. 2008. Effect of Spironolactone on Diastolic Function and Left Ventricular Mass in Maine Coon Cats with Familial Hypertrophic Cardiomyopathy. Journal of Veterinary internal medicine.
Leslie A Lyons 2010. Feline Genetics: Clinical Applications and Genetic Testing. Topics in Companion Animal Medicine.
Tissier et al. 2012. Comparative Echocardiographic and Clinical Features of Hypertrophic Cardiomyopathy in 5 Breeds of Cats: A Retrospective Analysis of 344 Cases (2001–2011). Journal of veterinary internal medicine.