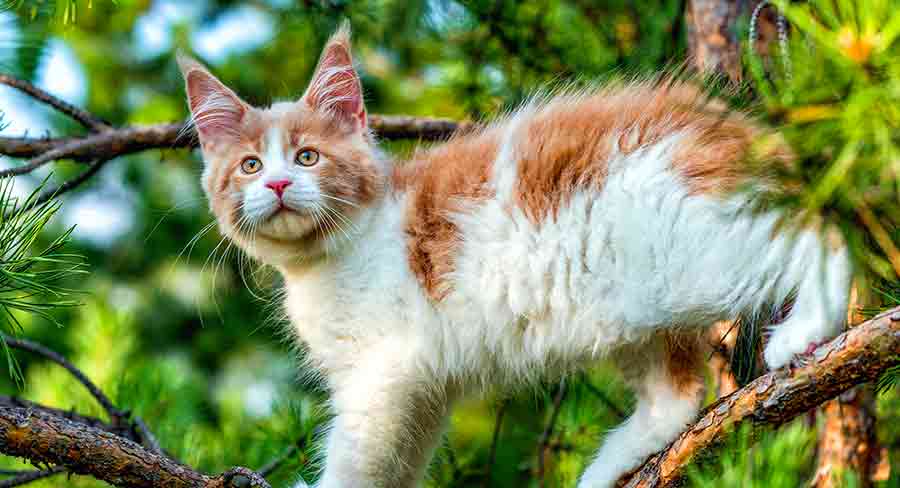 A baby Maine Coon cat can make a wonderful addition to your family. Maine coon kittens from rescue centers can also be great pets, but reputable breeders shouldn't be too hard to find either.
Baby Maine Coon kittens grow into particularly large cats. Some can weigh as much as 20 lbs as adults. So, a lot of the normal growth and feeding charts don't really apply to them.
Once you've found your new baby Maine Coon cat, you'll need to give them the best care for their unique needs. Luckily, this complete guide covers all aspects of baby Maine Coon care and where to find healthy Maine Coon kittens.
Baby Maine Coon Pictures and Stories
Maine Coon cats are known for their large size, gorgeous long cats, pointed ear tufts and loving personalities. Many say they are more like dogs than other cat breeds!
A great way to do some initial research on Main Coon kittens is to check out pictures and stories about them that real owners have shared online. Baby Maine Coon kittens are beautiful. So there are stacks of images to be found. In fact, we have a full article dedicated to Maine Coon cat and kitten pictures.
Here are some more of our favourite Maine Coon kitten sites and social media pages: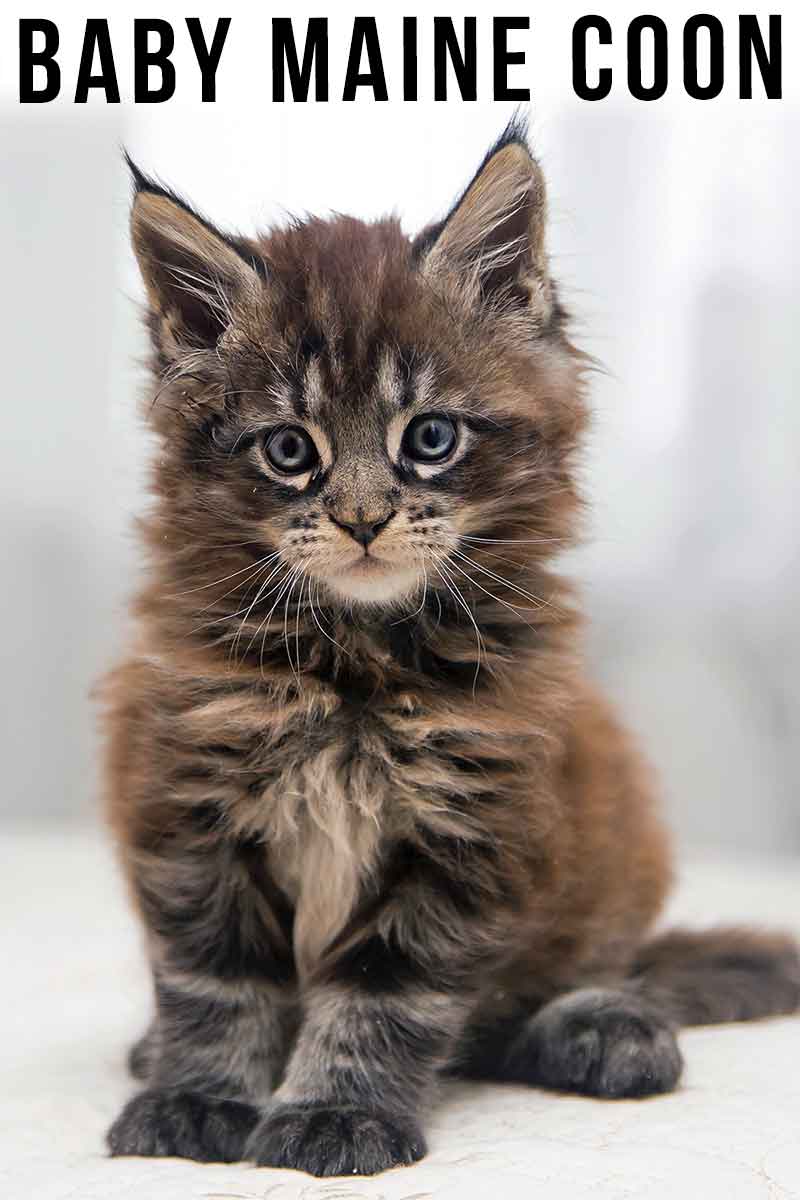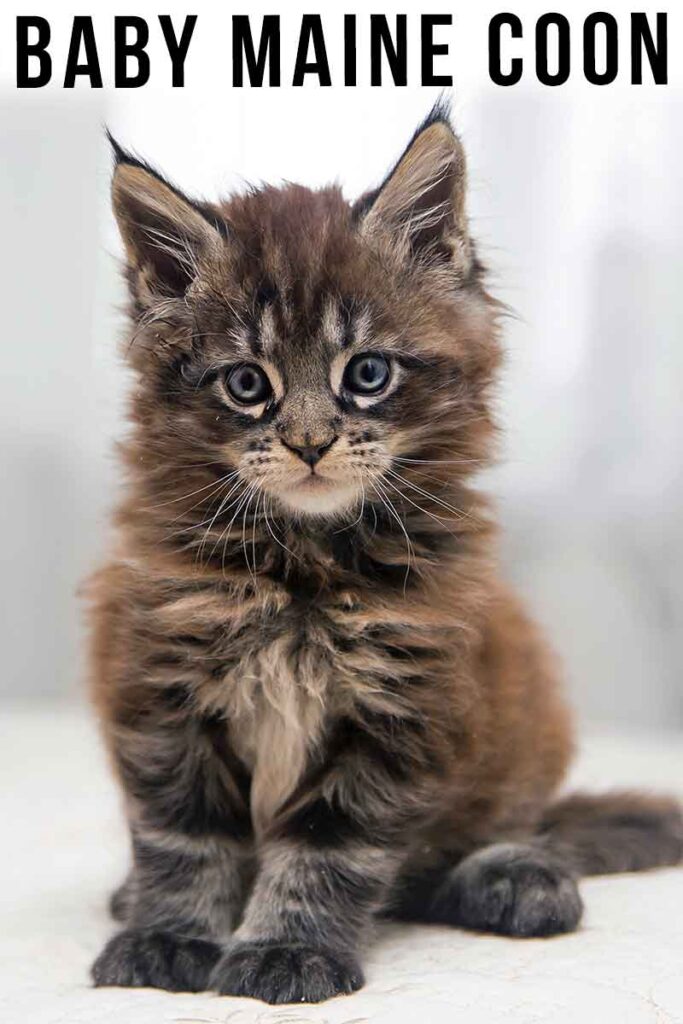 Finding a Maine Coon Kitten
The two most common ways to get a baby Maine Coon cat are through reputable breeders or through rescue centers. We will give you a detailed guide to both, starting off with breeders.
Finding the right Maine Coon kitten breeder will give you the best chance of a well bred, well tempered, healthy cat. Contacting the Maine Coon society is a great way to find registered breeders. You can look at adverts online, but need to be aware that not every breeder is a good breeder.
Your Maine Coon kitten's breeder should have had various health test results for the parent cats. Including DNA testing for the HCM, SMA and PK deficiency genes. They should also have x-ray hip checks to confirm no signs of hip dysplasia, and heart scans.
The kittens should be vet-checked and tested clear for Felv/Fiv and RW. They should also be wormed and have their first vaccinations. The adult cats should be kept indoors, and have another purpose beyond having kittens. Whether this is as a family pet or a show cat. They should be clearly loved and have a friendly temperament when you meet the mother.
Baby Maine Coon Cat Price
Maine Coon kittens' prices can vary wildly depending on your location. In some States or counties they will cost more than others, due to availability and the average financial strength of that area. What you can be sure of, is that well bred, health tested, show quality Maine Coon kittens do not come cheaply.
In the United States, Maine Coon kittens cost varies from around $700 – $1,500. And in the United Kingdom, you will find purebred kittens available from around £400 – £1,000.
Baby Maine Coon kittens that come from fully health tested parents will be towards the expensive end of the spectrum. But, bear in mind that these tests will potentially save you a huge amount of money in terms of veterinary bills in the long run. Not to mention a lot of heartache.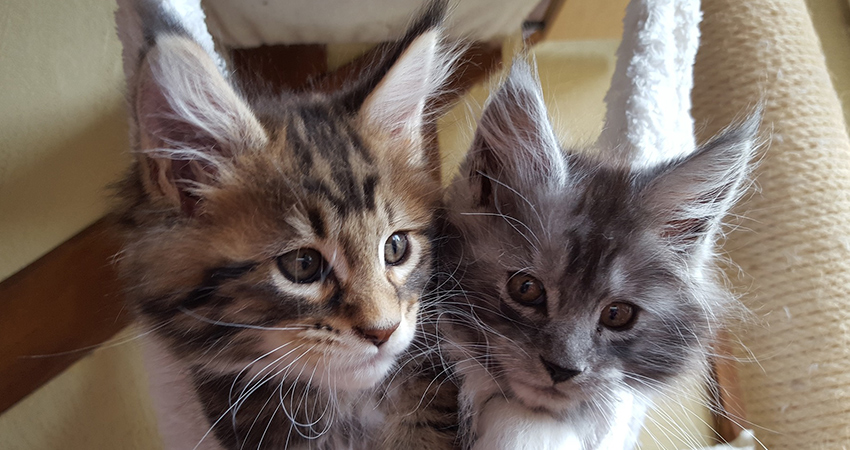 Maine Coon Cat Rescue
Another way of finding baby Maine Coon kittens is by adopting one from a shelter. They won't come with papers, and are unlikely to be from health tested parents. But you will be offering a home to a kitten in need.
You get the satisfaction of rescuing a kitten, the support of the adoption agency and let's face it, you will also probably pay much less. Here are some agencies that you might like to consider when searching for a baby Maine Coon cat:
You don't need to go to a Maine Coon specific rescue club to find a kitten for adoption. Contact local cat rescue charities and let them know that you are looking for a Maine Coon kitten to adopt. You might have to wait, as Maine Coons are a popular breed and do not come into rescue centers too often.
Baby Maine Coon Mix Breeds
A cheaper way to find a cat with Maine Coon heritage can be to look for a Maine Coon kitten mix. It is still important that the Maine Coon parent has had the appropriate health tests and that the kittens have been well cared for.
Sometimes people deliberately cross breed. Or a Maine Coon Cat owner may have accidentally let her female Maine Coon get pregnant.
Be wary if the mother cat is not a Maine Coon and the owners 'think' the father is. Cat litters can be sired by multiple fathers and unless the female lives entirely indoors and the mating is supervised, it is very difficult to be certain which kitten is sired by which cat.
Be aware that when you are buying a cross bred kitten, there is no way to predict how Maine Coon like their adult look and temperament will be. This doesn't mean they won't become a wonderful cat and companion of course. Just that you might not end up with exactly the type of kitty you were ideally hoping for.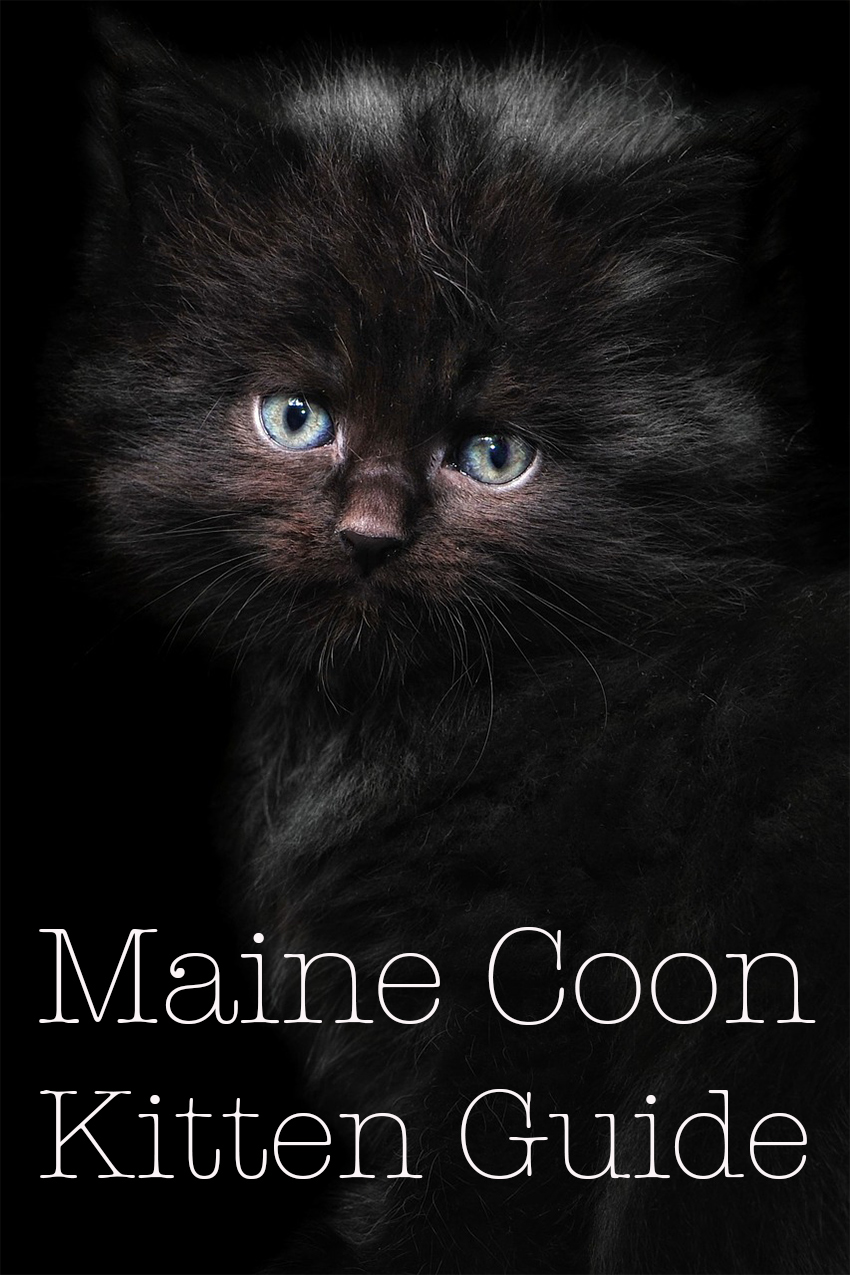 Is a Baby Maine Coon Cat Right for You?
Maine Coon kittens are adorable, and quickly turn into equally cute, but much larger, cats. But, there is more to them than their looks. Your Maine Coon kitten will probably be obsessed with being together. They will follow you around, and love being cuddled or curled up on your lap. They will be loyal and often quite chatty too.
But Maine Coon kittens are not just lap cats. They are playful and active little characters. You will need lots of toys, climbing trees and scratching posts ready for your Maine Coon kitten to interact with.
As well as their great need for companionship and play, Maine Coons have some other very important needs. Including potty training, feeding and grooming needs.
You must consider all of these, the impact that they will have on your life, and your ongoing financial budget, before committing to one. Even if you've found your ideal baby orange Maine Coon, or a beautiful black kitten.
Let's take a closer look at the care needs of these cats, so you can be certain that one is right for you.
Potty Training a Baby Maine Coon
All kittens need potty training, and your baby Maine Coon kitten should be similarly easy to potty train as any other breed of cat. Most breeders will not let their kittens go to their new homes until they are at least 12 weeks old.
At this point, they should be litter box trained at home. So all you need to do is continue with the breeder's good work. As Maine Coons have long fur, you will need to use a non-clumping kitty litter. One which won't get stuck to him when he goes to the bathroom.
Introduce your Maine Coon kitten to a single room, which contains a litter box. Make this one of the main rooms you use in the house, so that your kitten has company. Make the litter box easy for him to find, and if possible put it in a corner of the room.
You can find more great information on litter training a kitten in this free online guide.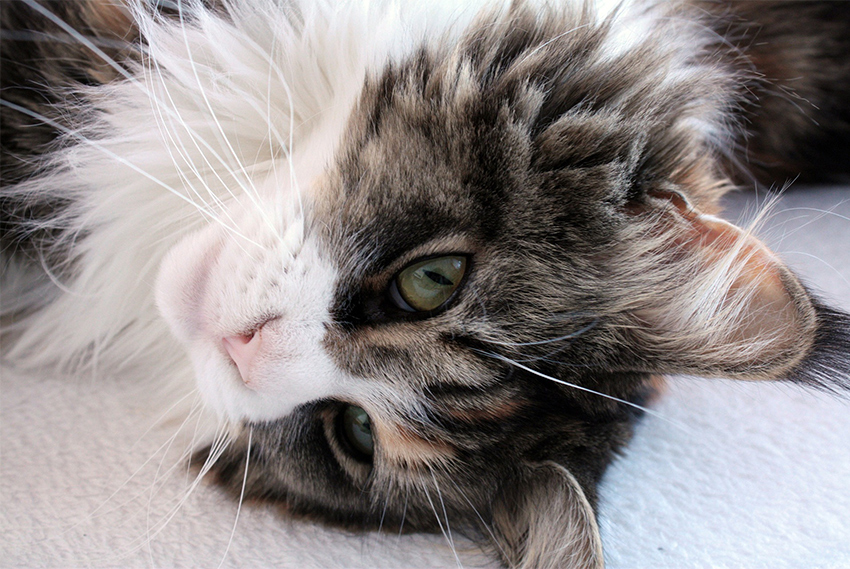 Baby Maine Coon Grooming Needs
Grooming your Maine Coon kitten is an important part of his daily care. Gorgeous long fur comes with extra risks of matting, which must be avoided to keep him healthy and happy. As well as looking in peak condition.
From the first days your baby Maine Coon is home, get him used to being handled and touched by a wide tooth steel comb. Make sure he becomes acclimated to you running your hands and the comb all over his body. Including the legs and belly where the fur can become tangled.
When your Maine Coon kitten is used to being groomed, you can progress to using a finer toothed comb.
Feeding a Maine Coon Kitten
Feeding your Maine Coon kitten the right diet is important. Due to the prevalence of hip dysplasia in Maine Coon cats, it is even more important to keep them at an optimal low weight for their size.
A high protein, low carbohydrate food is best. Your baby Maine Coon will grow quickly and should not have a diet that encourages more rapid growth than their hips can handle.
Ask your breeder, before you bring your kitten home, what food they recommend. Some Maine Coon kitten breeders may have fed them on a raw diet, which you might wish to continue to use. You can find some great standard kitten feeding information in this article.
Introducing a Maine Coon to a Baby
Another thing to consider is if you have children at home – whether this is a newborn baby or a few teenagers! If your kids are older, make sure they know as much about kitten care as you do. Many kids are keen to help out with a new kitten, and will love taking part in grooming and feeding sessions.
If you have a younger child, or a baby, introduce them to your kitten slowly. Keep time together short and happy, and supervise all interactions to avoid any accidental injuries or misunderstandings.
Over time, with your help, your Maine Coon kitten and your baby can grow up to have a wonderful, strong bond. Before you know it, they'll be best friends, playing together every day!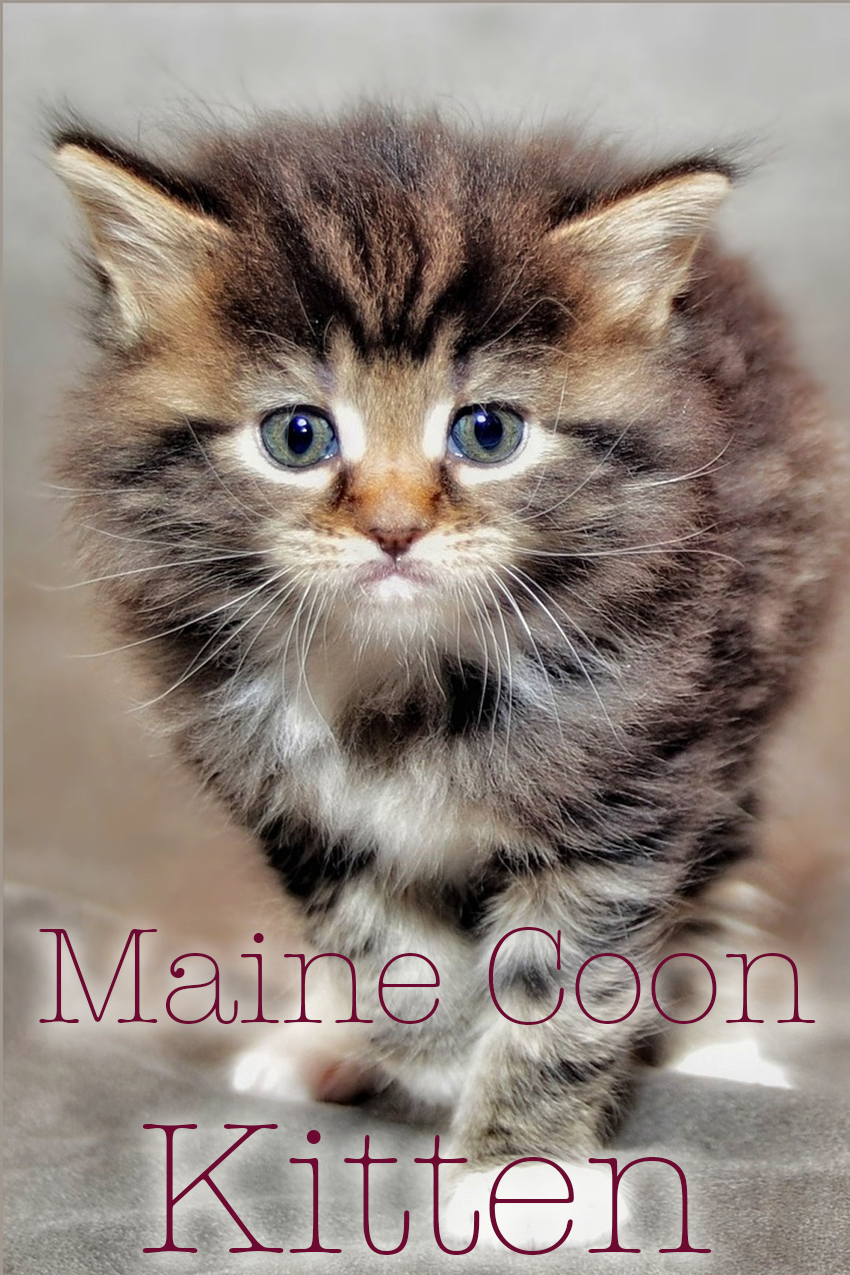 More Help Raising Maine Coon Kittens
Here are some other guides that will help you raise your baby Maine Coon into a healthy and happy adult:
Are You Getting a Baby Maine Coon?
Maine Coon Kittens grow into beautiful, hardy, and affectionate family cats. They grow larger and more slowly than most kittens and their fantastic coats take a lot of grooming
If you enjoy grooming pets, and are happy to own a large cat, a Maine Coon Kitten may be just right for your family. Check out the rescue societies mentioned above or find a reputable breeder.
And don't forget to tell us about your baby Maine Coon in the comments. We would love to hear about them!