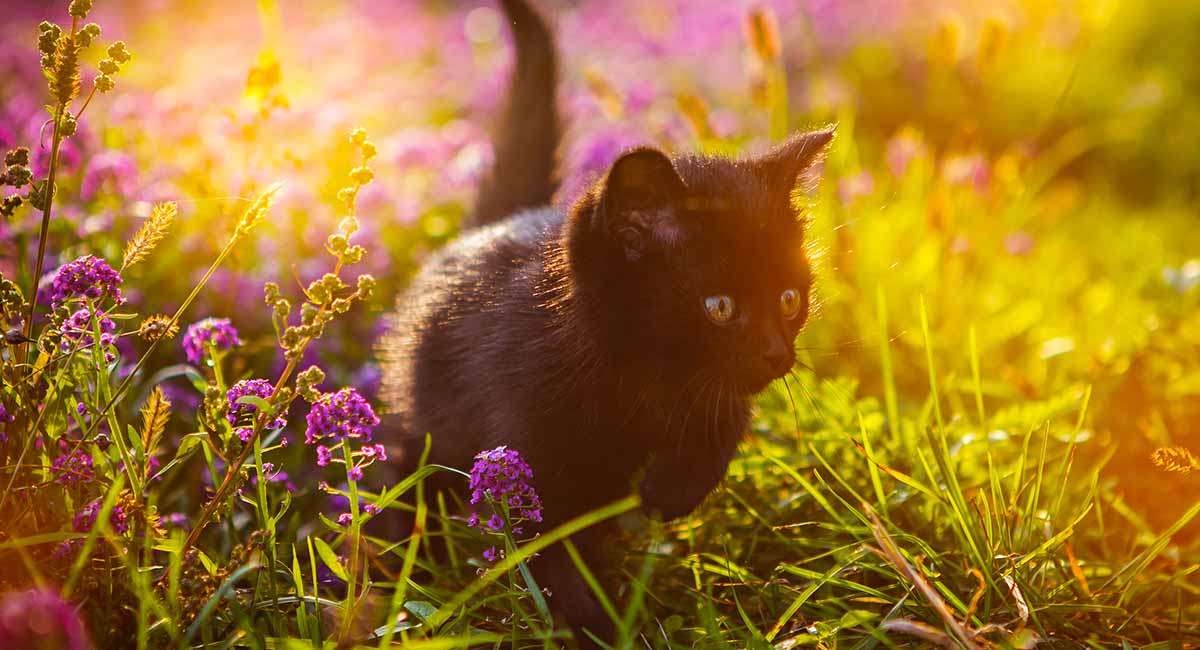 Getting the right words for a situation is something that we all struggle with from time to time. Whether you are looking for something to honor our own memories, or producing the perfect statement for a friend in need, these black cat quotes will hit you right from your twitching tail to your padding paws.
The Best Black Cat Quotes
Some sayings hit home to any pet owner in a way that can be quite surprisingly. This selection cross the boundaries of our animal families.
A black cat crossing your path signifies that the animal is going somewhere.

Groucho Marx
The hardest thing of all is to find a black cat in a dark room, especially if there is no cat.

Confucius
When the tea is brought at five o'clock, and all the neat curtains are drawn with care, the little black cat with bright green eyes is suddenly purring there.

Harold Monro
My old black cat, he passed away this morning. He never knew what a heartache was. Woke up late and he danced till noon. If questioned why, answered just because. He never spoke much, preferring silence. Eight lost lives was all he had.

Ian S. Anderson, "Old Black Cat"
I like my coffee black – like my cat.

Seen on Etsy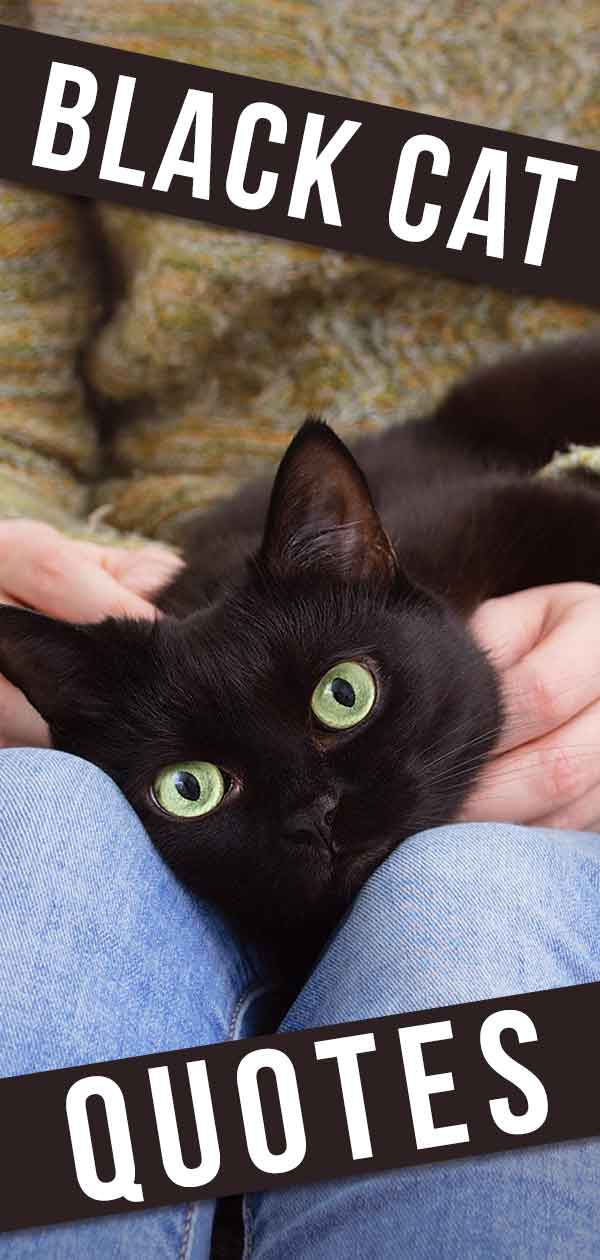 Sayings About Black Cats
Good or bad, holy or unholy, a sign of good or ill fortune, there is one thing the black cats of this world and their owners can count on: Black cats really know how to make an impression! For example, for every culture that views black cats as a source of bad luck, there is a culture that views black cats as a source of good luck.
To this point, in Japan there is even a cat café wholly devoted to the black cat, which is reputed to bring single ladies good luck in finding love! These sayings about black cats perfectly illustrate how there are so many superstitions and sayings about black cats today that almost the only thing everyone seems to agree on is that they disagree.
One thing was certain, that the white kitten had had nothing to do with it – it was the black kitten's fault entirely.

Lewis Carroll, Through the Looking Glass and What Alice Found There
A black cat will bring its owner good luck.

The New England Historical Society
Black cats are certainly bad omens for enemies and good luck for friends.

Shankar Gr
Whenever the cat of the house is black, the lasses of lovers will have no lack.

The Encyclopedia of Superstitions
Beware of the night, child. All cats are black in the dark.

Jean Genet, The Blacks: A Clown Show
Quotes From Literature
Some of the most celebrated and famous authors and philosophers from yesterday and today have chosen to keep close company with black cats. So it is not hard to figure out how black cats have come to figure so prominently in such a wide variety of literature, from poetry and short stories to personal letters and long-form prose.
Nikos thought himself to be a very rational man, a man who did not believe that his good luck or bad luck was in any way changed by black cats, walking under ladders, spilling salt, or opening umbrellas inside the house.

Chris Rose, "The Broken Mirror, the Black Cat and Lots of Good Luck"
This latter was a remarkably large and beautiful animal, entirely black, and sagacious to an astonishing degree.

Edgar Allan Poe, "The Black Cat"
A black cat among roses, phlox, lilac-misted under a quarter moon, the sweet smells of heliotrope and night-scented stock. The garden is very still. It is dazed with moonlight, contented with perfume.

Amy Lowell
Any great truth can – and eventually will – be expressed as a cliche – a cliche is a sure and certain way to dilute an idea. For instance, my grandmother used to say, 'The black cat is always the last one off the fence.' I have no idea what she meant, but at one time, it was undoubtedly true.

Solomon Short
Black Cat Loss Quotes
If there is one life experience that unites all of us, it is loss. Grief has no fur color, no species, and clearly no expiration date. Whether it is a beloved black cat gone missing (even Mark Twain knew the pain of this!) or a black cat who has crossed the Rainbow Bridge forever and now waits for us on the other side. These black cat quotes and sayings about loss illuminate that our black-furred loves are always deeply missed.
I think my first song ever was when my cat died. It was this awful, dreadful black cat who was angry and hated everything. Yet I was so upset when it died.

Thomston
May 4, 1985. I am packing for a short trip to New York to discuss the cat book with Brion. In the front room where the kittens are kept, Calico Jane is nursing one black kitten. I pick up my Tourister. It seems heavy. I look inside and there are her other four kittens. Take care of my babies. Take them with you wherever you go.

William S. Burroughs, The Cat Inside
You'll love the feel of my soft velvet fur. You'll love the sound of my rumbling purr. Once I have loved you, you'll never look back. The reason for this…I AM THE BLACK CAT.

Unknown
Funny Quotes and Memes
It is a great trick to look serious while acting very funny. But it is not just human comedians who have mastered this advanced art. Clearly, as these black cat funny quotes and memes illustrate, black cats have a knack for treading lightly inside their own very serious-looking fur.
Your Sole is Mine.

Black Cat Memes
Cancel my 3 o'clock. I need to watch this bird.

Business Cat
Black cats were created to give everyone the opportunity to be owned by a mini-panther.

The Best Cat Page
What Is a Black Cat's Favorite Song? Three Blind Mice.

Business Cat
When is it very bad luck to see a black cat? When you're a mouse!"

Mighty Black Cat Joke
Famous Black Cat Quotes
Black cats are reportedly being overlooked at rescue shelters because they don't show up as well in selfies. But, those who love black cats know their appeal is timeless. So many famous people have fallen in love with black cats! Marlon Brando, Cher, Patti Smith, John Lennon, Frank Zappa, Leonard Nimoy, George Clooney, John Travolta, Morgan Freeman. The list goes on and on and on.
And in fact, as these famous black cat quotes illustrate, some of the most famous cats of all time were – and are – black cats themselves!
Every girl needs a little black cat.

Gwen Cooper, The Animal Rescue Site
Re-MEOW-niscing about the sweet taste of blood!

Original Vampire Cat (Instagram)
Today you are You, that is truer than true. There is no one alive who is Youer than you.

Dr. Seuss, The Cat in the Hat
Show me the tuna.

Salem the Black Cat (Sabrina the Teenage Witch)
Halloween Cat Quotes
The black cat and Halloween are nearly synonymous today. Few other symbols are as recognizable or as surrounded by superstition. Unfortunately, this has also created somewhat of a stigma about cats with black fur – a stigma many famous cat lovers (including Groucho Marx) have continued working hard to erase.
The truth is, Halloween means a lot of different things to a lot of different people. But to black cats, it is just one more day (and night) to do what felines do: nap, play, cuddle, love, and be loved by their people.
When black cats prowl, and pumpkins gleam, may luck be yours on Halloween.

Good Housekeeping
Sometimes it happens that a black cat lets you pass in front of it.

Unknown
Black cat on a fence; Halloween two days hence.

Rusty Fischer
Black Cat Quotes
We hope you have enjoyed this curated selection of fun and fabulous black cat sayings about love, loss, life, Halloween, and the special bond between black cats and their people!
Did we miss any of your favorite black cat quotes? Please post them below for everyone to enjoy! And if you want more to read, take a look at more cat quotes here! We even have some cat love quotes for you to enjoy.
References and Resources