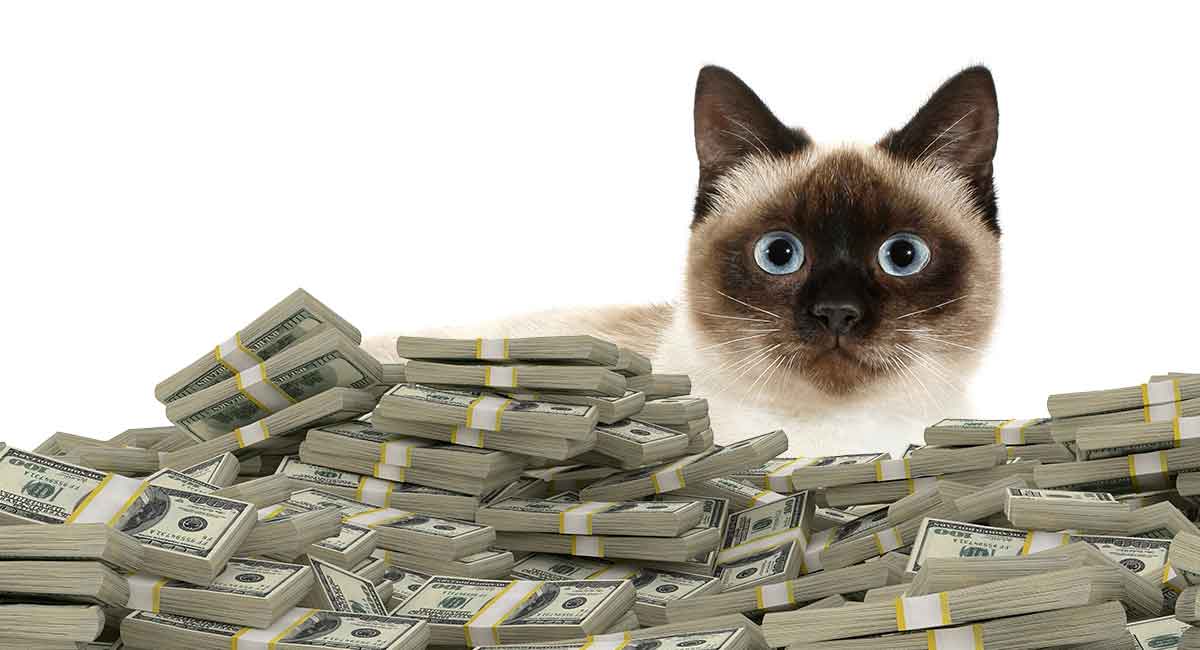 How much does a cat cost? The cost of raising a cat varies depending on multiple factors.
You will need to consider how much your cat will cost if you are purchasing it from a breeder versus adopting a cat. But this is often the smallest cost of cat ownership.
Additional costs include cat food, cleaning, toys, and veterinary bills. Owning a cat is rarely cheap. But finding the perfect companion is often worth the extra expenses.
Let's look a bit more at how much you can expect to pay for a cat.
The Cost of Owning A Cat
If you are getting ready to bring home a cat, you are probably already aware that you will need to invest some money in the initial purchase of your new pet. However, when it comes down to the costs of a cat, there are other needs that you will need to plan for.
Buying a cat itself is often the smallest cost associated with cat ownership. You will also need to purchase food, treats, food and water bowls, litter and litter boxes, carriers, toys, and other accessories.
Plus, you will be responsible for paying for veterinary care, flea and tick prevention, and other care items as well. You must take all of these factors into account before you decide whether raising a cat is right for you.
The Cost Of Buying A Cat
If you plan on purchasing a cat from a breeder, you should know that different breeds can command very different prices. While some cat breeds are very expensive, others are quite cheap.
The most expensive breeds of cats are those that are rare or unique. Cats like Asheras are extremely pricey, with individuals costing $100,000 or more in some cases!
The Savannah
Another expensive feline? The Savannah. This cat is a cross between the African Serval and the domestic house cat. Prized for its friendly, outgoing demeanor, this cat has an elegant – but rare – appearance. While there are many benefits associated with owning a Savannah, cost savings are not one of them.
Other Breeds
Other expensive breeds include Persians, Maine Coons, and Peterbalds. That being said, a cat does not have to have a steep price tag to make it a good potential addition to your home.
If you don't want to break the bank when you purchase a cat, you might want to consider breeds like Siamese, Snowshoe, or Himalayan cats. All of which cost around $200 for a purebred kitten sold as a pet (as opposed to a potential show quality animal).
The Siamese cat breed is a popular choice for people who are seeking a good companion as well as a relatively inexpensive pet. While these cats like lots of attention from their owners, they are easily trained and are good-natured.
Adopting
Keep in mind that adopting a cat from a shelter is a great way to trim costs and find the perfect pet all at once. While breeders can charge anywhere from $200 and up for a kitten, adoption fees from a shelter are usually only about $50. If you don't care much about the pedigree of your cat or whether it meets breed standards, then adoption might be a good choice for you.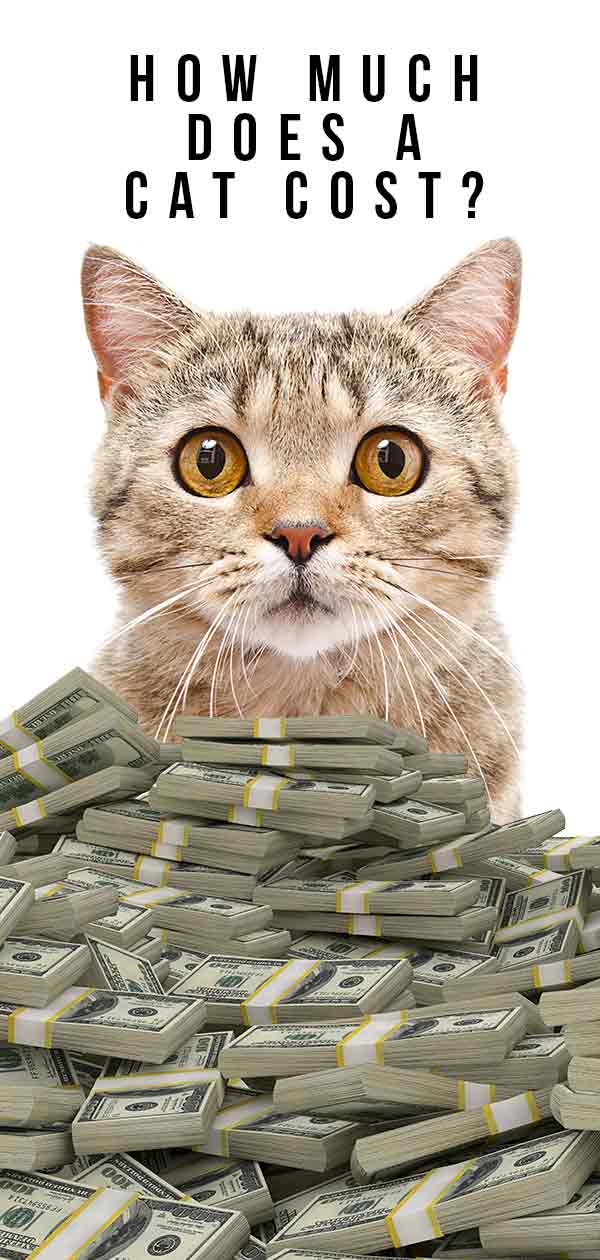 How Much Do Cat Toys Cost?
Don't forget – you will need to keep your cat entertained with some toys, too. Cats like to have plenty of things to scratch, climb on, chase, or play with. You can be creative and give your cat some DIY cat toys with string, shoelace, or small balls. But you may decide to purchase one or two cheap cat toys along the way, too.
Even at their least expensive, the cost of purchasing cat toys can certainly add up. Potential cat owners can expect to spend an additional $20 to $50 for cat toys as well as necessary items like scratching posts and cat trees.
How Much Does Cat Food Cost?
Once you have your cat at home, you will need to feed it. You should not try to cut costs when it comes to feeding your cat.
Cat food should contain a high proportion of animal proteins and fats. Both of which should mimic the food your indoor cat would eat if it were a wild cat.
You can feed a wet food diet to your indoor cat – this is what some veterinarians recommend to help prevent obesity. While dry kibble costs between $8 and $16, wet food will cost between $16 and $38 for two cases of 3-ounce cans.
According to the American Pet Products Manufacturers Association, the average cat owner spends $188 per year on food and another $41 per year on treats.
Specialized Diets
Keep in mind that if your cat is a kitten, a senior cat, or has special needs, you may need to feed it a specialized diet. This can add even more to your list of expenses when you are trying to figure out the costs of raising a cat.
Some cat owners also choose to feed their cats raw or even organic diets.
These diets are controversial but tend to be closer to what your cat would eat in the wild.
Make sure you do your research to make sure you are feeding your cat the raw foods that will make them the healthiest and happiest, and know that sometimes you may be able to save money by supplementing your cat's diet with human foods like shrimp and tuna, too.
Other Cat Expenses!
The expenses of owning a cat don't end there. You will also need to consider one-time expenses, like purchasing food and water bowls.
These can be as inexpensive as a few dollars to as expensive as several hundred if you want advanced products like self-feeders.
You will also need to purchase a litter box. While this, too, is a one-time expense, you will need to keep it stocked with litter. This can cost up to $100 per year for a single cat. You may also want to purchase a carrier, a cat bed, or other items to make your cat feel more comfortable.
Do you plan on going on vacation? While some cats take well to traveling, most will need to stay at home with a cat sitter – or head to the boarder's. In most cases, you should expect to budget $15 to $50 per day for your cat when you are not at home.
If your cat has long hair or requires professional grooming, that's another cost to consider. This can cost hundreds of dollars per year if you don't know how to do it yourself.
Veterinary Bills
And don't forget about the veterinary bills! Each year, you can expect to spend at least $100 or more on veterinary care, vaccinations, and flea and tick prevention.
Plus, you will have the one-time fee of spaying or neutering your pet, too. The vet bills associated with raising a cat generally only get more expensive as your cat ages. So don't think you will be let off the hook by adopting an older cat – there will still be bills that need to be paid.
How Much Does A Cat Cost?
Hopefully, this article has given you the information you need in order to budget for your new pet. It can take some time to figure out all of the expenses associated with owning a cat. But the extra time – and costs – are often well worth it.
Raising a cat is a good investment as long as you are aware of the expenses ahead of time.
Do you have any experience with raising cats? What costs surprised you? Post a comment to let us know – we would love to hear from you.
References and Resources