Does your cat love sharing? If you are having a fruity snack, then you might be tempted to give your kitty a slice or two. And if your cat likes to play with apples, he may be tempted to take a bite.  But is it a good idea? Let's find out and answer a top fruity question – "can cats eat apples?"
Apples are a hugely popular fruit among humans and are eaten all across the world.
You may have heard phrases like 'an apple a day keeps the doctor away'
Which suggests to us that apples are beneficial to our health.
Some nutritional experts recommend that people consume lots of fruits and vegetables to combat the risks of certain diseases.
In the case of apples, specifically, some studies have suggested they reduce the risk of asthma, diabetes and even certain cancers.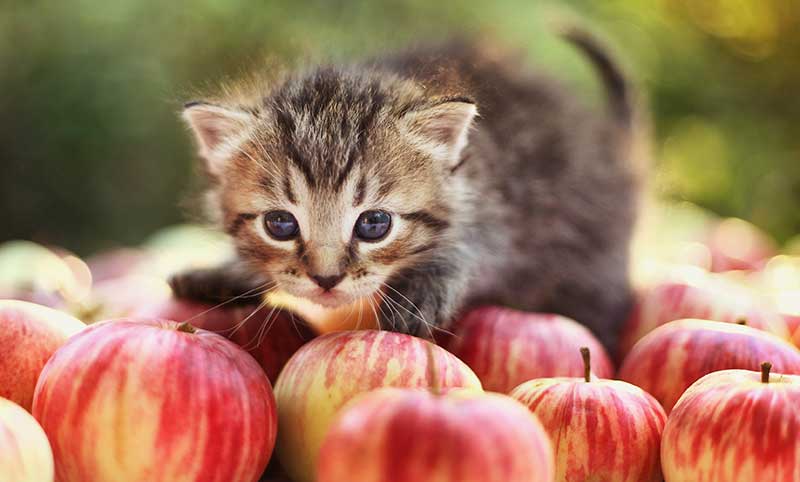 Apples are a great source of antioxidants, which lower cholesterol, slow ageing and hinder cancer cell growth in humans.
However, although apples have all sorts of benefits for us it doesn't necessary follow that they do for cats. Or that they are even safe for our cats to eat.
Can Cats Have Apples?
Technically, yes, cats can eat apples. However, cats and apples are a bit of a funny combination.
Cats are obligate carnivores. This means that they may find it hard to digest certain foods and they may also not even like the taste of apples.
In addition to this, due to the shape of apples, your cat might probably find it hard to eat the fruit as it is.
However, this doesn't mean that there won't be a few cats who appreciate a slice of apple. So let's take a look at whether this is a good idea.
Are Apples Safe For Cats?
While most of an apple is okay for your cat to eat, the core and seeds cannot be given to animals.
This means you must take care to ensure their removal before letting your cat eat any apple.
Apple seeds contain cyanide, which is very dangerous for animals and could poison your cat.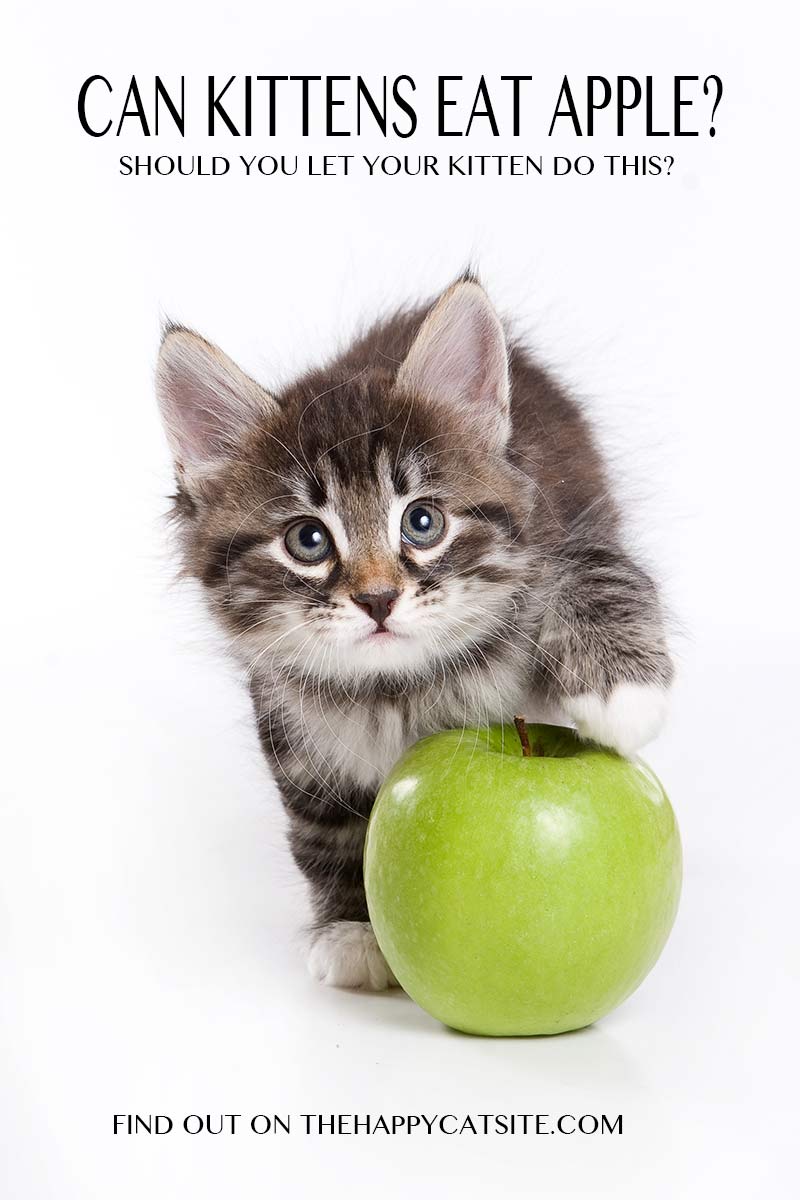 Although apple seeds only contain a small amount of cyanide, it is still vital that you do not allow your cat to eat any.
If your cat ingests any pips you should immediately consult your veterinarian for further advice and help.
How To Prepare Apple For My Cat
If you decide to give your cat apples you need to ensure that you have removed the core and any seeds beforehand.
You should also wash the apple to make sure it is clean of any pesticides used while they fruit was growing, as these too could have a harmful effect on your pet.
Like any other fruit that your pet can eat, you should be careful not to give them too much in one sitting, as this could cause an upset stomach.
Giving your cat apple every now and again won't hurt, but like anything else, it should be done in moderation to ensure the best health for your cat!
If your cat does react badly to apple, it is best to avoid giving it. There are plenty of other treats or snacks that your cat could have that would be just as tasty and beneficial.
You could consult your vet for alternative snacks with equal benefits if your cat does not react well to apple.
Apples For Cats
There are endless possibilities of how to prepare apple for your cat.
Firstly, you could slice it up into small edible pieces on top of their normal meal. Smaller pieces are more manageable for your pet to eat and will help avoid choking.
Alternatively, you could puree or mash them. This could also be served alongside your cat's normal food!
There are loads of recipes for pet treats online that contain apple. Here's one that we think looks very tasty!
It is important to remember that your cat might simply not like apple, so if it does not eat the fruit whichever way you decide to serve it, you don't need to panic!
Although certain fruits can be beneficial to your pet in small servings, they should not be used to replace your cat's normal diet.
This is not only because your cat is a carnivore, but because apples can't provide every nutrient that your cat needs. It is important the make sure your cat has a well balanced diet to be at its healthiest.
If you're uncertain that your cat is getting everything it needs for perfect health from its current diet, you should consult your vet to get advice on a better dietary plan.
Are Apples Good For Cats?
Apples and the antioxidants they contain have various health benefits for humans, but can we say the same for our cats?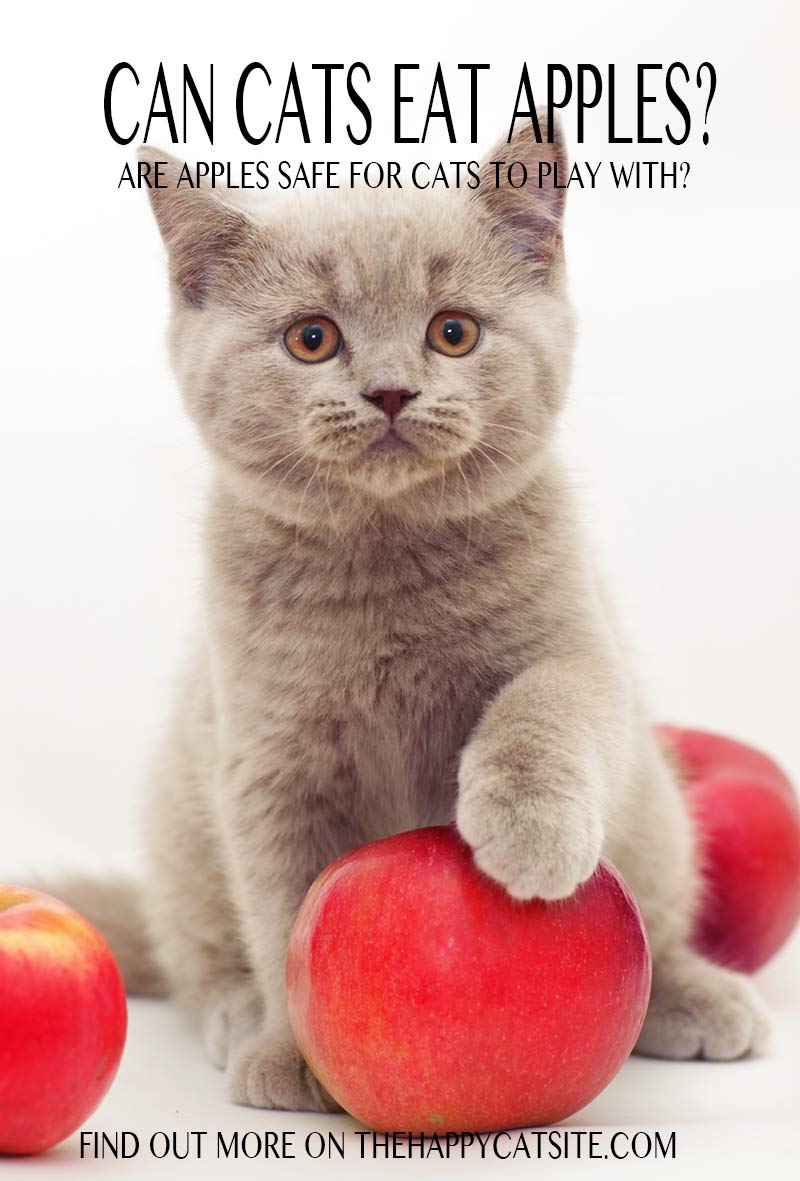 We've established that apples aren't bad for your cat in most cases (apart from the seeds and core!), but is apple actively good for your pet?
Foods like apples can be beneficial for your cat's health in small doses, if you are introducing it to your pet's diet to replace unhealthy high-fat pet treats.
Your cat's immune system could be strengthened, and its aging will be slowed, similar to the effects the fruit has on human health.
Can Cats Eat Apples?
Cats can eat apples. If your cat takes a bit out of an apple he has been playing with, you don't need to panic.  And if you want to share a slice of the apple you are eating with your cat, that's okay.
However, as mentioned in our last section, you shouldn't worry too much if your cat doesn't start eating apples, as you hoped.  And you don't need to go out of your way to feed apple to your cat if you don't want to.
Not every cat will like apples, and if you're particularly worried about any potential health problems, you can consult your vet to find other ways to help your pet.
Does your cat like apples?
If so let us know, and let us know how you serve up apples to your cat!
Free Updates For Cat Lovers!
Our cat care articles, tips and fun facts, delivered to your inbox
Resources
Jeanelle Boyer, 'Apple Phytochemicals and their Health Benefits', Nutrition Journal, 3:5 (2004)
Veronique Legrand-Defretin, 'Differences between cats and dogs: a nutritional view', Proceedings of the Nutrition Society, 53 (1994)
Free Updates For Cat Lovers!
Our cat care articles, tips and fun facts, delivered to your inbox