Can cats eat apples? If you are having a fruity snack, then you might be tempted to give your kitty a slice or two. And if your cat likes to play with apples, he may be tempted to take a bite. But is it a good idea?
Apples are generally thought of as being pretty healthy. But that doesn't mean that your cat should eat a lot of them, or that he should eat every part of an apple.
Let's take a look at some more details on the question, "Can cats have apples?"
Can Cats Have Apples?
Technically, yes, cats can eat apples. However, cats and apples are a bit of a funny combination.
Apples are a hugely popular fruit among humans and are eaten all across the world. You may have heard phrases like 'an apple a day keeps the doctor away,' which suggests that apples are beneficial to our health.
Some nutritional experts recommend that people consume lots of fruits and vegetables to combat the risks of certain diseases.
In the case of apples, specifically, some studies have suggested they reduce the risk of asthma, diabetes and even certain cancers. Apples are a great source of antioxidants, which lower cholesterol, slow aging, and hinder cancer cell growth in humans.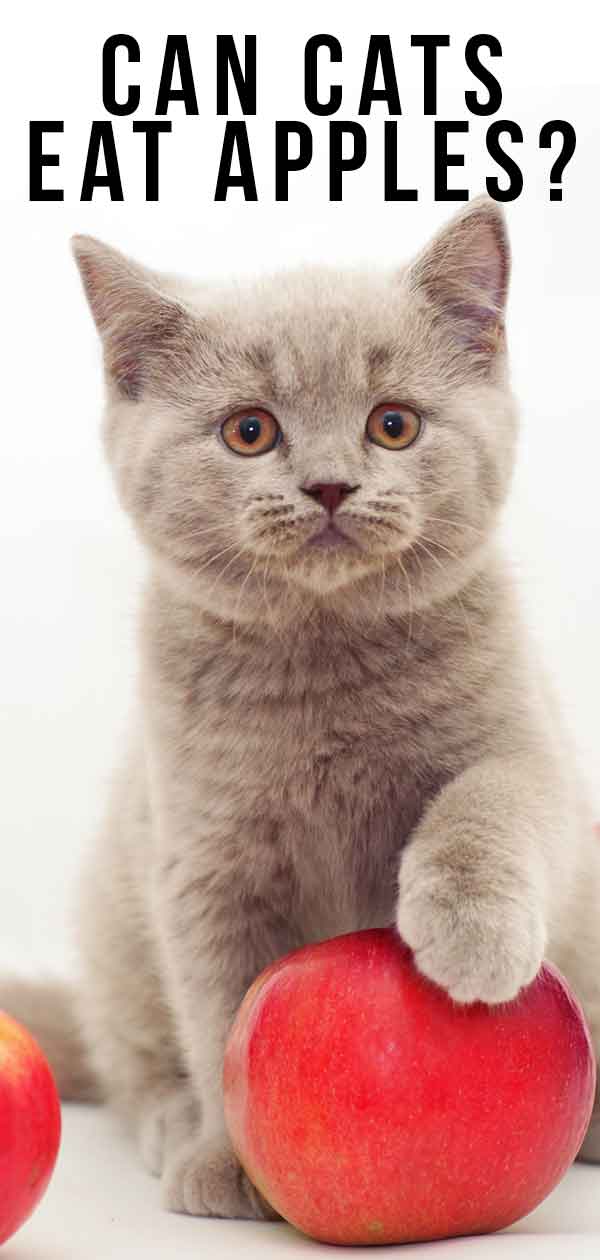 But cats, to point out the obvious, are not humans. So their diets differ significantly.
Cats are obligate carnivores. This means that they may find it hard to digest certain foods and they may also not even like the taste of apples.
In addition to this, due to the shape of apples, your cat might probably find it hard to eat the fruit as it is.
However, this doesn't mean that there won't be a few cats who appreciate a slice of apple. So let's take a look at whether this is a good idea.
You can also read about other fruits for cats here.
Cats and Apples
While most of an apple is okay for your cat to eat, the core and seeds should not be given to animals.
This means you must take care to ensure their removal before letting your cat eat any apple.
Apple seeds contain cyanide, which is very dangerous for animals and could poison your cat.
There's a lot written about how much it would take to actually poison a cat, but the fact is that the ASPCA still registers apples as toxic to felines. Although apple seeds only contain a small amount of cyanide, it is still better to err on the side of caution.
If your cat ingests any pips you should immediately consult your veterinarian for further advice and help.
Why Do Cats Like Apples?
Cats are typically drawn to foods because of the smell. This probably is not the case with an apple, however.
So why might cats like apples?
Well, there's the old saying about cats and curiosity. Many cats may just be drawn to whatever their human is eating for that very reason!
It's also very possible that a cat might seem interested in eating a piece of apple, only to change his mind once he gets a taste of what it is.
Are Apples Safe For Cats?
The "meat" of an apple, by itself, is safe for a cat to eat in moderation. It should be cut up in small pieces to avoid any possibility of choking.
However, as mentioned above, the core and seeds can be dangerous to a cat, or to any other animal, and to humans as well, due to the cyanide contained in them.
Are Apples Poisonous To Cats?
While apples themselves are not poisonous, the cyanide in the pips and core certainly would be.
It is a small amount in each apple, but cats aren't very big animals. It's generally best to take precautions against letting them eat something that could be poisonous, and it doesn't take very long to remove the core from an apple.
If you've found your cat chewing on an apple core, and you think he might have swallowed the seeds, scroll down to the section on what to do, further on in this article.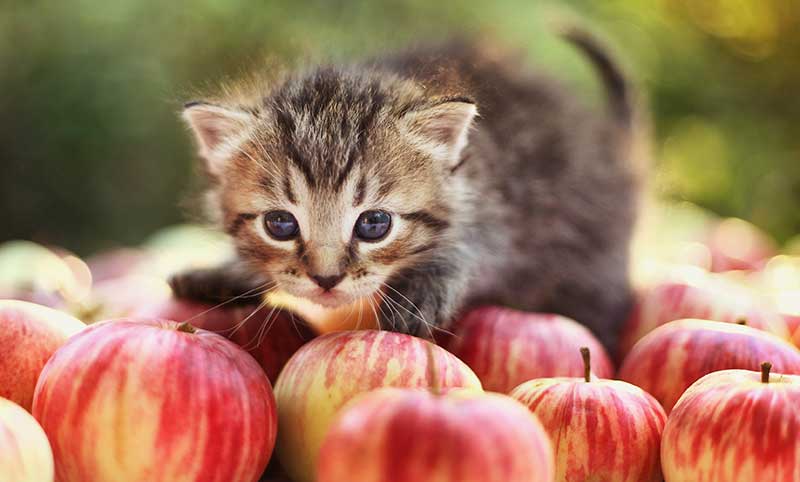 Are Apples Bad For Cats?
The parts of the apple that contain small amounts of cyanide, of course, are the biggest concern in answering the question, "Can cats have apples?"
Small amounts of fruit are fine for a cat.
But, as mentioned, cats need to eat meat for their main sustenance.
Although certain fruits can be beneficial to your pet in small servings, they should not be used to replace your cat's normal diet.
This is not only because your cat is a carnivore, but because apples can't provide every nutrient that your cat needs. It is important the make sure your cat has a well balanced diet to be at its healthiest.
If you're uncertain that your cat is getting everything it needs for perfect health from its current diet, you should consult your vet to get advice on a better dietary plan.
If your cat does react badly to apple, it is best to avoid giving it. There are plenty of other treats or snacks that your cat could have that would be just as tasty and beneficial.
Are Apples Good For Cats?
Apples and the antioxidants they contain have various health benefits for humans, but can we say the same for our cats?
We've established that apples aren't bad for your cat in most cases (apart from the seeds and core!), but is apple actively good for your pet?
Foods like apples can be beneficial for your cat's health in small doses, if you are introducing it to your pet's diet to replace unhealthy high-fat pet treats.
Your cat's immune system could be strengthened, and its aging will be slowed, similar to the effects the fruit has on human health.
Research is still being conducted on the usefulness of human foods, and even some "novel" foods, when included in a pet's diet.
Can Cats Eat Cooked Apples?
Can cats have apples if they're cooked?
The short answer is yes. Cooked apples on their own will be much the same for a cat as an uncooked apple.
The caution here is to be aware of what else might be included in the cooked apples. Often, we add ingredients like brown sugar and cinnamon to our cooked apples because it enhances the flavor for us.
But too much sugar and some other spices may not agree with your cat's stomach.
Can Cats Eat Apple Peel?
It seems unlikely that a cat would eat an apple peel on its own, but there's nothing to say that they can't. It should not have any other effect on them than the apple itself.
However, it isn't a good idea to give your cat too much of any part of a fruit all at once, as this can upset their stomach.
Can Cats Eat Apple Pie?
Much the same caution goes for this question as for whether cats can eat cooked apples, as seen above.
The baked apples themselves won't cause a problem.
However, it's likely that a great deal of sugar and other spices has been included in the pie recipe.
So while a cat can eat a little bit of apple pie, it's probably a good idea not to let them just chow down.
Can Cats Eat Apple Seeds?
No, cats should absolutely not eat apple seeds.
This has been mentioned a few times already, but it's best to be clear!
Apple seeds and apple cores can be dangerous to animals in large doses.
Can Apples Give My Cat An Upset Stomach?
Like any other fruit that your pet can eat, you should be careful not to give them too much in one sitting, as this could cause an upset stomach.
If you decide to give your cat apples you need to ensure that you have removed the core and any seeds beforehand.
You should also wash the apple to make sure it is clean of any pesticides used while they fruit was growing, as these too could have a harmful effect on your pet.
Giving your cat apple every now and again won't hurt, but like anything else, it should be done in moderation to ensure the best health for your cat!
My Cat Ate Apple Seeds, What Should I Do?
The core and seeds of an apple contain small amounts of cyanide, which is poisonous to both humans and animals.
If you think that your cat has eaten either some apple seeds or part of the core, it's best to play it safe and contact your vet right away.
When an animal or a human has eaten something containing a toxicity such as cyanide, one of the first signs is usually rapid breathing, followed by heart palpitations.
A cat might very well swallow the seed rather than chew it up, which would likely render it non-toxic, since the seeds must be crushed in order to be dangerous. But it's always best to be sure.
Can Apples Treat Obesity In Cats?
Apples are commonly touted as a health food that can help humans to lose unwanted pounds.
Is the same true for cats? Can cats have apples regularly and lose weight?
Some believe that this only makes sense. And in a certain way, it does.
Apples can be beneficial for overweight cats if they are used to reduce or replace the amount of unhealthy cat treats that the cat may currently be given.
But it's best to give apples only in moderation.
So, no, apples don't technically "treat" obesity in cats. But they can be used as an aid to help an obese cat lose weight gradually, as a treat replacement.
Can Kittens Eat Apples?
Kittens can eat apples, just as older cats can. The same basic precautions apply.
However, it is important to keep a close eye on a kitten's diet. When cats are young and still growing, they will need a diet specially formulated to make sure they get the nutrients they need.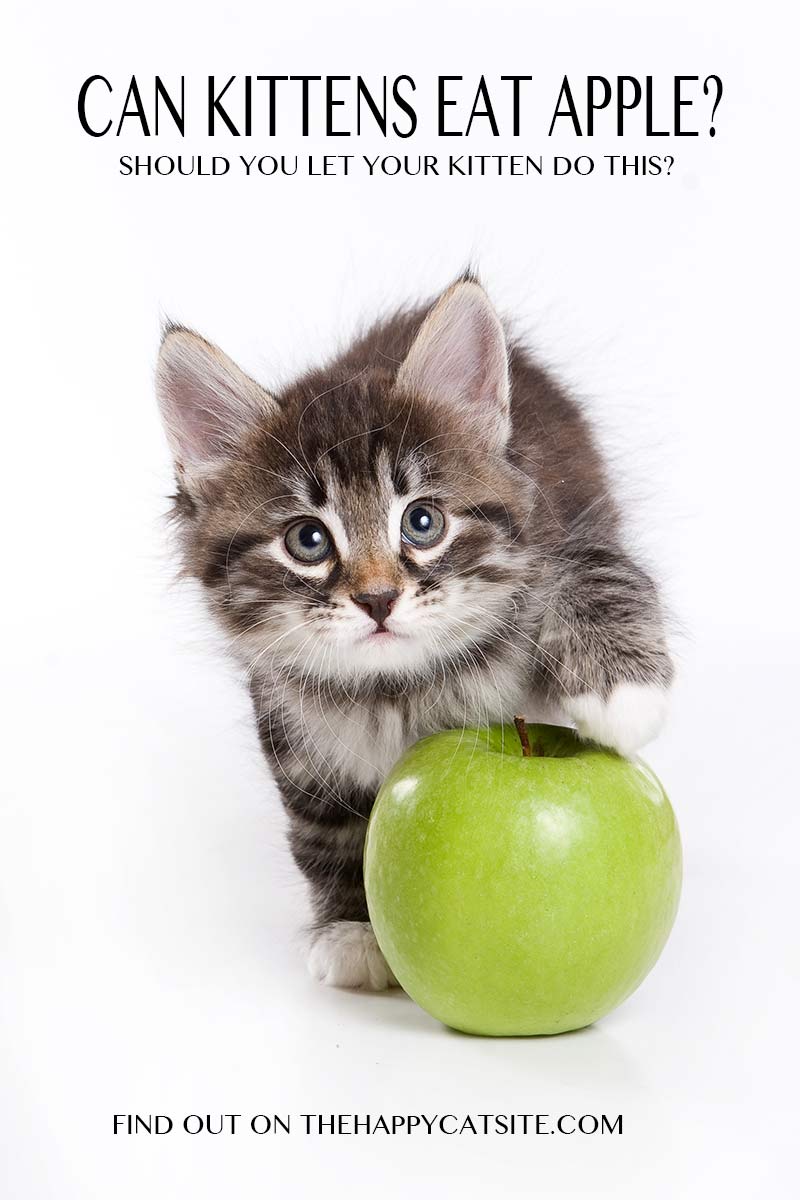 So, while a kitten can have some pieces of apple, make absolutely certain that they are eating a balanced and nutritious diet.
Cat Apple Treats
There are endless possibilities of how to prepare apple for your cat.
Firstly, you could slice it up into small edible pieces on top of their normal meal. Smaller pieces are more manageable for your pet to eat and will help avoid choking.
Alternatively, you could puree or mash them. This could also be served alongside your cat's normal food!
There are loads of recipes for pet treats online that contain apple. Here's one that we think looks very tasty!
Small slices on top of dry or wet cat food
Pureed apple mixed in with wet cat food
Cooked and mashed apple as a treat
Small pieces of fresh apple as a treat
Small pieces of apple wrapped in cooked turkey or ham
Alternatives To Apples For Cats
But what if your cat just doesn't like apples?
That's perfectly fine!
It is important to remember that your cat might simply not like apple, so if it does not eat the fruit whichever way you decide to serve it, you don't need to panic!
Here are a few other treat options to try, to mix up your cat's treat regimen or diet a little.
Can Cats Eat Apples Summary
Cats can eat apples. If your cat takes a bit out of an apple he has been playing with, you don't need to panic. And if you want to share a slice of the apple you are eating with your cat, that's okay.
However, you shouldn't worry too much if your cat doesn't start eating apples, as you hoped. And you don't need to go out of your way to feed apple to your cat if you don't want to.
Not every cat will like apples, and if you're particularly worried about any potential health problems, you can consult your vet to find other ways to help your pet.
The important thing to remember is that your cat, and every other pet, should not eat apple cores or seeds.
Have you given apples to your cat? You can let us know about your experiences with cats and apples in the comments below.
References and Further Reading
Mercola, 2017, What Happens When You Eat Apple Seeds?
Di Cerbo, A, et al., 2017, Functional Foods In Pet Nutrition, Research in Veterinary Science
Cope, R., 2019, Cyanide Poisoning, MSD Veterinary Manual
Jeanelle Boyer, 'Apple Phytochemicals and their Health Benefits', Nutrition Journal, 3:5 (2004)
Veronique Legrand-Defretin, 'Differences between cats and dogs: a nutritional view', Proceedings of the Nutrition Society, 53 (1994)
This article has been extensively revised and updated for 2019.