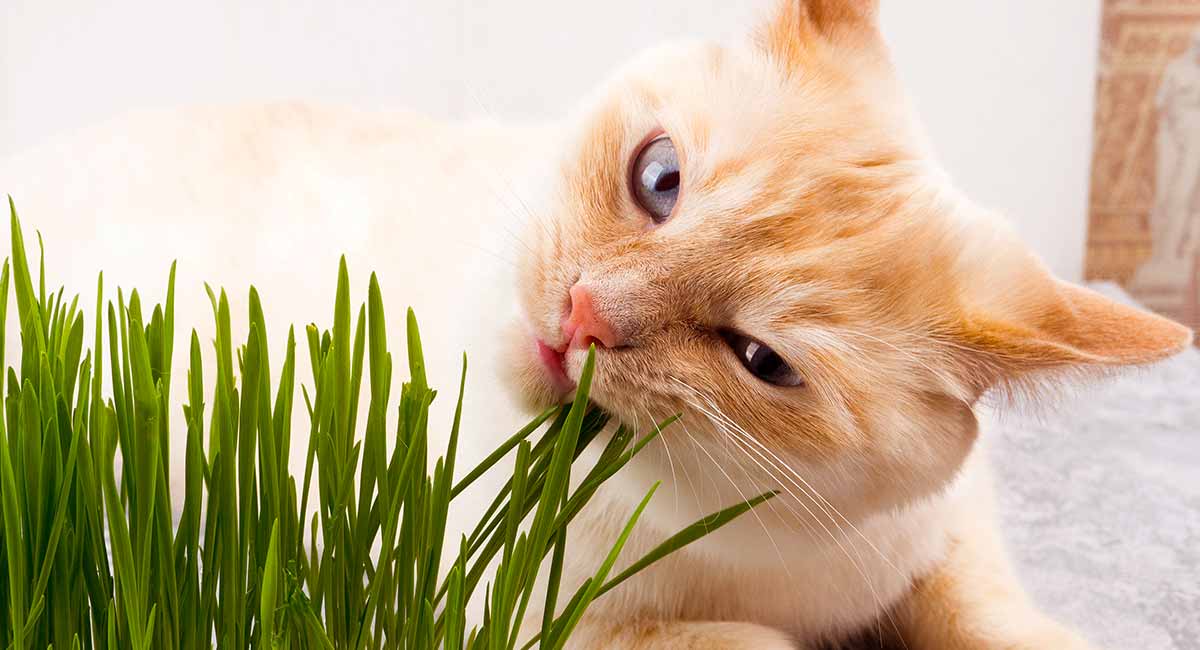 Are you wondering, "Can cats eat catnip?" Catnip is safe for cats to eat in moderation.
The effect of eating catnip is said to be similar to a human getting high on marijuana, and it may be addictive.
So while catnip is not toxic to cats, it's prudent to only let them eat it on occasion.
But how does it have such an intoxicating effect anyway? Let's take a closer look at the effects of catnip on our cats.
The Power of Catnip
Catnip – and cats' reactions to it – has become something of an internet phenomenon.
Maybe your kitty gets a rush from catnip, too.
Did you know that only about 50% of cats react to catnip at all?
What is this magic plant anyway? And why has it put such a spell on our feline friends?
And even more importantly, is catnip safe for your cat to eat and play with?
Let's find out!
Where Does Catnip Come From?
Catnip's scientific name is Nepeta cataria.
It's an herb that is a member of the mint family. In fact, it is sometimes called catmint.
You can find catnip in most pet stores, usually in dried form.
Catnip in this form can be used to stuff toys. But some people simply lay some of the dried herb out for their cat.
There are also catnip sprays that can be applied to stuffed animals, for example.
Catnip Plants
Another option is to buy a catnip plant.
It can grow up to three feet high. Unless your kitty demolishes it in one go!
A lovely side effect: catnip plants keep bugs (such as mosquitoes) away.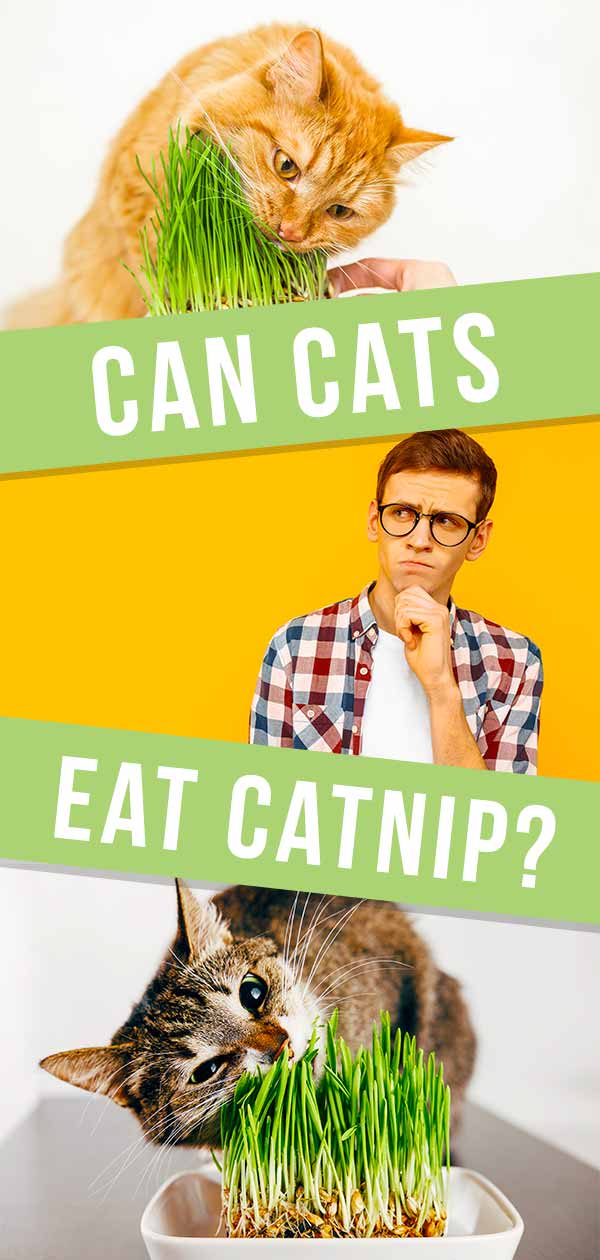 The Catnip Reaction
The molecule in catnip that triggers the "catnip reaction" is nepetalactone.
Some scientists think that the catnip reaction is a sexual response.
The theory is that nepetalactone is similar to certain feline pheromones.
Interestingly, the catnip reaction is just as frequent in males as it is in females and is not affected by spaying or neutering.
Young kittens are not yet sensitive to nepetalactone.
The reaction to it develops around three months of age, if at all.
Here's a bit of trivia
Researchers used to think that the catnip reaction is triggered in the vomeronasal organ, a small organ that can "smell" pheromones.
However, removing this organ in cats (yes, what a horrible study!) had no effect on the catnip reaction.
Removing the olfactory bulb – the part of the brain that is responsible for processing smell – completely suppressed the catnip reaction, though. Proving that the catnip reaction works through actual smell.
What Is a Natural Cat Diet?
Cats are obligate carnivores. This means that the largest chunk of their calories comes from meat or, more specifically, from prey animals.
Plants and herbs are not a necessary staple of their diet.
In small quantities, they are generally not harmful. But they don't really add any nutritional value.
Cats are far more adapted to absorb vitamins and micronutrients from animal sources than from plants.
Do Cats Ever Eat Plants?
That being said, even wild cats can sometimes be seen chewing on grass or herbs.
There is a (yet unproven) theory that cats are able to self-medicate with medicinal plants.
In short, herbs and plants should not make up a large percentage of your cat's diet. But in small quantities, nontoxic plants are fine for cats.
Let's have a look at the pros and cons of giving your cat catnip!
Is Catnip Good for Cats?
Now we've looked at the question "can cats eat catnip", let's consider whether it has a positive effect on our cats. Some cats only display the catnip reaction described above and leave it at that.
Other cats will start eating catnip.
This is especially common with the fresh catnip plant. But can also occur with dried catnip.
When ingested, catnip is said to make your cat mildly high.
Some scientific publications compare it to humans smoking marijuana. But this is almost impossible to confirm, so take it with a grain of salt.
Use as a Calming Agent
Can cats eat catnip as a calming agent? Cats that eat catnip are said to experience a relaxed, happy state.
It's also a mild sedative.
There are no specifically useful nutrients or vitamins in high concentration in catnip.
Eating catnip does not add any nutritional value. But it can certainly have a beneficial effect on your cat's mind.
Cats that have issues resulting from high stress levels (urinary stones, behavior problems, etc.) could potentially benefit from this effect.
If you already know that catnip has a soothing effect on your cat, you can use it for stressful situations such as vet visits.
Is Catnip Bad for Cats?
We've answered "can cats eat catnip". But let's look at how safe it actually is. Catnip is very safe for cats.
Nepetalactone has been administered to cats in high concentrations with no adverse effects.
That being said, your cat's digestive tract is not designed to digest plant matter in large amounts.
If your kitty ingests a lot of catnip, it could experience some gastrointestinal upset, such as diarrhea or vomiting.
These symptoms will go away on their own if you don't give your cat more catnip.
Another thing to consider is that cats can get accustomed to catnip. So their reaction to it will diminish.
It's therefore best to only give your cat catnip every two to three weeks to prevent adaptation.
Do Cats Like Catnip?
We've answered the question "can cats eat catnip?". But do they even like it? Some cats like catnip so much that the resulting YouTube videos have gone viral.
Roughly 50% of cats will have a so-called pleasure reaction to the smell of catnip.
This can result in some of the following behaviors:
purring
drooling
rolling around on the ground
loud meowing
play-fighting with the catnip toy
rubbing against the toy
kicking it with the hind legs while holding it between the front paws.
The effect of catnip lasts for about 10–15 minutes, followed by a period of about one hour where your cat will not respond to the smell anymore.
Catnip can also have some addictive properties, making your cat want more and more.
Can Cats Eat Catnip?
So let's recap – can cats eat catnip? Catnip is 100% safe for your cat to play with and to eat.
Just make sure not to give your cat too much. Especially not of the fresh plant – and not too frequently.
And if your kitty's reaction to catnip is just too funny, make sure to share it with the world!
More Cat Articles
References and Resources