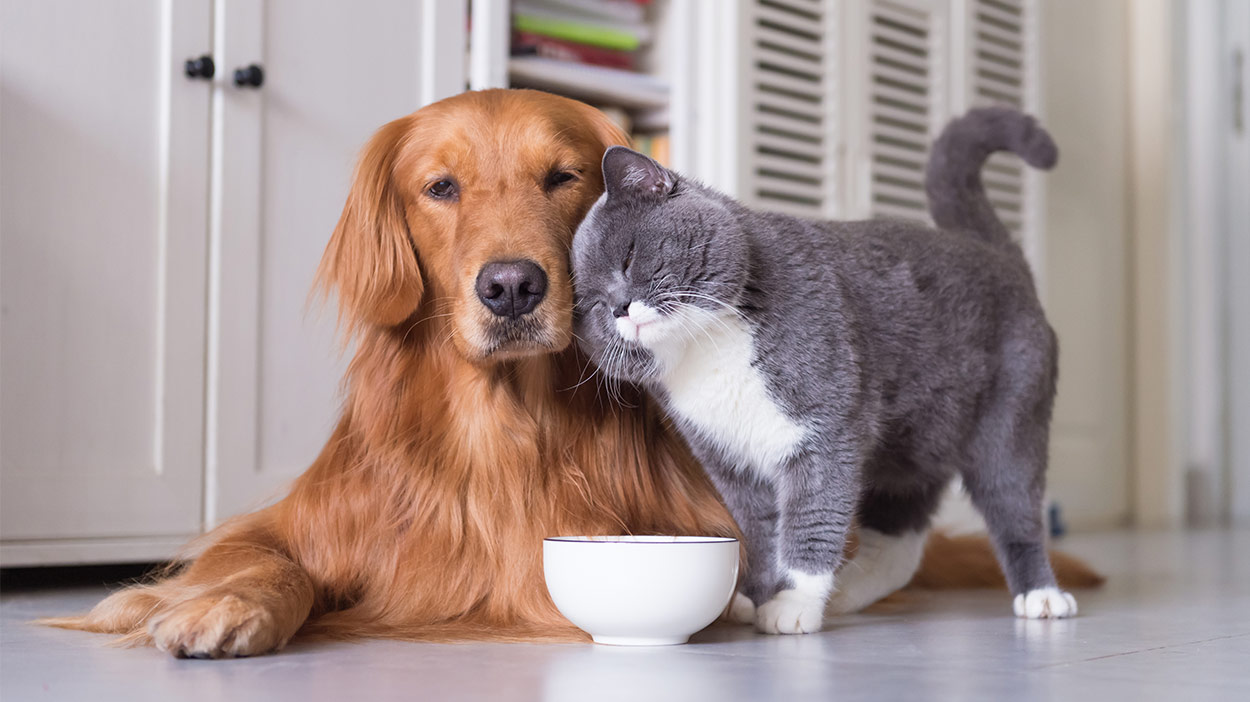 In this article Kristin Hitchcock asks "can cats eat dog food?"
Uh oh, you've run out of cat food.
Your (very) loud kitty is meowing at the food bowl, but you've discovered that the bag is all empty!
You do, though, have some dog food, which should work for now… right?
Not so fast.
We all do it – rush through the store, completely forget the cat food, and discover an empty bag later once the store is shut.
And I'm sure MANY people have considered giving their cat dog food instead, just as a stop gap until they can make it back to the store.
But how safe is this really? Can cats eat dog food for a day or two? Or is dog food bad for cats?
To discover the answers to these questions, we'll have to look at the nutritional requirements of each species, explore what exactly dog food contains, and then we can put all the information together in order to discover if cats can eat dog food.
What Does a Cat Need to Eat?
So, can cats eat dog food? And what should you do if you catch your cat eating dog food?
To find out, let's look at a cat's nutritional needs.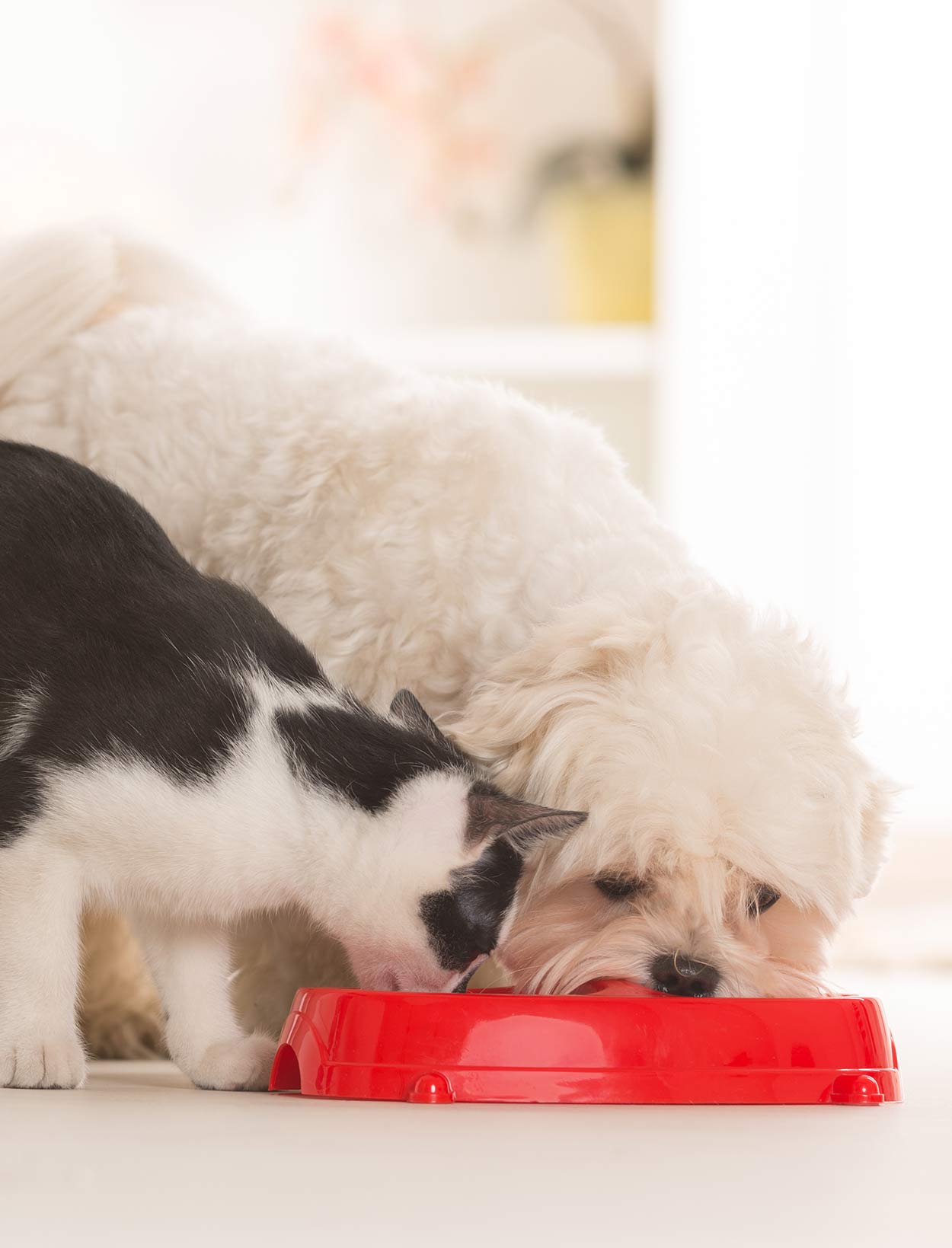 The bulk of your cat's nutritional needs come from protein and fats.
In fact, cats have a very high protein requirement.
This is thought to be because felines evolved to mostly live off of animal products – which of course contain mostly protein and fats.
What Do Dogs Eat?
Everyone knows that dogs are carnivores too, but are they the same kind of carnivores?
Dogs receive the bulk of their energy and nutritional needs from meat and other animal products.
One particular study sought to figure out what nutrients, specifically dogs, need to eat.
It did this by simply allowing 5 different breeds of adult dogs complete control over their diet.
This is very effective because when given the opportunity, most animals will chose exactly the correct nutrients they need.
This study discovered that the average protein:fat:carbohydrate ratio dogs consumed was 30%:63:7%.
As you can see, this is somewhat similar to a cat's diet. However, cats in general need a much higher ratio of protein to fats.
In the wild, cats typically ingest 50% – 60% protein, 30% – 50% fat and 5% – 10%.
In other words, while the requirements are somewhat similar, they are not at all identical.
Can Cats Eat Dog Food: What Meat Means for Dogs and Cats
Do cats need to eat meat though? What about dogs?
Cats are obligate carnivores. They are meat-eaters "by necessity". In other words, they eat meat and ONLY meat.
Unlike some other animals, cats cannot process and digest plant materials.
Since adapting to a meat-based diet, they have lost the ability to get all the nutrients they need from any other food source.
This is akin to nearly every feline. Other mammals that are classified as obligate carnivores include dolphins, seals, and sea lions, just to name a few.
Many animals who are obligate carnivores, including cats, cannot create some essential vitamins and minerals by themselves. Usually, they do not need to since they get them from the meat they eat.
However, now that domestic cats eat cat food and not necessarily meat, they need these vitamins in their foods.
What About Dogs?
On the other hand, dogs are NOT obligate carnivores. They have developed the ability to eat fruits and veggies.
This does not mean that they necessarily need fruits and veggies. Just that they have, over time, developed the ability to digest these starch-rich foods.
This is thought to have happened due to the long domestication of canines. Since canines have lived next to us for a very long time, they have evolved to stomach a similar diet to us.
Despite this, however, they do mostly still receive the bulk of their energy needs from meat and other animal products.
Can Cats Eat Dog Food: Comparing Dog and Cat Food
So how do cat food and dog food compare?
Dog food tends to be very varied.
In fact, dog food can have anywhere between 30% to 70% carbohydrates. It depends on the particular type of dog food you buy.
High-protein dog food, for example, will contain fewer carbohydrates than other dog foods.
Grain free dog food, as well, usually contains fewer carbs.
On top of this, the amount of protein in dog food also varies a lot. It can be anywhere from about 18-35%, depending on the brand.
Fats, as well, vary quite a bit, but have a tendency to be on the lower end.
How Does Cat Food Compare?
On the other hand, most cat foods contain roughly 35% to 50% protein. There are some that are over this amount, but they are usually specialty brands.
Fat tends to be quite a bit higher, reaching all the way up to 70%.
At the same time, carbs are usually very low – in the single digits.
Some cat food even has as little as 1% carbohydrates.
This is where the key difference between cat and dog food comes into play.
Nutrients In Cat And Dog Food
Dog food commonly has up to 70% carbs, while cat food is often generally extremely low in carbs.
This is because of the nutritional needs of both species.
Dogs can, and do, consume carbs. They have developed that ability after countless years of living next to people.
However, cats cannot eat bulk quantities of plant material and need very few carbs to survive.
Most dogs foods don't contain enough nutrients such as vitamin A, taurine and archidonic acid, among others for your cat.
Cats can't synthesize these nutrients from the food they eat, so the food needs to include them ready-made.
As you can see, both foods are very different in makeup, and are designed for each species' specific nutritional needs in mind.
This is the major reason you do not want to feed your cat dog food – it simply isn't nutritionally complete.
Is Dog Food Bad for Cats?
Does this mean that cats can't eat dog food at all? What if I catch my cat eating dog food?
It isn't necessarily that dog food is toxic or poisonous to cats, just that it doesn't fit their nutritional needs.
The excess amounts of carbs can give them a stomach ache.
Over a prolonged period, nutritional deficiencies would develop, and it is likely that you cat would refuse to eat the dog food altogether, or fall ill.
What Happens If a Cat Eats Dog Food?
There aren't any particular ingredients in dog food that could pose a specific risk to cats.
If anything, dog food usually lacks a number of nutritional components that cats need, such as Vitamin A.
This, of course, can cause issues in the long run.
While dog food is not necessarily bad for cats, it definitely isn't something you want to allow your cat to eat in place of their usual diet on a regular basis.
If you catch your cat eating dog food, there isn't any reason to panic and call the vet.
However, you should probably remove the dog food from the area and figure out a different feeding location for your pooch or cat.
You simply don't want your feline filling up on dog food and missing out on key nutritional components on his or her own food.
If You Find Your Cat Eating Dog Food
If your cat accidentally eats dog food, you probably don't have much reason to worry.
But as we've seen, your kitty might develop a stomach ache later.
Besides this though, it isn't likely that your feline will develop any severe reactions after eating dog food just one time.
The issue lies in the long term consumption of dog food, not really the one time, accidental consumption.
However, it is important to remember that your specific cat might be allergic to something in the specific dog food he or she ate. This is true every time your cat ingests a new food.
Because of this, it is important to keep an eye on your kitten just in case they have a reaction.
While they are generally rare, especially when it comes to the usual dog food ingredients, they can still happen.
If you have any particular concerns, it is always recommended to contact your vet. He or she knows your particular situation and can recommend specific advice.
Can You Feed Cats Dog Food?
Can cats eat dog food?
While many kitties won't experience immediate side effects from a mouth full of doggie kibble, it really isn't the best idea in the long run.
Dogs and cats are very different from each other. They are both carnivores, yes. But cats ONLY eat meat, while dogs have also adapted to eating veggies too.
The vitamins each pet needs in their food versus those they can make internally also differ.
What might be a complete, well-rounded diet for your dog is not a complete, well-rounded diet for your cat.
While they both might be domesticated pets, they have very different dietary needs.
Because of this, it is not recommended at all to feed your cat on dog food.
Have You Caught Your Cat Eating Dog Food?
Does your kitty have a taste for dog kibble?
Let us know in the comments below!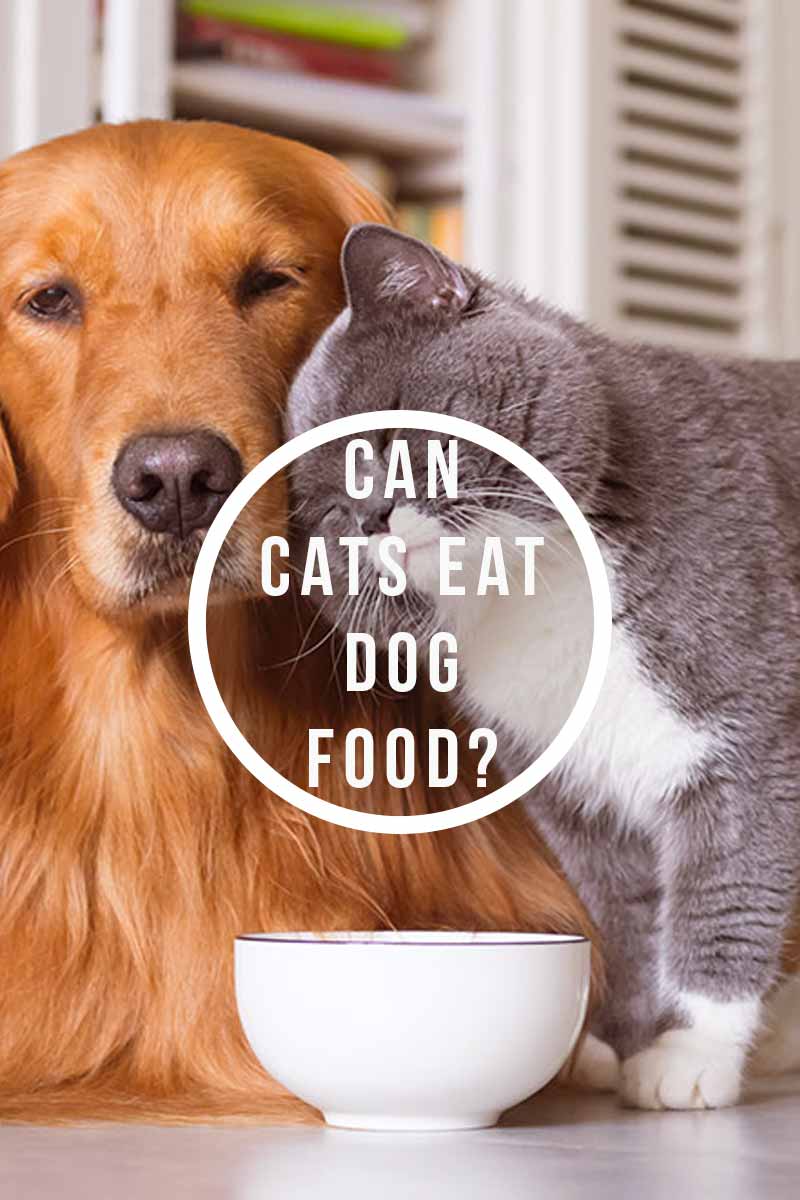 References and Further Reading
Pierson, Lisa. "Cat Food – Nutritional Composition." Feline Nutrition Awaremess Effort, 2012.
Dzanis, David. "The Association of American Feed Control Officials Dog and Cat Food Nutrient Profiles: Substantiation of Nutritional Adequacy of Complete and Balanced Pet Foods in the United States." The Journal of Nutrition. 1994.
Axelsson, Erik. "The genomic signature of dog domestication reveals adaptation to a starch-rich diet." The Nature Research Journal. 2012.
Hewson-Hughes, Adrian. "Geometric analysis of macronutrient selection in breeds of the domestic dog, Canis lupus familiaris." Behavioral Ecology. 2013.
Morris, James. "Idiosyncratic nutrient requirements of cats appear to be diet-induced evolutionary adaptations." Nutrition Research Reviews. 2002.