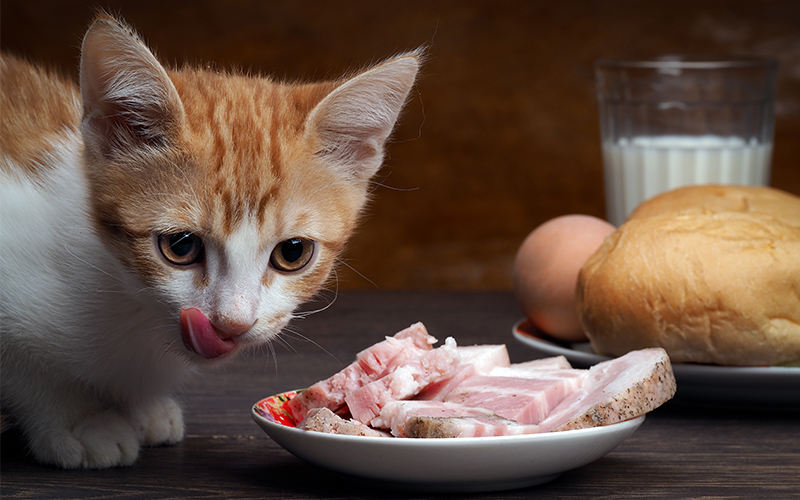 Can cats eat ham? If you have a cat who likes to eat whatever you're eating, you're probably curious about whether a piece of ham is good or bad for your cat.
You may even just have a ham cat, who seems to like that treat above all others.
The quick answer to "Can cats have ham?" is yes — but there's more to it than that.
Let's take a look at why.
Can Cats Have Ham
A cat's diet should mimic how they would eat out in the wild as closely as possible.
Which is what makes cats crazy for those cans of meat. Cats naturally eat a moisture-rich, meat-filled diet.
Cats are obligate carnivores, or true carnivores. They only need meat in their diet.
Even when we feed cats dry food, it's still engineered to provide the protein cats would be consuming out in the wild.
It's important to aim for mostly high-quality canned foods. These moisture-rich foods can help offset that fact that cats tend to drink less, since they are used to getting moisture in their diet from food.
So since cats need meat anyway, it seems like common sense that you could easily feed your cat ham.
But whether you can feed your cat ham is actually not as simple as a cut and dry "yes" or "no."
Cats and Ham
What makes ham for cats a gray area is that it is very high in sodium.
Remember, cats are already prone to not drinking as much as other animals due to relying on moisture from their diets.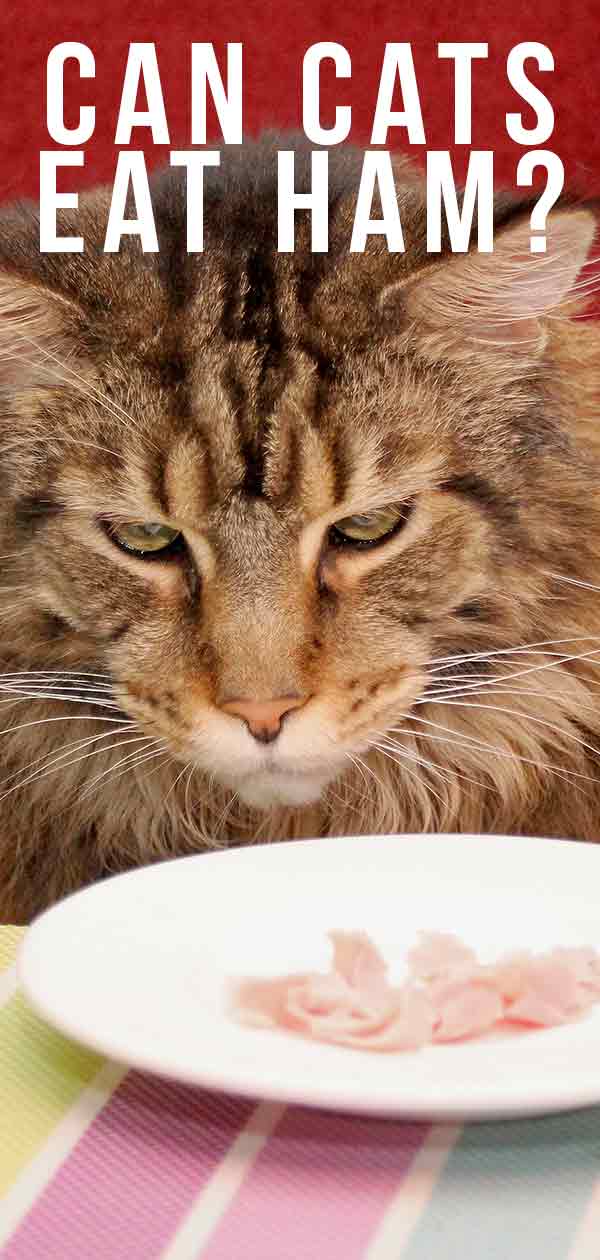 Cold cuts of ham are especially high in sodium. According to the CDC, over 40 percent of human sodium intake comes from foods like packaged ham.
And according to the USDA, one serving of frozen ham that comes fully cooked and cured with water and salt added can account for 40 percent of a human's daily recommended dose of sodium.
Now, sodium isn't detrimental to animals, within reason. But too much of anything can be harmful to health in the long run.
That being said, the clinic Veterinary Specialty and Emergency Care South recommend giving your cat ham as a snack.
It specifically recommends a slice of cooked ham only as a treat.
Why do Cats Like Ham?
If you've ever been around an outdoor cat, you may have seen just how skilled and graceful they are at catching prey.
One of the defining traits about cats is just how much they love meat. And your cat's powerful predatory instincts are aimed at ensuring that he gets a good supply. Some meats are even more flavorsome and tantalizing than others.
The distinctive taste of ham is a great favorite for many people, so it's only natural that we might be tempted to share some with our furry friends.
So, do cats eat ham, and is it safe to share? Our culture is saturated with images of pampered felines enjoying the finest canned meats from crystal dishes.
Though you may notice that while canned wet food runs a pretty wide variety of meat, from chicken to liver to turkey, you won't usually see canned ham for cats. Or find ham as an ingredient on a tin of his favorite cat food.
Why is that?
Is Ham Safe For Cats?
It isn't because ham is outright unsafe for cats.
As mentioned before, cats need to eat meat. Therefore, their diet should definitely include different meat-based sources of protein.
Which ham can definitely provide.
No, the caution when discussing, "Can cats have ham?" isn't just because of the ham itself.
Is Ham Bad For Cats?
As mentioned before, the main concern with the question, "Can cats have ham?" is the sodium levels in the meat.
A 2008 study by M. L. Chandler called "Pet food safety: sodium in pet foods" in the journal Topics in Companion Animal Medicine stated, "Healthy dogs and cats appear to be able to adjust to differing amounts of sodium in their diet via the rennin-angiotensin-aldosterone mechanisms. There is no strong evidence that increased dietary sodium increases the risk of hypertension in dogs and cats."
"However," the report continues, "caution should be used in increasing the sodium intake of patients with renal disease as increased dietary sodium may have a negative effect on the kidneys independent of any effect on blood pressure."
Is Ham Good For Cats?
Taken completely apart from the sodium question, ham is a meat protein. And meat proteins are exactly what cats need to thrive.
However, how the ham is cooked plays into the wisdom of feeding it to your cat.
And remember, it is always possible to feed your cat too much of anything. A balanced and nutritious diet is necessary for their health and happiness.
Can Cats Eat Raw Ham?
Feeding your cat only raw meat has become a fad among pet owners. So can cats have ham raw?
The idea is that you are giving your cat what they ate in the wild, which would be nothing but raw meat. The reasoning goes that since you are feeding your cat what they ate naturally, that will make them healthy and happier.
You may even be wondering about feeding your cat raw ham as part of the raw meat trend.
A 2005 study shows that a primary concern with feeding an animal raw meat is that the animal is susceptible to "enteropathogens," which could end up causing diseases like salmonellosis and clostridial diarrhea.
As part of the study, 25 commercial raw diets for dogs and cats were examined bacteriologically, which found a number of bacteria. For instance, salmonella spp. were found in 20 percent of the diets.
The current large governing bodies dissuade giving your cat raw meat.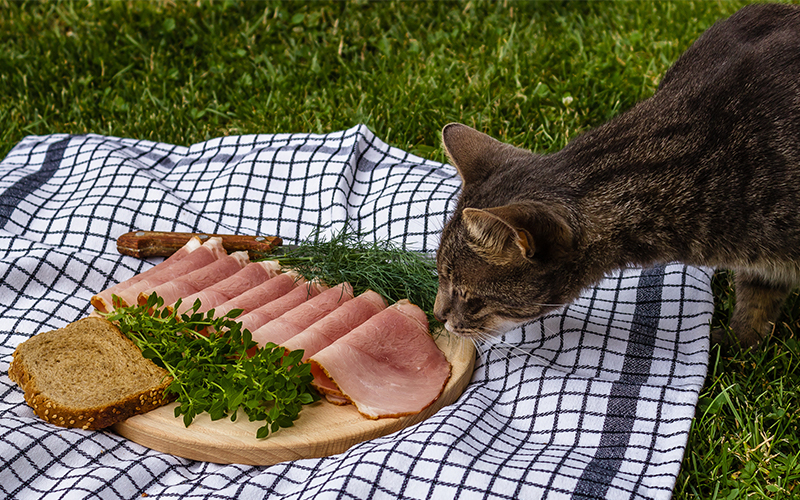 According to a 2013 article, the American Animal Hospital Association, AVMA, and Canadian Veterinary Medical Association discourage using raw or undercooked meat as part of a dog's or cat's diet.
This doesn't mean that some cats don't thrive on a raw diet, but you will need to do your research very carefully before you begin.
Can Ham Give My Cat An Upset Stomach
Cats are individuals. This means that specific foods will impact some of them more than others, or in different ways.
So it is certainly possible that ham could give your cat an upset tummy, if your cat has a stomach sensitive to sodium or other factors.
Or it could be that how the ham is cooked — or whether it is cooked at all — could make a difference.
But by and large, ham should not upset your cat's stomach.
Can Ham Treat Hypertension In Cats?
Since studies suggest that sodium doesn't actually increase the risk of hypertension in cats, some may believe that it lowers it.
But this isn't proven by the evidence available.
The 2008 study by Chandler points out that while sodium, such as that found in ham, doesn't necessarily contribute to hypertension, "the current recommendation for hypertensive animals is to avoid high dietary salt intake without making a specific effort to restrict it."
So the answer to the question posed is no, ham and other sodium-rich foods will not treat hypertension.
But can cats eat ham? The answer is still yes.
Can Kittens Eat Ham
Can cats eat ham when they are still classed as kittens?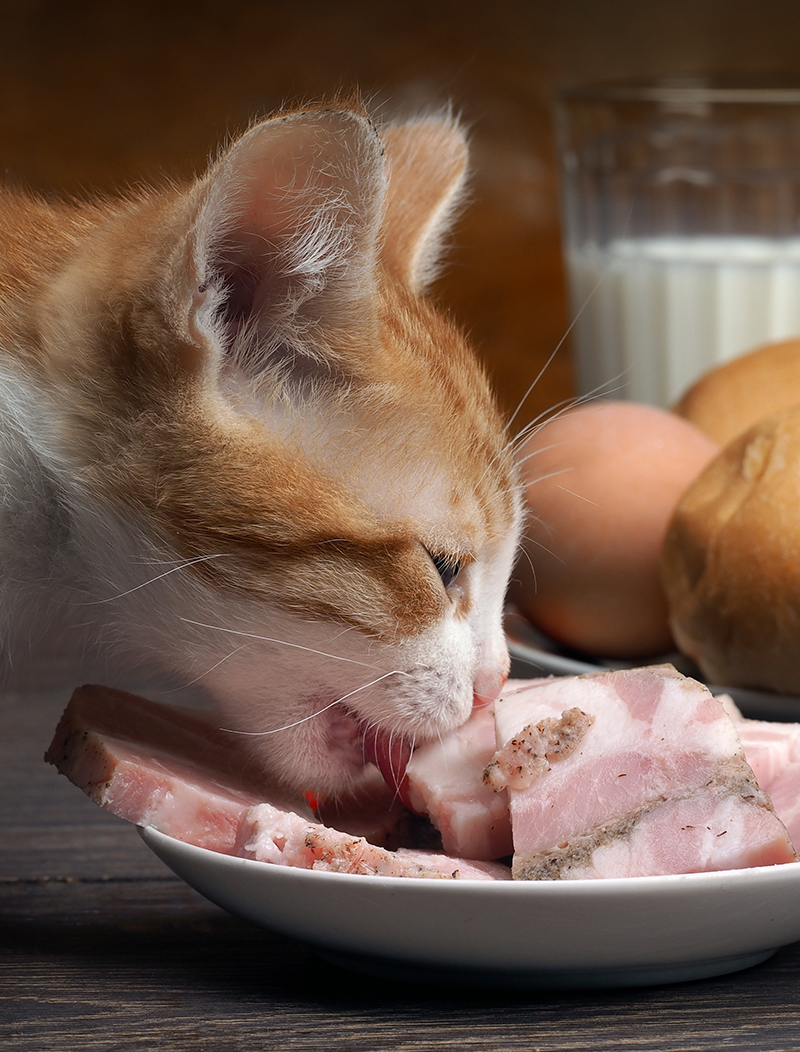 Kittens are young and as such they have more delicate digestive systems.
We recommend sticking to your kitten's complete kitten food when they join your home. This will make sure that they get everything they need to stay fit and healthy, and minimize the risk of tummy troubles.
Cat Ham Treats
Ham itself is fairly straightforward. But that doesn't mean that there aren't different ways and times that it can be served to your cat!
Small chunks of ham as treats
Pieces of ham mixed in with wet food
Small pieces of ham on top of dry food
A slice of cooked ham as a morning or evening meal
Alternatives To Ham For Cats
If you're not big on the idea of feeding your cat ham, or if your cat is a picky eater and doesn't like ham, consider these options.
Can Cats Eat Ham Summary
So, can cats eat ham safely?
The sodium levels in ham pose little threat to healthy cats. But make sure to check with your vet if your cat has health issues.
Cats and ham go together as long as you give your cat ham that has been cooked as a treat.
Your furry little friend will appreciate it if you believe in feeding cats ham as a snack.
We recommend no more than half a slice, every two or three days.
Ham and cats might seem a funny combination to you, or feeding ham to cats could be a normal part of your week!
Have you given ham to your cat? You can let us know about your experiences with cats and ham in the comments below.
References and Further Reading
This article has been extensively revised and updated for 2019.