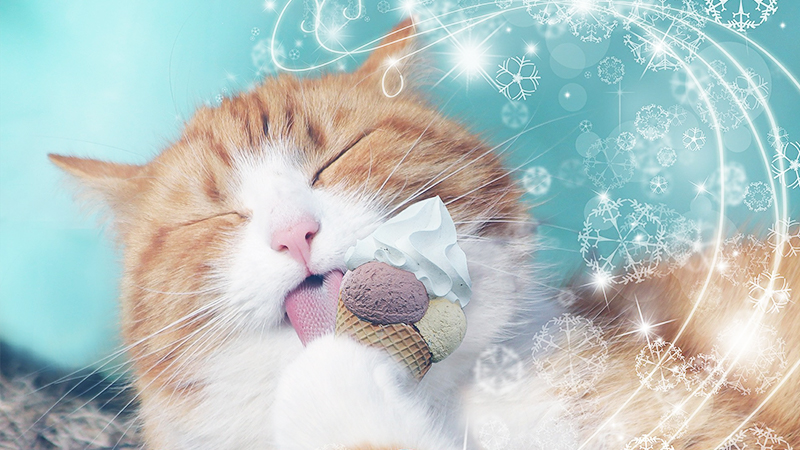 A cat contentedly lapping at a bowl of cream is an iconic image. A hundred years ago, most well cared for cats were routinely given a saucer of milk as a drink, along with their meals.
Many cats enjoy dairy products including milk, yogurt and cream. And very small amounts don't seem to disagree with some of our pets. But what about frozen dairy products? Can cats eat ice cream, or is this one treat to avoid?
So Much Ice Cream!
In 2021 we chomped our way through 1.3 billion gallons of ice cream in the USA. And we undoubtedly shared some of that ice cream mountain with our four legged friends.
Fortunately most cats can have tiny amounts of ice cream without any ill effects. Whether or not your cat is 'most cats' is another matter. And there are some downsides to sharing more than a tiny amount ice cream with your cat. We'll be looking at those today!
Contents
Are We Asking The Right Question?
Like so many of the human treats we like to share with our pets, the most important question is not 'can they' but 'should they'. Because there are some ingredients in ice cream that are not very good for your pet.
We'll look at those ingredients and look at the risk of ice cream causing stomach upsets or worse in our feline friends. And we'll also look at the impact on your cat on eating food that is very cold.
There are two aspects to sharing your favorite tub of ice cream with your furry friend. One is of course the fact that ice cream is a dairy product, the other is that it's very cold! Neither are truly natural foods for an adult cat, but what matters is whether or not ice cream is harmful.
What Is In Ice Cream?
By definition ice cream should contain at least 10% milk fat and the largest ingredient in ice cream is milk, cream and water.
Ice cream also contains added sugar, emulsifiers, stabilisers and flavorings. The sugars are added because we have a sweet tooth and prefer ice cream that has been sweetened. The other ingredients improve texture and appearance and create the many different varieties of ice cream we have available to us today.
Dairy Ice Cream And Lactose Intolerance In Cats
Milk and especially cream, are rich in fat, which healthy cats can digest without any problems. But they also contain a sugar called lactose.
You've probably heard that some people and animals are lactose intolerant. That's because nature only intended  lactose to be consumed by baby mammals, and provides them with an enzyme called lactase to help break lactose down.
Kittens and human babies alike stop making lactase gradually as they mature, and tend to lose the ability to digest dairy products properly as we grow up. This has no effect on some of us and a very big effect on others!
So its not surprising to discover that the lactose in ice cream can be a problem for cats. And some vets now believe that most adult cats are lactose intolerant to some extent.
That means that within a short time of eating milk, cream, or ice cream your cat could have a pretty unpleasant stomach ache, and might suffer from diahorrea too. Not ideal for either of you. But that's not all.
Added Sugar In Ice Cream
In addition to the problems caused by lactose, Ice cream is not just frozen cream. It contains a lot of added sugar.
If you've bought one of the fancy varieties it might also contain fruit or pieces of cookie, or fudge, or chocolate. None of these is good for cats. And there's more.
Can Cats Eat Chocolate Ice Cream?
While some popular ice cream additives and flavoring, (strawberries, for example) are safe, chocolate is a definite no-no when it comes to the health of your cat.
You definitely should stay away from chocolate in any ice cream recipe you try. Specifically, chocolate contains an alkaloid, or an organic compound, called theobromine that cannot be processed by your cat's body. It can then build up and become toxic.
It only take a small amount of chocolate to harm your cat. The lethal dose of theobromine is 100 to 200 milligrams per kilogram. One ounce of cocoa powder can contain as much as 800 milligrams of the toxin. It is easy to see how just a little bit of chocolate ice cream can really make your cat ill.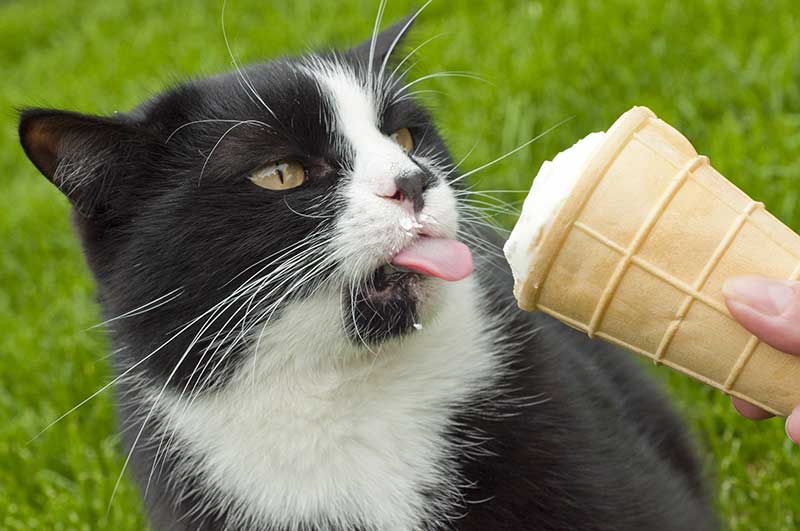 Do Cats Eating Ice Cream Get Brain Freeze?
Brain freeze is the term for the strange pain we can sometimes experience after eating something very cold. It can be cause by rapid cooling of blood vessels inside your mouth when you fill it with frozen food!
Icy food can also cause severe dental pain in anyone with sensitive teeth and there's no reason to think cats are any different
Many cats have poor dental health and there are plenty of youtube videos showing cats having a shocked reaction to eating ice cream.
While it can be amusing to watch animals displaying a sudden change in expression, it's worth remembering that this could be a very upsetting experience for your cat.
Why Do Cats Like Ice Cream?
You may be surprised to know that it isn't the sugar in ice cream which appeals to your cat
Cats are obligate carnivores. That means their entire system is designed to eat and process animal body parts – in other words meat and organs. Cats don't need sugar in their diet at all, in fact, they can't really taste sugar, so it's a bit wasted on them.
What cats like about ice cream, is the fat content. That part isn't harmful to your cat. But the lactose and other carbs that ice cream is laden with might well be. So where does that leave you?
Can Cats Eat Ice Cream Safely?
Just as with many of the things that aren't good for us, it's all about quantity here. If your cat has eaten a teaspoon of vanilla ice cream, the chances are you won't notice any ill effects. 
If you've given your cat a generous portion of Ben & Jerry's finest, then they may well get tummy ache and be making some frequent visits to the litter box in the next hour or two.
And if your cat has been given (and eaten) ice cream with chocolate in it, then it's worth phoning your veterinarian for advice.
Is Ice Cream Bad For Cats?
In principle, yes, ice cream is bad for cats. Many adult cats are lactose intolerant to some degree. Dairy products of any kind can cause digestive upsets in those cats, and it probably isn't very kind to feed a cat something that might make them unwell.
Don't be hard on yourself if you've done this without realising the potential side effects. For many of us ice cream, along with cookies and chocolate, is the ultimate comfort food. And it's natural for you to want to share that feeling with your friend.
If your cat can tolerate the odd dish of milk or spoonful of plain ice cream with no ill effects then you might decide to continue sharing.
But the reality is that your cat is more likely to get that same 'buzz' of happiness and contentment from a piece of raw steak than from sharing your frozen dessert.