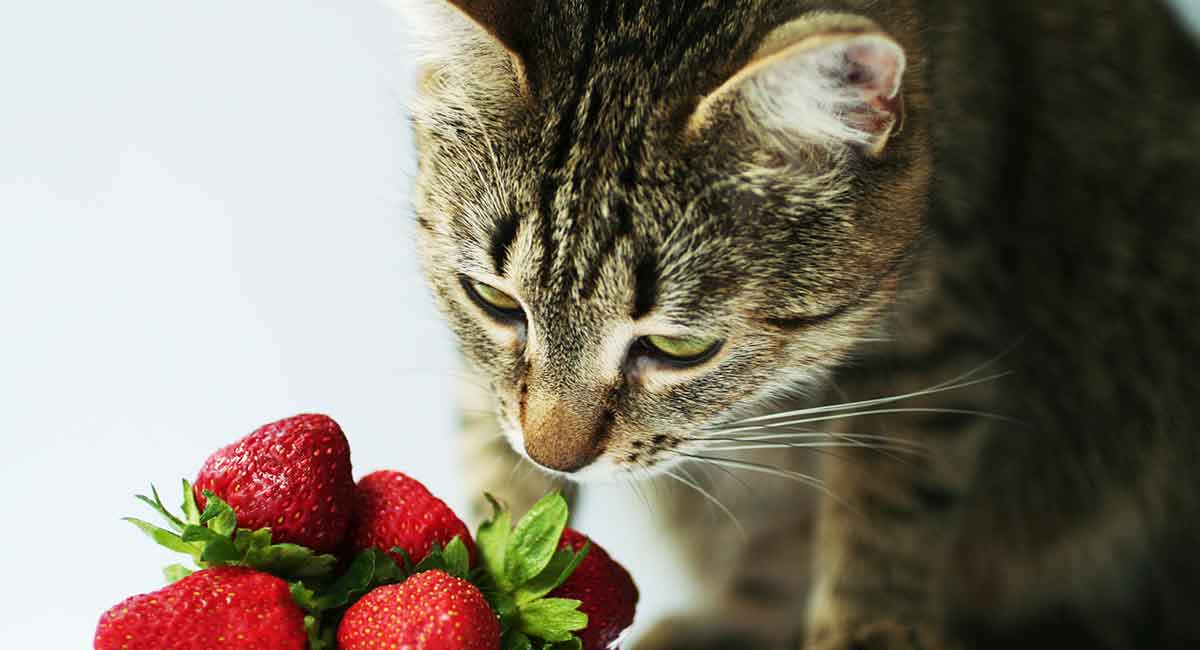 There is nothing like enjoying a ripe juicy strawberry, but can cats eat strawberries too?
If you're interested in feeding your feline one of these delicious fruits, there's good news. Strawberries aren't toxic to cats, so the answer to, "Can cats have strawberries?" is a definite yes.
However, fruits aren't really a major part of a cat's diet, so they probably shouldn't eat too many.
Let's take a look more in depth at cats and strawberries.
Can Cats Eat Strawberries?
Cats have not changed much since they were domesticated, especially regarding their nutritional needs.
They are still heavy meat eaters and have one of the strictest diets among carnivores.
Though they rely exclusively on meat to get their moisture and nutrients in the wild, they also are known to eat grass and other greenery.
However, it is a very small part of their overall diet.
Strawberries are in the genus of Fragaria and there are tons of different species. There are even different North American species like the Virginia wild strawberry and the coastal strawberry.
The plant itself is a low-growing and root based. The fruit grows from a white flower and must be handpicked due to it being a quickly perishing fruit.
Strawberries are not actually berries at all and fall under the category of aggregate fruits which are many smaller fruits all together as one.
You can read more about the different fruits that are safe for cats here.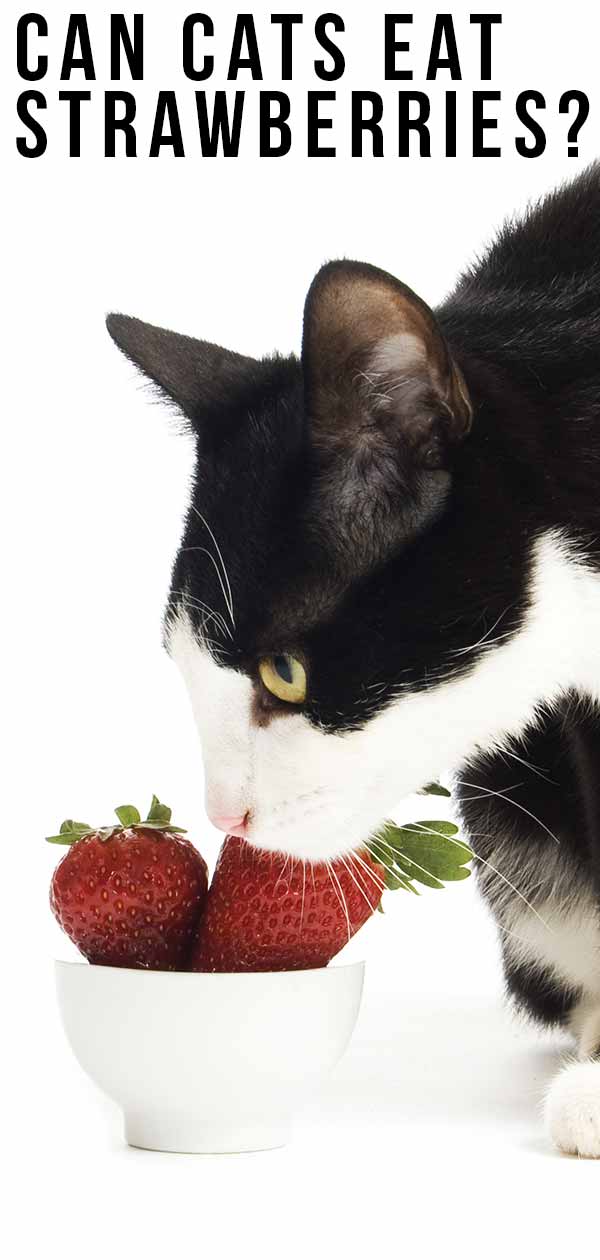 Cats and Strawberries
Cats and strawberries may seem like an odd mix. And since there are humans who have strawberry allergies, could a cat have the same issue?
The ASPCA lists strawberries as non-toxic to cats, dogs, and horses.
Human allergies to strawberries are usually mild, and include things like congestion and an itchy nose. Strawberries might cause itching in cats, too.
But it probably won't be because of allergies, but rather because the saw-toothed leaves can cause irritation if a cat goes sniffing too closely to the plant itself.
However, that said, cats are just as individual as humans are. So there is always the slight chance that your particular cat could prove to be allergic to strawberries.
When introducing your cat to any new food, make sure to only give them a little at a time. Be observant for any signs of allergic reaction or stomach upset afterward.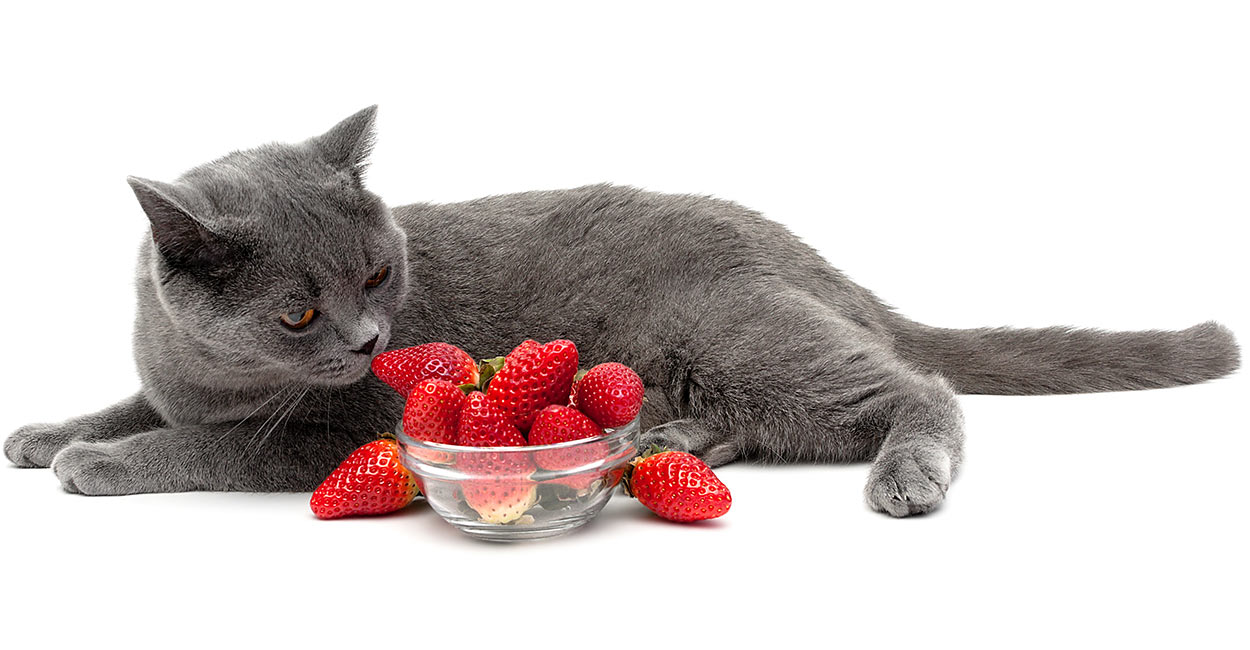 Why Do Cats Like Strawberries?
Cat owners know the look — big eyes, ears forward, tail up: the look of the curious feline.
Cats are naturally curious creatures and they often inspect what we are up to. From watching television to eating dinner, they love to be in our business. So if you're eating strawberries, and clearly enjoying them, there's a good chance that your cat might be interested.
Of course, depending on the individual cat, they might very well change their mind once you give it to them! Strawberries won't harm your cat, but do cats like strawberries?
If your cats are as picky as mine, they might not even try them! My rascally cat is far more likely to mistake a strawberry for a toy and run off with it instead!
Whether cats like strawberries will vary from cat to cat. A good way to test if your cat is interested is to let them smell a strawberry that you have taken a bite of.
If they smell it and immediately recoil, then chances are that they are not going to try a piece. However, if they consciously smell it and seem genuinely interested, go ahead and cut them off a small piece.
(Make sure you put the small piece in a bowl or on a paper towel to avoid the juice getting on the carpet if they drop it!)
Are Strawberries Safe For Cats?
Can cats eat strawberries safely?
Yes, they can.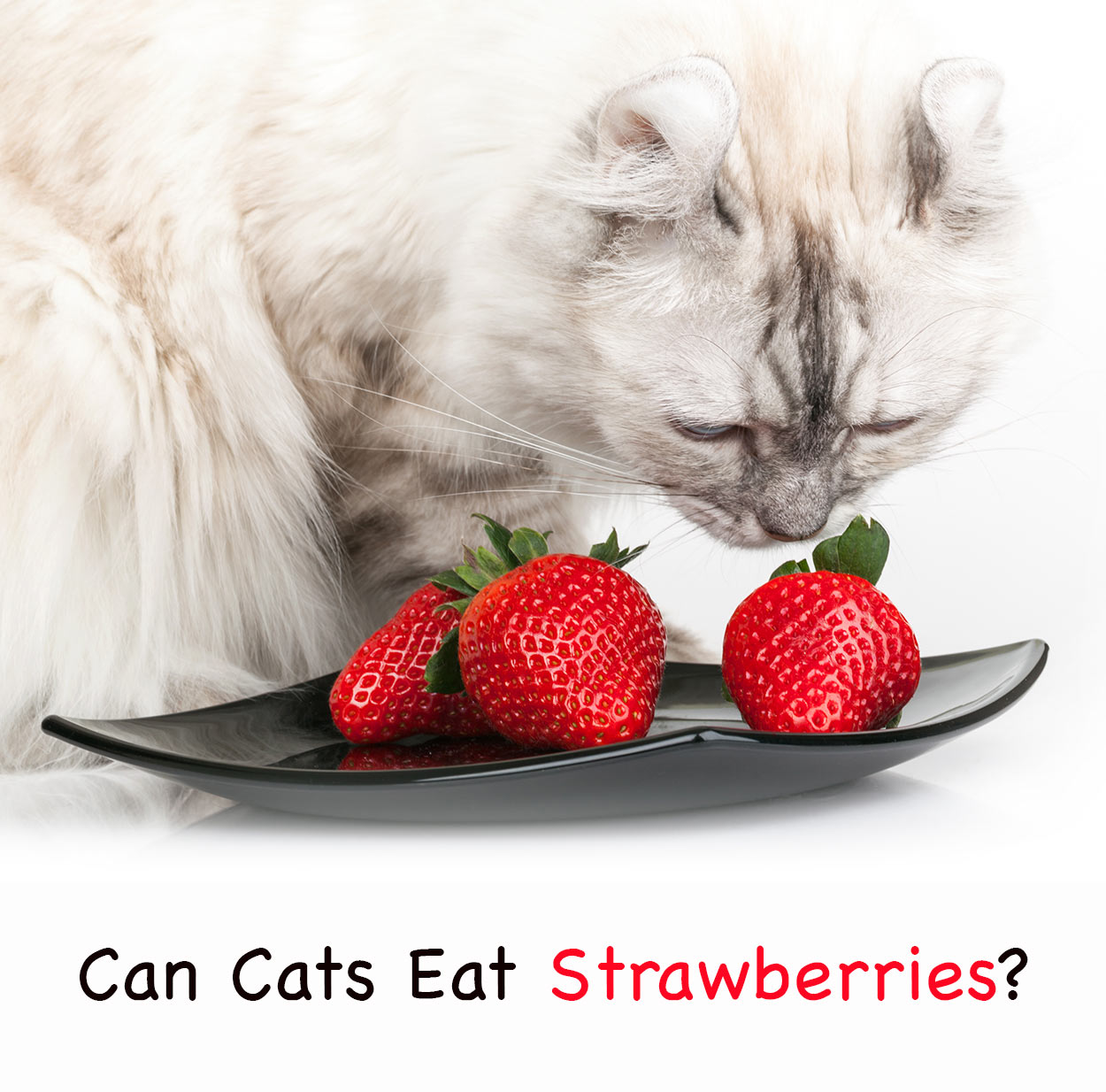 The good news for a curious feline is that strawberries are non-toxic to cats.
This means strawberries won't make your cat sick if they have a nibble.
Again, just be cautious and aware of any signs of allergic reaction.
Are Strawberries Bad For Cats?
It is also important to realize that all fruit has some sugar in it, and sugar in high quantities is not good for cats.
High amounts of sugar can cause obesity, diabetes, and tooth decay in cats.
So the amount of fruit that your cat eats should definitely be limited.
The rule of thumb for feeding your furry companion safe new foods, like strawberries, is to consider what is gained nutritionally.
As mentioned in the next section, cats don't need strawberries for nutrition.
So they should only be fed in small quantities.
A tiny slice from a regular strawberry is plenty.
Are Strawberries Good For Cats?
Strawberries are packed with vitamin C, potassium, and folate.
These are all essential nutrients, but cats produce all the vitamin C they need in their liver, and don't need to receive it in their diet.
But your cat does need potassium in their diet for their nervous system and muscles to work correctly, and to support healthy growth.
They also need dietary folate or folic acid to help metabolize proteins, and build new cells.
They only need a tiny amount – micrograms – of each a day though.
So if you are feeding your cat a nutritionally balanced food, there is no need for them to get these nutrients specifically from strawberries.
Can Cats Eat Strawberry Jam?
As mentioned above, the main concern with cats and strawberries (and cats and other fruits in general) is the sugar.
Your cat isn't likely to be drawn to strawberry jam, because of some biological factors. It is interesting to note that there have been studies on what cats can taste.
A 2005 study found that all cats – from big cats to domestic cats – lack the taste receptor needed to experience sweet.
This means they show no preference for sweet or sugary foods.
So again, your cat may only try to eat strawberry jam if he is curious about why you're eating it. But if your cat seems to want to eat more of it, a few cautions are required.
For one, remember that sugar is not good for cats in large quantities. And strawberry jam has far more sugar in it than an actual strawberry.
Another caution is to ensure that the jam is not sweetened with xylitol, as this could be toxic to cats. Recent research indicates that it isn't toxic to felines the same way that it is to dogs. But the research was limited in scope, and it's always best to play it safe.
Can Cats Eat Strawberry Plants?
This is an important question to ask about any plants you intend to keep in your home or yard.
Cats are known nibblers of greenery, and it is crucial to be informed about what is and is not safe.
So, can cats eat strawberry leaves?
The strawberry plant is not toxic if ingested. However, the saw-toothed leaves can cause skin, nose, and eye issues in cats.
If a cat interacts with the leaves, they may irritate the cat's nose and eyes, causing them to sneeze.
To avoid any of these issues, try keeping strawberry plants out of reach of your cat.
Can Strawberries Give My Cat An Upset Stomach?
The answer to this question rather depends on the individual cat, and the individual circumstances.
If your cat is not at all allergic to strawberries, and you don't let him eat too many, they should not give him any stomach troubles.
However, if your cat is allergic, or if he eats several strawberries at one time, it very well could cause some gastric distress!
Can Strawberries Treat Constipation In Cats?
Because fruits are packed with fiber, some may believe that fruits will treat or cure constipation in their animals.
There isn't a lot of research into this question, so we cannot state definitively how much strawberries can help with this condition.
However, since strawberries contain sugar and it isn't good for cats to have too many sweets, that fact would seem to preclude using fruit to treat this condition.
If constipation is an ongoing problem for your cat, the best idea is to consult with your vet to formulate a treatment plan.
Can Kittens Eat Strawberries?
Kittens can eat strawberries, just as adult cats can.
Whether they will want to or not is an entirely different issue. This may vary from kitten to kitten, just as it will with adults.
It is important to note, however, that kittens need certain nutrients as they grow. So it's really best to focus on properly formulated kitten food to make sure they get what they need to develop in to happy, healthy adult cats.
In the meantime, however, if they happen to snack on a strawberry once in a while, it shouldn't be a problem.
Cat Strawberry Treats
As mentioned, it's best not to give your cat too much fruit of any sort, including strawberries. Even though they are not toxic to cats, your cat shouldn't eat too much sugar.
If you want to use a strawberry as a treat, here are a few ideas.
Half-frozen strawberries
Small pieces of strawberry mixed in with dry or wet food
Alternatives to Strawberries for Cats
On the other hand, if you're interested in giving your cat a good treat but not sure about sharing your strawberries, here are some options for you!
Can Cats Eat Strawberries Summary
So what's the deal with cats and strawberries? Can cats eat strawberries at all?
Cats can eat small amounts of strawberries if they show interest.
Always gauge your own cat's interest when showing new and safe foods. They may find a love in strawberries as a new treat or reject it outright.
There are no significant vitamins and nutrients gained when your cat eats a bit of strawberry, so only give them a small portion. If they do enjoy the fruity treat, limit how much is given and space out when you feed it to them.
Keep the plant away from your furry friend to avoid facial irritation.
Have you given strawberries to your cat? You can let us know about your experiences with cats and strawberries in the comments below.
References and Further Reading
Cat, Encyclopaedia Brittanica
Strawberry, Encyclopaedia Brittanica
Strawberry, ASPCA
Fletcher, J, 2018, Can people be allergic to strawberries? Medical News Today
Chatterjee, I B, 1973, Evolution and the biosynthesis of ascorbic acid, Science
2006, Your Cat's Nutritional Needs, National Research Council
What's In A Strawberry? CA Strawberries
Feline Diabetes, Cornell University
Li, X, et al., 2005, Pseudogenization of a Sweet-Receptor Gene Accounts for Cats' Indifference toward Sugar, PLOS Genetics
This article has been extensively revised and updated for 2019.