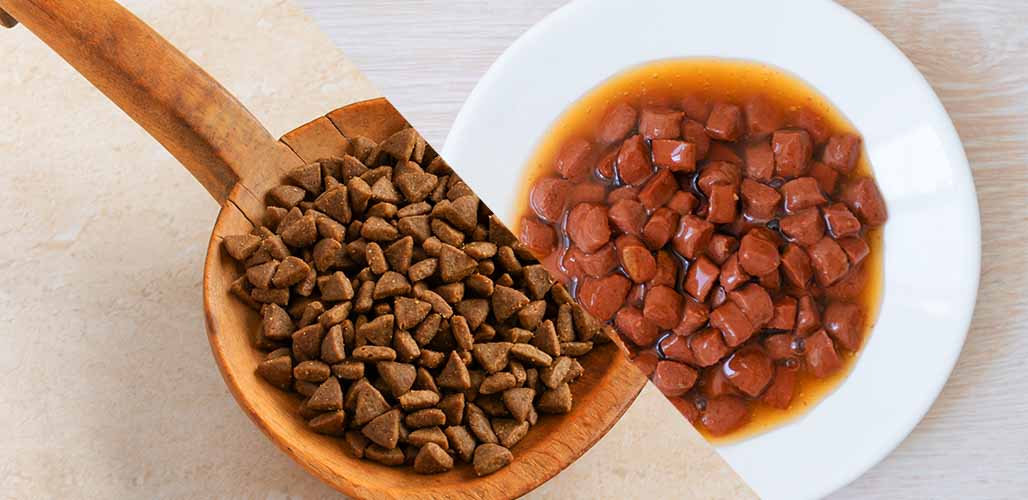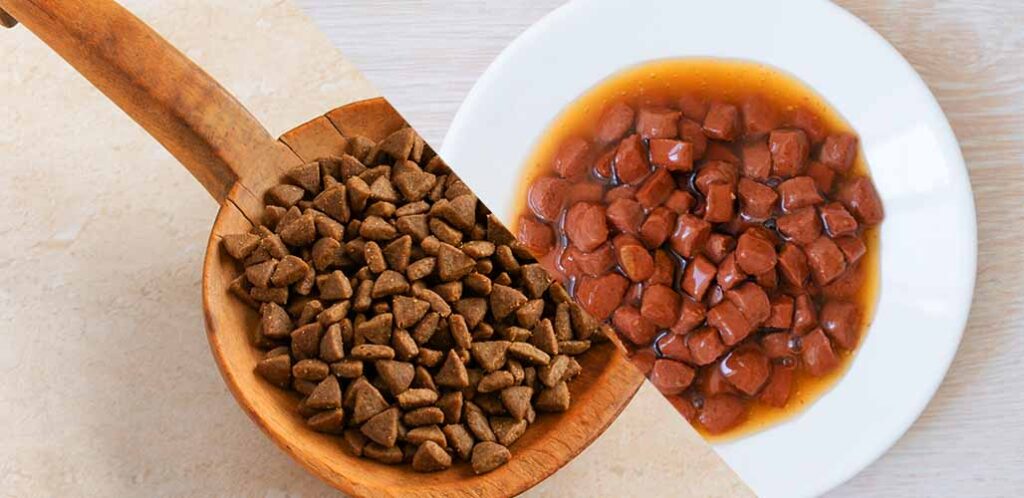 Can you mix wet and dry cat food? Dry and wet cat foods both have important benefits for our pets. Kibble type foods can help to keep teeth clean, whilst wet foods provide all-important water for our kitties. Because of this, I've always wondered if I can combine the two types to give my cat all of these benefits in every meal. In this article, I am going to take a closer look at why you might want to mix these two food types together. I will also investigate how to calculate the right amount of each to ensure your cat's daily nutrient and calorie needs are met!
Contents
Can You Mix Wet and Dry Cat Food?
In this article, I am focusing on the possible benefits and drawbacks to mixing a dry cat food, or cat kibble, with a wet or moist soft cat food. The first thing you need to know is that it is absolutely okay to mix two cat foods together and feed the mixture to your cat for their daily meals. However, it is also important to realize that not all cat foods – wet or dry – are created equally. So the two specific options you choose can make a difference to your cat's overall health.
Is It Bad To Mix Kibble And Soft Foods For Cats?
The answer to this question can depend on your individual cat. The best place to start when answering this question is to have a talk with your feline veterinarian. Reason being, dry cat food or cat kibble may not be an appropriate dietary choice for every cat. Why is this? Kibble tends to have both a lower moisture content and a higher caloric impact than wet cat food. This means it isn't always an appropriate meal choice for cats.
Kittens in particular often need to consume only wet food during the weaning and teething process. Some senior cats who have kidney disease or diabetes may also benefit from a straight wet food diet. And if your cat has oral health issues or missing teeth, trying to crunch and chew hard kibble might cause them pain. Here, adding some water or broth or wet cat food in with the kibble can make for a more enjoyable and nourishing meal.
For cats who need to transition away from kibble entirely, taking 7 to 10 days to make the switch by using a mix of dry and wet cat food also makes for a gentler process.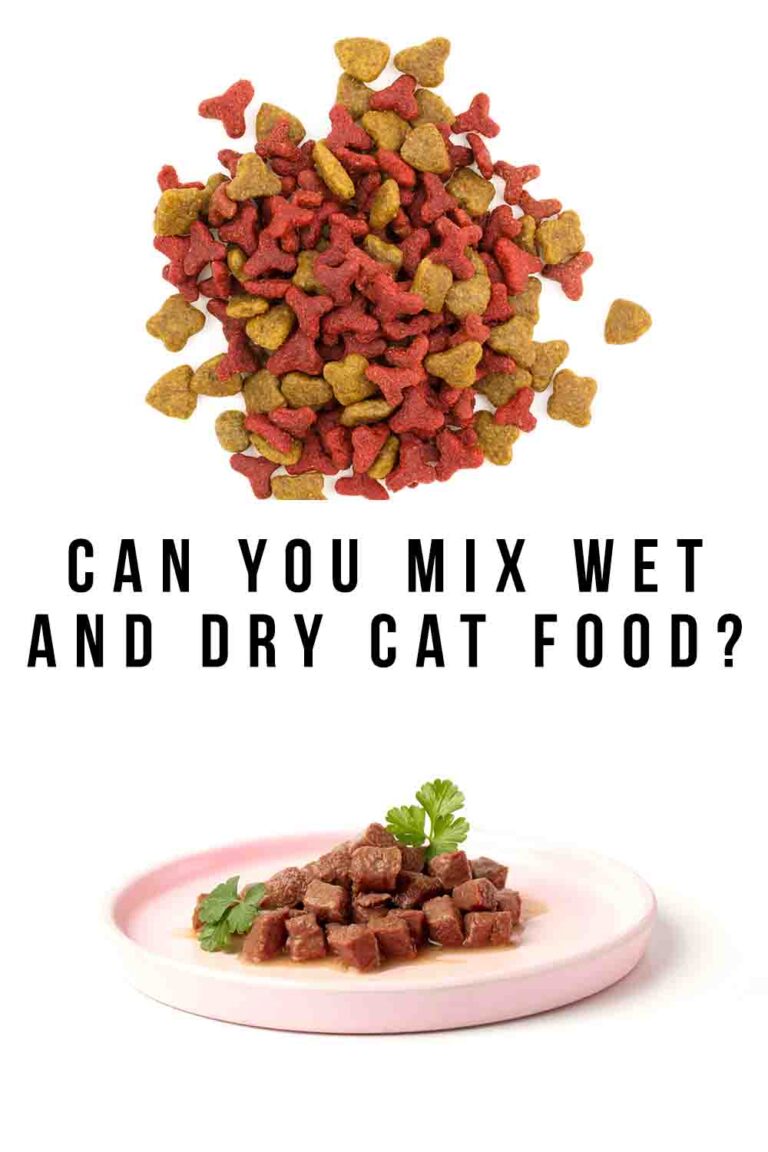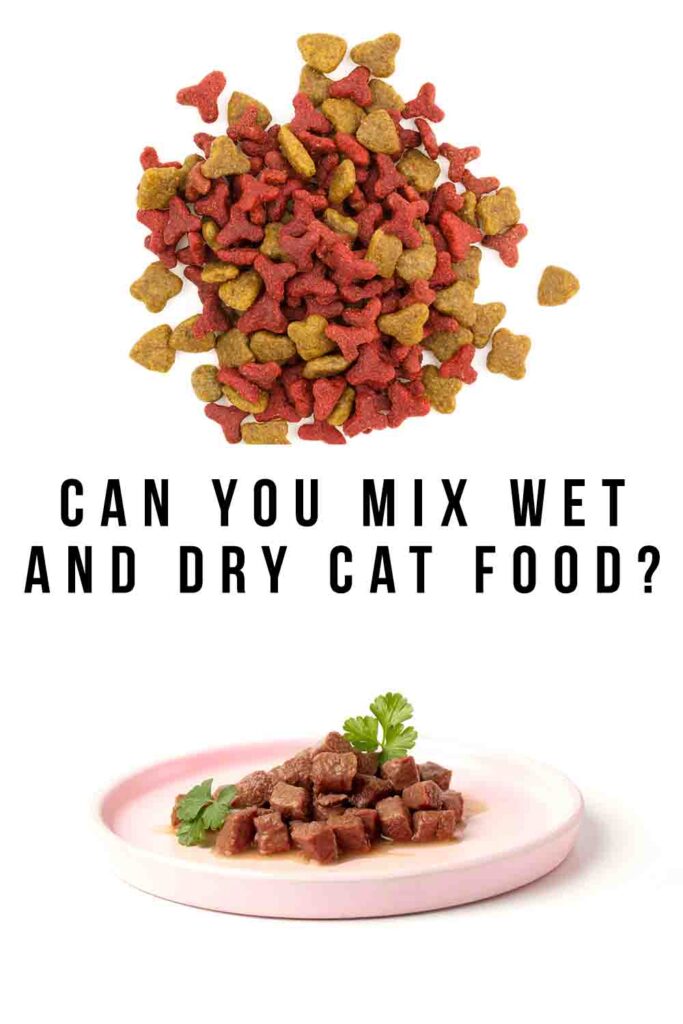 How Much Wet Cat Food Should I Mix With Dry?
At this point, you might be wondering if there is some kind of standard calculation you can use to figure out how much of each food type to mix together. This is a more complicated question to answer than first meets the eye. Why? Because not all cat foods are formulated alike.
Wet cat food comes in two basic recipes: semi-moist or canned. Semi-moist cat foods are often labeled as pate or loaf cat food and contain around 35 percent moisture content. Canned cat food is true wet cat food and contains around 75 percent moisture content. Because the moisture content is so different depending on whether you are mixing semi-moist cat food or true wet cat food with dry kibble, you will need a different ratio for each. I've created a food guide to make this easier, so let's take a look at this next.
Cat Feeding Guide Wet and Dry
A feeding guide can really help if you're new to feeding a pet cat. This one is made up of three main steps:
Identify your cat's recommended daily caloric intake
Understand their total daily nutrient, vitamin, and mineral needs
Mix appropriate amounts of food based on the above two steps
It might sound quite daunting when you look at the steps alone like this! But, don't panic! I've explained each step in more detail below, with some useful tools.
Step 1: Identify Your Cat's Recommended Daily Caloric Intake
The best place to start is to talk with your feline veterinarian about the recommended daily caloric intake for your cat. You can also use this neat calculator tool to calculate an approximate daily calorie count to keep your cat healthy and within their ideal body weight range.
Step 2: Understand Your Cat's Total Daily Nutrient, Vitamin and Mineral Needs
Cats are true obligate carnivores. This holds true for both wild and domestic felines. This classification refers to all species that have specialized gastrointestinal systems designed to digest a pure animal protein diet.
An obligate carnivore may eat some plant matter, but only because many prey species are plant-eating herbivores. So when the cat makes a kill, they also consume the partially-digested plant matter in the prey animal's digestive tract. Because of this, feeding an obligate carnivore species requires more specialized knowledge than most feline pawrents possess. So here again, consulting your feline veterinarian is the best way to get the precise dietary information you need to keep your cat healthy.
Step 3: Mix Appropriate Ratios of Wet and Dry Cat Food for Your Cat's Unique Needs
Commercial cat food is sold in two forms: meal food and treat food. Unlike cat treats, meal food is typically formulated to offer complete and balanced daily nutrition for your cat. However, this only holds true if you are feeding only that food to your cat each day. Once you start mixing wet and dry cat food together, you need to be sure you calculate how many calories are in each individual meal so you don't go over your cat's daily caloric limit.
How Much Wet Food to Feed a Cat Calculator
Here is an easy formula you can use to mix the right amount of dry and wet cat food for each of your cat's meals.
Start with the total number of daily calories your cat must consume.
Next, subtract the total number of daily treat calories (if any) from this number to get your cat's net daily caloric intake.
Now, divide the net daily caloric intake by the total number of daily meals you serve your cat. This tells you how many calories should be in each individual meal.
Next, take a look at the recommended daily serving size for the brands of dry cat kibble and wet cat food you will be mixing together.
Take each separate serving size and divide it by the total number of daily meals you serve your cat. Then divide that number by two.
This gives you the amount of dry kibble and wet food you should mix together for each meal you serve your cat.
Can You Mix Wet and Dry Cat Food? Final Thoughts
As you are now aware, mixing wet and dry cat food to create complete and balanced meals for your cat can get complicated quickly. Don't hesitate to ask your feline veterinarian for guidance and help at any step along the way. Are you feeding your cat a specialized diet that includes both wet cat food and dry cat kibble? I'd love to hear your insights and stories in the comments!
More Cat Feeding Guides