November 10th – Billy is eleven weeks and two days old
Words cannot express how I feel writing this
Billy is here to stay. My allergy is not to cats.
I set off for my appointment at the allergy clinic at Clare Park Hospital in Surrey at 9 o'clock this morning. My heart was in my mouth and my throat dry.
Half of me was convinced I was going to be told to get rid of my cat, everything pointed to a cat allergy.
The other half of me was hanging on to hope.
How could I have spent two days cuddling and kissing my kitten and no reaction until 48 hours after he arrived in our home? Why did I not have any respiratory symptoms?
Yet some of the stories I had read, confirmed that urticaria and angioedema can indeed result from a cat allergy. And my GP's conviction that the kitten was the problem had pretty much convinced me to expect the worst.
Billy was practising his balancing technique when I left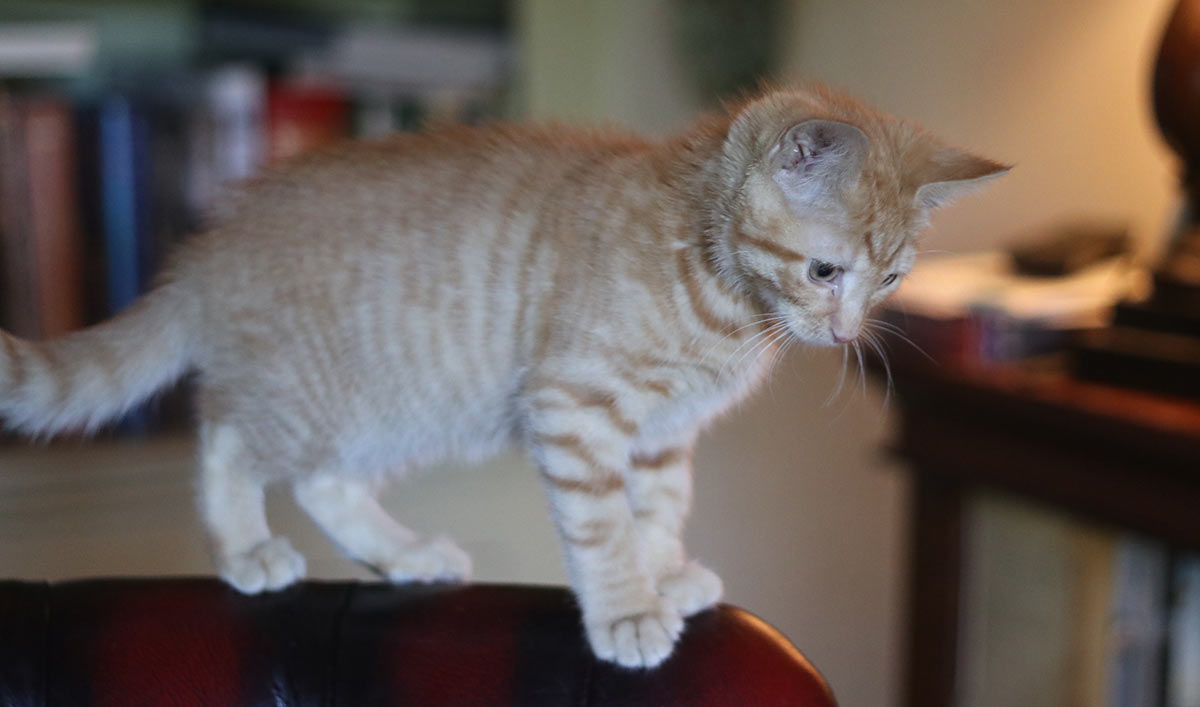 Using a leather chair in the living room.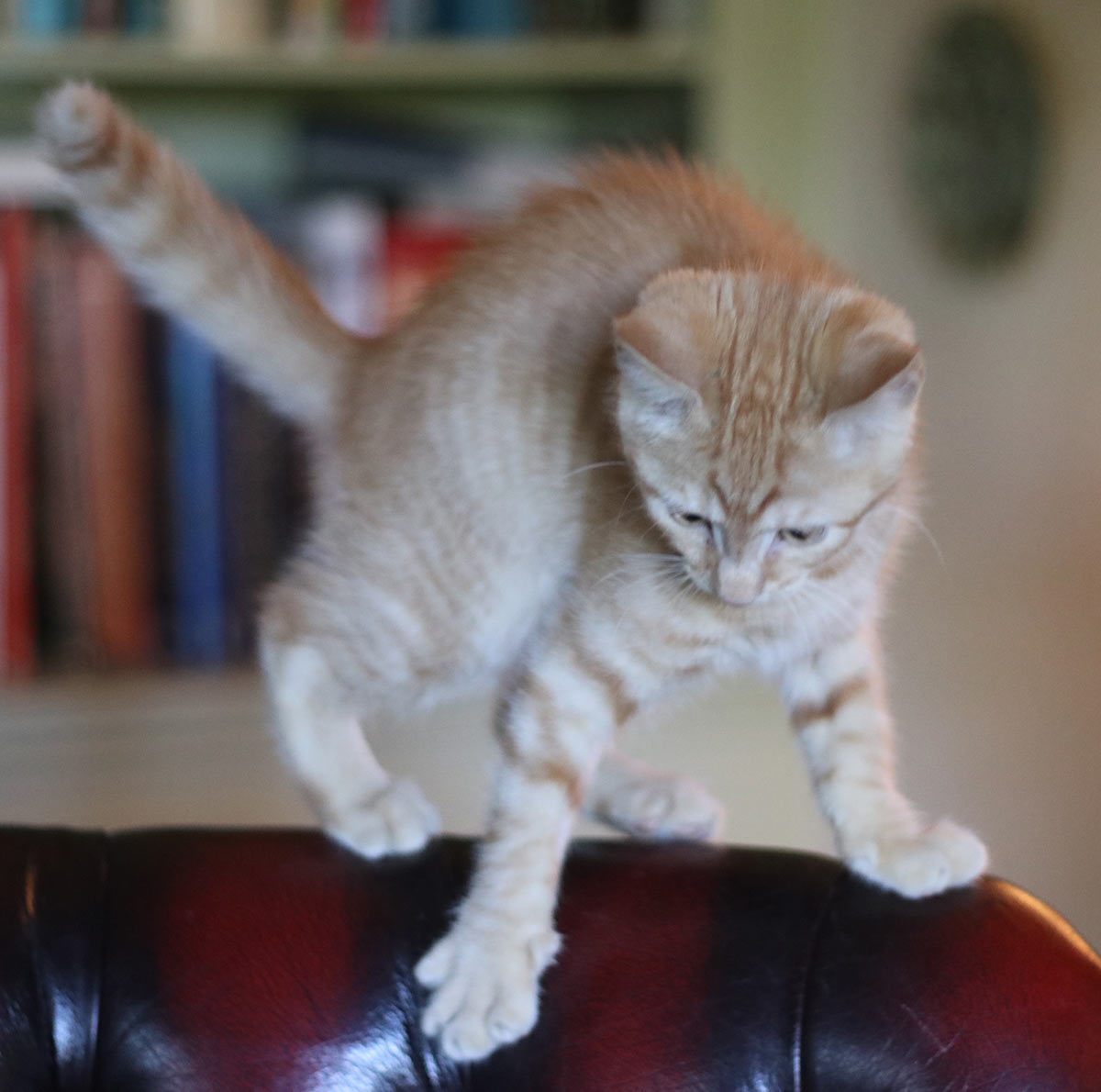 He's getting better at it every day

The allergy consultant
The allergy appointment was for 10 o'clock and I was half an hour early, but the consultant was already there and happy to let me go straight in.
He listened patiently to my story of woe, the marshmallow face, the giant upper lip, the top to toe rash, the burning and itching, the steroids, and so on.
And talked to me about what had happened in the preceding few hours before my angioedema had set in.
I liked that he was focussing on those few hours!
In the end, we agreed that there were various possibilities including
The cat.
The cat's fleas ( I had forgotten about those – we'd treated him for them early on).
And the dust in my vacuum filters that I had cleaned out the night before the attack (I didn't want to think about the contents of those as it was mostly pet hair).
The cat allergy skin test
The test itself was interesting
The consultant drew a line down the inside of my forearm and wrote a string of letters above and below the line. The letters above were mainly external allergens – various pollens, dogs, cats, mould, feathers, and dust mites.
The letters below were mainly ingested allergens, dairy, wheat, etc.
At the top of the line were two controls, plain water, and histamine. The histamine should produce a reaction, the water should not.
He opened a box straight out of an alchemists treasure trove. Full of tiny bottles with droppers.
Below each letter he placed a tiny drop of the relevant allergen. He then took a sharp blade and made a tiny scratch in the center of each droplet.
One droplet immediately began to burn.
While we were waiting for a reaction to develop, he listened to my chest and did some tests of my respiratory function. Apparently I have plenty of puff and no wheezing. Which doesn't fit well with a cat allergy.
Within a very few minutes the culprit was clear.
My burning droplet had turned into a distinct red raised lump while all the other droplets apart from the histamine control were conspicuously boring.
The culprit?
Household dust mites.
Like thousands of other people I am allergic to house dust mites.
A house dust mite allergy
House dust mites are tiny microscopic creatures that live in all our homes, not just in my grubby one. Many people are allergic to a protein found in dust mite poop
A serious dust mite allergy can be a very challenging problem
But, the chances are, my late night vacuum filter cleaning had given me a massive dose of dust mite poop.
I may get away without further problems if I simply take a few precautions and avoid handling concentrated dust sources like this again.
My heart goes out to severe dust mite allergy sufferers, but I have to tell you that by this point I was dancing on air
"So it's not the cat?" I said
"No", he replied "there is no reaction to cat allergens, or dog allergens" ( or for that matter feather or any other animal allergen lined up on my forearm. )
I could have kissed him.
Possibly realising this he pushed his chair back and began to talk about dust mites.
I, on the other hand, wanted to talk about my kitten.
I told him how the results had made my day and how sad I had felt being unable to cuddle my kitten, or put my kitten near my face, let alone kiss him
He smiled.
"Go home and kiss and your kitten" he said
So I did
Free Updates For Cat Lovers!
Our cat care articles, tips and fun facts, delivered to your inbox