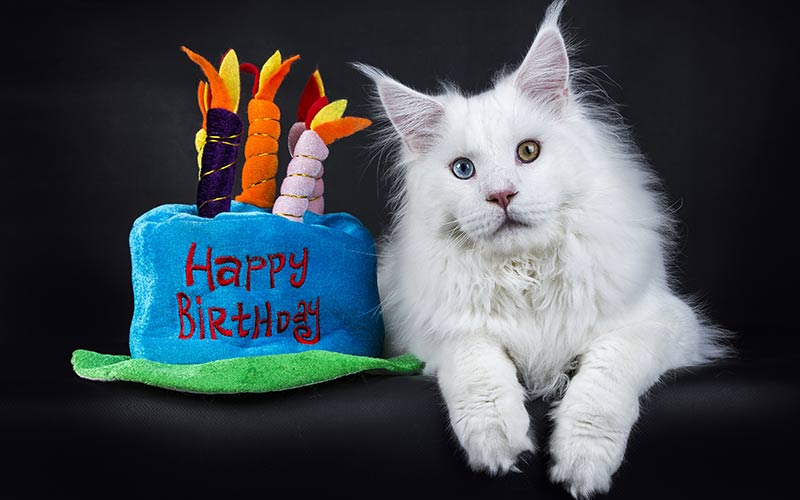 Is It Your Kitty's Special Day Soon? Then You Will Want To Check Out These Amazing Cat Birthday Cake Recipes And Ideas!
Celebrating your cat's birthday (or "gotcha" day if you adopted a rescue and don't know his exact birthdate) can be great fun!
While your cat may not completely comprehend the real purpose of the festivities, he will certainly enjoy all the pampering, attention and special treats that come with a cat birthday cake party!
Products included in this article were carefully and independently selected by the Happy Cat Site team. If you decide to make a purchase from one of the links marked by an asterisk, we may earn a small commission on that sale. This is at no extra cost to you.
Cat birthday cakes
But how do you make a cat birthday cake? What do you put in it and what should you leave out?
And how can you know it will be really tasty and special like you want it to be for your cat's special day?
We are about to answer all of these questions for you!
Whether you are super-comfy in the kitchen and want to whip up a one-of-a-kind birthday cake for your cat. Or you prefer to entrust this task to someone who cooks for a living!
You will find everything you need to know here about how to make a scrumptious cake for your fur baby's birthday.
The best cat birthday cake
The best cat birthday cake, of course, will be one that is packed with all of your kitty's favorite victuals.
So before you read on any further here, take a minute to brainstorm everything you know about your feline's culinary favs.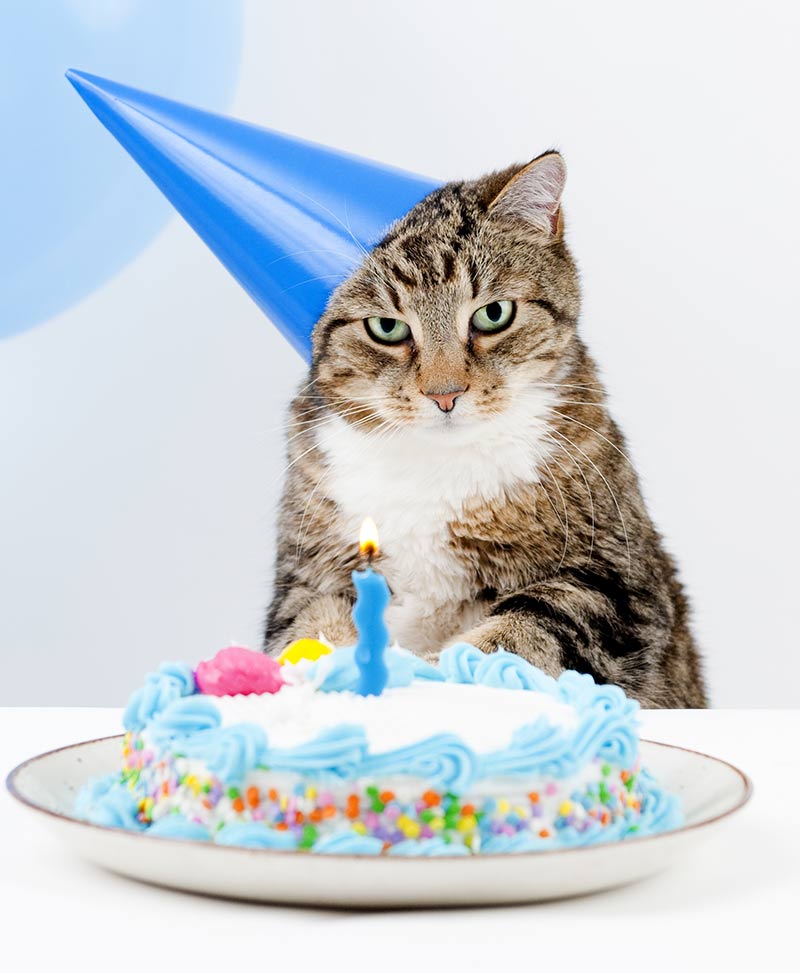 Although if your cat is fond of hunting special outdoor "presents" and then leaving them on your doorstep, you might not want to include those in this list!
Your finished list may include fresh cooked tuna, salmon, chicken, eggs and similar other delicacies. Catnip is a frequent favorite as well for many cats.
How to make a cat birthday cake
Now that we've gotten the serious stuff out of the way, let's get on with planning your creation!
Choosing your cake size
If you have just one kitty in your family, you might want to plan for a small-size cat birthday cake. If you belong to a multiple cat household, making a bigger cake will let everyone join in the festivities!
Finding a suitable cake mold
For a single cat, you can look to see if you have any of the following in your cupboards:
Mini/individual bread or tart pan.
Cupcake or muffin tin (you can use just one of the cups for a personal cake).
Small glass or plastic food storage container (just be sure you've never stored any foods toxic to cats inside it in the past).
Small cookie cutter molds.
For more than one cat party attendee, these items can also make for great cake molds:
Cupcake or muffin tin (to make personalized cakes for each attendee so the birthday honoree doesn't have to share).
Regular size cake, tart or bread pan.
Large food storage container, plastic or glass.
Large cookie cutter molds.
Toppings
One of the really fun parts of this noble endeavor is choosing the cake toppings, or garnishes.
Here are a few fun ideas to consider:
Cosmic catnip* to add an extra layer of temptation to the finished product!

Temptations Cat treats* come in many different flavors, and are great for decorating your cake.
Purina Friskies Party Mix* also comes in a variety of different flavors.
And they make a great finishing touch!
Cat birthday cake recipes
If you don't feel particularly kitchen-savvy, yet you have been thinking "I sure would like to make a birthday cake for my cat!," we are here to help!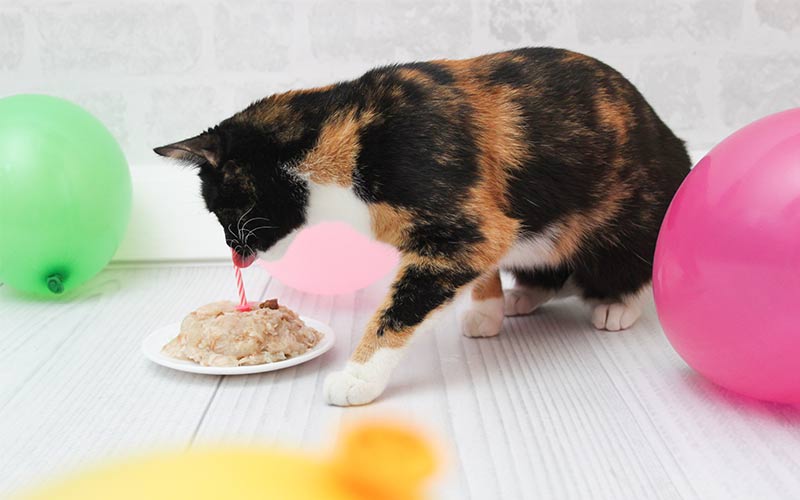 We've collected a short list of awesome cat birthday cake recipes that you can whip up on your feline's special day – even if all you have in your kitchen is a can opener and a fork!
Is your kitty a fish-lover (what cat isn't)?
Then you may just discover these Kitty's Fish Cakes by Raymond's Kitchen will need to be reprised year after year around birthday time.
What is really fun about this recipe is that it is re-purposed from a people fish cakes recipe, with just a few tweaks to make it perfect for Raymond's own beloved cat, Serra.
You may want to use this recipe as-is, or you could also make a tweak or two to personalize it to the special feline in your life.
Good Food Stories' Casey Barber also has a great idea for a cat birthday cake that is gluten-free and rich in tasty protein – and it even has frosting!
Cat birthday cake frosting
Speaking of frosting, let's talk for a moment about this very important topic.
After all, the best birthday cakes always have frosting, right?
While maybe your cat won't notice its absence, you surely will….and you want to make sure your very first cat birthday cake comes with all the trimmings!
So here are some fun ideas for cat safe birthday cake frosting your kitty will enjoy:
Whipped mashed potatoes swirled on top or piped in through a frosting bag.
Low-fat cream cheese with a bit of pureed sweet potato or pumpkin mixed in.
Shrimp or salmon mousse (blended with a bit of milk or water for consistency).
Low-fat, unsweetened Greek yogurt, strained (add a bit of tapioca flour for thickness if desired).
Healthy birthday cakes for cats to eat
Sometimes cats, just like people, have certain foods they can't eat because of an allergy or a weight issue.
For example, since cats didn't originally evolve to include grains, some cats display an allergy to gluten just like people do! The same can hold true for dairy in some cases, although often cats can tolerate dairy as a special treat in very small amounts.
As well, some kitties who are battling the bulge can do better by simply sticking to a lean protein diet overall (although birthdays always give you a bit of extra leeway here!).
Here is a very healthy cat birthday cake recipe courtesy of Mother Nature Network that we think your feline will just love!
This recipe is designed to accommodate cats with special dietary needs and food allergies. You can leave the cheese out if your kitty is allergic to dairy. For the salmon or tuna, choose salt-free or low-salt options. For the flour, you can substitute coconut flour for a safe grain-free option.
Homemade cat birthday cake
We love this recipe by Meowbox for another fab idea for a cake that is completely homemade.
It also definitely qualifies as a cat safe birthday cake if your kitties have any food allergies.
With a base of potato and sweet potato and plenty of tasty fish and chicken, this birthday cake is clearly all "cat!"
You could also use any of these homemade cat food starters as a base to mix up your own customized cat birthday cake from scratch:
Cat food birthday cake
If your cat's all-time favorite food is actually cat food, we have good news for you. You can make a cat food birthday cake as easy as 1-2-3, thanks to this simple recipe from Ever Clever Mom!
What is really neat about this cake is that it combines the baker's kitties' favorite foods all in one cool cake for her two cats to share on their one-year anniversary.
Our favorite part?
The mold she chose for the cake is Mickey Mouse – how perfect!
Catnip birthday cake balls
If catnip is always at the top of your feline's list of birthday requests, this cake by Joy the Baker is a shoo-in for best cat birthday cake (or cat cake balls) ever!
Even better, Joy explains why she chose each ingredient in the cake, from the oat flour as a binder to the olive oil for a soft, shiny coat.
She also shows you how to prepare the cake balls so they will cook evenly all the way through (very important for anything that includes a raw egg!).
Cat birthday cake party
Given the number of folks today who are opting to cohabit with pets over human kids, the tradition of throwing a new pet parent a "pet shower" is steadily growing.
The same holds true when a beloved pet celebrates a birthday. After all, it isn't cheap or easy to be a cat parent, and the support of family and friends is always welcomed!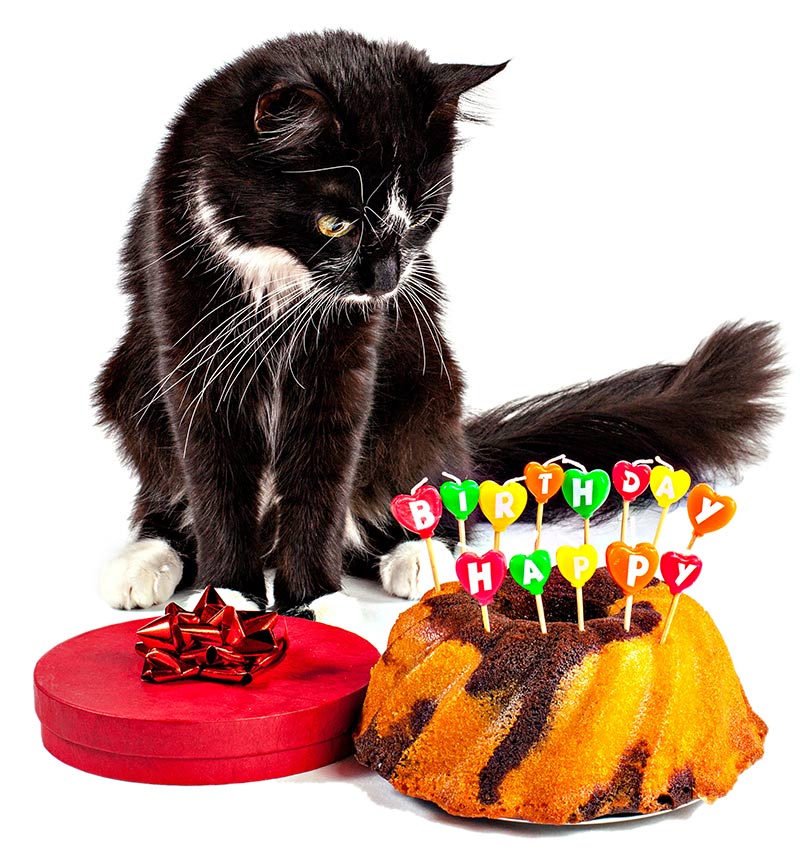 On this note, don't be shy to open up your cat birthday cake party to your family and friends!
P.S. However, if you decide to make "humans and felines" lookalike cat birthday cakes, just be sure you CLEARLY LABEL which is which. Otherwise, your human guests in particular are likely to get a big mouthful of surprises!
Here are some really fun party items that can help you decorate for your cat birthday party:
No-No cat birthday cake ingredients
If you are a newbie feline parent, you might not know that cats can't detect sweet tastes.
This is actually because cats don't have a taste receptor (a taste bud) programmed to identify the taste of "sweet." Cats come from the order "Carnivora," which means "meat eater." So they can taste meaty tastes just fine, as well as grassy, salty and bitter tastes….but not sweet tastes.
What does this mean for you when you are choosing cat birthday cake ingredients? It doesn't mean sweet-tasting things are completely off-limits. Very small quantities of items like sweet potato or winter squash, which have a slightly sweet taste, can be fine so long as you know your cat hasn't had any prior reactions to eating these foods.
But skip the sugar. Your cat won't appreciate it and the feline liver doesn't have any enzymes to properly break down sugar anyway (which may be one reason why so many pet cats are now coming down with feline diabetes).
Other no-no ingredients to leave out of your recipe include these:
Avocado.
Alcohol.
Caffeine.
Chocolate and candy.
Xylitol (a sugar substitute that is DEADLY even in tiny doses!).
Onion.
Garlic.
Grapes and raisins.
Nuts.
Raw dough.
Mushrooms.
Citrus.
Lest this list make you rethink your plans, however, it is important to know that overall, even veterinarians are supportive of offering occasional, well-chosen special treat foods for cats.
Cat special treat rules
Feline vets emphasize the following guidelines in offering special treat foods for your special kitty:
Aim for cat treats to make up no more than 10 percent of total daily calories.
Moderation in treat foods is key (with no more than 2 to 3 times per week being ideal).
Err on the side of caution when it comes to offering "people food" treats.
Avoid rewarding begging behaviors.
Be mindful of the modern-day risk of obesity and diabetes in cats (according to feline vets
an estimated 57 percent of modern cats are overweight or obese).
Catnip is both a safe and healthy green treat for cats.
Incorporate cat treats into play time for extra body/brain enjoyment.
Use cat treats to encourage your kitty to permit necessary but not necessarily pleasant health tasks like nail clipping, fur trimming, taking medicine and vet visits.
Include cat treats in your daily interactions as a part of, not a replacement for, your presence and attention.
Try making your own cat treats out of natural, organic and cat safe food items.
Best cat birthday cakes
The best birthday cakes, of course, are always the ones packed chock-full of love – and that is the one ingredient only YOU, your cat's "special person," can provide!
We hope that you have enjoyed this curated list of cat birthday cake recipe ideas, and we'd love to hear how your kitty likes them!
Also, if you have prepared a special treat for your cat that isn't mentioned here, please consider sharing the recipe so other kitties and their parents can try it!
Affiliate link disclosure: Links in this article marked with an * are affiliate links, and we may receive a small commission if you purchase these products. However, we selected them for inclusion independently, and all of the views expressed in this article are our own.
Resources
Biello, D., "Strange But True, Cats Cannot Taste Sweets," Scientific American, 2007.
Kovalkovičová, N., et al, "Some Food Toxic for Pets," Interdisciplinary Toxicology, 2009.
Solomon, D., DVM, "Demystifying the Cat Diet," Huffington Post, 2012.