It's Cat Birthday Time! We Have Some Super Cool Party, Gift And Cake Ideas.
To Help You Show Your Furry Friend Just How Happy You Are To Be Together!
Because birthdays come around only once a year, it's a given that we should make the most of them: especially cat birthdays!
Because honestly, is there anything cuter than a cat in a party hat?
Not much that I can think of (although I bet my moggie would beg to differ).
Products included in this article were carefully and independently selected by the Happy Cat Site team. If you decide to make a purchase from one of the links marked by an asterisk, we may earn a small commission on that sale. This is at no extra cost to you.
Cat birthday party
Let's face it, your fur baby deserves her own yearly celebration, whether you call it a birthday, adopt-iversary, or gotcha date (the day she came home with you).
How does one throw a feline party?
With all the gusto and zest that you would throw into any other happy birthday celebration of course!
Do you need some gift-giving suggestions?
We have reviews of some of the finest kitty supplies to ensure that your cat is fe-line fine during his big day including gifts, decorations, and of course a birthday cake.
So let's get this party started and delve into the finer points of throwing a kitty cat birthday party for your party animal!
Cat birthday party ideas
First off, let's start with the basics. Who's invited?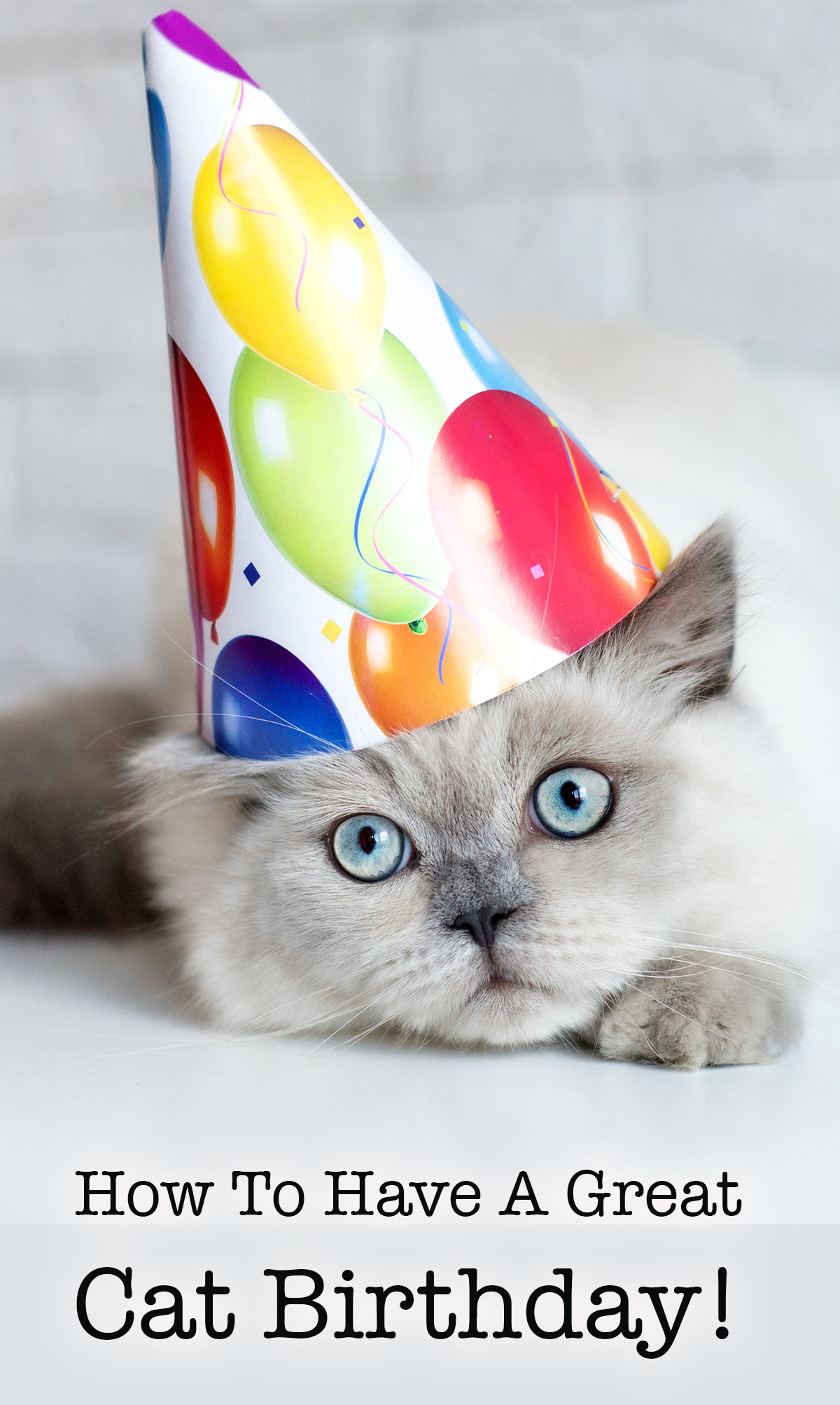 If you think that celebrating your BFF's birthday is an occasion to have his human admirers over, by all means, invite away! After all, the more the merrier.
Has your cat got a special friend in the neighborhood? Ask their owner if they'd like to join you for a birthday buffet and photoshoot.
Just to be clear, I'm not suggesting that you bring the whole troop inside, but certainly they should be included in the festivities, right?
Maybe these party animals get a special treat that day, or you could treat them to an all-day feast? Whatever you think a contingent of homeless and/or stray kitties would like to gorge on, you're probably right!
Cat birthday decorations
Every successful party has a theme that ties the festivities together, and that's where the decorations come in.
Do you have a black cat birthday boy?
Or maybe this is going to be a ginger cat birthday party?
If you have a distinctly colored kitty, you can easily match the decorations to your cat's "birthday suit" (pun intended!).
Or maybe you'd like to throw a funny cat birthday bash?
Whatever cat birthday theme you decide on, the sky's the limit when it comes to celebrating the life of your loved one, so set the bar high!
Cat birthday invitations
Which brings us to our next cat-agory of business, getting the word out!
If guests are invited, cat birthday invitations need to go out via social media or snail mail.
Alternately, you may simply want to alert others to this Very Important Date on the calendar.
In that case be sure to send out cat birthday greetings to inform all of the cat lovers in your orbit!
No doubt some cat-people will want to send a gift to go along with their cat birthday wishes and cat birthday messages. And we have some excellent ideas to suggest later in the article!
Cat birthday supplies
For now let's make a list of all the goodies that will transform your house into a party zone that both you and your cat will enjoy.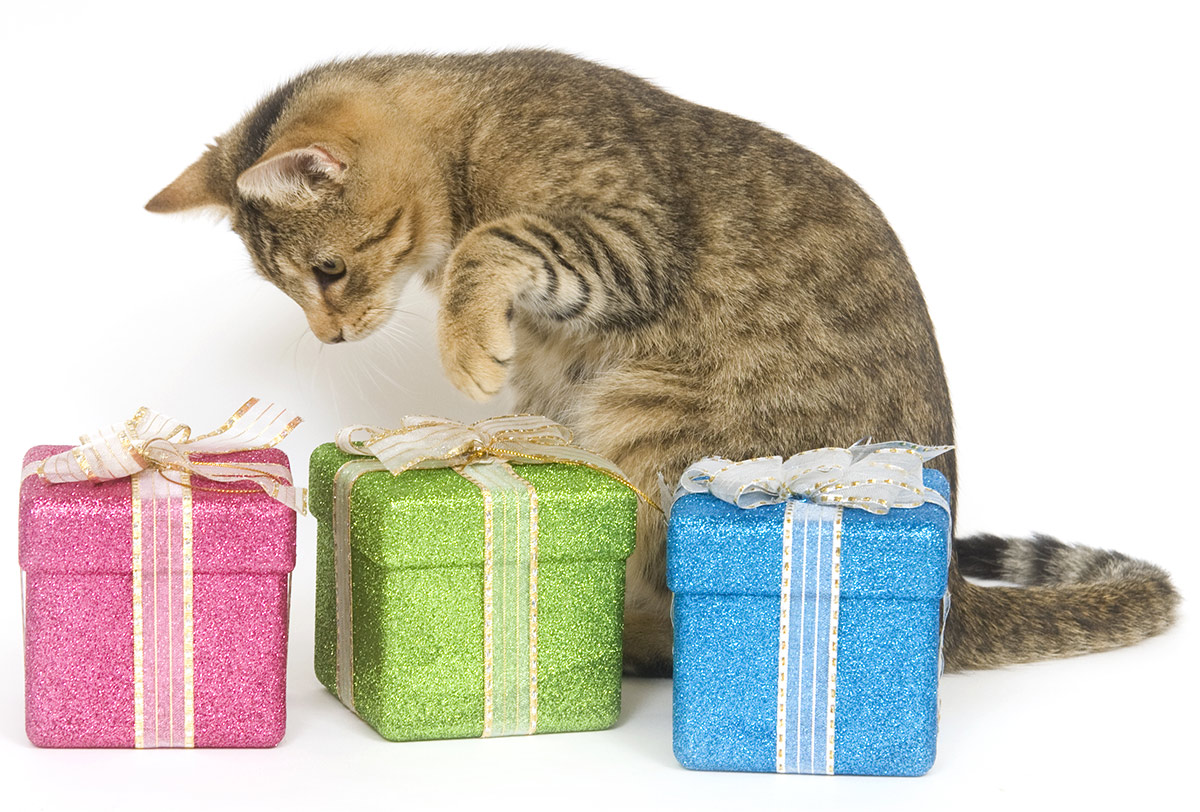 Starting with that essential cat birthday ingredient – the cake.
Cat birthday cake
We think you'll agree, it's not a party without a cake!
If you're a devoted DIY'er or just want an excuse to get into the kitchen and make something special, this is a terrific recipe for a fun feline cake.
With only three mandatory ingredients (starting with tuna, yum!) the only thing missing are the cat birthday candles!
But if you wish to keep the "cake" simple, I'm paws-itive that your feline will forgive you for taking the easy way out!
For example, if your cat normally eats canned food, upending the contents onto your fanciest china dish is sure to get the message across that this is a meow-y special day!
You can find lots more awesome cat birthday cake recipes here. 
Cat birthday treats
But why stop there? How about spreading a layer of tasty kitty snacks across the top of the cake for an extra 1-2 punch on kitty's big day?
Slathering on a layer of tasty cat treats is an excellent way to tell kitty that you love her and we have a couple of tasty suggestions we think she'll like:
TEMPTATIONS Classic Cat Treat Variety Pack
Hundreds of cat lovers have given this Temptations Classic cat snack* top marks, and it would make an amazing cake topper.
This variety pack includes all the flavors your cat loves: tuna, seafood, dairy and chicken.
The tasty goody has a crunchy outside and a creamy inside that even manages to be low calorie, too.
Purina Fancy Feast Cat Treats
Your birthday girl is sure to love a layer of these hand flaked (oh yes) salmon treats by Purina sprinkled across her birthday cake.

And you'll love the fact that they contain just one single ingredient – perfect for celebrating without a getting poorly belly the next day!
Cat birthday gifts
Now comes the best part of planning a cat birthday party: the presents!
We've reviewed some of the most sought-after gifts on cats' wish lists and rounded up the best choices in each category including beds and toys.
Cats can never ever have enough comfy, cozy, beds, and these relaxing choices are sure to beckon kitty after her long day of celebrating:
Armarkat Cave Shape Pet Cat Beds for Cats
Your kitty will love crawling into this plush, extra thick cave bed* at the end of a long, hard day.
The machine washable bed is waterproof, and measures a generous 18 inches long.
Aspen Pet Round Bed – Animal Print
Every cat will feel like he's king of the jungle in this large, circular animal print bed*.
The bolster-sides act as a pillow and it's fully machine washable.
MidWest Curious Cat Cube
Curious cats will love the many options available with this cute little MidWest Curious Cat Cube cubby*.
It has a bottom sleep area, a top shelf for watching the world go by, and dangling toys to keep him busy.
Speaking of keeping kitty busy, these fabulous cat toys will make sure that your cat's paws are never idle for very long.
Fashion's Talk Cat toys Variety Pack for Kitty 20 pieces
Mice, feathers, and balls are among the merriment your lion king will discover with this assorted fun pack*.
Hundreds of satisfied cat parents give this choice top marks.
Catit Design Senses Play Circuit
Thousands of cat owners have given thumbs up to this simple, affordable and interactive Senses Play Circuit* cat gadget.

You can configure the see-through tunnels any which way so kitty can entertain himself for hours chasing the colorful ball.
Creaker 3 Way Cat Tunnel
Kitty will love running in and out of this sturdy, tear-resistant, 3-way kitty tube*.
It has a steel frame and polyester covering, plus it's collapsible and easily transported. It comes with an attached dangle ball toy.
Now, for the cat who has everything, may we suggest these utterly divine, well-appointed cat-cessories?
PetLuv Soothing "Happy Cat" Premium Soft Sided Cat Carrier
This deluxe PetLuv Soothing carrier* measures a full two feet long and comes in two sizes and three colors.
Tall mesh windows ensure kitty has a room with a view, and an overstuffed pillow will have him feeling like a boss. Total weight capacity is a whopping 45 pounds!
PetFusion Ultimate Cat Scratcher Lounge
Would you believe that thousands of pet parents have given this ultimate lounger* the highest marks possible?
It's hard to know where to start extolling the virtues of this amazing lounger/scratcher.
This cat-cessory is made of recycled cardboard and is reversible which makes it twice as nice!
In addition this item has been featured on Animal Planet's 'My Cat From Hell' and won the 2015 Eco-Excellence Award.
To top it off, it comes with a 6 month guarantee.
Modkat Flip Litter Box with Scoop
Privacy loving cats will appreciate the solitude that this enclosed litter box* provides.
The tall box is seamless, perfect for containing errant sprays, and the lid can be left open or closed depending on kitty's preference.
PetSafe Drinkwell Platinum Pet Fountain
You can treat your cat to fresh water 24/7 with this dishwasher safe kitty fountain*.
A soft waterfall provides a steady stream of clean water that is constantly renewed via a carbon filter.
Frontpet Apex Cat Tree Tower
When only the best will do, treat your cat to this dynamic, chic cat tower*.
It's a luxurious way for pampered felines to recline, plus it's fully customizable to match your individual décor.
The tower reaches nearly 70 inches high and you can leave it as is, or chose to paint and stain it as you like.
Cat birthday
Finally, if you want to honor your cat on her birthday and help out other kitties at the same time, we have an awesome idea: make a donation to a cat charity in her name!
We hope you've enjoyed our ideas for cat birthdays, our reviews of cat presents, and yes, our cat birthday puns, too!
Do you have a special way of recognizing your cat's birthday or gotcha day? We'd love to hear about it in our comments section below!
Affiliate link disclosure: Links in this article marked with an * are affiliate links, and we may receive a small commission if you purchase these products. However, we selected them for inclusion independently, and all of the views expressed in this article are our own.