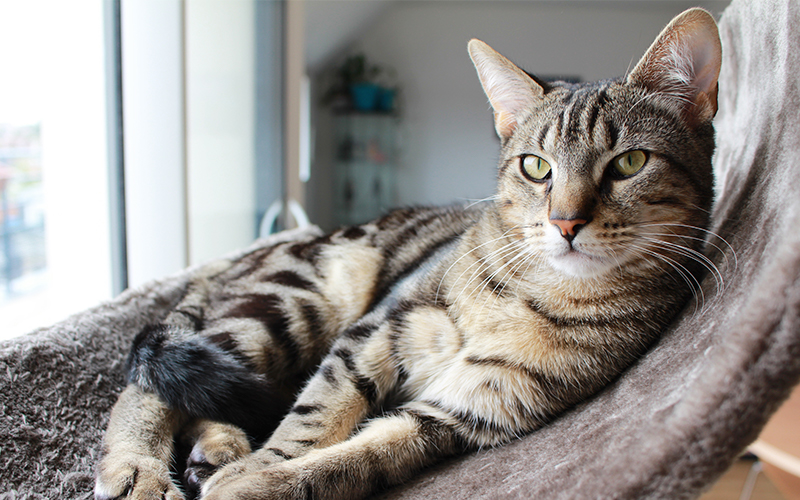 Are you on the lookout for the best cat tree with hammock that you can find? Then check out our great guide to the wonderful world of fun cat trees.
If you have ever visited a zoo or wildlife refuge and marveled at the big cats stretched out luxuriously along a tree limb, you already know why cats love hammocks.
In fact, cats love hammocks as much as people love hammocks! After all, why wouldn't they – hammocks are so relaxing, so restful, so great for napping!
But for indoor cats in particular, it can be a challenge to replicate their natural outdoor environment to the level required that allows them to stretch out fully along a sturdy "tree branch."
This is where a cat tree with a hammock sure does come in handy!
In this post, we will explore the main reasons why you might want to provide your favorite feline with a cat tree hammock for indoor use.
We will also take a look at 10 of the top-rated cat tree with hammock options and compare and contrast their best features so you can pick the one that works best for your household feline(s)!
Why Cats Love Cat Tree Hammocks
It could be said, "Build a cat tree hammock and your cat will come."
This can be especially true for former shelter cats who are shy or scrappy when first rescued to their new home with you. They just need a safe space from which to observe their new surroundings while they acclimate, and a cat tree hammock can be the perfect solution!
A hanging hammock also satisfies your feline's innate biological urge to be up off the ground, concealed and safe whether in hunter or hider mode.
Some cats in particular seem to shoot out of the womb and up into the trees….never to come down again.
If your cat is continually scaling the curtains, balancing across the back of the couch cushions, napping on top of the refrigerator or peeking out from the topmost cabinetry alcoves, you can pretty much count on a warm reception to any cat tree with hammock you decide to bring home!
A Cat Tree Hammock Can Keep Your Cat Safe
Some cat parents wrestle with whether it is kinder to let their indoor cats out to wander or keep them inside where it is totally safe. To date, no single definitive answer has emerged.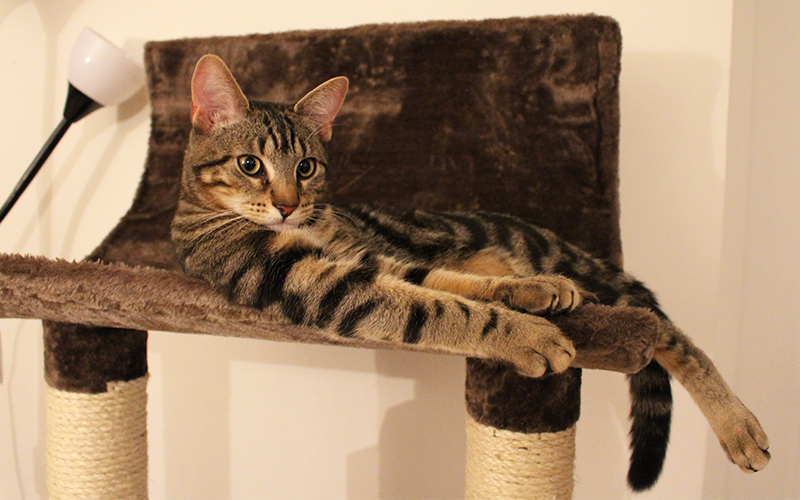 However, some animal experts say that, at least for cats who have never experienced life on the outside, it is both kinder and safer to opt for sprucing up their indoor entertainment, exploration and exercise options instead.
Being indoors is both safer and less stressful (as in, no fleas, no vehicles, no furred thugs to fight with over turf). Keeping your kitty indoors also gives you and your favorite feline more quality time together.
Plus, you can create a truly enriching indoor environment for your cat with just a little help from a cat tree hammock!
What to Look for in a Cat Tree With Hammock
When animal behaviorist Jackson Galaxy, author of "Cat Daddy" and host of Animal Planet's "My Cat From He**," decided to "catify" his own pad, he didn't try to go it alone.
He turned to a fellow cat expert to help him create what he calls "cat superhighways" throughout his space, giving each of his three family felines plenty of room to roam and rest on their own time and in their own turf.
You can take guidance from Jackson as you observe your cat's typical favorite roam and rest spots in your own casa and decide on the best location for your new cat tree hammock.
Ultimately, you definitely want to pick a place that is in harmony with existing traffic patterns – especially if you have more than one cat to accommodate!
Converting a Scaredy Cat Into a Hammock Cat
But what if your kitty isn't so keen on the concept of the cat tree with hammock? What if, for instance, your cat actually likes living on the ground?
This doesn't mean your cat won't also love a cat tree hammock. But you might have to take the conversion to a hammock experience in baby steps.
Noticing where your fur baby normally likes to hang out – underneath a favorite hallway chair, behind the living room couch, in the furthest reaches of your closet (next to your most expensive pair of oh-so-chewable shoes) – gives you a good idea of where to start.
Try affixing a DIY hammock in this area. Trust us, your cat will notice. Cat curiosity is notorious, and it likely won't take too long before the two are properly introduced.
You can then start to elevate the hammock bit by bit. (Some of the cat tree with hammock options listed here can also offer a great way to get your hammock project off the ground, so to speak.)
Even if your kitty has learned over time to hug the ground, there is no reason she still can't discover the wonderful wide open spaces up above as well….with a little encouragement from you!
10 Awesome Cat Tree with Hammock Combos to Consider
These 10 top-rated cat tree hammocks will give you and your feline lots of options to purr about together!
1. SIAYI Reversible Cat Hammock
The SIAYI Reversible Cat Hammock Bed Waterproof Pet Hammock.
After earning 4.5 star ratings across the board, it is pretty hard to find anything not to love about the SIAYI reversible cat hammock.
While technically this isn't a full-on cat tree hammock, we include it here for ground-hugging kitties who need a bit of encouragement to venture out and UP.
This hammock can be stretched to fit underneath a chair or side table, inside a cat crate or anywhere with something sturdy to attach it to. And if you already have a cat tree your kitty loves, you can just strategically attach this hammock to the existing cat tree rather than buying a whole new cat tree with hammock – a budget-friendly score!
The soft yet durable fabric of this cat hammock is reversible and waterproof and can be popped in the washing machine for freshening. You can choose between large and XL sizes.
2. Trixie Baza Cat Tree With Hammock
The Trixie Pet Products Baza Cat Tree.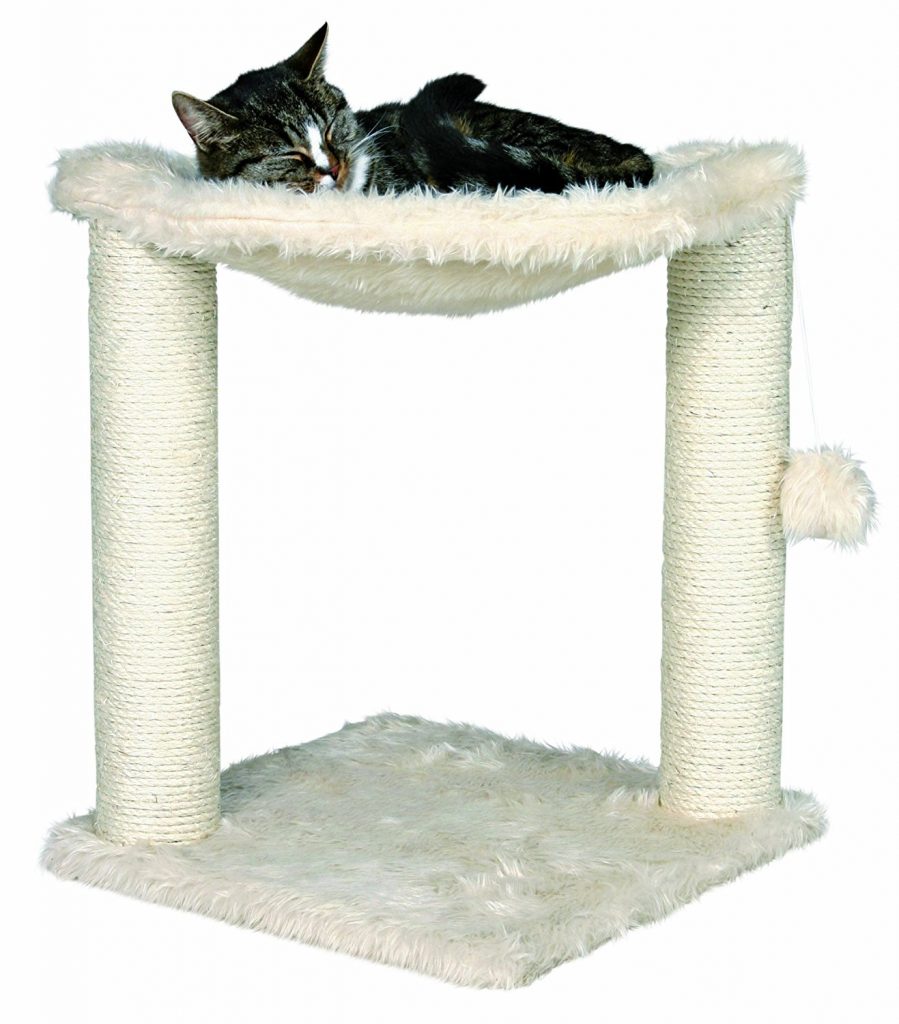 The Trixie Pet Products Baza cat tree has made 4,080 cat lovers happy enough to deliver 4.5 star ratings.
A single-tier soft and fluffy cat tree with a top level wire-reinforced hammock already installed. It is safe, durable, comfy and warm, with built-in double cat-scratch posts and a fun dangling pom-pom toy for some extra exertion and entertainment.
With a slightly higher elevation than the cat hammock featured previously here, you can encourage your ground dwelling kitties to venture a bit higher by bribing them with soft and comfy naps in the hammock.
You can choose from small, medium, large or XL sizes.
3. Party Saving Pet Palace Cat Tree Condo
The Party Saving Pet Palace Cat Tree Kitten Activity Tower Condo with Hammock, Deluxe Scratching Posts, and Rope.
4.5 star ratings from 52 happy customers can't steer us wrong, and this super-groovy deluxe cat tree with hammock offers sufficient variety to keep your cat reliably entertained on a daily basis.
In addition to three built-in flat layers, there is a hammock just under the first floor level for resting and relaxing. Kittens and full-grown cats alike will find lots to love about this posh pad.
4. Favorite Multi-Function Condo
The Favorite 57″ H 6-Tier Multi-function Condo Cat Activity Tree.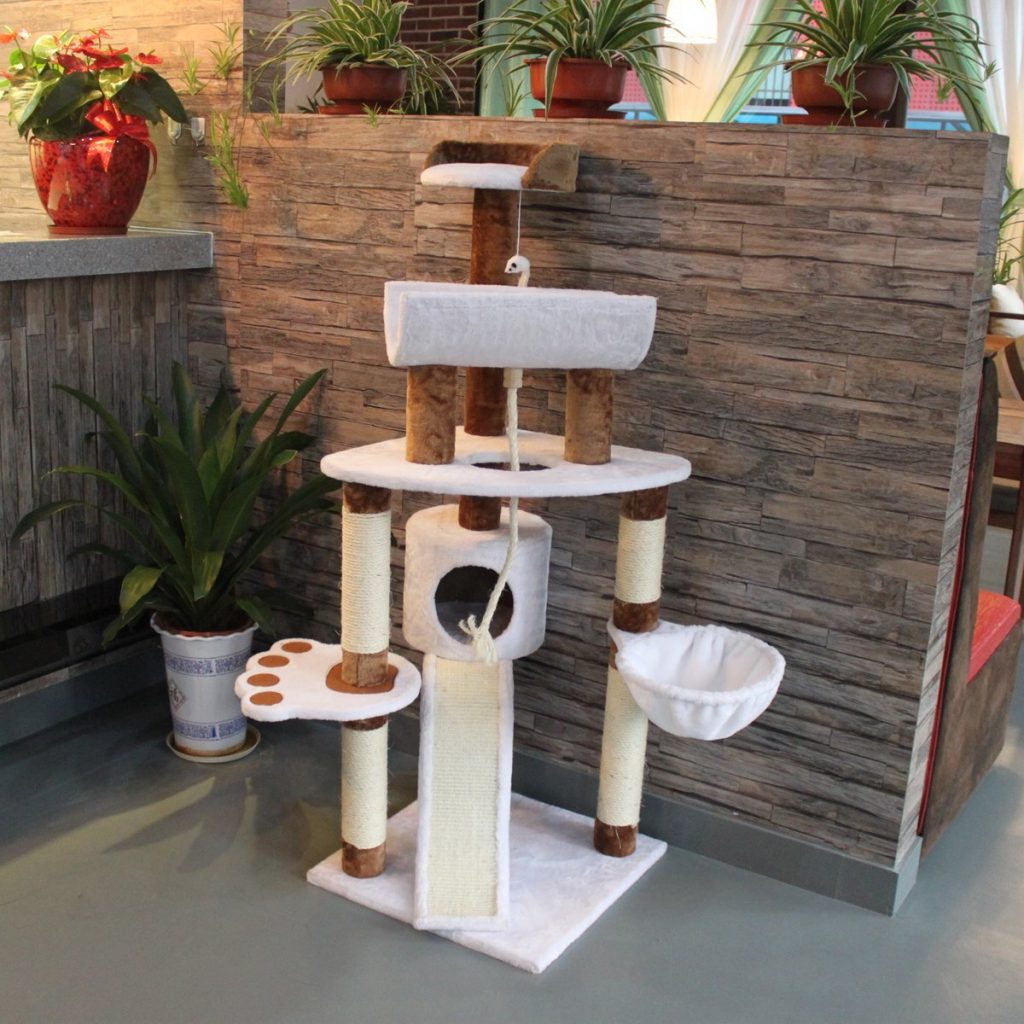 This eye-popping condo combo cat tree with double hammocks takes the cake (or the catnip, if you are a feline). With solid 4-star reviews from over 100 shoppers, the attractive combination of off-white sisal rope with natural wood posts makes it an eye-catching addition to any room.
The first hammock sits on the first level right next to the kitty slide! The second hammock is perched just under the third level nap pad. Finally, two full-size scratching posts can even accommodate a second feline with room to spare.
5. SongMics Cat Tree Condo With Scratch Posts
The SongMics Cat Tree Condo House with Sisal Scratch Posts Kitty Furniture Grey.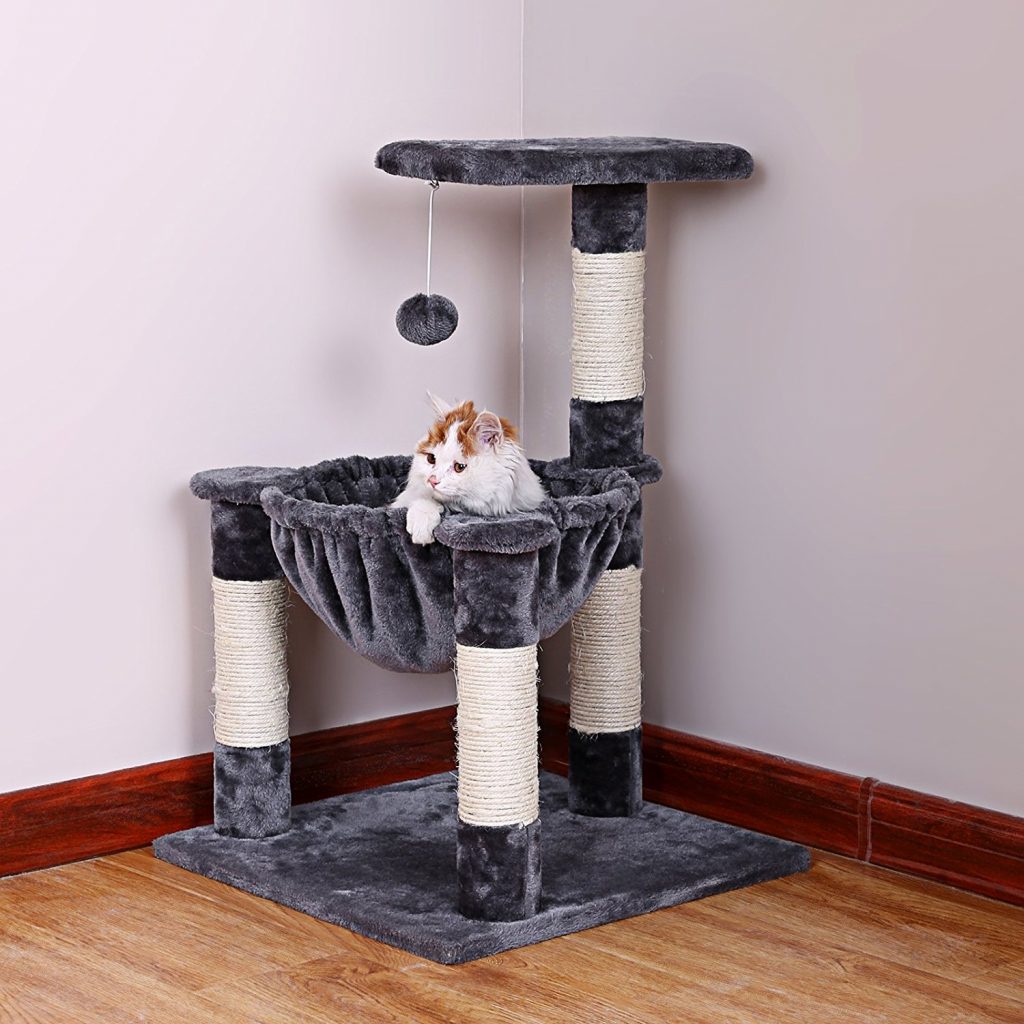 This adorable 4-star rated two-tier cat tree features a deep first-level hammock with a suspended pom-pom just above. Now your cat can nap, wake, play and nap again without even turning over!
With (count 'em) three full size scratching posts and a color scheme in attractive ivory with dark grey, this also isn't a cat tree you will struggle to integrate into your existing home décor.
6. Trixie Miguel Fold and Store Cat Tower
The Trixie Pet Products Miguel Fold and Store Cat Tower.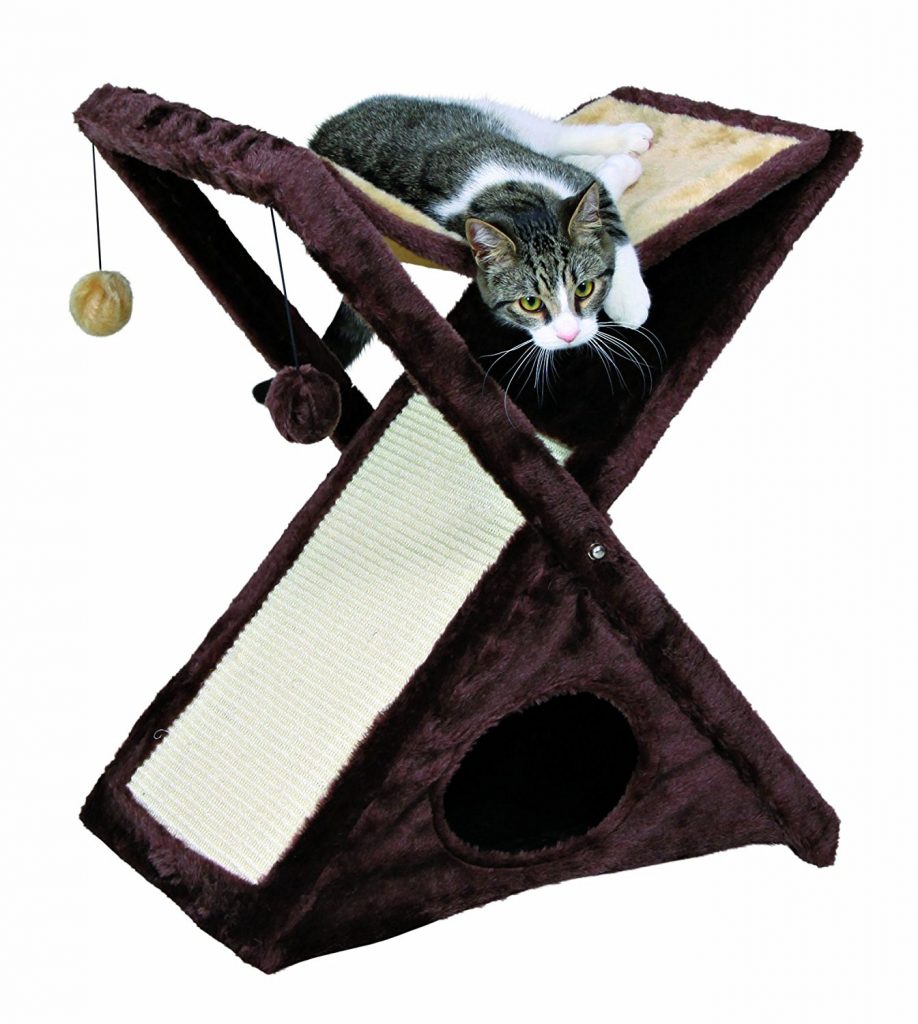 Another winner from Trixie Pet Products, this fold and store cat tower is the perfect addition to any small space and can also be easily folded and packed for travel.
More than 520 cat lovers to date have rated it 4 stars. From the photos, the cat hammock on the top level looks so comfy we want to try it ourselves! There is also a side angled cat scratch pad that offers a great place to scratch and stretch out fully in between naps.
You have a choice between two sizes and two color patterns: beige and brown or light grey and dark grey. If you prefer, there is also a box-style hammock cat tree that features a roomy yet hidden interior space with a hammock set-up up on top. Both look super comfy and cozy to us!
7. EliteField Cat Tree Condo House
The EliteField Cat Tree, Scratcher Furniture Condo House.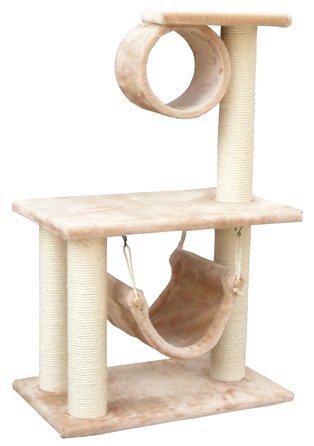 This 4-star rated faux fur light beige condo house comes with one of the most decadently luxurious cat hammocks we've seen yet. Even plus size felines will have room to spare when lounging in this hammock.
Featuring no less than three full-size sisal scratching posts plus three platforms and a cool and comfy standalone nap tube, this cat tree with hammock will give your kitty plenty of plush new hangouts to explore and enjoy.
8. Iris Cozy Cup Cat Tree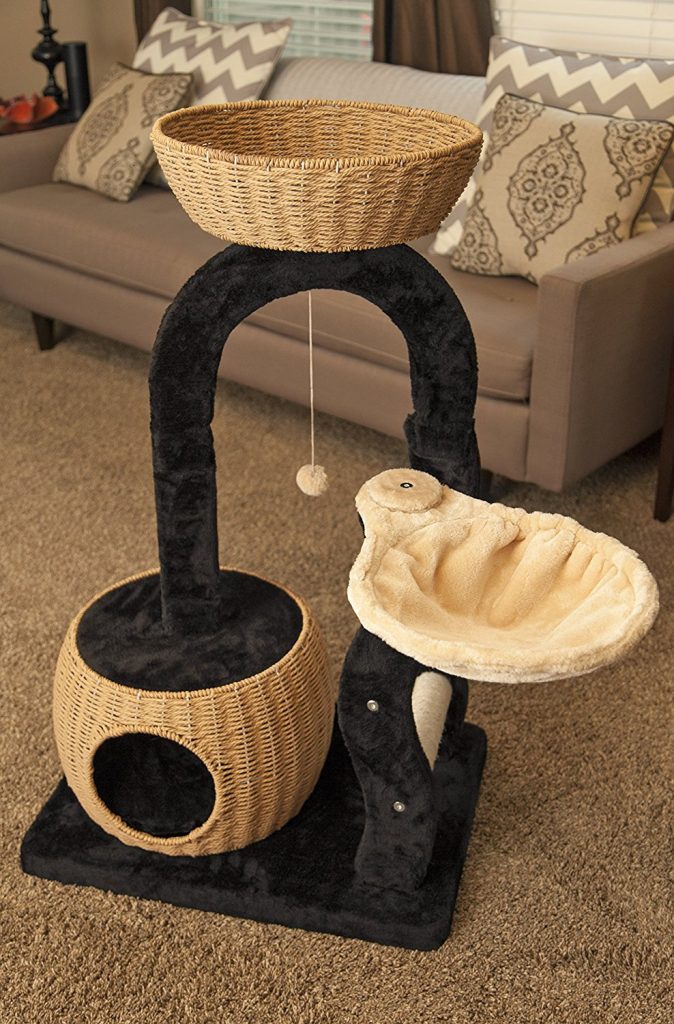 Rated a full 5 stars, this "cozy cup" is well named, because that is just what it looks like to us!
Plus, the faux fur dark grey covering and ivory sisal double scratch posts offer the perfect color and texture complement to the double wicker dens.
With an innovative three-tier design that incorporates a ground-floor wicker cube hideaway, a plush second-story fixed hammock and a sky-rise third-tier wicker napping ledge, there is plenty for a curious feline to explore and experience.
9. Rover Raised Cat Bunk Bed
The Rover Company Raised Cat Bunk Hammock Pet Bed.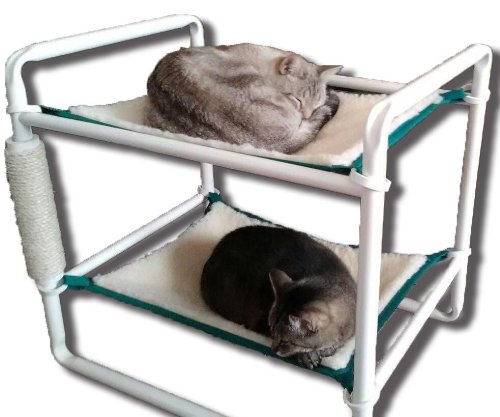 This 4-star rated modular cat bunk bed with double hammocks and sisal scratching post is like a bunk and a cat tree all in one. The modular bunk bed style makes it incredibly easy to reposition or even move from room to room with you.
And with the placement of the lower level scratching post, your cat doesn't even need to get out of bed to enjoy a good scratch!
Ample space between the two hammock levels can also easily accommodate a second kitty without sparking an indoor turf fuss.
10. CatastrophiCreations Multi-Level Hammock Lounger
The CatastrophiCreations Fabric Cat Maze – Multiple-level Hammock Lounger. Handcrafted Wall-mounted Cat Tree Shelves.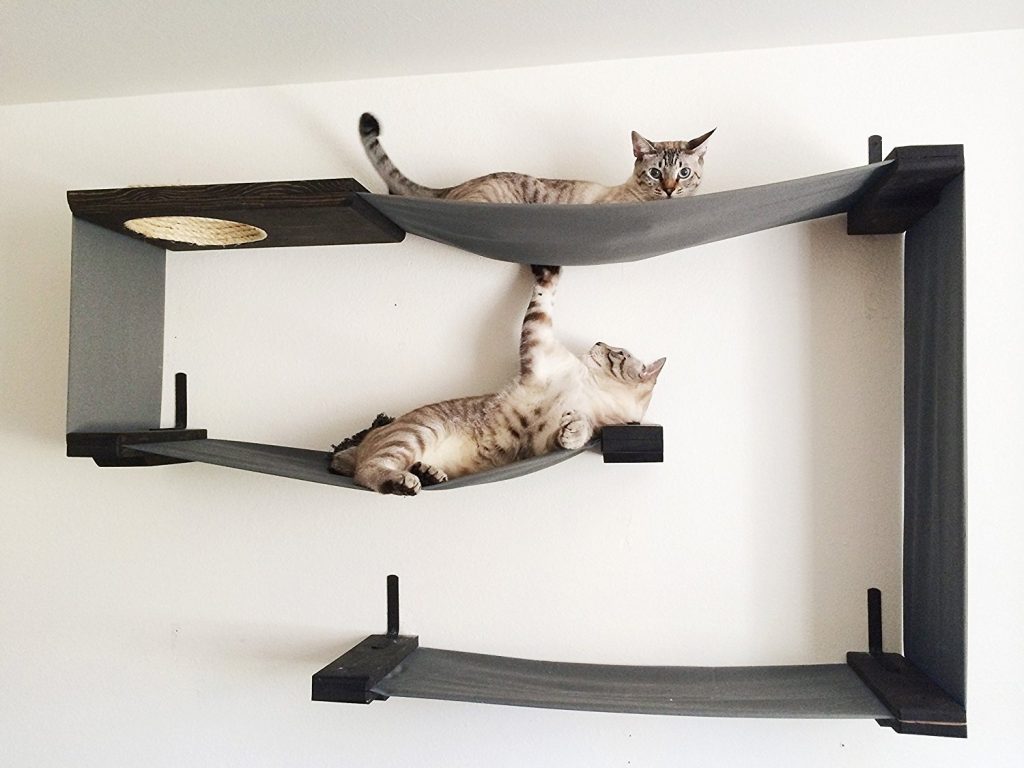 While undisputedly perched at the high end of the pricing spectrum, we simply can't leave out this 4.5 star-rated cat-tastic multi-level wall-mounted triple hammock lounging tree set – it is just too fantastic for words.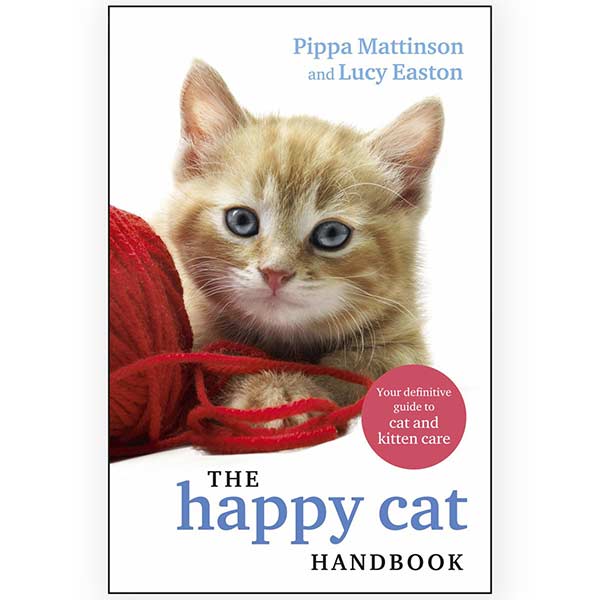 There are three layers of hammocks – bottom, middle and top – each offering a nicely wide and long lounging space with ample personal space in between each level.
You have a choice between two colors: onyx/charcoal or English chestnut/natural. The hammocks are weight-rated for up to 62 lbs. of feline and the tree system itself is weight-rated for up to 85 lbs. total.
Best of all, you get all your floor space back with this wall-mount cat tree hammock!
Will my kitty love a cat tree with hammock?
Most cats love cat trees with hammocks.
These are just 10 of our many favorite cat tree with hammock options out of so many that are available for purchase today.
Clearly, cat tree hammocks are here to stay, and they continue to rake in top votes from kitties and cat lovers alike!
If you have a favorite cat tree hammock your cat just loves, or you have made your own creative DIY cat tree with hammock, we sure would love to hear about it!
Feel free to post your favs and your stories in the comments section here for others to enjoy!
Free Updates For Cat Lovers!
Our cat care articles, tips and fun facts, delivered to your inbox
Your Amazing Cat!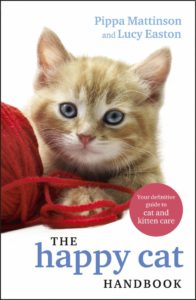 We are so excited to share our new book with you!
If you have enjoyed your visit to The Happy Cat Site we think you'll love The Happy Cat Handbook.
Written by the founders of this website including the author of the hugely successful Happy Puppy Handbook, it's packed with cat care information and fascinating cat facts.
Grab your copy today!
Free Updates For Cat Lovers!
Our cat care articles, tips and fun facts, delivered to your inbox