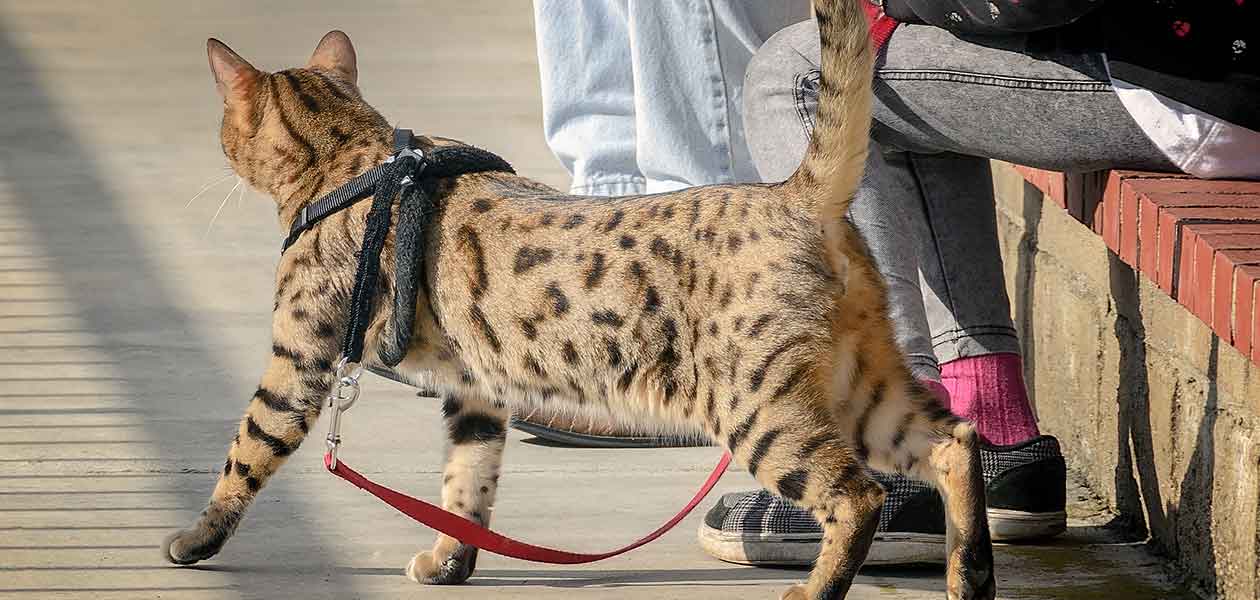 The Cheetoh cat is a relatively new cat breed with Ocicat and Bengal cat heritage.
Cheetoh cats are large and stocky with leopard-like spots or rosettes.
They are famously friendly, sociable and sweet natured.
Meet The Cheetoh Cat
Many of our readers have only recently discovered the Cheetoh cat breed.
Which is understandable, given it's short history.
Here are some of the most frequently asked questions about this new cat on the block.
And now, here are the answers – and a lot more information besides!
What Is A Cheetoh Cat And Where Did It Come From?
The Cheetoh cat breed started out as a hybrid of the Ocicat and Bengal cat breeds.
Ocicats themselves started out as a mixed breed cat – mostly using Siamese and Abyssinian breeding stock.
And Bengals famously started out life as a cross between domestic cats and Asian leopard cats – normally a wild species.
The first litter of Cheetohs was born in Arizona in 2003.
Their breeder, Carol Drymon, wanted to harness the best of both the Ocicat and Bengal breeds to create a new wild-looking spotted cat, without using further wild cat crosses.
Since then, her new breed has spread across the U.S. and over into Canada, the UK, New Zealand and Australia.
Are Cheetohs a pedigree cat?
Not yet.
Cheetoh cats are recognized as an experimental breed by The International Cat Association (TICA). The number of cats registered with them is small, but growing steadily year on year.
Since the breed is still in development, Cheetoh cats can still be first generation crosses of Bengals and Ocicats.
They can also be outcrossed to Bengal and Ocicats until the breed is established and the studbook closes.
This means that the appearance and temperament of Cheetoh cats is more variable than in cats from long established pedigrees.
Fun Facts About Cheetoh Cats
Cheetohs have one of the most memorable names of all time. It's a play on the word cheetah, and it makes you think of cheese snacks! Genius.
Despite being descended from Bengals and Ocicats, Cheetohs are bigger than either of them.
They're not the only member of the cat kingdom to sport this phenomenon: if a male lion mates with a female tiger, the offspring grows up to much larger than either.
What Does A Cheetoh Look Like?
Cheetoh cats give the impression of being scaled down wild cats which have just strolled in from the jungle.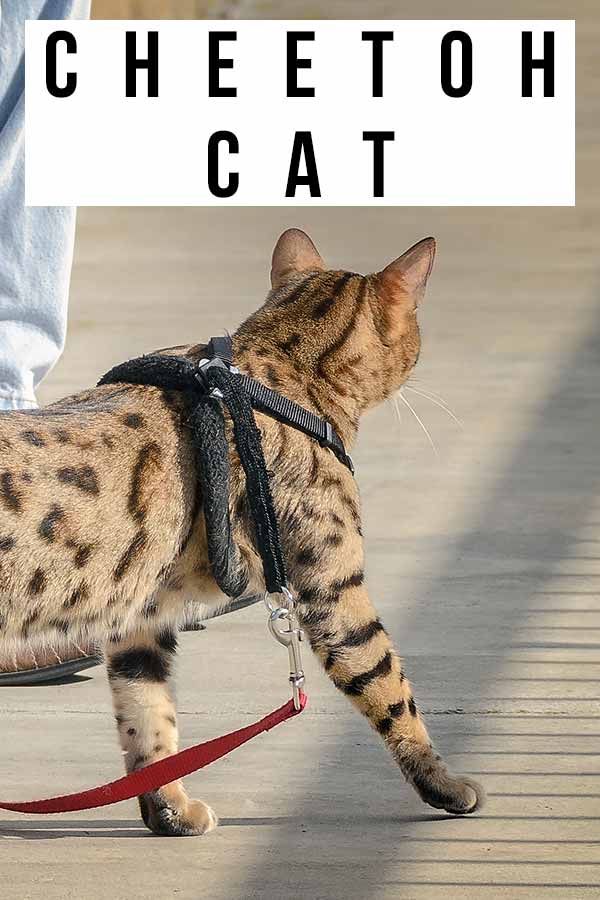 They usually have black spots or rosettes on a tan background. But less common colorways, including black and silver, and white with colored points are also permitted.
Their front legs are slightly shorter than their back legs, which gives them a distinctive low-shouldered swagger when they walk.
They are notable for having large eyes, and thick, soft coats.
How big do Cheetoh cats get?
Cheetohs are BIG cats.
Female Cheetohs weigh up to 15lbs and males can weigh up to 26lbs.
This is all the more remarkable since both Bengals and Ocicats both weigh around 9lbs on average, with some variation by sex.
In fact, Cheetohs are closer in size to the massive Maine Coon than either of their parent breeds.
Temperament
Cheetoh cats haven't been bred indiscriminately from just any Bengals and Ocicats.
Besides a refined look, Cheetoh breeders have also pursued a very distinctive personality.
These cats are very sociable, and bestow their affection willingly on a human family.
They shouldn't display any trace of aggressive behavior, and breeders report that even the males tend to and care for litters of Cheetoh kittens.
Cheetohs are clever, curious, enthusiastic puzzle solvers, and even receptive to training – traits they have inherited from their Bengal lineage especially.
Since Cheetohs are so fond of company and interaction, they do struggle with being left alone. So they're best suited to households with people around all day, or another friendly cat to keep them company.
Cheetoh Cat Care
This clever breed needs lots of enriching and stimulating things to keep them occupied at home especially if they're going to be kept indoors.
It will help to keep a large stock of interactive toys, but only have a few out at a time on rotation, so they keep their appeal.
A Cheetoh still has a little wild blood left in them, so they will also appreciate perches and towers to climb.
Like all cats they will also like to scratch, to maintain their claws, stretch their muscles, and leave visual markers around 'their' territory.
If you don't want them to take out their instincts your furniture, invest in several scratching posts instead!
A Cheetoh cat will mostly take care of their own grooming, but brushing their coat once a week with a slicker brush will help keep them in good condition.
Are Cheetoh cats hypoallergenic?
Cats are not generally hypoallergenic.
Human allergies to cats are triggered by proteins in their saliva.
So it doesn't matter if a cat doesn't shed, or even if they're hairless, they can still trigger a reaction in allergy sufferers.
Some breeders have reported that Cheetoh cats may be less allergenic than other cat breeds.
However, they are also frank that this is currently unproven.
At this stage, lesser reactions could simply be a fluke – allergic reactions are caused by complex underlying immunological processes, and sometimes people meet one cat they're not allergic to despite having been allergic to every one before that.
If you have allergies, the safest strategy is not to rehome any cat without spending some time with them first, to see how you react.
Health
Cheetohs' recent emergence onto the cat scene means that they are still very under-represented in veterinary research.
In fact, they're only just starting to appear in all-breed health studies.
But given their heritage, we can infer what problems they're most vulnerable to by looking at the health statistics of their parents.
Bengal cats are prone to:
heart disease, in particular hypertrophic cardiomyopathy
sight loss, specifically progressive retinal atrophy (PRA)
erythrocyte pyruvate kinase (PKD) deficiency, a form of anemia
and the joint disorders hip dysplasia and patella luxation (slipping kneecaps).
All of these have a hereditary component.
Breeding Cheetoh cats should be screened for the genes which cause hypertrophic cardiomyopathy, PRA, and PKD deficiency. If two cats are both carriers of the same disease-causing gene, they shouldn't mate.
There isn't a DNA test for hip dysplasia or patella luxation, but cats with symptoms should be excluded from breeding programs.
This is especially true of cats contributing to the Cheetoh breed, since joint problems tend to be more severe in larger breeds.
How long do Cheetoh cats live?
It's too soon in Cheetoh cat history to tell what their average life expectancy.
Domestic cats live, on average, into their mid-teens.
So it's possible that some of the very first litter of Cheetohs are still alive today!
We'll update this breed guide with information about the typical lifespan of this breed when it becomes available.
Rescuing A Cheetoh Cat
If everything you've read so far has been enough to convince you that a Cheetoh is the perfect cat for you, one option is looking for one to adopt.
Since there aren't many of this breed yet it's unlikely (but not impossible) that you'll find one at your local rescue shelter.
Bear in mind that not every Bengal x Ocicat cross is a Cheetoh cat. The founding felines of the Cheetoh breed were chosen from very specific breeding lines, and only kittens of approved ancestry are true Cheetoh cats.
However, whilst the founding breeders of Cheetoh cats work to establish their new pedigree, they are sometimes willing to part with retired breeding cats so that they can turn their focus to the next generation.
We'll show you where to find genuine Cheetoh cat breeders in the next section.
Finding a Cheetoh kitten
Wannabe cat parents can now find Cheetoh kittens for sale in the U.S, Canada, New Zealand, Australia and the UK.
Breed founder Carol Drymon is still responsible for stewarding the Cheetoh breed to full pedigree status, and has the authority to determine which litters are true Cheetoh kittens.
You can find details of approved breeders from The International Cheetoh Breeders Association.
Be prepared to register your interest and join a waiting list for future litters. You may have to be patient!
How much does a Cheetoh cat cost?
Cheetohs are still an uncommon breed, but the popularity of Bengals and Ocicats means that demand for this hybrid is growing fast.
This demand means the average Cheetoh cat price is higher than for many other breeds.
As a very rough guide, you can expect to pay in the region of $600-$800 for a Cheetoh kitten.
However since the pedigree is still being established, there is still variability in how closely new litters meet the Cheetoh ideal.
And this ought to be reflected in their price too.
Is A Cheetoh Cat Right For You?
Cheetohs' exciting ancestry – from the creme de la creme of two outstandingly popular breeds – means they're a sought after new breed.
They're a great match for people who want a truly interactive relationship with their new cat. Cheetohs demand love and attention, and return it in spades.
Whenever a new breed is being developed, their gene pool shrinks. So it's important to insist on a kitten from health screened parents to protect both their health, and the future health of the entire breed.
You might also have to wait awhile for a kitten to become available – but you'll be rewarded not just with a fantastic cat, but with the chance to play a small role in founding a whole pedigree!
Do You Already Own A Cheetoh Cat?
Please tell us about them in the comments box down below!
References And Resources
The International Cheetoh Breeders Association
The International Cat Breeders Association
National Breed Standards. Australian National Cats Inc. 2019.
Hedgespeth et al. Association of fecal sample collection technique and treatment history with Tritrichomonas foetus polymerase chain reaction test results in 1717 cats. Journal of the American Veterinary Medical Association. 2020.