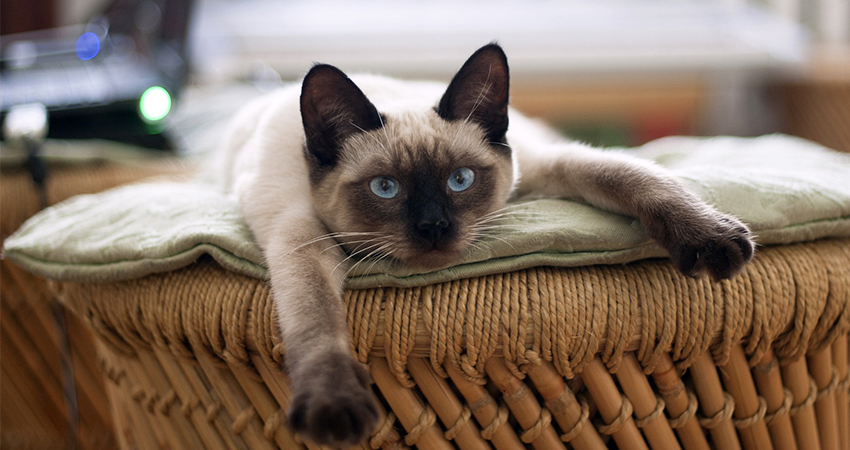 Siamese cats have pointed markings, large ears, oval eyes and slim, long legs.
These vocal cats are intelligent, curious and very affectionate too.
Siamese cats have an almost regal look. A wedge shaped head, straight profile and a graceful, long thin neck.
This gorgeous, distinctive cat with their loud meow has numerous admirers around the world.
Siamese Cat History
Siamese cats were first imported from Thailand in the 1800's.
They get their name from this location, as Thailand was at that point known as 'Siam'.
It is thought that these distinctive cats were the descendants of an ancient cat found in the temples of Siam.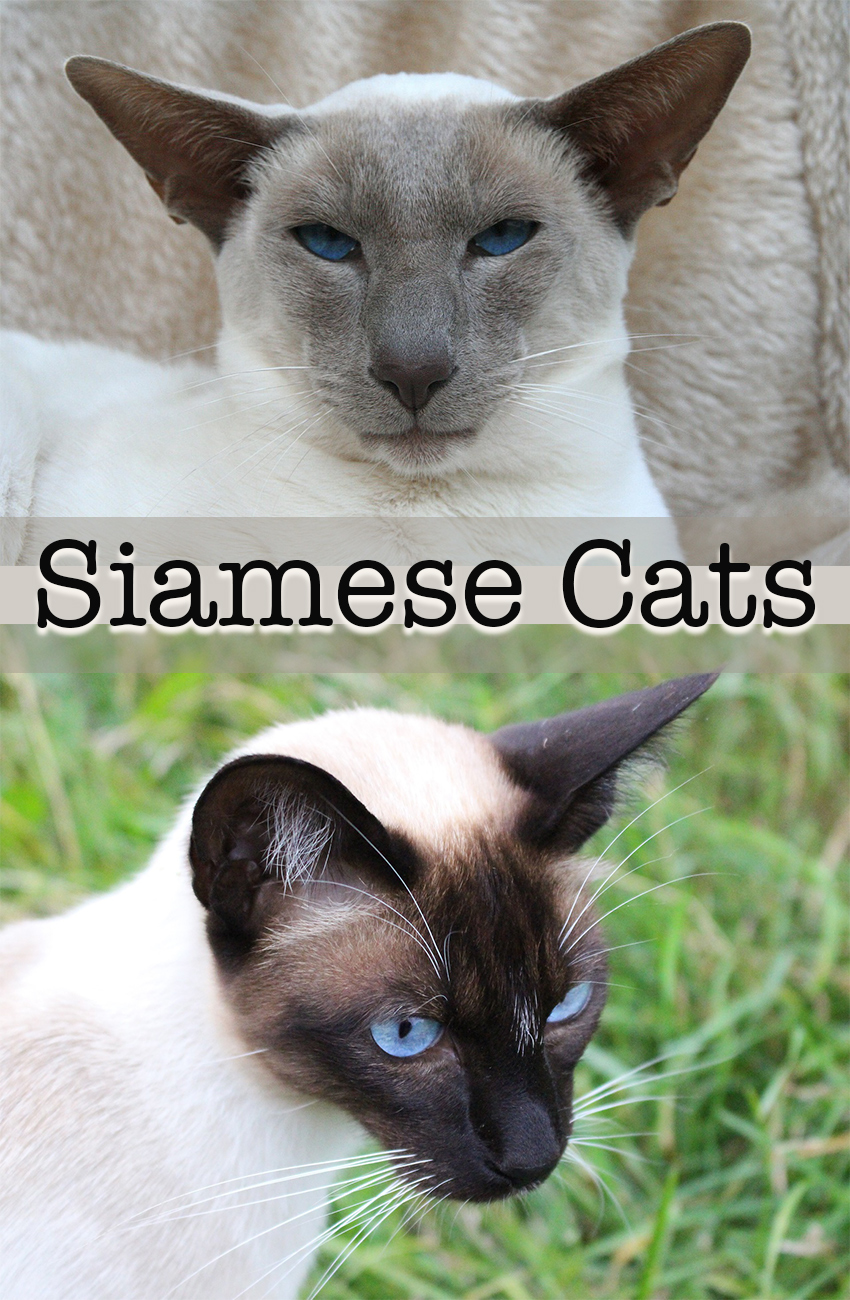 There are illustrations and descriptions of similar looking cats found in Thai literature for hundreds of years.
The first recorded Siamese cats in the US were gifted by the Bangkok Consul to the wife of US President Rutherford Hayes in the late 1880's.
Going Global
The first in the UK were brought in just a few years later, also as gifts from Bangkok.
These gorgeous cats were quickly seen at cats shows throughout America, Europe and Asia too.
They were first recognised by the Cat Fanciers' Association in 1906.
Siamese Cat Personality
Siamese cat personality is a large part of their appeal for most owners.
At times it's fair to describe a Siamese as demanding.
This loyal feline won't want to spend much time alone, but will delight in following you around the house. Making his presence felt.
Although Siamese cats often love to cuddle up in your lap in the evening, they are also very playful.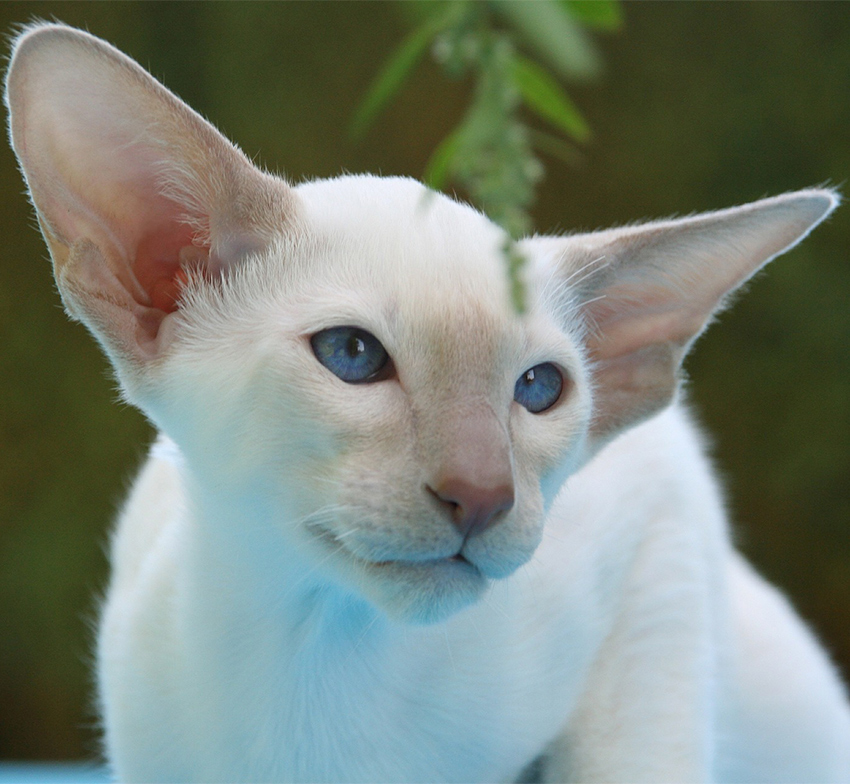 You can teach a Siamese cat to come when called and even to play fetch.
These clever and interactive felines need to be kept busy.
What they Need
Scratching posts and plenty of cat toys are essential, with puzzle toys a good choice for keeping them busy.
This social, good natured cat does best when paid lots of attention.
The down side of this is that they therefore are not ideal for someone working long days all week.
They can be destructive if given too much time alone.
Siamese Cat Noise
Siamese cats are seriously chatty. Famed for their frequent and distinctive noises.
Sometimes it really does feel like they are trying to start a conversation.
They are an incredibly vocal breed, who seem intent upon trying to communicate with their family.
Siamese use body language and their low, deep tones to vocalise at every opportunity.
This isn't a breed for someone who likes peace and quiet. But they are great if you like to hear your pet around a lot of the time.
Siamese Cat Characteristics
Siamese cat ears are very distinctive. They are large ears, with wide bases and pointed tips.
Their long body and legs, join onto a muscular torso.
They also have a long, thin tail that slims to a point at the end.
These are perfectly completed with large deep blue, almond-shaped slanted eyes.
The over-all appearance of a Siamese cat gives the impression of athleticism and graceful agility.
Siamese Cat Size
An adult Siamese cat will weigh around 12 lbs. With males being slightly heavier and females slightly lighter.
Siamese Cat Colors
Siamese cats are known for their distinctive point markings, with pale bodies and dark faces, legs, tails and ears.
There are four official potential Siamese cat colors:
Seal Point
Chocolate Point
Lilac Point
The Seal point has a fawn body and very dark brown markings.
Chocolate point has a cream body and pale brown markings.
Lilac point has pinky grey markings and a white body.
Blue point has white body and grey markings, with a blue hint to the color.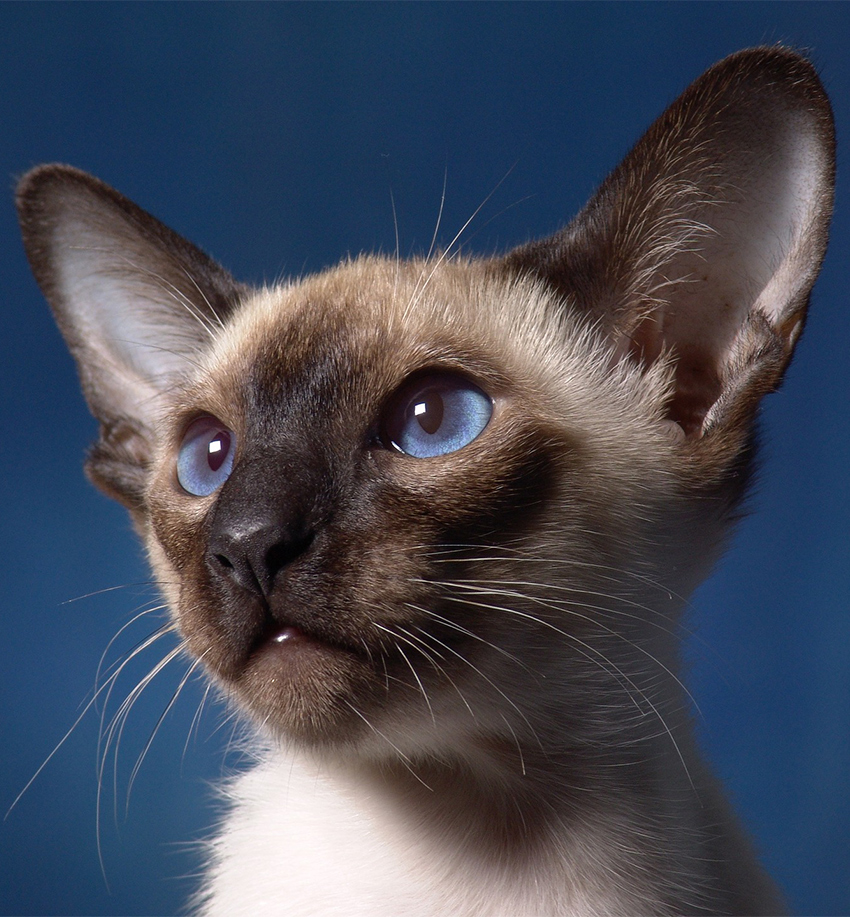 Genetics of Their Markings
Siamese cats have these distinctive markings because of the Himalayan gene, which controls body pigmentation.
In order for this gene to express both parents must be Siamese, because it's recessive.
Needing two copies to have the trait shown.
There are other potential Siamese colors now being bred, which include:
Cream Point Siamese Cats
Particolor Point Siamese Cats
Silver Tabby Point Siamese Cats
Smoke Point Siamese Cats
These colors are fun to look into, but they don't make any difference to your cat's care.
Siamese Cat Care
Siamese cat care is nice and straight forward.
This structurally sound breed has been bred to have nice open ears and nostrils, and should maintain good dental health.
You can feed them on any good quality cat food, although specialist Siamese cat foods are available too. 
They have low maintenance coats and require minimum grooming.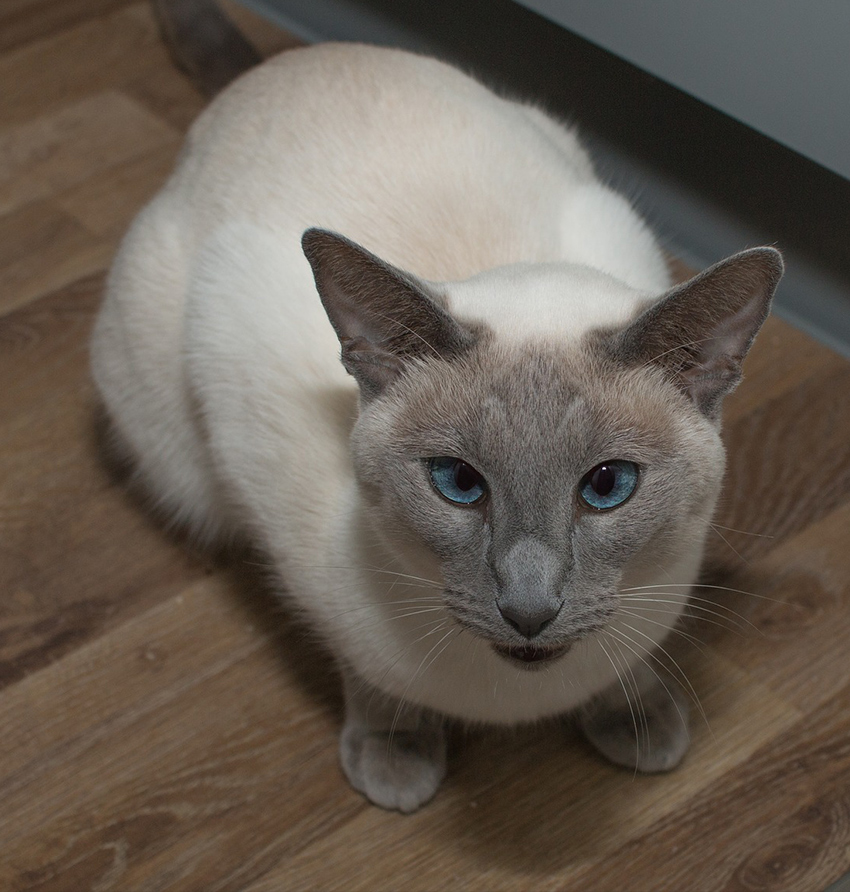 Siamese Cat Grooming
Siamese cat grooming is quick and simple.
They have short, practical coats which shouldn't need more than a weekly brush.
If you get your Siamese cat used to being brushed from kitten-hood this should be an enjoyable bonding time rather than a chore.
Siamese Cat Health
As a pedigree breed, Siamese cats are more prone to some diseases than your average moggy.
Some conditions you will need to be aware of potentially affecting your new friend include.
Respiratory Problems
Siamese cats are more prone to respiratory problems than other breeds, especially when young.
Problems such as coughing, lower airway disease, feline asthma and bronchial disease are associated with Siamese cats.
Heart Disease
Siamese cats are prone to a form of heart disease called hypertrophic cardiomyopathy.
There is no cure for this disorder, but medication can help to reduce symptoms.
Aortic Stenosis has also been flagged as a potential risk for some Siamese cats.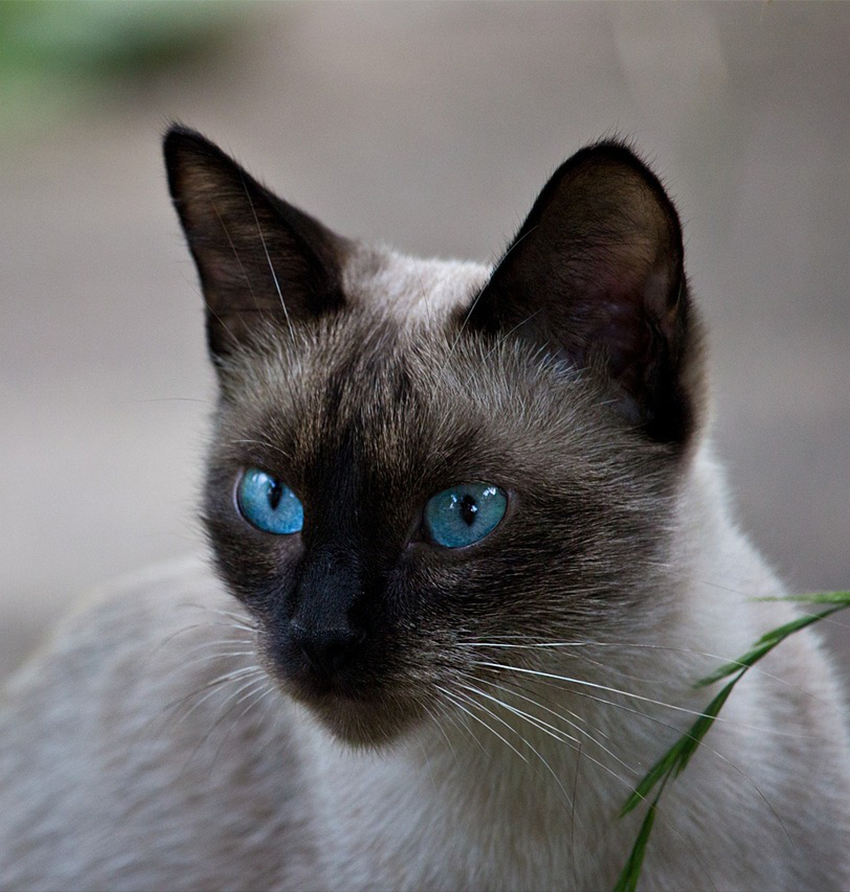 Progressive Retinal Atrophy (PRA)
PRA blindness is a problem in numerous pedigree animals with a limited gene pool.
This issue was a major concern for Siamese cats at one point, but through health screening breeders are working to reduce this risk.
You must still ensure that your new kitten's parents have both been PRA tested.
Liver Disease & Pancreatitis
Siamese cats are prone to liver disease and to pancreatitis.
Siamese Cat Cancer
Sadly, Siamese cats are more prone to some forms of cancer than other cats.
If you are looking for a Siamese kitten, choosing a breeder who has no history of cancer in their lines.
One whose cats live long lives and whose parents are a little older will help you to reduce this risk.
Siamese Cat Squints
Siamese cats used to be commonly cross-eyed.
Though this has largely been bred out of them, it can still occur from time to time.
This won't affect your cat's health in any way, just give him the appearance of squinting.
Healthy Siamese Cats
Although there are a fair few conditions listed above, Siamese cats are generally healthy for a pedigree breed.
The important thing to do is to make a note of all of these potential conditions and to ask your new kitten's breeder in detail about their family history.
Good breeders will be happy to reassure you and address any concerns that you may have.
If they seem evasive or unhappy with your questions, then find another Siamese breeder.
How Long Do Siamese Cats Live?
Siamese cats are generally expected to have a good lifespan, with many living into their mid to late teens.
Siamese Cat Breeders
There are a lot of different Siamese cat breeders around to choose from.
The best one for you will depend upon why you want a Siamese cat.
If you are looking to start showing, then you will need to approach a show breeder.
One who can provide you with the appropriate paperwork and let you know which kitten is most likely to be successful.
These kittens will be harder to come by and be more expensive.
You will probably need to demonstrate to the breeder that you have a genuine interest in promoting their line of cats.
Just Looking for a Family Pet?
If you are simply looking for a loving family pet, then your options will be broader.
You won't necessarily need a kitten to come with paperwork, or be specific approved colors.
Whatever the reason you are looking for a Siamese Cat you must however narrow your search to breeders who have health as a priority.
The kitten's parents should be health tested, and if your kitten comes home at twelve weeks or later then he should have already had his first vaccination.
Ask the breeder about the history of heart disease in their lines, and walk away if there is any doubt about their health.
Siamese Cat Price
Siamese cat price varies depending upon where you are based, and whether or not the kitten is considered to be show quality.
How much are Siamese Kittens?
In the USA Siamese kitten cost is usually between $400 and $700.
In the UK Siamese kitten prices range from around £350 to £600.
Is A Siamese Cat Right For You?
If you are looking for an active, fun feline then a Siamese cat could be the right choice for you.
Make sure that you are happy for a vocal cat, who will want to spend a lot of time together. This breed is not ideal if you work full time or are away from home a lot.
However, if you want a playful companion who will have fun with you during the day and curl up on your lap in the evening, then a Siamese cat is a great choice.