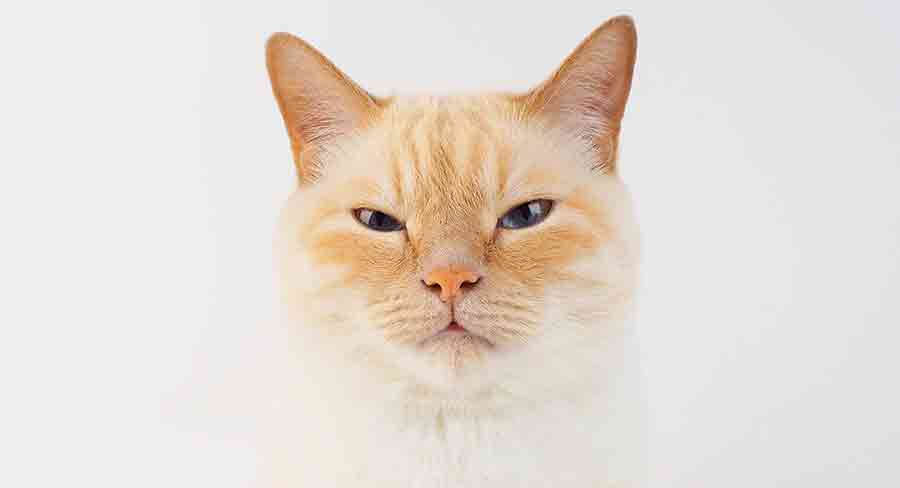 Have you seen a cream point cat advertised for rescue or sale? This guide explains how cats get their cream points. It looks at what you can expect from cream pointed cats, and helps you decide if one is right for you.
A cream point cat has a form of temperature sensitive albinism, which means the coldest parts of their body have the darkest fur. Several breeds of cat can have cream point coloring, and the other details of their appearance, temperament, health and care depend upon which breed they belong to.
Contents
What are points?
Let's talk about points! A cat's points are their paws, muzzle, ears and tail. Cream point cats have very pale cream fur over most of their body, and light buff fur at their points.The cream colorpoint pattern is very ethereal and beautiful. They always get lots of compliments!
Cream point cat genetics
Cream color points are caused by very low densities of the red pigment pheomelanin. The distribution of pigment mainly at the cat's points is caused by a fascinating type of albinism called temperature sensitive albinism. In cats with temperature sensitive albinism, the lower the surface temperature of the skin is, the more pigment is produced. Cats' surface temperature is lowest around their muzzle, ears, paws and tail, so colorpoint cats produce the most pigment in these places.
There are two genes which cause temperature sensitive albinism – the Siamese colorpoint gene (which is abbreviated to Cs) and the Burmese colorpoint gene (which is abbreviated to Cb). Cats only have a colorpoint coat when they inherit colorpoint genes from both of their parents.
If they inherit the Cs gene from both parents, they develop high contrast, Siamese type color points.
If they inherit the Cb gene from both parents, they develop low contrast, Burmese type color points.
And if they inherit the Cs gene from one parent and the Cb gene from the other, they develop medium contrast points, also known as Tonkinese type.
Some cats even have mottled blue and cream points. A blue cream point cat also has patches of very dilute black pigment – in effect, their points have a washed out tortoiseshell pattern in them. Since tortoiseshell patterning is sex-linked, the vast majority of blue cream point cats are female. And regular cream point cats are somewhat more likely to be male.
Cream point cat appearance
A cream point cat's appearance changes over their lifetime. Pointed cats are born white all over, and remain white for about the first week of their lives. After that, their points gradually start to darken over several weeks, until they reach their final intensity. Since the intensity of pigment in their coat depends upon their surface temperature, some colorpoint cats get perceptibly darker in winter and lighter in summer. And most colorpoint cats also start to get darker shading over their whole body as they enter their senior years, because their body temperature naturally cools down as they age.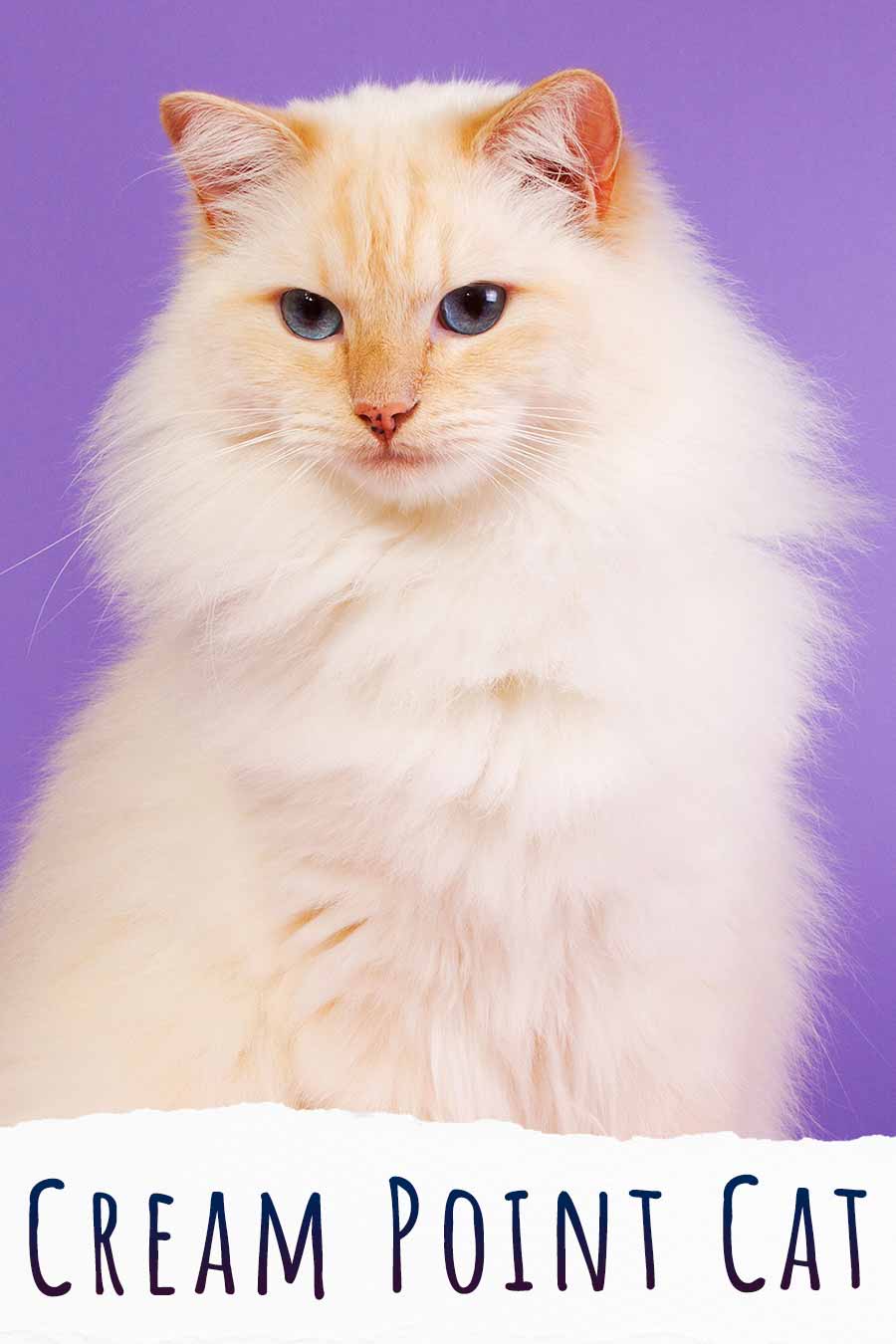 There are longhair and shorthair cat breeds with color point coats, and qualities like their overall size and shape will depend upon what breed they belong to. Regardless of breed, cats with cream color points have pale pink or coral colored noses, and blue eyes.
Cream point cat temperament
The genes which produce cream points aren't known to be linked to any distinct personality traits or behaviors. So there isn't a fixed 'cream point personality' which is inherited hand in hand with the coat pattern.
A cream point cat's temperament will be determined by things like their breed, and how much they were handled and socialized to new experiences as a kitten.
Cream point cat breeds
Now let's take a look at the cat breeds which can inherit a dreamy cream point coat.
Cream point Siamese
The cream point breed our readers most often ask about, is unfortunately one which doesn't exist! There is lots of interest in cream point Siamese cats, but the only colors officially accepted by the Siamese cat breed standard are
seal point
chocolate point
blue point
and lilac point.
So, the closest approximation to a cream point Siamese is a cream Colorpoint Shorthair.
Cream Colorpoint Shorthair
Colorpoint Shorthairs are very similar to Siamese cats, but without the restrictions on what colors of points they can have. They have lots of Siamese ancestry, so their personality is very similar to that of a Siamese – clever, vocal, and sociable. Colorpoint Shorthairs can be taught lots of games and tricks, and love to spend time with their people. So much so that they may struggle with being left alone, so they're best suited to households where someone is home all day, unless you can get two to keep each other company.
Cream point Persian cat
The next most sought after cream point cat is the cream point Persian. And this time, they do exist! Well, they practically always exist. The Cat Fancier's Association, which is the USA's largest pedigree cat registry recognizes cats with a Persian pedigree and cream points. However, The International Cat Association, which is slightly smaller but operates internationally, records all colorpoint Persians as a distinct breed in their own right, called Himalayans. Fundamentally though, cream point Persian cats and cream point Himalayan cats are the same thing.
Cream point Persian cats weigh 7 to 12 pounds. They are famously sweet and affectionate with their human family, and love company and cuddles. Their long coat requires daily brushing to avoid painful mats and tangles. Unfortunately, Persians have been bred to be increasingly flat faced in recent years, and this has triggered widespread health problems in the breed. They are also more than averagely prone to kidney disease.
Cream point Birman cat
If the Persian is too flat faced and fluffy for you, and the Siamese too lean, then a cream point Birman might be exactly the compromise you'll fall in love with. Birmans are medium-sized cats with medium length silky fur. Birman temperament is affectionate and curious, but not as vocal as the chatty Siamese.
As a breed they nearly went extinct during World War 2. So all modern Birmans are the direct ancestors of one remaining breeding pair, plus contributions from Siamese and Persian cats. Owing to this history, Birman's have very low genetic diversity, and increase prevalence of heart diseases, kidney disease and epilepsy. So it's import to find a cream point Birman kitten from a responsible breeder who health tests their breeding cats.
Is a cream point cat right for you?
Anyone can appreciate the unusual beauty of a cream point cat, but not everyone can provide the ideal home for one. All of the breeds which can have cream points are people-centric and sociable. So they need a household where they will receive lots of attention and interaction. Alternatively, bring one home with a sibling, so that they have a friend for company.
Lots of cream point cats have long or medium-long hair. They need regular help with grooming to prevent mats from forming in hard to reach areas.
Would-be cream point cat owners also have to be patient. It's an unusual coat type, which means relatively few kittens inherit it each year. Furthermore, around three quarters of cats which only produce red based pigment, including cream point cats, are male. So if you'd prefer a female cat, you'll need to me even more patient. However, we think the rewards of waking up to one of these beauties every morning would make it worthwhile!
You might also enjoy reading
To help you with your decision making, you might also enjoy the following articles:
Do you already have a cream point cat?
We'd love to hear about them in the comments section down below!
References
Birman Breed Standard. Cat Fanciers' Association. 2014.
Hartwell. Color and Pattern Chart. Messy Beast. Accessed October 2021.
Lipinski. The Ascent of Cat Breeds: Genetic Evaluations of Breeds and Worldwide Random Bred Populations. Genomic. 2008.
Lyons et al. Tyrosinase mutations associated with Siamese and Burmese patterns in the domestic cat. Animal Genetics. 2005.
O'Neill et al. Persian cats under first opinion veterinary care in the UK: demography, mortality and disorders. Scientific Reports. 2019.
Persian Breed Group Standard. The International Cat Association. 2004.
Persian Breed Standard. Cat Fanciers Association. 2020.
Siamese Breed Standard. Cat Fanciers Association. 2015.