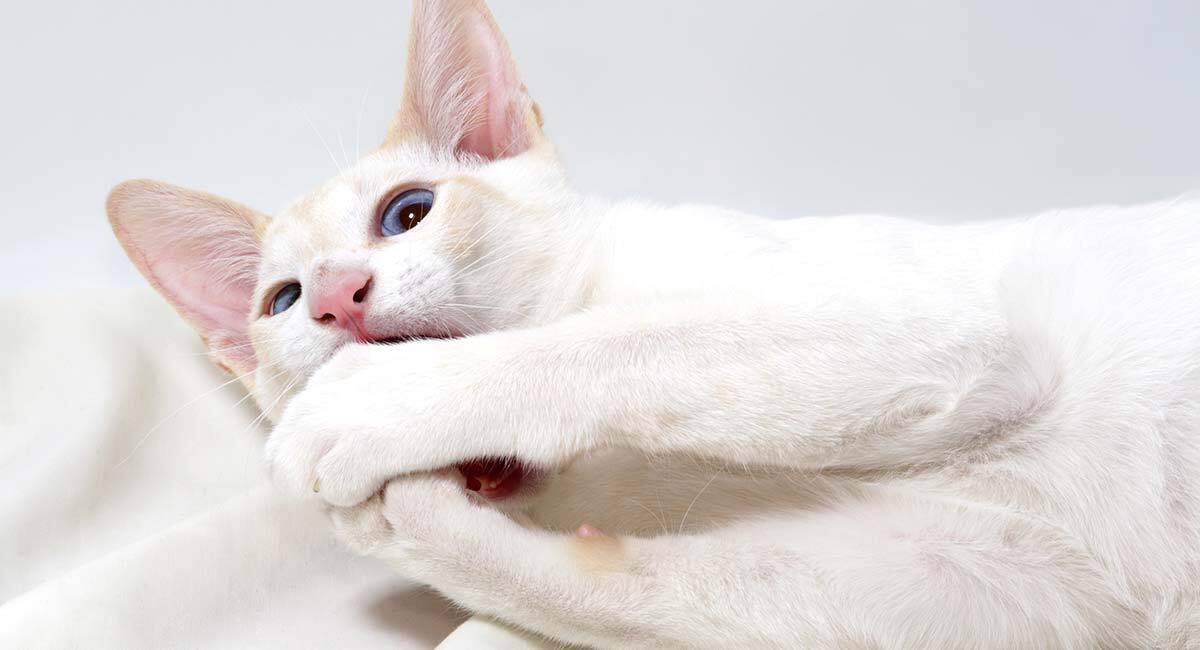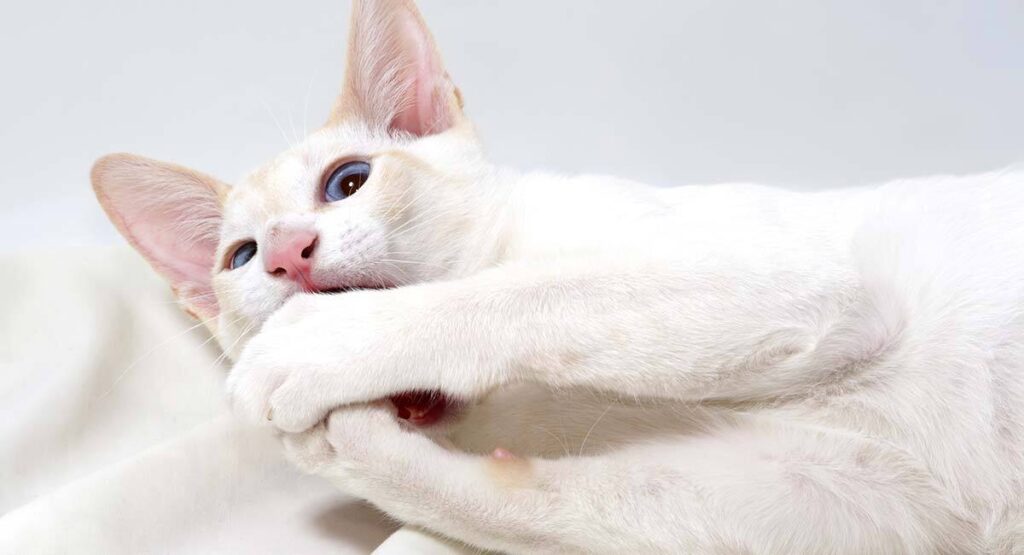 Flame point Siamese cats have a cream base color and orange tabby points on their nose, ears, feet and tail. They are social, affectionate, curious, and very vocal. These cats are also known as red point or red lynx point Siamese. They were created by crossing the better-known traditional Siamese cat colors with orange tabby cats from other short coated breeds. Those kittens were then bred back to traditional Siamese cats. So, new lineages arose with many Siamese qualities, and orange tabby points.
Contents
Does The Flame Point Siamese Cat Actually Exist?
Because there are orange tabby cats in the family tree, the exact status of flamepoint Siamese cats isn't universally agreed upon. And some people in the cat community don't accept that they are Siamese cats at all.
In the United States the main cat breed registry – the Cat Fanciers' Association (CFA) – only recognises Siamese cats with seal, blue, chocolate, or lilac points. Instead of recognizing flame point Siamese cats, the CFA accepts another breed onto their registry – the Colorpoint Shorthair. A cat identical to the Siamese but with colors that include red or apricot flame points.
However, the International Cat Association does accept flame point cats onto their Siamese register. So, the breed status of your flame point cat depends upon where you live and which breed registry you're affiliated to!
Are Flame Point Siamese Cats Rare?
Depending where you live, flame point Siamese cats are somewhere between "somewhat rare" and "nonexistent due to registration rules". Where they are accepted as a possible Siamese color, they are still somewhat rare, because the traditional colors remain more popular and sought after.
But, besides flame point pedigree cats, there are lots of kittens still being born from accidental (or deliberate) matings between cats of different breeds, mixed breeds, or unknown ancestry. In the UK for example, over 92% of all cats are thought to be mixed breed. Less than 1% are purebred Siamese. So it's quite possibly more likely that you'll meet a mixed breed cat with flame point coloring than a purebred cat!
What Do They Look Like?
Cats described as flame point Siamese have a typically Siamese silhouette, and a short cream coat with red points covering their muzzle, ears, legs and tail. The exact hue of their points can vary from golden apricot to deep copper. There are usually visible stripes of darker color within it.
Due to a quirk of how red pigment is inherited by cats, around three quarters of flamepoint Siamese cats are male. You can see a beautiful example of a cat which matches that description in the picture below.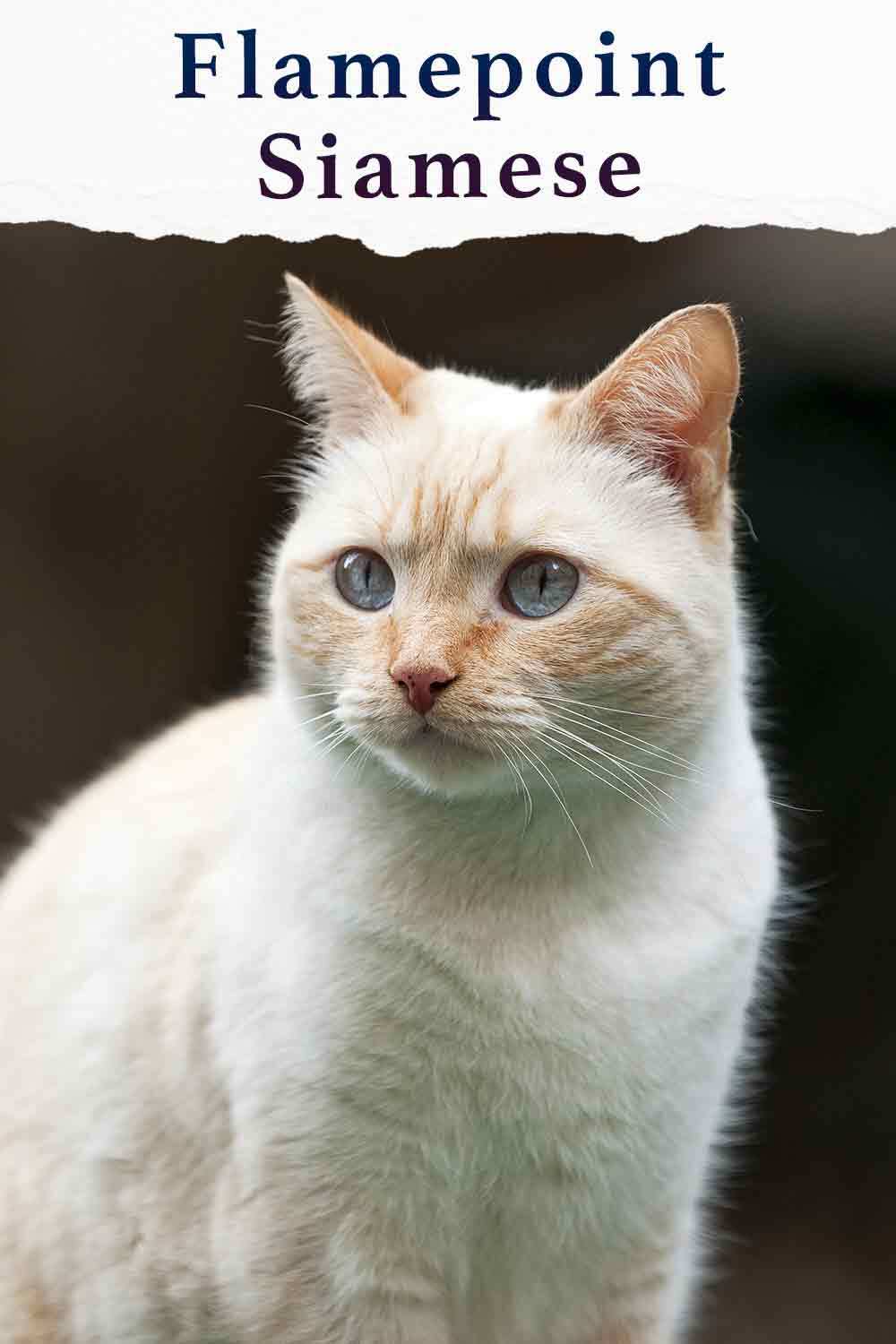 How Big Do Flame Point Siamese Get?
Siamese cats are long, but slender. They typically weigh less than 8lbs. As you would expect, Colorpoint Shorthairs are very similar in shape and size. But the weight range of the typical male extends a bit higher. Up to around 12lbs.
Mixed breed flame point cats can be much more variable in size. Their adult weight will depend upon factors like their sex, and their ancestry.
Are They Friendly Cats?
Siamese cats are famously chatty, curious, and sociable. They live for interaction and engagement, and follow their owners round making a lot of noise. If they're allowed to roam outside, they might also try visiting the homes of your neighbors in search of attention too!
They don't cope well with being left alone for long periods however, and they can resort to destructive behaviors around the house, or hair pulling as a displacement activity. Flame point Siamese cats are likely to share these traits. Colorpoint Shorthairs in particular are often described as being very like Siamese.
Are Flame Point Siameses Good Pets?
You don't have to look far online to find lots of happy cat owners who are besotted by these felines. These affectionate, social cats are a good match for homes where one or two people have a lot of time to interact with them. For example, with retired couples. Or families, where everyone between them has a lot of time to play games and dispense cuddles.
Purebred Siamese cats are prone to a number of genetic diseases. But red Colorpoint Cats are less so, and mixed breed cats with flame points are even less so again. So, they have lots of potential to be wonderful pets in the right home.
Flame Point Siamese Health Issues
Whether your flame point Siamese-looking cat can be officially registered as a Siamese or not, they likely have a large amount of Siamese heritage. And this is likely to be reflected in their overall health.
Siamese cats are prone to heart disease, respiratory disease, problems with their eyesight, and kidney failure. Colorpoint cats are prone to most of the same kinds of inherited diseases as the Siamese cats, since they have a lot of Siamese ancestry. But there's evidence that those diseases actually materialise less often, since they benefit from a wider genepool due to outcrossing.
Special Care Requirements
Since they have short coats, these cats need very little grooming. But, it's still a good idea to get them used to being handled, touched all over, and having their ears, eyes and mouth examined from a young age. This will make veterinary check ups less stressful for them in future.
Taking a close looks at their physical condition at home every week means you'll spot the early symptoms of illness quicker too. Like most cats, flame point Siamese – whatever their ancestry – love playing with toys, climbing, and interacting with their family. And of course, they benefit from a high quality, nutritionally complete diet.
Are Flame Point Siameses Hypoallergenic?
For some people, their dream cat is one which doesn't aggravate their allergies. Sadly, no cat breed is truly hypoallergenic, since all feline produce allergens in their saliva.
Their saliva coats their fur when they wash themselves, and the allergens become airborne as the saliva dries. So, flame point Siamese cats are not hypoallergenic. But some people with allergies might react less severely to them because their fur is short and fine. So, it may require less licking to keep clean.
Breeders and Kittens
Purebred flame point kittens – either Siamese or Colorpoint Shorthair – can be expensive. This is because their coloring is uncommon. The exact cost will depend upon where you are, whether anyone else is breeding flame point cats locally, whether the kittens' parents hold any show titles, etc.
But, don't let a breeder convince you that the only way to get a flamepoint cat is by paying a lot of money. As we've seen, mixed breed kittens and rescue cats can also have beautiful flame points. And since they all have some Siamese ancestry, they are likely to have more than just their pattern in common with Siamese cats.