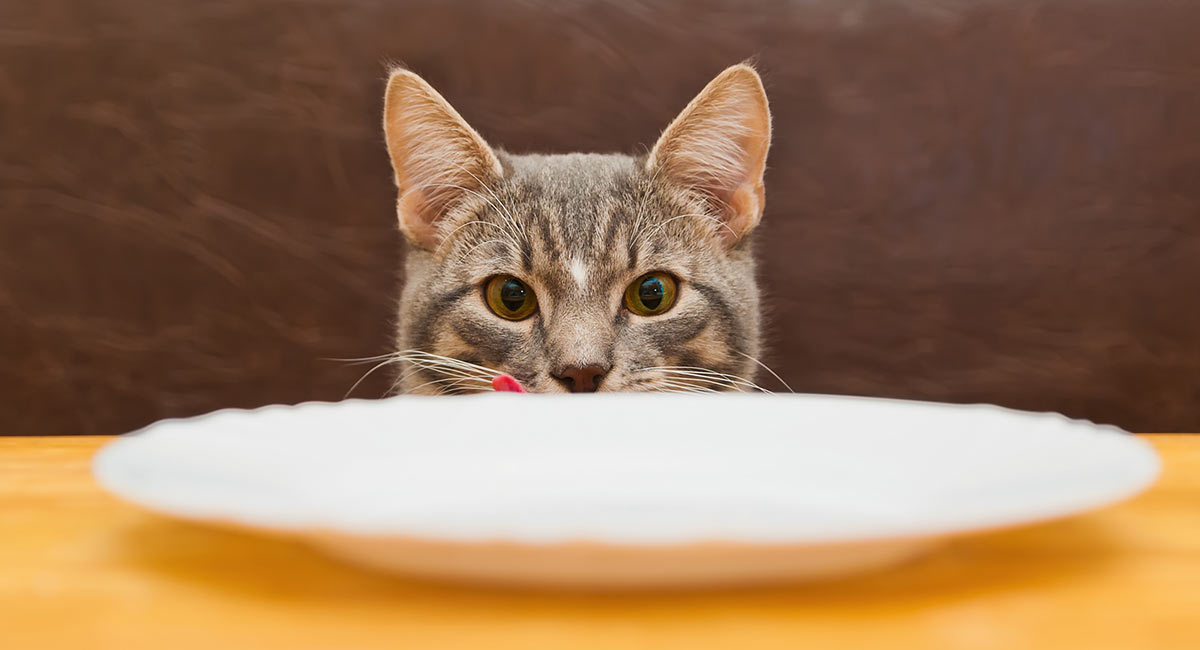 If You Have A Diabetic Cat, Their Diet Is Very Important. Fortunately, You Can Help To Keep Them Healthy By Choosing The Best Diabetic Cat Food.
In This Article We Take A Look At What Diabetes Means For Your Kitty.
Helping You To Choose The Right Diabetic Cat Food For Your Precious Pet.
Did you know that cats can get diabetes, just like humans?
It's true, but as is the case with us humans, the good news is that most cases of diabetes mellitus can be treated and managed successfully.
Of course, for any animal the ideal situation is to remain disease free.
But when a diabetic condition is properly managed, cats can enjoy a normal lifespan.
My adorable black tabby cat was diagnosed with diabetes 5 years ago.
It was startling to hear that he had such a serious condition, but with medication and a diet recommended by his vet, Fuzzy is now doing fine.
In fact he's going strong at 12 ½ years old, and there seems to be no end in sight to his natural feline curiosity and enthusiasm for life.
If your cat has been diagnosed with diabetes, you should know that there are things you can do to help manage her condition, including introducing diabetic cat food into her diet.
Choosing the best food for diabetic cats
Over 80% of diabetic cats are believed to have Type 2 diabetes which can require both medication and nutritional management.
In many cases, diet alone can be an effective tool against diabetes, with many cats not requiring medication after switching to a low carbohydrate diet.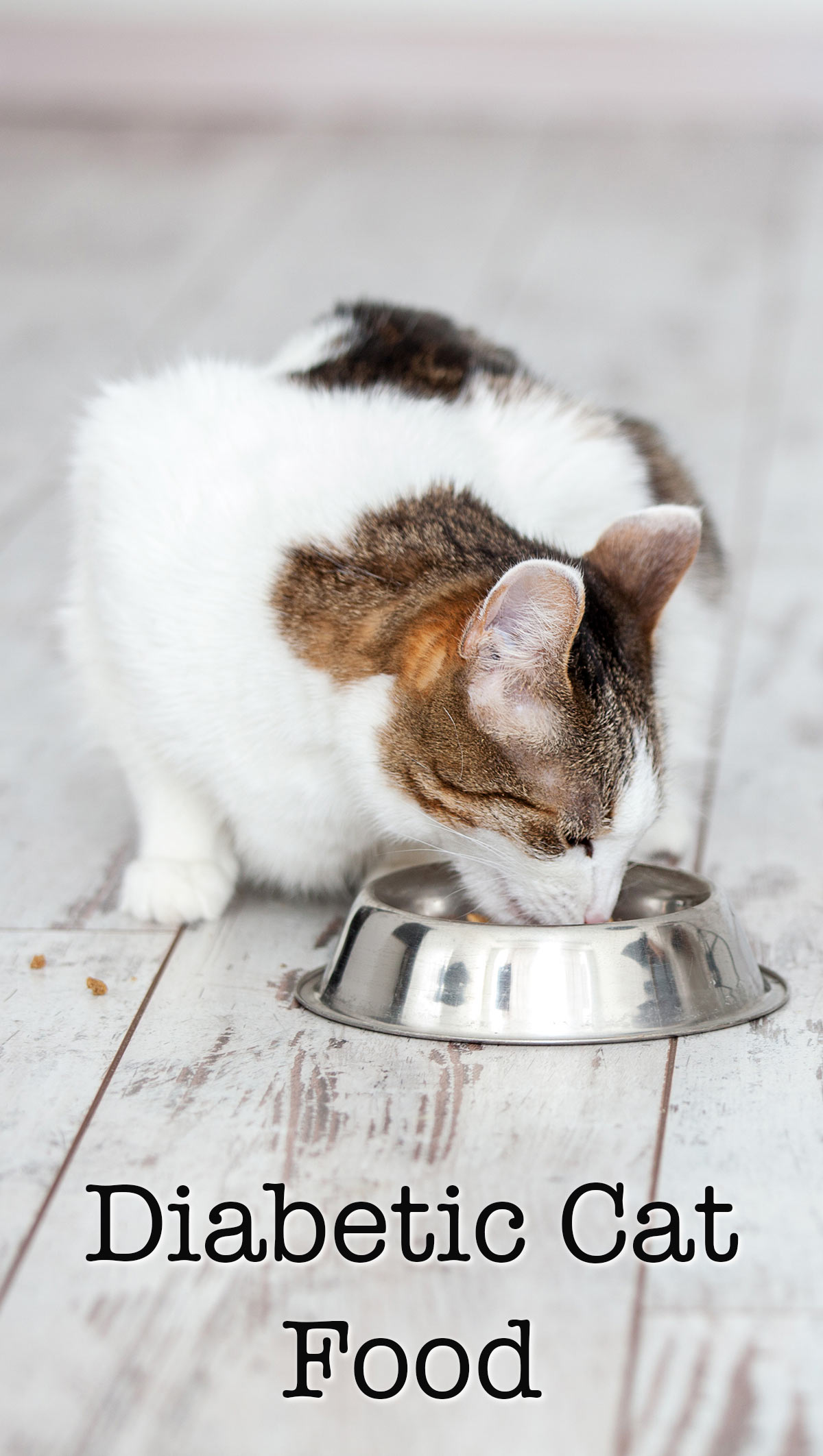 Did you know that a diet high in carbohydrates increases blood glucose and insulin levels and as such may be a precursor to both obesity and diabetes in cats?
This is why many experts view a low carbohydrate/high-protein diet as potentially helpful in preventing diabetes in cats.
Particularly those at risk. This includes obese cats and/or felines with underlying low insulin sensitivity.
Although interestingly, the protein in your cat's food doesn't impact on their insulin sensitivity in normal weight cats.
So, do we have you wondering about the best cat food for diabetic cats? Good!
That's because we're going to review some of the best food for diabetic cat diets.
But before we look at some of the best special needs, non-prescription food for diabetic cats, including best dry cat food for diabetic cats and wet food for diabetic cats, let's take a closer look at the disease itself.
Feline Diabetes
Type 2 diabetes is the most common form of feline diabetes and occurs when the body does not use insulin properly. This type was once called adult-onset diabetes, and diet and exercise play big factors in its onset.
Both genetic and environmental issues have a part to play in feline Type 2 diabetes, with obesity thought to have a role.
Sadly, as is the case with the incidence of Type 2 diabetes in humans, experts have also seen a worrying increase in Type 2 diabetes in felines.
In contrast, Type I diabetes (once called juvenile diabetes) is a result of the pancreas not producing enough insulin.
This type is believed to be the result of an autoimmune disease.
In both forms of diabetes, dangerously high blood glucose/sugar levels occur as a result of the body's faulty response to insulin.
Since obesity is related to insulin resistance and impaired glucose tolerance, one of the treatment goals for diabetic cats includes diet modification.
Diabetic feline nutritional needs
Although high fiber diets have traditionally been recommended for diabetic cats, more recent recommendations suggest that a high protein/low carbohydrate diet is also beneficial.
One reason is that protein is metabolized more slowly than carbs, which may allow for a decrease in dangerous blood sugar spikes following meals.
Sugar is a source of carbs, as are grains that are often used as fillers in pet food.
Dry cat food primarily composed of grains contain the highest levels of carbohydrates which is why a dry or canned food that is high in protein and low in carbs is commonly recommended for diabetic felines.
Cats are obligate carnivores
Countless studies have been conducted to determine the effect of various feline diets on the prevention and/or treatment of diabetes.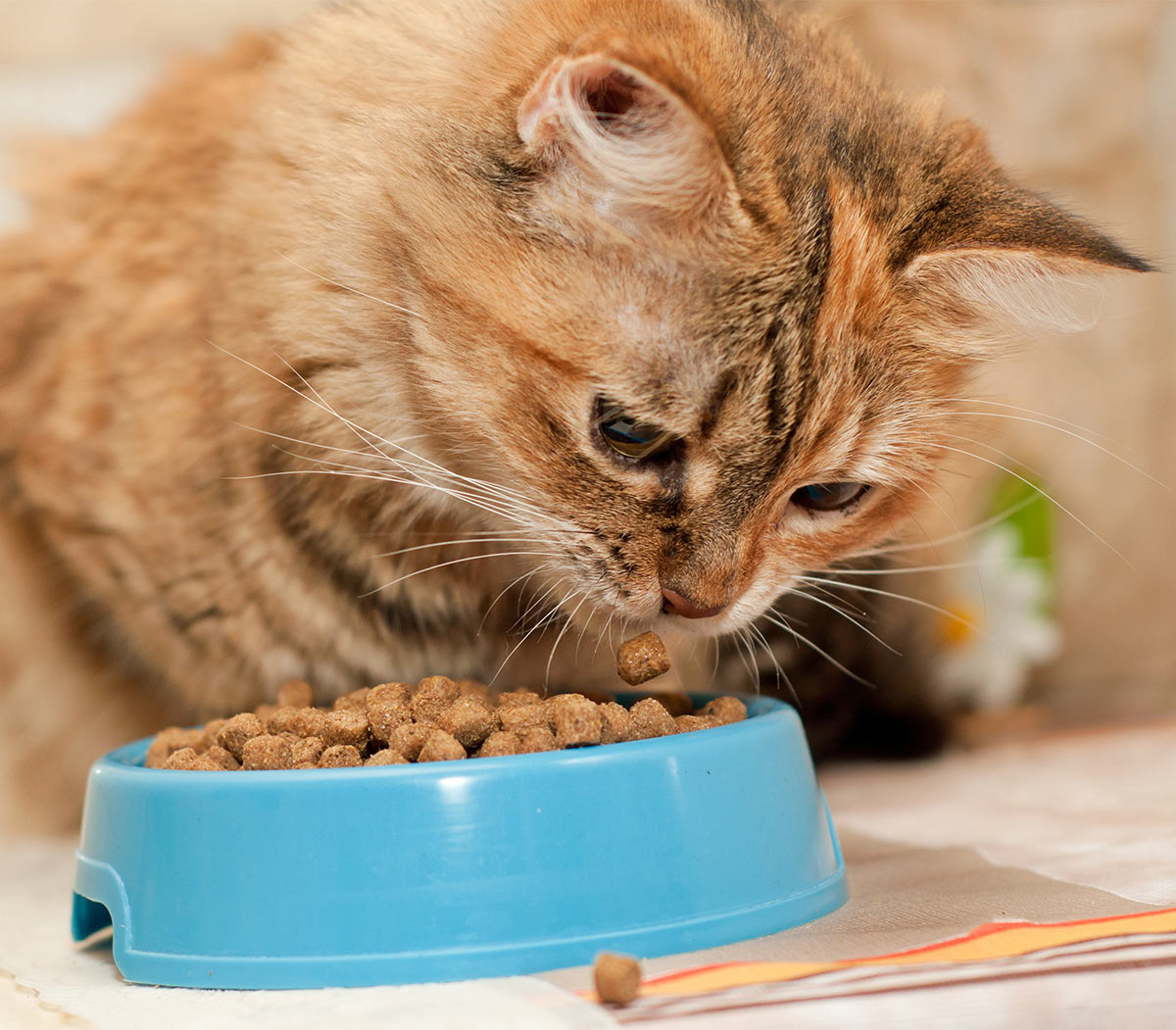 Part of the professional discussion centers on whether a cat should be given a diet aligned with its original, natural diet in the wild. Cats are obligate carnivores and their ancestors survived on a high protein diet with minimal carbohydrates.
In contrast, modern, manufactured cat foods commonly contain lower proportions of protein and increased amounts of carbohydrates. Why is this?
In a word, the simple answer is economics. Carbohydrates are a less expensive and easier-to-source ingredient than protein. The result is a commercial cat food market filled with a variety of high carb/low protein foods.
What should pet owners feed diabetic cats?
Many experts believe that a high protein diet is beneficial for diabetic cats precisely because they are obligate carnivores, with their ideal diet consisting of mainly protein and fat, with a tiny amount of carbohydrate.
Several studies have shown that a low-carbohydrate, high-protein diet improved insulin sensitivity in cats.
And one study showed that diabetic cats were significantly more likely to return to a non-insulin-dependent state when given a low carbohydrate food.
Other studies have shown that supplements such as taurine can be useful when included as part of a diabetic cat food list. Taurine is believed to aid ocular, nerve, liver and heart functions.
Environmental Risk Factors
As we've mentioned, Type 2 diabetes is the most common form of diabetes in cats.
Environmental risks for Type 2 diabetes include obesity, physical inactivity, indoor confinement, and advanced age.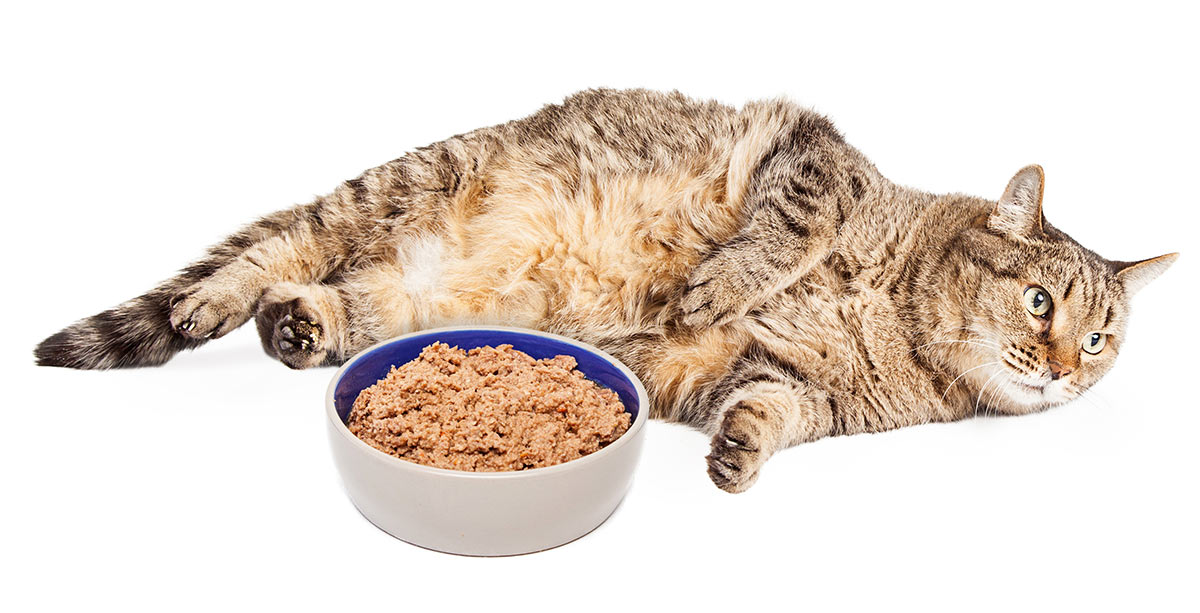 So, it makes sense that the best cat food for diabetic cats is a special needs food that addresses these risk factors.
With this in mind, let's take a look at some of the best low carb cat food for diabetic cats, as well as specialized foods that are designed to address the various diabetes risk factors.
Of course you should always consult your vet when considering a change in diet for diabetic cats.
Our reviews include Royal Canin diabetic cat food, Purina diabetic cat food, and Hill's diabetic cat food as well as other brands of specialized feline foods.
Dry food for diabetic cats
Dry diabetic cat food is definitely more convenient, and in some cases more economical, than wet or canned food.
There are many reasons to provide a dry food to your cat, including the fact that some cats simply prefer it!
In addition the dry bits have the ability to gently scrape away troublesome tartar and plaque from kitty teeth.
Here are some great dry diabetic cat food choices.
Purina Veterinary Diets DM Dietetic Management Feline Formula Dry Cat Food
Protein is the majority ingredient in this well-known Purina Brand of high protein/low carb cat food.
The special formulation lists taurine as a featured ingredient and it contains high levels of antioxidants.
As well as vitamins A, E and D-3.
It comes in a convenience-sized 6 pound bag or a heftier 10 pound bag.
Hill's Prescription Diet w/d Feline Low Fat – Glucose Management
No prescription is needed to purchase this Hill's Prescription Diet low cal/low fat dry cat food.
It is intended to help cats maintain healthy weight levels.
The fiber levels allow for a "full" feeling, while carnitine raises metabolism and burns unwanted fat.
In addition antioxidants are added to promote a well-functioning immune system.
Royal Canin Feline Glycobalance Dry
This Royal Canin formulation is intended to decrease hyperglycemia through the use of natural cereals.
As well as regulate unwanted "spikes and crashes" that can occur in your kitty's body after mealtime.
In addition, the featured protein supports a balanced energy release through the digestive tract.
L-carnitine is present to help build lean muscle mass.
Hill's Prescription Diet Feline Metabolic Advanced Weight Solution Dry Cat
This premium Hill's Prescription Diet brand weight control cat food is designed to get your cat back on track, or stay on track, with the ideal weight for his or her stage of life.
Blue Buffalo BLUE for Cats Mature Dry Cat Food
Mature cats don't run and jump like they used to, and inactivity (along with weight gain) is considered by some experts to be a risk factor for diabetes.
This highly rated Blue Buffalo protein-rich recipe for senior cats includes deboned chicken as well as whole grains.
It comes in 3 and 7 pound bags and has zero poultry by-product meal.
Best wet food for diabetic cat
One of the benefits of wet diabetic cat food is that it provides added moisture to your cat's diet.
Plus, the sound of a packet being opened is simply irresistible for some felines, which can be a blessing for owners of cats with fussy appetites.
Here are some good wet diabetic cat food brands you might like to try out.
Purina Veterinary Diets Feline DM Dietetic Management Canned Cat Food
This highly rated Purina Diabetic cat food is specially designed to meet the needs of diabetic cats.
It comes in a convenient case of 24, 5.5 ounce cans.
Among the beneficial supplements are biotin and folic acid, as well as vitamins A, B-12 and D-3.
Rachael Ray Nutrish Natural Wet Cat Food, 2.8 oz tubs
From one of today's top chefs, this Rachael Ray Nutrish natural cat food boasts chicken or fish as the first ingredient, and is grain free.
Added vitamins and minerals promote a healthy body.
And you can be certain that there are no fillers included.
BLUE Kitty Yums Healthy Soft-Moist Cat Treats
If you want to offer kitty a moist treat every now and then, this healthy alternative Blue Kitty Yums is made from deboned turkey, with no poultry by-product meal, wheat or corn.
Healthy carbs are provided via oatmeal and brown rice.
Canned food for diabetic cats
Some wet diabetic cat food comes in packets or pouches. Others come in cans.
Here are some top choices of canned diabetic cat food.
Royal Canin Veterinary Diet Diabetic Morsels In Gravy Canned Cat Food
This special-needs Royal Canin diabetic cat food recipe is specifically intended to aid in the dietary management of feline diabetes.
The wet food comes bathed in gravy and represents a complete and balanced diet for adult cats.
AvoDerm Natural Canned Wet Cat Food
This AvoDerm grain free tuna and chicken formulation comes in packs of 24 cans, with your choice of 3, 5, or 5.5 ounce cans.
Protein is the number one ingredient, and added minerals, vitamins, and antioxidants are present to support optimal health and immune system function.
BLUE Freedom Grain Free Wet Cat Food
Is your kitty an indoor cat?
Some experts consider indoor confinement to be a possible risk factor for diabetes.
This top of the line Blue Freedom protein-packed formula includes real chicken as well as natural fibers for optimal health and body weight.
It's also grain free!
Halo Spot's Pate Food for Cats
Made with real chicken, this Halo Spot's canned natural food is 100% grain free.
The high protein food is guaranteed to provide complete and balanced nutrition with no artificial preservatives, colors, or flavors.
High protein low carb cat food for diabetic cats
As we've seen, high protein low carb diabetic cat food is ideal.
If you're looking for both a low carb/high protein cat food in one, these are excellent choices for your favorite kitty.
Hills M/D Weight Loss Diabetic Cat Food
This Hills Diabetic cat food with a low carbohydrate/high protein formula is designed to regulate the glucose levels of diabetic felines.
In addition, taurine is present to help control insulin levels while high arginine levels support insulin secretion.
This highly rated food also provides carnitine to address issues of lean body mass and body fat.
BLUE Wilderness High Protein Grain Free Kitten Dry Cat Food
Available in 2 and 5 pound bags, this Blue Wilderness high protein food is made with deboned chicken and absolutely no poultry by-product meal.
Carbs are provided by healthy sweet potatoes.
The food contains zero artificial ingredients and no wheat, soy or corn.
Purina Beyond Natural Grain Free White Meat Chicken Recipe Dry Cat Food
Available in 3 and 5 pound bags, this natural, Purina Beyond high protein formula is 100% grain free.
Chicken is the number one ingredient.
PureBites Beef Liver Freeze-Dried Treats for Cats
This one-ingredient PureBites cat food is more of a snack than a meal, but we bet that your cat won't mind one bit!
The pure beef liver is freeze dried raw, and the brand states that the product is designed for special dietary needs cat.
Including those that are diabetic, overweight, or are on a restricted diet.
Best diabetic cat food
So, what is the best diabetic cat food for your cat?
We need to remember to concentrate on what causes diabetes in cats.
Diabetes mellitus occurs when high blood sugar/glucose levels remain elevated due to the body's insufficient response to insulin or a lack of insulin.
In other words, carbohydrate metabolism is a key factor behind diabetes.
This is why many experts recommend a high protein/low carb diet to manage the condition.
Diabetes is a common chronic disease in cats, with the majority of felines having Type 2 (non–insulin-dependent) diabetes versus Type 1 (insulin-dependent) diabetes.
Type 2 diabetes is highly treatable when insulin and a low carbohydrate diet are used in tandem.
A diet low in carbs reduces the amount of insulin needed while maintaining more even levels of blood sugar intensities.
In many cases, diet alone can be an effective tool against diabetes, with many cats not requiring medication after switching to a low carbohydrate diet.
Since the risk factors for feline diabetes include obesity, diet, and inactivity it makes sense that specialized cat food be considered when feeding the diabetic cat.
We hope that you've enjoyed learning more about diabetic cat food, including wet, moist, canned, and low carb dry cat food for diabetic cats.
Do you have a special food that your diabetic kitty loves? If so, we'd to hear about it in the comments section below!
Resources and further reading
Free Updates For Cat Lovers!
Our cat care articles, tips and fun facts, delivered to your inbox