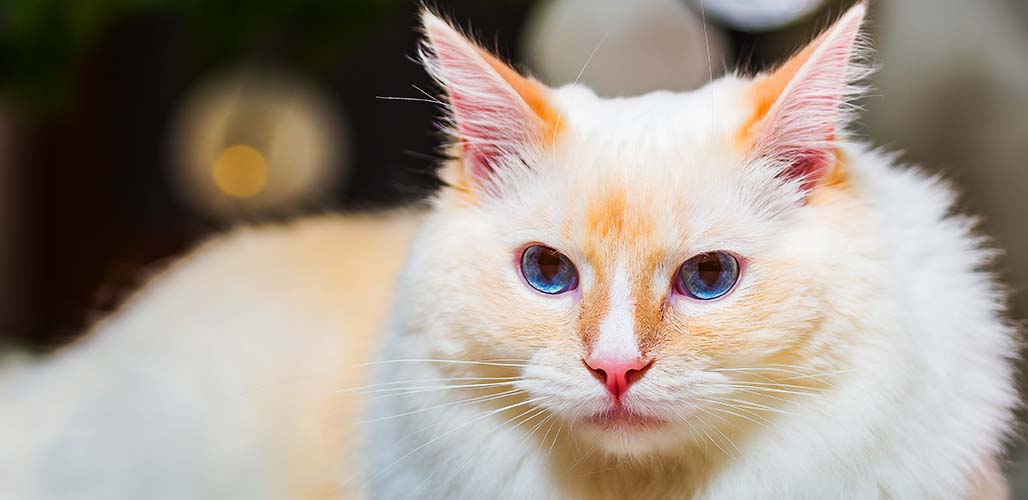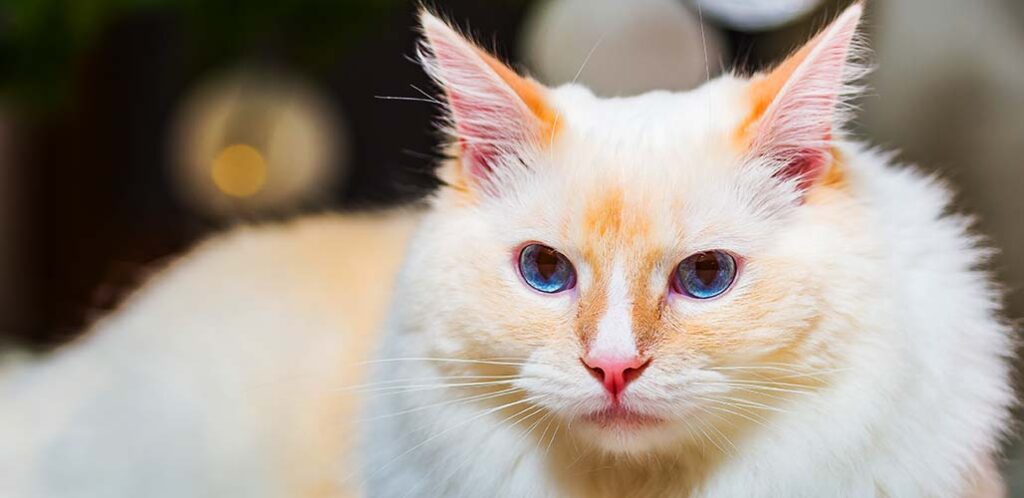 The flame Ragdoll sounds like it should look amazing – and it does! They have a long coat with stuff guard hairs. Their fur is white, with orange points on their muzzle, ears, feet and tail. Flame Ragdoll cats have blue eyes and pink noses. This affectionate, loyal breed are also known as orange, red, flame point or flame tip Ragdolls. Today we uncover everything you need to know about how unusual this coat color is, and whether it changes the personality or health of cats which bear it.
Contents
Flame Ragdoll cats make orange pigment in their fur, but only at the points. They are often larger than life cats with personalities to match. But how much of that is because of their color? Let's find out!
Ragdolls are popular for their fun and friendly outlook on life. Let's see if flame Ragdolls are cut from the same cloth, or the black sheep of the breed!
What is a flame Ragdoll?
The flame Ragdoll has many aliases, including:
flame point Ragdoll cat
orange Ragdoll cat
red Ragdoll cat
flame tip cat
and fire point cat.
But they are all the same – Ragdoll cats with red pigment in the fur at the points. Ragdoll cats are one of America's most enduringly popular cat breeds. They are quite large, with a pronounced size difference between females and males. Females typically weigh between 10 and 15 pounds, whilst males reach 15 to 20 pounds. They have long fur, but their coat consists almost entirely of stiff guard hairs, with very little soft undercoat. This makes them relatively easy to groom and keep free from mats. But the most distinctive physical attribute of Ragdolls of all is their points. The six officially recognized point colors of Ragdolls are:
seal
blue
chocolate
lilac
red
and cream.
Flame point is simply another name for a red point Ragdoll. And red is just the official name for the color we more usually describe as orange or ginger. 'Flamepoint Ragdoll' is a beautifully fitting description though, because almost all red Ragdolls have visible tabby stripes in their points too. And that subtle stripy color shading is very evocative of a flickering flame indeed!
Flame Ragdoll appearance
According their breed standard, Ragdolls with red or flame points have
clear white fur on their body
pigmented fur on their muzzle, ears, feet and tail (their points), in a shade of orange between bright apricot and deep red
blue eyes
pink nose leather
and pink paw pads.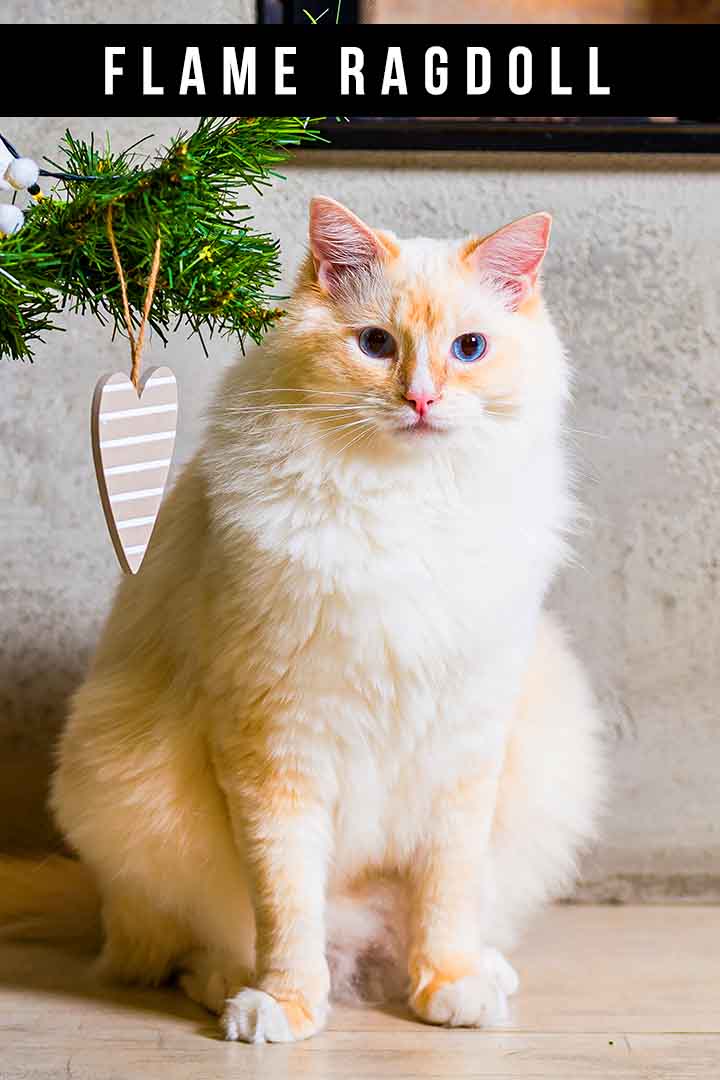 Flame Ragdolls with solid points have no obvious tabby stripes within their points. In fact, all red fur always has tabby stripes in it, but sometimes it can look solidly colored if the contrast between the stripes is very low. A flame point lynx Ragdoll kitten has visible tabby stripes in their points. They are sometimes known as an orange tabby Ragdoll cat. And a mitted flame or flame bicolor Ragdoll has white markings on their face and paws which are overlaid on top of their points. The cat in the photo above is an example of a mitted flame Ragdoll.
Flame Ragdoll genetics
Flamepoint cats owe their distinctive orange color to a pigment called pheomelanin in their fur. The production of pigment in pointed cats is remarkable because it is temperature dependent. Pigment is only produced when the surface temperature of the skin is below a certain point – this is known as temperature sensitive albinism. So, Ragdoll cats produce the most pigment at their extremities, or where heat is lost from the surface of the skin very quickly: their nose, ears, tail and paws.
Next, have you ever heard that flame point Ragdoll kittens are always boys? Let's look at the truth of that!
Can flame point Ragdolls be girls?
The short answer to this is 'yes'! The longer answer is that unusually among mammals, cats' coat color is sex-linked. This is because the genetic instructions about pigment production sit on the X sex chromosome. Males only have one X chromosome, so they either produce black pigment (eumelanin) or red pigment (pheomelanin). Female cats have two X chromosomes, so they can receive two sets of instructions for black pigment, two sets of instructions for red pigment, or one of each. When a female Ragdoll carries instructions for both pigments, her points are tortoiseshell, not pure orange. Owing to the differences in color inheritance between the sexes, and boys having fewer options, a greater proportion of flame Ragdolls are male than female. But female flame Ragdolls are possible!
Are flame point Ragdolls rare?
Not especially. Female flame Ragdolls are more unusual than male flame Ragdolls, but the genes for pheomelanin production are widespread in the Ragdoll population. Since cats' breeding choices are usually made for them by people, the main thing which governs the availability of orange Ragdoll cats is breeders' enthusiasm for them. Inevitably, some colors go through periods of being particularly sought after, or losing out to more fashionable shades. But it would be dishonest of a breeder to claim that their litter of flame Ragdoll kittens is rare, and you should question their motivation for doing so (hint: it's usually financial).
Flame Ragdoll temperament
Next, does an orange Ragdoll cat's color change their personality? The gene which is responsible for red pigment isn't known to directly change cats' temperaments in any way. But nonetheless, a survey of cat owners found that we tend to perceive orange cats as being the friendliest and most affectionate. We don't know yet if this is just a result of unconscious bias, or something deeper. It could also be that, since orange cats are more likely to be male, the respondents were actually picking up on sex-based differences in temperament (but researchers haven't studied our perception of these at all yet!).
Generally though, it's safe to say that your flame Ragdoll is likely to have a temperament typical of their breed. Ragdolls are famously affectionate, socially confident around humans, playful, and intelligent. They enjoy company and interaction, so they fit well into households where someone is home most of the time. In households where everybody goes out during the day, they may be prone to boredom, and perform unwanted behaviors like scratching and meowing loudly to pass the time. Adopting two same-sex littermates is a practical way to avoid this becoming a problem.
Flame Ragdoll health
Next let's move on to health. Most cat breeds have a profile of health concerns which are specific to them, and often inherited. Ragdoll cats are vulnerable to
Hip dysplasia. Hip dysplasia is a malformation of the hip socket which leads to painful arthritis and lameness in the joint. It is caused by hereditary and environmental factors, so only Ragdolls with no history of the disease should be used for breeding.
Obesity. Obesity is one of the most common health problems affecting cats of all types at the moment. Studies have estimated that anywhere between 10% and 60% of pet cats are currently overweight, which can exacerbate joint problems like hip dysplasia, put strain on the heart and other internal organs, and even cause difficulties with activities like grooming.
Heart disease. Specifically thickening of the heart walls, causing it to pump less efficiently.
Kidney disease. Specifically inflammation of the kidneys and polycystic kidney disease. These are both thought to be hereditary, so only Ragdolls with no history of the disease should be used for breeding.
Fighting injuries. Since flame Ragdolls are mostly male, this color also has a higher prevalence of injuries caused by fighting. Male cats are more likely to fight than females, to secure and defend territory, and gain access to females. Other than this, there are no health risks specifically relating to having red points.
Healthy Ragdolls live for around 10 years on average, although some lucky individuals survive well into their teens. Ragdoll life expectancy is slightly lower than the rest of the all-cat average, but no specific reason for that has been identified yet. At the time of writing, there's no evidence that a flame Ragdoll's life expectancy is influenced by their coat color.
Flame Ragdoll grooming and daily care
Ragdoll cats are far from the feline stereotype of aloof and disinterested in people. In fact flamepoint Ragdolls might be the friendliest of all! So, they need lots of attention and interaction. Part of this may include help with grooming. Their coat is not as prone to tangling as say, a Persian's, but it may still get knotty in places where there's friction. These cat care guides from around the site will help you with all aspects of looking after an orange Ragdoll kitten:
Best Interactive Cat Toys
Your Flame Ragdoll
Flame Ragdolls have red pigment in their points. Since their points usually have tabby stripes in them too, the effect is very much like a flickering flame. Flame Ragdoll cats are more likely to be male than female, but there's little evidence that their color changes their personality. Like all Ragdolls, these cats are famously friendly! Ragdoll cats generally have a shorter life expectancy than average, which may be due to their size, or the frequency of inherited health problems in the breed. Choosing a kitten from healthy parents means you're more likely to beat the odds and have extra happy years together.
If you already have a flame Ragdoll, please tell us about them in the comments section down below!
References and Resources