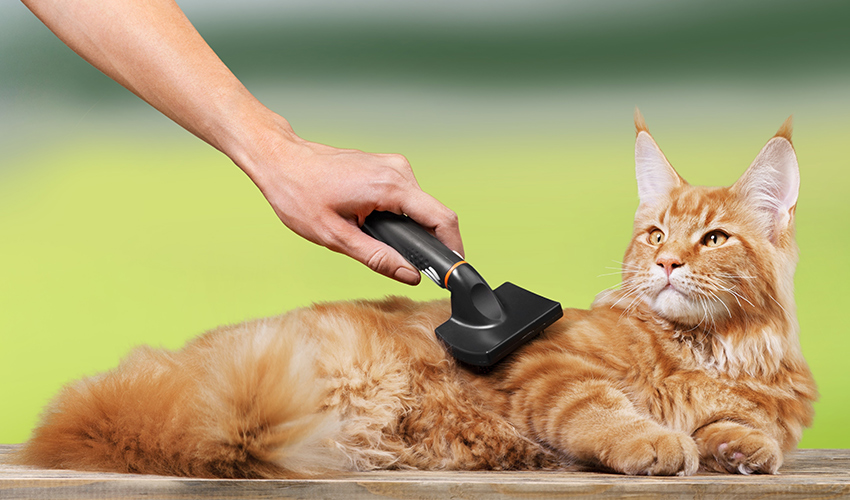 Welcome to our guide to choosing a cat brush. Giving you top cat grooming tips and great advice for brushing your nervous cat.
Have you ever wondered, do I really need to brush my cat? Every day? Am I doing it right? Is this the right brush? Does my cat like it?
In this article we'll answer those hairy cat questions and more!
We'll show you the importance of proper cat grooming and provide helpful advice for choosing a cat brush.
Do I Need to Brush My Cat?
Even short haired cats benefit from proper, regular grooming.
For cats with medium to long, hair daily brushing is required.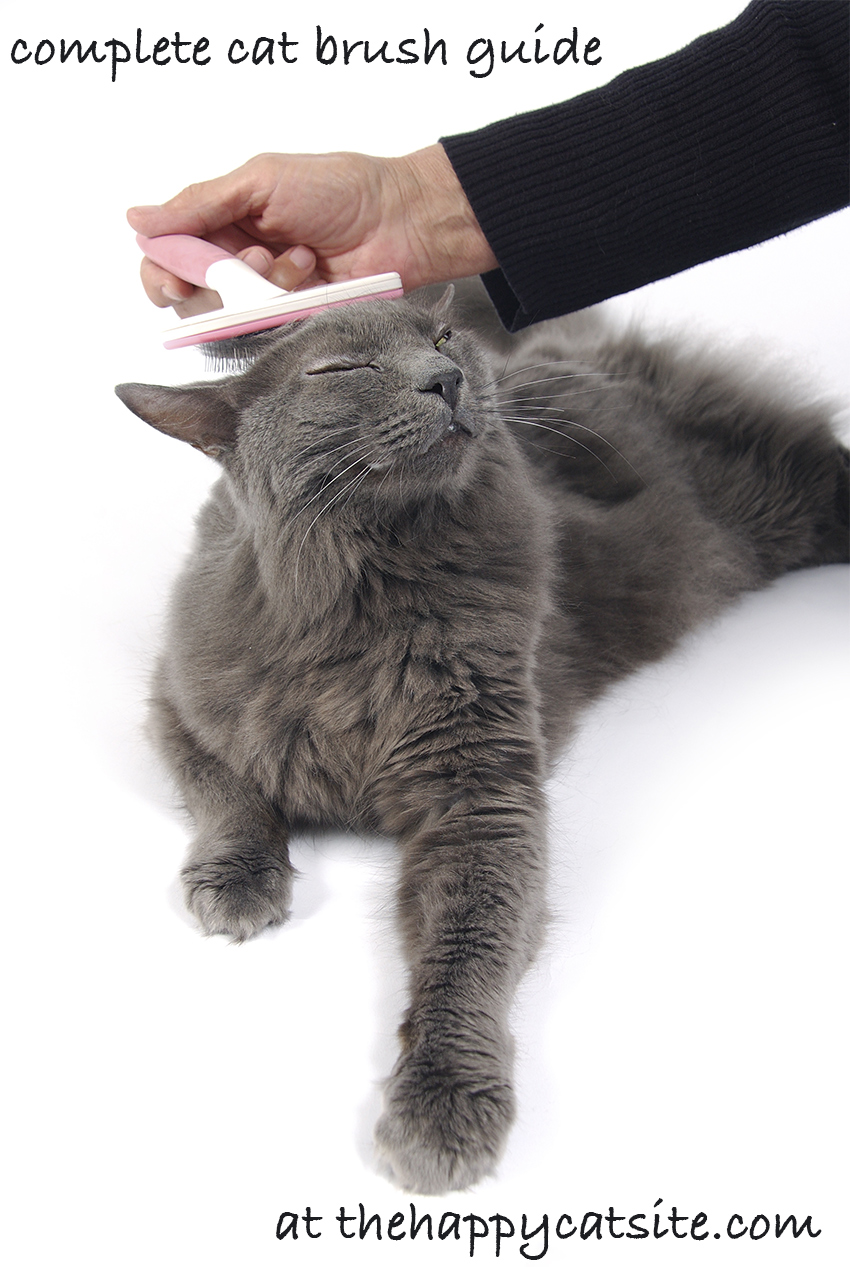 Regular brushing is important because it stimulates essential oils to keep your cat's coat shiny and healthy.
It also removes dead hair and reduces the likelihood of hairballs and matting.
What Kind of Coat Does My Cat Have?
Your cat's coat is made up of three layers of hair.
Down hair, or undercoat, lays closest to the skin. Awn hairs are longer, thicker strands that make up most of your cat's coat. And guard hairs – the longest hairs – are designed to protect the undercoat.
You see guard hairs when your cat is frightened or displaying a defensive posture. Poof!
Cats come with hair lengths from bald to really hairy. By understanding your cat's hair length, we can guide you to the correct tools for grooming.
Hairless Cats
Hairless cats are recognizable by their obvious bald appearance. Most hairless cats do grow some down hair and should be washed with a cat shampoo.
Short Hair Cats
Cats with hair two inches or shorter are short haired. This includes breeds such as the sleek
Siamese and cuddly American Shorthair.
Short hairs require the least amount of grooming – once or twice a week with a grooming glove, shedding comb or slicker brush.
Medium Hair Cats
Sometimes called semi-long haired, cats with hair two inches to four inches are medium length haired cats. The Bengal and American Wirehair fall into this category.
This group of kitties requires daily brushing with a cat slicker brush and shedding comb follow up as needed.
Long Hair Cats
Cats with up to five inches of hair or longer are considered long haired. The regal Persian and handsome Himalayan are long haired breeds.
Long haired cats require daily brushing with a slicker brush and shedding comb or shedding brush.
What Is The Best Cat Brush?
Cat's personalities are as varied at their coats, so it might take a few tries to find the best cat brush for your cat.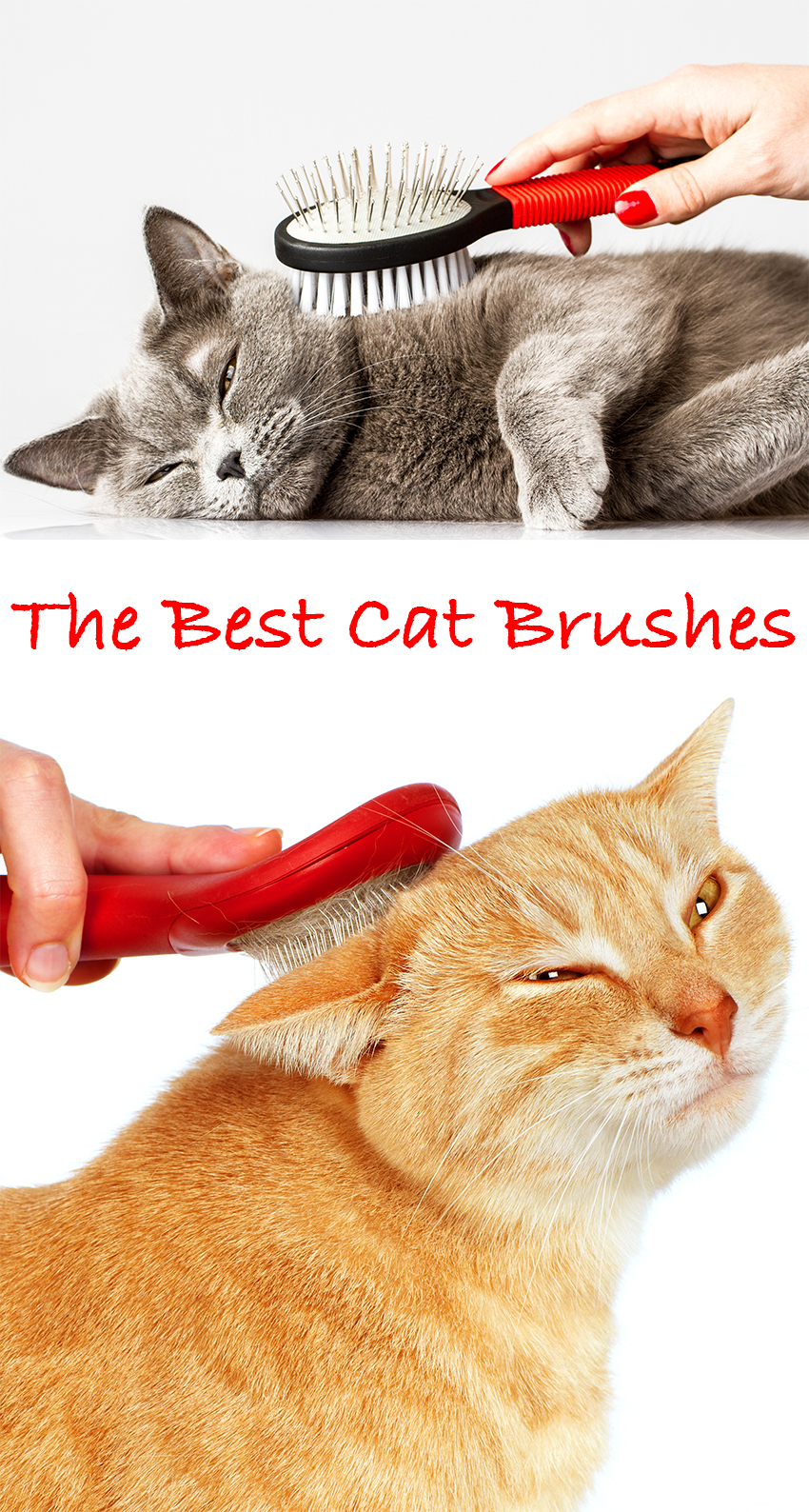 Let's take a look at some different tools, all of which are available on Amazon.com.
Cat Tongue Brush
Cat tongue brushes and lick brushes, such as Lick'em brand, are novelty items.
These are rubber, nubbed brushes that work by inserting a mouthpiece in your mouth with a brush piece extended like a tongue. Using a licking motion, you groom your cat as he would groom himself.
These are fun and funny but should not be considered a primary grooming tool, particularly when you consider grooming sensitive areas!
Cat Brush Glove
Cat brush gloves or deshedding gloves have a series of rubber or silicone nubby teeth on one side that run across the palm and fingers.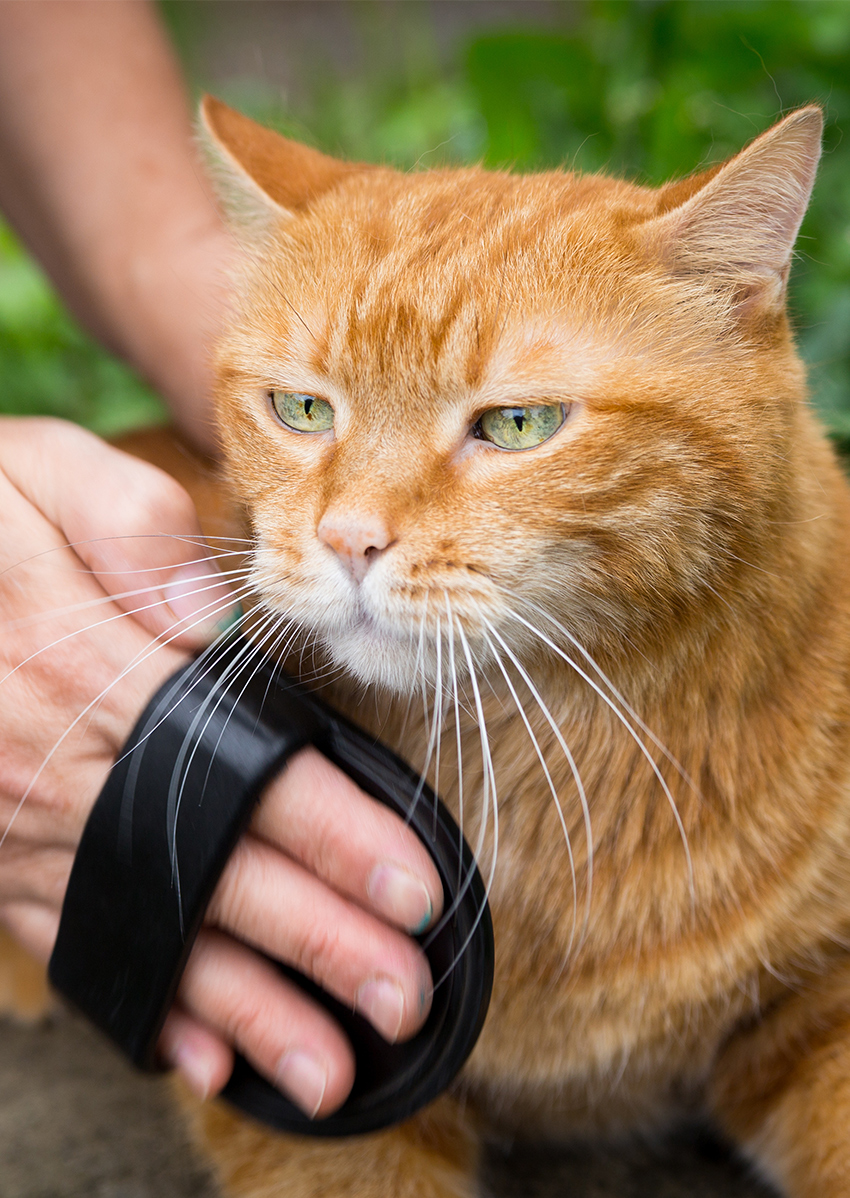 These work using a petting motion to remove hair and stimulate your cat's skin.
Cat brush gloves come as gloves, mittens or mitts. They are advertised for all cat hair lengths but are ideally suited for short hairs. They are not suited for detangling.
Cat Brush Gloves
The glove style allows you the most control when brushing since you can use all your fingers and give a good massage while brushing.
Delomo Deshedding and Pet Grooming Gloves are sold in pairs which offers a more versatile petting/brushing experience.
Also, they come in blue or pink for the cat fashionista. These gloves are sturdy without being rigid and are machine washable – a big bonus.
Cat Brush Mittens
Mittens and mitts have a larger surface area which is nice for larger cats. If your hands are small, you may find this style is harder to control and you don't get the benefit of the whole brushing surface.
PawJoy offers a 2-Pack Grooming Massage Glove and Brush Glove. The gloves, like most brands, are right-hand only and include an adjustable Velcro strap.
Unlike rubber tips on a grooming glove, the brush glove has tipped metal tines like a traditional cat brush. This glove style can be used for long haired cats but . . . unless your hand can control all the tines at once, you run the risk of snagging and pulling your cat's hair.
A grooming glove used with a traditional brush is a better combination for long haired cats.
Rubber Cat Brush
Rubber cat brushes, like gloves, have molded rubber teeth and are designed to be cupped in the palm of your hand. These are ideal for short to medium length hair. Just be sure the teeth reach your cat's skin for that extra massage and stimulation.
Some designs are flexible and some are rigid. Look for styles with a handhold strap for better control. Because these are rubber, they can be cleaned in warm water – a big plus.
The KONG Cat Zoom Groom Brush is one of the largest but does not have a handhold strap so it is less comfortable to hold. If your cat is finicky about brushing, this would not be our first choice.
The FURminator Curry Comb is rigid and has an excellent ergonomic design making it a comfortable experience for you and kitty.
This is a multi-tool design that includes a series of smaller teeth on the side for finer grooming. Hair does not always get trapped in the teeth so you will need to control the hair as it comes off your cat.
The Pixikko Pet Curry Brush includes the best features of rubber cat brushes: Comfortable design, good size and holds the hair in the brush as you use it.
Cat Slicker Brush
Slicker brushes have a handle extending from a brushing head with thin wires mounted in a rubber base. This is the essential tool for long haired cats.
Slicker brushes come with retractable pins or fixed pins.
Retractable Pin Slicker Brush
These are much easier to clean than fixed pin models. After brushing, simply retract the pins with the push of a button and wipe away the hair.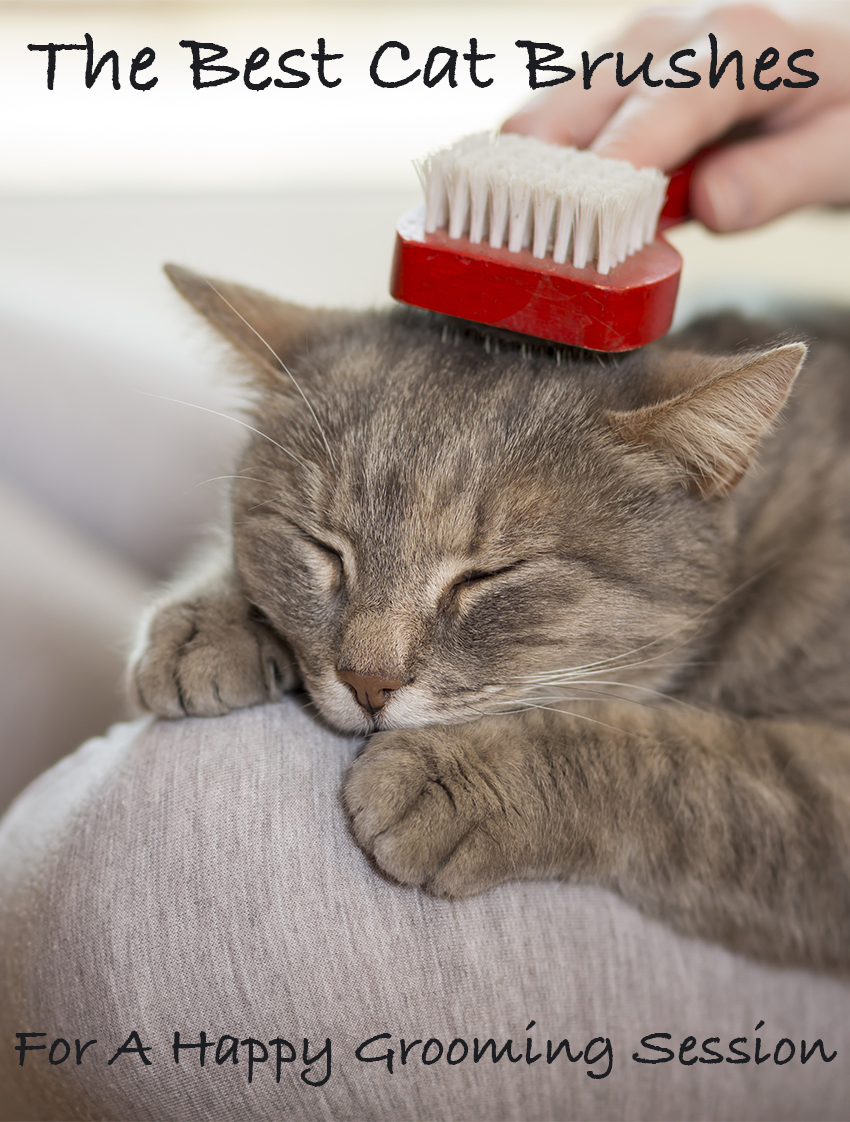 The drawback is that if pins get bent they will not feed back into the retractable head properly.
The Pro Quality Self Cleaning Slicker Brush is a very sturdy design but it might be too large for small cats (it actually comes in dog sizes). A big plus is the 5-year warranty which means even if the pins get bent, you can get a replacement without any hassle.
The Safari Self-Cleaning Slicker Brush is a better size for all cats and has the same easy cleaning head.
The Petseeker Grooming Self Cleaning Slicker Brush has coated pins which is ideal for cats with sensitive skin.
Fixed Pin Slicker Brush
These come with round or rectangular heads in a variety of sizes. Hair can be pulled or combed out of the brush head for cleaning.
The Hartz Slicker Brush has round head and rubber coated nylon pins.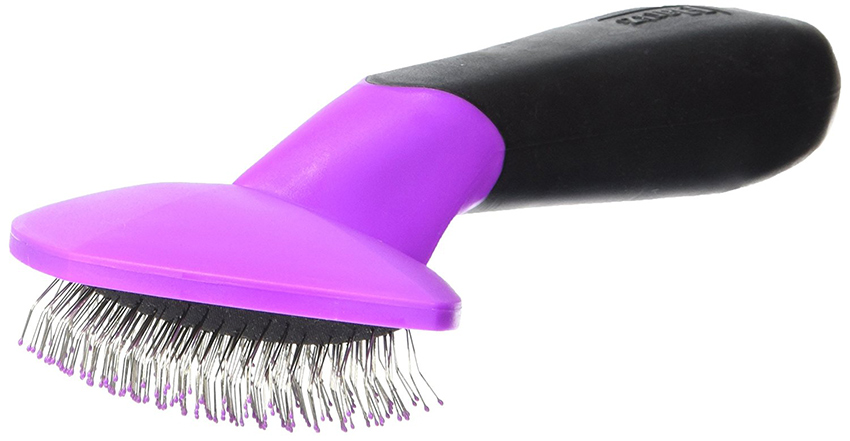 This is ideal for long haired cats with sensitive skin or an aversion to brushing. However, if your cat is very large, you might want a brush with a larger head.
The Four Paws Magic Coat Gentle Slicker Wire Brush is a sturdy brush with a large head. This is ideal for long haired cats prone to matting.
Cat Shedding Brush and Shedding Comb
Shedding brushes and combs are designed for clean up of excess hair after you've brushed down to the undercoat. This tool should be used in conjunction with slicker brushes for long haired cats.
The FURminator deShedding Tool is ideal.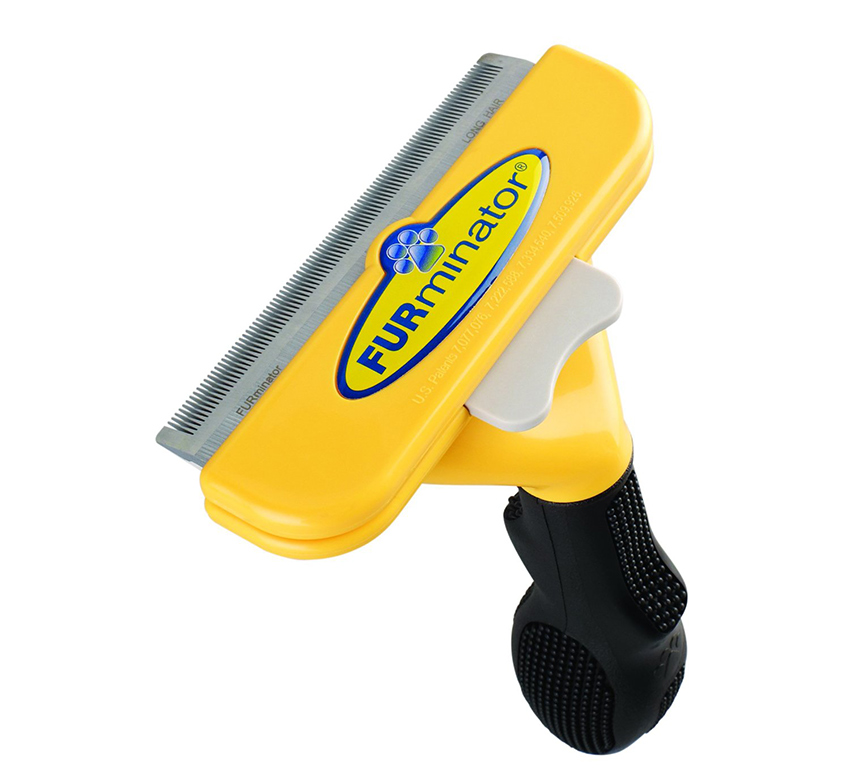 It comes in 4 sizes tailored to your cat's weight and hair length, and it has a retractable head for easy cleaning.
The Chirpy Pets Cat Brush for Shedding is another popular and effective model.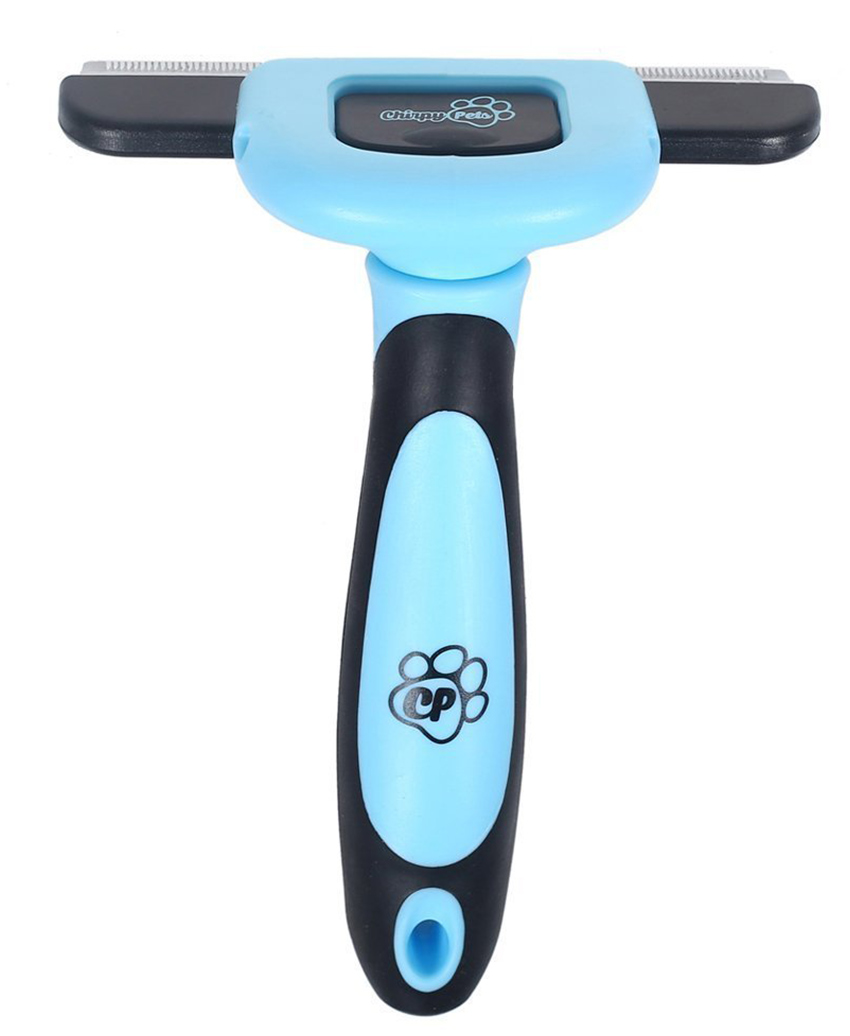 This neat little brush also includes a lifetime guarantee.
The JOYPAWS Pet Grooming Shedding Brush is a unique tool that combines thick stainless steel pins on one side for brushing and a shedding comb on the other side.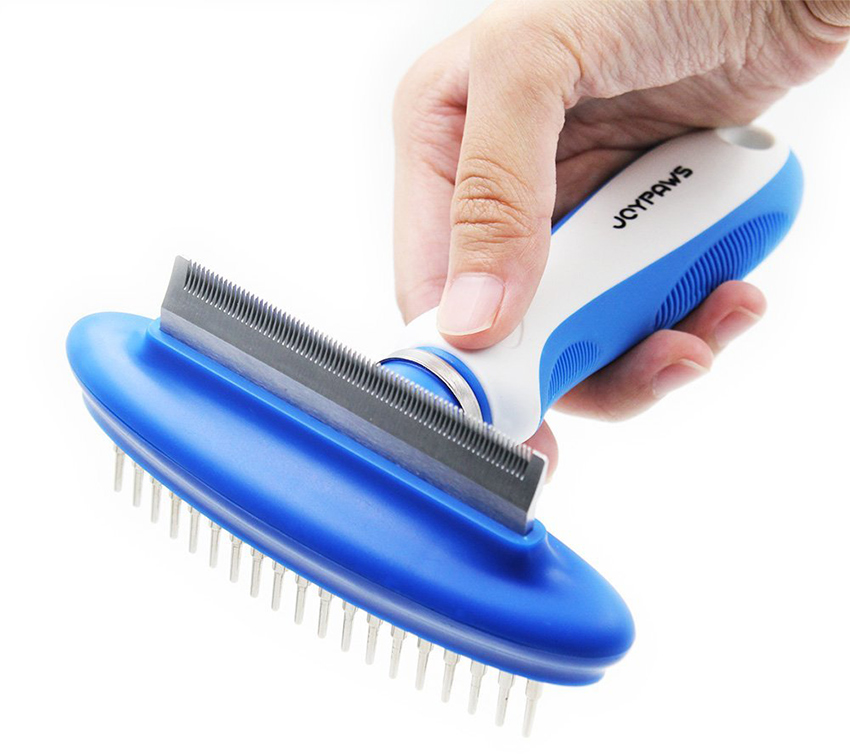 This will work for larger, long haired cats but might be too rigid and large for smaller or short haired cats.
How To Brush A Cat
Brushing time should be pleasurable for you and your cat. With the right tools and techniques, you can brush even the most finicky cat to purrrfection.
Cat Grooming Routine
The key word here is "routine".
In a perfect world you should begin grooming at kitten age when it's easiest to establish a routine. If you're just starting with an adult cat, don't worry. It's never too late to start a good habit!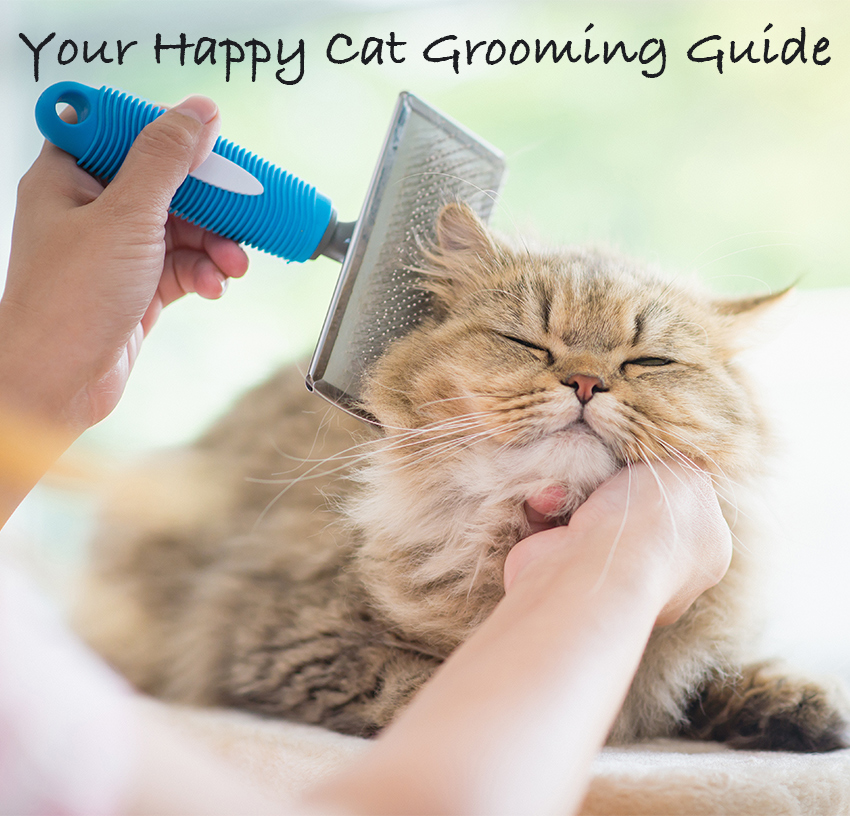 Set a schedule and make sure everyone is on board. If your cat has a favorite family member, allow this person to brush him first.
Once your cat has accepted brushing, other family members can give a try. You might find your cat chooses who will brush him!
Step By Step Cat Brushing Guide
You can hold your cat on your lap or he can lay on the floor.
For lap cats, place your cat in your lap and cradle one arm under the front paws with your hand resting gently on the lower back. This will allow you to raise and lower kitty with simple motions.
Or let kitty lay in a favorite place and sit next to him.
Have a little cuddling and petting session.
When your cat is calm, allow him to sniff and bub the brush. Some cats will bite and play with the cat brush. This is okay as long as he also lets you brush him!
Cat Brushing Technique
Beginning at the base of the neck, brush gently with short even strokes always in the direction of hair growth. Apply enough pressure to reach the downy hairs but not so much that you are scraping the skin.
Brush straight across the back all the way to the tip of the tail. This should take three or four strokes.
After you've brushed down the back, gently lift or roll your cat over and repeat the same stroking motions on each side. Again, short, even strokes in the direction of hair growth.
Some cats really get into brushing and will roll around and play throughout. That's great! Just continue brushing until your cat's hair lays smooth and untangled.
Cat Brushing Tips
Do not run the brush all the way from the head to the tail in one stroke. Fur can get caught up in the bristles causing the brushing motion to pull on your cat's skin.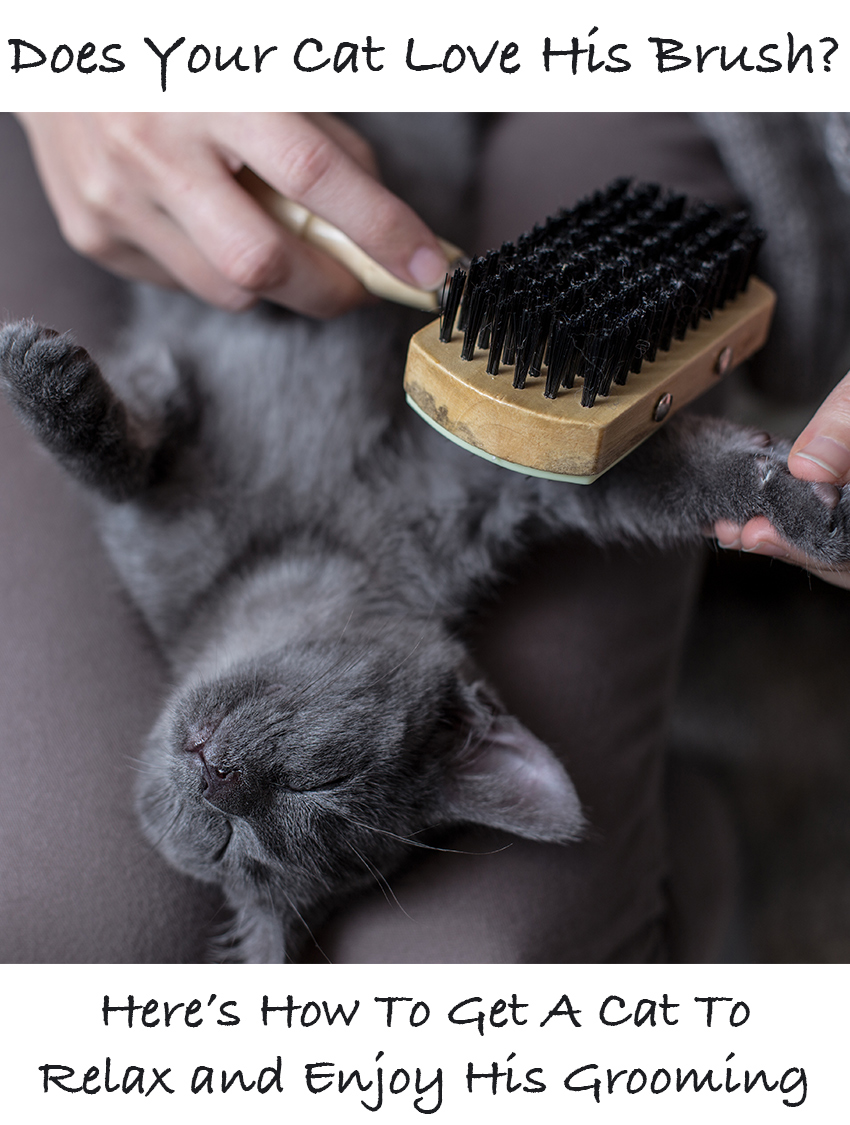 After a successful grooming, reward your cat with a tasty treat.
After treats, give your cat some space. Brushing often stimulates the desire to lick and your cat will appreciate being in a comfortable space to finish the cleaning routine.
Brushing Sensitive Spots
Even cats who enjoy brushing can be sensitive when it comes to the face, base of the tail and stomach.
Around the face the hair grows in many directions so a few key strokes are needed. Start at the forehead and brush back between the ears to the shoulders. Next, brush each cheek with a short stroke beginning under the eye and ending at the jawline. For the neck, start under the chin and run the brush to the base of the neck.
Brush around the base of the tail in the direction of hair growth. This can be a problem area for some long hair breeds as litter can become matted in the hair. Daily brushing of the area should alleviate any matting.
To brush your cat's stomach, raise him up and gently stroke straight down the belly in two or three strokes. Since this is generally the most sensitive area, do this last, when your cat has gotten into the grooming groove.
Much of the belly hair will be brushed as you brush the sides of your cat. For some breeds, this is sufficient but always check your cat's belly for matting before skipping this step.
Special Considerations For Grooming Long Haired Cats
Proper grooming of a long haired cat is essential. You should expect to spend at least 15 to 30 minutes grooming every day. Compare this with a short haired cat who needs about 5 minutes of grooming a couple of times a week. That's the price of glamor!
Cat Hairballs
All cats can develop hairballs but long haired cats are more susceptible. Aside from being painful and potentially dangerous, hairballs are really gross. You can cut down on hairballs significantly with regular brushing.
Matted Cat Hair
Another concern for long haired cats is matted hair.
Matted hair contains old fur, dead skin, body oils and household dust. Matted hair pulls on your cat's skin which is painful. Also, it can conceal parasites such as fleas. Left untreated, matted hair can lead to serious skin infections.
Cutting out matted hair is an absolute last resort that can be completely avoided with daily grooming.
Before brushing, use your fingers to gently remove any tangles you can see and feel and then proceed with regular grooming.
If you discover a matted area that cannot be gently broken up or brushed out, you may need to seek the services of a professional groomer or veterinarian.
Tips For Grooming A Cat Who Hates Being Brushed
If you're reading this you probably have a few scratches. There is hope.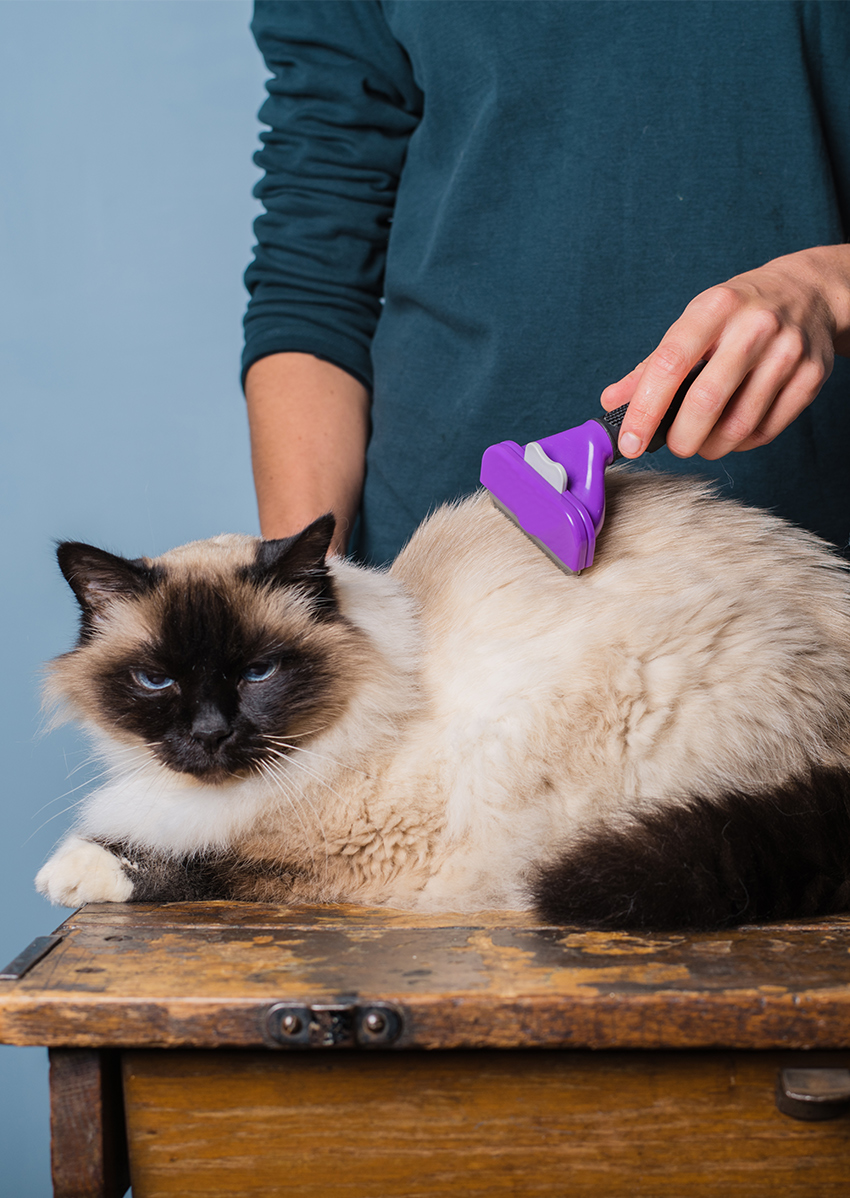 First, make sure kitty is in a comfortable space where you will not be interrupted.
Put the brush where your cat can see and smell it. Let your cat to sniff and bub the grooming tools.
Have a little cuddle and petting time. You and your cat should be relaxed.
Start brushing using light pressure. Brush in a rhythm of brush, pet, brush, pet, and so on until your cat begins to accept grooming.
Throughout brushing, speak words of encouragement and praise in a soothing voice.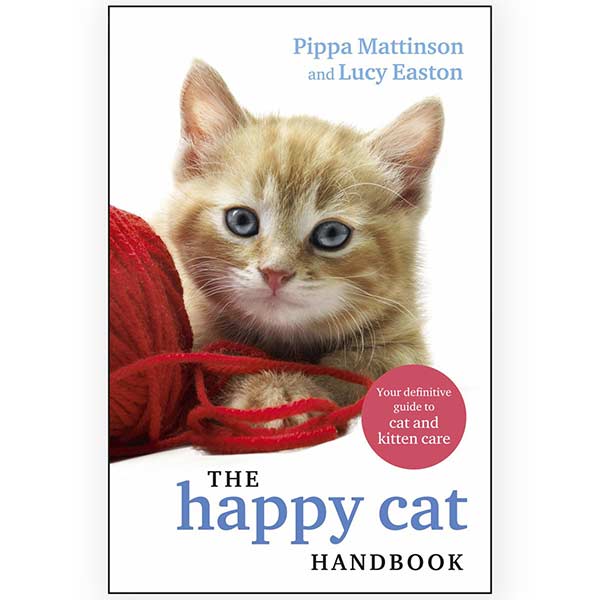 Reinforce a good brushing with a favorite treat.
The Right Cat Grooming Tools
A grooming glove is the perfect starting tool. The motion of a grooming glove mimics petting so your cat won't even know it's good for him!
For medium and long hairs, you can start with a glove but you should eventually move to a slicker brush to ensure the thicker areas are brushed thoroughly.
Select a slicker brush with coated tips. Exposed tips can irritate the skin if you brush too hard.
Start brushing just the outermost hair. As your cat gets used to it, continue to apply pressure until you reach the downy coat.
More Top Cat Grooming Tips
Avoid brushing a nervous or jumpy cat. You can hurt your cat if you he jerks away while being brushed.
Try a kitten brush such as the Li'l Pals Kitten Slicker Brush. This is a small, coated tipped brush designed for kittens and small cats. The smaller size may be more comfortable and less intimidating for a nervous cat.
Some cats need to be collared or held down to be brushed but this is extreme. You will have consistently better results if you take the time to find a calm place and calm state of mind (for both of you).
Let your cat decide. Some cats will take brushing better from one family member than another. Don't take it personally. Eventually, most cats come to enjoy a good brushing from whoever is holding the brush.
If your cat absolutely will not allow you to brush him, he may have a problem with sensitive skin or parasites. Cats with medium to long hair must be groomed daily so if you and your cat cannot work out an arrangement, consult a groomer or veterinarian.
Buying The Right Cat Brush And Brushing Your Cat
Understanding your cat's coat, selecting the right tools and getting into a grooming routine will help you and your cat live a happy and healthy life together.
Brushing your cat is an expression of your love. Enjoy this special time bonding with your feline friends.
Free Updates For Cat Lovers!
Our cat care articles, tips and fun facts, delivered to your inbox
Your Amazing Cat!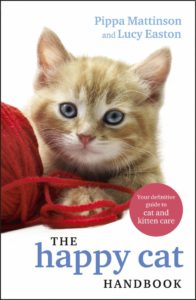 We are so excited to share our new book with you!
If you have enjoyed your visit to The Happy Cat Site we think you'll love The Happy Cat Handbook.
Written by the founders of this website including the author of the hugely successful Happy Puppy Handbook, it's packed with cat care information and fascinating cat facts.
Grab your copy today!
Free Updates For Cat Lovers!
Our cat care articles, tips and fun facts, delivered to your inbox