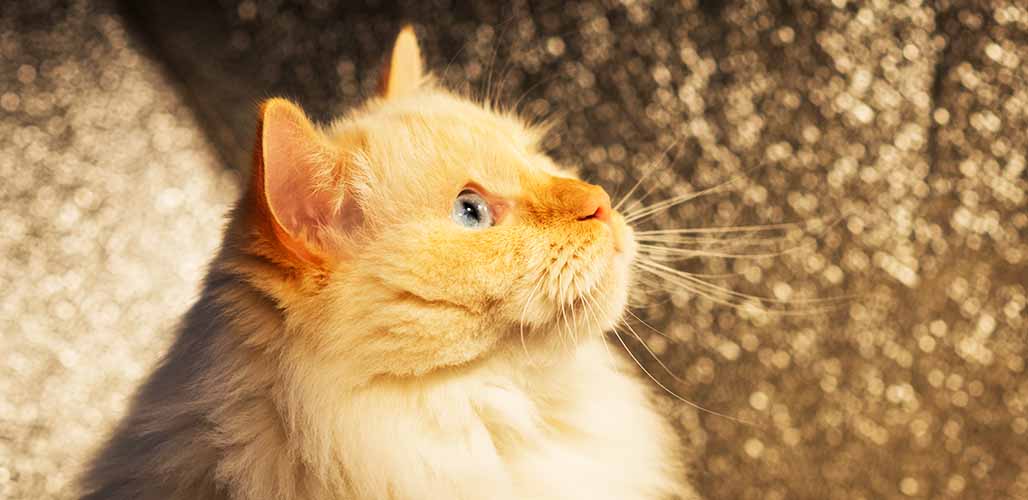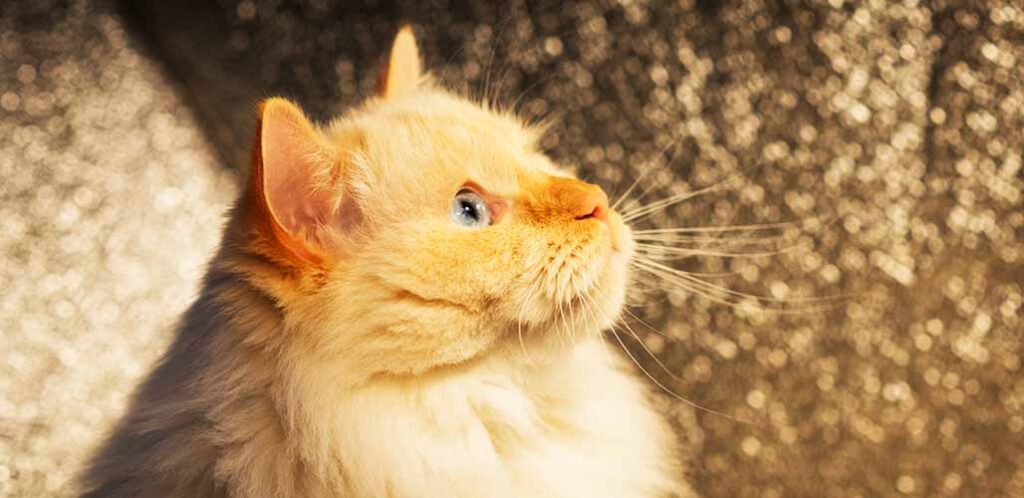 This complete guide to the red Ragdoll cat has everything you need to know about the different ways Ragdoll cats can have beautiful fiery fur.
A red Ragdoll, also known as a flame point Ragdoll, orange Ragdoll cat, or ginger Ragdoll cat, has orange fur at their points, and white or palest cream fur over the rest of their body. Some people think that their color gives them a unique personality as well!
What is a Red Ragdoll Cat?
Red is one of the six officially recognized colors for Ragdoll cats. The others are seal, blue, chocolate, lilac, and cream. Like all Ragdolls, red Ragdolls only have pigmented fur on their muzzle, ears, paws and tail (their 'points'). But despite being restricted to such a modest area, there are a surprising number of ways that a red Ragdoll can wear their color!
Shades of red
For a start, 'red' isn't a single, uniform hue in every cat. So in flame point Ragdoll cat pictures you'll see deep red felines alongside shades of rich marmalade, bright apricot or soft ginger. According to the breed standard, deeper shades are preferred for show-standard cats, and any subtle shading on their body should be the same tone as their points, just lighter. But for family pets, anything goes!
Red points – simple sophistication
The simplest red point Ragdoll cat coat has straightforward solid red points. According to the breed standard, red point Ragdolls have
a clear white body,
points in bright apricot to deep red, with lack of barring desirable,
blue eyes,
and flesh- or pink-colored nose leather and paw pads.
'Lack of barring' means not having any stripes of dark and light orange fur within their points. This sounds as simple as can be, but it's deceptive! In fact, orange fur is always tabby patterned. So red Ragdoll cats always have barring in their points, and they only appear solid when the contrast between their stripes is incredibly low. So very solid-looking red points are actually somewhat unusual and very special.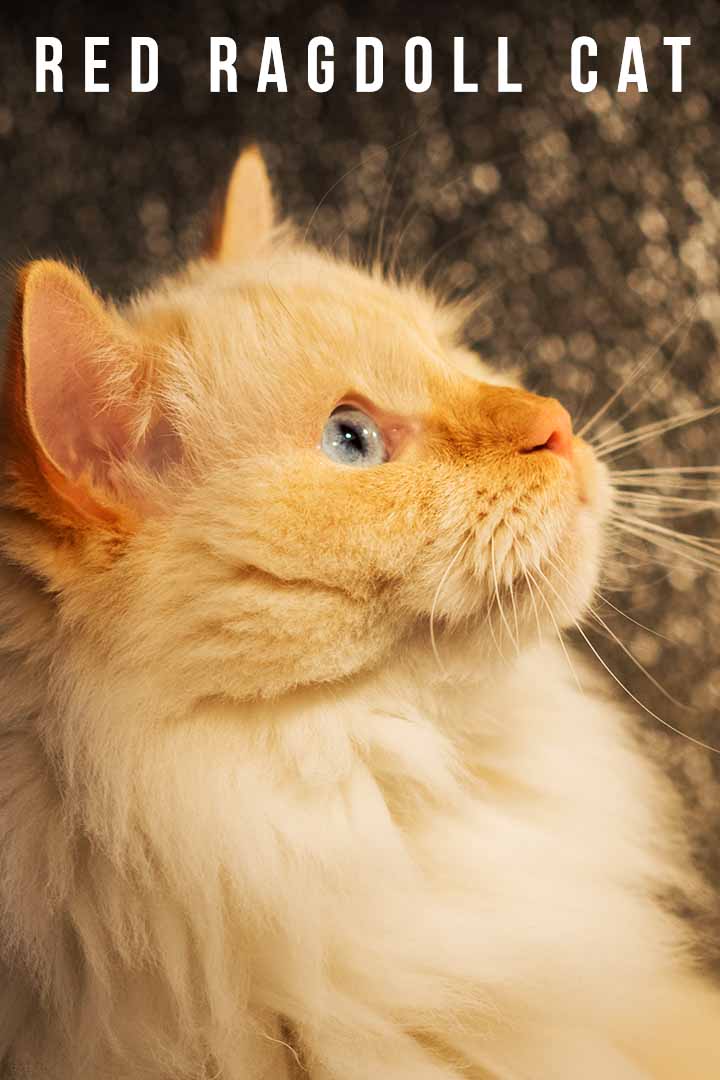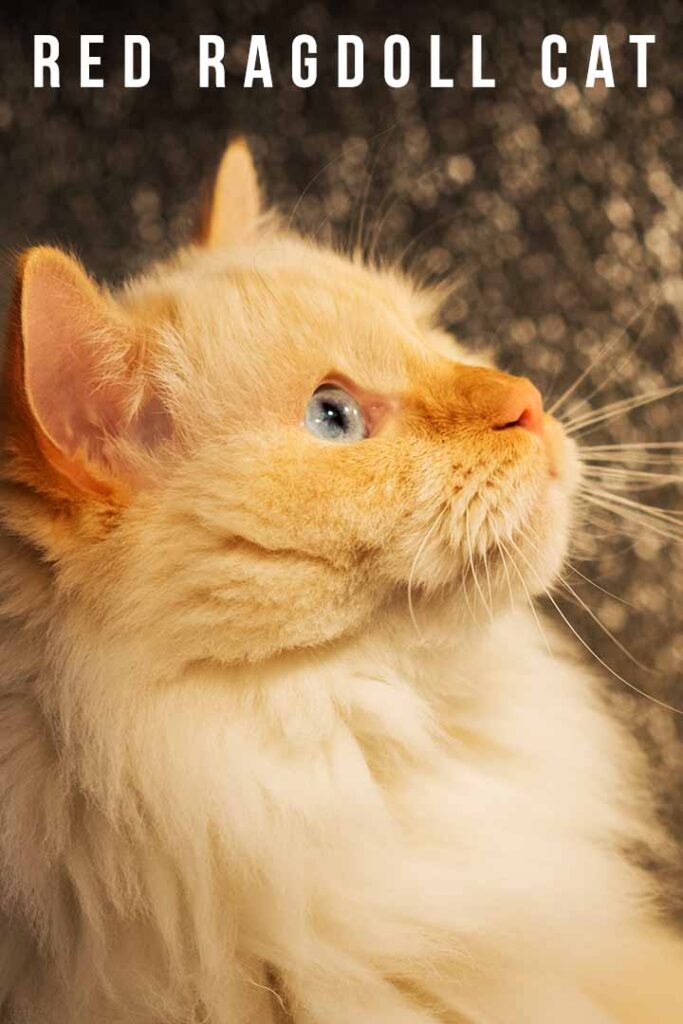 Red lynx points
Lynx point Ragdoll have visible tabby stripes in their points. As we've seen, it's much easier to achieve a red lynx Ragdoll than a Ragdoll with solid red points! According to the breed standard, a perfect example of this pattern has:
a white body, although their might be a ghost of striping or ticking,
deep, distinct red bars on a lighter background color in the points,
deep red ears with a paler thumbprint in their center,
blue eyes,
and flesh- or pink-colored nose leather and paw pads.
Red tortie points
Red fur is also a feature of seal-tortie point and chocolate-tortie point Ragdolls. These cats have irregular patches of red intermingled with seal or chocolate fur in their points. Their body might also be ivory or pale fawn rather than white, and have subtle mottling in it.
Red mitted Ragdoll cat
Finally, let's take a look at some variations on the red Ragdoll which are caused by white markings overlaid on top of their points.
A red mitted Ragdoll cat has white 'socks' on each of their paws, and a white blaze on the bridge of their nose.
Bicolor Ragdoll cats have white legs, belly and bib, and a white triangle on their face which reaches a point in the center of their forehead.
And van pattern Ragdolls are white all over, except for their tail, ears and sometimes the space between their ears and the outer corner of their eyes.
All of these patterns are the result of white markings placed over the top of a red, red lynx, or tortie point Ragdoll cat.
Next, let's take a quick look at how these different patterns are possible. Not because we want to bamboozle you with biology, but because the genetics behind red Ragdoll patterns predict some other interesting differences in red Ragdolls compared to other colors!
Red Ragdoll Cat Genetics
A red point cat is the perfect collision of different genetic instructions for coat color and pattern.
The O gene for red fur
Red fur is produced by the orange gene, or O gene. The O gene contains the instructions for making pheomelanin, an orangey-red pigment. It's mildly confusing that geneticists call the gene O for orange, and cat fanciers call the resulting color red, but such is life.
Interestingly, the O gene sits on the X chromosome, which means it is sex-linked. Male cats only have one X chromosome, so if it has the O gene on it, they will be orange (of flame colored, or red, or whatever you prefer). Meanwhile, female cats have two X chromosomes. If they receive a copy of the O gene on both, then they will also be orange. But if they only receive a single O gene on one of their X chromosomes, they will be tortoiseshell. You can read more about why that is here, but for the purposes of this article it's enough to just accept it.
This pattern of sex-linked color inheritance means that red Ragdolls with solid or red lynx points are somewhat more likely to be male. There are roughly three male red point ragdoll cats for every one female. On the other hand, Ragdolls with red-containing tortie points are always female.
The Cs gene for color points
Next, all Ragdolls owe their characteristic color points to a gene which causes temperature sensitive albinism. This gene is rather unintuitively called Cs. The Cs gene tells hair follicles to only produce pigment when they are below a certain temperature. So, Ragdolls only produce color where the surface temperature of their skin is the coolest, at their extremities.
It's thanks to the action of the Cs gene that you might also see changes in your orange ragdoll cat throughout the year, or if you relocate somewhere with a different climate. Living in a very cold environment can cause Ragdoll to start producing some pigment on the parts of their body that are usually white, so that they are more accurately described as a red cream Ragdoll cat.
Red Ragdoll Cat Temperament
At the time of writing, researchers haven't found any evidence that any of the genes affecting Ragdoll coat color also directly affect temperament. But that doesn't seem to stop us seeing differences anyway! In one survey, respondents were more likely to describe orange cats as friendly. In two separate surveys, cats whose orangeness formed part of a tortoiseshell pattern were more likely to be described as intolerant or aggressive.
We can't say whether these patterns will be found to have a predictable genetic basis or if they're just the result of observational bias from the people taking part. But since orange fur is sex linked, and we can predict that solid or lynx orange Ragdolls are more likely to be male than female, we can also make some predictions about their personalities based on this. Non-neutered males are more likely to roam in search of a mate, and tend to be highly territorial. They may mark 'their' territory by spraying urine, and attempt to fight other males who enter.
Overall, it's likely that a ginger Ragdoll cat will have the same charming temperament as all other Ragdolls: playful, people-focussed, and affectionate.
Red Ragdoll Cat Health
Ragdoll cats' health doesn't appear to be influenced by their color. But, we do know that as a breed they are more likely to need treatment for some diseases than the rest of the cat population as a whole.
It is believed that Ragdolls carry a gene linked to thickening of the heart wall, known as hypertrophic cardiomyopathy (HCM). Heart tissue affected by HCM works less efficiently than unaffected tissue, so that pumping oxygenated blood around the body is impeded. Other factors can also affect the severity of HCM, including most notably weight. Cats kept at a healthy weight experience less severe symptoms than their overweight cousins.
Due to their size, Ragdoll cats are also prone to hip dysplasia, a malformation of the hip joint which causes painful arthritis and lameness. Hip dysplasia is partly genetic and partly environmental – keeping Ragdoll cats at a healthy weight can protect them against this disease too.
Lastly, 1 in 10 Ragdoll cats have signs of chronic (long term) kidney disease. It's not yet clear if there is a genetic reason underpinning this.
Your Red Ragdoll Cat
A flame point Ragdoll is a somewhat less common but beautiful example of Ragdoll coloring. Ragdolls which only have red pigment in their points are more likely to be male, but Ragdolls with a mix of red and seal or chocolate patches in their points are always female. Their temperament is in keeping with the rest of the Ragdoll breed, and factors like sex and neuter status are more significant than color.
Finding flame point ragdoll kittens for sale
Since red Ragdolls are relatively less common than their seal and chocolate cousins, it can take a little longer to find a red Ragdoll kitten. Like all Ragdolls, a flame point ragdoll kitten is born completely white, and their point colors don't start to appear until they are 8 to 10 weeks old. Since this coincides with the age most kittens are ready to leave their mom, it's unlikely that you'll be able to tell when you collect them exactly what they're going to look like as an adult. Once you bring them home, their color may continue developing for several months, until they achieve their final splendid glory.
Do you already have a gorgeous red flame Ragdoll?
Please tell us about them in the comments box down below!
Before you go!
Ragdolls aren't the only red cat breed. They're not even the only red point cat. Read about some alternatives to the ginger ragdoll cat in these articles:
And find out more about Ragdolls on these pages:
References and Resources
Borgeat et al. The influence of clinical and genetic factors on left ventricular wall thickness in Ragdoll cats. Journal of Veterinary Cardiology. 2015.
Delgado et al. Human Perceptions of Coat Color as an Indicator of Domestic Cat Personality. Anthrozoos. 2012.
Kaelin & Barsh. Genetics of Pigmentation in Dogs and Cats. Annual Review of Animal Biosciences. 2013.
Paepe et al. Screening of ragdoll cats for kidney disease: a retrospective evaluation. Journal of Small Animal Practice. 2012.
Ragdoll Show Standard. Cat Fanciers' Association. 2009.
Stelow et al. The Relationship Between Coat Color and Aggressive Behaviors in the Domestic Cat. Journal of Applied Animal Welfare Science. 2016.