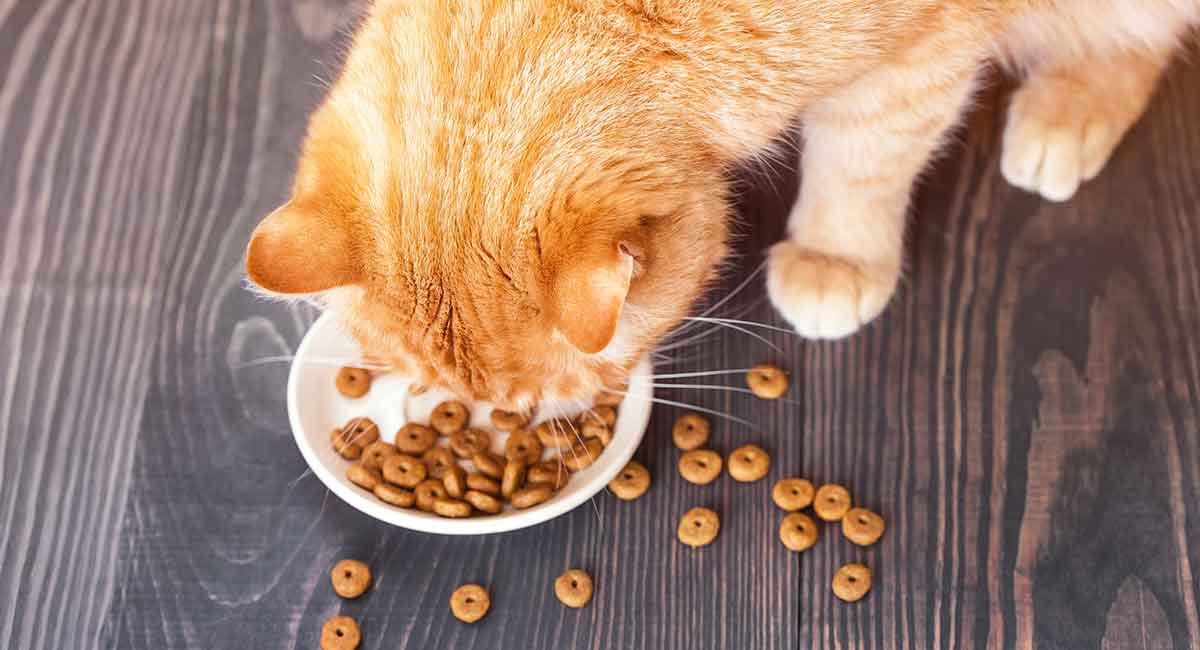 The healthiest dry cat food changes as your cat moves through each stage of life.
The healthiest dry cat food for a kitten, an adult cat or a senior cat will factor in everything from kibble shape, ingredients, and flavor, to vitamins and minerals and nutrient composition (fat, protein, carbohydrates, vitamins, minerals, etc).
It is always smart to take the help of your feline veterinarian. They can help you to determine feeding frequency, portion size, treat portions and other vital elements of your cat's daily nutrition.
In this article, we introduce you to some of the healthiest dry cat food brands for kittens, adult cats and senior felines. Enjoy!
All of these products were carefully and independently selected by the Happy Cat Site team. If you decide to make a purchase from one of the links marked by an asterisk, we may earn a small commission on that sale. This is at no extra cost to you.
Feeding Healthy Dry Cat Food
Let's take a moment to look at veterinarian recommendations for feeding healthy dry cat food to your cat in a way that most closely matches how the modern pet cat has evolved to eat.
Cats Are Obligate Carnivores
If you are caring for a pet cat for the first time, you may not yet be aware that the domestic cat is what is known as an "obligate carnivore." This term means that the feline digestive system has evolved to consume and digest animal protein – and only animal protein.
Cats in the wild will inevitably consume minimal amounts of plant matter. But only because the majority of their prey animals are herbivores. Thus, partially digested plant matter is likely to still be in a prey animal's stomach or intestinal tract when the cat eats it for dinner!
Otherwise, a wild cat's prey is composed primarily of protein with small amounts of fat.
What This Means
What does this mean for choosing the most healthy dry cat food for your pet cat?
It basically means you want to look for a dry cat food that replicates the same natural balance of
protein
fat
carbohydrates
vitamins
minerals
essential fatty acids and
amino acids,
that your cat would naturally consume in a wild setting by catching and eating prey animals.
Feline Feeding Schedule
Cats in the wild will eat anywhere from 12 to 20 times each day, consuming small protein-rich meals as they can catch them.
Domestic cats don't have to catch dinner. But replicating this type of feeding schedule not only provides more daily excitement and enrichment for your cat.
It also guards against over-feeding that can lead to dangerous feline obesity.
Read how much to feed your cat for more information.
Hydration
When you look at your pet cat, you may see fur, claws, ears, eyes, teeth. But did you know a full two-thirds of your cat's body weight is made up of water?
Cats are similar to people in this way, and so, like people, your cat needs to take in water every day to stay healthy.
A cat in the wild would take in daily hydration primarily by eating prey animals. But a pet cat fed a diet of commercial dry cat food needs to drink water. Cats do not naturally have a strong thirst drive and may be slow to realize they need to drink.
Even the best dry cat food will typically contain only 6 to 10 percent moisture content. Compare this to semi-moist cat food, which has a 35 percent moisture content. Or to canned/wet cat food, which has a 75 percent moisture content.
Talk with your feline veterinarian to be sure your cat is taking in sufficient daily hydration. Whether in the form of pure water or by adding some semi-moist or wet food to your cat's daily diet. And always keep fresh, clean water available for your pet cat!
Choosing the Healthiest Dry Cat Food 2019
We are really lucky in 2019 – we have such a wide range of cat food options! Of course, this can also make choosing the healthiest dry cat food for indoor cats or outdoor cats pretty complicated.
What should you look for in your cat's food? Is there any way to distinguish between the best cat food and all the rest?
AAFCO-FNE Statement
One thing to look for is a seal from the Association of American Feed Control Officials (AAFCO) Feline Nutrition Expert Sub-Committee (FNE). This oversight group governs what cat food manufacturers must put in their cat food in order to display the AAFCO seal of approval.
Expiration Date
Another thing to watch for that is a lot simpler to remember is the dry cat food expiration date. This is something that is especially important to watch for when you are buying a cat food online. Be sure to check the date on the bag when it arrives and if the food isn't fresh, send it back!
Human Grade
"Human grade" is a term that is only used for pet foods. Starting just a few years ago, the AAFCO took steps to define this term to mean ingredients that are prepared and handled as if a person (instead of a cat) would be eating them.
It is important to remember that this term refers only to how the food is selected, prepared, processed and distributed. It is not whether that food is safe or appropriate for a cat to eat. Or whether the nutrient levels in that food are optimally balanced for feline nutrition.
Protein to Fat Ratio
Just like different people may need a different nutrient balance because of their height, weight, life stage and specific health issues. So too is it impossible to generalize about what "all cats" need nutrient-wise.
Always talk with your feline veterinarian to determine a personalized nutrient balance for your cat's breed, age, life stage and health concerns.
However, you can use these general guidelines from the Natural Resources Council for the National Academy of Sciences to get a sense of how cat food is formulated for cats at different life stages.
Kittens: Kitten food should contain a minimum of 10 grams of protein per 4 grams of fat.
Adult or senior cats: Adult cat food should contain a minimum of 12.5 grams of protein per 5.5 grams of fat.
Differences Between Adult and Senior Cats
You may be wondering why adult and senior cats have the same recommended protein to fat ratio.
From a general standpoint, most veterinarians no longer recommend reducing protein intake for older cats. Rather, the recommendation is to reduce calories as needed (up to 30 percent) as activity levels decrease with age.
Always talk to your veterinarian for customized guidance before starting to reduce your elder cat's daily caloric intake.
Vitamins, Minerals and Nutrients
The healthiest dry cat food brands include the full complement of recommended vitamins, minerals and nutrients for your cat's age and stage of life.
In most cases, supplementing your cat's daily diet with extra vitamins or minerals isn't necessary. Never add supplements to your cat's food unless your feline veterinarian advises you to do so.
Instead, look for a healthy dry cat food that includes a veterinarian-recommended daily intake of vitamins, minerals, essential fatty acids and amino acids.
Healthiest Dry Cat Food for Kittens
Kittenhood is an all-too-brief stage of your pet cat's life. The nutrition your kitten takes in is quite simply critical for healthy development.
Is your kitten is experiencing a lot of teething pain or too little to easily grasp and chew a dry kibble? Try moistening the kibble so it is softer or add in a little wet food as a topper.
Blue Buffalo
This specially formulated dry kitten food by Blue Buffalo* contains essential nutrients for healthy kitten development with a full 30 percent protein and zero grains.
The dry kibble includes LifeSource bits which are packed full of essential vitamins and minerals kittens need.
Purina ONE
This kitten-formula by Purina ONE* is sourced and made in the USA with no fillers and real chicken as the first ingredient. It includes a range of nutrients kittens need for healthy development.
The crunchy outer rim of the kibble acts as a natural teeth-cleaning agent to fight tartar and plaque.
Royal Canin
This kitten food by Royal Canin* is specifically created to meet a growing kitten's needs between the ages of 4 and 12 months. The kibble is smaller size to help a young kitten easily grasp and chew it.
The recipe includes highly digestible protein, fiber and prebiotics to ease digestive growing pains.
Healthiest Dry Cat Food for Adult Cats
With so many cat food brands to choose from, sometimes finding the healthiest dry cat food for adult cats simply comes down to choosing the recipe your cat likes best!
Iams
This adult cat food by Iams* comes in three flavors.
It's designed to provide whole and complete nutrition to an active adult feline.
Royal Canin
This special recipe by Royal Canin* is designed to reduce waste odor and use fiber to naturally move hairball matter out of your cat's digestive tract.
This food is suitable for cats aged one to seven years.
Instinct Raw Boost
If you are interested in feeding your cat a raw diet, Instinct's raw boost recipe* is a good way to start.
It contains freeze-dried raw cage-free chicken with grain-free kibble and vitamin/mineral LifeSource bits.
Healthiest Dry Cat Food for Senior Cats
These senior cat recipes are designed to keep your mature cat feeling full and satisfied all throughout the golden years of life.
Nutro Wholesome
This senior dry cat food by Nutro Wholesome* is nutritionally formulated with the reduced activity of the senior cat in mind.
The gentle recipe includes non-GMO real chicken and brown rice with vitamins, minerals and essential fatty acids and amino acids to keep skin and coat healthy.
Solid Gold
This cat food by Solid Gold* is suitable for both adult cats and senior cats.
It is also great to offer a cat with sensitive stomach issues.
Blue Buffalo
This recipe by Blue Buffalo* includes wholesome, natural and filling real chicken, whole grains and vegetables to keep your senior cat happily full and healthy.
Healthiest Dry Cat Food for Cats with Food Allergies
Grain-free dry cat food is becoming a popular choice with cat owners because some cats find a diet too high in grains to be digestively irritating or allergy-forming.
Purina
This grain-free recipe by Purina* includes a full complement of essential vitamins and minerals.
But it leaves out the grains, artificial additives and fillers that can cause some cats to develop food allergies.
Blue Buffalo
This grain-free recipe by Blue Buffalo* features wholesome, all natural real food ingredients.
It also contains added LifeSource vitamin and mineral bits.
Crave
This grain-free dry cat food* by CRAVE comes in four tasty flavors.
It is also free from potentially irritating soy, corn, wheat and chicken by-product meal ingredients.
Healthiest Dry Cat Food for Cats with Sensitive Stomach
Is your pet cat is beginning to show symptoms of sensitive stomach issues? Your feline veterinarian may recommend pursuing a grain-free or limited ingredient diet to try to rule out the cause of the sensitivity.
Solid Gold
This grain-free cat food recipe by Solid Gold* is designed to help prevent hairballs from forming. It  also protects your cat's sensitive digestive system.
Special prebiotics, probiotics and fermented fibers plus naturally-sourced vitamins, minerals and superfoods offer your cat complete and balanced nutrition.
Halo
This recipe features a holistic seafood medley* that is made with real whole fish and no meal or by-products.
This dry cat food is free from GMOs, artificial ingredients, antibiotics and fillers that can irritate your cat's digestive tract.
Instinct
This limited ingredient recipe by Instinct* features one protein source and one vegetable source.
It also has no grain, dairy, wheat, soy, artificial ingredients, preservatives or other potentially irritating ingredients.
What Is the Healthiest Dry Cat Food for Your Cat?
We are so lucky to have so many choices for the healthiest dry cat food 2019! Today, cats have nearly as many options for their food as we do for our food!
If your cat needs a healthy dry cat food recipe for kittenhood, adulthood, the golden years or a special health issue. This article should help you to find the very best healthy dry cat food that is nutrient-rich and tasty too.
Which healthy dry cat food do you plan to try with your pet cat? Please share your comments here – we love to learn from our readers!
And if you're looking for an alternative to dry food, check out our guide to canned kitten food.
Affiliate link disclosure: Links in this article marked with an * are affiliate links, and we may receive a small commission if you purchase these products. However, we selected them for inclusion independently, and all of the views expressed in this article are our own.
References and Resources