Does high fiber cat food provide any benefits? You already know fiber is an integral part of your diet, but what about your cat?
Humans hear it all the time:
Need to lose weight? Eat more fiber.
Feeling constipated? Eat more fiber.
Want to avoid chronic diseases like diabetes? Eat more fiber.
Your pets rely on you to make essential health choices for them, including what food gives them the right balance of nutrition.
All of these products were carefully and independently selected by the Happy Cat Site team. If you decide to make a purchase from one of the links marked by an asterisk, we may earn a small commission on that sale. This is at no extra cost to you.
What Is Fiber?
Does your cat need a high fiber cat food? If so, why?
What exactly is fiber, and why might both the two- and four-legged animals in your life need more of it?
Fiber is the part of your diet that the gastrointestinal tract doesn't break down.
Undigested fiber pushes through the intestine, cleaning along the way.
You can think of dietary fiber as a small, intestinal broom that sweeps out your colon.
That's a little gross, but without it, you can't maintain good bowel health.
If you were to eliminate fiber completely, the waste material would build up and constipation would set in.
In both you and your pets, unchecked constipation leads to impaction.
Impaction eventually causes the intestines to rupture – a problem that is life-threatening.
Different Kinds of Fiber
When it comes to dietary fiber, there are two types: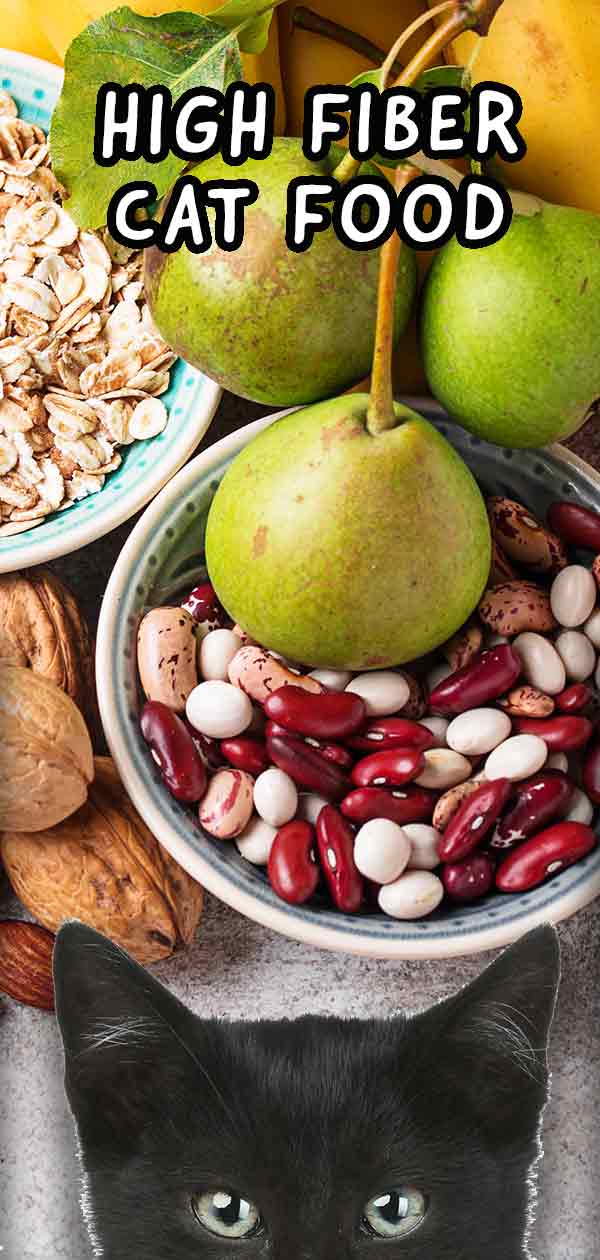 Soluble fiber dissolves in water and becomes a gel-like substance that helps control blood sugar. Insoluble fiber is the broom.
This fiber type does not dissolve, and it isn't absorbed by the body.
Instead, it adds bulk to the stool in a way that helps to relieve constipation and other gastrointestinal problems.
Cats and Fiber
Cats are obligate carnivores.
In other words, they are only adapted to digest meat. Animal proteins are the only food source they can get all the energy and nutrition they need from.
As carnivores, their intestinal tract is shorter than, say, dogs, which eat both meat and plants.
Plant-based diets take longer to break down and digest than meat, so cats simply don't have the time to do so.
All this means cats have adapted so they don't need plant fiber to maintain healthy gastrointestinal tracts. Cats get their fiber other ways.
Outdoor and feral cats that hunt eat their prey and get their fiber from fur, tendons and cartilage.
Instinctively, feral and outdoor cats avoid most plant fiber.
A diet without it means their feces are typically small with almost no odor. This makes their waste easy to bury, and that helps keep them safe from predators.
Indoor and outdoor cats also clean themselves a lot, and that introduces hair into their systems. Believe it or not, cat hair is also a good source of fiber.
Why Might a Cat Need a High Fiber Cat Food?
A healthy cat will get all of the fiber they need from a high-quality, high-protein and -fat diet.
But occasionally you vet might suggest a high fiber diet as part of treatment for a sick cat.
For example, sometimes a high fiber cat food is part of a treatment plan for diarrhea,  and chronic constipation, or recurring trouble with hairballs.
Can a High Fiber Cat Food Prevent Obesity in Cats?
Obesity is a growing problem for  domestic cats worldwide, which brings with it increased rates of obesity-related illnesses, such as diabetes.
Some pet owners link high fiber cat food with weight loss, but that is not always effective.
When a cat is getting more fiber, it means they are digesting less protein.
The reduction in protein can cause loss of muscle mass, which lowers the cat's metabolic rate and leads to weight increase.
If' you are worried about your cat's weight, have a chat with their vet before making changes to their diet.
Choosing the Best High Fiber Cat Food – The Importance of Veterinary Advice!
The decision to put your cat on a high fiber diet or any kind of specialist food should always come from your vet.
Cats' digestive systems aren't adapted to digest plant fiber.  Too much may not be suitable for them, and you might be surprised how little constitutes "too much" for a cat!
This Australian study found that only a very small daily supplement including crude fiber improved the hairball symptoms of the participants, for example.
Many cat foods fall under the category of specialist products. Pet food manufacturers market them for specific goals such as
urinary tract health
weight loss
extra energy
dental health
gastrointestinal health
But specialist cat foods are not right for every cat.
By deciding your cat needs high fiber food without consulting a vet, you might unintentionally rob them of something they do need, like sufficient protein.
What's important is to give your cat food that has the proper nutritional balance based on age and health needs.
Young cats require food high in protein to support growth. Older cats might need food that is easily digestible.
Always be led by your vet, and make changes to your cat's diet gradually.
What Is a High Fiber Cat Food?
Most commercial dry food contains plant fiber, but these are not a high fiber cat foods.
Dry foods all contain some carbohydrate and fiber in them to make them dry. In this respect, they are all high fiber compared to a natural diet our cats evolved to eat!
These high fiber cat foods have all been developed with particular attention to the quantity and quality of fiber in the recipe.
They might be the type of diet your vet suggests if they recommend an increased fiber diet for your cat.
This popular cat diet contains increased fiber from veggies, dried beets and added cellulose.
This diet offers high-quality protein and natural sources of fiber including psyllium huck – the same source of fiber successfully used to protect cats from hairballs in the Australian study cited earlier.
The Best High Fiber Cat Food – Conclusion
Cats' digestive systems are not evolved or adapted to extract any nutritional value from plant fiber.
Whilst fiber is an inevitable part of commercial dry cat foods, most cats do not need additional fiber adding to their diet.
Before buying cat food with high fiber, talk to your vet to see what is best for your cat's health.
If your cat is thriving on a high fiber diet, please tell us their story in the comments box!
Affiliate link disclosure: Links in this article marked with an * are affiliate links, and we may receive a small commission if you purchase these products. However, we selected them for inclusion independently, and all of the views expressed in this article are our own.
References and Further Reading
German, A.J., 2006, "The Growing Problem of Obesity in Dogs and Cats," The Journal of Nutrition, Vol. 136, Issue 7
"Indoor Cats vs. Outdoor Cats," 2016, American Humane Society
"Optimum Feline Nutrition – What Should Your Cat Eat," Rau Animal Hospital
Peterson, M.E., 2017, "Slimming Your Cat: What Works and What Doesn't," Feline Nutrition Foundation
Washabau Robert, 1999, "Pathogenesis, Diagnosis, and Therapy of Feline Idiopathic Megacolon", Veterinary Practice: Small Animal Clinic.
Marks, 2011, "Enteropathogenic Bacteria in Dogs and Cats: Diagnosis, Epidemiology, Treatment, and Control", Journal of Veterinary Internal Medicine.
Dann et al, 2004, "A Potential Nutritional Prophylactic for the Reduction of Feline Hairball Symptoms", The Journal of Nutrition.