Knowing how to tell if cats are playing or fighting is an invaluable skill for cat parents.
It is usually possible to tell the two apart based upon the cats' ages, body language, and other clues in their environment.
Sometimes there are gray areas between playing, play fighting and fighting in pet cats, and sometimes playing can suddenly turn aggressive too.
So it's also important to know how to separate cats which are playfighting, and how to make sure their fights remain fun and not furious!
How To Tell If Cats Are Playing Or Fighting
Cats who are playing:
have their ears up, and facing forwards
take it in turn to pounce on one another, or be on top in a wrestle
take little breaks, then resume playing
and are generally quiet, besides the scuffling sounds.
Whilst cats who are fighting:
flatten their ears against the back of their heads and raise their hackles
don't take turns
keep fighting until one cat has won, or escaped out of reach
and make noisy vocalizations, such as hissing and screeching.
Telling one from the other
Sometimes it's pretty obvious when cats are playing, and when they're fighting.
But since normal play behavior can also look rather rough by human standards, it's quite normal to end up second guessing yourself.
Which is why a more detailed understanding of the differences will give you greater confidence interpreting the situation!
Play Behavior In Cats
Most kittens play with their littermates.
In fact, social play among cats begins around the time they are 4 weeks old, and reaches a peak when they're about 12 weeks old.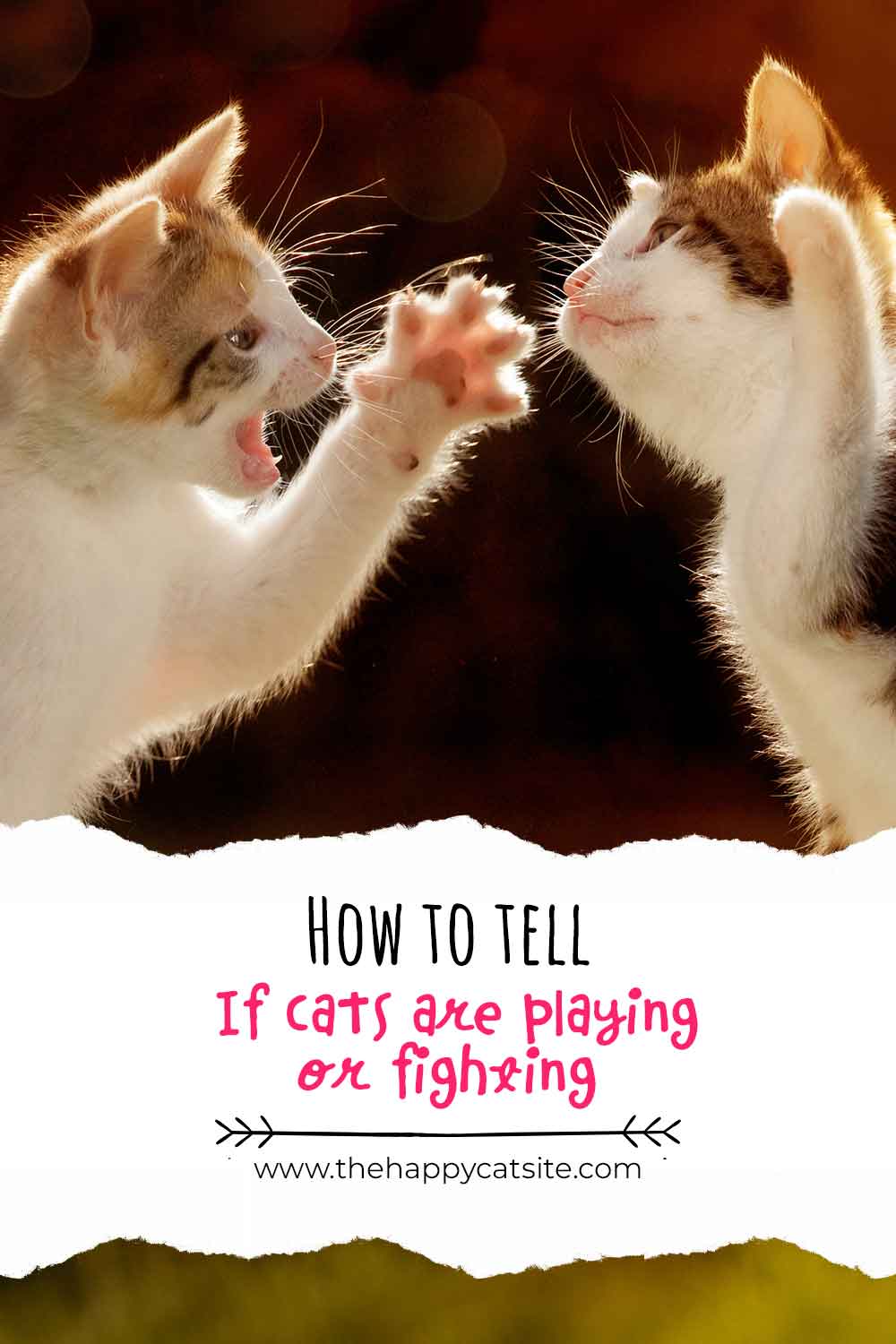 After this, the amount of time they spend playing declines again, although some cats never completely lose interest, no matter how grown up they're "supposed" to be!
Playing is especially common in male kittens, and female kittens with only or mostly male siblings.
Play behaviors in kittens cats are usually a leisurely version of other behaviors that they need for survival.
In fact it's thought that an important function of play fighting is to practice the predatory behaviors they would rely on to catch food in the wild.
So for example, they may pretend to "hunt" another cat.
Or they might pretend to wrestle or fight – these are ways that grown up cats decide social status and defend their territories.
Play is also an important part of kittens' physical development. The actions involved prepare them for adulthood by strengthening their muscles and developing their eye-muscle coordination.
Fighting And Aggression In Cats
Cats – particularly male cats – wouldn't usually choose to live with other cats.
Which often means that when they are thrown together in the same home, or even just the same neighborhood, many of their interactions are hostile.
In a review of cases published by the Animal Behavior Clinic at the University of Barcelona, nearly a third of behavioral complaints reported by cat owners related to aggression between cats.
Cats might behave aggressively to one another, or even fight, due to:
rival males defending territory or resources (including access to females in season)
females warning off unwanted attention from males
or because something else is bothering them, and they're taking out that fear or anxiety in the wrong place (redirected aggression).
In kittens, play fighting also turns into real fighting as they reach sexual maturity.
In the wild, this shift in behavior brings about the dispersal of the litter to start their own adult lives.
Signs Your Cat Is Playing, Not Fighting
Since one purpose of playing is to practice for real life fighting, it can be tricky to tell them apart!
The main play behaviors in cats are:
Stalking one another, as if stalking prey, with their belly low to the floor, and eyes fixed on their playmate
Rearing up on their back legs with their front paws extended above their heads, in an almost comic, exaggerated 'pounce pose'
Wrestling – rolling around with their paws wrapped around each other, but their claws retracted!
Arching their back and flexing their neck. This is an especially difficult action to interpret correctly, because it looks so much like a cat who is preparing for a real altercation. But a cat who's just playing will have their ears up and facing forward, their coat lying flat, and no tension in their face.
But the biggest give away that two cats are playing rather than fighting is reciprocity: they take turns to pounce on each other, be on top in a wrestle, and act out the part of aggressor or victor.
Next let's see how that compares with true fighting.
Signs Your Cat Is Fighting
In a lot of ways, cats fighting looks like cats playing, but with the fun taken out.
Look for:
Tense or defensive body language, such as raised hackles, ears pinned back, extended claws and a tense facial expression.
Loud vocalizing, including hissing and screeching.
One cat repeatedly attacking another, rather than both taking turns.
You can also look for clues in the context of the fight.
For example if your cat is tussling with an unfamiliar cat in your cat's territory, it's more likely to be a hostile interaction.
Likewise, female cats are unlikely to be playing with an unfamiliar male, and two unfamiliar males are also more likely to fight than play.
But even for people with lots of experience observing cats' behavior, there are a lot of gray areas between playing and fighting.
Which is why the next section is so important.
How To Break Up Fights And Play Fights
If you're unsure whether your cats are playing or fighting, it's usually safest to discourage them from continuing anyway.
Even something which started out as a game can slip into fighting if one cat loses interest and the other doesn't take the hint.
You might simply be catching the transitional moments in between!
Never try to break up a fight with your hands – you're far too likely to end up injured.
Instead, distract them by making a loud noise, then physically separate them.
For example by calling your own cat indoors, or putting each cat in a separate room, if they both belong to you.
Keeping Kitty Relationships Sweet
Cats raised with their mom and siblings learn to moderate their behavior, or "pull their punches", as young kittens.
This normally means that they instinctively know how to play nicely with other cats when they get older.
However, kittens who had to be reared away from their siblings, or who were the only kitten in the litter, might not have a very developed sense of when they've taken it too far.
So always keep an eye on your cat when they play with another cat, for signs that the game is turning sour.
The importance of sufficient resources
Cats who live together are more likely to fight if they're worried that there aren't enough resources to go around.
Examples of valuable resources include:
places to eat and drink undisturbed
and safe spots to sleep.
So to avoid feline fall outs in your home, make sure that there are plenty of these things to go around!
How To Tell If Cats Are Playing Or Fighting – Summary
Cats are more likely to play when they're young, and with other cats who are familiar to them, such as siblings.
Cats playing often look like they're fighting, but the context and their body language will tell you when there's nothing to be alarmed about.
The more you observe how your cat behaves when they are feeling playful, and when they are feeling threatened, the more confident you will become in telling the two apart.
Does Your Cat Love To Play?
Tell us about them in the comments box down below!
References And Further Reading
Beaver. Fractious cats and feline aggression. Journal of Feline Medicine and Surgery. 2004.
Amat et al. Potential risk factors associated with feline behaviour problems. Applied Animal Behavior Science. 2009.
Bateson & Barrett. The development of play in cats. Behaviour. 1978.
Caro. Sex differences in the termination of social play in cats. Animal Behavior. 1981.
Pachel. Intercat Aggression: Restoring Harmony in the Home: A Guide for Practitioners. Veterinary Clinics of North America: Small Animal Practice. 2014.
The social structure of cat life. ICatCare. 2018.