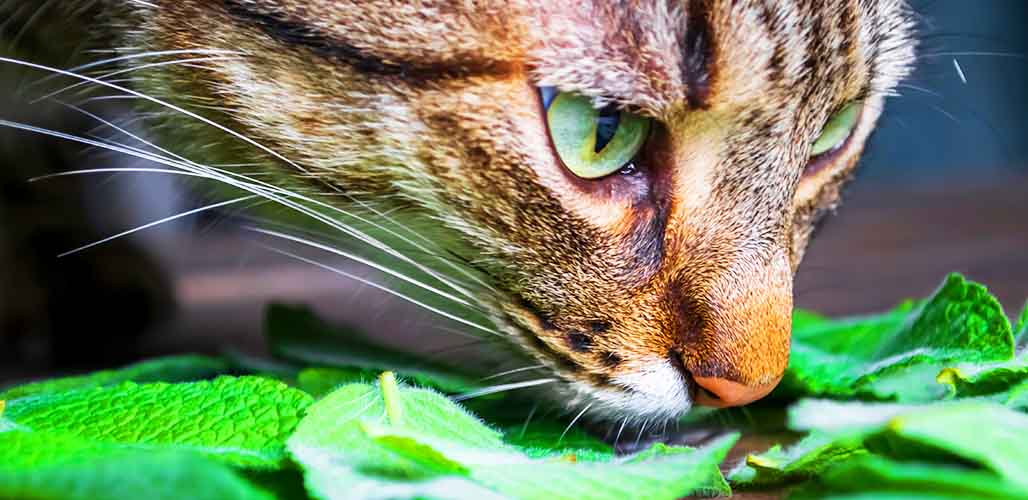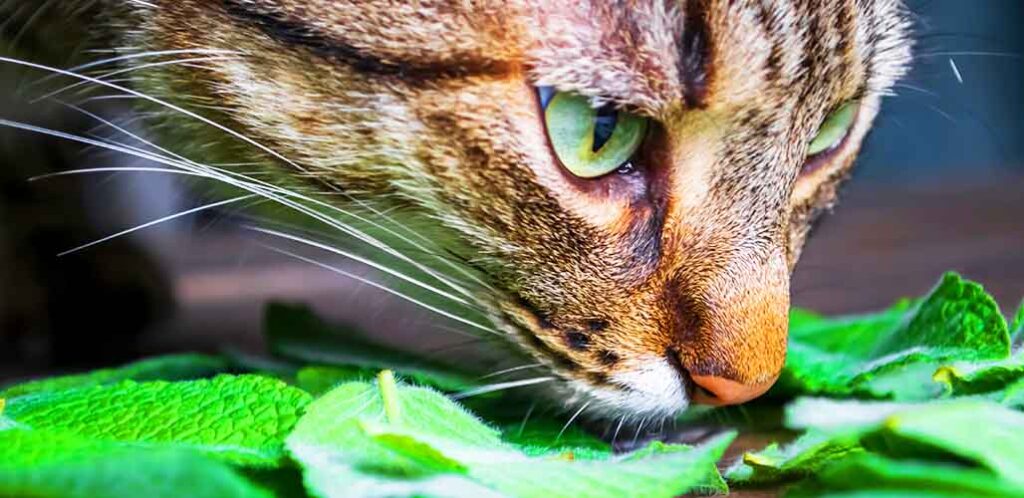 Mint is bad for cats, and one of those herbs that although innocent to us can be potentially very dangerous to our kitties. Today I'll share what happens when a cat has a nibble on a mint leaf, and how to help your cat to stay safe.
Contents
Cats are naturally curious creatures, and as a cat owner, you obviously want to keep them as safe as possible. You've probably thought over all the dangerous situations your cat could get themselves into, but one that may not have crossed your mind is mint. Yes, you heard it, that little green plant that contributes to the perfect mojito could actually be fatal for your feline friend.
Is Mint Bad For Cats?
Mint is toxic for cats as it contains essential oils. If your cat consumes them in high quantities, it can be life-threatening. In saying that, not all mint plant varieties are harmful. If you know anything about plants, you may know that catnip and catmint are also types of mint, and they're ones that your cat simply adores.
Catnip and catmint are safe for cats and are partly to blame for why your cat may gravitate toward other types of mint, as the smell and leaf shapes are fairly similar.
If your cat only digests a small amount of mint, then you may have nothing to worry about, as most mint poisoning cases occur after a cat eats a large quantity or if they come into contact with the mint essential oil.
It is important to remember, however, that all cats will react differently, and no two experiences will be the same. Some cats may be seriously affected by mint, whereas it may not bother others. Smaller cats or tiny new kittens are likely to react to a far smaller nibble from your plant.
Are All The Parts Of A Mint Plant Bad For Cats?
Sadly, all parts of a mint plant are toxic for cats, particularly the stems, leaves, and flowers. The entire plant is full to the brim with essential oils, which aren't just toxic for your cat but also for horses and dogs.
Has My Cat Got Mint Poisoning?
If you think your cat may have ingested some mint, then these are the most common signs and symptoms to look out for:
diarrhea
nausea
upset stomach
vomiting
weakness
Some other signs to look out for is if your cat seems dazed and sleepy. Many cat owners whose cats have ingested mint have said this behavior is similar to their cat being stoned. Alternatively, your cat may also have a completely opposite reaction and become energized and erratic.
As no two cats are the same, it is important that you really get to know your cat and their behaviors and toilet habits, as it will help you identify when something is wrong so you can get them the medical help they need.
Time To See The Veterinarian
If your cat starts showing any symptoms after they potentially ingested mint, then it is important that you take them to the veterinarian straight away.
Your veterinarian will perform a full physical examination on your cat and will check for any abnormalities. They may also perform blood tests and take urine samples to ensure that your cat's liver is functioning correctly and their blood count is normal.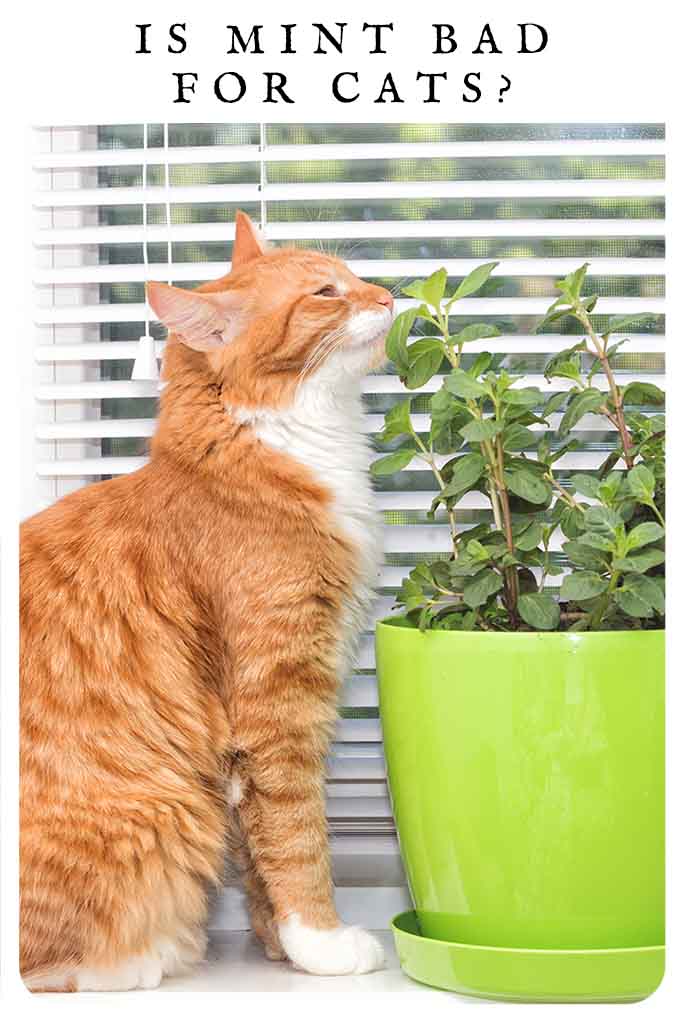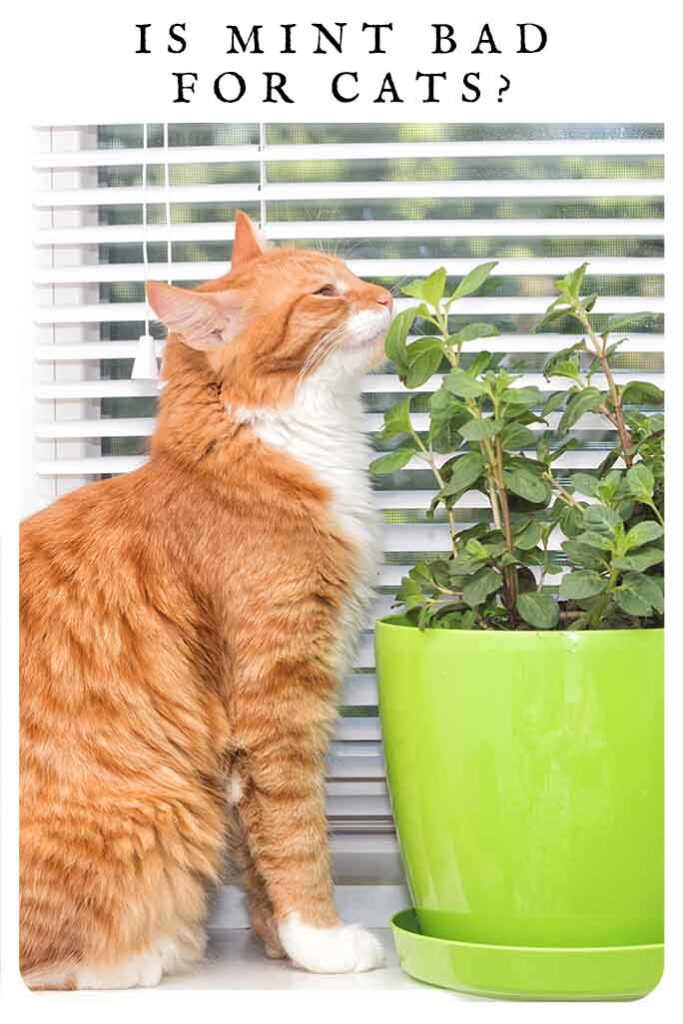 How To Treat Cats With Mint Poisoning
If your cat has ingested small amounts of mint, then treatment may not be necessary, and your vet will most likely tell you to monitor their condition and bring them back if their symptoms get worse. For cats who ate a large quantity of mint, however, then your vet could recommend removing their stomach contents and putting them on supportive care.
Inducing Vomiting
To remove your cat's stomach contents, your vet will induce vomiting, often by giving your cat hydrogen peroxide. In extreme cases, they may also use a stomach pump to remove all plant material from your cat's stomach before your cat has time to fully digest it.
Supportive Care
Throughout your cat's treatment, your cat will be kept as comfortable as possible and monitored constantly to ensure their symptoms don't progress any further.
Excessive vomiting and diarrhea can cause your cat to become dehydrated, so your vet may hook them up to intravenous fluids to ensure that they remain stable at all times. Your veterinarian may also administer anti-nausea medicine to prevent your cat from being sick.
Is Mint Bad For Cats?
Mint can be life-threatening for your feline friend, so it is important that you keep them away from the plant itself, mint essential oils, and any other products that contain traces of mint.
Small amounts of mint shouldn't be overly harmful for your cat, but we recommend taking them to the vet if you believe they have ingested the plant to have them checked over and to ensure that there won't be any long-lasting effects.
More Cat Questions Answered