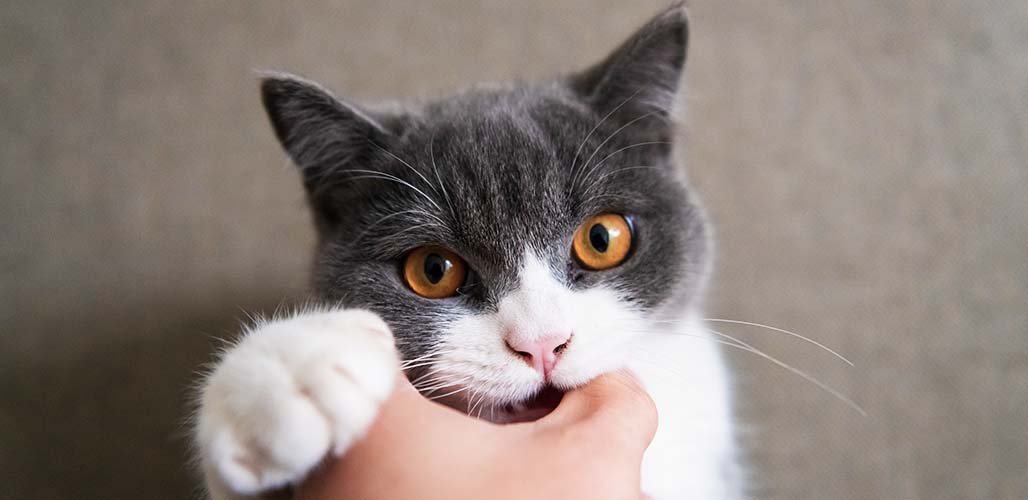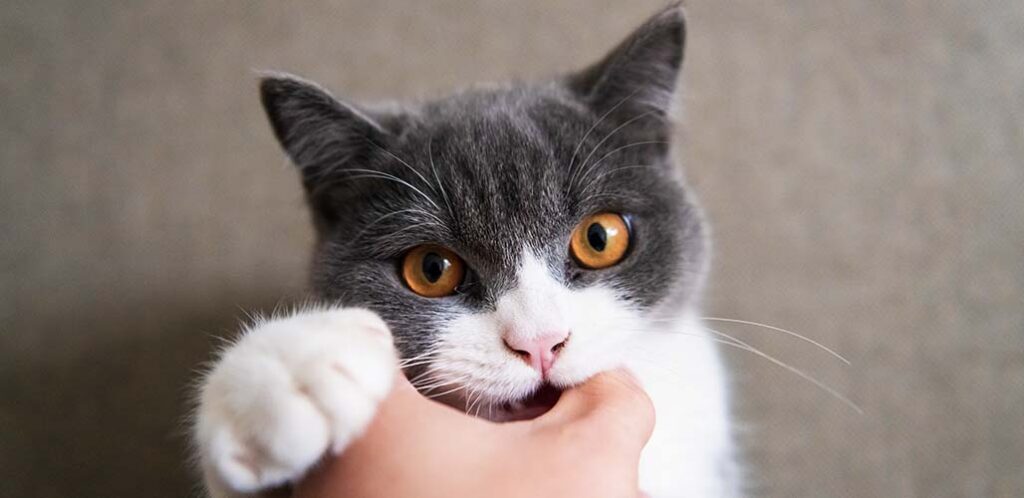 If your cat gently bites you while purring, it usually means they have been over stimulated. They are fed up with your kind attention, and would kindly like to request a bit of space. However, your cat may gently bite you while purring for other reasons. Today I'll share the top reasons why pet cats softly bite their owners, and what you can do to avoid it happening again.
Contents
Why Does My Cat Bite Me Gently While Purring?
If you're a cat mom, dad, or simply a cat owner, you've probably experienced your cat gently biting you while purring. While this may be difficult to interpret because we don't speak cat language, it shouldn't worry you too much. It is common for cats to bite while purring.
Purring is typically associated with vibrant and happy cats. Kittens, for example, purr when they are delighted or nursing. Adult cats purr when they are relaxed or sometimes anxious.
Do Cats Bite To Mark Their Territory?
Cats may gently bite while purring to say, "this is my space", in cat language. It's worth noting that cats mark territories in the animal kingdom, places, and even chairs. Tiny, my cat, always bites me while purring when she sees me sitting on her beanbag. In such a scenario, she's obviously telling me that's her place and chair.
Is Gentle Biting Ever Play Biting?
When a cat bites you while purring, they want to play. We sometimes think deeply and try to imagine that our cats are constantly attempting to communicate something. No, sometimes they want to play and bond.
Biting Through Anxiety or Fright
When a kitten is nervous, it might bite you gently. They usually try to tell you they're uncomfortable in a certain situation. When older cats are anxious, they will usually bite more aggressively and confidently.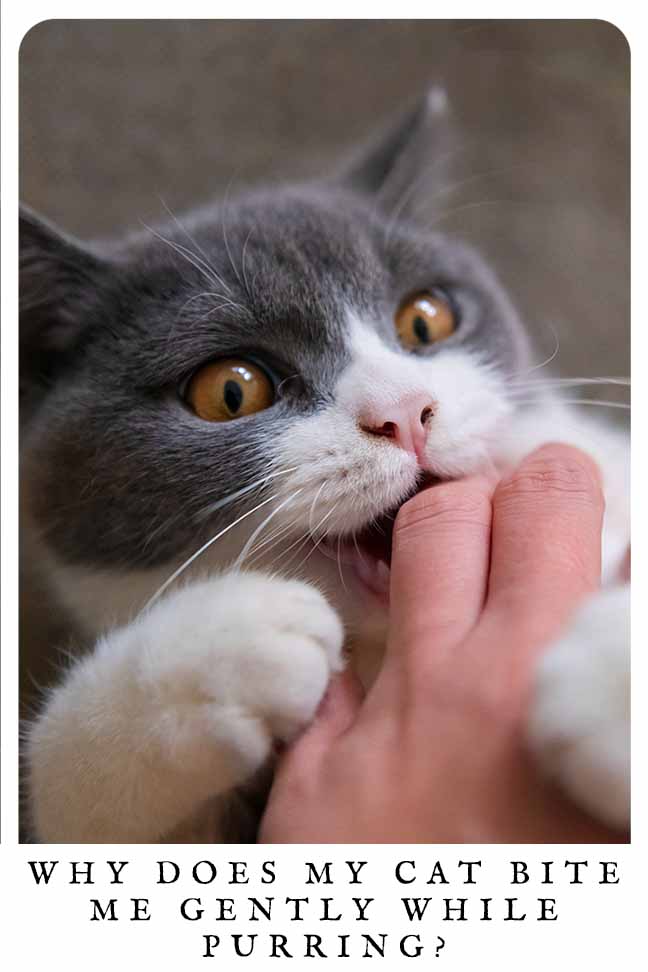 How To Tell When Your Cat Is Unhappy But Purring
Although the bites are gentle, you may not enjoy them. They leave marks on your hand. The only way to prevent a cat from biting you is to recognize the warning signs and act accordingly.
Before a cat bites you, they've probably signaled you several times, but you probably didn't understand what they meant. Again, even though we're inseparable from our cat, we don't speak the cat language; we might miss some of these signs. Some of the signs to look out for are:
Tail movement
Ear movement
Body posture changes
Cat's Tails Send Signals
Many cats move their tails as a reflex. Most tail movements communicate something, but in some cases (rarely), it is a bodily movement. For example, if your cat's tail twitches back and forth towards the tip, it indicates that they are enjoying the petting. If the tail twitches side to side, that's your cue to stop whatever you're doing. If you insist, things might not turn out well.
Your Cat's Ears Show Their Mood
If your cat wants you to continue petting them, their ears will likely point up and lean forward. If their ears lean sideways, flattened or low, they're uncomfortable. At this time, all they need is space. Give them exactly that until they seem relaxed. Like you'd need some time to yourself, cats also need that.
Is Your Cat Annoyed?
You can easily tell when your cat is irritated or annoyed—their body shifts into a crouched position. When you notice such a mood change, let them be.
You can tell when your cat needs more petting. They stare at you with partially closed eyes, blinking slowly as if they're about to black out. In such cases, they will comfortably lay on your lap with their legs spread.
How To Reduce The Chances Of Your Cat Biting You
Reading your kitty's body language is a great way to avoid getting a gentle nip. But you can reduce the chances even further by making their days more interesting and rewarding them for good behavior.
Increase their playtime
Sometimes cats bite while purring to get some love, bonding and playtime. When the bites become a little more aggressive, they're trying to communicate that you're not giving them enough playtime. Therefore, setting time aside to play with them might help.
Reward the behaviors you like
This is where you reward your cat for communicating in ways other than biting. But be careful not to overdo it. Cats are intelligent, and they may take advantage.
Gentle Bites vs Aggressive Bites
You can easily differentiate between a gentle bite and an aggressive one. A gentle bite consists of small nips without scarring or marks on your skin. Aggressive bites are painful and often accompanied by other signs like growling.
Mostly, the cat is usually in a fight mode. Aggressive bites are more likely to occur when the cat is anxious or feels threatened. In these cases, if you were petting or playing with the cat, leave it alone. Also, avoid scolding or shouting at her, of course.
Do Unwell Cats Gently Bite You While Purring?
Although we associate biting and purring with cats wanting personal space, it can go deeper. Your cat could be sick. The illness can be mild or severe. Usually, the cat purrs louder than usual, and bites are frequent.
When you notice your cat behaving in such a way, a trip to the vet will help. Your vet will examine your cat and inform you of any underlying issues. Bitings will be frequent if your cat is in chronic pain. Beware of such changes since your cat won't verbally tell you they're feeling pain or unwell.
Why Does My Cat Bite Me Gently While Purring?
Cats don't always make a lot of sense to us humans, but the longer you live with your cat, the more you'll understand them. Biting is a sign that they want you to stop whatever it is you are doing. Give your cat the space they need when they need it.
The purring and biting while in need of space doesn't mean they hate you. They'll always come back when they need attention. Do not punish your cat whenever they purr and bite you. You'll be pushing your cat away, and nobody wants such a relationship with their cat.
More Cat Questions Answered