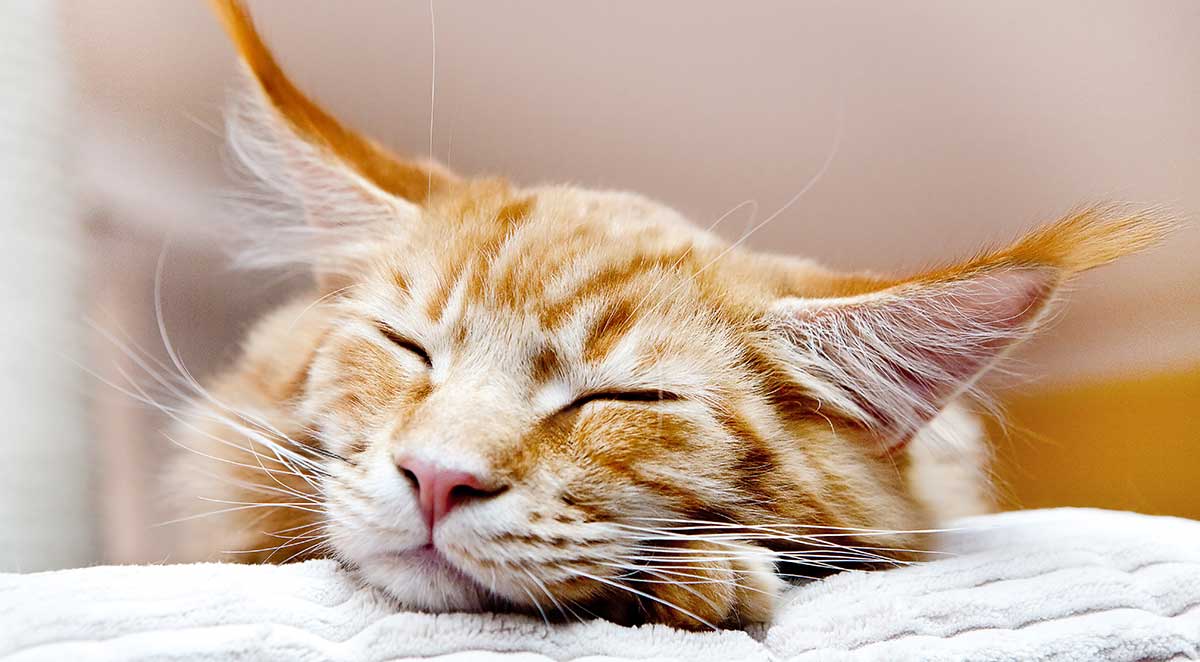 If you find it hard to tell a these two stunning breeds apart, our Norwegian Forest Cat size comparison with the Maine Coon will help. We'll also look at the other differences, and similarities between the two breeds. Including their health, longevity, and general care.
Maine Coons and Norwegian Forest Cats are among some of the most striking and beautiful pure bred cat breeds in the world.
If you are looking for a large, rather long haired cat with a truly majestic appearance and heaps of personality, you may be hard pressed to choose between the two.
In fact, it's not unusual for there to be a great deal of confusion about which cat is which. And that is what we are here to clear up today.
We'll be looking at the key differences between the Norwegian Forest Cat and the Maine Coon, and at some of the similarities too.
Let's begin by looking at where these two cats come from and at a Norwegian cat size comparison with the Maine Coon breed
Norwegian Forest Cat Vs Maine Coon Origins
The history of these two similar looking cats are quite different. The Norwegian Forest Cat is a European breed whose origins as their name suggests lie in Scandinavia.
They may have been introduced there from Britain centuries ago by Vikings or Crusaders
Forest Cat numbers fell very low in the 1940s but have recovered somewhat, and the breed is now especially popular in France, as well as in its native Scandinavia.
The 'Wegie' is a relative newcomer to the USA with the first pair arriving in 1979
By contrast the Maine Coon is one of the oldest American breeds and probably arrived with some of the earliest English settlers, though it is possible they were introduced centuries earlier by Viking visitors. If so, then the relationship with the Norwegian Forest Cat could be closer than we think.
The Maine Coon is a very popular pet around the world and is still the 'state cat' of its original home in Maine.
Norwegian Forest Cat Size Comparison
While the Norwegian Cat is described as large in the breed standard, their size is usually somewhat less imposing than that of a Maine Coon, another large breed.
In both breeds the males are significantly larger than the females and Norwegian Forest Cat males may weigh up to 16lbs.
Maine Coon males are even bigger and may reach as much as 18lbs in weight. A Maine Coon cat called Ludo from the UK holds the record as the world's longest living cat
The size comparison between the two breeds is not the best way to tell them apart, as individuals may vary so much.
If a Norwegian Forest Cat and a Maine Coon are sat side by side, the Maine Coon will probably be a little larger. But not always.
A better way to distinguish between these two cats is the shape and structure of their faces.
Norwegian Forest Cat Vs Maine Coon Head Shape & Structure
The Maine Coon has a very distinctive shape to its muzzle that sets the breed apart in appearance.
The squarish muzzle shape of the Maine Coon is almost 'lion-like'.
Whereas the Norwegian Forest cat has slanting eyes set in an altogether more dainty and regular cat-like face.
So if the cat in front of you reminds you of a lion, then it's more likely to be a Maine Coon than a Norwegian Forest Cat.
Maine Coon Vs Norwegian Cat Coats
Breeders describe both the Maine Coon and the Forest Cat as 'semi long haired' rather than a truly long haired cat.
Their coats are less demanding in terms of grooming than those of long haired cats, despite being thick and shaggy.
These are two breeds with equally magnificent double layered fur that is ideally suited to keeping the cat warm in very cold climates.
If you live in a warmer part of the world, your hardy outdoor loving cat may not develop such a thick and long coat as he would in colder climates.
Which is fine of course, as this helps the cat to be more comfortable.
Norwegian cat vs Maine Coon ears!
Both the Forest cat and the Maine Coon have very distinctive ear tufts.
Breeders often call these 'furnishings' They consist of long fur that sticks up above the tip of the ear giving the cat a lynx type look.
The Maine Coon's ear tufts are if anything even larger and more distinctive than those of the Forest cat and serve the same practical purpose of helping to keep the ears warm in cold weather. As well as looking beautiful
Main Coon Vs Norwegian Forest Cat Personalilty
These are both affectionate and friendly cats that can make great family pets. They are active an busy cats too, so if you are going to keep one indoors permanently, you need to be sure to provide plenty of entertainment.
Maine Coons are very vocal. They like to chat away making little chirrups. Norwegian Forest Cats tend to be quieter overall, but many owners report that they have a really loud purr.
Both breeds are intelligent and trainable, and are often described by their owners as dog-like in the way that they seek out human company. Wegie's have particularly strong claws and love climbing.
Some Maine Coon cats may be happy to walk on a leash and may even be willing to play fetch!
Maine Coon vs Norwegian Cat Health
Like many cat breeds, Maine Coons and Norwegian cats are prone to a progressive heart disease called feline hypertrophic cardiomyopathy.
If you buy a Maine Coon kitten, or Norwegian Forest kitten, be sure that the parents have been tested free from this disease so that your cat can't develop it.
Large cats are more prone to joint problems than smaller ones. And both the Maine Coon and the Norwegian Forest Cat are susceptible to hip dysplasia, a condition more familiar to dog owners.
Maine Coon vs Norwegian Cat Life Span
Life span figures quoted by breed clubs isn't alway accurate, but there is some data on cat longevity in published feline research.
A study of cats in England included fourteen Maine Coon cats and the median age at death was 11 years.
Compare this with an average of 14 years for cross breeds. And this despite the fact that cross breeds in the UK generally have free access to outdoors. Whereas there is a growing tendency to keep pure bred cats indoors
A life span of 11 years is a great deal less than for some smaller breeds. Unfortunately there is no data in this study for Norwegian Forest Cats. However, we do have data from Sweden where both breeds are popular.
Researchers looked at the probability of survival for different breeds based on records from Swedish insurance companies. And there were striking differences between them.
Maine Coons have an 80% chance of making it to age 5 but only a 41% chance of making it to age 12 and a half. Which supports the results from the English study
The Norwegian Forest Cat fared better with a 91% chance of making it to age 5 and a 62% chance of reaching the age of 12 and a half years.
The study looked at over forty nine thousand insured cats and both breeds were well represented. So it does appear that the Norwegian cat is the healthier of the two breeds.
Andrea Jenssen's extensive report on hereditary disorders of the Norwegian Forest Cat notes that the breed considered to be healthier than many other breeds and may live up to 20 years
Whichever breed you choose, it makes sense to buy a kitten from hip scored parents with good scores and make sure your cat does not become overweight, to ensure he or she stays free from this condition
Norwegian forest cat vs Maine Coon care
The care needs of both these cat breeds is similar. Despite their full coat, they don't matt as easily as many longer haired cats so you could probably get away with grooming twice a week
However, we recommend you groom your cat every day.
It won't take long, you are less likely to forget and end up with a matted fur that is difficult to remove.
And your cat will get used to the daily handling and won't find it stressful
As with all long haired cats, grooming helps to reduce the risk of hairballs and vomiting. Which is always a good thing!
Maine Coon Vs Norwegian Forest Cat – Size Comparison And Summary
The Maine Coon is a slightly larger cat than the Norwegian Forest Cat, on average, but facial characteristics are a better way to decide which is which
You'll probably find it easier to buy a Maine Coon in the USA than a Forest Cat, as there are more of them.
And while it does appear, from the latest research, that the Norwegian Forest Cat is the healthier of the two breeds. more choice often means more choice of good breeders.
A good breeder is essential when it comes to purebred cats, because there are health tests that need to be carried out before breeding.
You want someone who has carried out all the necessary tests and who will socialize your cat very thoroughly so that he or she is friendly and fearless
If you want the biggest cat you can find and love the chunky face of the Maine Coon then this is probably your best choice.
If you like the idea of a slightly more elegant large breed cat with a more regular feline features. And if you like the idea of a cat that lives a long and healthy life, then the Norwegian Forest Cat probably has the edge
Provided you can find a good breeder and are able to avoid lines with heart problems
These are both lovely cats, and the decision won't be an easy one!
Do come back and tell us which breed you decided on and let us know how you get on with your new best friend.
References and further reading
Kittleson et al. Hypertrophic Cardiomyopathy in Maine Coon Cats. Circulation 1999
Marz et al. Familial Cardiomyopathy in Norwegian Forest Cats. Journal of Feline Medicine And Surgery 2014
O'Neill et al. Longevity and mortality of cats attending primary care veterinary practices in England. Journal of Feline Medicine and Surgery 2015
Egenvall et al. Mortality of Life Insured Swedish Cats during 1999-2006: Age, Breed, Sex and Diagnosis. Journal of Veterinary Internal Medicine 2009
Jenssen A. Breeding Traits and Hereditaty Disorders of the Norwegian Forest Cat During Breed Development (A Review Of Literature). Institute Of Animal Breeding, Nutrition and Laboratory Animal Science Department For Animal Breeding And Genetics 2012
Cat Fanciers Association – Maine Coon