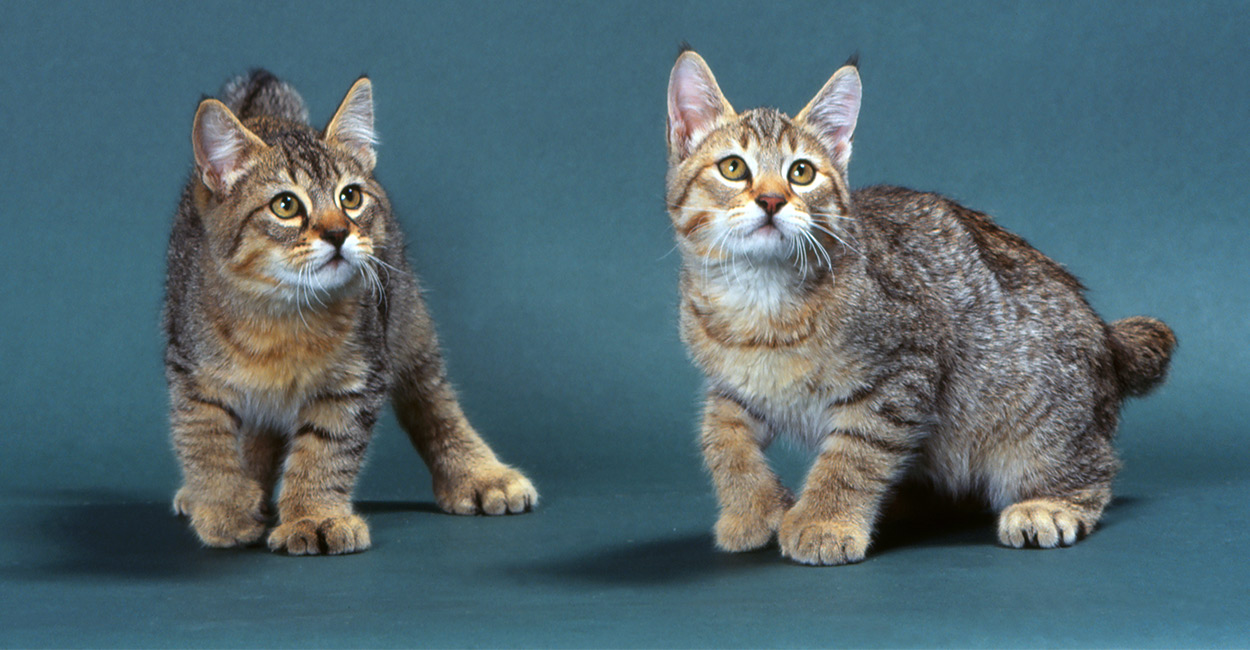 The Pixie Bob cat is not a cat you can easily forget.
When you first see one, you may not even realize it is a domestic cat you are looking at!
(Don't believe us? Check out this "Bobcat sighting"  recently reported in the Washington Post!)
If you are currently caring for a Pixie Bob cat, you already know about this feline's striking good looks.
And you probably know how smart this cat is, too!
Much more than just a cute face, the dog-like Pixie Bob cat is a top-of-the-class student who easily learns tricks!
Of course, if you haven't yet brought home your first Pixie Bob cat and you are still learning about this interesting cat breed, you are probably keen to get as many facts as possible!
So read on now to learn all about the Pixie Bob cat breed!
What is a Pixie Bob cat?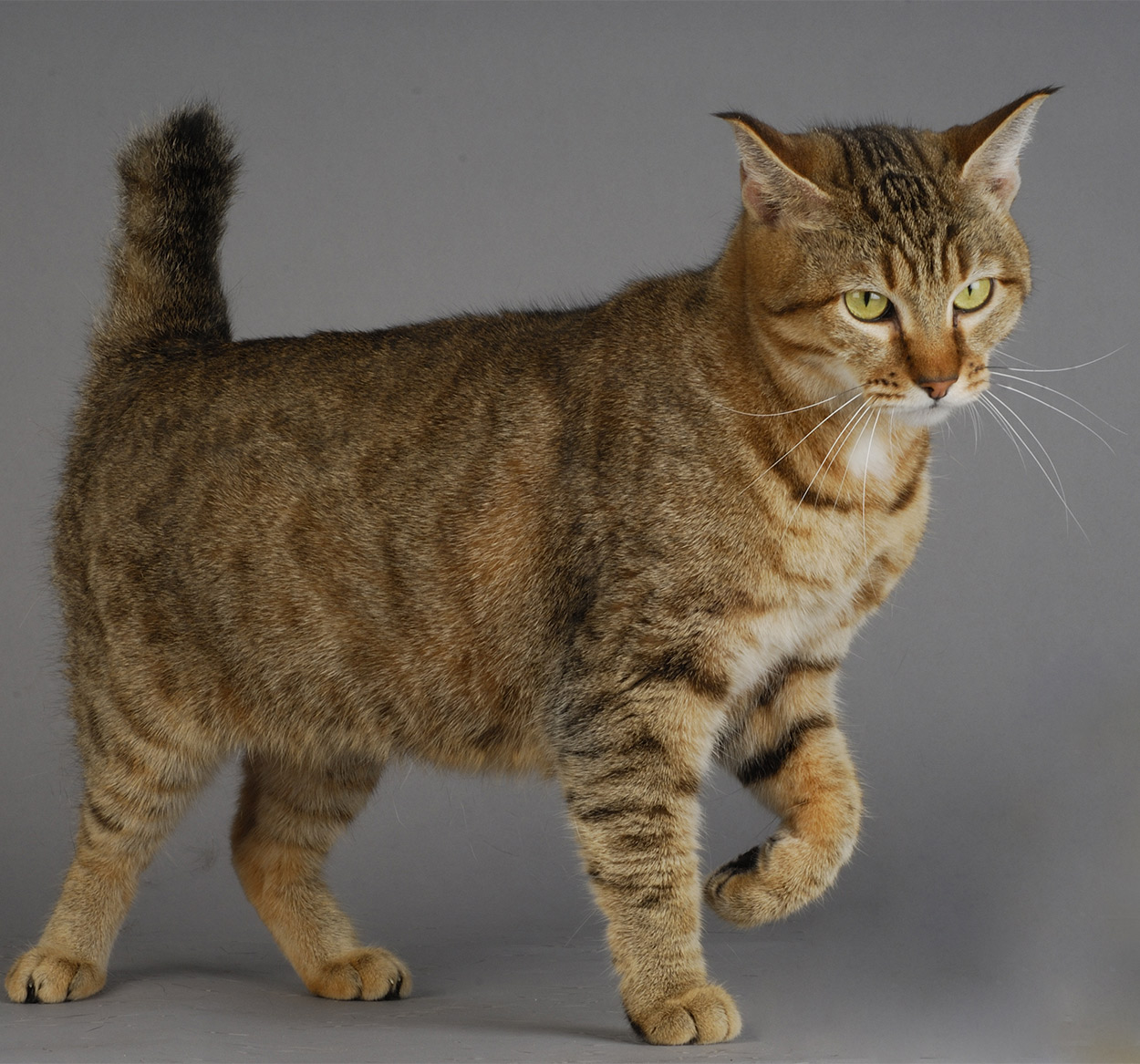 The Pixie Bob cat (also sometimes called the Pixie-Bob or the PixieBob) owes its existence to Carol Ann Brewer, a feline breeder who developed the first Pixie Bob cat in 1987.
The Pixie Bob was recognized by TICA, the International Cat Association, in 1994.
The first Pixie Bob cat earned TICA championship status in 1998, and used its newfound fame to leap into the hearts and homes of cat lovers everywhere.
The Pixie Bob cat gets its name in part from its distinctive wild looks and in part from its bobbed nub of a tail.
To the uninitiated, the Pixie Bob cat can look exactly like a wild bobcat on the prowl!
In fact, this very issue became the subject of long and intense debate between breed enthusiasts, breeders and the general public.
In the end, DNA testing finally determined that there is no genetic link between the wild bobcat and the domestic Pixie Bob cat. But it's still fun to think about!
Pixie Bob cat characteristics
When placed side by side with other domestic feline breeds, you can easily see that the Pixie Bob cat has several quite distinct characteristics.
One of the most noticeable is that the Pixie Bob cat is polydactyl, which means this cat can be born with up to 7 toes on each foot.
Where most cats have 20 or 25 toes (4 or 5 per foot), this means the Pixie Bob cat can have as many as 28 toes in total!
Luckily, they tend to have large paws to accommodate all those extra toes.
Most Pixie Bob cats also have a little furry tuft where many other cat breeds typically have a long furry tail.
However, some cats of this breed will have a slightly longer tail that measures anywhere from two to six inches long.
Pixie Bob cat coat
Overall, the coat is lush and plush even in shorthair Pixie Bobs, with what some enthusiasts call "muttonchops" around the jowls.
Shorthair Pixie Bob cats also will often have a lion-like ruff around the neck.
Longhair Pixie Bobs don't have the ruff, and technically, the "longhair" Pixie Bob is actually a medium hair length, since the coat won't usually grow out longer than two inches.
The tawny coat color and broken black stripes on this striking cat give a clue about why so many people who see Pixie Bob kittens for the first time think they are looking at kits from a wild Bobcat's nest!
Pixie Bob cat appearance
This cat breed's head is often described as pear-shaped, which can be enhanced by the fluffy muttonchops (downward growing facial hair) descending below the lower jawline.
Sometimes the Pixie Bob's ears show lynx points.
Overall, this is a muscular, athletic cat with a filled-out body and solid limbs.
Plus, they have a rolling gait that looks like nothing so much as a wild cat stalking its prey.
While the coat color can vary quite a bit, in general Pixie Bobs have a ticked (alternating bands of color) pattern, with burnt orange or reddish-brown contrasting with darker grey or black bands.
Some Pixie Bobs will have the classic tabby cat markings.
Your Pixie Bob's eyes can range from golden to brown to green (sometimes called gooseberry).
This cat's eye shape is triangular and deep set with a heavy furry brow, giving the Pixie Bob a particularly intense expression that again reminds many people of its wild Bobcat namesake.
Pixie Bob size
The Pixie Bob cat can sometimes grow quite large, but most adults in this breed will be medium-sized cats.
The thick fur coat this cat wears year-round can make it look even more sizeable than it is.
The Pixie Bob size can range from 8 to 18 pounds (3.6 to 8kg).
Adult male Pixie Bob cats typically outweigh the females.
Because this cat breed can take longer to mature – up to 3 or 4 years – you may one day wake up and realize your kitten is now a much larger adult cat!
Pixie Bob cat personality
The Pixie Bob cat is so smart!
But even better, this cat is very friendly and sociable, which is why it is sometimes called "dog-like" in its personality.
Yes, the Pixie Bob can learn to walk on a leash, perform tricks, and even play games of fetch.
Your Pixie Bob cat will pretty much want to be wherever you are, and doing whatever you are doing.
These cats thrive on love and attention and often let you know with expressive vocalizing using chirps and chitters rather than the standard garden variety "meow."
Are Pixie Bob cats good with children?
These cats are recommended by many breeders as a good choice for a pet for young kids.
They are playful and loyal, often acting as the "watchdog" for the family.
They can also get along well with other pets, including dogs.
One unusual trait of the Pixie Bob cat is their love of water.
It is not uncommon for this cat to jump right into the bath or the swimming pool, or even an outside fountain, to take a dip!
Pixie Bob cat health
The Pixie Bob cat is considered to be a healthy cat breed overall.
One of the most basic health needs this cat has is for weekly grooming.
Whether you are caring for a shorthair or a longhair Pixie Bob cat, the coat is thick and needs at least weekly to bi-weekly grooming to remain mat-free and healthy.
Since this is a relatively new breed created by cross-breeding at least three pre-existing pedigrees (Manx, Japanese Bobtail and American shorthair), the Pixie Bob cat does is not currently associated with any major health concerns.
With so little genetic health information available for the Pixie Bob cat, it can be helpful to look at health concerns for the Manx and Japanese Bobtail cats as well as for tailless cats in general.
Inheritable health concerns specific to tailless cats
One serious issue that crops up with tailless cats (which is a trait the Pixie Bob, Manx and Japanese Bobtail cat all share in common) is spina bifida.
The gene mutation that causes a shortened tail or no tail is dominant, which means only one cat parent needs to pass it on in order for the kittens to be born tailless.
This gene also causes changes to the spinal cord, the vertebra and nerves that can lead to problems with elimination and control of the hind limbs as well as arthritis.
When the gene mutation causes damage to the lower spine, it is known as Manx Syndrome.
Another type of spinal deformity sometimes seen in tailless cats is congenital vertebral malformation (sacrocaudal dysgenesis).
Urinary and fecal incontinence in tailless cats
Both Pixie Bob and Manx cats are also prone to developing a condition called FLUTD (Feline Lower Urinary Tract Diseases).
This condition can be more common in tailless cats where there is nerve damage that interferes with control of the bladder muscles.
Similarly, tailless cats are more likely to suffer from fecal incontinence for the same reason.
Manx Syndrome can show up within a few weeks of birth in severe cases, but it can take more time when the condition is mild.
FLUTD and fecal incontinence may be harder to spot while your kitten is learning to use the litter box.
Megacolon in tailless cats
Megacolon is yet another congenital (inherited) health issue that can arise from spinal malformation.
This condition can cause chronic constipation since the colon isn't receiving sufficient stimulation from and communication with the nerves to signal when waste matter needs to be passed.
This can develop into a life-threatening condition without treatment.
Finding healthy tailless kittens
It's not hard to imagine how any one of these conditions would be incredibly distressing for an affected cat.
As a rule of thumb, the shorter a kitten's tail, the more likely the structure and function of their spine will be affected.
When you are very interested in committing to a tailless kitten, having your veterinarian do a pelvic X-ray may help to identify any possible genetic nerve or development defects from spinal malformation.
Pixie Bob cat lifespan
Happily, the Pixie Bob cat can live into the late teens – 17 years old is not uncommon for this athletic and active cat.
Providing a healthy diet, fresh water, plenty of love and enrichment and a clean and sanitary litter box area will all help this cat live a long and healthy life.
Pixie Bob kittens
Because of their unusually wild looks and dog-like personalities, Pixie Bob kittens are in demand and often have the price tag to match.
This has led to some so-named "backyard breeders" trying to breed lookalikes that don't have the pedigree to back them up.
Before purchasing a Pixie Bob kitten from any breeder, be sure the breeder is able to provide you with a guarantee of lineage (read the section here on Pixie Bob cat breeders for more information).
When selecting a Pixie Bob kitten, look for a kitten that is alert, clear-eyed, confident, willing to be handled and interested in interacting.
Check in the kitten's ears and under the tail to be sure both are clean.
Make sure the kitten's coat is healthy and thick.
Pixie Bob cat breeders
A Pixie Bob cat can only claim purebred status if its breeder can prove a direct link to the original Stone Island Pixie Bob cats (North American lineage) bred by Carol Ann Brewer.
As mentioned in the section here on Pixie Bob cat health, DNA tests have shown that the Pixie Bob cat also contains Japanese Bobtail and Manx cat heritage, which likely dates back to Ms. Brewer's original cross-breeding efforts.
Legitimate Pixie Bob breeders should be willing and eager to demonstrate the purebred lineage of their cats all the way back to Ms. Brewer's original litters.
Any Pixie Bob breeders worth working with should also offer you an initial guarantee of health (usually anywhere from six to 12 months), and a take-back offer if the kitten doesn't turn out to be a good fit in your household.
They should also have verification of all required vaccinations, pedigree papers and references to current and past satisfied clients.
Before committing to a kitten, you should definitely make plans to visit the cattery in person and to meet the kitten's parents and interact with them.
By touring the cattery, you can make sure the breeder keeps a clean, healthy environment.
By meeting the parents, you can determine what your kitten is most likely to look and act like as an adult.
How much do Pixie Bob cats cost?
Pixie Bob kittens prices can come with some amount of sticker shock depending on the cattery and the kitten's lineage, color and gender.
For catteries with award-winning, show quality Pixie Bobs, your kitten may cost anywhere from $1,000 and up.
A Pixie Bob cat price for a "pet quality" kitten (i.e. a kitten the breeder does not plan to keep and breed) could be $500 or more.
Not everyone has the means to afford a pedigreed Pixie Bob cat.
Another option is to adopt a rescued Pixie Bob cat who needs a good home.
The fees tend to be much more affordable for a rescued Pixie Bob.

Is a Pixie Bob cat right for me?
Bringing home a new kitten is a huge decision and an even bigger commitment.
But it can also deliver amazing rewards that are worth all the hard work of caring for a cat!
Pixie Bob cats have eye-catching looks and charismatic personalities.
This breed is new, so there isn't much data yet on the prevalence of spinal problems caused by their short tail.
You can help the Pixie Bob population grow healthily by only purchasing a kitten from a breeder who recognises the risks, and is serious about only breeding healthy kittens.
Are you planning to get a Pixie Bob cat?
Are you ready to welcome a precious Pixie Bob cat into your life?
Please drop us a comment and share your story!
Sources
TICA, "PixieBob Introduction," The International Cat Fanciers Association, 2017.
Bell, J., et al, "Veterinary Medical Guide to Dog and Cat Breeds," CRC Press Medical, 2012.
Lyons, L., "DNA Mutations of the Cat," Feline Genetics/University of Missouri, 2013.
ICC Charity, "Manx Syndrome and spina bifida," International Cat Care Charity, 2017.
Beall, L., DVM, "Your Manx," Aubrey Animal Medical Center, 2017.