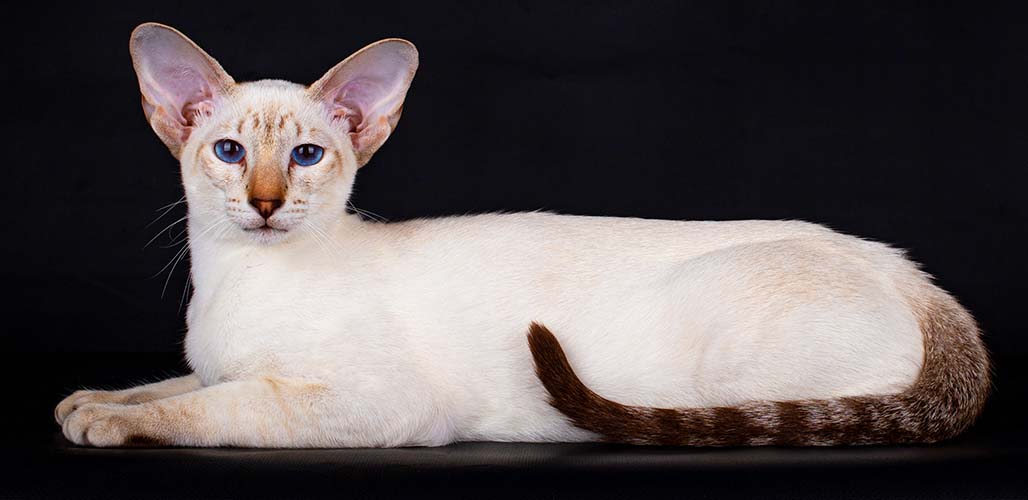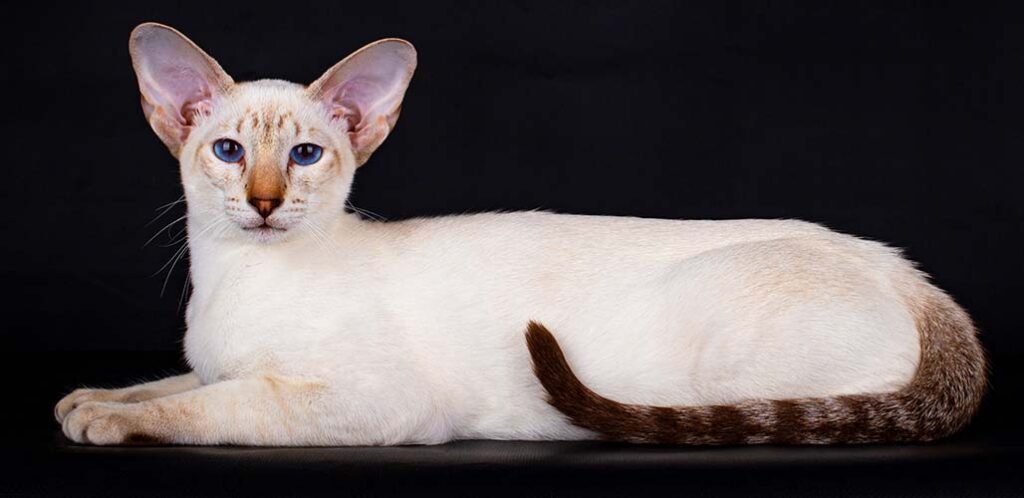 A tabby point Siamese has stripes of light and dark fur on their muzzle, ears, legs, and tail. The rest of their body is solid white, or off-white. Tabby point Siamese aren't recognized by all cat breed registries, so some people don't regard them as true Siamese cats. However, their temperament and health are unmistakably like that of Siamese cats! This complete guide to the tabby point Siamese cat tackles the controversy about whether they really count as true Siamese, and also answers all your questions about what it's like to look after them.
Contents
In this video it's easy to see how tabby stripes look in different places on a Siamese cat's coat. You can see how he looks different to his solid pointed brother too!
What is a tabby point Siamese?
Tabby Siamese cats are also known as lynx point Siamese. Like solid point Siamese cats, the pigment in their fur is restricted to their muzzle, ears, legs and tail (their points). But rather than being a solid, even tone, their points have bars of dark color on a lighter background. They also have a dark 'M' marking on their forehead which is typical of all tabby patterned cats.
Tabby pointed Siamese have a short coat, blue eyes, and large ears. The colors which make up their stripes can be light or dark greys, light or dark browns, reds and creams. Some of them have a very wedge-shaped head to meet the modern show standard, whilst others have a round head thought to be more in keeping with the first Siamese cats. Both types have long, lean, athletic bodies, and weigh 6 to 12lbs.
Lynx Siamese kittens are born completely white. Their tabby stripes don't become apparent until they are about 4 weeks old. From then on, the pigment and pattern in their points will continue to develop for many months. In fact some tabby pointed Siamese don't reach their final adult coloring until they are three years old!
Are Siamese cats with stripes true Siamese?
Sometimes yes, sometimes no! It depends upon who you ask, and each cat's own ancestry. In America, the most prominent pedigree cat registry is the Cat Fanciers Association (CFA). The CFA only recognize Siamese cats in four solid colors:
These were the 'original' Siamese coats. New colors such as red, cinnamon and fawn were introduced by outcrossing with other breeds in the 1940s, but the CFA declined to recognize them. Tabby and tortie point Siamese cats started to appear in the 1970s due to further outcrossing, but those cats didn't qualify for CFA registration either, on the basis that they were actually descended from Siamese tabby mix ancestors. However, since these new colors and patterns proved very popular, the CFA created the Colorpoint Shorthair breed to accommodate them all. So cats which could have become known as tabby point Siamese became known as tabby Colorpoint Shorthairs instead.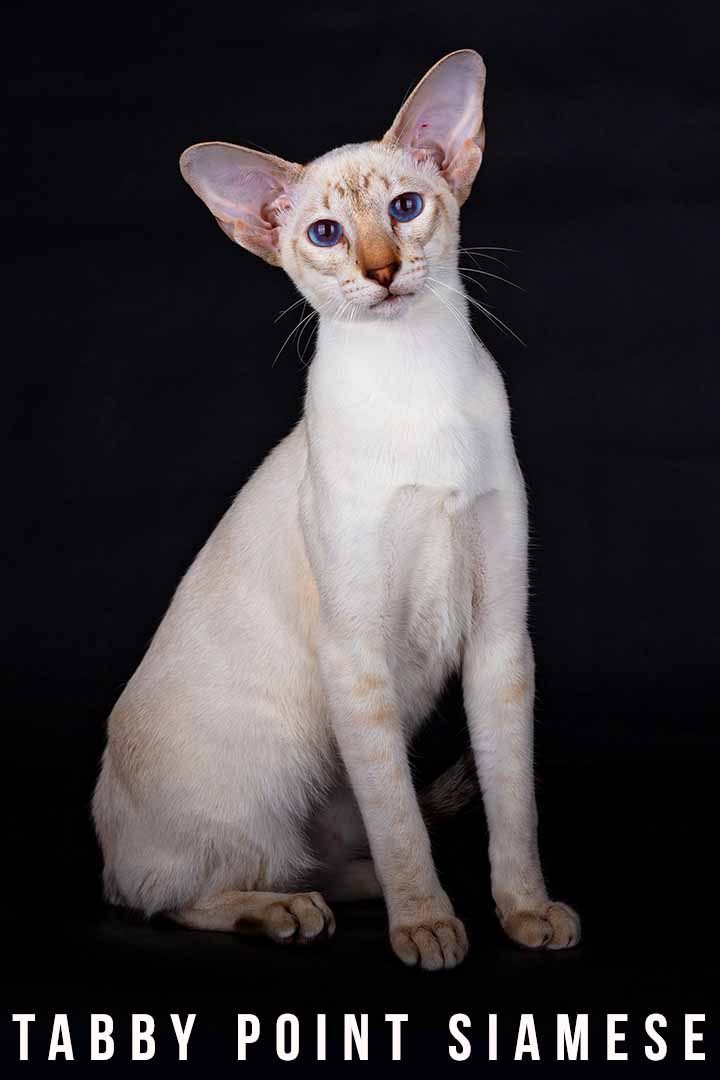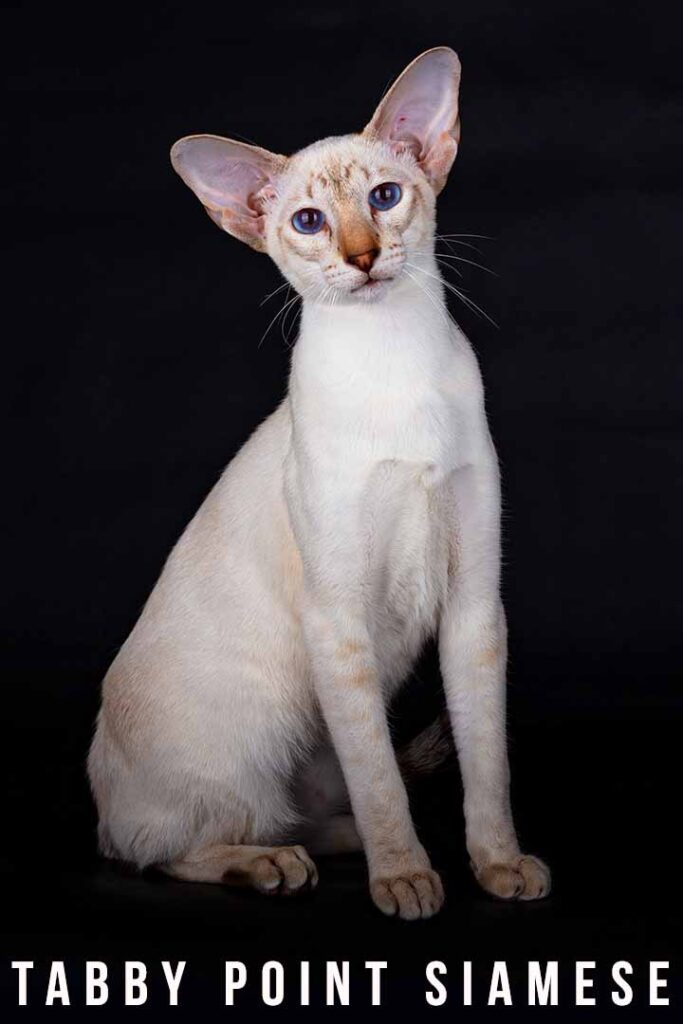 Elsewhere in the world, the International Cat Association (TICA), the Governing Council of the Cat Fancy (GCCF), the World Cat Federation (WCF) and the Fédération Internationale Féline (FIF) all took a different route, and ultimately decided to accept tabby Siamese cats as pedigree Siamese. And they don't have an equivalent of the Colorpoint Shorthair breed.
All this has led to regional differences in whether people generally accept a striped Siamese cat as a true Siamese or not. And to complicate matters further, even in America a tabby point cat can be registered as a pedigree Siamese with one of the registries which will have them!
Siamese tabby point genetics
It takes a special combination of genes to create the handsome tabby point Siamese. Siamese cats owe their iconic color points to a gene which causes temperature sensitive albinism. In other words, their fur can only produce pigment when the skin is below a certain temperature. The coolest places on a cat's body are their muzzle, ears, feet and tail, because body heat is lost from these places the fastest. And these are the only places cool enough for coat pigment to be produced. On their neck, chest, back and abdomen the skin temperature is warmer, and pigment production is suppressed.
There are three different genes which produce tabby patterns in cats' fur: ticked, mackerel and classic. But the first Siamese cats, which were documented in countries such as Thailand as early as the 15th century, didn't carry any of them. Tabby genes were introduced to the Siamese breed by outcrossing with Abyssinian and American Shorthair cat breeds in the mid- to late- 20th century. Since most of their coat is affected by the temperature sensitive albinism, it's not always obvious which type of tabby pattern they have.
Are tabby point Siamese cats rare?
Tabby Siamese are relatively less common than solid points. In North America, tabby pointed cats described as Siamese are particularly unusual. But it's not exactly because they don't exist – they were simply been rehomed into the Colorpoint Shorthair breed!
Interestingly, if you fall for the charms of a red point Siamese, you'll find that the opposite is true: most red point Siamese have tabby points, and solid red points are very uncommon. This is because red fur is always tabby patterned. The only way it can appear solid is if the contrast between the dark stripes and the lighter background happens to be very low.
Tabby point Siamese temperament
There's no evidence that having tabby points changes a Siamese cat's personality. Even though tabby points were originally introduced by crossing Siamese with other breeds, it took place so many generations ago that today's lynx Siamese kittens have an all-Siamese personality again.
Siamese cats are generally active, playful, curious and affectionate pets. They bond closely with their human family, and often have one favorite person above everyone else. They are frequently described as being a particularly sensitive breed, and they are more likely than average to display obsessive compulsive comforting behaviors such as wool sucking. Lots of owners say that they also struggle with spending long periods alone, or sudden changes in their routine.
There's no such thing as a distinct tabby cat personality, because tabby is a pattern rather than a breed, and the tabby genes aren't known to influence personality in any way. However, a Siamese cat mixed with a tabby cat from another breed might produce a tabby pointed cat with a personality that combines traits from both breeds.
Tabby point Siamese health
Tabby pointed Siamese cat health is comparable to the health of Siamese cats in the standard colors. At the time of writing, there is no evidence that having tabby points changes their likelihood of getting any diseases or affects their life expectancy. Most Siamese cats live for 11 to 19 years, and their average lifespan is 14 years. Unfortunately during that time they are the cat breed most likely to need veterinary treatment, and be the subject of a pet health insurance claim. The most common health problems of Siamese cats are:
Dental disease, such as tartar build up and gingivitis (inflammation of the gum line). The increased risk of these problems in Siamese cats may be due selective breeding for exaggerated wedge-shaped heads, which means their teeth are crammed into a tighter space.
Traumatic injuries such as fractured and skin wounds. Siamese cats are very athletic and playful, but they don't carry much padding, and their short coat is very fine and thin. This means they are easily injured in falls and fights.
How much does a tabby point Siamese cat cost?
At the time of writing, it typically costs somewhere between $400 and $1,000 to buy a pedigree Siamese cat from a reputable breeder. The minimum cost covers health checks for the parents before mating, veterinary care for the mom and her kittens, extra food, medicines, and supplies such as bedding for the nest box. Higher prices can be commanded for cats with lots of show-winning ancestors, early signs of being show-quality themselves, females with breeding rights, etc.
Since tabby point Siamese cats with pedigree certificates are rare in the United States, you could also consider:
A Siamese cat mix. A Siamese tabby mix kitten usually costs less than a purebred Siamese because they are not a pedigree cat. Some research suggests mixed breed cats also live longer on average than pedigree cats, because the risk of some hereditary health problems is decreased. However, this is based on population averages – it's not guaranteed to apply to any one individual.
A Colorpoint Shorthair. The Colorpoint Shorthair breed was effectively founded using Siamese cats in non-standard colors. So they remain very similar to Siamese cats in terms of body shape and personality, but tabby pointed kittens are much, much more common. What's more, since this breed generally has a lower profile than the super-famous Siamese, their kittens usually sell for $400 to $800.
Your tabby point Siamese
Tabby Siamese cats have a controversial status. Tabby Siamese aren't accept for registration by the main national breed registry in the United States, but they could legitimately by registered with one of the international registries which does accept them. Like all Siamese, tabby points have the potential to be sweet, entertaining and affectionate company for the right owner. To find out more about whether a Siamese is right for you, take a look at the following resources:
Are Siamese Cats Hypoallergenic And How Much Do They Shed?
And if you already have a gorgeous lynx point Siamese of your own, let us know more about them in the comments box down below!
References and Resources