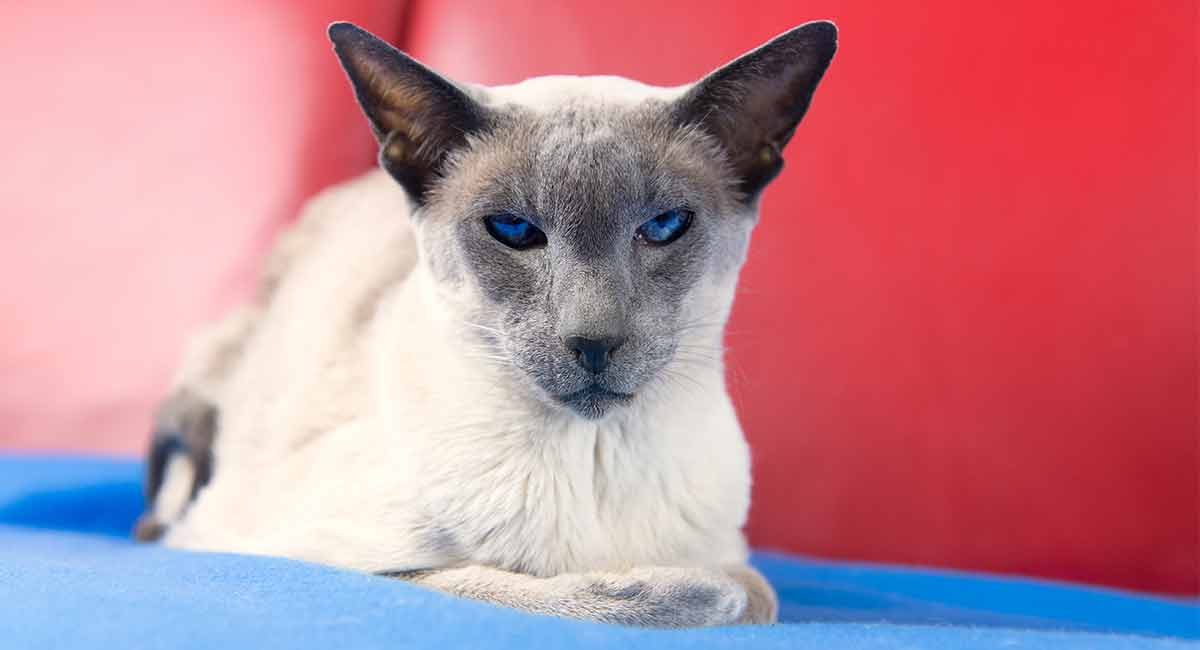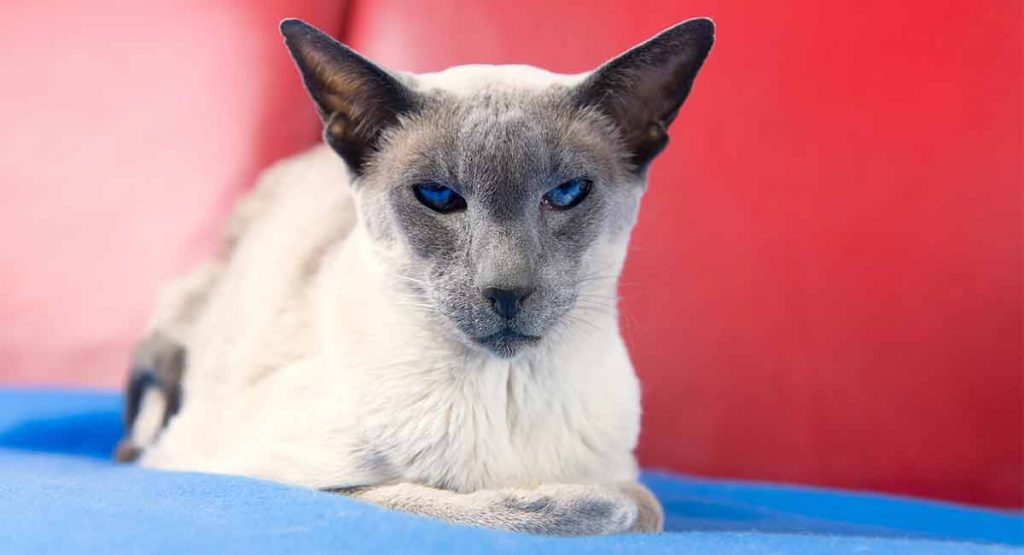 A Siamese wedge head is the current standard for show cats. They are known for a lean, muscular body, long delicate legs and a thin tail. Their unusual name comes from their characteristic wide set ears, sharp face, long muzzle, and extremely slanted blue eyes.
You might be surprised to find that there are different varieties of Siamese cats. They have changed over the years from their origins in Siam, now known as Thailand. One of the most easily recognizable breeds of cat, the Siamese is a distinctive and popular cat. They are all intelligent, loving, and vivacious cats. Their great personality is common to all varieties, but their appearance and health does differ.
Contents
When you imagine a Siamese cat, what do you see? Deep dark points, huge ears and big eyes? A narrow muzzle and long slender legs? Whilst these are classic features, they aren't standard to every member of the breed.
Variations of the Siamese Cat
Over the years, the Siamese cat has undergone a rather drastic change in appearance. This is due to breeding practices and goals set by breeders to meet or exceed show-cat preferences, and hypothetically to eliminate undesirable traits. But who these characteristics are undesirable to and why throws the ethics of the alterations into question.
These days, there are approximately three sub-varieties or types of Siamese cat. These varieties are known as the established "Apple Head", the typical "Old Style", and the newer "Wedge Head".
The Traditional Apple-Head Siamese
This variety is thought to most resemble the original Siamese cats as they were when imported from Thailand.
Traditional Siamese are moderately sized cats, with males reaching as large as 18 pounds. They have a round "apple-shaped" head, with rounder eyes, and a stockier, more muscular body compared to the other varieties.
The Classic Old-Style Siamese
A typical Siamese cat, this type is called "the Classic" by a lot of breeders. They are a mix of the traditional and the modern, and in reality probably a transitional combination of the two extremes.
These cute kitties are sleeker than the traditional, with more slanted eyes and a longer, thinner body. This variety of cat was most popular in the 1950s and 1960s. It is what most people refer to when they think of a Siamese cat.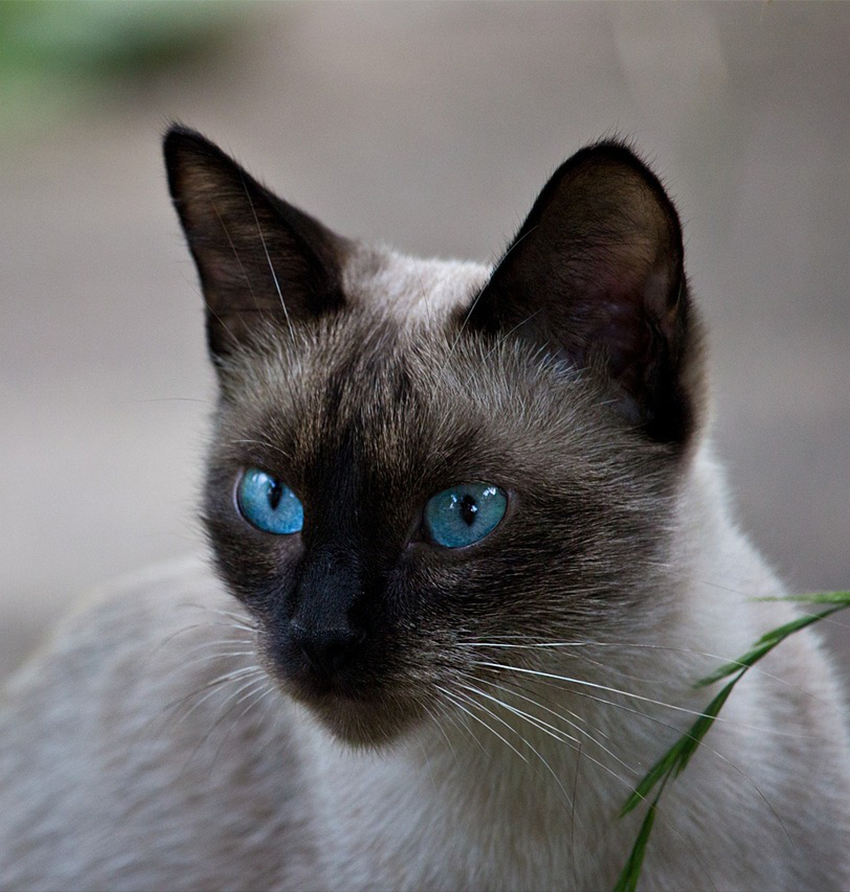 The Modern Wedge-Head Siamese
Here we have a Siamese cat that is the most modern, and the most exaggerated, version of the breed. As you might be able to guess, it is nicknamed the "Wedge Head Siamese" due to the extreme wedge shape of the cat's head.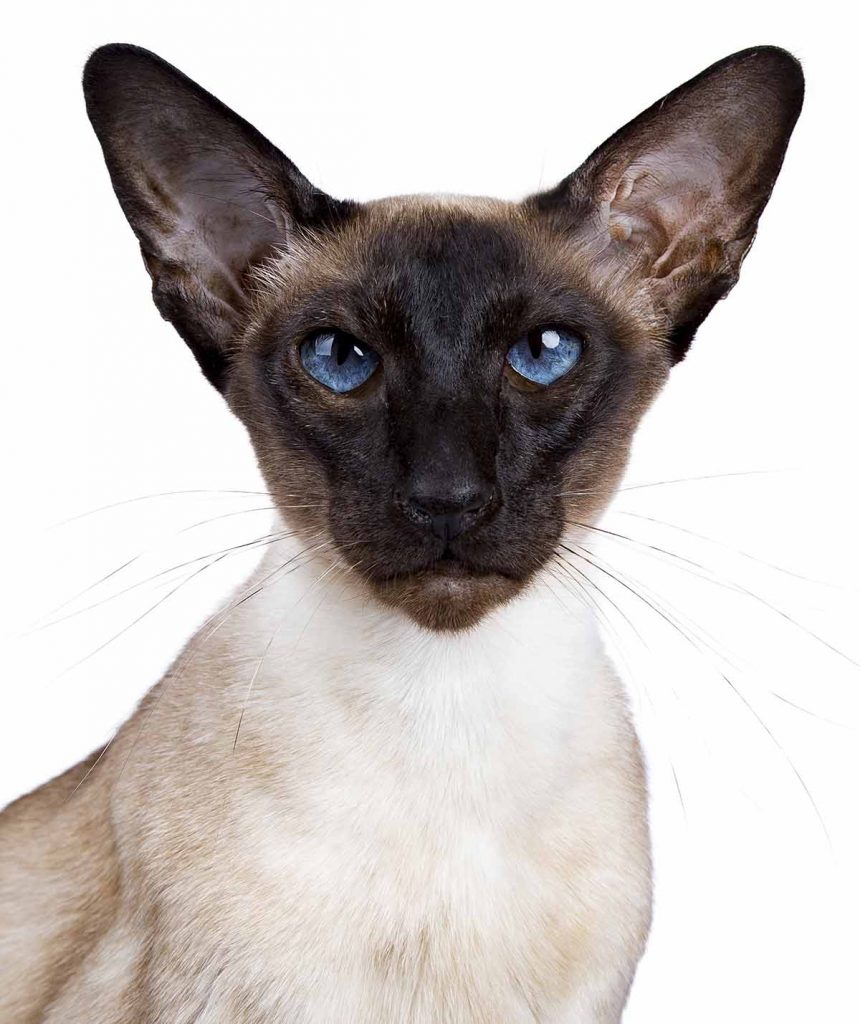 Which Cat Is Friendlier?
The Siamese has a reputation for being an incredibly active and chatty family pet. And although there are reports that they can have a bit of a nasty streak, I've met an awful lot of them and I can't say I've ever come across this problem.
Both varieties are loyal and loving, and in fact on occasions rather too demanding of your time and attention. They'll push and meow at you until they are satisfied they have your full attention, climbing into your lap and sitting on whatever you happen to have been reading beforehand.
The only caveat in terms of temperament is that unwell cats will behave differently to their healthier counterparts. They will be more subdued and may even be grumpy when touched if in pain or struggling to breathe. There have been no studies on the specific impact of this in wedge head Siamese cats at the time of writing, but in my years of experience looking into feline health it's something to consider.
Colors and Coats
Wedge and apple head Siamese cats are pointed. This means they have dark noses, ears, paws and tails. These points can come in a few different colors, and there isn't a hard and fast rule that the different types can't display them all.
Health Concerns for the Modern Wedge Head Siamese Cat
Unfortunately, along with the exaggerated features, the Wedge Head is proving to be more prone to the respiratory and pulmonary problems already associated with the breed.
Breeders are finding that along with a more delicate constitution, the Wedge Head Siamese is prone to dental issues. It is suspected that this is due to the narrower face shape leaving less room for the cat's teeth to comfortably grow in.
Modern breeders are working to identify the origins and causes of these health issues. Much like the crossed eyes and kinked tail, it is suspected that many of these issues are genetic. There is even a possibility they shorten the cat's lifetime, but at the moment these reports are purely anecdotal.
Which Type Is The Best Pet?
Because the modern Wedge Head Siamese cat is still so new, there has not yet been any scientific research by the medical community into any health risks. We currently can only speculate and share the observations by breeders and cat owners on the emerging health concerns and issues of this captivating cat.
A Question Of Ethics
I'm often amazed by the way in which people pick a new pet. Overtaken by appearance at the expense of personality or even health. But you can't blame them on an individual level, it's a societal trend, and one that finally I can see the door closing on. More and more people who aren't intimately involved in animal husbandry and breeding practices like I am are having their eyes opened to the ways that our decisions are impacting their cats' happiness.
As the Siamese cat breed continues to develop, it is possible we will continue to see more changes in appearance. Some maybe for the better! However, for now the safest thing when researching your new pet is to avoid extremes. Healthy felines have a classic cat look, and you can't go far wrong by sticking with it.