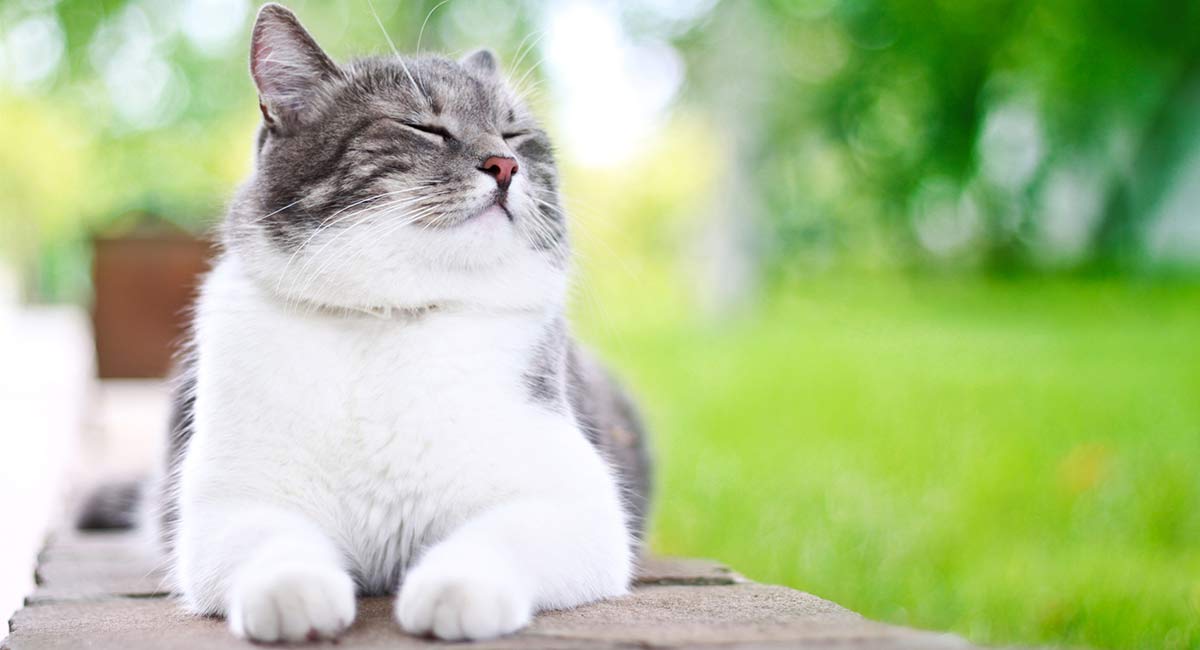 Understanding what cats like is the first step along the path to perfect pet parenthood. To keep your kitty happy they'll need to feel secure and confident, but also have outlets for all of their natural instincts. Today I'll share 20 ways to make your favorite feline family member feel relaxed in your home.
Contents
1. Cats like feeling secure
Cats often seem so independent – like they don't even need us! But even indoor/outdoor cats can get lost, and when they do, current statistics tell us the likelihood of finding a pet cat is quite a bit lower than if your pet dog goes missing.
One reason is because owners tend to be less vigilant about ensuring the family cat is wearing an ID tag like these ones*. If the weight of a tag seems to bother your cat, a personalized collar like these from FlowerTown* make a great alternative.
Make sure you find a collar (like these) which has a breakaway buckle incase it gets snagged on something. And best of all – because collars can get lost – make sure your cat is microchipped. These tools can make the difference between life or death for a lost pet cat!
2. Offer something designed for scratching cat claws on.
Your cat's claws will continue to grow throughout his life. Of course, your cat doesn't keep a pair of cat claw clippers handy, so what he does is to scratch his claws to file them. This is an ancient instinctive behavior which gives him many benefits beyond simply keeping his nails trim.
The best protection you can give your couch cushions, chair legs and other prized household valuables is to provide your cat with his own personal scratching surfaces. This deluxe three tier cat tree* from Go Pet is a great choice.
As is this two-in-one cat scratching pad and toy* by Bergan.
3. Provide a clean and private bathroom space.
Like you, your cat wants privacy, quiet and a clean place to use the bathroom and clean up afterwards. This may mean you need to clean the litterbox daily. You may even want to provide two litter box locations, especially if you have multiple cats.
Providing a super-clean litter box can also go a long way to reduce or eliminate "marking" and bathrooming behaviors in off-limits areas like your rugs, floors and walls. This jumbo-sized enclosed litter box from Catit* is one of our favorites.
4. Set up someplace high for your cat to hide and observe.
Modern cats hail from a long (very long) line of domestic felines dating back up to 12,000 years! Researchers have discovered that all domestic pet cats today share a common ancestor: an ancient African wildcat called Felis sylvestris lybica. This wildcat exists to this day, which is how we know so much about it.
As a predator, the African wildcat evolved to hide up high in the trees or hills to watch for approaching prey. As prey itself, the African wildcat evolved to take shelter in high places where larger predators couldn't follow.
What does this mean for you and your modern housecat? It means he craves a high hiding place! Some agile cats will naturally find their own way to the top of a refrigerator or bookcase, but for the less nimble, cat towers like this 73" inch palace from BestPet* make a great look out.
If that's a bit big for your home, this smaller cat condo by MidWest* could be a perfect compromise.
Be sure the play structure you pick is sufficiently sturdy for your cat's size and climbing habits.
5. Find safe ways to let your cat enjoy fresh air and sunshine.
We realize the topic of indoors versus outdoors is one cat lovers will likely never fully see eye-to-eye on. Whatever you decide for your cat, something you can do is provide a safe way for your kitty to get some fresh air and sunshine!
One good option is to set up an enclosed cattery like this one from Trixie* (sometimes called a "catio") so your cat can sit outside while still staying protected.
6. Encourage your cat to get plenty of exercise!
Unfortunately, as our own waistlines continue to grow and expand, our pets now share our weight management problems. Offering your cat lots of exercise and playtime along with a veterinarian-approved daily caloric intake can make the difference between a healthy, long-lived cat and a cat with a reduced lifespan and lots of painful (and expensive) medication issues.
The simplest cat toys can turn a fat cat lean and lithe again. Even paper bags and cardboard boxes can be enough to encourage active play!
7. Set up indoor "hunts" for enrichment.
It is true that your cat is a hunter, born and bred. Even if your particular kitty seems ideally suited to the couch potato life, the DNA doesn't lie. Outside, your cat is likely to hunt out of instinct or fun, even if he isn't particularly hungry.
You can also set up enriching hunts indoors using meal and treat puzzle toys like this one* to keep your cat engaged, hunting and happy!
8. Spay or neuter your kitty.
Boy is this a tough subject as the field of animal rights continues to evolve! But the truth is, unless you plan to breed your cat, many indoor pet cat issues can be reduced or eliminated with spaying or neutering. Thousands of unwanted kittens are relinquished to animal shelters every year because they couldn't find homes.
Spaying or neutering can also help you more easily keep your indoor cat inside by lessening the instinct to look for a mate. And a neutered or spayed cat is much less likely to "mark" territory on your hardwoods, tile or carpeting.
9. Encourage safe climbing.
Many parents of human kiddos set up jungle gyms and tree forts so their children can climb and explore. And people aren't even climbers by nature! Your cat IS a climber by nature – this is just one of those instinctive things cats do.
So if your kitty is climbing on off-limits items, setting up cat-specific climbing shelves like these* can relocate your cat's climbing activities quite effectively.

10. Install a window perch.
One really fun indoor enrichment activity your cat can enjoy every day is watching outdoor wildlife. This is just what do cats do anyway – they are genetically programmed to watch small, fast-moving objects, so any chance to do this is likely to be appreciated!
When you install a window perch, your cat can safely view birds, squirrels and other outside wildlife for hours at a time. Here's one such perch* from K&H Pet Products.
And a perfect hammock for chilling out in* from Kitty Cot.
11. Don't forget about daily you-time!
Cats may not express their love and affection in quite the same way that pet dogs do, but this does not mean they don't care about you, aren't bonded to you and don't get lonely when you are not around.
Plan to play with your cat daily to reinforce your bond, learn more about one another and simply enjoy each other's company! Not only will playing with your cat reduce your stress level, but it will keep your cat happy and healthy too!
12. Watch carefully for signs of "happy cat" communication.
Your cat communicates in the same basic ways that you do – using verbal and nonverbal (body language) cues. By watching for signs of "happy cat" communications, including reactions to sounds cats love.
You can learn more about what your cat likes and dislikes and adjust your daily enrichment offerings to include more of the former.
13. Invest in feline training.
Sometimes life with a pet cat is just wonderful. Other times, like at 4am when your cat gets bored or hungry and decides to wake you up, aren't quite so wonderful.
Luckily, this is learned behavior that can be changed. By refusing to respond to 4am wakeup calls or other behaviors you don't prefer, you can help shape your cat's behavior in more positive ways.
14. Feed your cat on a schedule.
Not only is this an effective aspect of training your cat not to wake you up at 4am, but it also provides reassuring structure to your cat. While some cat owners may choose to feed on a schedule plus offer dry kibble for free-feeding, this is a decision best made with your veterinarian's help to keep your cat's weight proportionate and healthy.
15. Go for "well cat" veterinarian check ups regularly.
Cats, like all animals, have a tendency to hide signs and symptoms that they are not feeling well. This is an ancient evolutionary habit to keep from appearing weak or vulnerable in the eyes of a predator. Your vet can check your cat over and make sure she is healthy and happy and up to date on all vaccinations.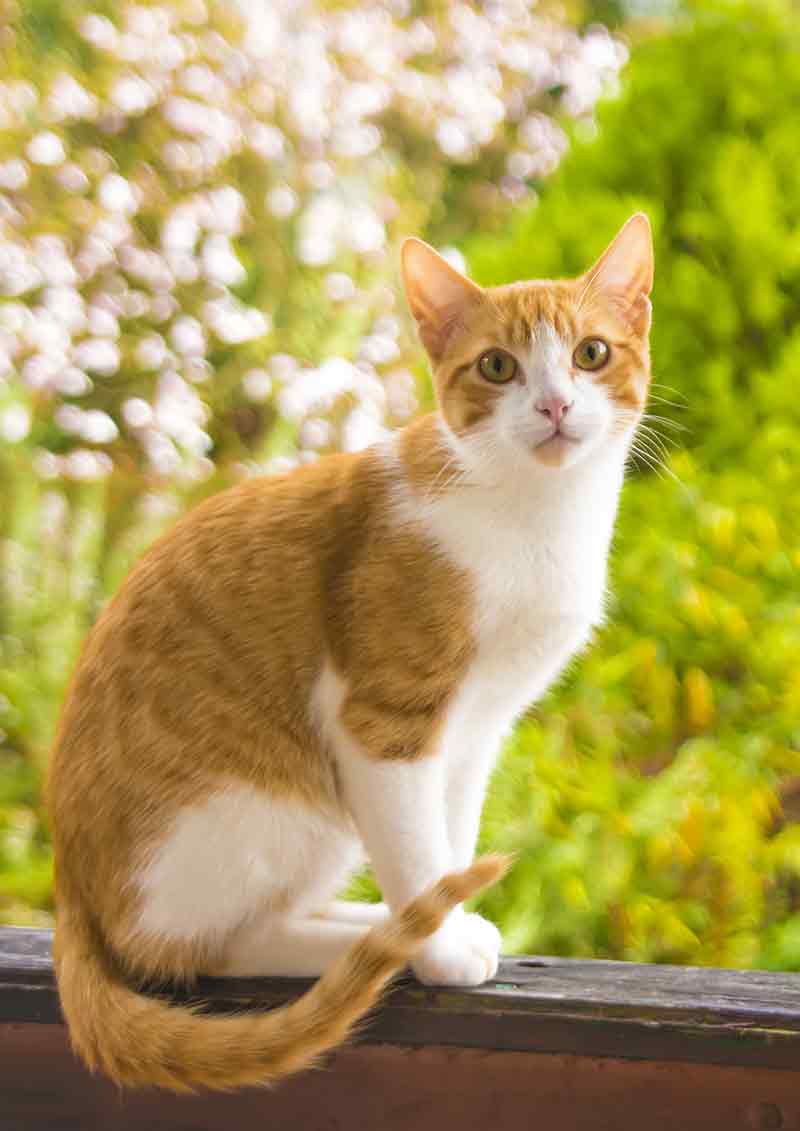 16. Brush and groom your cat from tip to tail.
If your kitty has a short coat, your brushing and grooming duties may be less than if you have a bonafide furball on your hands! But in either case, you should get your cat used to being brushed and groomed very early on in your life together.
This will also provide you with a regular opportunity to check your cat all over, examine his skin, eyes, ears, teeth, claws, paw pads, tail, and body for signs of any trouble.
17. Let your cat teach you how to pet her and interact with her.
Cats, like people, can have very specific preferences for how they want to be held, handled, petted and played with. You can find out what do cats like by petting your cat and watching how she responds, using that as your guide for future petting sessions.
18. Teach others how to approach and interact with your cat.
While you love your cat to the moon and beyond, not everyone who meets your cat will be a "cat person." Some may need a lot of guidance for how to pet or play with your cat.
This can particularly hold true for children – your own or visiting kids. You can do a lot to make sure the interactions between your cat and others (including other family pets or visiting pets) are positive all around.
19. Use positive methods to train and guide your cat.
Yelling, snapping fingers, clapping, spraying water – these are all basically the opposite of what do cats like for interaction with you. Positive reinforcement is hands-down the best way to train and guide your cat, who will not understand any interactions that feel angry or aggressive and may begin to limit contact with you as a result.
Here, the best rule of thumb is always to interact with your cat the way you want your cat to interact with you!
20. Love your cat.
No cat owner is perfect in caring for their kitty and you shouldn't expect this of yourself. When mistakes happen, they are a chance to learn and do better in future.
What matters most is not being the perfect cat trainer or cat parent, but simply loving your cat every single day. Best of all, this is something you can do so well without any experience whatsoever!
What do cats like?
We hope you have found the answers to your questions about what cats like as you've read through this top-20 list of cat favorites!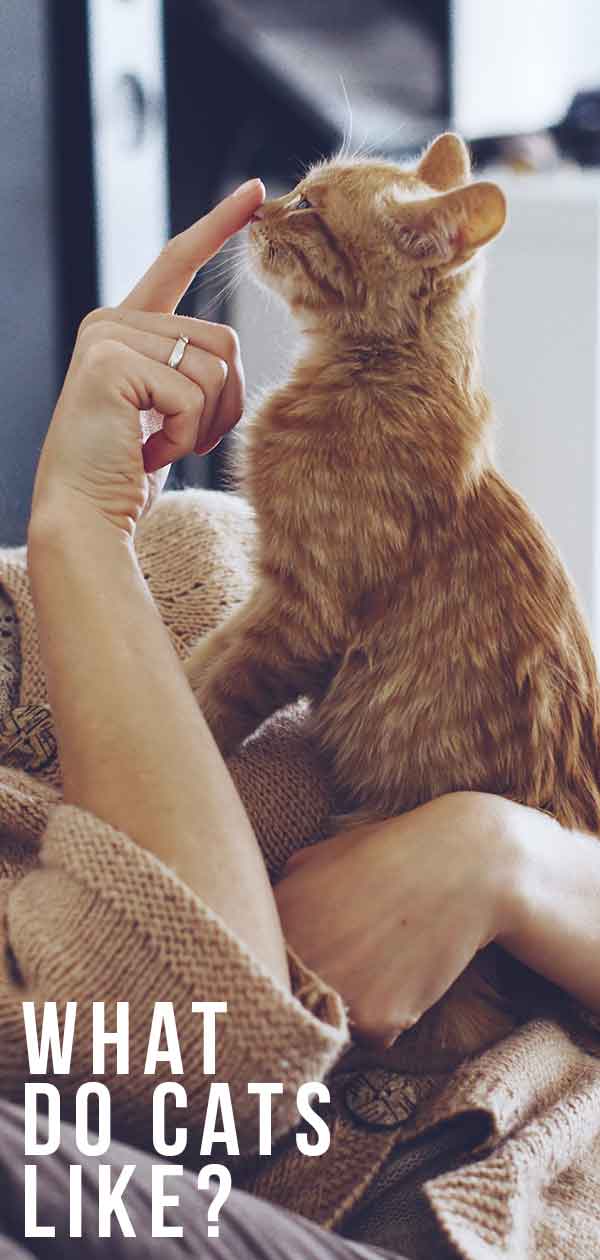 Figuring out what do cats love will strengthen your bond with your kitty and also help you learn more about each other in deeply satisfying ways!
What does your cat like? Do you have a guaranteed recipe for a satisfied cat? Share your feel-good tips in the comments box below!
Affiliate link disclosure: Links in this article marked with an * are affiliate links, and we may receive a small commission if you purchase these products. However, we selected them for inclusion independently, and all of the views expressed in this article are our own.