What does it mean when a cat trills at you?
Trilling is a distinctive cat noise, which is usually a signal of greeting, affection, or wanting attention.
Despite this, it is sometimes mistaken for a sign of aggression, or confused with other similar sounding cat noises.
In this article, we examine trilling in cats, and what it's likely to mean when your cat trills at you.
What Does It Mean When A Cat Trills?
A cat's trill is a high pitched rolling sound, which they make with their mouth shut.
It's usually quite short, and has an upward inflection at the end, like a person asking a question.
It is pretty distinctive, but not all cats make it.
If you're not sure whether you've heard your cat trill or not, the chances are that you probably haven't.
The likelihood of a cat trilling depends upon factors like:
Their breed – some cats such as Bengals and Siamese are notable for being very chatty, and making a wide repertoire of noises.
And their individual personality – some felines simply have a more extroverted and communicative temperament
There's nothing wrong with cats which don't trill, and they'll usually still find their own way of letting you know exactly what they want!
Why Does My Cat Trill?
If your cat does trill, what could he mean by it?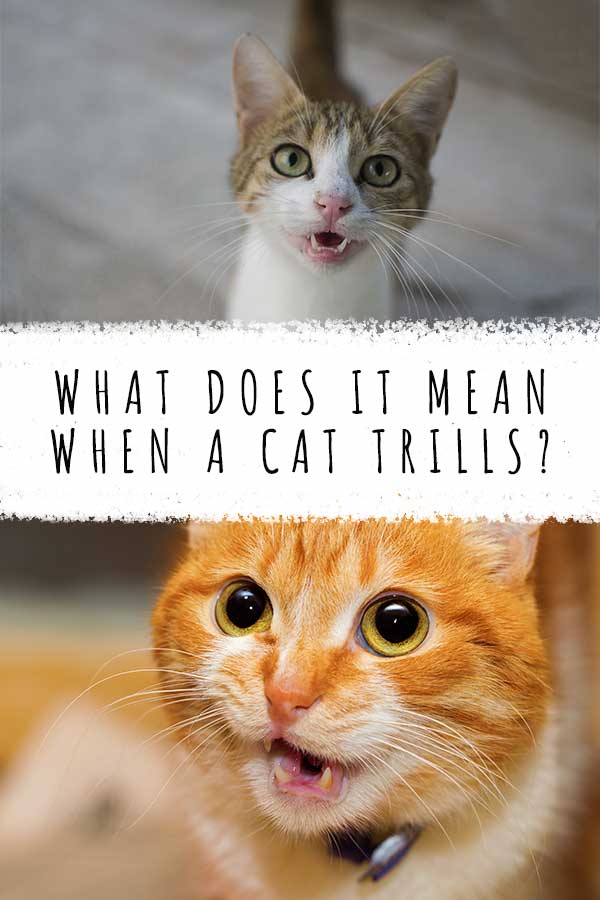 Cats have a wide range of vocalizations at their disposal, which they can use for everything from communicating with other cats and people, to self soothing, and even hunting.
Unfortunately though, the meanings of all of cats' different noises haven't been subject to much scientific research yet.
So whilst we have lots of anecdotal reports about why cats make different sounds, these may include opinions and guesswork which don't actually stand up to testing.
Let's see what the possible meanings of a cat's trill are.
1. "Follow me"
Mom cats are frequently observed trilling to her kittens, to get their attention and prompt them to follow her.
This is the first time kittens hear the trilling sound, and the place they learn it for themselves.
Mom cats use trilling in this way to keep her kittens safe.
Adult cats without a litter of kittens might also use the trilling sound to make other cats, animals or people follow them, or simply as a comforting reminder of their kitten days.
2. "Hello"
A lot of cat owners report that their cat trills to greet them when they get up in the morning, or when they return home from work in the evening.
In this context, trilling is probably a form of greeting which cats use to say "hi" to other members of their social group.
Look out for other behaviors associated with saying hello, like rolling onto their back.
3. "I'm happy"
Cats are usually observed trilling at the same time as other relaxed and happy behaviors.
Such as standing in a relaxed posture, with their tail held up and curved, and their ears in a natural position.
From these other cues, we can suppose that trilling at these times may also be a spontaneous expression of being content in that moment.
4. "I love you"
Trilling is also widely thought to be a way in which cats communicate affection.
Also look out for:
purring
slow blinking
and seeking out physical contact.
5. "Look at me"
Last but not least, just like your cat's mom used trilling to get their attention when they were little, your cat may use it to get your attention now.
Why they want your attention can vary. They might be hungry, bored, playful, or just checking in.
Lots of cats have learned that trilling is a successful way of getting attention because we humans tend to find it rather irresistible, and give cats attention when they make it.
For cats which love social interaction with their human family, anything they discover which gets attention becomes a powerful tool that they'll try using over and over again.
What Does Is Mean When A Cat Trills Oudoors?
Have you heard your cat making a noise which sounds like a trill when they're out in the yard?
Cats make a range of sounds closely related to trilling when they're stalking prey birds:
These hunting sounds include:
chatters
chirps
chirrups
tweets
twitters
and tweedles.
You might even hear an indoor cat making them whilst watching a bird outside the window.
Researchers think that cats might use these sounds because they sound like bird noises, and trick prey into being more easily caught!
Interpreting Cats' Trilling Noises
So there are several possible reasons why cats trill.
But whilst it is almost always a way for cats to communicate positive messages like affection, it seems we humans aren't much good at picking up on that.
In fact, in 2014 a Swedish study of how humans interpret cat noises found that a lot of people mistook a cat's trill for anger!
Those people were listening to recordings of cat noises without any visual cues or sense of contact.
Which goes to show how differently cats and people use and perceive different sounds, and how important it is to consider all of your cat's body language and behavior to interpret what they're really telling you.
My Cat Trills A Lot
Some cats trill occasionally in very specific circumstances. Like to say hello in the morning.
But some cats trill an awful lot.
This might come down to breed or personality, as discussed above.
But if your senior cat has started trilling a lot when they didn't used to, it might also be a symptom of cognitive dysfunction.
Cognitive dysfunction is a degenerative condition in older cats similar to Alzheimer's disease in humans.
Symptoms include increased vocalisation, and wanting more attention, reassurance or affection than they did previously.
Other symptoms not related to trilling include
confusions and disorientation
disrupted sleep patterns
irritability
and forgetting learned behaviors, like using a litter box.
If you're worried that your cat might be experiencing cognitive dysfunction, consult your vet, who will be able to help you manage their symptoms.
What Does It Mean When A Cat Trills – Summary
The high pitched rolling sound of a cat's trill is usually a way of saying hello, or expressing affection.
You can look at their body language, behavior, and other sounds for more clues about what exactly it means when your cat trills at you.
Cat trilling is usually a positive behavior, but if you have any worries about it, ask a vet's advice.
Is your cat terrific at trilling?
Tell us more about them in the comments box down below!
When do they trill, and what do you think they're trying to tell you?
Why not learn about some of your cat's other vocalizations?
We've got heaps of resources to help you better understand kitty communication:
References
Cerna et al. Potential Causes of Increased Vocalisation in Elderly Cats with Cognitive Dysfunction Syndrome as Assessed by Their Owners. Animals. 2020.
Schotz. A phonetic pilot study of chirp, chatter, tweet and tweedle in three domestic cats. Lund University. 2013.
Schotz & van de Weijer. Human perception of intonation in domestic cat meows. Proceedings from Fonetik 2014.
Sordo & Gunn-Moore. Cognitive Dysfunction in Cats: Update on Neuropathological and Behavioural Changes Plus Clinical Management. Vet Record. 2021.