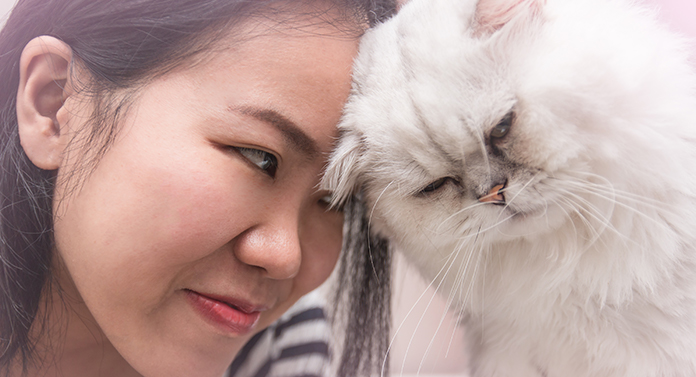 What does it mean when a cat head butts you?
Most often, cats head butt you and rub their head on you as a way to mark their scent. This behavior is known as bunting.
However, your cat may also rub their head on you as a sign of affection, or a way to get some attention from you.
You might also notice your cat headbutting other random objects around your house, or other pets.
What Do Cat Headbutts Look Like?
Headbutts from cats aren't as aggressive as the phrase might make you first think. Although, they can catch you off-guard!
Your cat may bump their head against you, and usually then rub their face or their flank against you, in one fluid motion.
This behavior is called bunting.
Most often, cats will headbutt you more than once in a row, and may rub different parts of their face on you.
And, cats don't just headbutt humans! They bump heads and rub against other cats, other pets, and even bits of furniture in your house.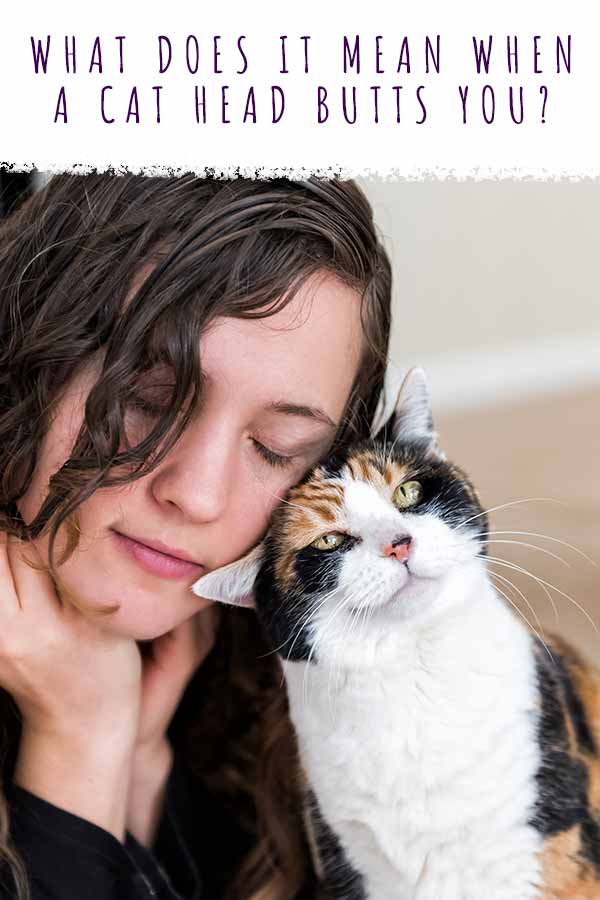 Why Do Cats Headbutt You?
Generally, headbutts and head rubbing are seen as positive behaviors by humans. In fact, one study found that cats who rubbed their faces on people more were more likely to be adopted!
This behavior is seen in domestic cats and their wild counterparts. So, it's a common feline habit.
There are three main explanations for cat headbutting. These are:
Scent marking
Affection
To receive attention
Let's take a closer look at these explanations next.
Scent Marking
Cats have a number of glands in their heads:
Temporal glands – on each side of your cat's forehead
Cheek glands – on the sides of the head
Perioral glands – at the corners of the mouth
Submandibular glands – beneath the chin
Cats will rub pheromone secretions from these glands onto different things in order to mark their scent. This is a way for them to communicate with other cats, but also potentially to mark their home range.
As well as headbutting and rubbing their heads on things, cats can mark their scent with urine spraying, or by scratching things.
You won't be able to smell or sense the pheromones that your cat releases, but other cats will.
The pheromones that cats release when they rub their heads on things can have a relaxing effect on them. One study found that synthetic feline facial pheromones may even be useful in helping hospitalized cats eat more.
This explanation is the most common reason why cats will headbutt you or rub their face along parts of your body.
A Form of Affection
There have been many studies into cat petting and cat affection.
Many of these have concluded that cats react most positively when humans pet them around their face and necks.
By butting and rubbing their head against you, your cat may be trying to mimic this petting.
If your cat purrs whilst they headbutt you, or slowly closes their eyes, they may be doing it as a form of affection.
To Get Some Attention
It's also very common for cats to headbutt their owners as a way to get some attention.
If your cat meows or purrs whilst they are headbutting you, or tries to jump up on you and interrupt what you are doing, it's likely they're looking for some attention!
They may have a specific goal in mind, such as to get some cuddles or because they're hungry and want dinner.
Or, they may just be looking for some entertainment! Cats can get bored too!
What Does It Mean When A Cat Head Butts You?
To figure out which one of these explanations might apply to your cat's behavior, take a look at any other behaviors they're also offering.
If they are randomly headbutting you and other objects around the house in short succession, they might be marking their scent around their home.
If they are purring and kneading their paws into you whilst they are butting their head on you, they may be doing it as a sign of affection.
And, if they are meowing and putting themselves in between you and other tasks, they are probably looking for some attention!
Why is My Cat Head Butting Random Objects?
It's most likely that you'll see your cat headbutting stationary objects around your home, rather than out and about in the world.
This can include furniture, bedding – just about anything!
In this case, your cat is probably head butting things to mark their scent.
Take a close look at which parts of their body your cat is using. If they are rubbing their cheeks, chin, mouth, or forehead on objects, they are most likely rubbing secretions from the glands in these places on their head.
What if My Cat Doesn't Head Butt Me?
Don't panic if your cat doesn't headbutt you. It doesn't mean they don't love you!
There are a number of different ways that our cats express their feelings towards us. And, you might find that over time, as your bond strengthens, your cat begins to rub their head on you more frequently!
Don't force your cat to bump their head into you at any point. This can be stressful for your kitty, and you may accidentally hurt them.
Instead, try gently petting your cat in those areas on her face. She's likely to love it, and may come over to initiate the petting session with a headbutt next time!
What Does it Mean When a Cat Head Butts You? A Summary
So, there are three common reasons why your cat might be head butting you.
Perhaps they are marking you with their scent glands, trying to show you some affection, or maybe they are simply looking for attention.
Take a look at your cat's other behaviors to find out which explanation is most likely in your case!
Do you have a cat at home that loves to headbutt you? We would love to hear more about their behavior in the comments!
References and Resources