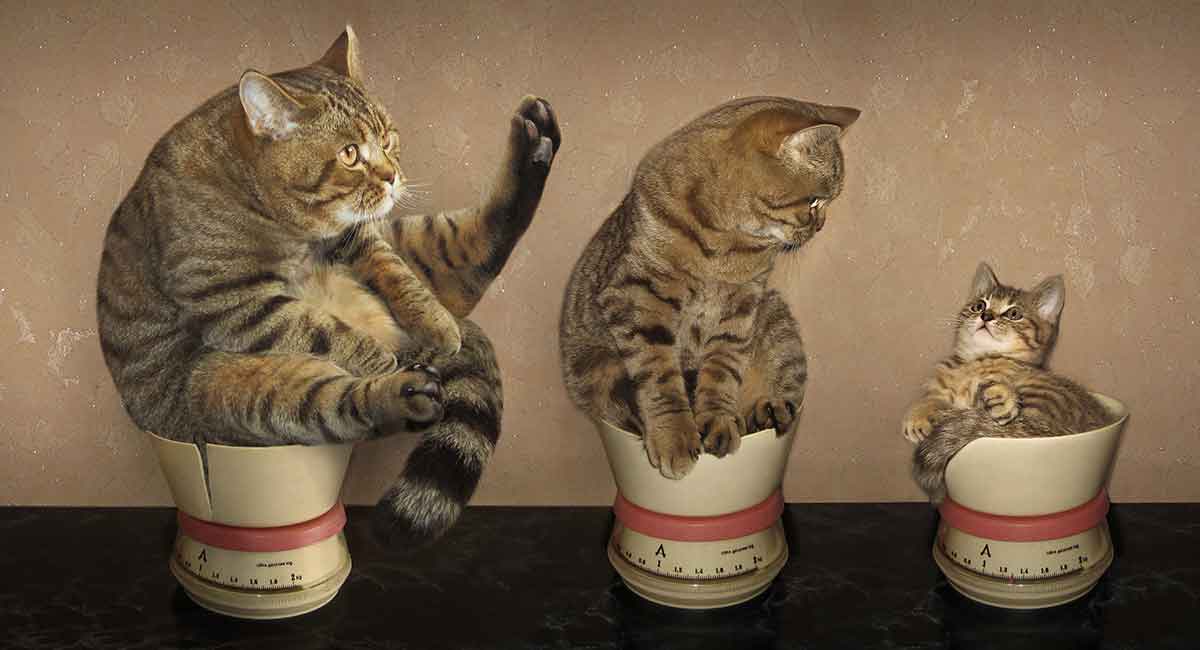 At some point, most cat owners have asked when do cats stop growing.
However, each cat breed grows at a different rate. So, the answer will be different for every cat owner!
For the majority of cat breeds, kittens stop growing between 8 and 16 months.
But some can take up to 5 years to stop growing. Let's take a look at some reasons for this, and some different breeds to answer the question: when do cats stop growing?
Changes in Kittens
You adopt a small, fluffy kitten that loves to play and cuddle on your lap. Soon, tiny kittens become bigger kittens with sharp teeth and claws.
After looking at your ruined sofa or torn hands when she got carried away with play, you start to wonder how big she will get!
Love can turn a wonderful blind eye to so many physical changes.
For instance, if you got your cat when she was a kitten, you can probably still recall what she looked like the very first time you met!
You may even still think of your full-grown cat as your palm-sized fluffy baby, Maybe you continue to see her "inner kitten" long after her length, height, and weight might say to others "adult cat!"
And, truly, in some ways your cat will always be a tiny kitten to you.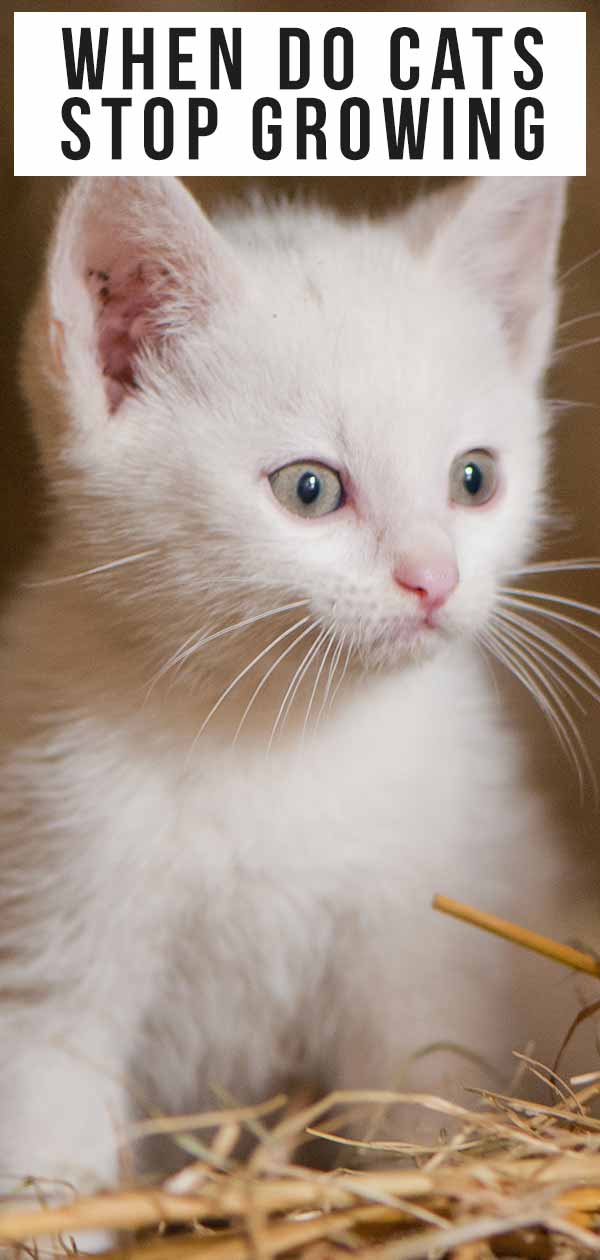 When Is My Kitten Full Grown?
So, how do you know when your kitten is full grown? When do cats stop growing?
What height, length, and weight should you expect to see? How long will it take for your cat to reach that milestone?
Different feline breeds grow at different rates, and some breeds are quite petite at maturity. Others can be surprisingly robust in size and never seem to stop growing. This can make answering the question of "when does a kitten become a cat?" very interesting!
In this article, we'll help you navigate through this minefield and learn about cat growth. Before we start talking about size and weight, let's look at the age when kittens stop growing.
When Are Kittens Fully Grown?
So, when are kittens fully grown? When do cats stop growing and reach their final size?
Most cat breeders agree that kittens stop growing somewhere between 8 and 16 months, depending upon the breed. That's a pretty good rule of thumb for the vast majority of cats.
However, it can be a bit more complicated than that. As we all know, cats are naturally contrary creatures and nothing is that simple!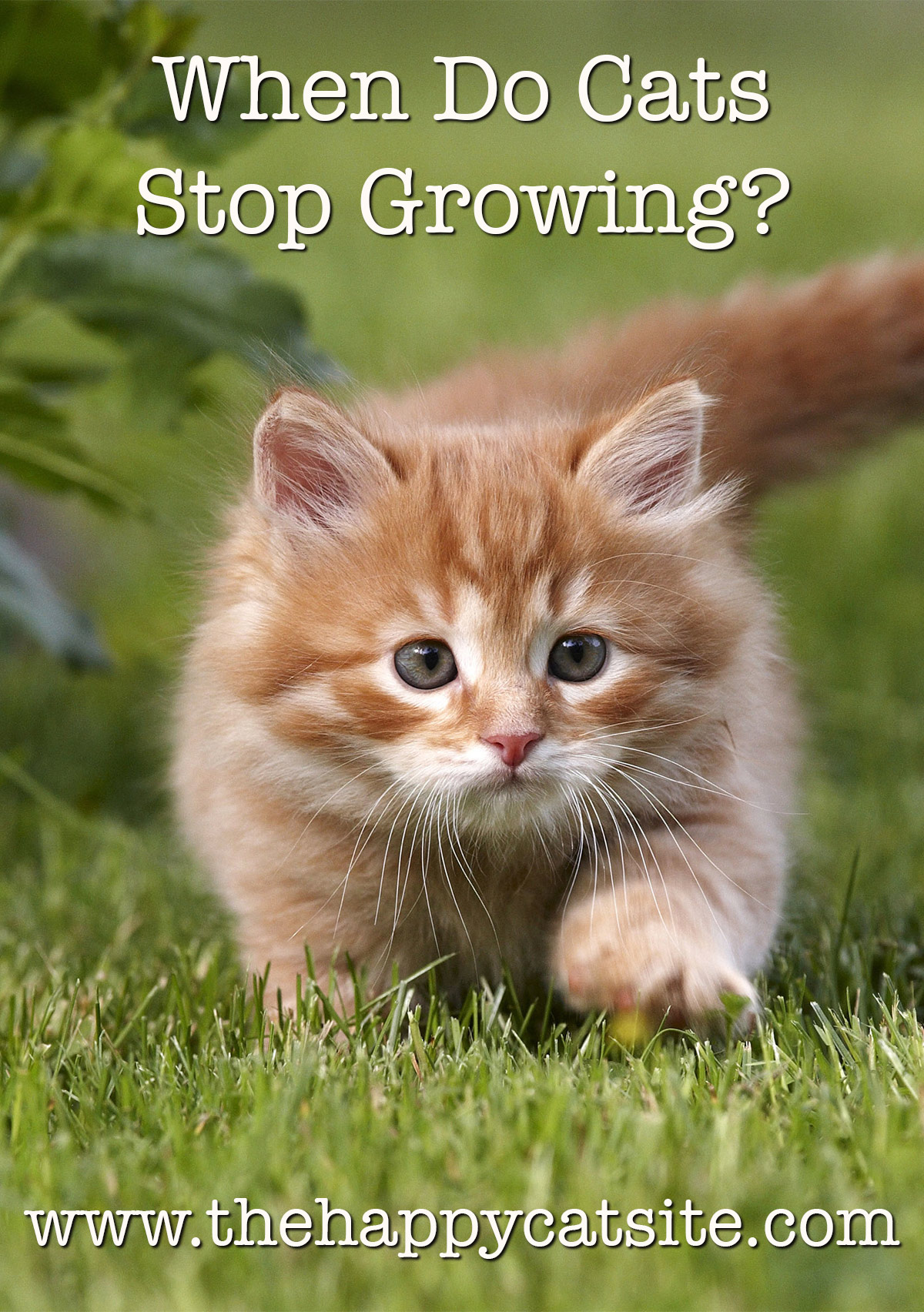 There isn't really any hard and fast scientific evidence to prove at what age do cats stop growing.
And, there is quite a range of information out there.
It Isn't All About Size
Fortunately, there are a few other ways of looking at the question: when do cats stop growing?
If you ask a feline veterinarian 'when do cats stop growing', you may get an assessment of your kitten's progress toward adult cat-hood. Usually, vets base these on what they like to call cat "life stages."
However, veterinary science doesn't base these life stages on your cat's length, height, or weight.
Rather, they describe when your kitten is likely to reach other important life milestones. So let's look at these milestones to help answer when do cats stop growing.
Important Milestones
Milestones include such things as being fully weaned and eating independently. Sometimes, they describe when a cat becomes fertile and able to make kittens. For the youngest cats, it can be achieving the full range of vision and hearing.
They also include developing a full set of adult cat teeth, alongside behavioral changes such as acquiring important social and predatory skills.
Finally, vets also look at when your kitten completes the cycle of kitten vaccinations and similar benchmarks.
That all sounds a bit complex if you ask us, so we have created a handy chart to show the major stages of kitten growth. This can help visualise when cats stop growing.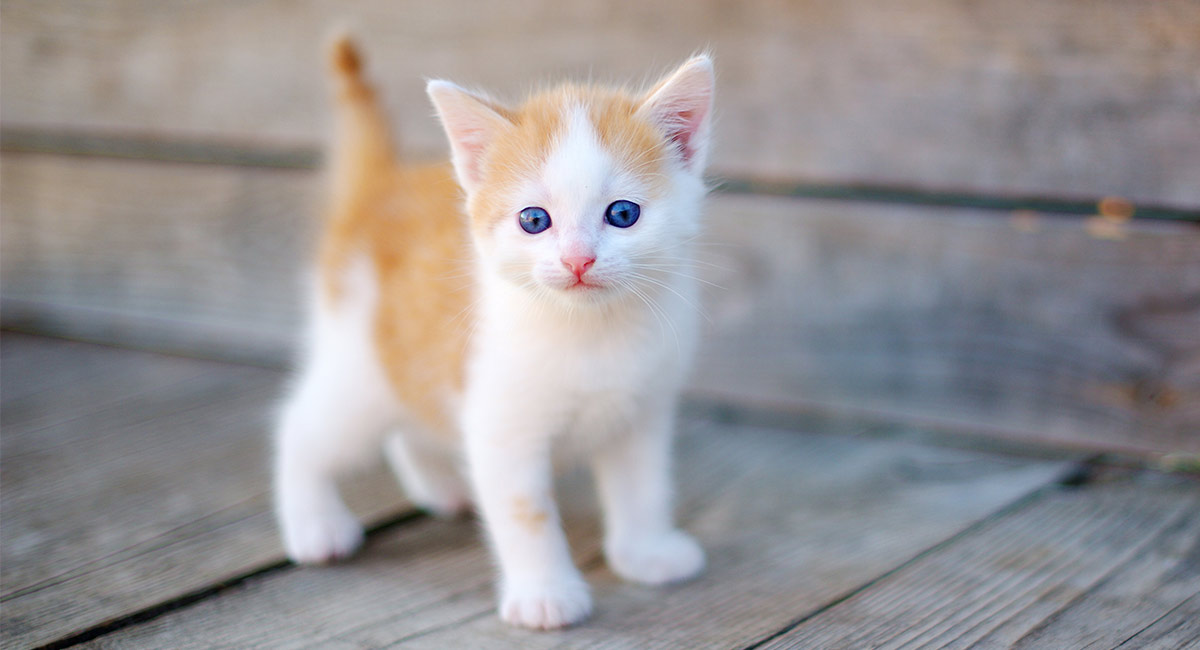 Cat Life Stages
Here are the generally accepted life stages veterinarians use to assess when do cats stop growing and cat maturity:
Birth to 6 months: Kitten life stage
7 to 24 months: Junior life stage
3 to 6 years: Prime life stage
7 to 10 years: Mature life stage
11 to 14 years: Senior life stage
15+ years: Geriatric life stage.
So, here, you can see that you have plenty of important markers to watch for as your kitten grows up.
That chart is useful for cat owners, but it doesn't really answer the question, does it?
You still don't have any real concrete idea of when your cat will reach his full adult height, length, and weight! So when do cats stop growing?
Accordingly, we will start with kittens and look at how quickly they grow. That will give you an idea of when a kitten is approaching its adult size and weight.
How Fast Do Kittens Grow?
One of the reasons we love cats is that there is such a range and variety. There really is something for everyone with so many breeds and different personalities. You can easily find the right cat for you and your family.
However, the downside is that answering the question of how fast kittens grow is much more difficult.
Accordingly, the question of "how fast do kittens grow?" is one that we must answer on a breed-specific basis.
In other words, if you have a Bengal kitten, the answer to this question will be different than if you have an American Shorthair kitten or a Maine Coon kitten.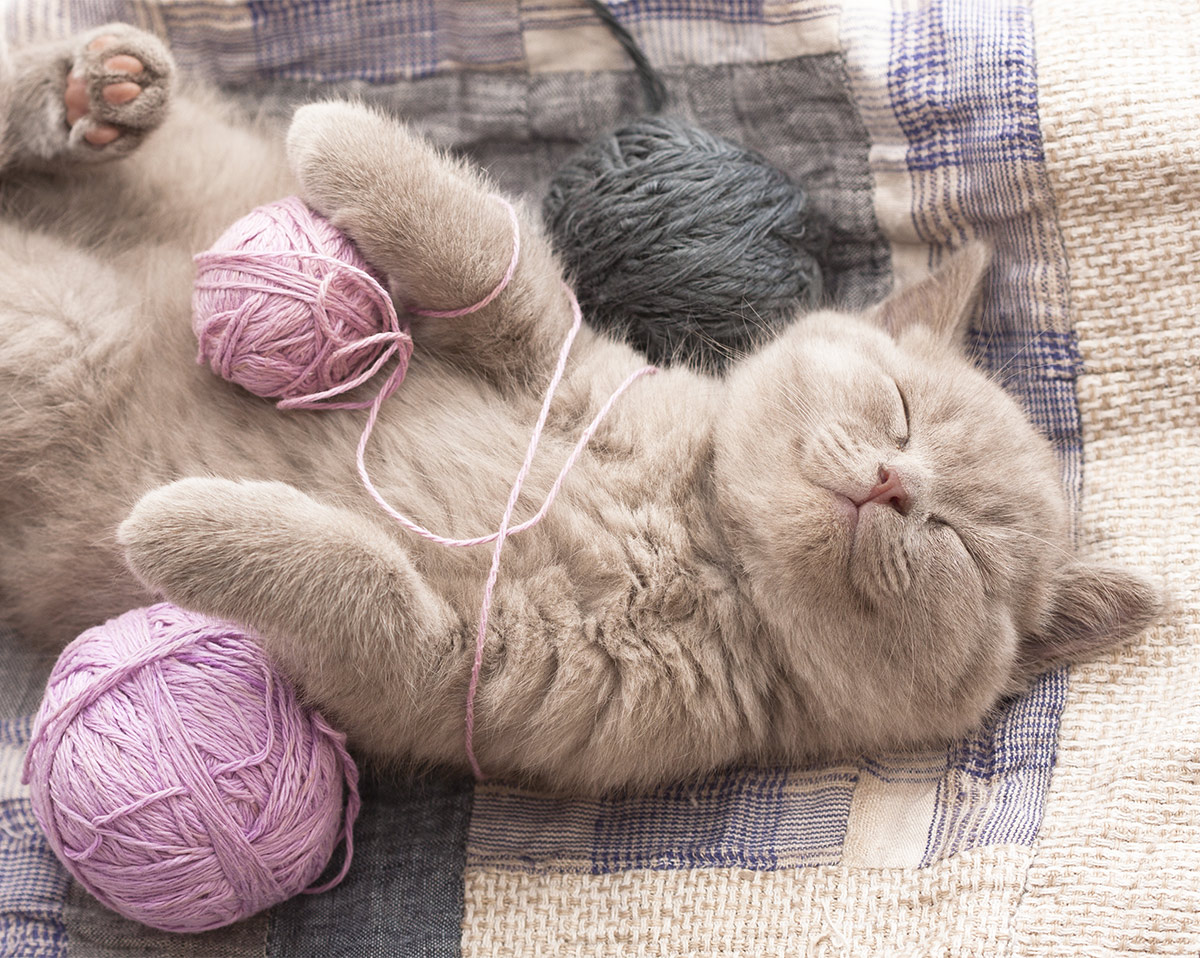 And if you have a "mutt" kitten – a kitten whose parentage is unknown or only partially known, then good luck! Figuring out when is a kitten full grown becomes even more of a mystery!
Ways of Finding Out When Cats Stop Growing
There are three possible ways to determine where your kitten lies on the breed's kitten growth chart:
Height: Her full height from paw to shoulder
Length: Her full length from nose to tail (start or end of tail depending on who is doing the measuring; sometimes the tail length is measured separately)
Weight: Her full weight along a spectrum at maturity.
Of these three, regardless of whether your kitten is a purebred or a mixed breed cat, weight is the least reliable. You should only use it as a backup source of information.
There is a very good reason why kitten weight can be a deceptive guide to growth.
Kitten Growth And Obesity
There is one reason why kitten and cat weight is a poor guide to growth. It's because veterinarians report they are seeing more and more cases of obesity in felines.
What if your kitten came to you already overweight? What if he has been consuming more calories than he expends daily in energy? In these cases, her weight might suggest he is closer to reaching his adult cat size than he actually is according to the cat life stages chart!
If you know (or think you know) your kitten's breed, you can use this helpful guide from The Association for Pet Obesity Prevention (APOP). This will help you monitor his weight.
It is also a great idea to talk with your veterinarian about your kitten's weight, especially if you are not sure about her parentage.
Factors Contributing To Kitten Weight
A number of factors can influence a cat's weight at each stage of life. These include:
Gender
Reproductive status (fixed or intact)
Birth order
Number of siblings
Nnursing status (birth mother or human foster parent),
Health of the parents
Overall health.
Here, if your kitten was reared through nursing with her mom, she may reach her adult size more rapidly.
She may also have a better chance of reaching the larger end of the growth spectrum than if foster human parents cared for her with kitten formula.
This is something you may or may not know. It depends on how you acquired your kitten, whether through adoption or from a breeder.
Managing Weight After This
Once you and your veterinarian have determined an ideal weight range for your growing kitten, you can continue to monitor her weight.
This is a good idea for keeping an eye on overall health. You can continue to do this even as she continues to grow into her full adult cat length and height.
To help you with this, kitten growth charts can be very useful. They also make sure that you are not only using weight as a guide to growth.
Kitten Growth Chart
As a new kitten parent, you will want to monitor your kitten's overall growth (length, height, weight) from two perspectives. These are healthy kitten growth expectations and breed-specific adult cat growth expectations.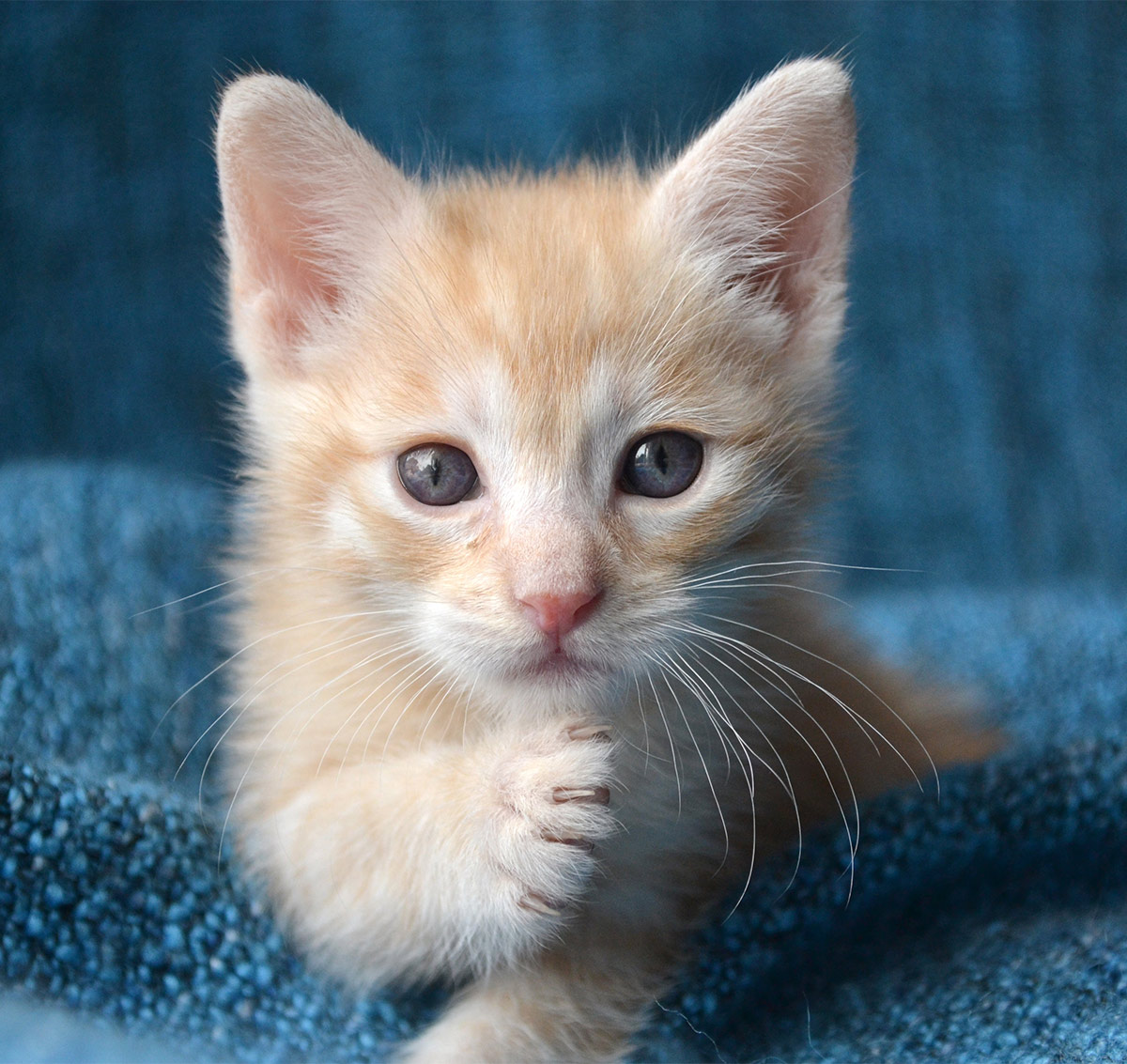 The former is critical to detect any situation where your kitten may fail to thrive. If you are worried that they are growing too slowly, you can seek veterinary care without any delay.
Monitoring growth for health reasons is always a good idea. On the other side of the equation, you won't be surprised when the cat you thought was fully grown just keeps growing and growing!
Growth charts also help you find the answer to the question of when do cats stop growing with reference to your own kitty. While a chart can never be 100% accurate, especially for mixed breed moggies, they still give you a useful reference.
A Few Rules Of Thumb For Kitten Growth
When your kitten is born, she may only weight a few ounces and will likely fit easily into your palm.
However, every day from then on, she will gain between 0.25 and 0.5 ounces (7 to 14 grams). In other words, she will reach double her birth weight and size between day 10 and day 14.
From here, it is quite normal to see your kitten gain one pound during each of the first 12 months of life. It's important to remember that weight gain for smaller breeds may slow down after reaching 6 to 8 months old.
As you track your individual kitten's growth, it is also vital to write down her starting weight/height/length.
This is because breed, gender, and other factors can influence whether she is at the low or high end of the growth spectrum. These all provide useful markers and milestones for kitten growth.
Kitten Growth Markers
So when do cats stop growing, and can we monitor kitten growth? There are some kitten growth markers we can use to assess how well a kitten is progressing.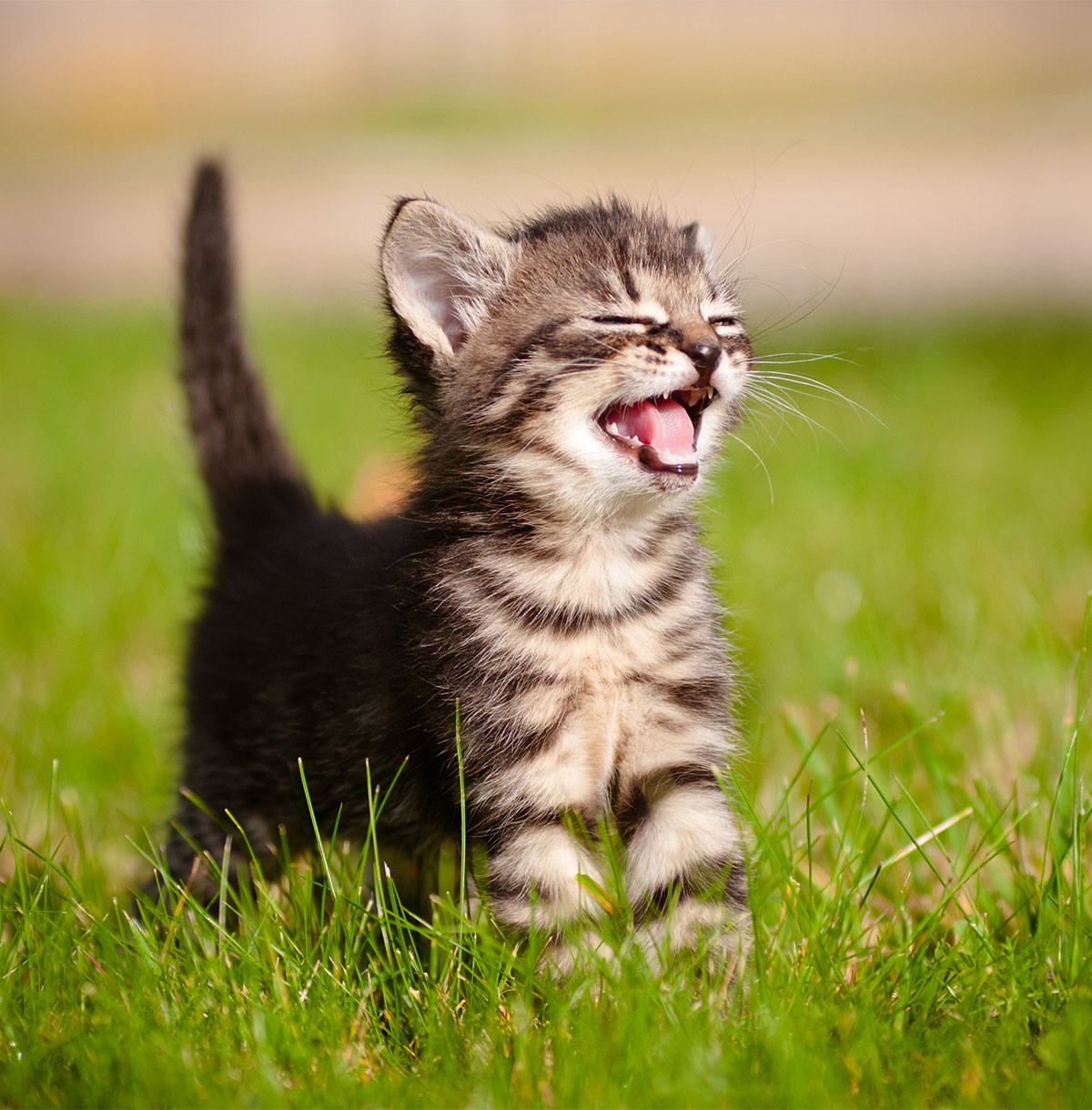 Here are a few additional benchmarks to watch for:
3 month old kitten size: By the age of 3 months (12 weeks), your kitten should weigh between 2 and 4 pounds. They should be three to four times the size they were at birth.
4 month old kitten size: By the age of 4 months (16 weeks), your kitten should weigh between 4 and 5 pounds
5 month old kitten size: By the age of 5 months (20 weeks), your kitten should weigh between 5 and 6 pounds
6 month old kitten size: By the age of 6 months (24 weeks), your kitten should weigh between 6 and 8 pounds.
If you plan to fix (neuter/spay) your kitten, vets often like to wait until the scale reads at least 4 pounds before scheduling this surgery. It's more difficult to anesthetize smaller cats and there is little room for error.
For many cat breeds, reaching the 6-month milestone will also mean she is between half and three-quarters of the way to her full height and length.
Usually, your cat may continue to gain weight, length, and height well past the one-year mark. Again, that can depend on breed and also the individual cat.
Different Breeds and Different Growth Rates
When do cats stop growing? For some breeds, growth towards maturity happens much more slowly or more quickly! We'll learn more about these later. For certain breeds, your cat may not stop growing until she reaches 18 months.
For a few breeds, how old are cats when they stop growing may take up to three or even five years. As we mentioned before, these figures are only guides and cat growth can be very complex!
Now, let's look at one end of the scale and explore growth in big cats.
Big Cat Growth Chart
As we are taking a look at what age are cats full grown, perhaps the only way to get a true sense of how fast do cats grow is to actually look at different cat breeds. In other words, perhaps it's a good idea to compare when are cats fully grown between different cat breeds.
First, we will examine five representative big cat breeds and investigate how long do cats grow for in these breeds. Let's take a look at when these cats stop growing.
In fact, these five big cat breeds aren't just big – they are huge!
Each of these cat breeds is among the largest domestic cat breeds in the world.
More importantly, as you will notice, the average age when do cats stop growing can vary greatly among these big cat breeds.
We are going to look at:
Maine Coons
Bengals
Savannahs
Ragdolls
British Shorthairs.
So, here's a few Maine Coon growth tips.
When Do Maine Coon Cats Stop Growing?
Not only is the Maine coon cat the official cat breed for the state of the same name, but it is also officially the largest domestic cat in the world.
These giants show just how quickly cats can grow! We'll also mention that they are usually real gentle giants with lovely personalities!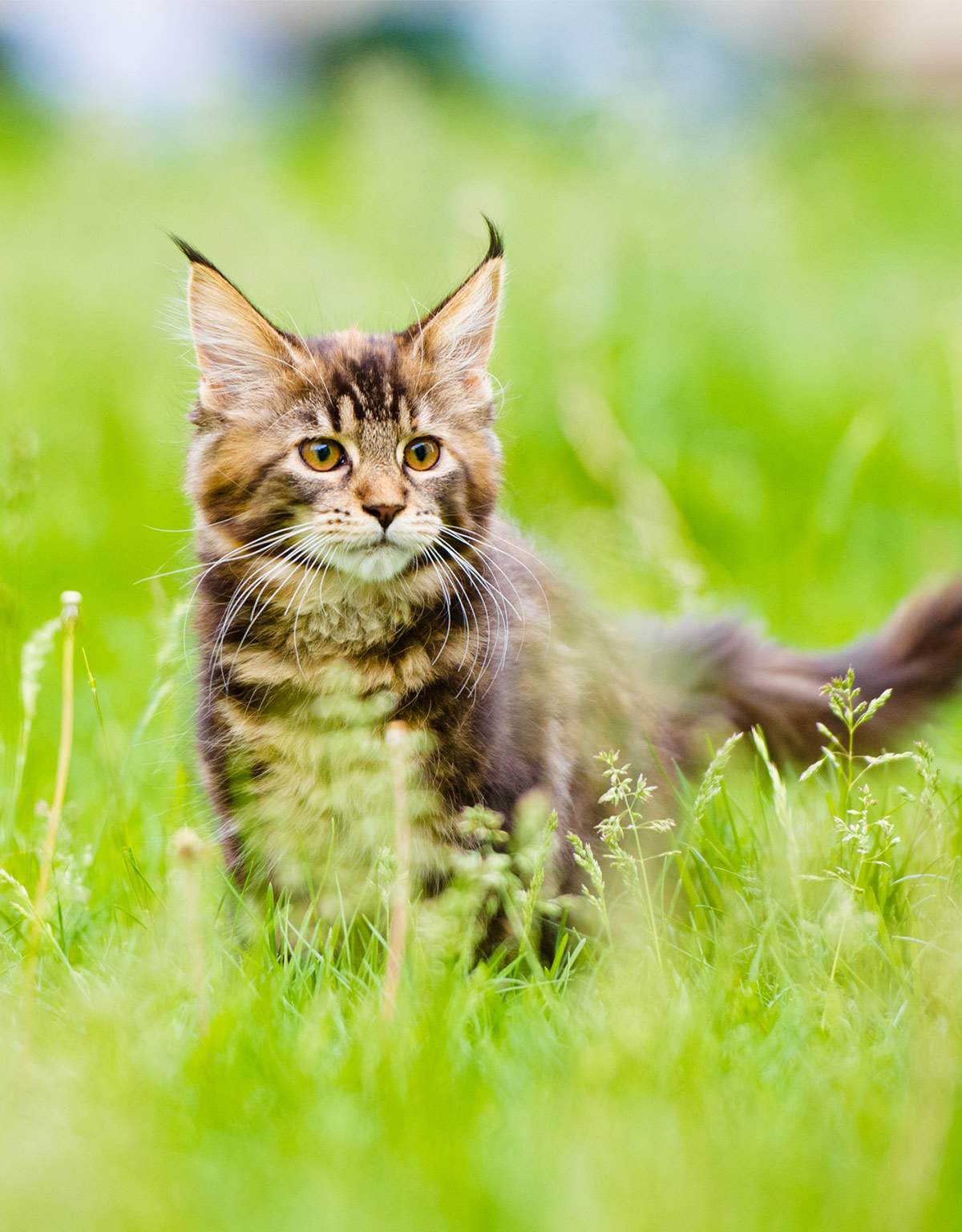 This cat breed currently holds the world record for being the largest cat of any breed – ever!
Stewie, the Maine coon cat," was measured at a whopping 48.5 inches long when he won the Guinness Book of World Records title! But when do these cats stop growing?
Length: Up to 48 inches
Height: 8 to 16 inches
Weight: Up to 25 pounds
Time to full adult size: 4 to 5 years!
So, as you can see, these cats are huge, but they also keep on growing for many years. That kind of puts the idea of cats stopping growing at 18 months to shame.
Maine Coons are not the only giant breeds, and Bengals can be pretty big, too.
When Do Bengal Cats Stop Growing?
The cat breed known as the Bengal cat has been described as a "small leopard." Really, this isn't so far from the truth. Don't forget that the original Bengal was a cross between an Asian Leopard cat and a domestic cat of unknown breed!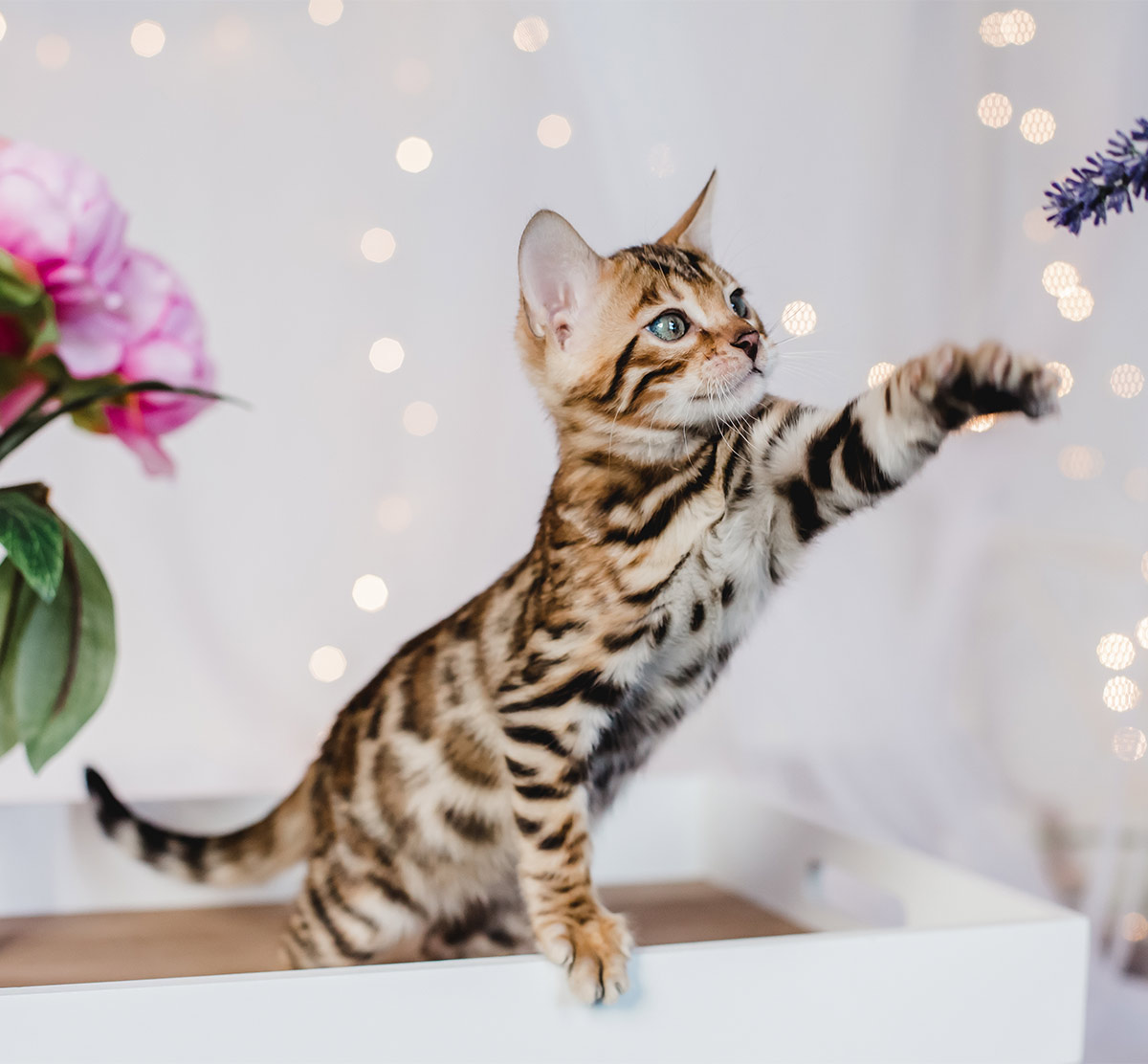 While Bengal cat size can range up to 22 pounds for some males, 16 pounds is more typical.
As with most cat breeds, a full grown male Bengal cat will be slightly heavier than females.
Length: 13 to 16 inches
Height: Up to 11 inches
Weight: 10 to 22 pounds
Time to full adult size: Within 1 to 2 years
Bengals do tend to stop growing at between 18 months and two years, so they are not as slow to grow as Maine Coons.
When Do Savannah Cats Stop Growing?
The gorgeous Savannah cat is actually considered a hybrid breed like the Bengal cat.
Half African serval cat (a wild cat breed), and half domestic cat, these cats have sometimes been described as looking like a "small cheetah." They are certainly beautiful and perhaps the closest you will get to having a wildcat in your home!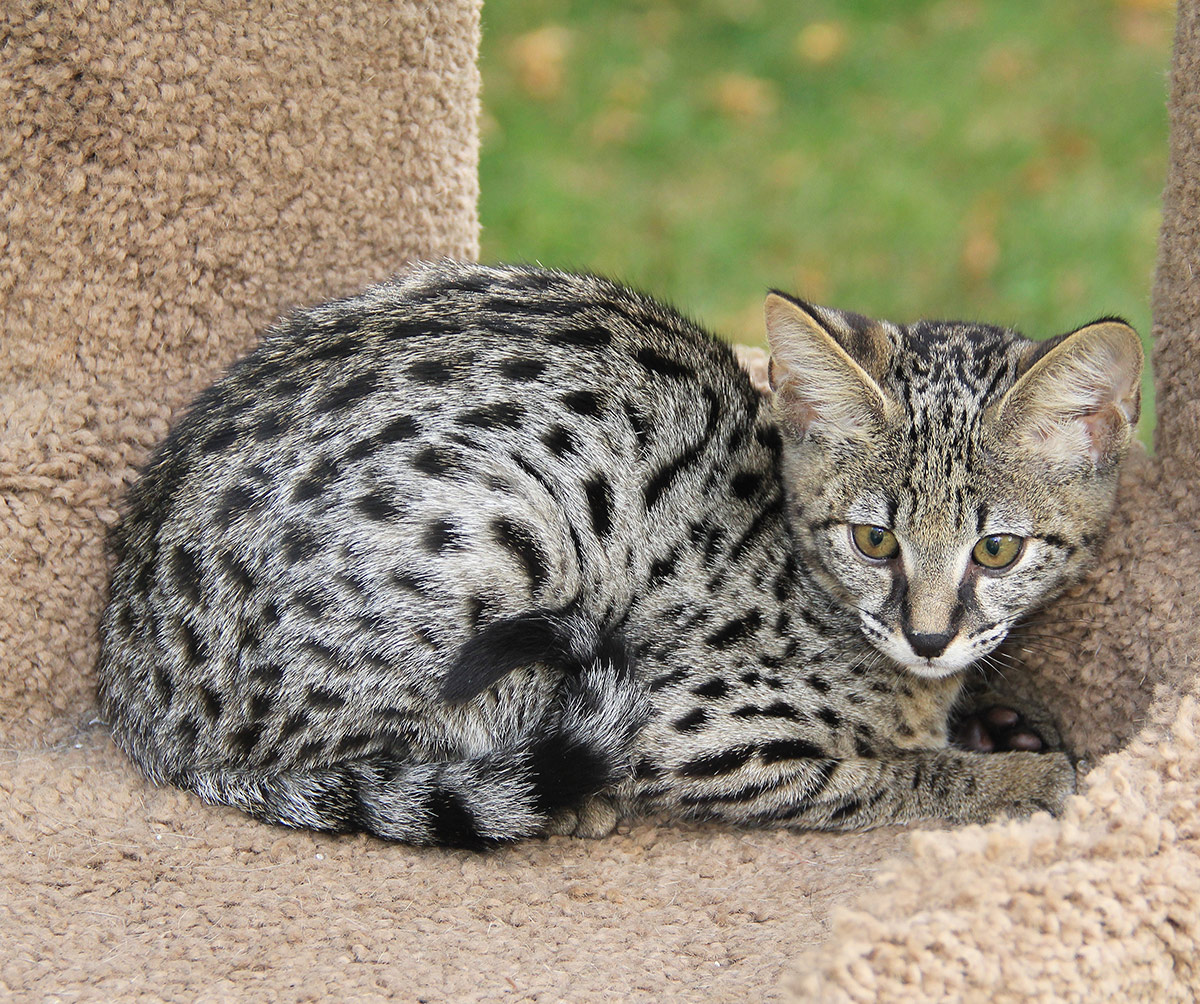 Determining how big do cats get in the Savannah breed depends on whether they are considered to be F1 through F6 class.
Only F1 represents a pairing of an African serval with a domestic cat. They will be larger than all other classes. F2 through F6 represents cats with two Savannah cat parents, and they tend to be smaller and more like their domestic cat lineage in size.
Length: 20 to 25 inches
Height: 10 to 19 inches
Weight: 12 to 20 pounds
Time to full adult size: Within 2 to 3 years.
They can be quite slow growing, so don't be surprised if you Savannah has a big growth spurt after his second birthday!
Another breed known for its size is the Ragdoll, a favorite cat for families with children due to their very docile nature.
When Do Ragdoll Cats Stop Growing?
The Ragdoll cat is a fascinating breed for a variety of reasons. Did you know that an estimated 45 percent of this cat's DNA can be directly traced back to a single cat named Raggedy Ann Daddy Warbucks!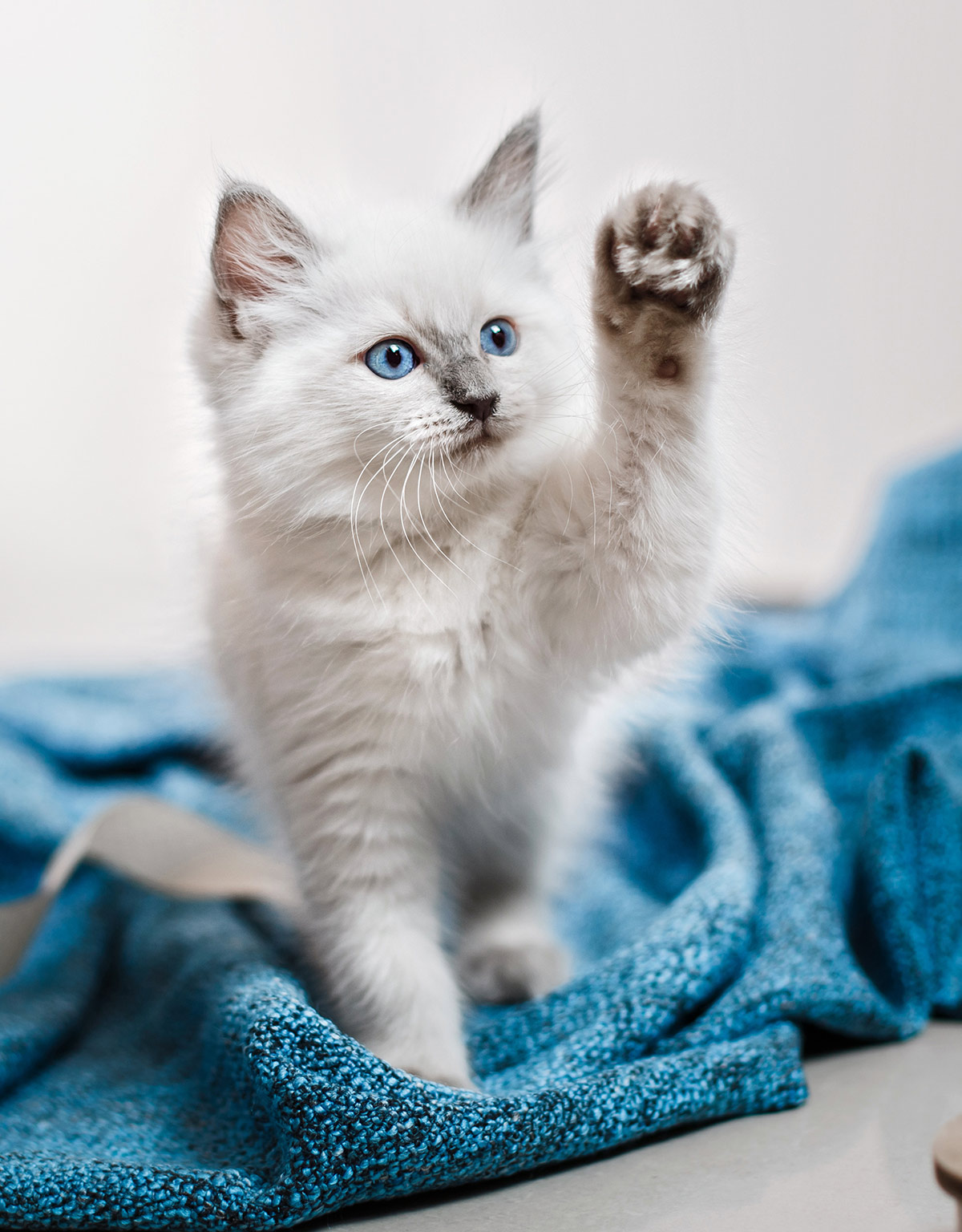 However, the Ragdoll cat actually gets its name from the tendency of these cats to let their bodies hang limply when you pick them up. As the name suggests, it's kind of like you are cuddling a ragdoll!
Length: 15 to 26 inches
Height: 9 to 11 inches
Weight: 8 to 20 pounds
Time to full adult size: Up to 4 years
They are another slow growing cat that can just keep getting bigger and bigger, seemingly without end!
Let's finish our wander through the world of large cats with a trusty old favorite, the British Shorthair.
When Do British Shorthair Cats Stop Growing?
The British shorthair cat can actually trace its roots all the way back to ancient Egypt. This makes it one of the oldest known cat breeds of all time!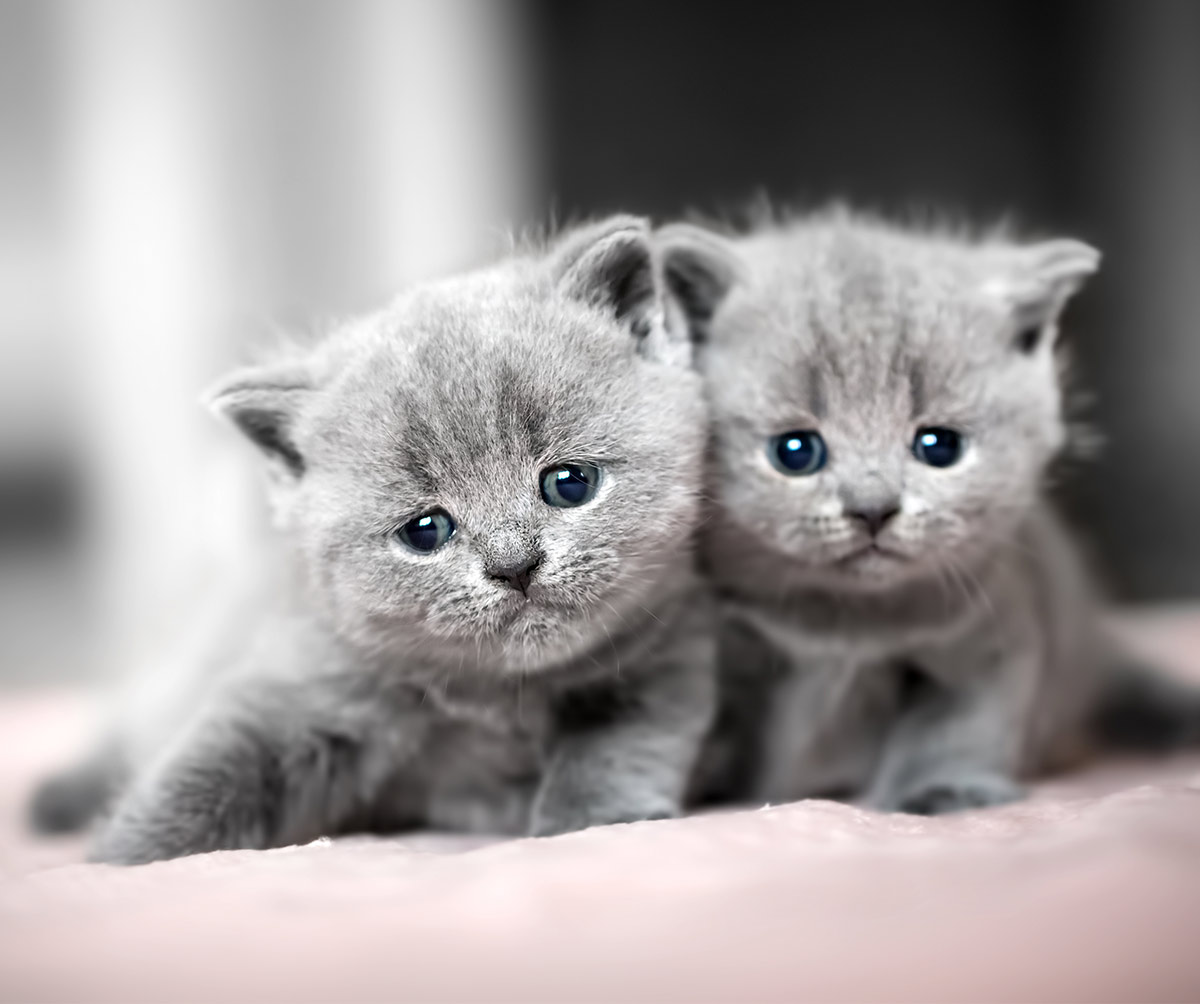 This cat matures quite slowly, but British shorthair cat enthusiasts say the final result is well worth the wait! These stocky cats can surprise owners and seem to keep getting bigger and bigger as they mature.
Length: 16 to 22 inches
Height: 14 to 20 inches
Weight: 7 to 18 pounds
Time to full adult size: 3 to 5 years!
So, these monster breeds show you how difficult it can be to decide when a cat stops growing and when it is fully grown.
Of course, at the other end of the scale, you have tiny cats like Singapuras, Rexes, and American Curls, which may stop growing much earlier! Such is the diversity of cats!
When Are Cats Full Grown?
As you can see from the comparison of different cat breeds here, it can be very challenging to just look at your kitten and tell whether or not he is fully grown!
While as a general rule, bigger cat breed kittens can take longer to grow to their full mature height, length, and size, this is not always the case.
But most importantly when it comes to answering the question of when do kittens stop growing, it is vital to remember that all cat breeds are sized along a continuum.
For instance, in the examples provided here earlier, the adult female cats will tend to stay closer to the low end of the length/height/weight continuum.
Conversely, the adult male cats will tend to hit or even exceed the high ranges for the breed.
Each Kitten is Unique
Most critical to remember, however, is that an individual kitten's full adult size depends more on that kitten than on any other factor!
Overall, determining at what age do cats stop growing can depend on a number of factors
The main thing to remember is to trust your instincts and, if your cat seems to be putting on too much weight, or never seems to gain weight, have a chat with your vet just to make sure.
When Do Cats Stop Growing?
You and your kitten have embarked on an adventure together!
This adventure is one of getting to know each other over a period of months and years as you spend your lives together.
Watching your kitten grow up is a huge part of this wonderful adventure. You marvel at how such a tiny and klutzy furry bundle can grow up into an amazingly powerful, intelligent, agile feline.
Speak to your Vet
It is always a great idea to bring your new kitten for a veterinarian checkup as soon as possible – if possible, even the same day you bring her home.
This way, you can get a firm benchmark measurement for her health, weight, length, height and overall physical development right from day one.
From there, like many new kitten parents, you may want to keep a growth chart to monitor how her size changes from week to week.
This help you identify any possible health issues before they become serious. It will also help you really tune in to the small but significant changes she is going through every day.
You may never know the exact day your kitten becomes a cat in terms of her full adult size. But you can feel sure that together, you and your new kitten will enjoy every day of that journey together!
The Joy Of Growing Old Together
Overall, watching your cat grow and develop her own personality as she learns to explore the world is the best part of adopting a cat. If you have any questions or stories to share about cat growth, let us know in the comments or in our forums.
One thing that you can be sure of when cat owners discuss cat growth is that nobody ever agrees. That's the best part!
Resources