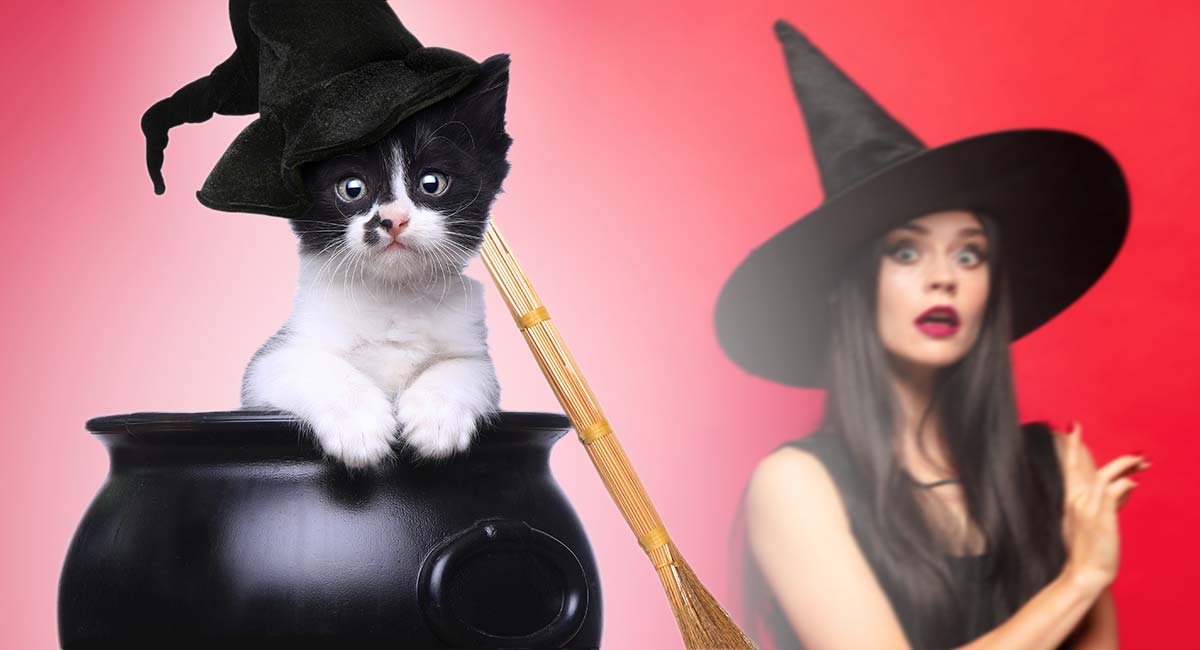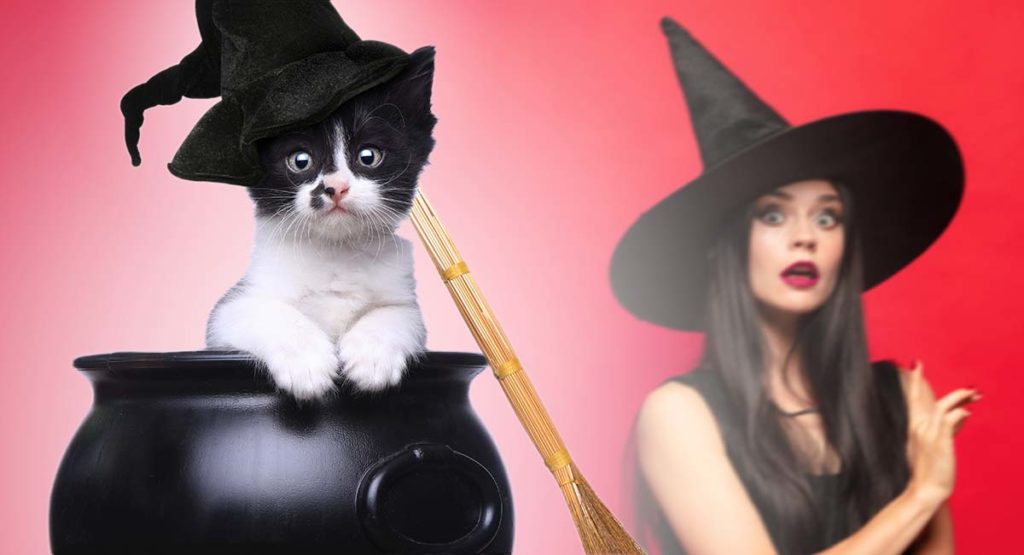 Witch cat names are perfect for black cats, or any kitten with a magical, mysterious personality! We have lists of names for cats inspired by the wonderful world of witches. Whether you love everything witchy, or just want a completely unique name, we have the perfect choice for you!
Top Witch Cat Names
Our favorite 50 witch cat names are:
| | |
| --- | --- |
| Hecate | Mog |
| Wicca | Magic |
| Shadow | Moon |
| Tarot | Herb |
| Salem | Cobweb |
| Jinx | Hex |
| Warlock | Hocus |
| Lucky | Coven |
| Clover | Fortune |
| Solstice | Spirit |
| Thirteen | Voodoo |
| Halloween | Cackle |
| Divine | Ritual |
| Buffy | Spirit |
| Cunning | Succubus |
| Charm | Occult |
| Pentagram | Sabbath |
| Phantom | Crow |
| Necromancer | Changeling |
| Djinn | Cape |
| Muggle | Amulet |
| Blessing | Broomstick |
| Boil | Chalice |
| Familiar | Grimoire |
| Hag | Incubus |
Why Give Your Cat a Witch Name?
There are a ton of reasons why a witch name might suit your cat. Witches are often seen in shows and movies with a feline companion, or familiar. And one famous Harry Potter witch can even change into a cat!
If your kitten seems mysterious, curious, or playful, a witchy name could be the perfect choice. Plus, it can be a great way to honor your favorite characters from some great shows and movies. Let's start by looking at some names inspired by that.
Sabrina the Teenage Witch Cat Names
Sabrina the Teenage Witch is one of the most popular witch shows at the moment. So taking inspiration from their characters is a great way to name your new kitten. Whether you love the comic, or are obsessing over the new Netflix series! Here are our favorite ideas for magical names:
Sabrina
Spellman
Salem
Hilda
Zelda
Harvey
Kinkle
Libby
Jenny
Ambrose
Nicholas
Scratch
Prudence
Susie
Putnam
Blackwood
Rosalind
Roz
Lilith
Mary
Wardwell
Agatha
Faustus
Dorcas
Lucas
Theo
Hawthorne
Diana
Edward
Constance
Dorian
Melvin
Elspeth
Caliban
Kemper
Batibat
Quentin
Bartel
Gryla
Dorothea
Greendale
Jerathmiel
Morningstar
Methuselah
Madam
Sister
Priest
Beast
Acheron
Apophis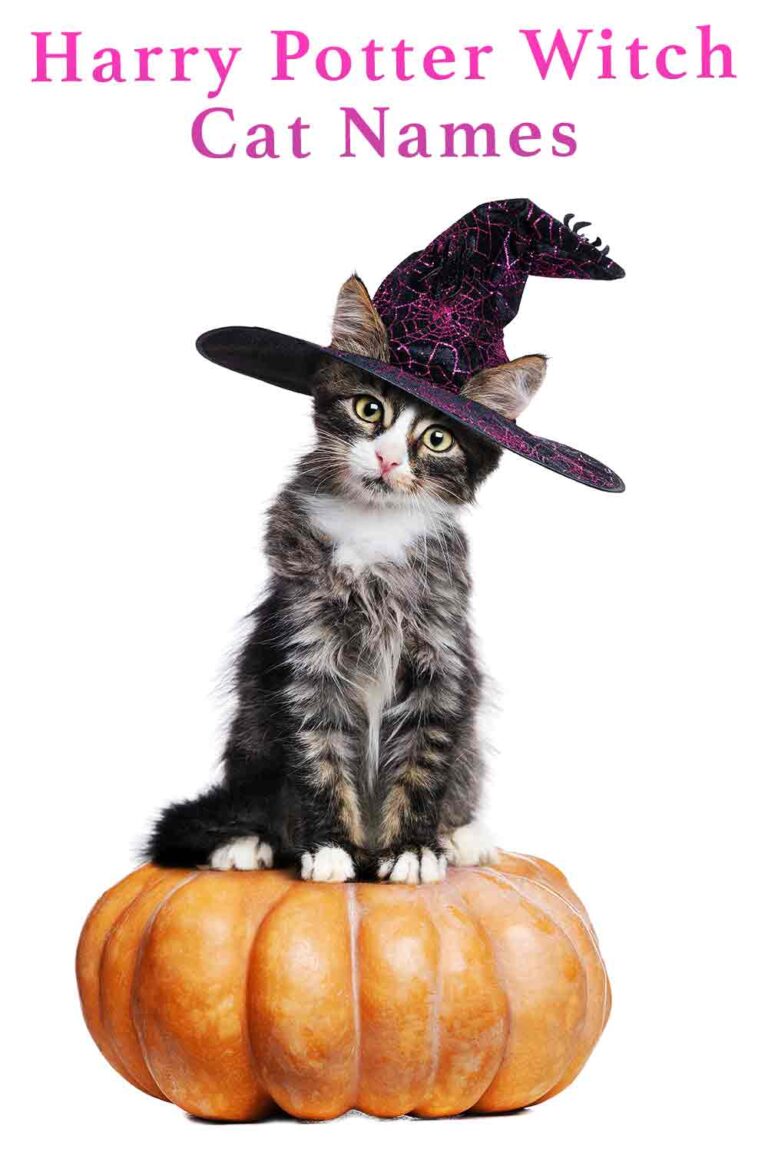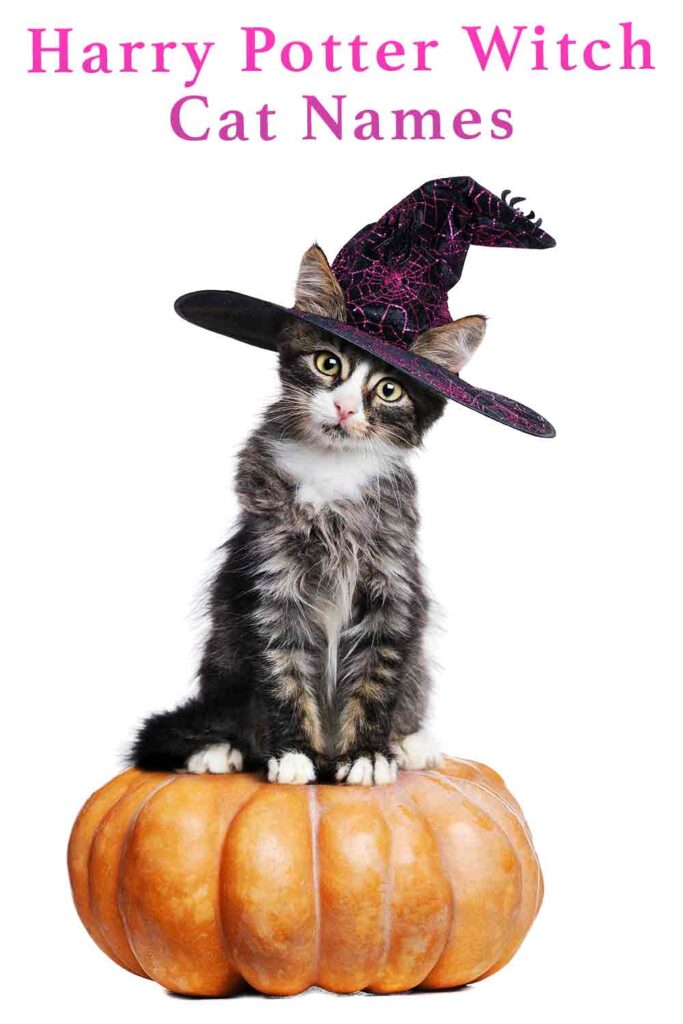 Harry Potter Witch Cat Names
The Harry Potter books and movies have always been a huge source of inspiration for everything magical. And the list of characters just does on. You can find some great names for witch and wizard cats, using inspiration from Harry Potter characters. Here are some you'll love:
Harry
Ron
Hermoine
Luna
Bellatrix
Dumbledore
Albus
McGonagall
Draco
Sirius
Dobby
Hagrid
Snape
Severus
Crabbe
Lucius
Malfoy
Potter
Weasley
Barty
Mooney
Fleur
Cedric
Dudley
Vernon
Petunia
Filch
Flitwick
Fudge
Goyle
Grindelwald
Krum
Lockhart
Voldemort
Riddle
Neville
Longbottom
Remus
Lupin
Tonks
Minerva
Ginny
Newt
Umbridge
Molly
Aragog
Crookshanks
Fang
Hedwig
Peeves
Other Popular Witch Cat Names
There are so many other great Harry Potter witch cat names from these films, be sure to leave your favorites in the comments! There are lots of popular shows with magical, witchy characters, like American Horror Story, Vampire Diaries, Witcher, and more. Here are some of our favorite characters from these shows that would make great witch cat names. Do you recognise any of them?
Melisandre
Yennefer
Fringilla
Triss
Cirilla
Mousesack
Tissaia
Stregobor
Istredd
Artorius
Kai
Hope
Bonnie
Valerie
Esther
Dahlia
Cordelia
Myrtle
Misty
Madison
Delphine
Fiona
Stevie
Zoe
Willow
Maleficent
Winifred
Mary
Sarah
Wendy
Ingrid
Joanna
Freya
Glinda
Elphaba
Zelena
Regina
Narissa
Phoebe
Prue
Piper
Ridley
Samantha
Louise
Cackle
Hardbroom
Mildred
Prospero
Ursula
Lamia
Cute Witch Cat Names
There's nothing cuter than cats named after food. So, what about… cats named after spell ingredients! Witches are known for casting spells and incantations. But these often need some creative ingredients. Here are some of our favorite cute witch cat names:
Newt
Frog
Nightshade
Rosemary
Garlic
Sage
Incense
Ginger
Aloe
Ash
Clove
Foxglove
Beetle
Lavender
Leech
Toadstool
Caterpillar
Dandelion
Root
Mushroom
Nettle
Eyeball
Wings
Feather
Slug
Tail
Rose
Spider
Vinegar
Vervain
Sardine
Horseradish
Moonstone
Earwax
Tongue
Lizard
Dragon scale
Wolf tooth
Petal
Moth
Bee
Pearl
Eggs
Salt
Honeycomb
Taproot
Thistle
Anise
Burdock
Crickets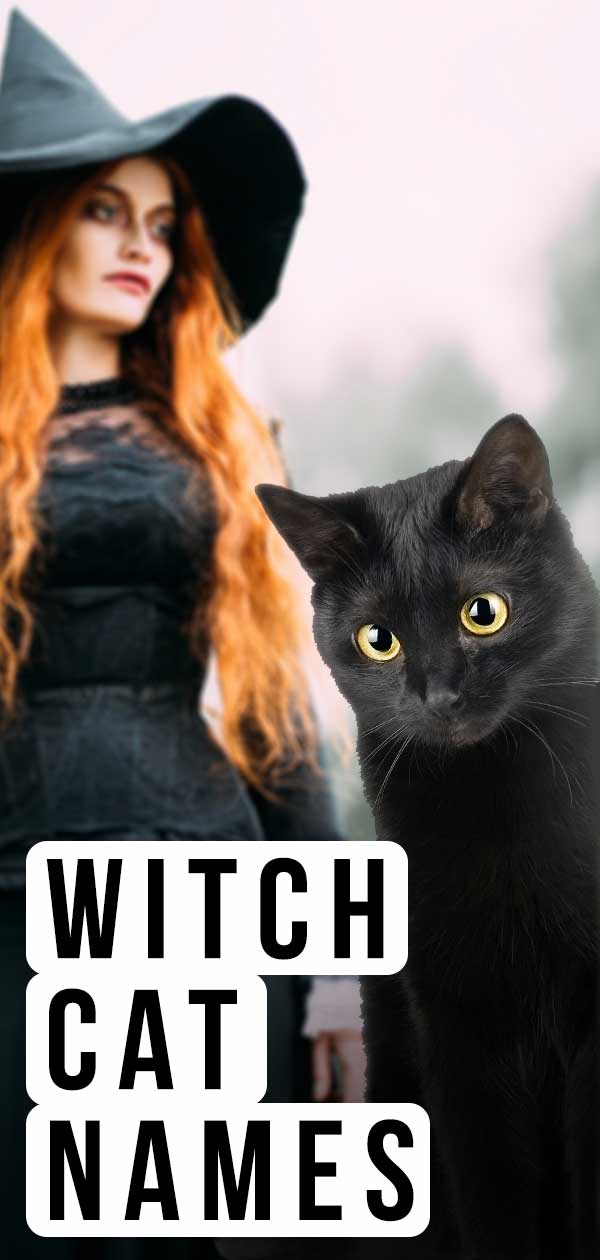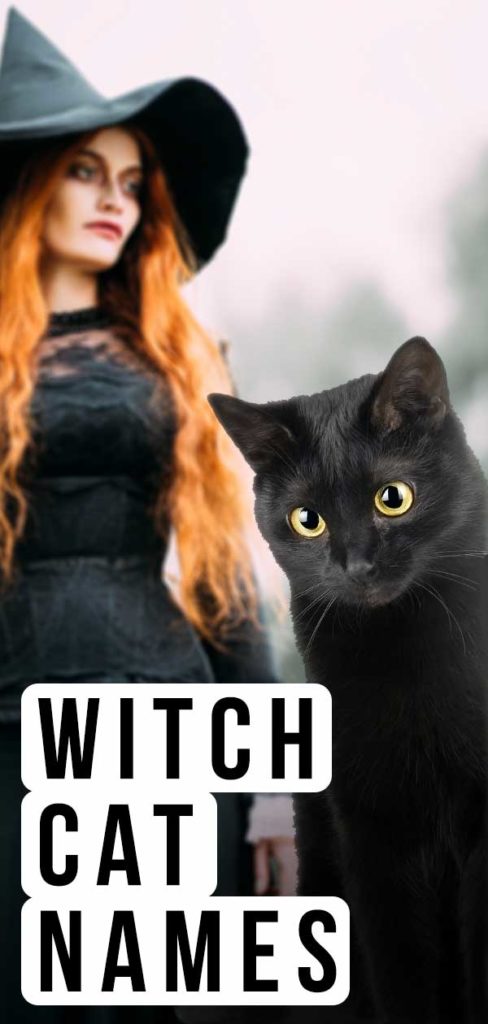 Scary Witch Cat Names
The ideas we've looked at so far are great. But maybe you want something that shows off the darker side of witchcraft. There are lots of things we can use as inspiration for a more spooky name. Here are some ideas that might work for your spooky witch cat:
Curse
Spell
Coffin
Corpse
Hex
Cauldron
Cobweb
Bat
Cackle
Casket
Scream
Spooky
Eerie
Pumpkin
Poltergeist
Superstition
Halloween
Wicked
Lucifer
Goety
Voodoo
Lamia
Incant
Ritual
Demon
Shaman
Faery
Glamor
Crucio
Avada
Kedavra
Imperio
Horcrux
Torture
Conjure
Exorcist
Beast
Nightmare
Wraith
Tomb
Beserk
Shiver
Monster
Sinister
Menace
Haunt
Dread
Ethereal
Snake
Ghoul
Witchy Black Cat Names
Witches are commonly pictured with black cats. Black cats are known for being unlucky, but maybe you're welcoming a dark kitten into your home! So take a look at the perfect ideas for your own witchy black cat names:
Merlin
Embers
Licorice
Nebula
Bandit
Bagheera
Velvet
Goth
Sharpie
Creeper
Vader
Hendrix
Checkers
Crescent
Widow
Ebony
Jet
Midnight
Sooty
Coco
Aura
Domino
Dusk
Matches
Nightfall
Thunder
Sweep
Eclipse
Olive
Onyx
Puma
Smokey
Bullet
Diesel
Omen
Raven
Storm
Catacomb
Banshee
Twilight
Phantom
Wednesday
Dracula
Pepper
Ink
Lentil
Currant
Grimm
Nero
Coalby
Witch Cat Names Summary
Whether you've fallen in love with witches on TV, you have a black kitten, or you love the history of witches throughout the world. There have been lots of great ideas here for your new kitten. So, we hope you've loved our ideas! Have you used one of the names we mentioned in our article? Make sure you tell us what your cat is called in the comments. Plus, if their name isn't already on one of our lists, we might add it!
More Name Ideas
If these names haven't just 'clicked' for your new kitten, you might want to take a look at some of our other ideas!
Your Amazing Cat!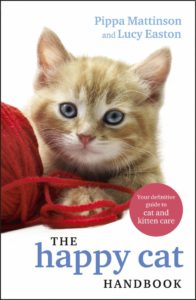 We are so excited to share our new book with you!
If you have enjoyed your visit to The Happy Cat Site we think you'll love The Happy Cat Handbook.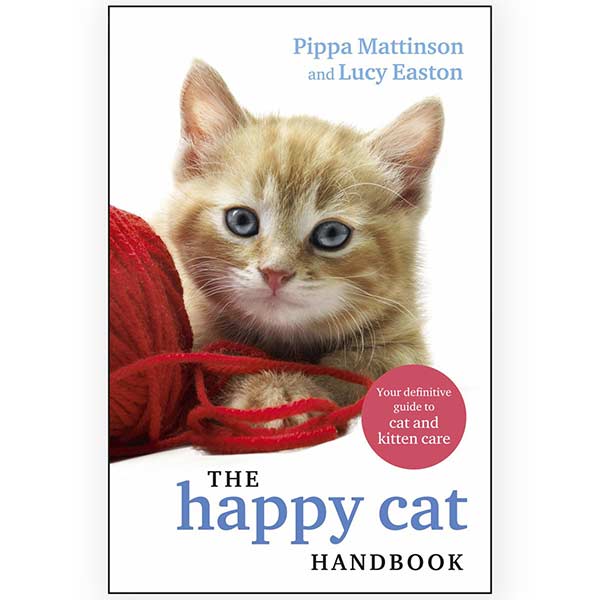 Written by the founders of this website including the author of the hugely successful Happy Puppy Handbook, it's packed with cat care information and fascinating cat facts.
Grab your copy today!