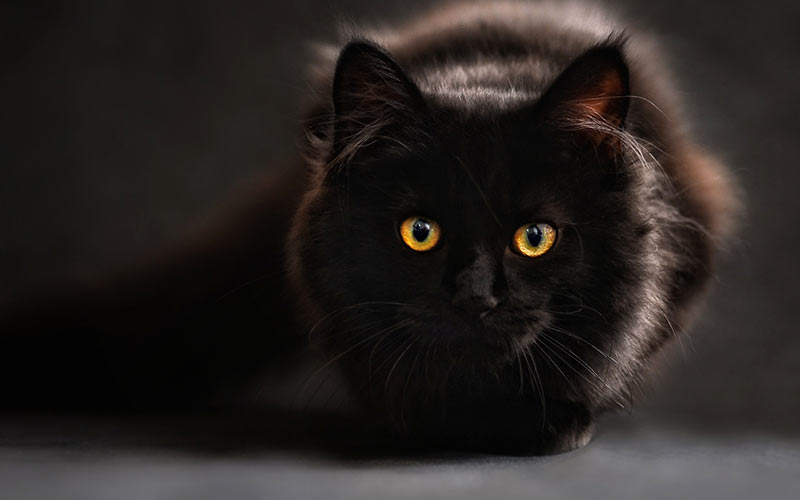 We've got 250 of the very best black cat names to inspire you. That beautiful black coat is a great starting point for your perfect name. Or you might enjoy giving a nod to the black cat's association with wizards and wands.
We have lots of collections for you to browse through and you can use the links in the menu to jump straight to the theme of your choice. From the unique, to the cool or creative. It's all here!
Black Cat Names: The Collections
Our Favorite Names For Black Cats
| | |
| --- | --- |
| Chalky | Embers |
| Shady | Bolt |
| Graphite | Dusty |
| Merlin | Magic |
| Jon | Cullen |
| Fangs | Morticia |
| Espresso | Licorice |
| Vortex | Nebula |
| Bandit | Penguin |
| Noir | Schwarz |
| Fig | Sylvester |
| Bagheera | Velvet |
| Gothic | Sharpie |
| Clubs | Wicked |
| Angus | Creeper |
| Darth | Draco |
| Gotham | Hendrix |
| Jaguar | Pirate |
| Captain | Raider |
| Zelda | Skunk |
| Stallion | Alchemy |
| Malfoy | Frieda |
| Inky | Jaffa |
| Duchess | Lilith |
| Matches | Sparky |
| Nightingale | Pearl |
| Pipes | Phoenix |
| Sabrina | Taboo |
| Taco | Vamp |
| Boo | Buffy |
| Carrie | Chucky |
| Dracula | Bats |
| Freddy | Sirius |
| Harlem | Monster |
| Rosemary | Snickers |
| Tricks | Absinthe |
| Checkers | Crumbs |
| Sherlock | Bellatrix |
| Fuel | Humbug |
| Nimbus | Crescent |
| Haze | King |
| Mars | Oracle |
| Superstition | Tarot |
| Wakanda | Widow |
| Ferrari | Nila |
| Aladdin | Genie |
| Nyx | Nisha |
| Tatiana | Mortiarty |
| Ginny | Warlock |
| Wicca | Minnie |
Our Readers' Black Cat Names
Let's start with our readers' favorite names for black cats. These are from the lovely comments below. Don't forget to add yours as we update this list regularly. The top black cat names are:
Luna
Voodoo
Hershey
Salem
Midnight
The ones above were the most common choices that you told us you'd used for your own cats. Here are some more great names from our readers
Ashby
Coalby
Coven
Emma
Grimm
Hex
Mojo
Nero
Nightshade
Raven
Sally
Spell
Twilight
Vader
Widdershins
And our personal favorite of all your black cat names: Brown!
We love them all! We also loved Hocus and Pocus for twin black kittens! If we've missed your cat's name out, do let us know in the comments below.
What to name a black cat – the challenge!
I love my black cat. He's brilliant. But naming him wasn't a quick job. Fortunately, there is no right or wrong answer when it comes to what to name a black cat.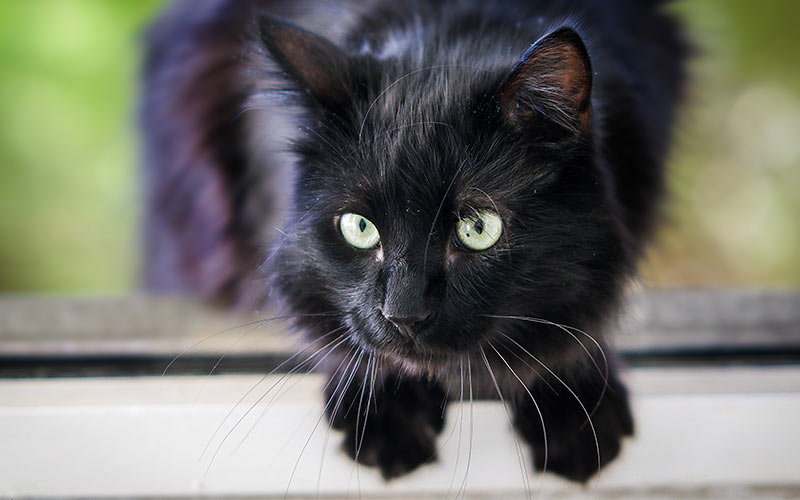 Naming your cat, my cat, any cat, should be a fun and ultimately very rewarding process. Finding the right name for your new gorgeous kitty is also important.
Why It's So Important
Your little kitten is going to be in your life for a long time. You want to be able to introduce her to your friends with pride.
We know cats recognise our voices and use lots of different vocal sounds of their own. (Scientific American) So your cat's name will be an important and familiar sound to him too. And hopefully one that they'll quickly get to know and respond to.
Popular names for black cats
There are a few ideas which have been enduringly popular for the little cuties.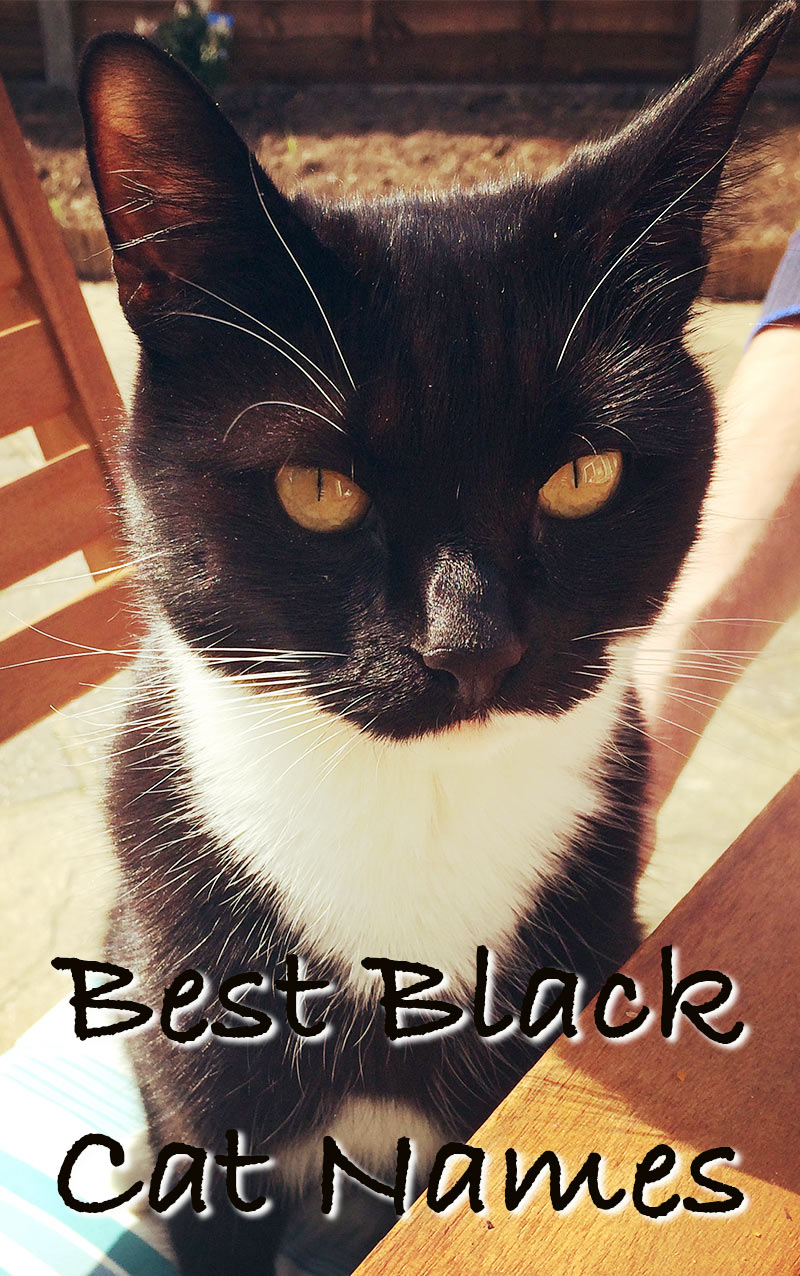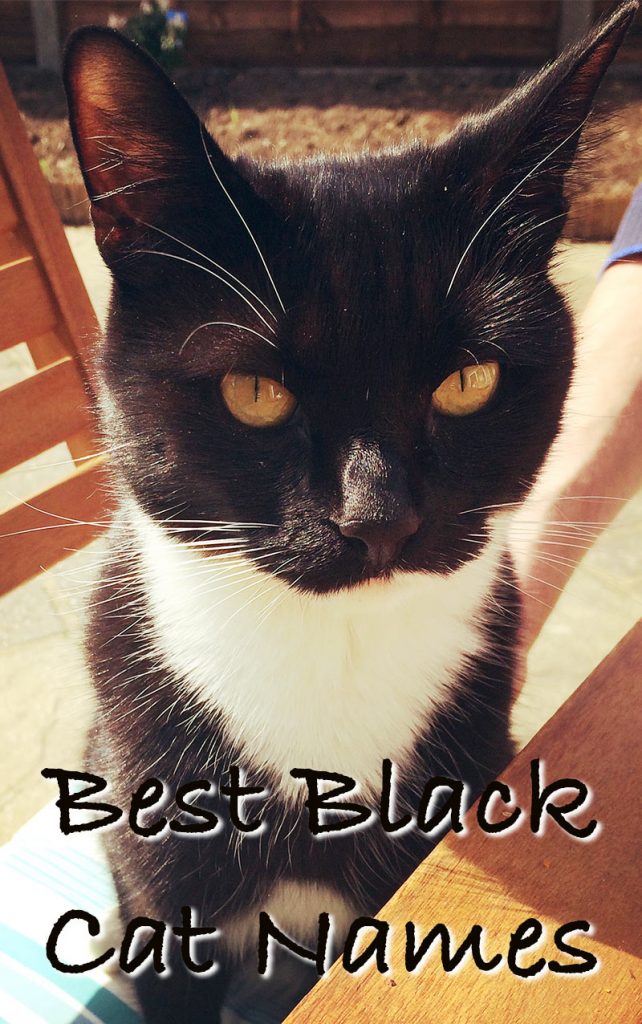 These usually reflect on the mystical mythical history of black cats.
As witches loyal assistants, prowling the night. Invisible under a darkened sky.
But some are also a reflection of other things that share their gorgeous color. And even famous cats from the world of marketing!
Popular Black Cat Names
Let's get started with some popular black cat names.
Bear
Boots (purrfect for a cat with black feet)
Ebony
Felix (great for a black and white cat)
Guiness
Jet
Magic
Midnight
Mittens (black cats with white paws)
Pepper
Shadow
Sheba
Sooty
But of course you don't have to choose black kitten names after his or her coat color.
20 names inspired by witches and wizardry
Black cats can be associated with spooky things! They're often seen in pictures riding on a witch's broom, or sat next to a pumpkin!
So let's take a look at some spooky names you might love:
Banshee
Merlin
Witch
Omen
Twilight
Wizard
Gandalf
Phantom
Dumbledore
Morticia
Wednesday
Ghost
Demon
Jafar
Voldemort
Coven
Warlock
Dracular
Count
Devil
Or perhaps you'd like something a little more fun.
Female black cat names
Before we launch further into the world of black cat names, it's worth remembering that your cat's beautiful coloring doesn't have to be the starting point for her name.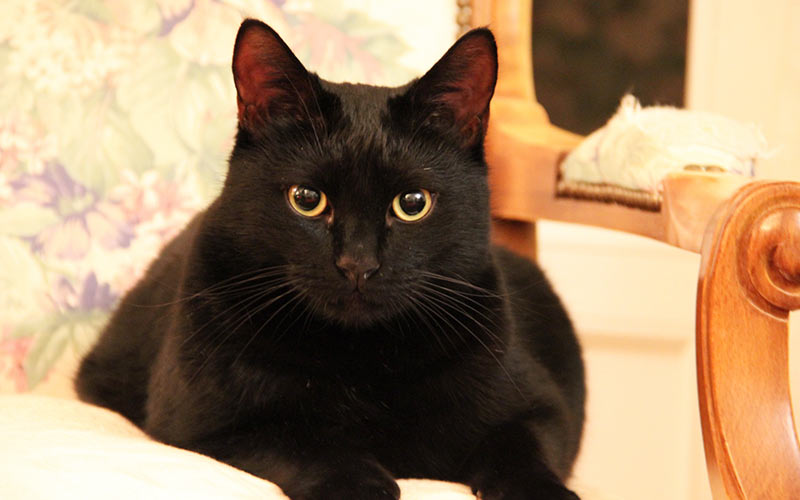 Girl black cat names
Your new kitten will be very special. So I've selected some black female cat ideas from slightly less common human choices.
Abbi
Amy
Annie
Ava
Bella
Betsy
Chrissy
Clara
Dahlia
Dinah
Ellie
Elsa
Emily
Frankie
Freda
Gina
Gretta
Hannah
Harriet
Ingrid
Jasmine
Kara
Kiki
Lexi
Lily
Maddie
Mia
Molly
Nelly
Opal
Orla
Penny
Petal
Rachel
Rosie
Tara
Tessa
Tilly
Viola
Zara
More Options
Check out 250 more brilliant ideas for girl cat names here!
Black cat names – female or male – are great fun to think up. So let's take a look at those from more traditionally male names.
Black cat names male
Boy black cat names derived from human names can be as common or as rare as you like.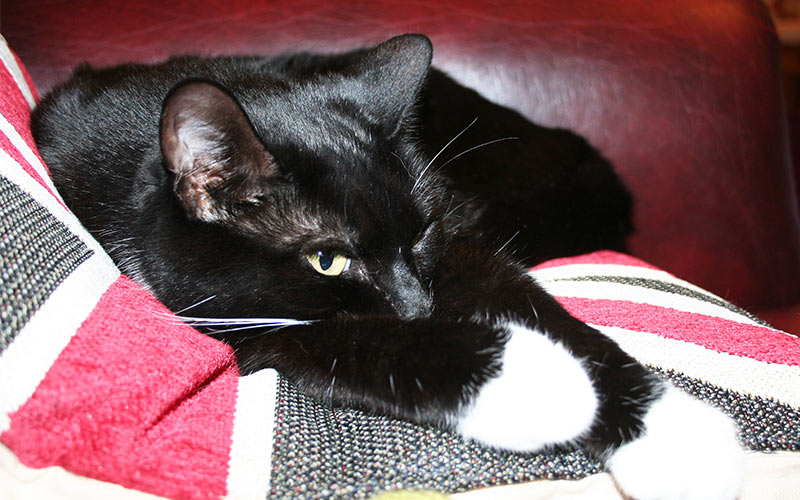 For my own black and white male cat I ended up choosing Oscar. It's quite a popular name. But it's one that I have always loved.
Oscar is nearly thirteen years old now. So my days of naming kittens is well behind me. But if I adopted another cat to join our family I might well choose one of these:
Male Black Cat Names
Adam
Alfie
Andy
Archie
Arnie
Basil
Benny
Buddy
Carter
Charlie
Clark
Cooper
Damian
Danny
Duke
Dylan
Eddie
Freddie
George
Grayson
Harry
Jack
Jacob
Jimmy
Jonny
Liam
Luke
Mason
Max
Micky
Noah
Nicky
Oliver
Patrick
Robbie
Ryan
Sammy
Timmy
Toby
Tyler
Even More Choices
Black male cat names can of course be found from human names. Looking up online lists of baby names or thumbing through a book are both great ways to seek them out.
Check out 250 more fabulous boy cat names here!
But what if you want to find something a bit more kitty-catty?
Cute black cat names
Cute black kitten names are so much fun.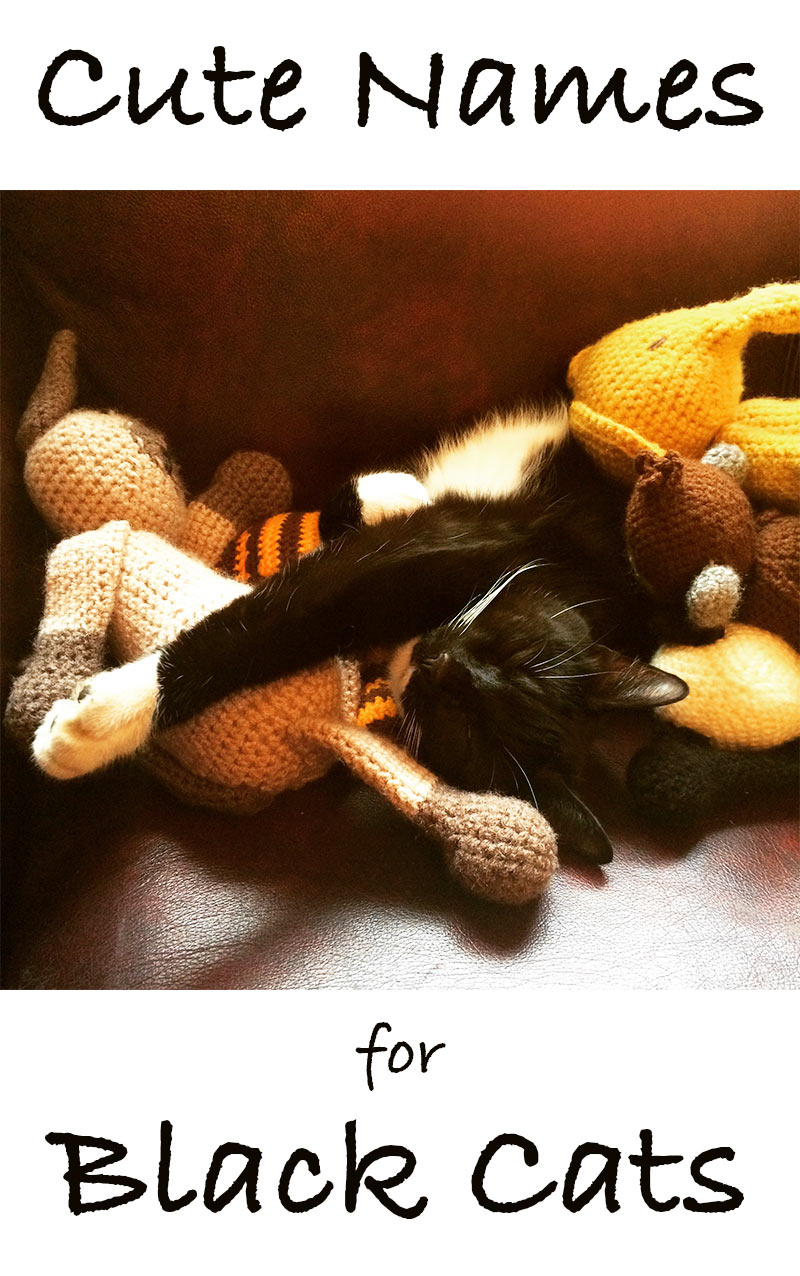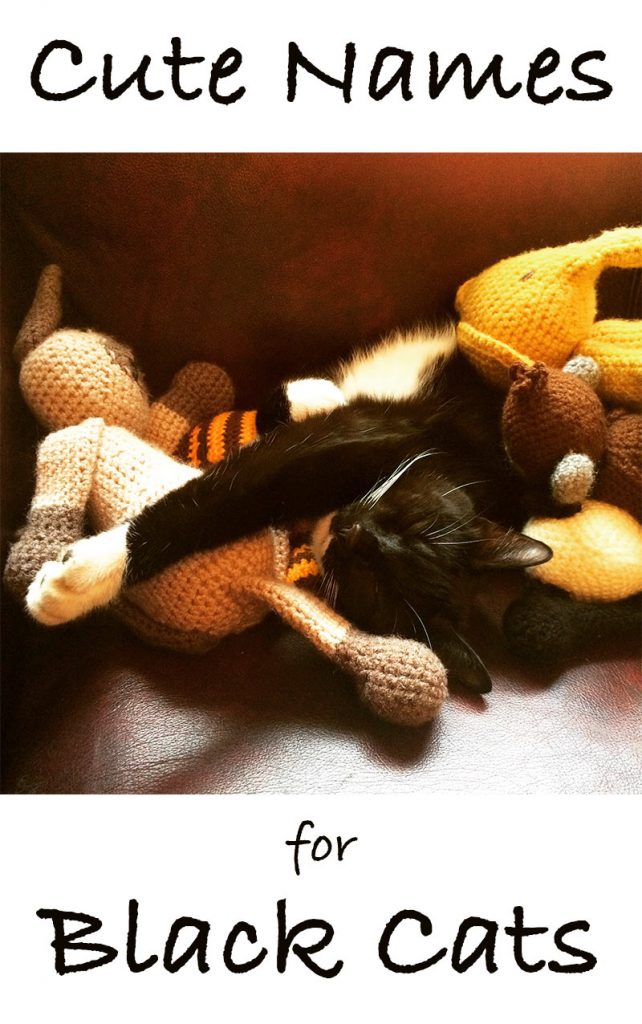 Ideas and inspiration can come from basically anything and anywhere. Adorable creatures, sweet products or places.
For your black cat you might like to choose something cute that matches his color or tone too.
Here are some totally scrummy picks from the cute black kitten names bunch.
Baby
Bessy
Boo
Boots
Bubbles
Bunny
Buttercup
Caramel
Chi Chi
Clover
Cocoa
Cupid
Cutie
Daisy
Disney
Doodle
Evie
Honey
Kitty
Lady
Lolly
Mog
Monkey
Noodle
Oreo
Pansy
Pepper
Pepsi
Pickle
Puddles
Pumpkin
Puss
Sassy
Snuggles
Speckle
Sugar
Trixie
Whiskers
Wiggles
Za Za
Want More Cute Ideas?
We have 200 more amazingly cute cat names here!
Let's face it. Whichever option you pick for your black cat is going to be cute. Because he is!
Another thing that's important to a lot of people when naming a black kitten is for that name to be unique.
Unique ideas
But what if you don't want to be a part of the usual crowd?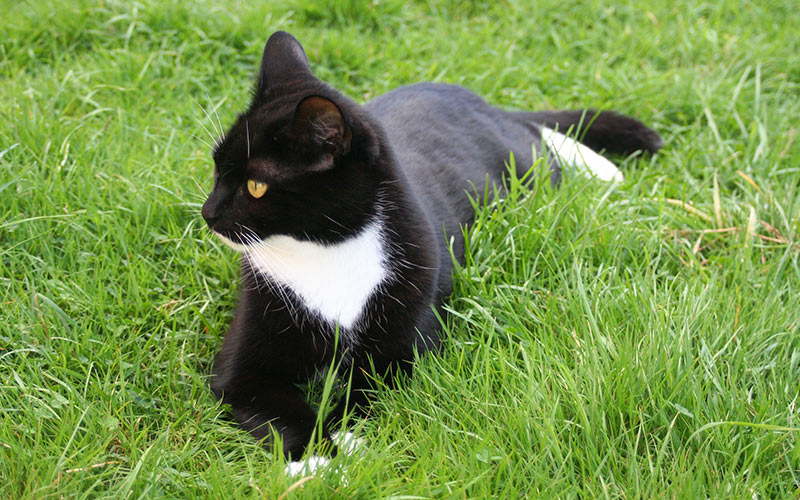 Looking for a name that packs a bit of individuality? Then let's think outside the box.
Check out these unusual choices for some fun ideas that you probably won't hear every day.
Unique Black Cat Names
Aura
Bean
Blott
Buttons
Cosmos
Dizzy
Dolly
Domino
Dusk
Fox
Ghost
Hale
Iron
Jinx
Kit
Matches
Moonshine
Nightfall
Obsidian
Orchid
Prickle
Satin
Sneak
Sweep
Taupe
Thatcher
Thunder
Xena
Looking for something unique, that brings in a little creativity?
Then check out our creative names for a black cat next!
Creative names for black kitties
Getting creative with black kitten names can be fun too. It's another great way to think up something that is a bit less ordinary.
Here are some top choices for more creative black cat ideas.
Ash
Blot
Blue
Calla
Chase
Eclipse
Flower
Halo
Ink
Iris
Leather
Moon
Mystery
Olive
Onyx
Panther
Petunia
Phantom
Puma
Rorschach
Smokey
Talulah
Zenith
Creative is all well and good. But who doesn't want a cool cat?
Cool black cat names
There are some things that are almost universally considered textbook cool. Like leather jackets and motor bikes.
But of course, cool is in reality really rather subjective. Think about a topic or subject area that you find awesome. Into super heroes? Love chess? Gothic architecture? The natural world?
A name that is cool to you and your friends is likely to come from something that you all love.
Here are my top cool ideas for a black cat!
Ace
Blue
Bullet
Coal
Coffee
Cola
Diesel
Dragon
Flash
Gadget
Goth
Harley
Hock
Hunter
Ink
Jet
Knight
Metal
Nettle
Ninja
Omen
Oil
Pitch
Raven
Rocky
Sable
Storm
If none of these appeal to your idea of cool, try writing down a few ideas of general things you find cool and look for words related to it!
Funny and Fun
Amusing names for black kittens can range incredibly.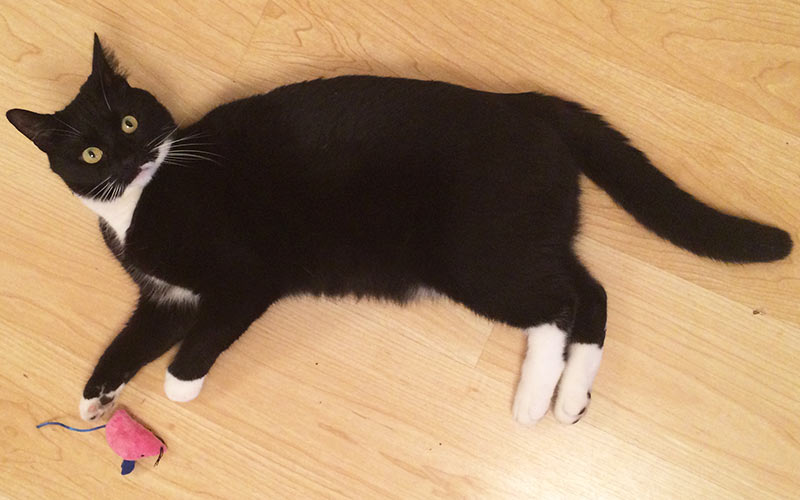 From a juxtaposition – like traditionally white furred pet names for a black cat, to puns and inappropriate descriptions.
If you want to give your kitty a funny name, then check out this range of inspiring ideas.
Alley
Birdie
Catacomb
Chewy
Cinderella
Clawde
Clawdia
Crow
Gremlin
Hello Kitty
Jennifur
Lucky
Mouse
Pinkie
Pounce
Queenie
Rex
Schrodinger
Scratchy
Snowy
Squire
Star
Sunny
Thundercat
Naming your cat after qualities you want him to have, or you to express, is great. But there is another way to give your black cat the best name possible. And that's to look into his eyes.
Names for black cats with green eyes
Do you have an amazing black cat with green eyes?
Do you want to give her a name to reflect that amazing eye color?
Here are some fun ideas with a hint of green.
Apple
Charm
Clover
Emerald
Envy
Fern
Forest
Ivy
Jade
Leaf
Meadow
Minty
Moss
Teal
Willow
These largely nature based names are a great way of finding the best name for your dark cat with green eyes.
Black Cat Names Inspired By Food
One great way to create a unique, fun name is to get inspiration from things around you – like food!
Let's look at some food names that show off your cat's black color:
Pepper
Licorice
Cocoa
Blackberry
Squid Ink
Sesame
Olive
Beans
Fig
Lentil
Currant
Grape
But we've got even more ideas coming up!
Black cat names from our readers
Thanks so much our readers for their comments below. Don't forget to add your cat's name, we love to hear about your choices and why you made them!
Best black cat names
Good names for black cats come in many forms.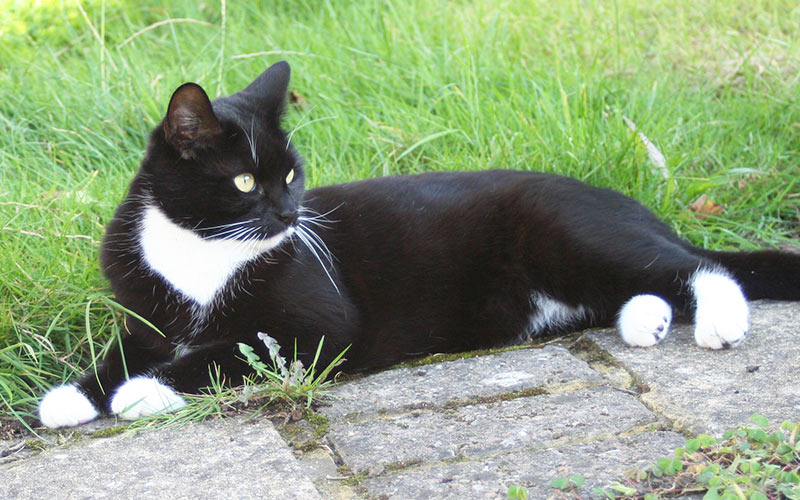 The best choices for black cats vary hugely depending upon what it is you want the name to say about your new pet. And about yourself!
Whether you want to get creative, be unique or just plain totally cool. I hope the choices above helped you to get inspired.
At the end of the day all options are perfect. As long as you are happy with them.