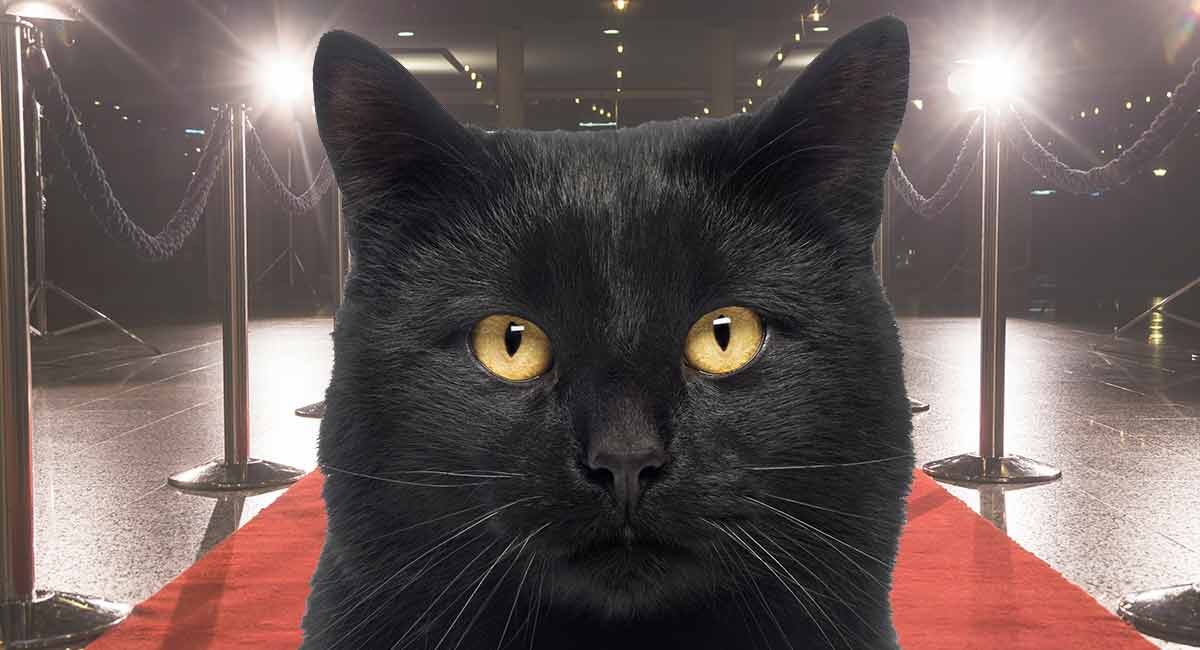 Are you searching for naming inspiration as you compile your famous black cat names list? You are definitely in the right place.
You will find a wealth of famous black cat names in each of these lists to spark your creativity and awaken your naming inspiration.
Famous Black Cat Names
Whether your new black kitten or rescue cat is solid black, partially black or sports a distinctive pattern of black markings, you are now part of a greater history in which black cats hold great significance in so many ways.
The truth is, few felines have so captured our collective imagination as the black cat. There is something so compelling, mysterious and admittedly cute about black cats.
Perhaps this is why so many myths, legends, stories and even cartoons feature a black cat.
As you try out these famous black cat names, here are just a few tips to keep in mind:
If you are naming a young kitten, be sure you pick a name that will still be a great fit when your kitty grows up.
Picking a shorter cat name (or a name that can be shortened to a nickname) can make it easier for your cat to recognize—and for you to repeat.
Be sure the famous black cat name you choose is a name you will feel comfortable saying (or yelling) out loud in mixed company and among strangers.
If you want to name your black cat or black kitten after a loved one, it is always sweet to ask that person for permission before making a final name choice.
Best Famous Black Cat Names
Bagheera ("The Jungle Book")
Bambino (Mark Twain's cat)
Scat Cat ("The Aristocats")
Berlioz ("The Aristocats")
Salem ("Sabrina The Teenage Witch")
Felix (pet food icon)
Binx ("Hocus Pocus")
Snowball II ("The Simpsons")
Cole ("Cole and Marmalade")
These are just some of the best famous black cat names to draw inspiration from.
Now onward—let's take a look at some more famous black cat names to consider for your precious kitty.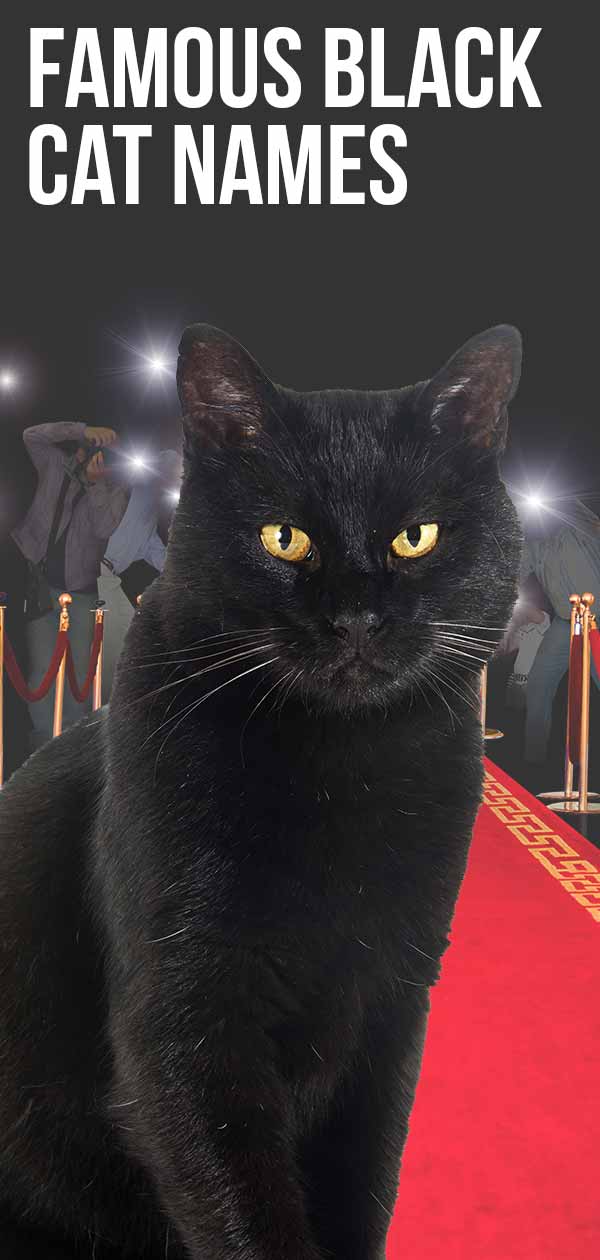 Female Famous Black Cat Names
These female famous black cat names are inspired by some of the most famous cat lovers from the silver screen, the big stage and the literary pen.
Cher
Patti Smith
Brigitte Bardot
Jane Fonda
Elizabeth Taylor
Nicole Richie
Drew Barrymore
Audrey Hepburn
Kellie Pickler
Jayne Mansfield
Paulina Porizkova
Nicole Kidman
Joyce Carol Oates
Gwen Cooper
Laura Bush
Mary Pickford
Carol Lombard
Kate Beckinsale
Mayim Bialik
Debby Ryan
Gina Gershon
Whoopi Goldberg
Princess Bibesco
Vera Ellen
Lauren Bacall
Find 250 more fabulous female cat names on this list.
Male Famous Black Cat Names
These male famous black cat names recognize the leading men off stage and onscreen who fell in love with black cats.
James Dean
John Lennon
Marc Bolan
Herbert Tobias
Ernest Hemingway
Frank Zappa
Bob Dylan
Nyjer Morgan
James Franco
Morgan Freeman
George Clooney
John Travolta
Russell Brand
Vincent Price
Marlon Brando
Freddie Mercury
Tom Waits
Alfonso Riberio
Eric Wareheim
Mark Twain
George W. Bush
Bill Clinton
Samuel Johnson
Tom Cox
Winston Churchill
Enjoy browsing through this list of 250 more male cat names on this list.
Cool Famous Black Cat Names
These cool famous black cat names take inspiration from modern-day fur celebrities as well as felines made famous through literature, history and even outer space.
Cole (of Cole and Marmalade)
India (President George W. Bush's cat, also known as "Willie")
Kuro ("Blue Exorcist")
Gladstone (HM Treasury's Chief Mouser)
Hodge (Dr. Samuel Johnson's cat)
Henri ("le Chat Noir")
Jiji ("Kiki's Delivery Service")
Emilio ("Business Cat" meme from Reddit)
Scat Cat ("The Aristocats")
Berlioz ("The Aristocats")
Félicette (French space cat)
Tommaso (millionaire cat)
Bagheera ("The Jungle Book")
The Black Cat (Marvel Comics)
Hamilton the Hipster Cat
Lilu the Cat with Glasses
Draven the Therapy Cat
Morris the Horse-Riding Cat
Black Maniek
Groucho Meowx
Mittens the Rescued Couch Cat
The White Collar Gentleman
Chester Taco
Evile Cat
Jake ("The Cat from Outer Space")
Browse through 300 more cool cat names for your kitty in this list.
Cute Famous Black Cat Names
These cute famous black cat names are all inspired by real-life famous felines from past and present.
The Bear (Tom Cox's books)
Bambino (Mark Twain's cat)
Socks (President Bill Clinton's cat)
Gimo
Junipurr
Mr. Bob
Miss Molly
Mikita
Tingeling
Spot
Indi
Spotticus Maximus
Millie the Adventure Cat
Ros
Bronte
Chloe
Guinness
Edward Scissorpaws
Raven
P-Chan
Lipsy
Pu
Blade
Nitro Blake
Sophie the Model
For 200 more cute cat or kitten names, head over to this list.
Funny Famous Black Cat Names
These funny famous black cat names draw from beloved movies and cartoons as well as from Insta-famous felines who have their own social profiles.
Sylvester the Cat
Felix the Cat
Snowball II ("The Simpsons")
My Sad Cat (Tom Cox's books)
Boo Boo Kitty ("Laverne and Shirley")
Penelope Pussy Cat (Pepe Le Pew's love interest)
D.C. ("That Darn Cat")
Tom ("Tom & Jerry")
Trim ("Trim" by Matthew Flinders)
Mr. Panther
Black Cat Mafia
Scooter
Mamba the Original Vampire Cat
Willow the Squishy Cat
Princess Monster Truck
Famous Moroccan Black Cat
Figaro ("Pinocchio")
Jess ("Postman Pat")
Cat in the Hat ("Dr. Seuss" series)
Mr. Bitey ("Kick-Ass")
Déjà vu Cat ("The Matrix")
Alley Cat ("Walk on the Wild Side")
Kitten ("Day for Night")
Duchess ("Babe")
Indigo
Check out 150 more funny cat names in this list.
Unique Famous Black Cat Names
These unique famous black cat names reference famous movies, social media felines, anime, manga and even video games.
ATM Kitty ("American Psycho")
Church ("Pet Sematary")
Pyewacket ("Bell Book and Candle")
Higgins
Olive
Venus
Princess Cheeto
Sockington
Sakamoto ("Nichijoi")
Artemis ("Bishoujo Senshi Sailor Moon")
Kamineko ("Azumanga Daioh")
Kuroneko-sama ("Trigun")
Takkun ("FLCL")
Faithful ("The Princess and the Monster")
Bart the Zombie Cat
Cat Jeane ("No More Heroes")
Socrates ("Odin Sphere")
Rover ("Animal Crossing")
Fat Cat Robot ("Chip 'N Dale 2")
Dusty ("Gravity Rush")
Fat Louie ("The Princess Diaries")
Gadzookey ("Listen Up Phillip")
Lucky Jim
Senior Scrappy
The Catster
For even more unique cat names, check out this list of 140 unique names.
Tough Famous Black Cat Names
From braving the surf to repelling marauders to helping those in need, these tough famous black cat names celebrate real, fictional and mythical tough cats.
Blackie (also called Churchill)
Tiddles
Unsinkable Sam
Convoy
Simon
Lewis
Sashimi-San (very fierce—check out the video)
Salem Saberhagen ("Sabrina the Teenage Witch")
Thackery Binx ("Hocus Pocus")
Lucifer ("Cinderella")
Catwoman (Marvel Comics)
Rocky ("The Magnificats")
Pluto ("The Black Cat" by Edgar Allan Poe)
Oscar (the real-life bionic cat)
Behemoth ("The Master and Margarita" by Mikhail Buglakov)
Homer (Homer's Odyssey" by Gwen Cooper)
Mr. Mistoffelees ("Cats" the musical)
Isis ("Star Trek")
Cat from Hell ("Tales from the Darkside")
Winkie ("Escape to Witch Mountain")
Bastet ("Bast," Egyptian goddess cat)
Cat Sith ("Sidh," black Celtic fairy cat)
Black Pete ("Mickey Mouse")
Demon Cat (U.S. Capitol ghost cat)
For 250 more awesome cat names, head on over to read through this list.
Fun Facts About Famous Black Cat Names
Did you know that the Cat Fanciers Association (CFA) currently recognizes 22 different black cat breeds?
A 26-year-old black cat named Teddy may be next in line to claim the title of "world's oldest cat."
Teddy credits his longevity to his daily habit of eating rosemary and taking a nice long shower—literally.
If you live in Asia and you own a black cat, chances are good you are scratching your head right now at the thought that black cats bring bad luck.
In this part of the world, black cats are even used in Feng Shui to improve the energy inside an unlucky space—and they are definitely considered lucky to singles looking for love.
Finding the Perfect Famous Black Cat Names: Summary
We hope you have enjoyed browsing through these curated lists of famous black cat names.
Perhaps your head is full of inspiration and ideas.
Maybe you have even started creating your own short list of other famous black cat names to consider further. Make sure to check out our other black cat names guide for more inspiration.
When you do pick a name for your new cat or kitten, we'd love to hear it.
Please drop back by and share your cat's new name in the comment section below so we can celebrate with you.
References and Further Reading:
Bender, K., 2017, "13 Instagram Famous Black Cats That Prove All Kitties Are Beautiful," People
Breyer, M., 2012, "Cats at Sea: 7 Famous Seafaring Felines," Mother Nature Network
Copelan, C., 2018, "Celebrate National Cat Day With the 13 Most Iconic Black Cats in Pop Culture," Parade
Feinn, L., 2017, "This Sweet Senior May Be the World's Oldest Cat Now," The Dodo
Knolle, S., 2017, "Meow Mix: The 100 Most Iconic Cats in Movies," Paste Magazine
Luz, A. and Santiago, H., 2018, "These Insta-famous Felines Prove How Photogenic Black Cats Truly Are," Mashable
Pogue, J., 2017, "Bastet: The Egyptian Goddess of Protection…and Much More," StMU History Media