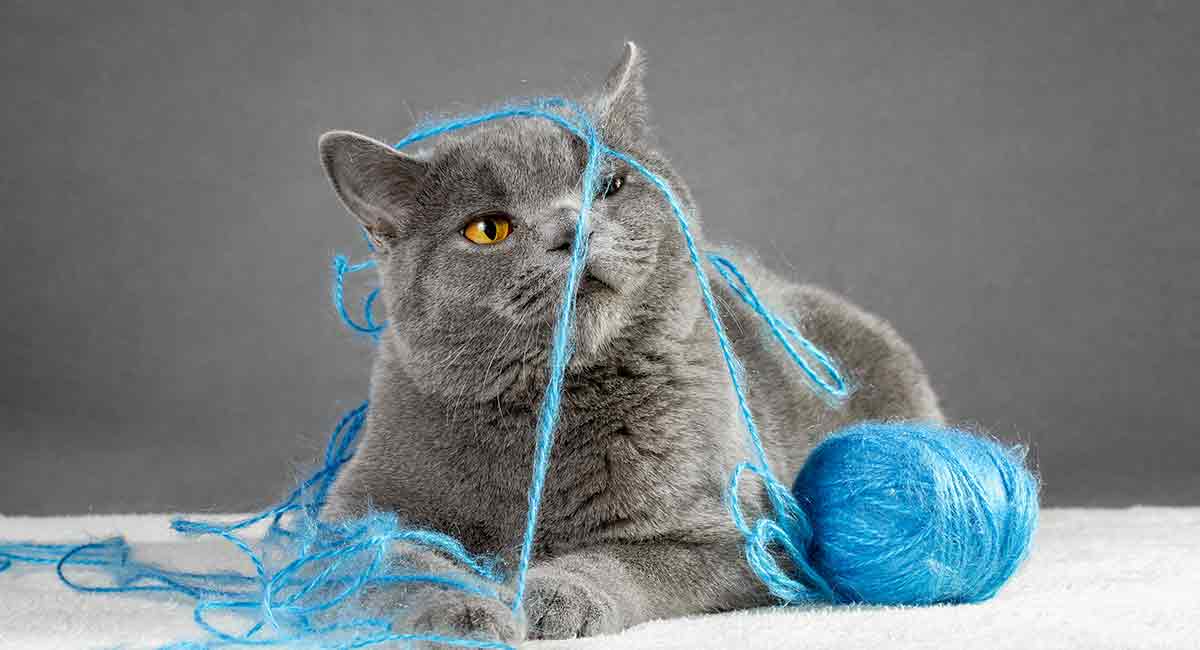 It's a seriously lucky new kitten owner that gets their paws on a British Blue. These unusual kitties have gorgeous smoky grey-blue coats and a sociable yet mellow nature. It is no wonder they are so sought after as pets despite their relatively unusual purebred status.
Contents
Don't worry if you can't come up with the perfect name on your first try. Sometimes it takes some time during that initial "getting to know you" period – a time that will be preciously brief and yet so important – to land on just the right name.
Best British Blue Cat Names
The British Blue cat is still considered to be relatively rare by the Cat Fanciers Association. Technically, a British Blue cat hails from the British Shorthair or British Longhair cat breed. The trademark smoky gray-blue coat color is just one of many coat colors and patterns associated with these breeds.
But while this is all very interesting, what is really amazing is that in just a handful of decades, the original British Shorthair went from a UK street cat to a show bench champion. The first show champion was a male BSH with the fanciful name of "Brynbuboo Little Monarch" – which we think sets the creative naming bar fairly high indeed!
Alice
Victoria
Sarah
Harrison
Albert
Eton
Winston
Freyja
Flame
Lilac
Eclipse
Blueberry
Bonkers
Kismet
Corona
Muse
Lavender
Sage
Sphinx
Griffin
Phantom
Naming Advice and Tips
We would like to offer just a few handy naming tips to help make the process of choosing the perfect name even easier and less stressful:
Before deciding to name your British Blue cat after a friend or family member, it is always thoughtful to ask their permission first.
"Brynbuboo Little Monarch" naming awesomeness aside, you may want to pick a name that is shorter, or one that can be shortened into a catchy nickname your cat will recognize easily. Even Brynbuboo was known as Choochi off the show bench!
If you pick an unusual cat name, just be prepared for people to ask you the story behind it….over and over and over again.
Remember that British Blue cats can take up to three years to fully grow out of kittenhood – be sure to pick a name that will still suit when your tiny kitten is a sizable adult cat.

Celebrity Inspired Names
Some of the best British Blue cat names can be discovered by studying the breed's equally exotic history. In fact, for the relative rarity of the British Blue cat, they sure do keep a high profile, as this list of popular British Blue cat names highlight!
Female British Blue Cat Names
These female British Blue cat names take inspiration from famous kitties and cat lovers, both ancient and modern.
Sadie
Saga
Birgitte
Monique
Carla
Emily
Macy
Naomi
Nikki
Emerald
Opal
Glenda
Gigi
Loretta Lynn
Tatyana
Inga
Julia
Male British Blue Cat Names
There is something inherently regal about a British Blue cat that just makes you want to choose a suitably dashing and dapper name. Perhaps one of these male British Blue cat names will be "the one" for your new kitten!
Sam
Monty
Hugo
Benjamin
Campbell
Stefano
Harry
Jasper
Reginald
William
Andrew
Lewis
Poe
Morris
Robin
Archie
Jack
Cool British Blue Cat Names
British Blue cats are nearly as well-known for their calm, cool and confident personalities as they are for their striking blue-grey coats. These cool British Blue cat names recognize that your feline is quite literally crème de la crème of the cat world – bona fide royalty!
Dolce
Gabbana
Prince
Princess
Russia
Prada
Lady Jane Grey
Europa
London
Blue Man
Agate
Volcano
Royal
Mirage
Duchess
Duke
Alexei
Cute British Blue Cat Names
Is there anything in this world cuter than a fluffy, furry, grey-blue kitten? Of course there isn't! In fact, one of the best things about choosing a British Blue cat is that your cute kitten will stay a cute kitten for just a little bit longer. Maybe one of these cute British Blue cat names will be perfect for your bitty blue baby!
Ruby
Lady Luck
Dotty
Blu
Britt
Glory
Pearl
Moonbeam
Velvet
Catnap
Mossy
Dandelion
Silver Queen
Shimmer
Mirage
Zara
Sophie
Funny British Blue Cat Names
Ask any British Blue cat lover what their kitty's personality is like, and you are likely to hear descriptions centering around naps, snacks and snuggles.
These personality traits tend to persist through life, which means you can't go wrong if one of these funny British Blue cat names turns out to be a fit!
Chunk
Doorstop
Blue Bear
Bubby
Cheezburger
Hi-Ho Silver
Whiskas
Silver Bell
Wings
Dusty Miller
Licorice
Agave
Kitty
Maude
Tempest
Milky Way
Comet
Unique British Blue Cat Names
Just owning a British Blue cat automatically makes you special (as well as uniquely lucky)! There can be quite a wait list for British Blue kittens at times, but as you now know, the payoff is definitely worth the wait. This list of creative names includes inspiration from the worlds of plants, gemstones, mythology, art and astronomy.
Pyrite
Charmagne
Onyx
Yin
Yang
Tamra
Topaz
Navy
Azure
Sapphire
Twilight
Bubastis
Lotus
Mona Lisa
Mut
Persea
Gaia
Tough British Blue Cat Names
Your British Blue cat may be one big marshmallow on the inside, but a fully grown adult British Blue can look mighty imposing on the outside. These cats sometimes weigh up to 20 pounds (so get ready if your British Blue is still just a tiny kitten)!
These tough British Blue cat names reference the power of nature, feline myths and legends to help you find just the right name to describe your cat's powerhouse personality.
Grey Ghost
Thunder
Hercules
Tornado
Merlin
Chimera
Sphinx
Leo
Shishi
Dakini
Bastet
Indra
Ahalya
Li Shou
Pandora
Sun Ra
Nemean
Fun Facts About British Blue Cats
The British Blue cat is now one of the most popular purebred cat breeds worldwide and hands-down the most popular breed in the UK. In the US, the British Shorthair cat is not far behind, coming in at the third most popular purebred cat.
These cats have won a worldwide fan following for so many reasons. Their trademark coats are easy to care for and maintain. They are extremely loving and attached to their owners without being overly clingy. Best of all, the British Blue cat can live up to 20 years!
However, a word to the wise: if you aspire to own one of these super-popular laid-back loves, be prepared to join a breeder's waitlist – or better yet, try your luck with local feline rescue organizations. You might just be able to offer a relinquished British Blue cat a new forever home!
Congratulations on welcoming your new British Blue kitten or cat home to stay! We hope you have found these British Blue cat names lists helpful to inspire your own naming creativity.
When you choose your fur baby's new name, please drop back by and share your choice – we'd love to hear about the name you picked and the story behind it!