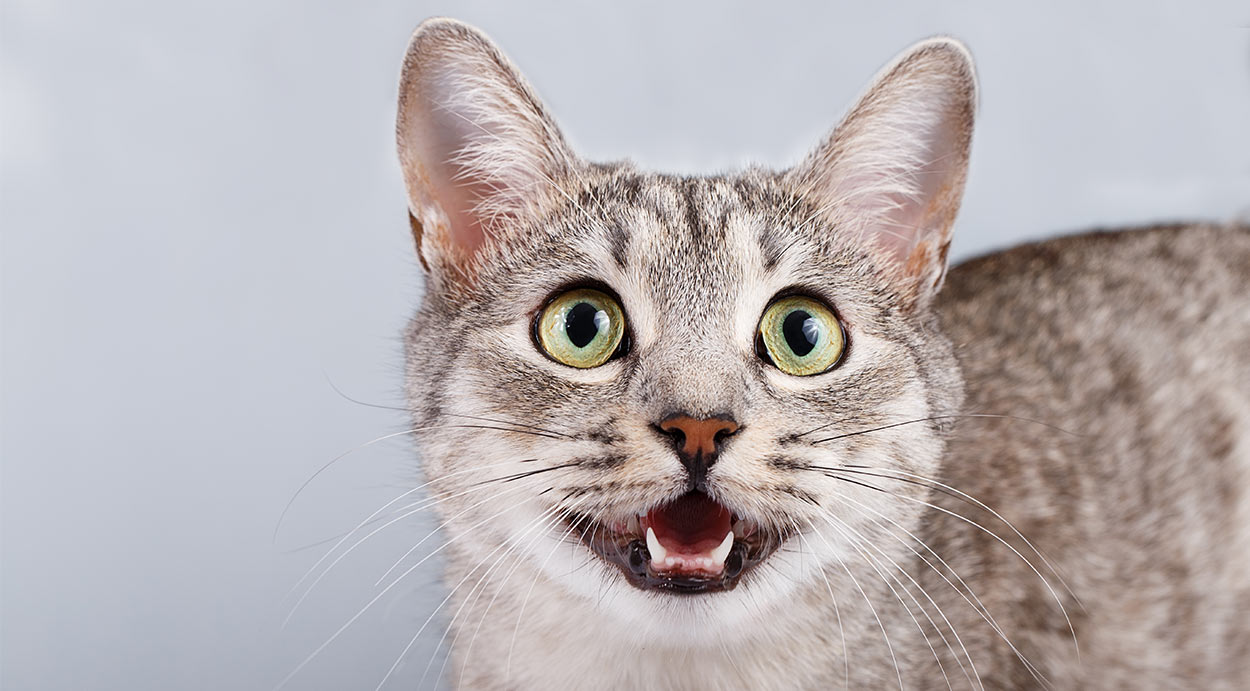 Welcome To Our Complete Guide To The Heavy Breathing Cat.
Have you ever caught your cat panting like a dog? Or is your cat wheezing? Perhaps you are feeling a little concerned about your cat's respiratory health.
So, what is a normal cat breathing rate? And what are some of the reasons behind labored breathing in cats?
In this article we will discuss some common cat breathing problems, and what you should do about them.
There are several reasons behind respiratory problems in cats.
These problems can be experienced by cats of all ages and breeds.
If your cat is breathing abnormally, the situation can become life threatening quickly.
So, it is best to take your cat to see the vet as soon as possible.
Heavy Breathing Cat – Why Is My Cat Breathing Hard?
Before we start, let's clear up some terminology.
Dyspnea in cats refers to difficulty breathing.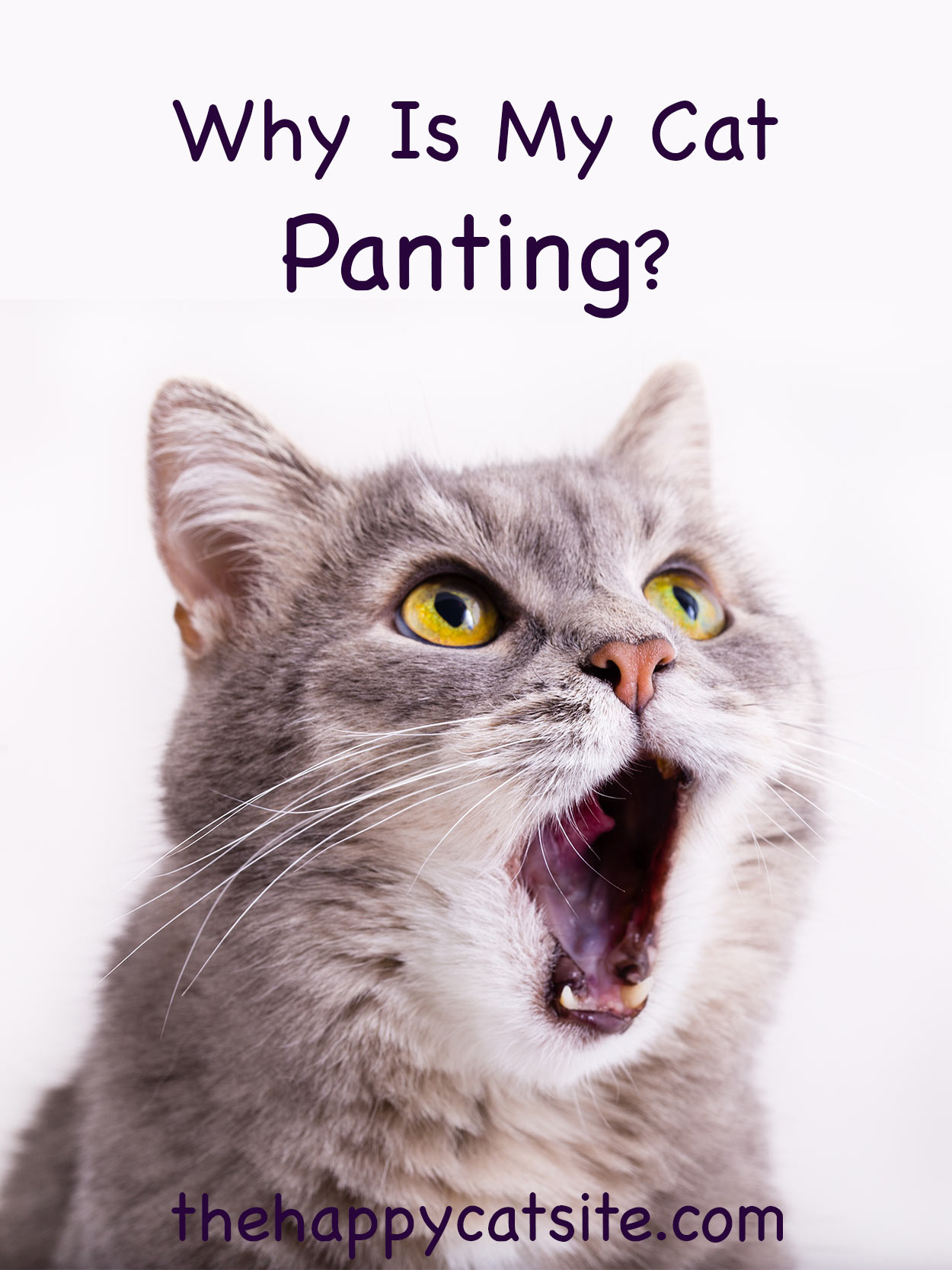 Symptoms include noisy breathing and flared nostrils, as well as exaggerated movement of the belly and chest, elbows sticking out from the body, and the head and neck extended out from the body as the cat breathes.
Tachypnea refers to an abnormally fast breathing rate.
Your cat may keep their mouth closed if they are tachypneic, but their breaths will be fast and shallow.
Similar to a tachypneic cat, if your heavy breathing cat is panting their breaths will be fast and shallow, but the cat's mouth will be open.
Brachycephaly and the Heavy Breathing Cat
To begin with – what is brachycephaly?
It is a scientific term which means "short skull".
In everyday language, cats with squashed faces and snubbed noses are brachycephalic.
You can learn more about brachycephalic cats by clicking on this link.
Brachycephalic cats face numerous health problems, and according to a study in 2016, breathing difficulties is one of them.
While you might have heard about 'brachycephalic obstructive airway syndrome' in dogs such as pugs, you might not realize that this problem also affects cats with squashed faces, such as the Persian.
This problem arises because there is literally not enough room within the cat's skull to fit all the necessary structures required to breathe comfortably.
Breathing difficulties tend to increase in severity as the degree to which the face is "squashed" increases.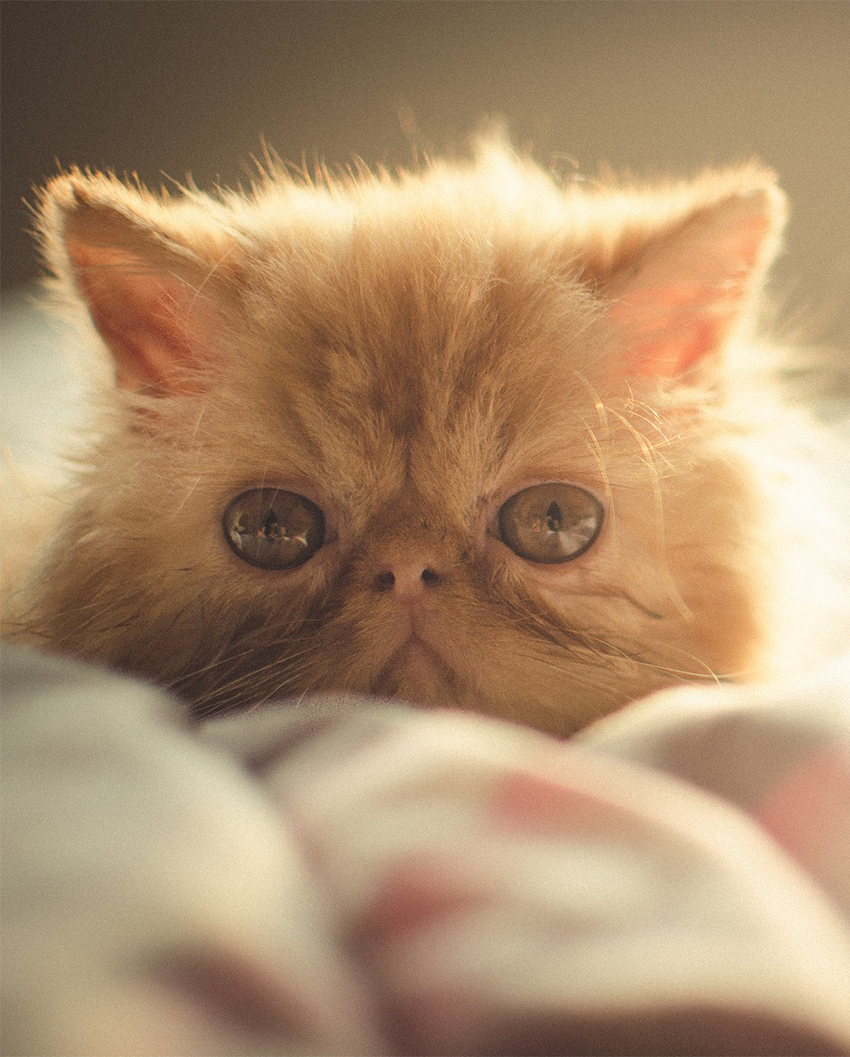 Brachycephalic cats are also more likely to have tear stains on their faces.
This is telling.
These stains appear on brachycephalic cat's faces because the nasal structures in the cat's skull are too squashed up to allow the tears to drain properly, leaving the eyes looking "weepy".
Other problems experienced by these cats are closed nostrils (stenotic nares), elongation of the soft palate and nasopharyngeal turbinates, which may also play a part in upper airway obstruction.
All of these issues can lead to a potentially fatal laryngeal collapse.
To compound the problem, brachycephalic cats tend to be less active than other cats.
This seems to be because the cat is not able to breath well enough to support high energy activities.
This inactivity leads to another issue that can lead to breathing problems in cats—obesity.
Obesity and the Heavy Breathing Cat
Aside from being at an increased risk of a swathe of chronic and acute health problems, an overweight cat is going to have a harder time breathing.
According to a study conducted in 2014, obesity will have an impact on respiratory function due to decreased lung capacity, weakened muscles, and other mechanical difficulties as a result of excess fat.
The net result is that your kitty is going to have to do a lot more work to get the oxygen it needs into its lungs.
Fat Cat Heavy Breathing – What Else is at Play?
The increased difficulty in breathing experienced by obese cats may not be purely down to mechanics. An obese cat will have more visceral adipose tissue.
This fatty tissue is actually metabolically active, and produces adipokines.
A study in 2010 suggests there may be a link between increased levels of adipokines (which is inevitable if your cat is overweight) and asthma.
However, additional research needs to be conducted to learn more about this association.
Regardless of the outcome of this research, the fact remains that an overweight cat is going to have a harder time breathing than one of a healthy weight.
This is surely a compelling reason to make sure your cat is a healthy weight.
If you would like more information on how to help your kitty if they are too fat, check out our article about fat cats.
Cat Asthma – Is Your Cat Wheezing When Breathing?
The exact causes of feline asthma are hard to pin down. Sometimes, feline asthma is also called "chronic bronchitis", and these terms have become somewhat interchangeable.
The generally accepted cause of asthma is that an irritant in the air causes the muscles in the airways to narrow. As a result breathing becomes difficult.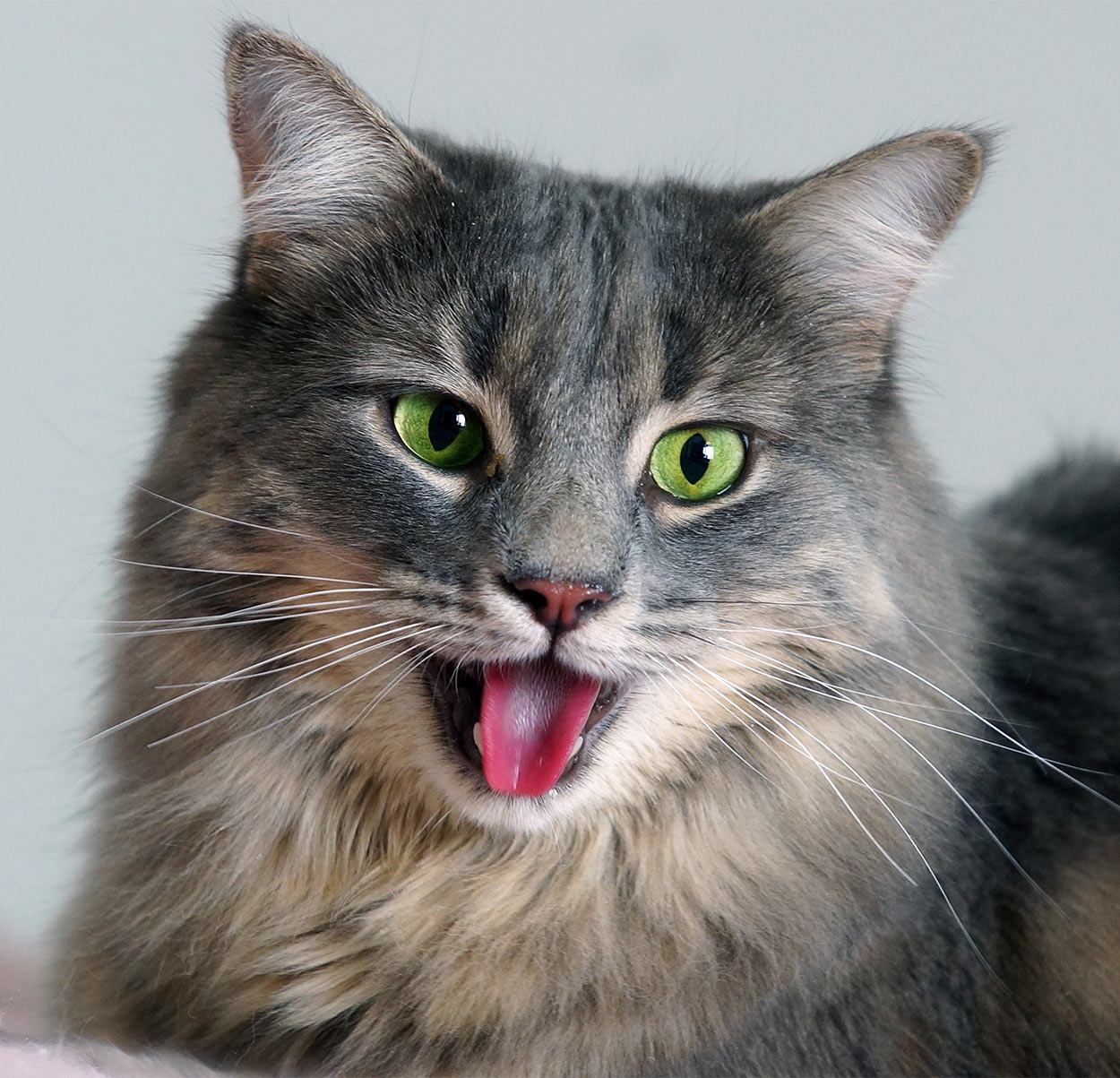 Bronchitis is similarly caused by irritants in the air, but the body reacts differently.
The airways become inflamed and produce mucus. These factors combine to make breathing difficult.
While differentiating between these two conditions in felines is not clear cut, the symptoms are fairly easy to spot.
Your cat may be coughing persistently, wheezing, having difficulty breathing (dyspneic), or breathing faster than usual (tachypneic).
A trip to the vet is in order.
While cats of any age can develop feline asthma, cats that are six to nine years of age are at greater risk of developing the condition.
According to some findings, Siamese cats are also at a higher risk of developing the condition.
When you take your cat to the vet, treatment will include identifying irritants and devising a plan to keep your cat free from them.
To reduce the severity of symptoms, your cat may also be put on anti-inflammatory drugs or bronchodilator therapy, which are drugs that relax the muscles around the airways.
Your vet will also check for secondary infections and treat them if necessary.
Cat Breathing Fast – What is a normal Cat Respiratory Rate? Is My Cat Hyperventilating?
A normal respiratory rate for cats is under 30 breaths per minute.
You can calculate this at home by following these instructions.
Why is My Cat Panting? Can Cats Breathe Through Their Mouth?
The site of a dog panting is nothing alarming or unusual, but if you catch your cat panting, it may be of concern.
However, not all panting is a cause for worry.
If you notice your cat panting after playing, for instance, this is likely normal behavior.
The same is true if your cat has overheated or is feeling stressed.
Once your cat has rested, cooled down and relaxed, the panting should stop.
If you notice your cat panting, even if your cat doesn't seem distressed otherwise, a quick phone call to the vet might put your mind at rest.
My Cat Is Panting – What Should I Do?
If your cat is panting for no apparent reason, or the panting does not stop after some rest, it could be a sign of a more serious underlying issue.
As we have already discussed, asthma or a respiratory infection could be the cause of the panting. Another potential cause is heart disease.
In fact, panting or other breathing irregularities is one of the most common signs of heart disease in cats.
If fluid has built up in or around the lungs (pleural effusion), your cat may either experience difficulty breathing (dyspnea) and/or quickened breathing (tachypnea).
They may also be foaming at the mouth.
Heartworm infection, which is a very serious condition, can also be a cause of panting in cats.
The breathing may also sound raspy and your cat may be coughing as well.
Needless to say, these are all conditions that need the attention of a vet.
We will cover more on the topic of a cat with noisy breathing later in this article.
Cat Mouth Open – Other Reasons to Find a Cat Breathing with Mouth Open
We have talked about the reasons behind panting and have also discussed asthma in this article.
But there are still more reasons your cat might be breathing with its mouth open.
Help! I Have Found My Cat Panting and Drooling!
In this situation, you should call your vet immediately.
While your vet will do an examination to determine the cause, there is a chance your cat could be suffering from heat stroke.
Heat stroke is a medical emergency which occurs when the patient has been exposed to high temperatures for an extended period. For instance, if an animal has been locked in a car in the sun, it could develop heat stroke.
There are other factors that can contribute to heatstroke, so even if you don't think you're cat has been sitting in a hot location, don't delay in contacting your vet if you suspect heat stroke.
Fast diagnosis and treatment of heat stroke is vital as the condition won't resolve itself.
Another condition that can cause cats to mouth breathe and foam at the mouth is pleural effusion, which is a buildup of fluid around the lungs.
Pleural effusion can be the result of lung infections, blood clots, heart disease, lymph drainage abnormalities, cancer or trauma.
This is also a medical emergency, and you should take your cat to your vet immediately, so they can assess the situation and drain the fluid.
If Your Cat is Breathing Loud or Sounds Like it is Snoring
Perhaps the issue with your kitty's breathing is not speed related, but noise related.
Let's have a look at some of the reasons why you can hear your heavy breathing cat.
The scientific terms for noisy breathing are stertor and stridor.
Stertor refers to the deep, snoring sound. This sound often indicates a blockage of the throat.
Stridor is a more high-pitched sound. It can indicate a blockage of the nasal passages or voice box, or a collapsed upper wind pipe.
Your Cat: Noisy Breathing – What Could be the Reason?
Put simply, noisy breathing which can be heard without the need of a stethoscope is the result of air attempting to pass through partially blocked passages.
There is a long list of reasons your cat could be breathing loudly.
They can vary in nature from chronic conditions to emergency situations.
If your cat is wheezing when sleeping, it may even simply be the position it is lying in.
But sometimes it is not that straightforward.
If your cat is brachycephalic, this could be the reason they are breathing loudly.
Other causes could include a foreign object in the windpipe, tumors, nodes or polyps in the windpipe, nervous system dysfunction, pus blocking the airways, paralysis of the voice box and sedation.
Needless to say, you will need to take your cat to the vet to assess what the cause of the loud breathing is.
My Cat Sounds Congested When Breathing – What Should I Do?
If your cat is sneezing, coughing, has nasal discharge, weepy eyes, a fever or perhaps even ulcers in the eyes and mouth, it may be suffering from a URI, or 'Upper Respiratory Infection'.
A URI is generally caused by a virus, such as Feline Herpes Virus, Feline Calicivirus, Bordetella bronchiseptica or Chlamydophila felis.
The severity of the symptoms will vary from case to case.
Cats can go on to develop pneumonia if they have a URI, so it is important to get your kitty treated.
Treatment will depend on how severe the infection is, and may include antibiotics, symptomatic treatment, supportive care and using anti-viral agents.
Seeing your cat may have lost their appetite, encouraging your furry friend to eat and drink is an important part of supporting their recovery.
Make sure you take note of your kitty's eating habits while they are ill, so you can relate this information to your vet.
We have already touched on the connection between noisy breathing and heartworm in cats.
Symptoms of heartworm may include coughing, vomiting, dyspnea and neurological disturbances.
However, diagnosing heartworm infection in cats can be difficult, as the symptoms can vary greatly from case to case.
Because of the difficulty associated with diagnosing heartworm, and the potentially life threatening nature of heartworm infection, be sure to take your cat to the vet for a proper diagnosis and treatment.
Cat Breathing Problems – Wrapping it Up
While there can be a variety of reasons behind labored breathing in cats, none of them should be taken lightly.
Any breathing difficulty can quite quickly deteriorate into a life-threatening emergency.
Therefore, seeking the advice of your vet is a must.
Thankfully, not all cat respiratory problems are fatal, and oftentimes can be resolved with some lifestyle adjustments, or medical treatment.
Whatever the case, it is important to pay attention to how your cat is behaving and seek treatment for your precious furry family member if you notice something troubling.
References