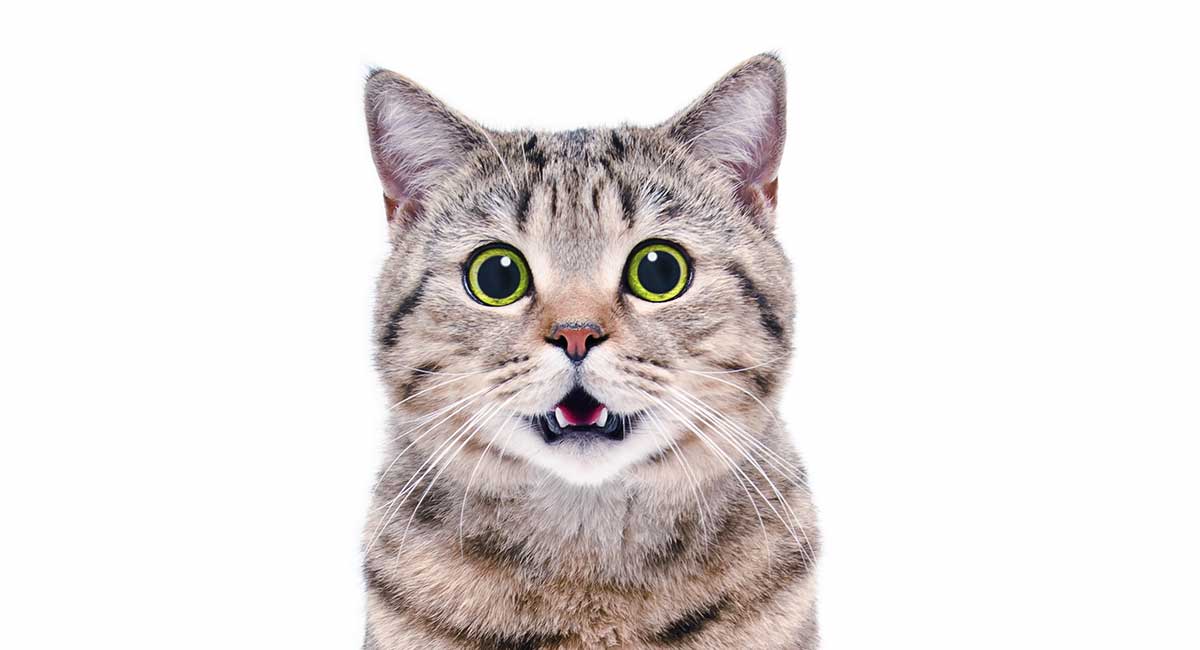 A heavy breathing cat can be frightening. You see your cat panting like a dog or struggling to breathe, and worry that they are sick. Naturally, most of us are concerned that they have developed a respiratory problem.
The problem is that there are many reasons for heavy breathing in a cat. Sometimes, they are just panting in the heat or snoring while they sleep. Other times, laboured breathing in cats really can be a sign that they are not well.
In this article, updated in 2019, we will explain the normal breathing rate for cats. After this, we will look at some of the more common reasons for laboured breathing in cats. We will look at a few things you can do to lessen rapid breathing in cats.
As always, if you have the slightest doubt, contact your vet for advice. Cats of all ages and breeds can suffer from abnormal breathing, and the situation can deteriorate very quickly.
Now, we will have to hit you with a bit of science. Heavy breathing in cats is one of those things that has lots of medical jargon. So, we'll give you a quick rundown on some of the terms your vet might use.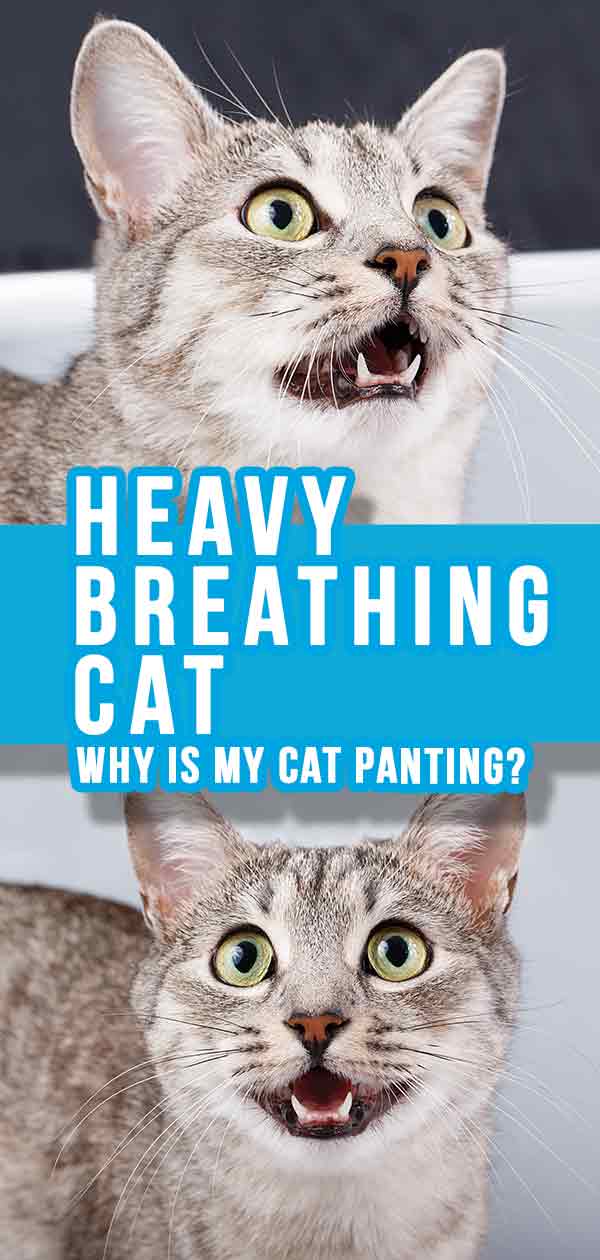 Heavy Breathing Cat – Why Is My Cat Breathing Hard?
So, before we start and delve into the world of the heavy breathing cat and cat panting, let's clear up some terminology.
Dyspnea – Laboured Breathing In Cats
In cats, dyspnea refers to difficulty breathing and can be very distressing. It is not an illness in itself, but laboured breathing in cats be a symptom of many other problems.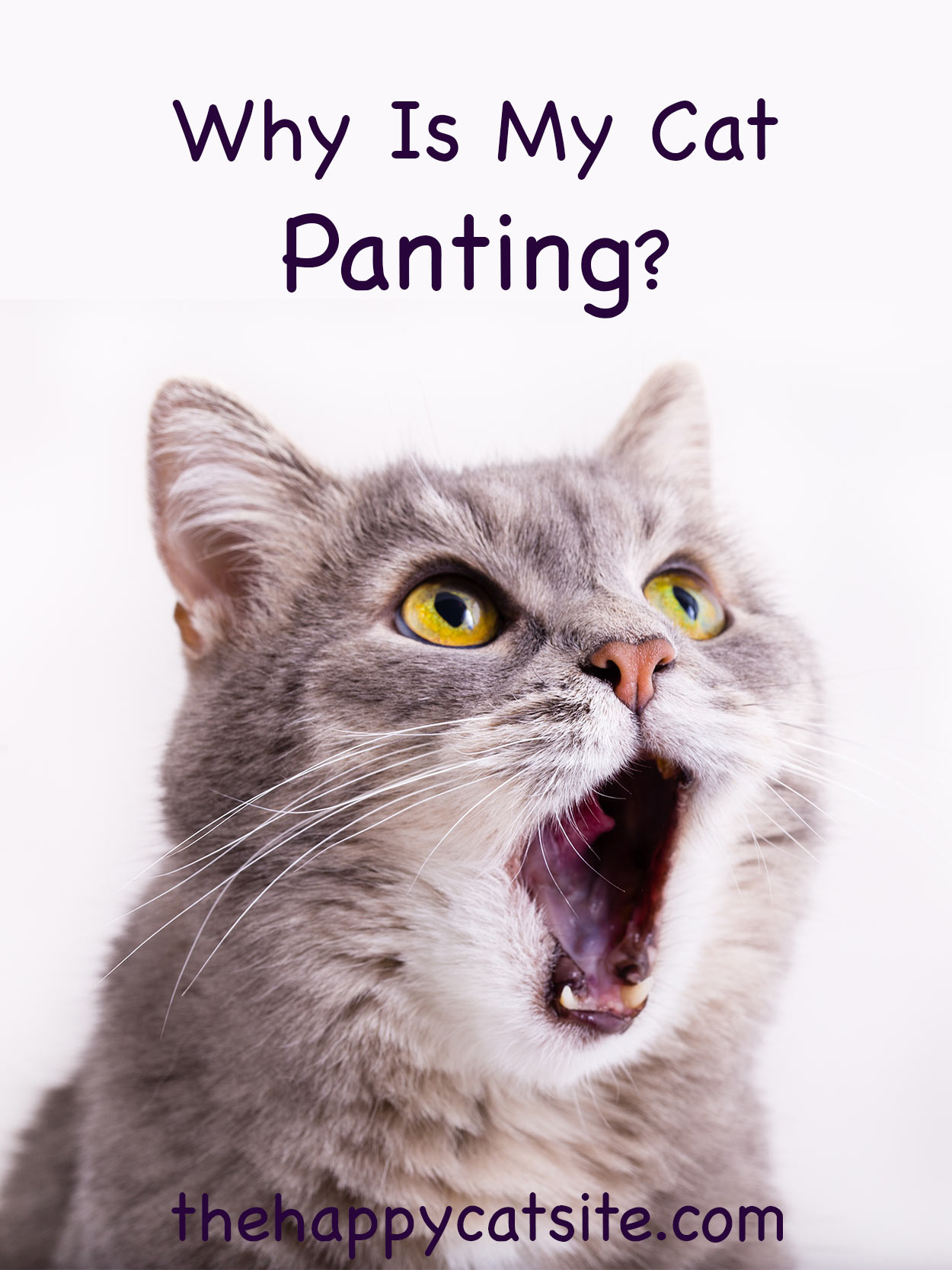 Signs of dyspnea include noisy breathing and flared nostrils, as well as exaggerated movement of the belly and chest. The cat may stick her elbows away from her body, and she might extend her head and neck out from her body as she struggles to breathe.
Your cat may pant with her mouth open or look as if she is about to vomit. Some dyspneic cats actually wheeze loudly.
Tachypnea – Rapid Breathing In Cats
Tachypnea refers to an abnormally fast breathing rate. Like dyspnea, it is a symptom rather than an illness.
A cat with tachypnea usually keeps their mouth closed, but their breaths will be fast and shallow.
It's slightly different to panting where your cat's breathing will be fast and shallow, but their mouth will be open.
With our lesson about medical terms complete, now we can look at a few of the causes of heavy breathing in cats. Let's start with one of the most common, brachycephaly.
Brachycephaly and the Heavy Breathing Cat
Many of you will be asking the obvious question. What is brachycephaly when it's at home? It's another one of those medical terms you keep hitting us with, isn't it!
Brachycephaly is a scientific term that simply means 'short skull.'
In everyday language, cats such as Persians with squashed faces and snubbed noses are brachycephalic.
You can learn more about brachycephalic cats by clicking on this link.
Brachycephalic cats face numerous health problems and, according to a study in 2016, breathing difficulties are the major problem.
While you might have heard about 'brachycephalic obstructive airway syndrome' in dogs, such as pugs, you might not realize that this problem also affects cats with squashed faces, such as the Persian. Laboured breathing in cats can be a real problem for some breeds.
This problem arises because there is literally not enough room within the cat's skull to fit all the necessary structures required to breathe comfortably. These breathing difficulties increase in severity when the face is more "squashed."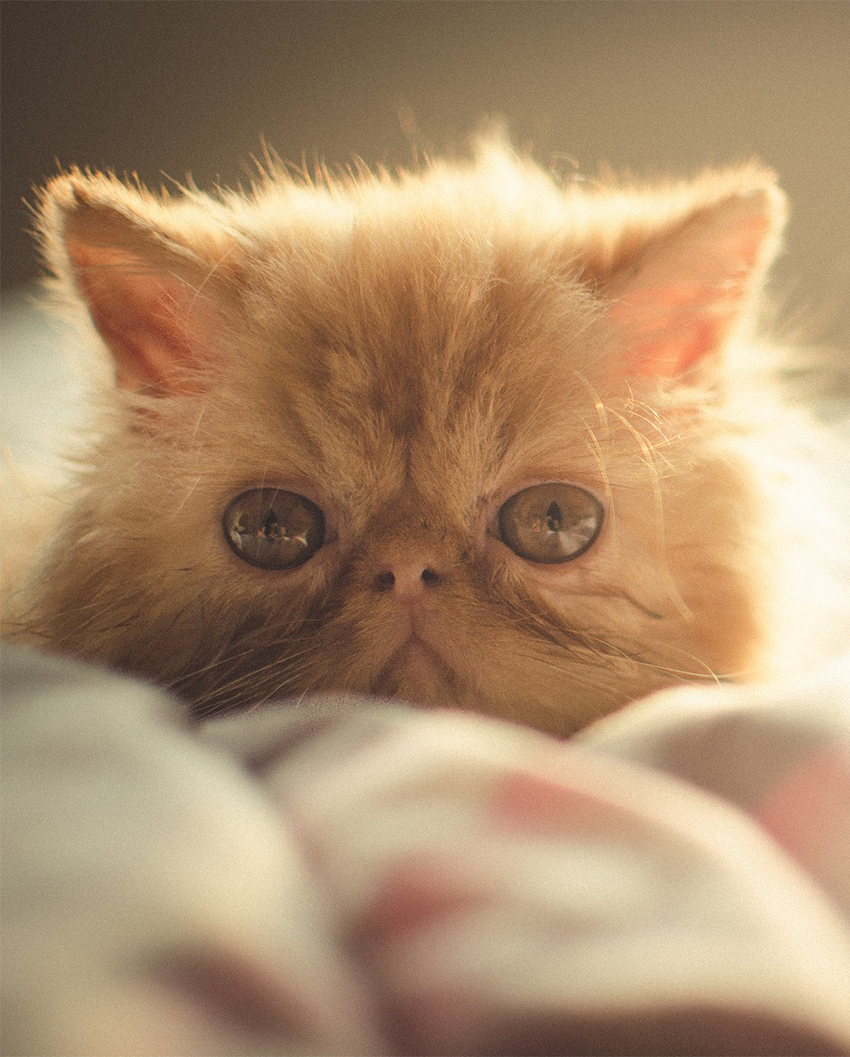 Tearstains
Brachycephalic cats are also more likely to have tearstains on their faces.
This is a real sign that their brachycephaly is causing them a few problems. The nasal structures in the cat's skull are constricted so that the tears cannot drain away properly. This leaves the eyes looking "weepy" and leaves tearstains.
These stains appear on brachycephalic cat's faces because the nasal structures in the cat's skull are too squashed up. They don't allow the tears to drain properly, leaving the eyes looking "weepy".
Other problems experienced by these cats are closed nostrils (stenotic nares), elongation of the soft palate, and nasopharyngeal turbinates, which may also play a part in upper airway obstruction. These are reasons why brachycephalic cats snore a lot.
All of these issues can lead to a potentially fatal laryngeal collapse, so it's good practice to take brachycephalic cats to the vet for regular checkups.
Most brachycephalic cats lead very happy lives, just like most other cats, but it is always worth keeping an eye on their breathing, especially as they age.
To compound the problem, brachycephalic cats tend to be less active than other cats. This may be because the cat is not able to breathe well enough to support high-energy activities.
This inactivity can actually lead to another issue that can lead to breathing problems in cats. That's obesity, something that can cause a lot of health problems that lead to dyspnea and other respiratory conditions.
Obesity and the Heavy Breathing Cat
Larger, overweight cats can suffer from a range of health problems, some of which can actually lead to breathing problems. If a cat is overweight, it will have difficulty losing heat in the summer, so may pant.
Aside from being at giving your cat an increased risk of a swathe of chronic and acute health problems, an overweight cat is going to have a harder time breathing.
According to a study conducted in 2014, obesity affects respiratory function due to decreased lung capacity, weakened muscles, and other mechanical difficulties caused by the excess fat.
The net result is that your kitty is going to have to do a lot more work to get the oxygen it needs into its lungs.
Fat Cat Heavy Breathing – What Else is at Play?
The increased breathing difficulty experienced by obese cats may not purely be down to mechanics. An obese cat will have more visceral adipose tissue. This isn't as complicated as it sounds! Adipose tissue is the fat where the body stores energy, just under the skin and around major organs.
Just as in human, visceral adipose tissue is what makes your cat obese.
This fatty tissue is actually metabolically active, and produces substances called adipokines.
A study, performed in 2010, suggests there may be a link between increased levels of adipokines, which are inevitable if your cat is overweight, and asthma. Additional research is ongoing to find out more about these potential links.
Regardless of the outcome of this research, one fact remains. An overweight cat is going to have a harder time breathing than a cat of a healthy weight.
If you don't want a heavy breathing cat, this is surely a compelling reason to make sure your cat keeps within its optimal weight range.
Cat Asthma – Is Your Cat Wheezing When Breathing?
The exact causes of feline asthma are hard to pin down. Sometimes, feline asthma is called "chronic bronchitis", and these terms have become interchangeable.
Generally, the main accepted cause of asthma is that irritants in the air cause the muscles in the airways to narrow. These restricted airways make breathing much more difficult. Your cat might have trouble catching his breath, which can be very distressing for owners.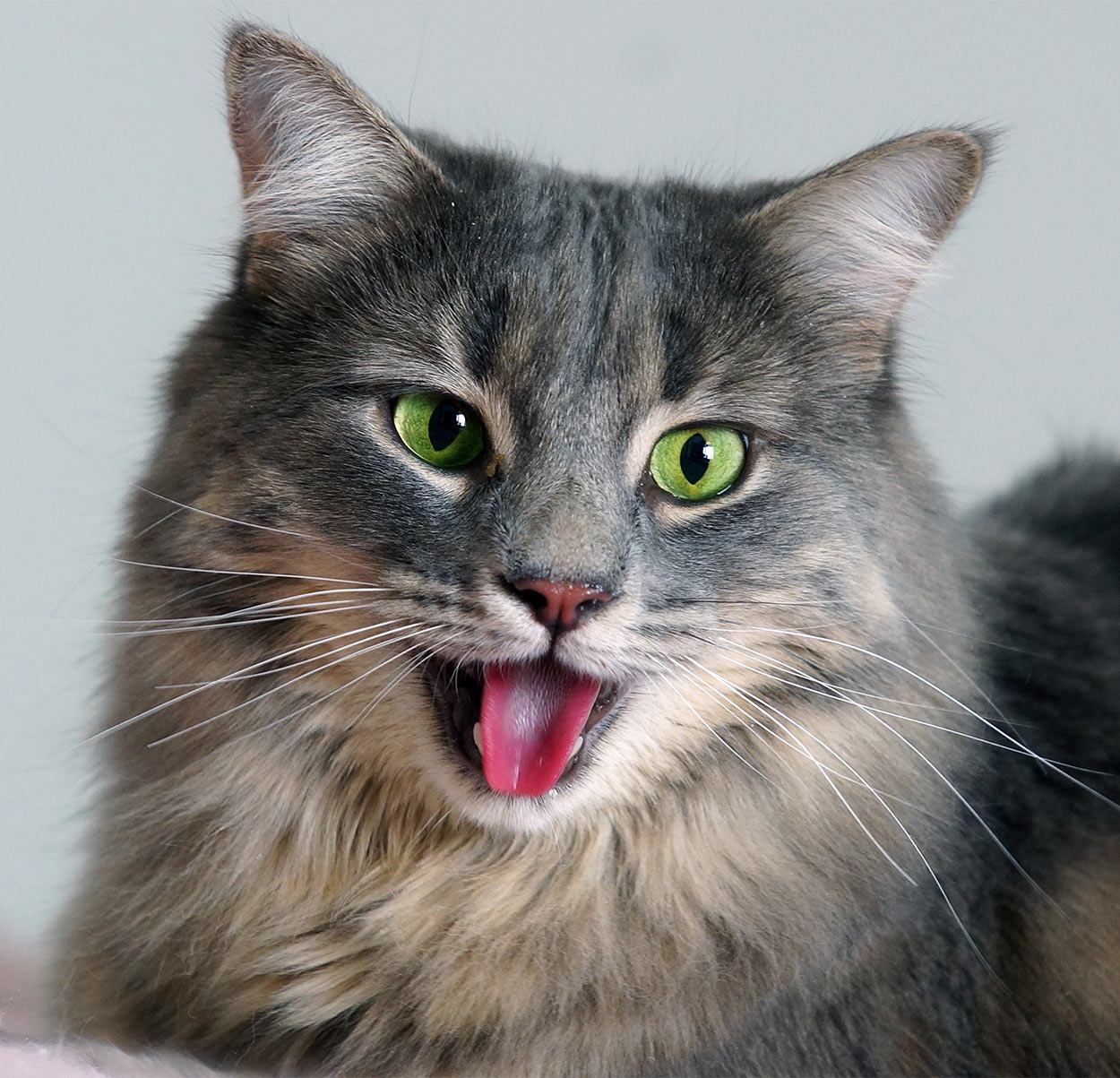 Another condition can cause wheezing, cat bronchitis.
Cat Bronchitis
Similarly, airborne irritants can cause cat bronchitis. This creates breathing difficulties, but the body reacts differently than during an asthma attack.
Bronchitis causes inflammation in the airways and they produce mucus. Both of these make breathing difficult for your cat.
While it isn't always easy to differentiate between these two conditions in felines, the symptoms are fairly easy to spot.
Your cat may be coughing persistently, wheezing, having difficulty breathing (dyspneic), or breathing faster than usual (tachypneic).
With these symptoms, it really is time to take a trip to the vet
While cats of any age can develop feline asthma, cats between six and nine years of age are at greater risk of developing the condition.
According to some findings, Siamese cats seem more prone to developing asthma, so that's something to bear in mind.
Diagnosis and Treatment
When you take your cat to the vet, they will try to identify which irritants are triggering the attacks. With that established, they will work with you to devise a plan of action to keep asthma away.
Although it isn't always possible to stop asthma completely, your vet can certainly help you to treat the symptoms. They may give your cat anti-inflammatory drugs or bronchodilator therapy drugs that relax the muscles around the airways
Your vet will also check for secondary infections and other respiratory conditions, and treat them if necessary.
We've looked at a heavy breathing cat, but what about breathing quickly? Is there something wrong with your cat, or are they panting?
Let's start by looking at the breathing rate for healthy cats.
Cat Breathing Fast – What is a Normal Cat Respiratory Rate? Is My Cat Hyperventilating?
A normal respiratory rate for cats is under 30 breaths per minute.
You can calculate this at home by following these instructions.
Of course, a cat breathing fast could be a sign of health problems. However, it could also be a case of panting which, in most cases, is perfectly normal.
How can you tell the difference? Why do cats pant?
Why Do Cats Pant? Can Cats Breathe Through Their Mouth?
The site of a dog panting is nothing alarming or unusual. It's often the same for cats, but panting can still be a sign of health issues.
Not all panting is a cause for worry, so if your cat pants after playing or running about in the garden, this is perfectly natural.
The same is true if your cat has overheated or feels stressed. Perhaps it is a hot day, or perhaps they have been involved in a fight with another cat.
Once your cat has rested, cooled down, and relaxed, the panting should stop.
If you notice your cat panting, even if he doesn't seem distressed, you could always make a quick phone call to the vet to put your mind at rest. Usually, it will stop in its own time.
What should you do if the cat panting doesn't stop? Why do cats pant for no apparent reason?
My Cat Is Panting – What Should I Do?
If your cat is panting for no apparent reason, or the panting does not stop after some rest, it could be a sign of a more serious underlying issue.
As we have already discussed, asthma and respiratory infections can cause panting. Sometimes, cats pant when they are in pain, so check that they haven't injured themselves or have a bite wound after fighting.
Another potential cause of a cat breathing fast is heart disease. In fact, panting and other breathing irregularities are very common signs of heart disease in cats.
If fluid builds up in or around the lungs, a process called pleural effusion, your cat may either experience difficulty breathing (dyspnea) and/or quickened breathing (tachypnea).
One particularly worrying symptom is that they may start foaming at the mouth.
Heartworm infection, which is a very serious condition, often causes panting in cats. If your cat has heartworm, her breathing may sound raspy, and she might develop a cough, too.
Needless to say, these conditions all need the attention of a vet. We will cover the topic of a cat with noisy breathing later on in this article.
We discussed panting, but there are many other reasons why your cat might breathe with its mouth open.
Cat Open Mouth Breathing – Other Reasons To Find A Cat Breathing With Mouth Open
In this article, we looked into the reasons behind cat panting and gave you a few tips about cat asthma.
But, there are still more reasons for cat open mouth breathing. Sometimes, like humans, they may have a cat cold or other infection. Perhaps they have something stuck in their throat.
If you have any doubts, take a trip to the vet for some peace of mind. This is especially true if you find your cat panting and also drooling.
Help! I Have Found My Cat Panting and Drooling!
Many cat owners have been in this situation where you find your cat looking distressed, panting, and drooling. It's a very frightening condition.
If you ever find your cat has these symptoms, you should call your vet immediately.
While your vet will do an examination to determine the cause, there is a chance your cat could be suffering from heat stroke. This is a very serious condition and time is of the essence.
Heat stroke is a medical emergency that occurs when the patient has been exposed to high temperatures for an extended period. For instance, an animal locked in a car in the hot sun can easily develop heat stroke.
A number of other factors can contribute to heatstroke, such as dehydration, so even if you don't think your cat has been sitting in a hot location, don't delay and contact your vet if you suspect heat stroke.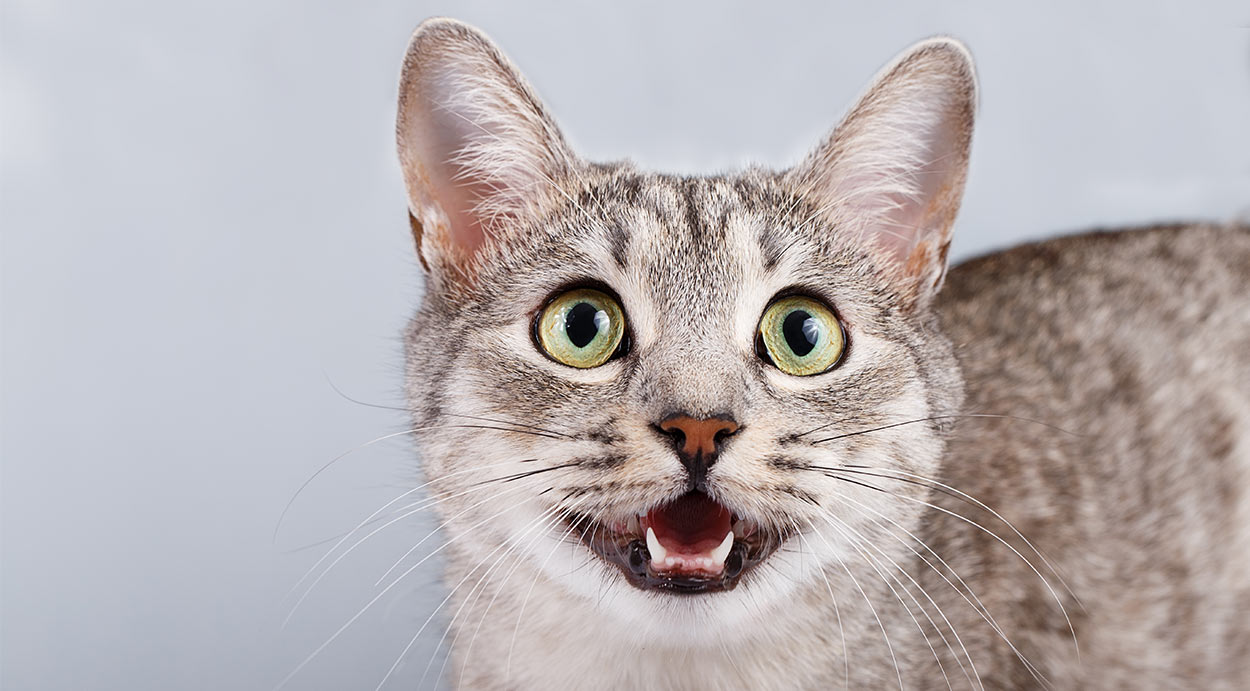 Fast diagnosis and treatment of heat stroke is vital as the condition doesn't resolve itself.
Pleural Effusion
Another condition that can cause cats to mouth breathe and foam at the mouth is pleural effusion. This is a build up of fluid around the lungs.
A number of conditions can cause pleural effusion, including lung infections, blood clots, heart disease, lymph drainage abnormalities, cancer, or trauma.
This is also a medical emergency, and you should take your cat to your vet immediately. They will assess the situation and drain the fluid.
We've looked at labored breathing, brachycephaly, and fast breathing, but what about noisy breathing?
What About A Cat Breathing Loud? It Sounds Like Snoring!
Perhaps the issue with your kitty's breathing is not speed related, but noise related. Like humans, cats can snore when they sleep or because they are overweight.
Let's have a look at some of the reasons why you can hear your heavy breathing cat. Again, we will have to learn some new terms.
The scientific terms for cat noisy breathing are stertor and stridor.
Stertor refers to the deep, snoring sound, which often indicates a throat blockage.
Stridor is a more high-pitched sound. It can indicate a blockage of the nasal passages or voice box, or a collapsed upper windpipe.
Let's look at what can cause noisy breathing in cats.
Your Cat: Noisy Breathing – What Could be the Reason?
Put simply, any noisy breathing heard without the need for a stethoscope occurs when air tries to pass through partially blocked passages.
There are many reasons why cats breathe loudly. Some of these are minor, some are chronic, and some are full-blown emergencies.
If your cat is wheezing when sleeping, it may simply be the position it is lying in.
Sometimes, it isn't that straightforward. As we discussed earlier, brachycephalic cats often have noisy breathing
Other causes include:
A foreign object in the windpipe
Tumors
Nodes or polyps in the windpipe
Nervous system dysfunction
Pus blocking the airways
Paralysis of the voice box
Sedation.
Only a vet can help you determine the cause of your cat's loud breathing.
Sometimes, loud breathing accompanies other conditions that can indicate respiratory infections.
My Cat Sounds Congested When Breathing – What Should I Do?
If your cat sounds congested when she breathes, perhaps she has an "Upper Respiratory Infection" (URI). Some of the symptoms include:
Sneezing
Coughing
Nasal discharge
Weepy eyes
Fever
Ulcers in the eyes and mouth.
Viruses are the cause of most URIs. The main culprits are:
Feline Herpes Virus
Feline Calicivirus
Bordetella bronchiseptica
Chlamydophila felis.
The severity of the symptoms will vary from case to case.
Cats can go on to develop pneumonia if they have a URI, so it is important to get your kitty treated.
The treatment will depend on the severity of the infection is, and may include antibiotics, symptomatic treatment, supportive care, and anti-viral agents.
Your cat may have lost his appetite, so you should encourage your furry friend to eat and drink. This is an important part of supporting his recovery.
Make sure you take note of your kitty's eating habits while they are ill, so you can give this information to your vet.
Heartworm In Cats
We have already touched on the connection between noisy breathing and heartworm in cats. Symptoms of heartworm may include coughing, vomiting, dyspnea, and neurological disturbances.
However, diagnosing heartworm infection in cats is notoriously difficult, because the symptoms can vary from case to case.
Because of the difficulty associated with diagnosing heartworm, and the potentially life threatening nature, be sure to take your cat to the vet for a proper diagnosis and treatment.
Cat Breathing Problem Diagnosis
We've talked a lot about taking your cat to the vet if she has breathing problems, but what will the vet actually do?
Of course, every vet has their own way of doing things, and they have different equipment, but you can expect a few things.
Firstly, your vet will ask you a few questions about your cat's general health, what symptoms they have, and what medication they take. They may ask whether your cat has been eating and drinking normally, or if he has been fighting.
After this, your vet will check your cat's breathing, and use a stethoscope to check for fluid in the lungs and heart murmurs.
They may check the color of kitty's gums to check that they don't have anemia, and that the blood is delivering enough oxygen to the organs.
If they still haven't found the cause, then your vet may perform blood tests to check for any diseases or toxins. They might scan the lungs and heart with ultrasound and x-rays, or perform other tests that will help them get to the root of the problem and find the right treatment.
Cat Breathing Problems – Wrapping it Up
While there are many reasons for labored breathing in cats, you should not take any of them lightly. A cat breathing fast or a cat struggling to catch their breath could have a serious condition.
Any breathing difficulty can quite deteriorate into a life-threatening emergency quite quickly.
Therefore, you really should seek the advice of your vet as soon as possible if you have a heavy breathing cat.
Thankfully, most cat respiratory problems are not fatal, and can be resolved with some lifestyle adjustments or medical treatment.
Whatever the reason, keep an eye on your cat's behaviour and seek treatment for your precious furry family member if you notice something troubling.
If you have any questions, why don't you leave us a comment? Perhaps you want to share some of your experiences with cat breathing problems. As always, we update our articles when we encounter new information.
References